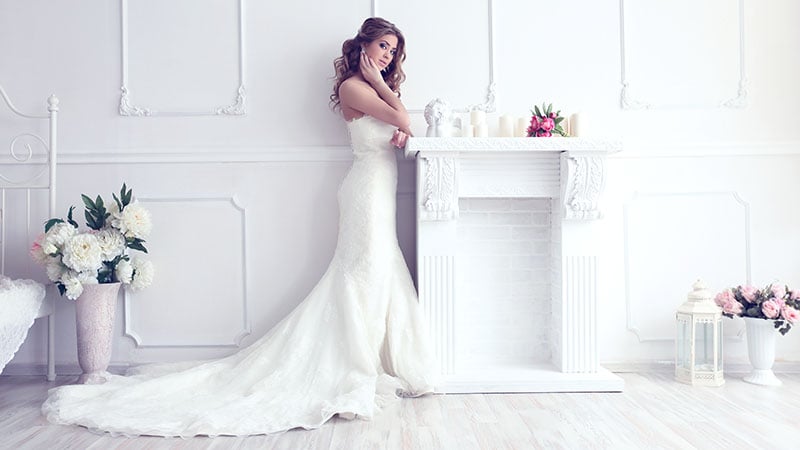 Who said you had to go over the top for your big day to look beautiful? Sometimes, the most simple designs have the most significant impact, as these gowns prove. Whether you love lace, want a plunging neckline, or a vintage-infused piece, these will make you shine as you walk down the aisle. No matter the season, feel breathtaking in one of the simple wedding dresses for a fuss-free celebration!
RELATED: Your Ultimate Guide to Wedding Dress Styles
Simple A-Line Wedding Dresses
Feel like a princess for a day in an A-line dress. Whether you prefer spaghetti straps or a daring off-the-shoulder neckline, these gowns are fit for anyone. Stay classic with pure fabric like silk or crepe and finish the look with a low bun and simple earrings. Let the silhouette do all the talking as you walk down the aisle – you'll be the most memorable and beautiful bride.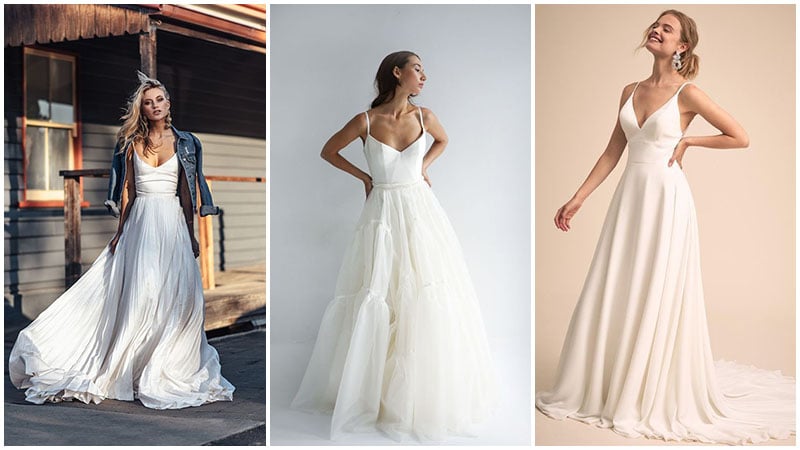 TOP BUYS
Simple Mermaid Style Wedding Dresses
Show off your incredible figure with a hugging mermaid wedding dress silhouette. This elegant and classic shape looks stunning with simple features, such as thick straps or a boatneck. For those who wish to add a daring twist to their bridal couture, opt for a plunging neckline and soft tousled waves. You'll wish you could wear a gown this incredible every day for the rest of your life.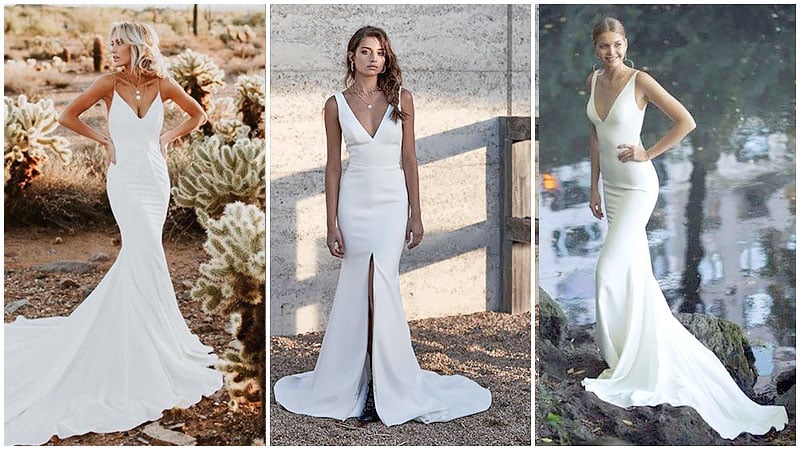 TOP BUYS
Simple Sheath Style Wedding Dresses
Sometimes, the most simple gowns are the ones that make the most significant statements. Sheath dress styles have no waist seams, it is a fitted straight cut dress that will sit flat against your body and create the most elegant silhouette. Opt for a long train to add some drama or a few touches of lace for extra sophistication. This is a timeless option for stylish brides.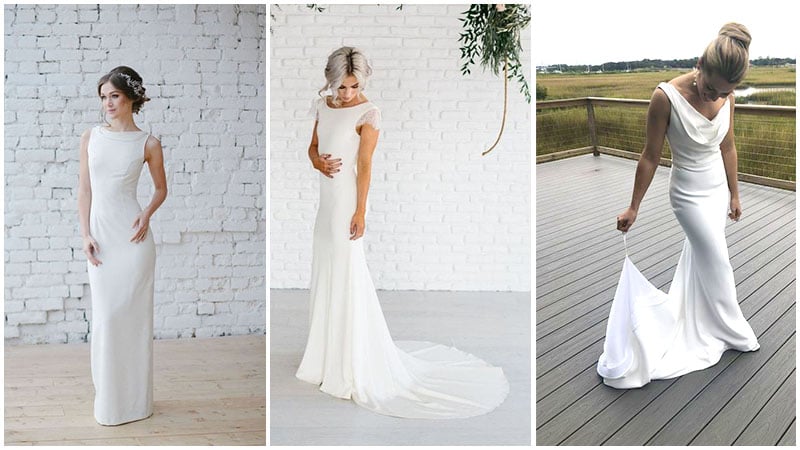 TOP BUYS
Simple Jumpsuit Wedding Dresses
Make your wedding the most memorable yet by rocking a jumpsuit. Whether you're walking down the aisle or having your first dance at the reception, this outfit allows optimum movement and absolute style. Opt for an off-the-shoulder design for a funky and high-fashion twist, or keep it classic with long sleeves and a body-skimming silhouette. Complete the look with your hair in a low, messy bun with a few embellishments.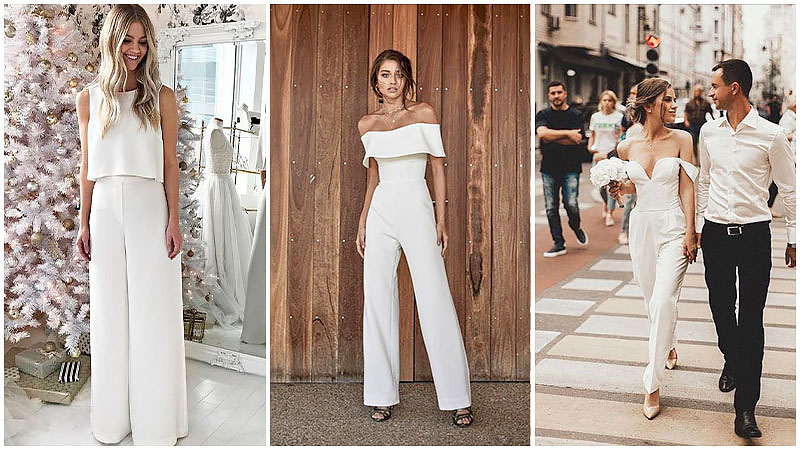 TOP BUYS
Simple Short Wedding Dresses
From tea-length to flirty silhouettes, a short wedding dress is a style that will remain timeless. Showcase your figure with a body-hugging design or unleash your inner Audrey with an A-line boatneck gown. If you love vintage-inspired pieces or something off-the-shoulder, there are endless options for your big day!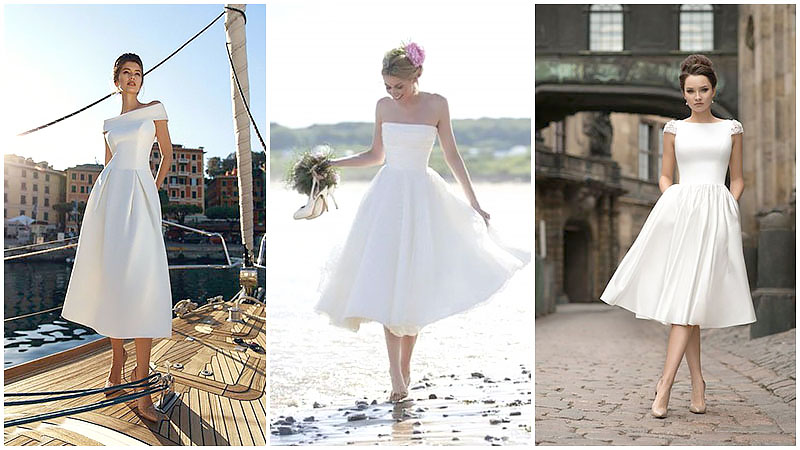 TOP BUYS
Simple High Low Wedding Dresses
Show off a bit of skin in a high-low dress. Whether it's a subtle lift or a dramatic dip, this silhouette is a fresh and funky option for the modern bride. Make it classic by adding long sleeves or put a beachy spin on the gown with spaghetti straps and a sweetheart neckline. Keep the fabric and embellishments of these options to the minimum, as the style speaks for itself.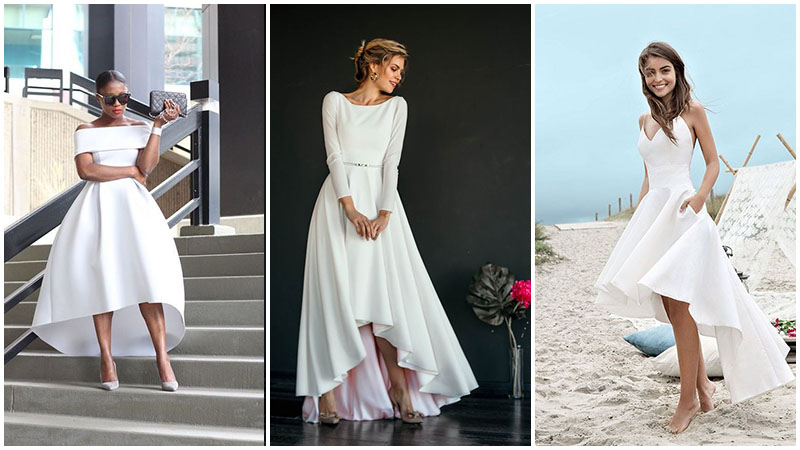 TOP BUYS
Simple Lace Wedding Dresses
Turn simplicity up a notch with a lace wedding dress. Small details of this delicate fabric are the easiest way to create an elegant gown without overdoing it. Whether it's kisses of the fragile material at the bottom of the train or sporadic traces of ti across the neckline, this is a timeless option for beautiful brides. Keep your hair in loose curls or in a low bun to complete the look and keep your jewelry to a minimum. You're going to look like a princess in a dress this divine!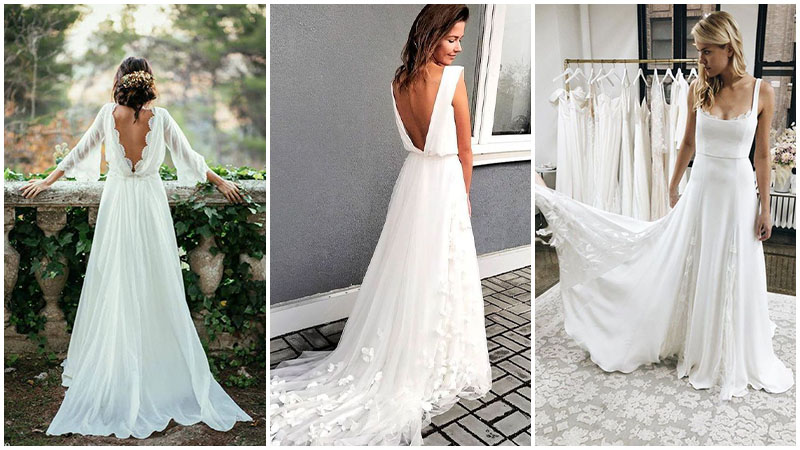 TOP BUYS
Simple Satin & Silk Wedding Dresses
Feel inspired by the past with a modern touch in a silk gown. This delicate fabric skims the body and creates the perfect figure-hugging dress for any bride, no matter what your style is. Choose an A-line silhouette for a bit of drama or a sheath to keep it simple. Satin materials are a timeless option and will always look incredible – simple details like flowers in your hair or a veil are the perfect finishing touches to the ensemble. This is an ideal piece for a destination wedding or a vintage-infused event.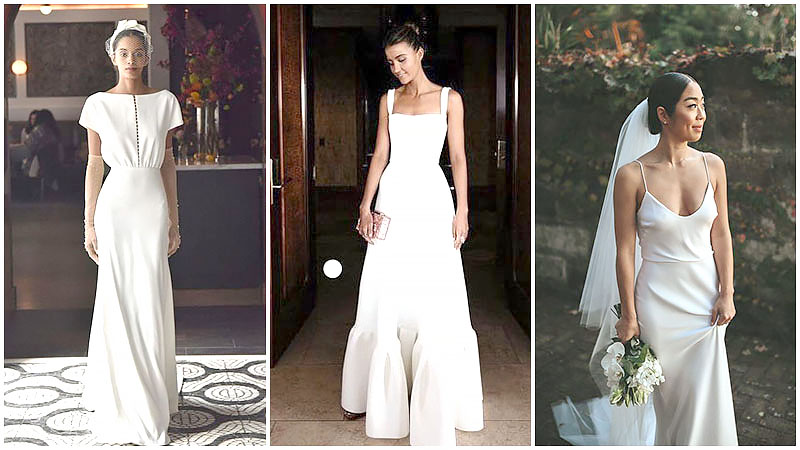 TOP BUYS
Simple Long Sleeve Wedding Dresses
Stay seductive and elegant with the help of a long-sleeve dress. Show some skin with a backless design, cinched-in waist, and flowing skirt. If you wish to showcase your beautiful figure, opt for a column silhouette and a high neckline – it's a timeless choice for the classic bride. These gowns are best for winter weddings or if you prefer modest styles. Style this with a pair of statement shoes, delicate flowers or nothing at all – let yourself shine in this stunning piece.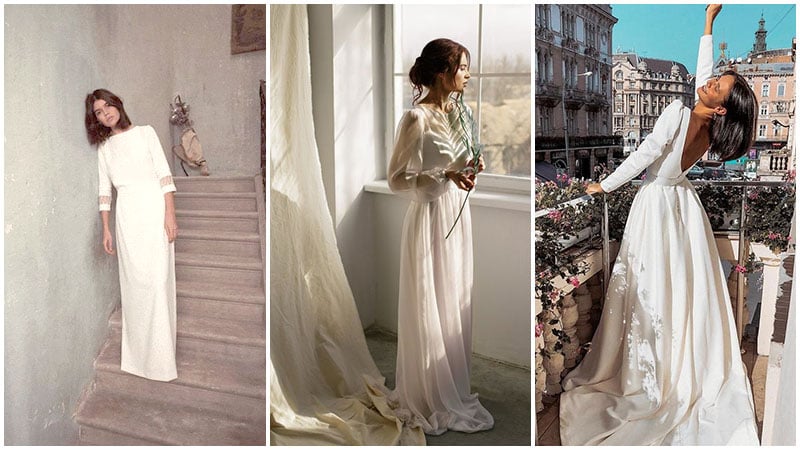 TOP BUYS
Simple Plus Size Wedding Dresses
Radiate confidence in one of these simple plus size wedding dresses. With tasteful touchings of lace or ruching, they still provide that bridal drama for your big day. Cinch in your waist and create a princess-esque feel with an oversized A-line skirt, and showcase your decolletage with a plunging neckline. Keep your makeup minimal and watch as you shine down the aisle!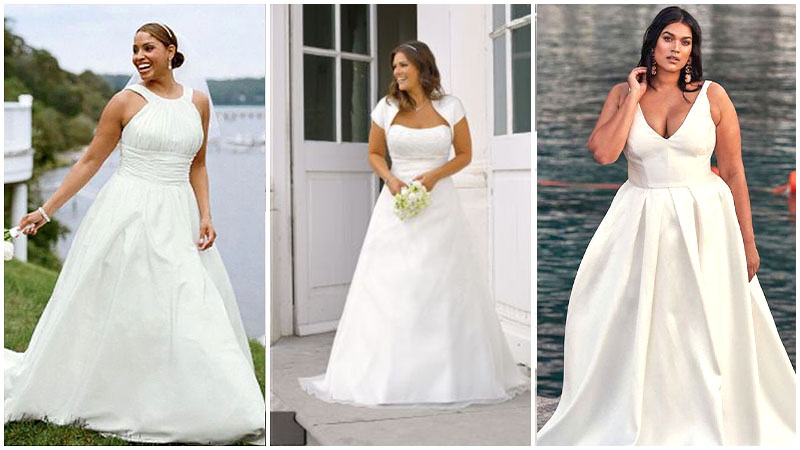 TOP BUYS
FAQs
What is a simple wedding dress?
A simple wedding dress is usually a dress devoid of too much detailing and in a classic silhouette. Sometimes the most beautiful gowns are plain and easy to dress up.
Where to buy a simple wedding dress?
Every good bridal boutique should stock simple wedding dresses for those who prefer a more minimalistic approach. There are also several online boutiques that you can consider, although shopping online can be riskier as you cannot try on the styles and are uncertain of which size to choose.
How to style a simple wedding dress?
A simple wedding dress's beauty is that it is extremely flexible in terms of styling and accessorizing. The dress is often devoid of heavy detailing, and so it can be matched with the jewelry and hairpieces of your choice. A little detailing can make a big difference to a minimalist dress, too, so don't be afraid to try on an interesting waist belt, opt for necklines with lace or beads, and add a detailed veil.
What to wear under a simple wedding dress?
What you choose to wear under your wedding dress depends largely on your chosen style. It is always advisable to purchase good quality, but also comfortable, undergarments for your big day. A shaper or a bodysuit can help you achieve your desired look. Be mindful of your chosen undergarments' color, as nude is the most invisible, and you also want to avoid anything that creates lines on your dress.
Do simple wedding dresses look good on plus-size brides?
Simple wedding dresses can look good on all brides, depending on the styles. Some of the most universally flattering dress shapes include the A-line and mermaid shapes. Necklines can also make an impact, and V-neck and plunging necklines will draw the eye downwards, creating a slimmer and longer-looking chest.
How much is a simple wedding dress?
Wedding dresses can cost a lot of money, depending on your chosen designer and the bridal boutique you intend to purchase it from. A simple dress is less detailed and more basic than heavily beaded, and lace options and can cost around $1000. If you are on a budget, you can also try to purchase a dress off the rack.
How do you make a simple wedding dress look good?
It is the shape of a simple wedding dress that can make it look great, and you should choose something that looks amazing and compliments your body type. You can also dress up your gown with sophisticated jewelry, a beaded belt, or a lace veil if you want to make it a little smarter. Opt for pretty hairstyles and classic, nude makeup.
What can a bride wear instead of a dress?
On your wedding day, you don't need to wear a dress and should instead opt for whatever you are comfortable in. This could be a two-piece design with a shirt and top, a pantsuit, or even a jumpsuit. There are so many different options on the market that you can determine what you feel most confident in. You do not even need to opt for the classic white and off-white shades and can go bold with color or patterns if you so desire. Your wedding day is about you, so don't be afraid to embrace what makes you happy.
SUBSCRIBE TO OUR NEWSLETTER
Subscribe to our mailing list and get interesting stuff and updates to your email inbox.