So you've made it past the awkward first date, meeting the parents and the nerve-wracking proposal. Your future husband or wife has said 'yes' and all that's left to organize is the wedding. While this may seem like a small final detail, planning a wedding, and more importantly, choosing a wedding location, is no easy feat. To ensure your special day aligns with the fairytale future in front of you, we spoke to top international wedding photographers, Daniel and Lyndel from Lost in Love Photography, who shared with us their tips on the most beautiful destination wedding locations in the world.
1. Santorini
For a destination that matches seamlessly with any bride's beautiful white dress, the Greek island of Santorini lies in wait. Here, whitewashed houses cling to the breathtaking cliffs, while their famous cobalt blue roofs match the endless expanse of the glittering ocean below. Turn up the heat with a ceremony on one of the island's volcanic sand beaches while a fiery copper sunset creates a truly unforgettable wedding moment. For something different, head to the mesmerizing black sand beaches of the island's East coast or the red sand beach of the South.
Recommended Wedding Destination: Le Ciel Santorini
For an elegant venue offering volcanic views and stunning sights of the endless blue Aegean Sea, Le Ciel is a perfect wedding location. Set amongst the Caldera cliffs, say "I do" as the setting sun casts glittering rays over your special day. Combine this breathtaking setting with personalized cocktails, tantalizing cuisine, and a team of professionals ready to make your wedding unforgettable.
2. Fiji
Walk down an aisle of soft white sand to the rhythm of cascading crystal blue waves with a tropical Fijian wedding. With more than 3000 islands making up this archipelago in the South Pacific, you'll be spoilt for choice when it comes to selecting the perfect island for your special day. In this tropical oasis, palm trees line the beaches, and vibrant coral reefs lie in wait to be explored. If you and your future Mr. or Mrs. dream of an exotic, beachside wedding, this is one destination that the two of you will love.
Recommended Wedding Destination: Laucala Resort Island
For a luxurious Fijian wedding, we recommend reserving your stay at Laucula Resort Island. This exclusive island has 25 villas spread across its vast, diverse landscape, ensuring you and your wedding party will be treated to privacy and royal treatment. Whether you dream of a wedding next to turquoise waters, in a tropical rainforest, overlooking an emerald lagoon, or on a cliff offering panoramic ocean views, Laucula can give you a magical experience.
3. Tuscany
At the heart of Italy lies the beautiful region of Tuscany. A leading bucket list destination thanks to its history, culture, and romance, Tuscany's capital Florence is home to some of the world's most famous art and architecture. Just a short drive out of this awe-inspiring city lies the rolling Tuscan hills. With endless fields of stunning vineyards, this charming Italian destination will transport your guests to a world of tranquillity and romance. With fantasy sunsets that belong in an art gallery, a wedding in Tuscany is an incredible way to start your new life together.
Recommended Wedding Destination: Borgo Santo Pietro of Tuscano
Nestled in the Tuscan Hills, Borgo San Pietro is a boutique hotel located in an elegant 13th-century villa. With sprawling gardens and abundant fertile land, this stunning wedding destination blends the natural Tuscan environment with undeniable luxury. For pre-wedding relaxation, indulge with a trip to the hotel's private rejuvenating spa. Finally, as Borgo San Pietro also operates as a working farm for fresh produce, you can rest assured that your wedding guests will be treated to both spectacular views and delicious Tuscan cuisine.
4. Rome
Set a precedent for a marriage that will stand the test of time in a city that has done so for millennia. For centuries, world travelers have ventured to Rome to discover the city that has been transformed by many of history's most significant figures, including Julius Caesar and creative geniuses Leonardo Da Vinci, Michelangelo, and Raphael. Create your own moment of history by escorting your guests and future husband or wife to this timeless city. With stunning sights, including the Trevi Fountain, Colosseum, and Spanish Steps, hiding around every corner, a wedding in Rome will be nothing short of incredible.
Recommended Wedding Destination: Hotel Hassler Roma
Located at the top of the famous Spanish Steps, the 5-star Hotel Hassler is renowned for creating extraordinary, world-class weddings. For couples seeking breathtaking views of the city, spend your wedding gazing out upon the Roman skyline and the unforgettable dome of St Peter's Basilica on one of the hotel's panoramic terraces. Alternatively, the hotel also offers romantic gardens and private salons for ceremony locations. Providing everything from classical string quartets and jazz bands to stunning floral decorations and makeup and hairstyling services, Hotel Hassler will ensure your special day is flawless and carefree.
5. Provincial France
Romantic cobblestoned lanes, fairytale villages and dreamy fields of lavender fill the lush green hills of Provincial France. As such, it's no surprise it has seduced artists such as Vincent Van Gogh and Picasso for centuries. From Burgundy to Provence, Avignon to Bordeaux, and more, there is a range of options for your French provincial wedding.
Recommended Wedding Destination: La Bastide de Gordes
Hidden in one of France's most beautiful villages lies the breathtaking chateau, La Bastide de Gordes. Built upon 12th-century ramparts, this historic five-star hotel offers panoramic views of the surrounding valley and mountains. If you desire elegance and to be amongst nature on your special day, this may just be the wedding destination of your dreams.
6. Spain
If you're seeking a unique wedding destination, Spain has something for everyone. For lovers of art and architecture, the city of Barcelona is a hub of modernism and surrealism, hosting work by Salvadore Dali, Antoni Gaudi, and Pablo Picasso. If regal, manicured gardens, provincial palaces, and a thriving city are more your style, then Madrid is the destination for you. Finally, for those who venture to Southern Spain, there are the beautiful, Moorish-influenced cities of Granada, Seville, and Malaga, which are each uniquely reminiscent of fairytales. Once you've selected which magical city will host your special day, simply enroll in some salsa lessons to add a fun Spanish flair to your reception.
Recommended Wedding Destination: Castillo de Santa Catalina
Be transported to an otherworldly Moorish palace at the standout wedding venue, Castillo de Santa Catalina. This beautiful venue is located in the culturally and historically rich city of Malaga, Southern Spain, which boasts breathtaking coastal views and towering castles. With lush gardens, stunning terraces, and views over Malaga's majestic bay, this historic hotel blends timeless luxury with modern service.
7. Palm Springs, USA
In the desert of Southern California lies the sun-soaked oasis of Palm Springs. Known as the playground of Hollywood's A-Listers and the famous Rat Pack, this destination will bring some star appeal to your wedding. With more than 350 days of sunshine and less than five inches of rain annually, expect nothing other than perfect weather for your special day.
Recommended Wedding Destination: Frank Sinatra's House
In 1947, Frank Sinatra arrived in Palm Springs and built his own personal haven in the desert. Embodying 1950's Hollywood glamour, his home became the ultimate party destination for Hollywood's elite. Make your wedding memorable with a ceremony hosted at Sinatra's house. Sip martinis in the sun while saying your vows beside the iconic piano-shaped pool.
8. Paris
In France's capital city, romance lingers in the air. Paris has always been synonymous with love, making it a leading destination for fiances seeking to create an unforgettable wedding. Boasting artistic and architectural wonders, lush gardens and, of course, the Eiffel Tower, finding the perfect place to host your wedding in this charming city presents no challenges. Whether you opt for a daylight ceremony in the gardens or a night-time event as the city lights up and the Eiffel Tower shines, Paris is a timeless, classic wedding backdrop.
Recommended Wedding Destination: The Musée Rodin
If you're after something slightly different from the Eiffel Tower for your wedding, enter a world of decadence and history at the Musée Rodin. Host your ceremony in the museum's sprawling gardens, which feature a collection of Auguste Rodin's monumental art pieces including 'The Thinker'. During your event, your guests, which may range from 100 to 1,500 people, will also have exclusive access to the 18th-century mansion to view additional artworks and enjoy a decadent banquet fit for royalty.
9. Sri Lanka
For a wedding surrounded by a kaleidoscope of exotic, vibrant colors, pack your suitcase for the island nation of Sri Lanka. Located in the Indian Ocean, the diverse landscapes of this stunning country have something for everyone. From rainforests where elephants roam free to endless sunset bathed beaches or timeless Buddhist ruins, a wedding in Sri Lanka will be nothing short of magical. Amidst this array of wildlife, ancient temples, and the sparkling ocean, you can additionally sample some of the country's irresistible cuisine. As a result, if you're looking for a unique wedding experience, this is a standout option on our list.
Recommended Wedding Destination: Frangipani Tree by Edwards Collection
For an intimate, small ceremony at an elegant beach sanctuary, host your wedding at Sri Lanka's Frangipani Tree. If you're still undecided, just picture saying your vows on a secluded beach while listening to the tranquil, turquoise waves of the Indian Ocean. With three villas that host nine exquisite suites, you can indulge in a truly luxury experience and rent out the Frangipani Tree for the exclusive use of you and your guests.
10. Amalfi Coast
If your wedding dreams consist of sparkling turquoise waters, sheer cliffs adorned with vibrant lemons and exotic flowers, and a perfect summer's day, make your way to the Amalfi Coast. The playground of the rich and famous, this 50km stretch of Southern Italy's coastline offers picture-perfect views from every angle. Whether you select Positano, Praiano, Capri or Amalfi from the coast's seemingly endless line of glittering islands, you're in store for an unforgettable experience. Spend your special day exchanging vows by the sea before dining on a meal of fresh seafood and drinking Amalfi's famous Limoncello.
Recommended Wedding Destination: Casa Angelina
Located in the ancient Amalfi Coast fishing village and former vacation destination of Italian royalty, Praiano, Casa Angelina is a secluded, Mediterranean Paradise. Here, couples may gaze out at endless emerald waters and dreamy sunsets, hosting their ceremony on the rocks beside the ocean or from the clifftops above. After the ceremony, listen to some live music at the hotel's luxurious La Gavitella Beach Club while enjoying resident chef Vincenzo Vanacore's modern, fine dining take on traditional Neapolitan cuisine.
11. French Riviera
One of the world's first modern resort destinations, the French Riviera was a favorite vacation spot for royalty in the 19th century. What later became a hotspot for prominent artists such as Pablo Picasso and Henri Matisse is nowadays the home to celebrities such as Elton John and Brigitte Bardot. With 310 to 330 days of sunshine per year and 115 km of coastline stretching across Saint Tropez, Cannes, and Monaco, it's clear why the world is in love with this stunning location. If you envision lush forests, breathtaking cliffs, sparkling blue water, and bright flowers at your wedding, but this destination at the top of your list.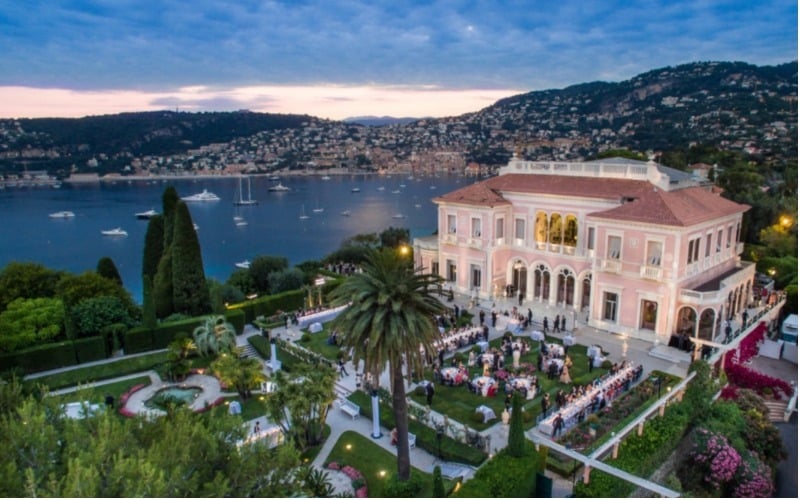 Recommended Wedding Destination: Rothschild Villa
If you're planning your wedding on the French Riviera, the Rothschild Villa is the perfect venue to make your dream a reality. With three beautiful options for your ceremony, you and your bride or groom-to-be will be spoilt for choice. Firstly, there is the majestic Grand Patio, inspired by a Venetian palazzo and featuring pink Verona marble arches. Next, the magical Oriental Dining Room which looks out onto the Bay of Villefranche. Finally, there is the French Garden with Renaissance-style vases, palms, and exotic agave bouquets.
12. Sicily
Surrounded by the sparkling Meditteranean sea, Sicily's gorgeous beaches are not the only thing that makes it one of the world's best wedding locations. Harnessing all of the elements, this island combines pristine waters with breathtaking mountains, a smoking volcano, and fresh island cuisine. If that isn't enough to lure you to Sicily for your wedding, also consider the rich culture and history that comes alive here. Set your wedding against a backdrop of Byzantine mosaics, Arab castle ruins, or in an ancient Baroque palace for an unforgettable experience.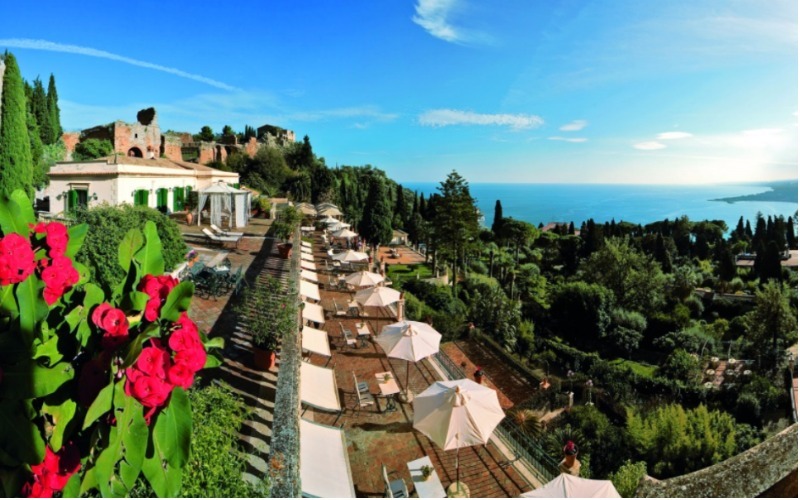 Recommended Wedding Destination: Belmond Grand Hotel Timeo
Enchanting guests for more than a century, Belmond Grand Hotel was the first hotel built in Sicily. Don't let age turn you away, however, as this timeless venue stands out as one of the world's top wedding spots. With views of the Mediterranean Sea and Sicily's volcano, Mt. Etna, Belmond Grand showcases the best of this Italian island. At this hotel, couples may get married on the cliffside terrace, which features an Ancient Greek theatre, lush gardens, and ocean views. To make your day perfect, Belmond offers a team of experts and the choice of an intimate wedding or an extended guest list up to 250 people.
13. Marrakech
For a wedding that appeals to all of the senses, make the journey to the incredible Marrakech. Vibrant colors, exotic sights, and spice-packed flavors are found at every turn in this former imperial city of Morrocco. As a treasure trove of stunning Islamic architecture, it is undeniable that it will provide a gorgeous backdrop for your special day.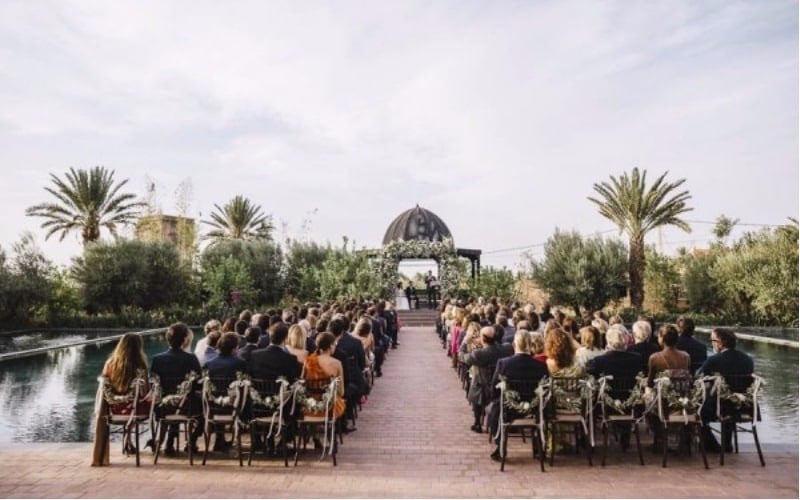 Recommended Wedding Destination: Selman Marrakech
Based at the foot of the Atlas Mountains, Selman Marrakech showcases the traditional aesthetics and values of Morocco in conjunction with the luxury of a world-class resort. Transport your guests to a magical new world where snow white Arabian horses wander through gardens just a stone's throw away from a scorching red desert. With highly personalized services available, the expert staff at Selman Marrakech are ready to make your dreams a reality.
14. Saint Lucia, Caribbean
If the lost city of Atlantis were to re-emerge from its watery depths, it would likely resemble Saint Lucia. With white volcanic sand, sapphire water, tall mountains and cascading waterfalls, this Eastern Caribbean island is any beach lover's wedding dream. Those who decide to travel to this stunning destination be warned, you may never want to leave.&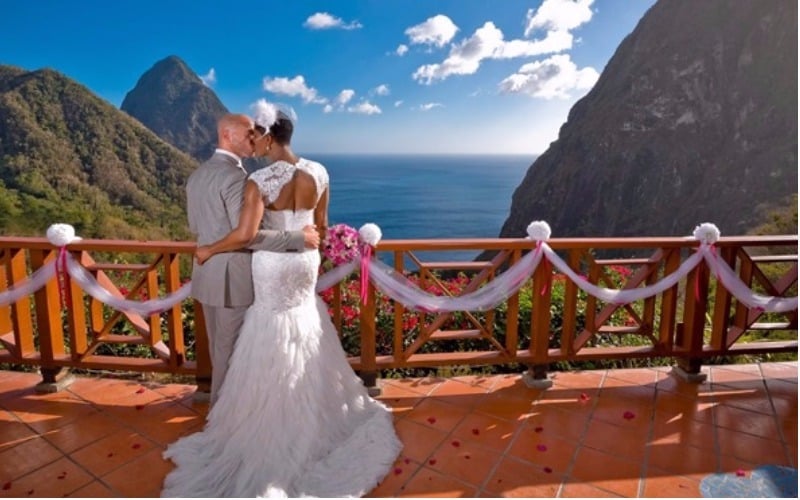 Recommended Wedding Destination: Ladera, Soufriére
Situated on a UNESCO World Heritage site 1000 feet above the sparkling Caribbean Sea is Saint Lucia's Ladera Resort. Presenting dramatic views of the majestic Piton Mountains, this eco-friendly five-star hotel provides an unparalleled wedding backdrop. Host your wedding on a private terrace suspended above the ocean and nestled amongst the vibrant Caribbean rainforest in the resort's stunning open-air villa.
15. Portugal
If fairytale castles, hidden beaches, and world-class seafood rank highly on your traveler's bucket list, Portugal is the wedding destination for which you've been searching. Located right next door to Spain, this country has something for everyone. From the turquoise ocean coves of Lagos to the whimsically bright-colored castles of Sintra, Portugal provides the perfect backdrop for a truly unique wedding.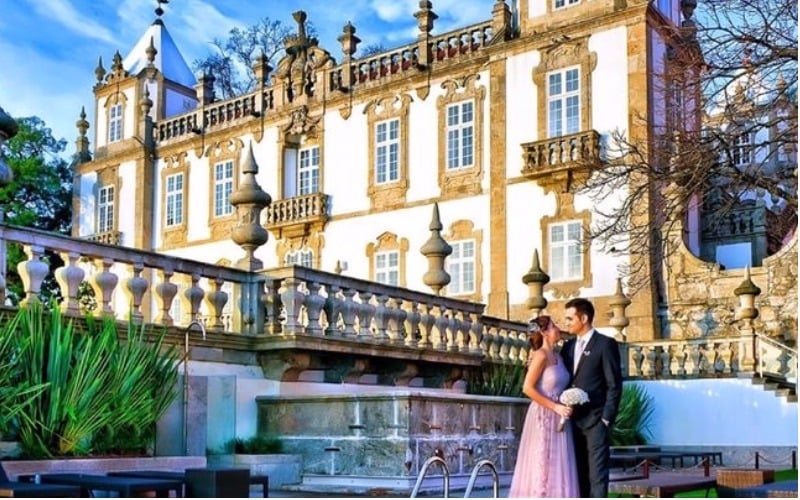 Recommended Wedding Destination: Palacio do Freixo
Many girls envision their wedding like a fairytale. At Portugal's Palacio do Freixo you can come pretty close to living that dream. This serene 18th-century palace exudes timeless charm, with decadent gilded rooms and manicured French-style gardens. Say your vows while listening to the gentle cascading flow of the nearby river and basking in some Portuguese sunshine.
FAQs
What is called a destination wedding?
A destination wedding is defined as a celebration in a country that is not your home country but a foreign one. Along with their wedding party, the bride and groom usually spend several days at their chosen location.
Where are the best destination weddings?
There are many popular spots for weddings because of their beauty and good climate. These include the Greek island Santorini, known for its sandy beaches, beautiful sea, and cobalt blue roofs. Fiji is a tropical oasis filled with palm trees that line the beaches, and Tuscany is celebrated as a place rich in history and romance. Many quaint villages in Provincial France also top the list.
Can Destination Weddings be cheaper?
Destination weddings can cost a lot of money if the bride and groom intend to fly out their family and wedding party, but it is cheaper in many instances. Depending on your chosen location, your local currency may offer good value for money. These weddings also typically have fewer people, which brings down the costs. Some couples also have their honeymoon in the same location, straight after the ceremony, which again brings down the cost.
How much does it cost to have a destination wedding?
Many factors influence the cost of a destination wedding; these include how many guests you intend to invite, who you will pay for flights and accommodation, and where the wedding will be held. Some countries are also significantly cheaper than others. The average destination wedding is expected to cost around $35,000. It is also worth noting that although this option is beautiful, it is often very costly to the guests.
SUBSCRIBE TO OUR NEWSLETTER
Subscribe to our mailing list and get interesting stuff and updates to your email inbox.