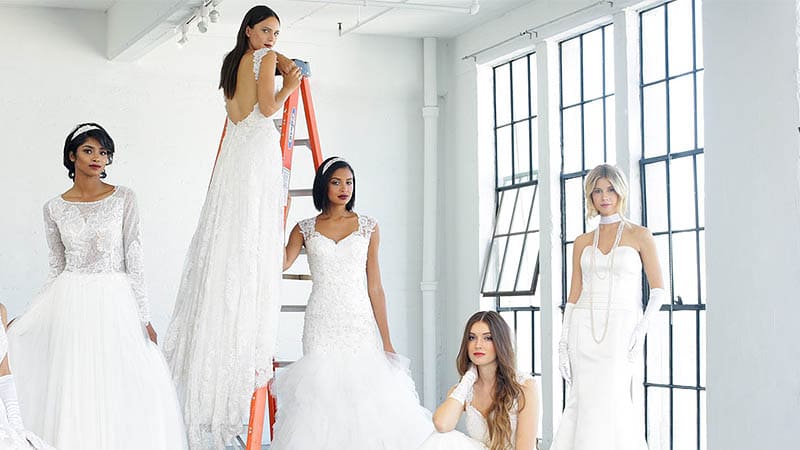 Choosing a wedding dress is an exciting process, but it can also be a stressful one. Between the seemingly endless list of options and the confusing terminology, picking the perfect gown can seem almost impossible. Luckily, we're here to help. In this article, we've broken down your choices into simple sections and clarified precisely what those tricky terms mean. So, after reading this, you'll be ready to sit back, relax, and sip some champagne, knowing you've found the right gown. Ready to begin? Here's our ultimate bride's guide to wedding dress styles and silhouettes.
Wedding Dress Styles
A-Line
A-line wedding dresses are very popular and can flatter almost all body shapes. They are fitted at the top and gradually become wider toward the bottom, like the shape of an 'A'. This silhouette naturally highlights the bust while slimming the waist and skimming over the hips. As such, it makes a lovely option for many ladies, especially those with pear bodies. Due to their classic and chic style, A-line dresses can easily be partnered with different necklines, waistlines, and fabrics to showcase your best features.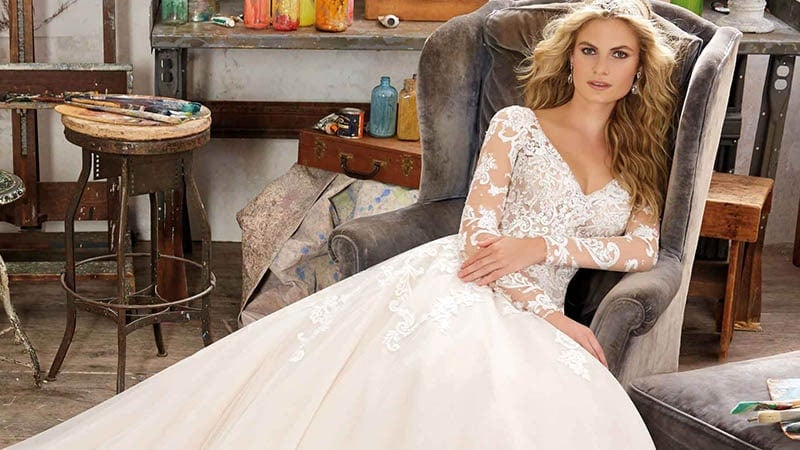 Ball Gown
The ball gown wedding dress is a glamorous and classic option for brides. It is a full-length style that features a fitted bodice and full skirt. As such, it makes a beautiful choice for large and traditional weddings and is perfect for brides who want to feel like a princess on their big day. Due to its large skirt, the ball gown can create the appearance of a tiny waist. It can also suit all body shapes, providing the fullness of the skirt balances the wearer's height and size.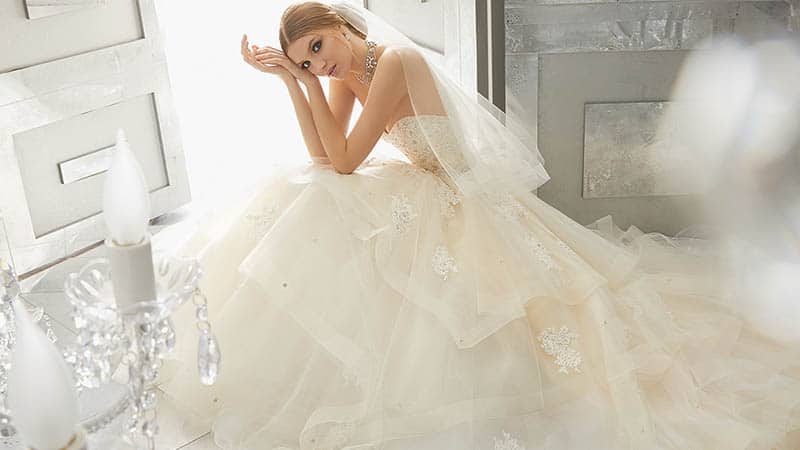 Column
Column or sheath gowns are slim-fitting dresses that feature a narrow and straight shape from top to bottom. The style is designed to gently hug the body, showcasing your figure in the process. As such, they are best for confident brides who don't mind showing off their waist and hips. In particular, tall and lean brides appear especially stunning in this style. However, if you have a straight body type, be sure to define your waist with a waistline or sash. Also, if you have trouble walking in tight dresses, consider an option with a split.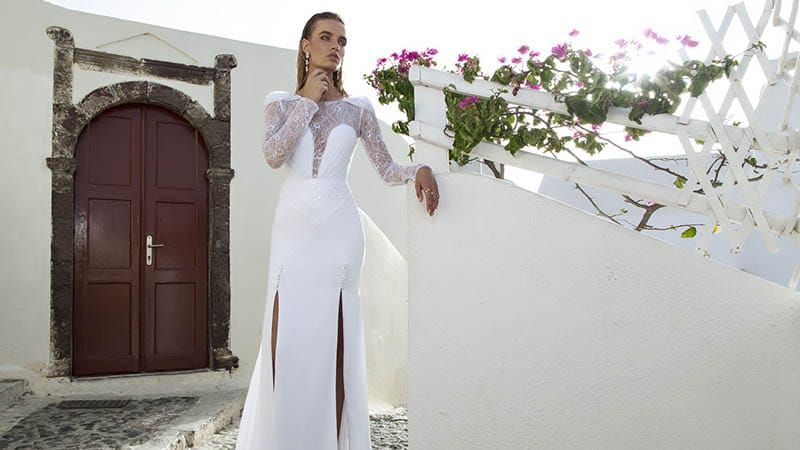 Fishtail/Mermaid
Fishtail and mermaid wedding dresses are glamorous gowns that are shaped just as their names suggest. They follow the contour of the body before flaring out around the knees. The result is a very sexy and feminine style that highlights curves and turns heads. As such, these dresses are particularly ideal for confident brides and look stunning on hourglass figures. For a subtle take on the fishtail wedding gown, you can also consider a trumpet variation, which features a softer flare that begins higher up the legs.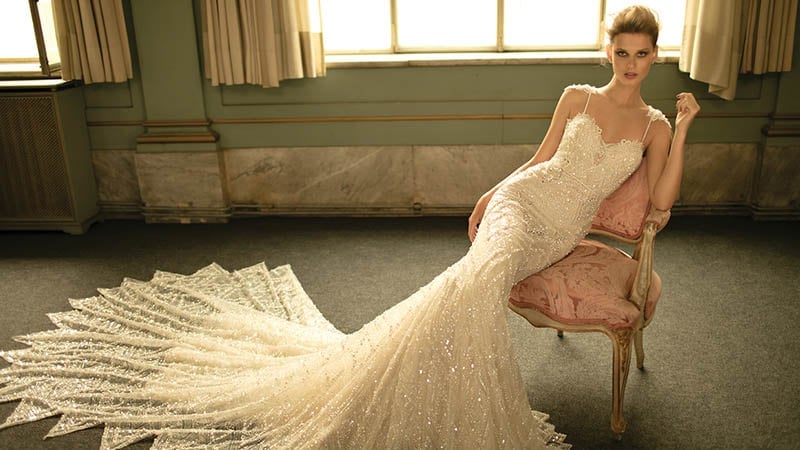 Empire
Empire waist dresses feature a raised waistline that sits just below the bust. The rest of the dress then flows down to the hem. Therefore, they can lengthen the appearance of your legs while highlighting and defining your bust. This makes them perfect for petite brides who want to appear taller as well as brides with small busts. Additionally, empire gowns also make a lovely maternity choice for pregnant brides.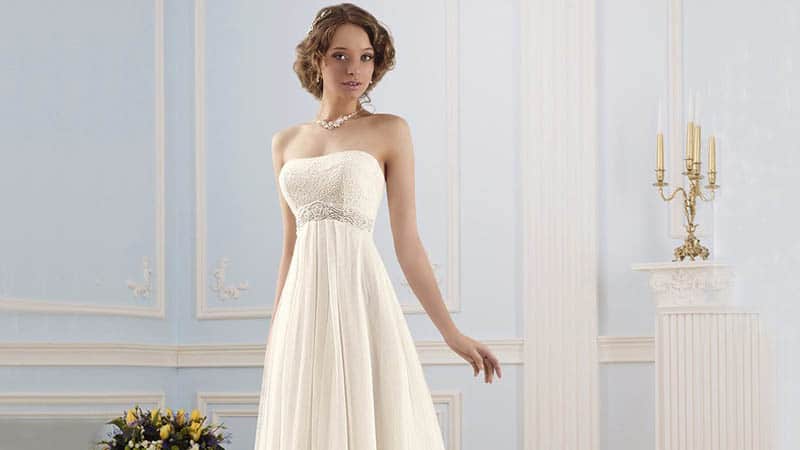 Wedding Dress Necklines
Sweetheart
Sweetheart necklines are cut low and shaped like the top of a heart across the bust. They can either have straps or be strapless and are perfect for projecting a feminine and romantic appearance. The style can work well for brides with small busts as well as those with larger busts who want to show just a little cleavage. Also, the soft curves of the sweetheart neckline make it ideal for balancing strong facial features.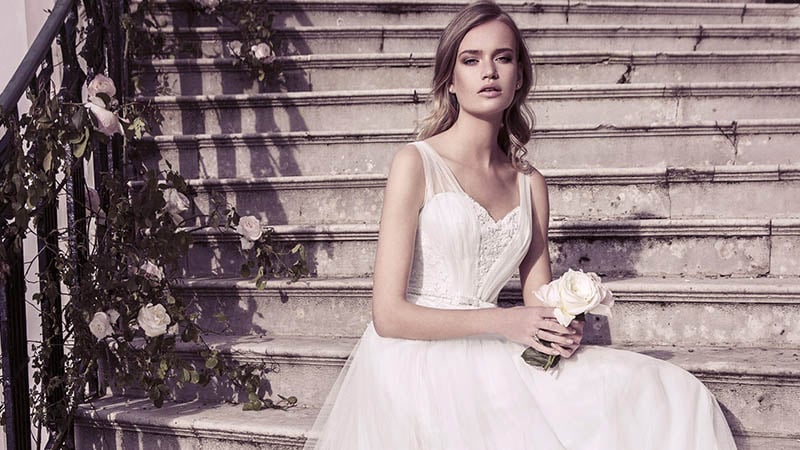 Halter Neck
A halter neck dress features a strap that sits around the neck to help hold up the top. Most halter neck gowns feature a high-neck and backless design, but this can vary. The style is a flattering and stylish option for modern brides and is ideal for showing off your shoulders and arms. It also makes an excellent alternative to strapless styles and is useful for adding the appearance of height to a petite frame.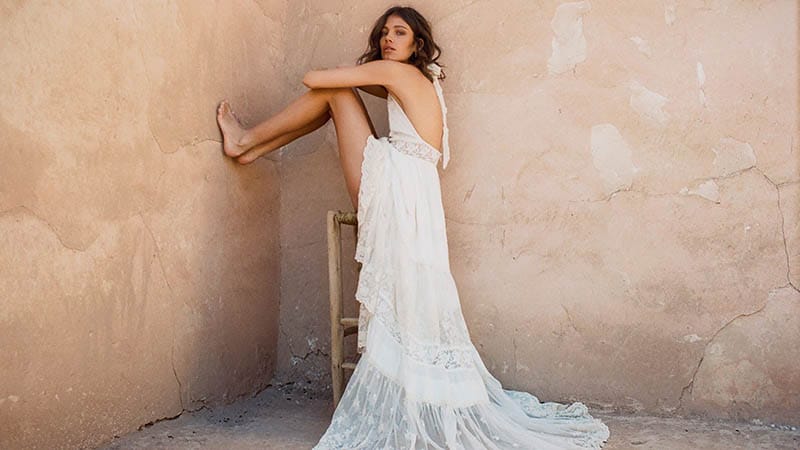 V-Neck
V-neck styles feature two diagonal lines, which form a 'V' shape and expose the decolletage. Just how low a V-neck goes depends on the design. So, you can easily choose how much cleavage you want to show with this look. Additionally, while the cut does reveal cleavage, its straight lines can actually minimize the appearance of your bust, and its plunging shape can add height to your look.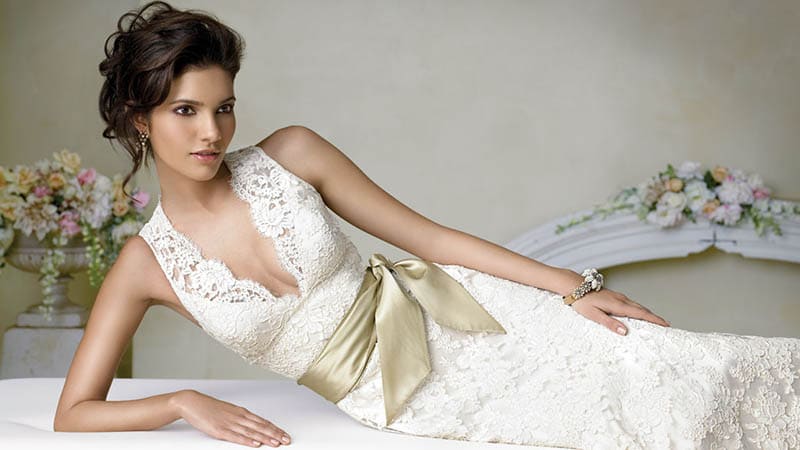 Square Neckline
A square neckline features a straight-cut bust that connects to straps at a right angle, creating the three sides of a square or rectangle. Although the style is angular, some options can be slightly rounded for a softer appearance. Either way, the look appears formal and elegant and is ideal for broadening shoulders or balancing a round face.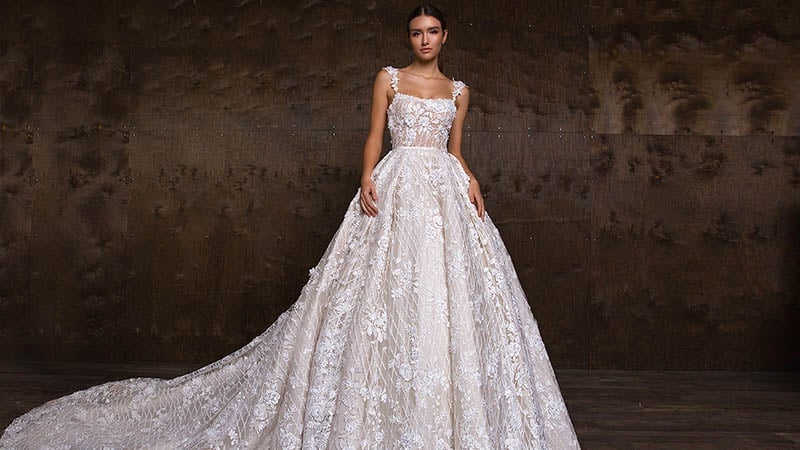 Wedding Dress Sleeves
Strapless
Strapless wedding dresses feature no straps or sleeves attached to the neckline. They are designed to sit snuggly around your bust and are ideal for achieving a chic and elegant appearance. Although strapless gowns can suit all body types, they don't provide much support for large busts and can highlight incorrect posture. However, they do make a great option for brides who are planning a loose wedding hairstyle or who want to wear a statement necklace on their special day.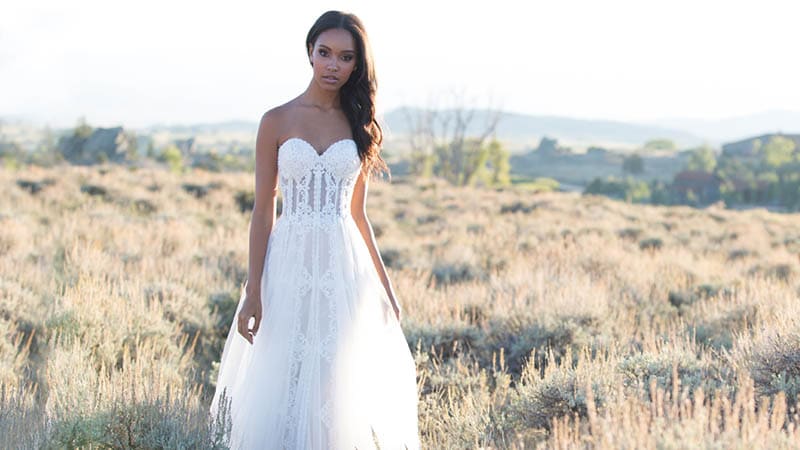 Long Sleeves
By opting for a wedding dress with long sleeves, you'll be able to cover your arms for an elegant and beautiful appearance. Not only are long sleeves ideal for classic brides, but they can also work for those who prefer a modern aesthetic, especially when paired with daring details like cut-outs, plunging necklines, and low-cut backs. Although tight-fitting and sheath sleeves tend to be the most common choice today, you can consider other options, such as bell or bishop sleeves, for a unique appearance. The 3/4 sleeves can also make an excellent alternative.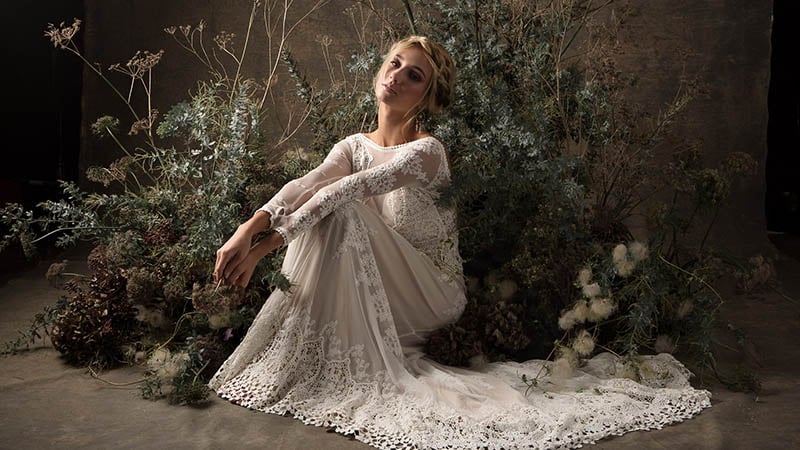 Cap Sleeves
Cap sleeves are a popular and feminine option for wedding dresses. They are a style of short sleeve that covers the shoulder without extending below the armpit level.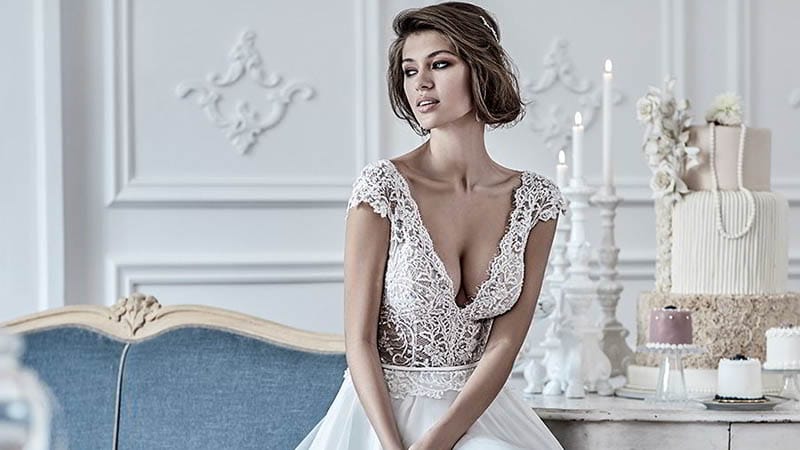 Off-the-Shoulder
For a seductive and stylish wedding dress, consider selecting an off-the-shoulder style. The modern look, which features sleeves or straps that begin below the shoulder, is perfect for showcasing delicate necks, collarbones, and, of course, shoulders.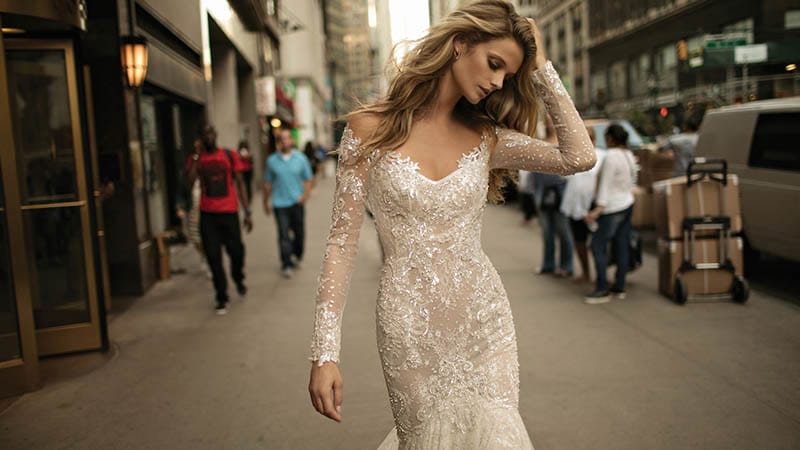 One-Shoulder
For a unique and modern option, a one-shoulder gown can make an excellent choice. The asymmetrical style is beautifully feminine and instantly draws eyes to the top of your dress.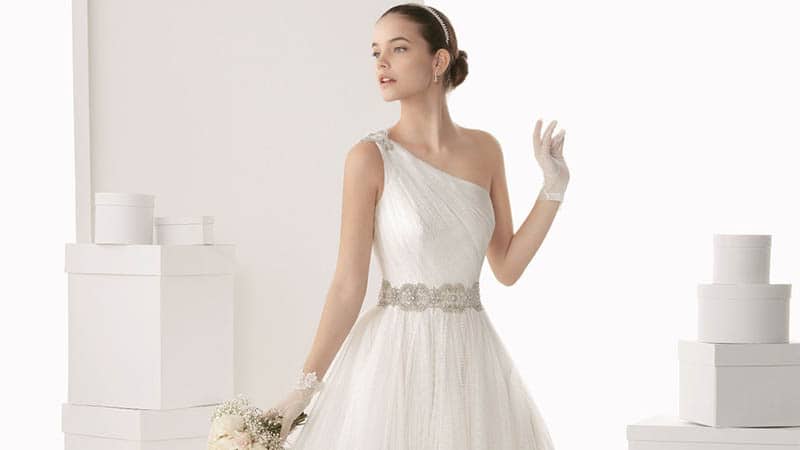 Wedding Dress Styles FAQs
What are the different styles of wedding dresses?
There are many different styles of wedding dresses that can suit every shape, but some of the most popular include the ballgown dress, mermaid, trumpet, empire, and column. The A-line shape is considered to be universally flattering. You can also decide to have long sleeves or strapless and various necklines from V-neck to off-the-shoulder.
When should you start shopping for a wedding dress?
The best time to start shopping for your wedding dress really depends on where you are buying it and whether it is a formal or more laid-back occasion, but in general, you should wait no later than 6 months before your wedding before looking for your dress.
What are the wedding dress trends for 2022?
Weddings in 2022 were made a little more difficult because of the global pandemic, which meant restrictions had to happen in many countries. That said, it was still a chance for brides to look their best and celebrate their big day, and they did this with edgy and modern wedding dresses, the buff color was a big trend (the mixture between champagne and blush), and dreamy, voluminous gowns, as well as long sleeves and cuffs.
How do I choose a wedding dress for my body type?
When choosing a wedding dress for your body type, you want to pick a style that flatters your curves or potentially gives them an illusion. An A-line wedding dress is a universally flattering shape, but many other options and styles to choose from. Necklines can also impact your overall look, with plunging and V-neck drawing the eye downwards and creating a slimmer silhouette.
What is the most popular wedding dress style?
Fit and flare wedding dresses are one of the most popular styles. Other styles to note include mermaid, A-line, ball gown, trumpet, tea-length, and column.
Where can you buy a wedding dress?
You can buy a wedding dress from bridal boutiques, vintage stores, or online. Your decision will be impacted by what type of dress you want and what your budget is. It may be helpful to physically try different styles at boutiques to get an idea of what looks best on your body shape.
What do you wear under a wedding dress?
What you wear underneath your wedding dress depends on the style of dress you opt for. For example, a strapless dress cannot be worn with visible bra straps. The good news is there are countless undergarments designed for every dress, including stick-on bras and tapes. Most women opt for shapers or good quality underwear, and some choose slips. The decision is yours; just make sure you are comfortable and that your undergarments fit well.
Why are wedding dresses white?
Wedding dresses have been white for thousands of years, and it is a traditional choice even now. The reason is that the color is connected with purity and innocence and was worn by the bride on her wedding day to represent her chastity. These days, modern women may be more inclined to opt for various shades of off-white, champagne, cream, and even silver.
What should I look for when buying a wedding dress?
Before going dress shopping, you want to have a few ideas of what you are looking for and be flexible, as you may fall in love with a style that you would never have dreamed of wearing. It is also important to set a budget and be honest about it when you go to the bridal boutique. Always schedule an appointment beforehand to have one-on-one time with an advisor who can steer you in the right direction in terms of styles and fit.
What do you do with your wedding dress after the wedding?
What you decide to do with your wedding dress after your big day is really up to you. Some women like to get the gown dry cleaned and leave it hanging in their cupboard as a beautiful reminder of that special time. It may also be passed on to family or friends. You could convert it into another dress that can be worn more often or proudly display it in your home. Others prefer to sell it and try to make back some of their money or donate it.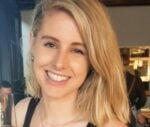 Taylah Brewer holds a bachelor's degree in fashion and business and is a skilled writer with several years of experience in the world of online content creation and copywriting. She is passionate about fashion, beauty, and all things lifestyle-related and has been writing for The Trend Spotter since 2016. She currently works as the Head of Digital & Ecommerce at White & Co.
SUBSCRIBE TO OUR NEWSLETTER
Subscribe to our mailing list and get interesting stuff and updates to your email inbox.