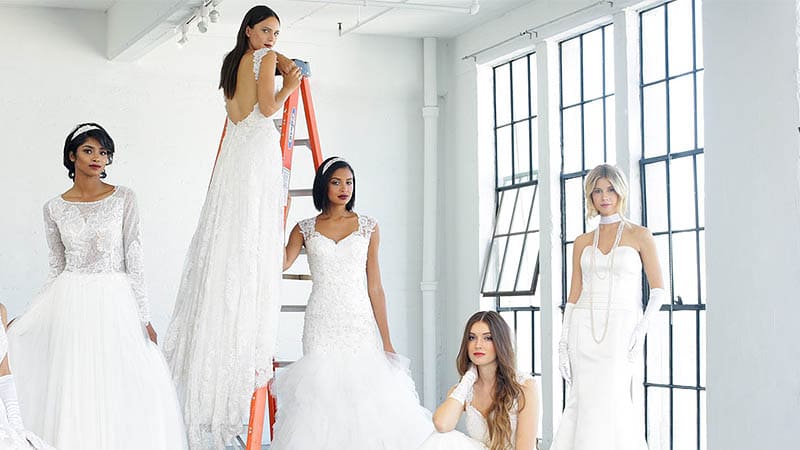 Choosing a wedding dress is an exciting process, but it can also be a stressful one. Between the seemingly endless list of options and the confusing terminology, picking the perfect gown can seem almost impossible. Luckily, we're here to help. In this article, we've broken down your choices into simple sections and clarified precisely what those tricky terms mean. So, after reading this, you'll be ready to sit back, relax and sip some champagne knowing you've found the right gown. Ready to begin? Here's our ultimate bride's guide to wedding dress styles and silhouettes.
Wedding Dress Styles
A-Line
A-line wedding dresses are very popular and can flatter almost all body shapes. They are fitted at the top and gradually become wider toward the bottom, like the shape of an 'A'. This silhouette naturally highlights the bust while slimming the waist and skimming over hips. As such, it makes a lovely option for many ladies, especially those with pear bodies. Due to their classic and chic style, A-line dresses can easily be partnered with different necklines, waistlines and fabrics to showcase your best features.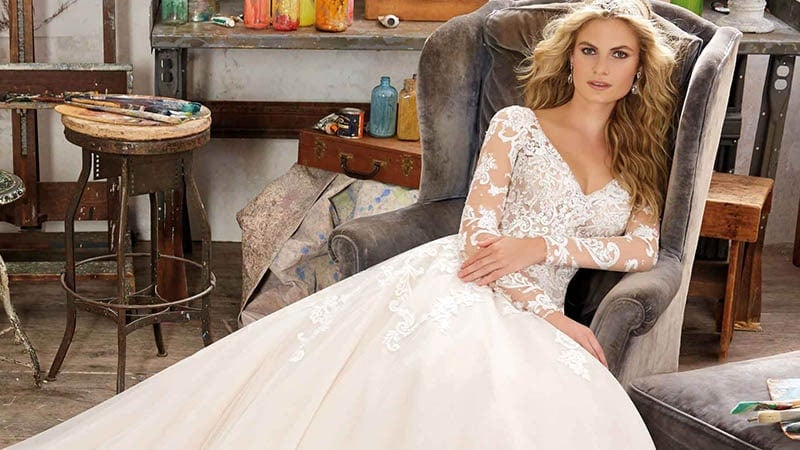 TOP BUYS
Ball Gown
The ball gown wedding dress is a glamorous and classic option for brides. It is a full-length style that features a fitted bodice and full skirt. As such, it makes a beautiful choice for large and traditional weddings and is perfect for brides who want to feel like a princess on their big day. Due to its large skirt, the ball gown can create the appearance of a tiny waist. It can also suit all body shapes, providing the fullness of the skirt balances the wearer's height and size.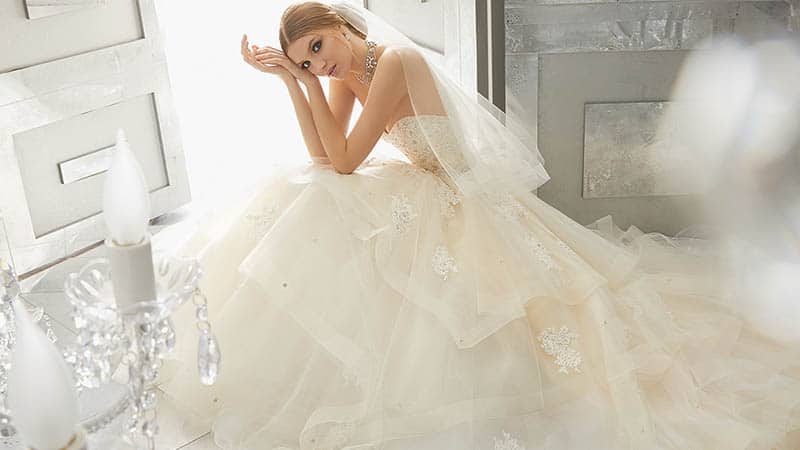 TOP BUYS
Column
Column or sheath gowns are slim-fitting dresses that feature a narrow and straight shape from top to bottom. The style is designed to gently hug the body, showcasing your figure in the process. As such, they are best for confident brides who don't mind showing off their waist and hips. In particular, tall and lean brides appear especially stunning in this style. However, if you have a straight body type, be sure to define your waist with a waistline or sash. Also, if you have trouble walking in tight dresses, consider an option with a split.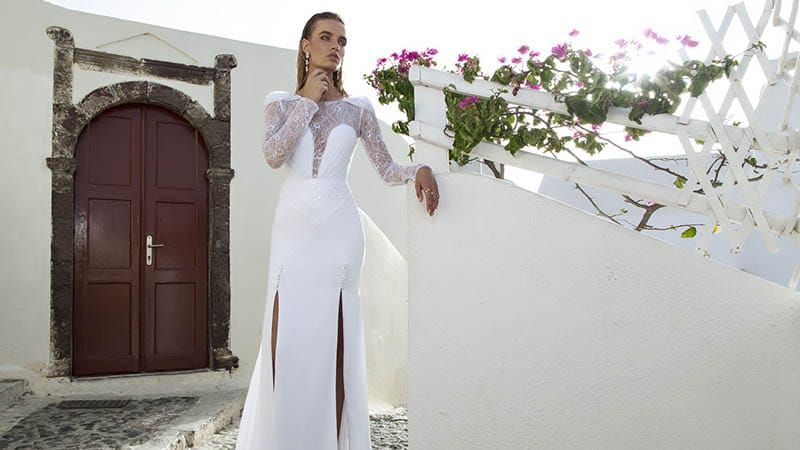 TOP BUYS
Fishtail/Mermaid
Fishtail and mermaid wedding dresses are glamorous gowns that are shaped just as their names suggest. They follow the contour of the body before flaring out around the knees. The result is a very sexy and feminine style that highlights curves and turns heads. As such, these dresses are particularly ideal for confident brides and look stunning on hourglass figures. For a subtle take on the fishtail wedding gown, you can also consider a trumpet variation, which features a softer flare that begins higher up the legs.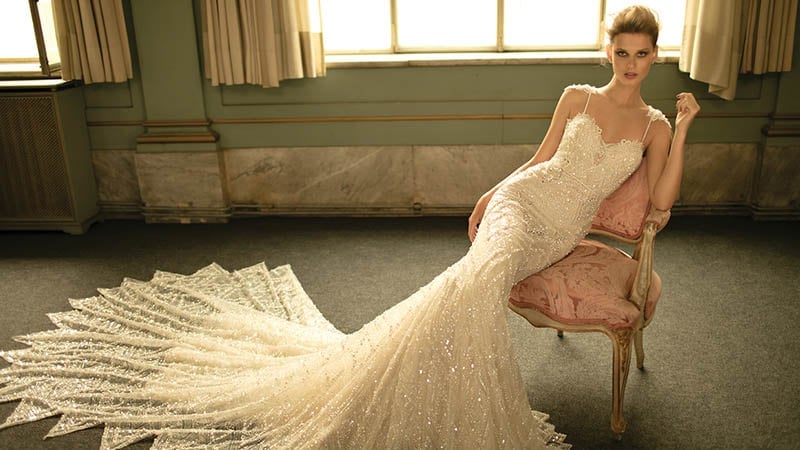 TOP BUYS
Empire
Empire waist dresses feature a raised waistline that sits just below the bust. The rest of the dress then flows down to the hem. Therefore, they can lengthen the appearance of your legs while highlighting and defining your bust. This makes them perfect for petite brides who want to appear taller as well as brides with small busts. Additionally, empire gowns also make a lovely maternity choice for pregnant brides.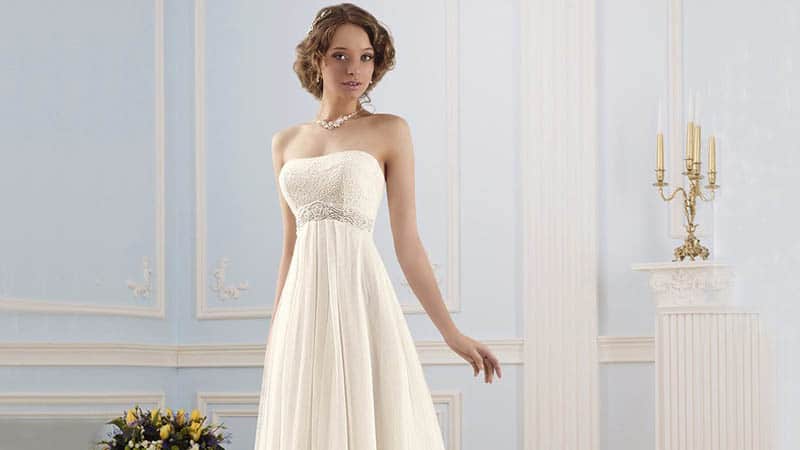 TOP BUYS
Wedding Dress Necklines
Sweetheart
Sweetheart necklines are cut low and shaped like the top of a heart across the bust. They can either have straps or be strapless and are perfect for projecting a feminine and romantic appearance. The style can work well for brides with small busts as well as those with larger busts, who want to show just a little cleavage. Also, the soft curves of the sweetheart neckline make it ideal for balancing strong facial features.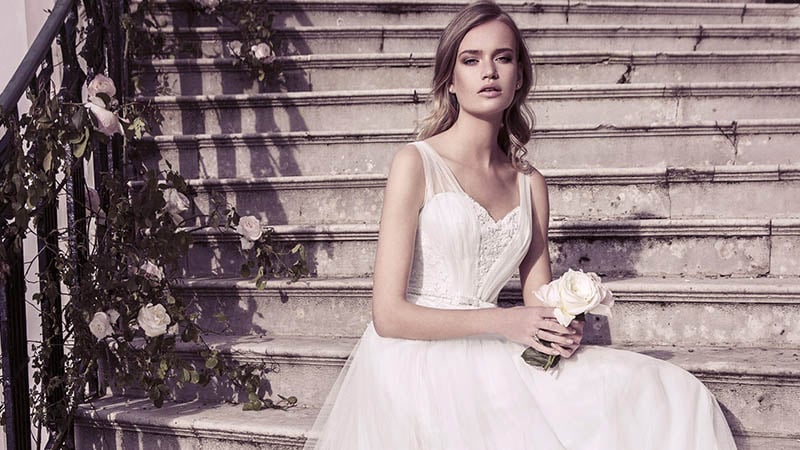 TOP BUYS
Halter Neck
A halter neck dress features a strap that sits around the neck to help hold up the top. Most halter neck gowns feature a high-neck and backless design, but this can vary. The style is a flattering and stylish option for modern brides and is ideal for showing off your shoulders and arms. It also makes an excellent alternative to strapless styles and is useful for adding the appearance of height to a petite frame.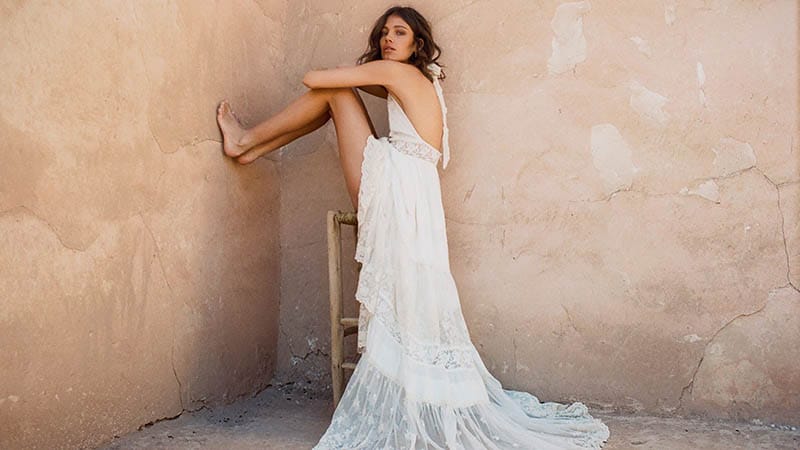 TOP BUYS
V-Neck
V-neck styles feature two diagonal lines, which form a 'V' shape and expose the decolletage. Just how low a V-neck goes depends on the design. So, you can easily choose how much cleavage you want to show with this look. Additionally, while the cut does reveal cleavage, its straight lines can actually minimise the appearance of your bust and its plunging shape can add height to your look.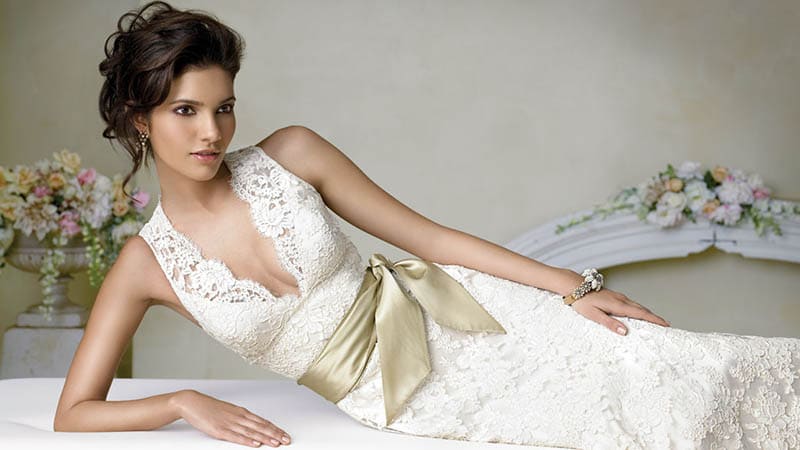 TOP BUYS
Square Neckline
A square neckline features a straight cut bust that connects to straps at a right angle, creating the three sides of a square or rectangle. Although the style is angular, some options can be slightly rounded for a softer appearance. Either way, the look appears formal and elegant and is ideal for broadening shoulders or balancing a round face.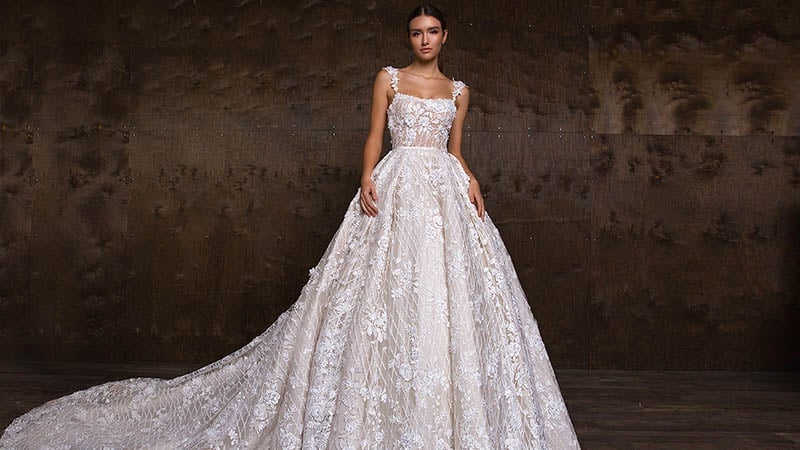 TOP BUYS
Wedding Dress Sleeves
Strapless
Strapless wedding dresses feature no straps or sleeves attached to the neckline. They are designed to sit snuggly around your bust and are ideal for achieving a chic and elegant appearance. Although strapless gowns can suit all body types, they don't provide much support for large busts and can highlight incorrect posture. However, they do make a great option for brides who are planning a loose wedding hairstyle or that want to wear a statement necklace on their special day.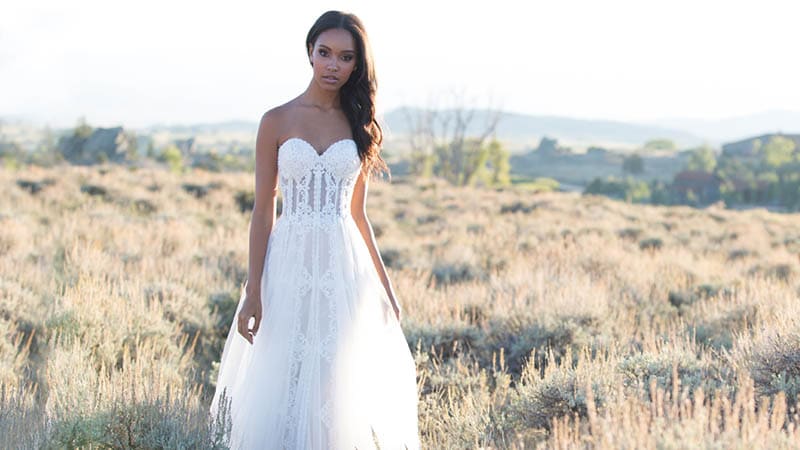 TOP BUYS
Long Sleeves
By opting for a wedding dress with long sleeves, you'll be able to cover your arms for an elegant and beautiful appearance. Not only are long sleeves ideal for classic brides, but they can also work for those who prefer a modern aesthetic, especially when paired with daring details like cut-outs, plunging necklines and low-cut backs. Although tight-fitting and sheath sleeves tend to be the most common choice today, you can consider other options, such as bell or bishop sleeves for a unique appearance. The 3/4 sleeves can also make an excellent alternative.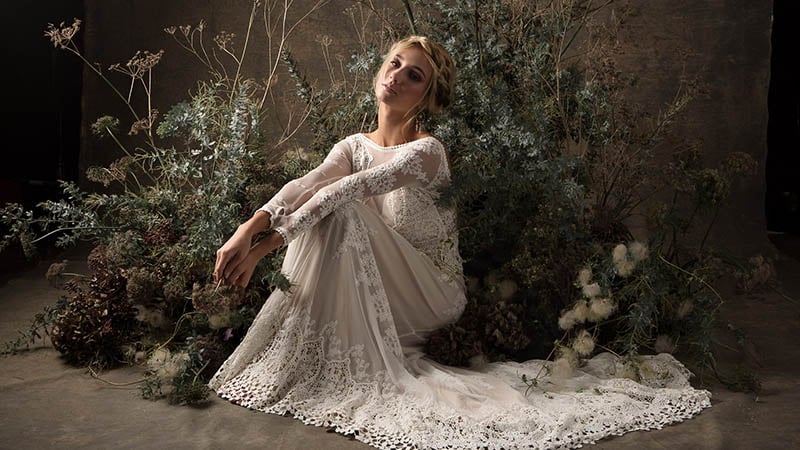 TOP BUYS
Cap Sleeves
Cap sleeves are a popular and feminine option for wedding dresses. They are a style of short sleeve that covers the shoulder without extending below armpit level.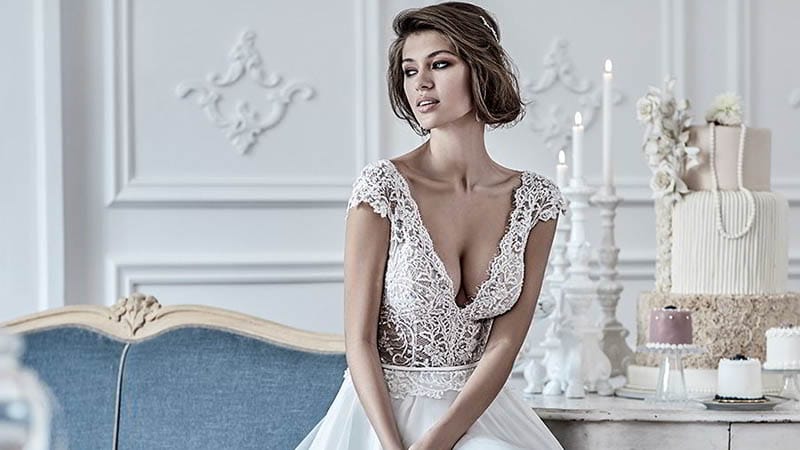 TOP BUYS
Off-the-Shoulder
For a seductive and stylish wedding dress, consider selecting an off-the-shoulder style. The modern look, which features sleeves or straps that begin below the shoulder, is perfect for showcasing delicate necks, collarbones and, of course, shoulders.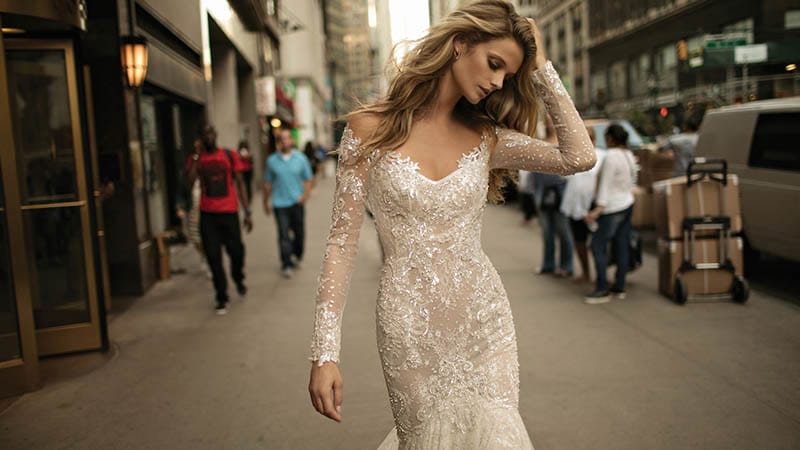 TOP BUYS
One-Shoulder
For a unique and modern option, a one-shoulder gown can make an excellent choice. The asymmetrical style is beautifully feminine and instantly draws eyes to the top of your dress.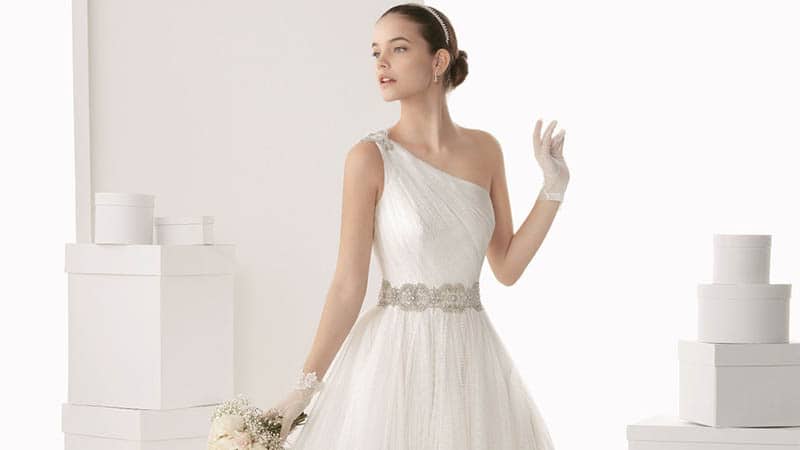 TOP BUYS