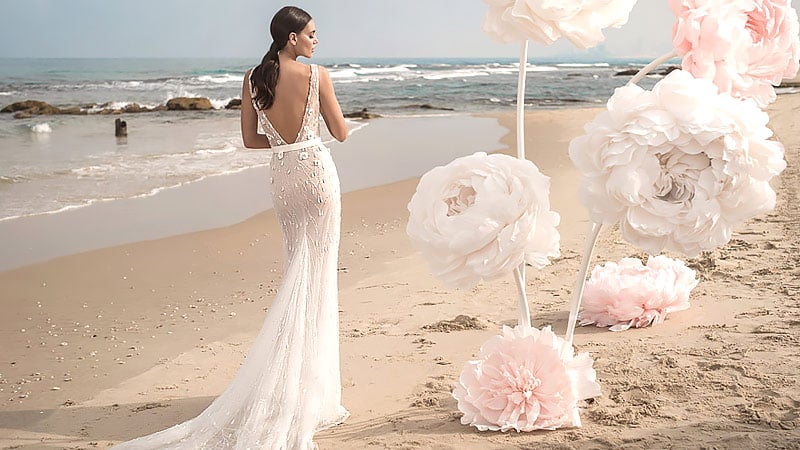 Every bride wants to look her best on the big day, so why not try a mermaid wedding dress? Its flattering, feminine, sultry and elegant silhouette looks stunning on anyone. From long sleeves and slits to vintage designs, there is a style to suit any taste and preference. Watch as you steal the show walking down the aisle in one of these beauties.
Types of Mermaid Wedding Dresses
Lace Wedding Dresses
Delicate and daring, lace mermaid wedding dresses are the perfect option for your big day. From sweetheart necklines to long sleeves and plunging backs, you're sure to look like an ethereal goddess in one of these timeless pieces. From traditional designs to something a bit modern, this is a gown that will steal the spotlight.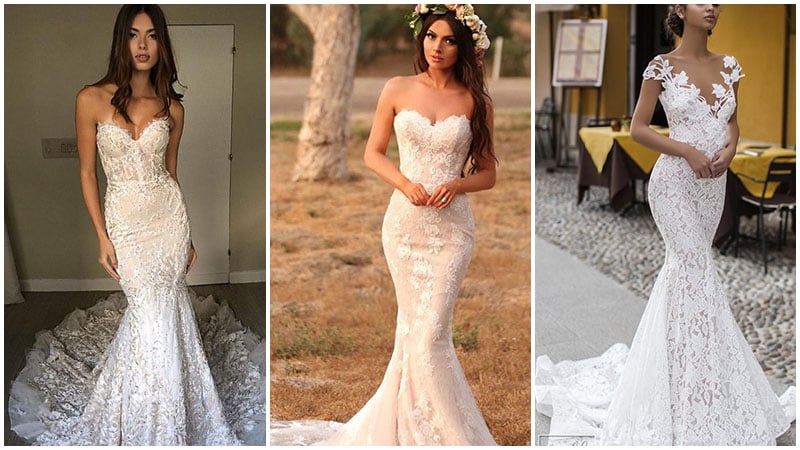 Satin and Silk Wedding Dresses
Combine classic designs with a sultry twist in a stain or silk wedding dress. This is perfect for a bride who wants to wear something elegant, but can up the ante with beautiful accessories or a bold bouquet. The mermaid silhouette amplifies the hourglass figure, and the delicate fabric is simple enough to let your natural beauty shine through.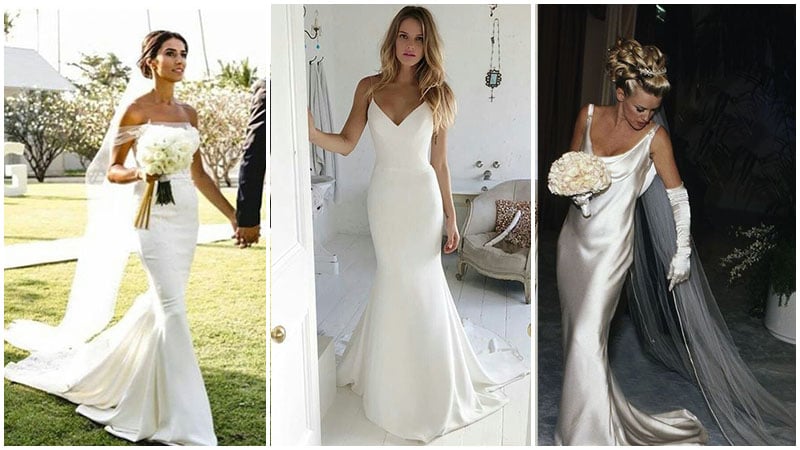 Long Sleeve Dresses
From modest designs to vintage styling, these long sleeve wedding dresses look perfect with a mermaid silhouette. Whether you plan to create a classic aesthetic with a boatneck or seduce the room in a plunging neckline, you're sure to wow the crowd as soon as you step down the aisle in one of these showstoppers.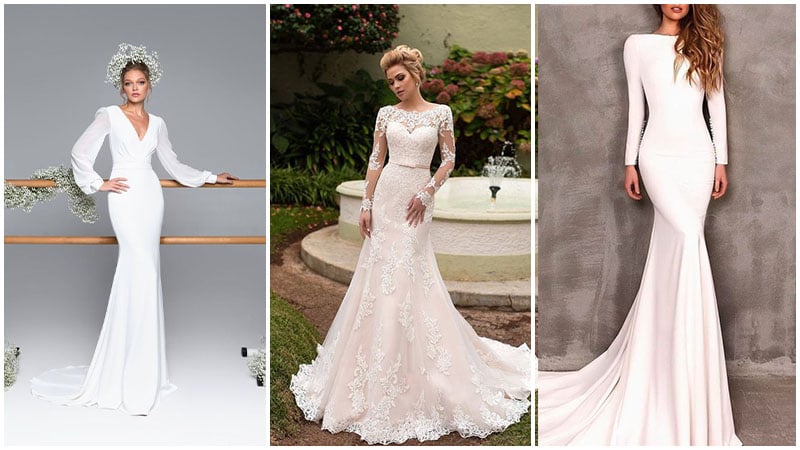 High Low Wedding Dresses
Why blend in when you were made to stand out? A high-low dress is a modern alternative to the classic gown that offers tradition with a mermaid silhouette. Choose from a sweeping train and a front that hits your ankles or something tea-length, and you will have your guests talking for weeks. Complement the exposed leg with long sleeves or a modern neckline, and you'll want to wear this ensemble every day!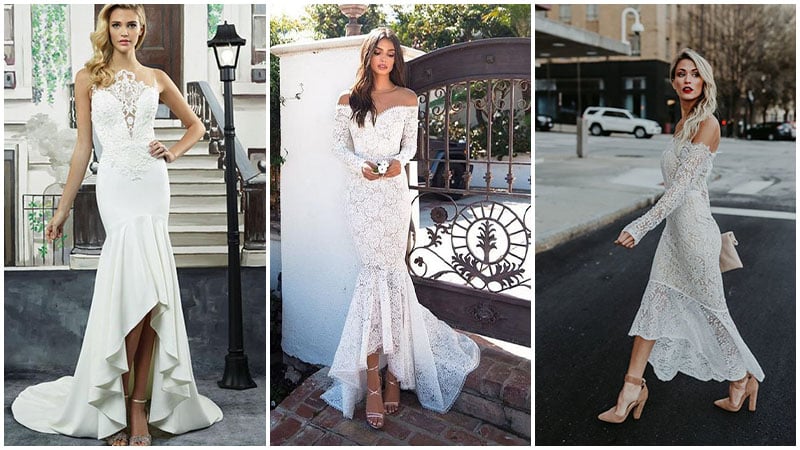 Trumpet Wedding Dresses
Unlike the traditional mermaid gown, a trumpet silhouette is cinched at the thigh, and it flares out at the bottom. These designs look best with a body-skimming bodice and create a stunning hourglass figure and make legs look longer. You can't really go wrong with this design – they're a classic and beautiful choice for any bride.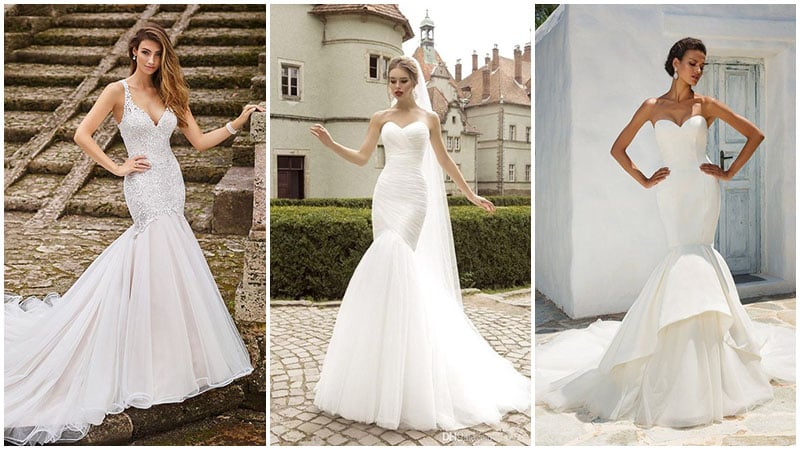 Sweetheart Neckline Wedding Dresses
Feel like the most beautiful bride in the world in a sweetheart wedding dress. The silhouette and neckline offers a delicate and feminine appeal and it flatters all body types. No matter if you're walking down the aisle on the beach or in a chapel, these gowns are sure to take everyone's breath away.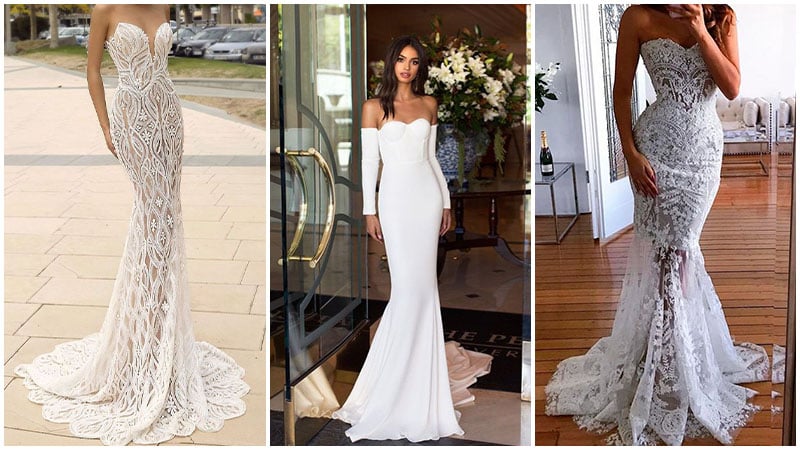 Halter Wedding Dresses
Showcase your stunning shoulders and arms with a halter wedding dress. The gown helps create a breathtaking hourglass figure, and with a cinched waist and flowing mermaid silhouette, you're going to look like a princess.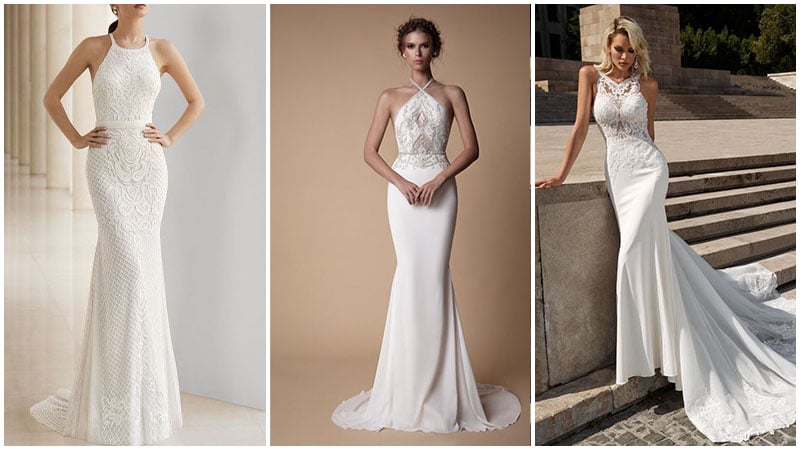 Cap Sleeve Wedding Dresses
Cap sleeves are the perfect option for the bride who loves tradition. These gowns cover the shoulders in delicate fabric but aren't overpowering in their design. From intricate lace to bedazzled beads, there are so many ways to style this elegant design, and are sure to look stunning on anyone!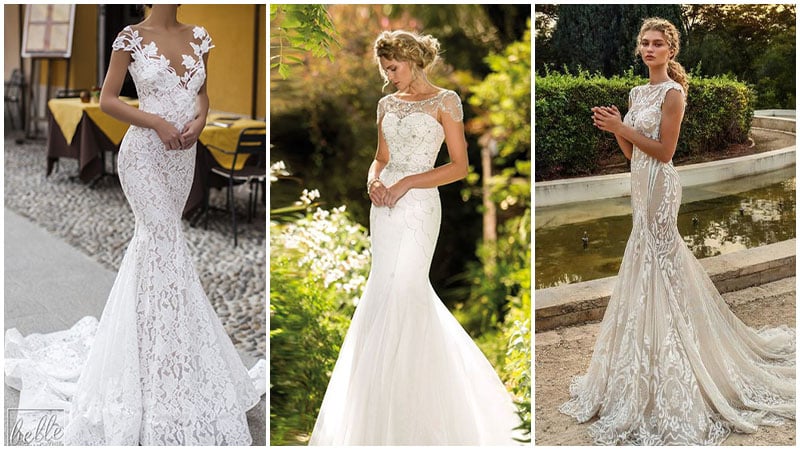 Boho Wedding Dresses
Feel loose and carefree in one of these stunning bohemian dresses. Not too tight or sparkly, these gowns are perfect for a beach or laidback wedding. The mermaid silhouette adds a classic feel to the contemporary design, but it's not too overwhelming or glitzy, which is perfect for a casual setting.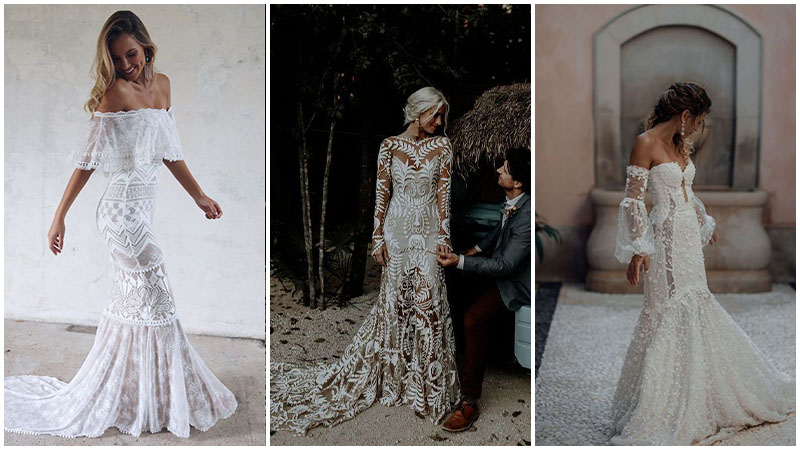 Wedding Dresses with Long Train
Unleash your inner princess with one of these gorgeous gowns. With a long and flowing train, these wedding dresses are perfect for the bride who wants to make an entrance. The hourglass silhouette is complemented perfectly with the fabric behind, leaving a lasting impression that will be on the guest's minds all day.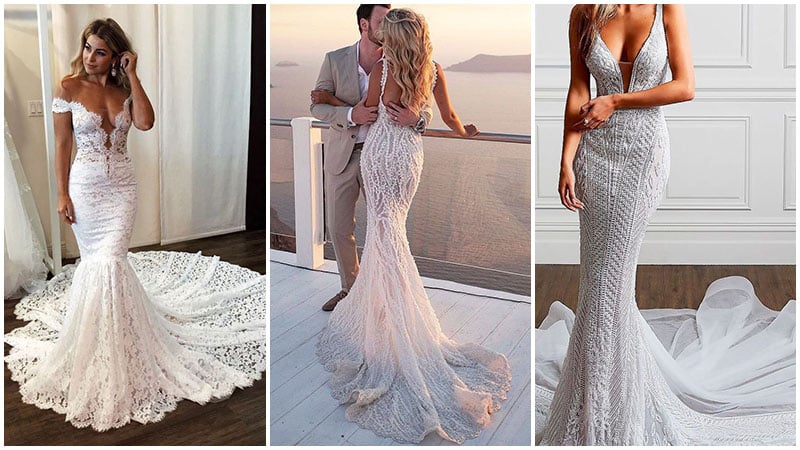 Strapless Corset Wedding Dresses
A little bit classic, a little bit seductive, these strapless corset wedding dresses are a perfect choice for the modern bride. Whether you prefer the formfitting silhouette they produce, or you fall in love with the vintage-style boning, these gowns are a stylish option for a bride on their special day.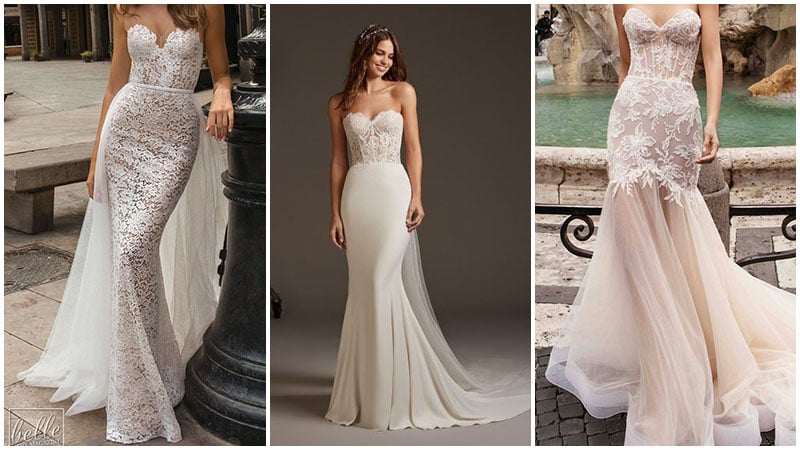 Wedding Dresses with Straps
Make a subtle statement with this strappy gown. Whether it be spaghetti or something with a bit more substance, you can't go wrong with one of these stunning wedding dresses. Ideal for a summer wedding, these designs look best when you wear your hair up, to showcase your beautiful shoulders and long neck.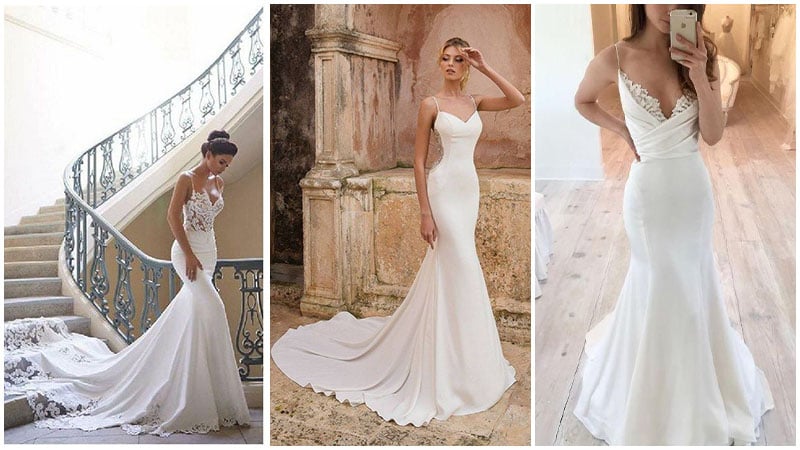 Backless Wedding Dresses
Business in the front, party in the back is what this dress is all about. A gown that's low, scoop or entirely backless is a seductive yet elegant way to show some skin on your big day. Choose long or short sleeves, or something strappy to add an instant wow factor. To showcase the beauty of this design, wear your hair up or to the side and watch as your guests admire you as you walk down the aisle.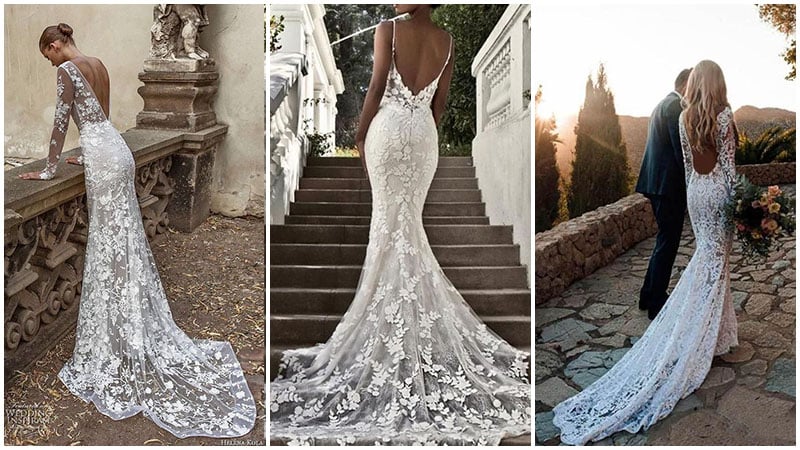 Ruffle Wedding Dresses
Feel like royalty for your big day in a ruffled mermaid gown. The form-fitting silhouette is amplified with the flounce at the bottom, and is sure to make a real statement. Whether you prefer subtle frills or something a bit more daring, these dresses are fit for a princess!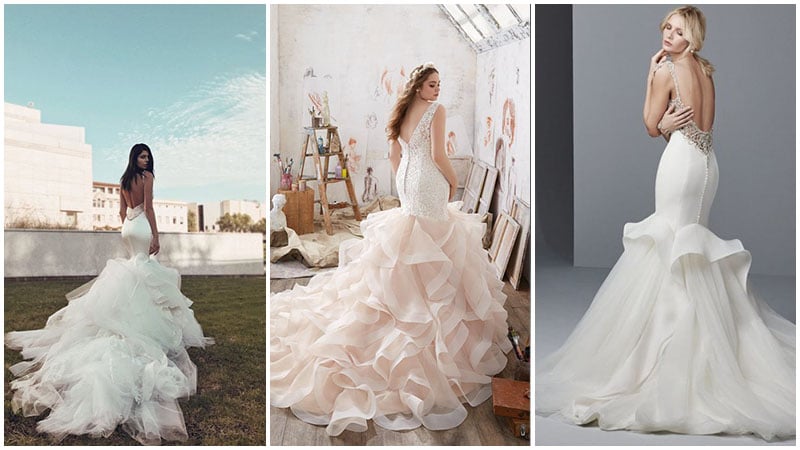 Vintage Mermaid Wedding Dresses
Enjoy a blast from the past in one of these stunning vintage gowns. From 1920s lace to 1980s sleeves, you can't go wrong with something retro. You don't have to stick to classic white when choosing a dress – tones such as champagne, cream or anything with golden tones can create a multidimensional and elegant appeal to any wedding.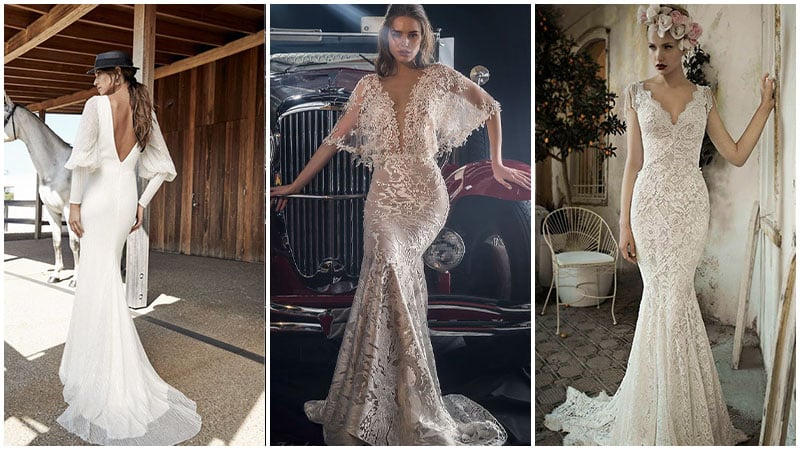 Mermaid Wedding Dresses FAQs
What is a mermaid wedding dress?
A mermaid wedding dress is a beautiful classic gown that fits the bride's body perfectly. It flares below the knee, making it look like a tail, hence the name. It is undoubtedly one of the most elegant shapes you can choose.
Can I wear a mermaid wedding dress?
Mermaid wedding dresses are a style that tends to look good on most people, but especially those with hourglass figures. It is a great way to show off your curves and is best worn with some shapewear to create a smooth, firm silhouette.
What is the difference between a trumpet and a mermaid dress?
At first glance, a mermaid and trumpet wedding dress may seem the same. They both hug your figure perfectly and are a fantastic way to show off your curves. That said, the main difference between these two shapes is where the flare begins. For the trumpet, it is mid-thigh, while the mermaid's flare is below the knee. This creates more of a statement appearance, while the trumpet is more gradual.
What do you wear under a mermaid wedding dress?
A mermaid dress is fitted, and because of this, it is easy to see any underwear lines or creases. One of the best things to wear underneath it is shapewear, such as a bodysuit or Spanx. This gives a smooth and firm appearance. It is also great if you want to keep everything in place and wear this gown with confidence.
What is the difference between fishtail and mermaid dresses?
Mermaid dresses are very fitted. They only flare below the knee, and they have a very dramatic albeit exquisite appearance. On the other hand, a fishtail is defined by a more gradual flare at the bottom, although the dress still hugs your body in all the right places.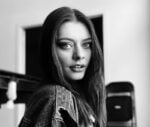 Alexandra Feiam is an experienced fashion writer who holds a degree in journalism. She has an impressive portfolio and expertise working as the Editor at Power Retail and Commercial Content Editor at Newscorp. Ally has been writing for The TrendSpotter since 2018, and her work has been featured in notable publications such as The Herald Sun, Arirang TV South Korea, Kidspot, The House of Wellness, and The Daily Telegraph.
SUBSCRIBE TO OUR NEWSLETTER
Subscribe to our mailing list and get interesting stuff and updates to your email inbox.