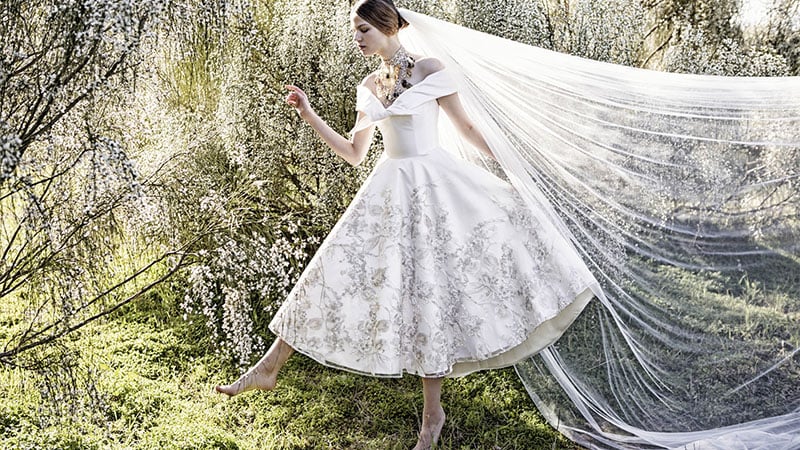 Whether you adore Audrey Hepburn's Givenchy outfit in the "Funny Face", or you're having a ceremony with a small number of friends, a tea length silhouette is a timeless choice for any bride. These gowns hit anywhere below the knee or above the ankle, and look marvelous in any season and at any age. Grab your bouquet and a veil – here are the most beautiful tea length wedding dresses for your special day.
Vintage Tea Length Wedding Dresses
A vintage tea length dress is a flattering option for any bride. As timeless as they come, this gown looks perfect with long sleeves or none at all, hitting just below the knee or mid-calf. Opt for a boatneck or a 3/4 sleeve for the ultimate retro feel, without looking dated or out of fashion. Complete the look with a small veil or fascinator with a cute updo.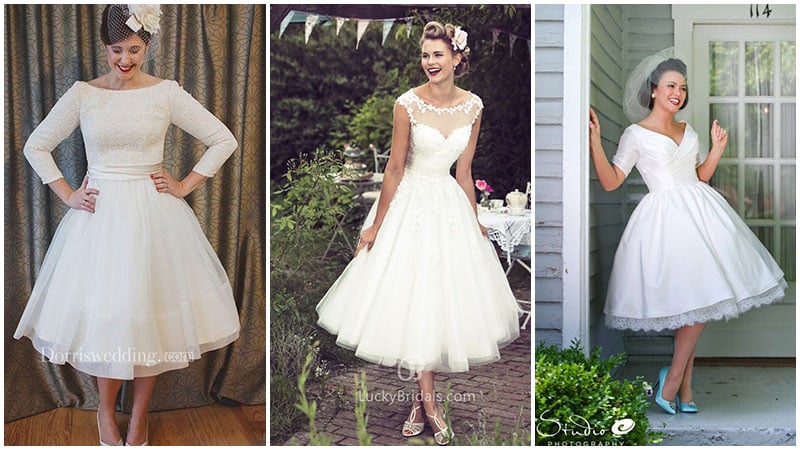 TOP BUYS
Lace Tea Length Wedding Dresses
A mermaid silhouette, A-line or sheath design all look magnificent walking down the aisle, and delicate lace is the finishing touch to this stunning look. From vintage to modern lace wedding dress styles, they're a beautiful alternative to the traditional silk or chiffon gown. If you prefer small elements of the dainty fabric, opt for the dress with lace sleeves. These gowns are timeless, and you'll look back on your photos and smile.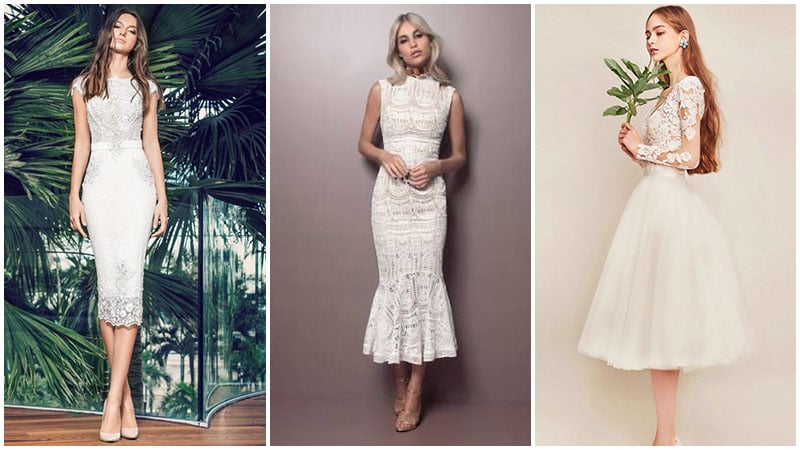 TOP BUYS
Tea Length Dresses with Sleeves
When the temperature drops or you prefer to cover up, you can't go wrong with a dress with sleeves. Get an embellished gown with nude inserts across the chest, or an off-shoulder style with lace sleeves. No matter what you choose, you will be the most beautiful bride that ever existed.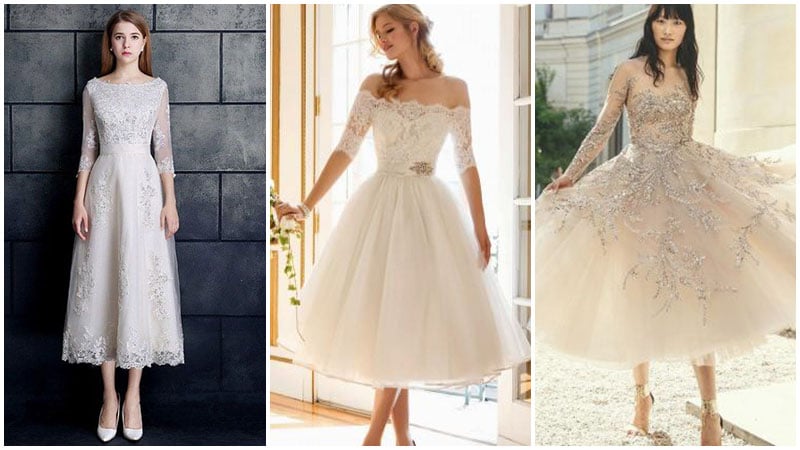 TOP BUYS
A-Line Wedding Dresses
Classic in design and timeless in style, these A-line wedding dresses are perfect for any bride. Simple, flirty and cute, they're an ideal combination of high fashion and elegance. Emphasize the waist by choosing a strapless corset gown, or create a modern twist with long sleeves and a high collar. There are no rules with this gown; it's all about how you rock it!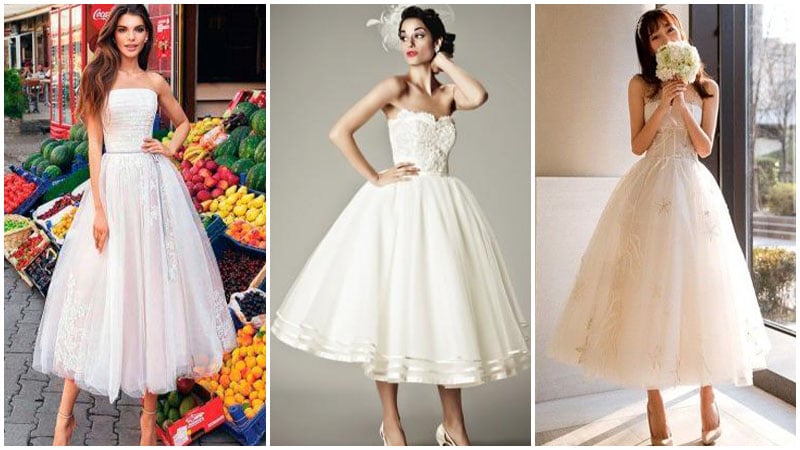 TOP BUYS
Simple Wedding Dresses
Float down the aisle in a simple elegant wedding dress. Minimalist styles without lace, embroidery, and trims focus the attention on the craftsmanship, tailoring, and the bride. If you're afraid it's too plain, complete the look with sparkling accessories or a veil – this piece gives you the freedom to accessorize as much as you like.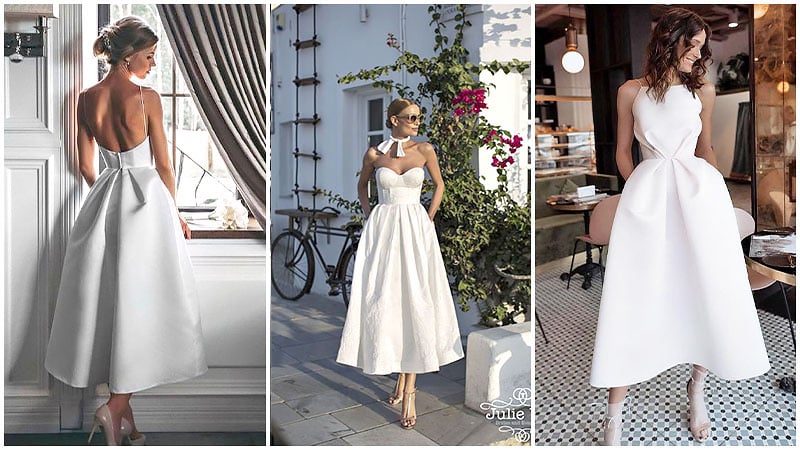 TOP BUYS
Casual Wedding Dresses
Tie the knot in a relaxed and chic casual wedding dress. Whether big events aren't your thing, or you're having a ceremony with a small group of friends and family, you can still make a statement without going too far. While maintaining a bridal feel, choose a tea length piece with a laid back style, but opt for colours such as white, pastel pink or champagne. This way you'll still look ready for a wedding, without the hassle.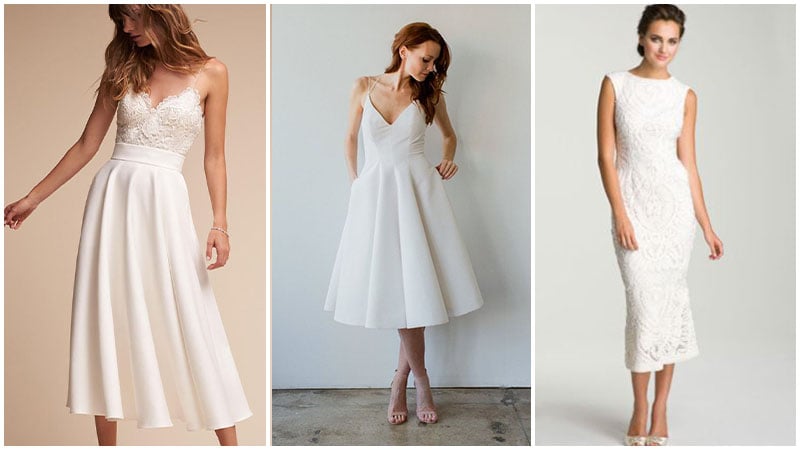 TOP BUYS
Off the Shoulder Wedding Dresses
Show off your swan-like neck and ample décolletage in an off-the-shoulder gown. The tea length silhouette perfectly complements the flirty top and creates an hourglass shape. This feminine and flirty style is timeless and perfect for any bride and doesn't show too much skin. Opt for an A-line skirt for an optimum retro feel, or stick to a tight-fitting bottom half for an elegant and modern twist.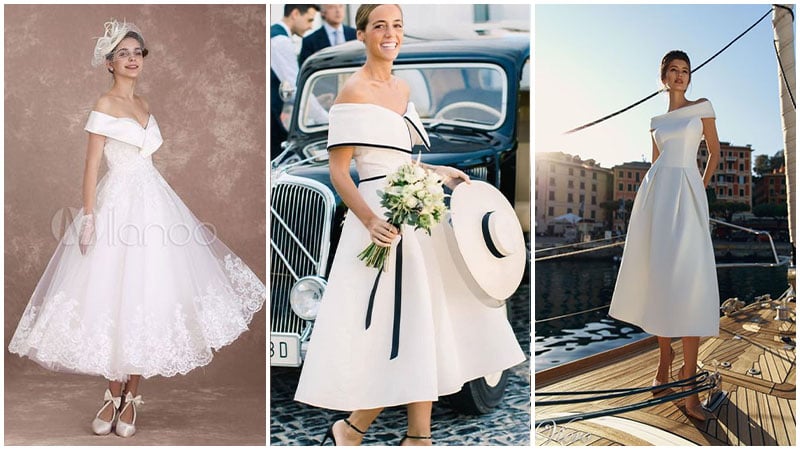 TOP BUYS
Strapless Wedding Dresses
Feel like a princess for a day in a stunning strapless gown. This elegant and feminine neckline looks magical on everyone and is the perfect option for a bride. Combined with a tea-length silhouette and you've got yourself an immaculate wedding dress. Opt for a plain fabric for a modern style, or cinch your waist in by wearing a garment with the A-like skirt.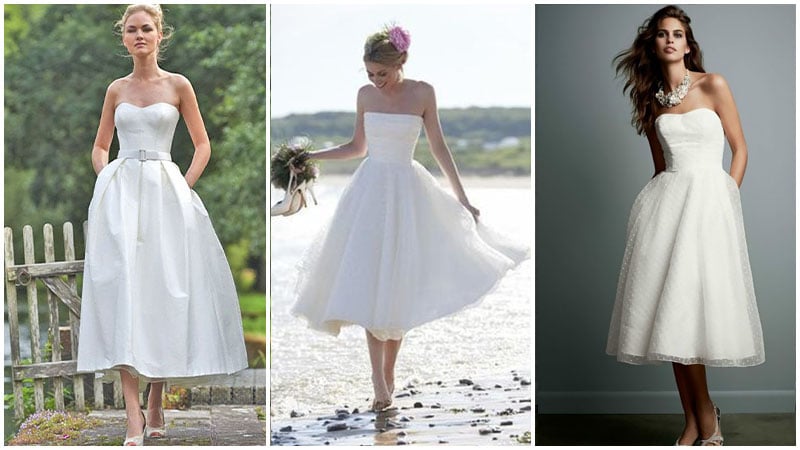 TOP BUYS
Tulle Wedding Dresses
Unleash your inner Prima Ballerina with a tulle wedding dress. This silhouette is perfect for a vintage-inspired gown and makes any bride feel instantly glamorous. Whether you want to look ethereal or like you've come out of the 60s movie, it's a stylish choice that will last the test of time. Cover the flouncy fabric with lace or silk, or let the beauty of the skirt shine by keeping it out. This is perfect for showcasing your spinning skills on the dance floor, so have some fun with it!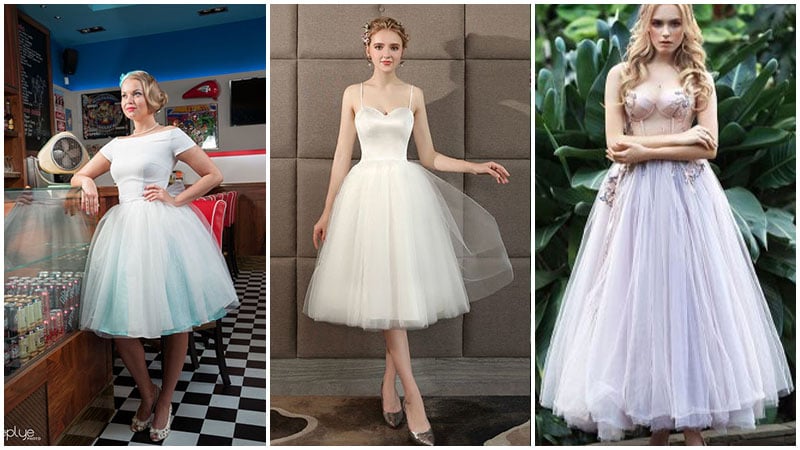 TOP BUYS
1950s Tea Length Wedding Dresses
The tea-length dress is a '50s classic. After the Dior New Look in 1947, this silhouette catapulted itself into mainstream fashion. The shorter style puts a modern twist on the traditional gown but still looks funky enough to be seen during the Golden Age of Hollywood. With full A-like skirts, boatneck, and Peter Pan collars, this era allows the bride to go all out while still looking flirty and stylish. Wear the gown with classic stilettos, a sleek updo, and a pair of gloves for the ultimate retro fantasy.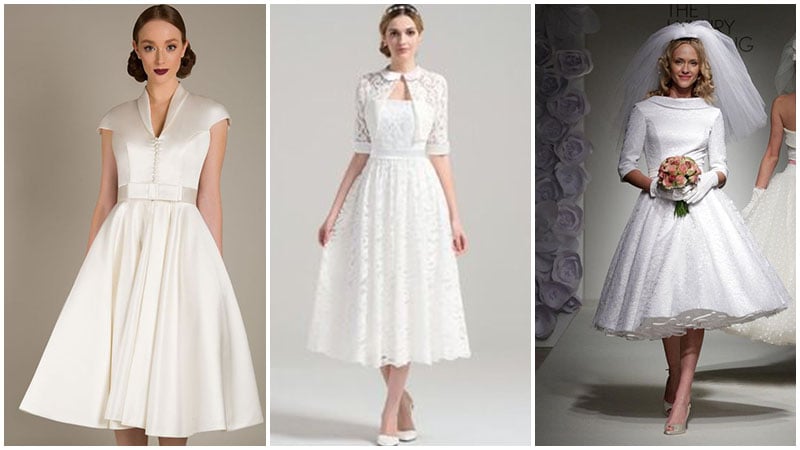 TOP BUYS
¾ Sleeve Tea Length Wedding Dress
Add a subtle modern twist to the tea-length wedding dress with 3/4 sleeves. A mix between short and long, it's an easy way to keep the top half of your arm hidden without looking matronly. When combined with a nipped-in waist and a mid-length silhouette, you've got a recipe for a beautiful gown that will keep the compliments coming your way.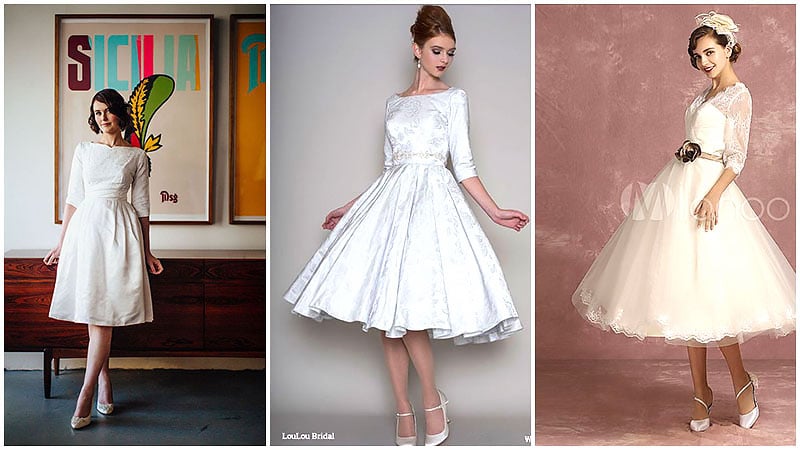 TOP BUYS
Tea Length Dresses for Older Brides
Embrace your beauty at any age in one of these magnificent gowns. Unlike the traditional wedding dress, this silhouette offers a casual feel to a classic design and works in any season. Cover your arms with 3/4 or full-length sleeves, or show off your shapely shoulders in a boat neck. Flatter your mid-section by creating an hourglass shape with the A-line skirt – let the bottom hit just above your ankles for a demure and elegant style. If you don't wish to wear white, choose a cream or champagne tone for a nuptial aura.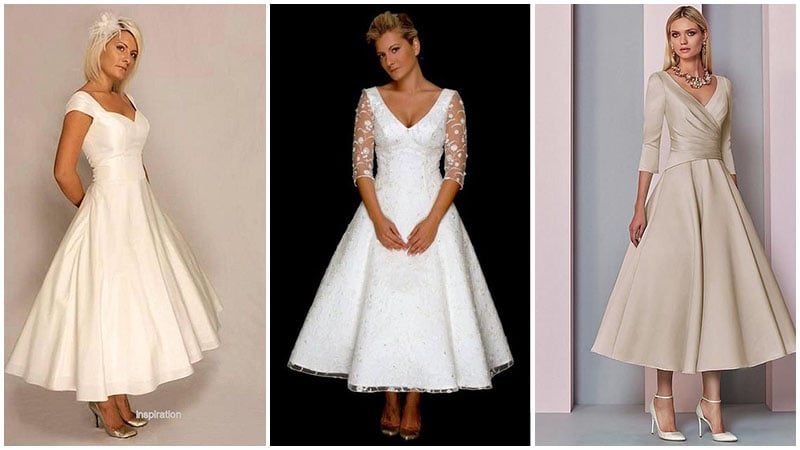 TOP BUYS
Beaded Tea Length Wedding Dress
Let the light hit you in all the right places with a beaded gown. Whether you're getting married in broad daylight or under candlelight, you'll shine like a million stars in this ethereal tea length dress. Inspire future brides by choosing a gown with bare shoulders, and A-line skirt – this modern take on the traditional frock is sure to get people talking. This is a stunning option for the lady who wants more than one outfit for the day. The dance floor will beg for your attention in a piece this stunning.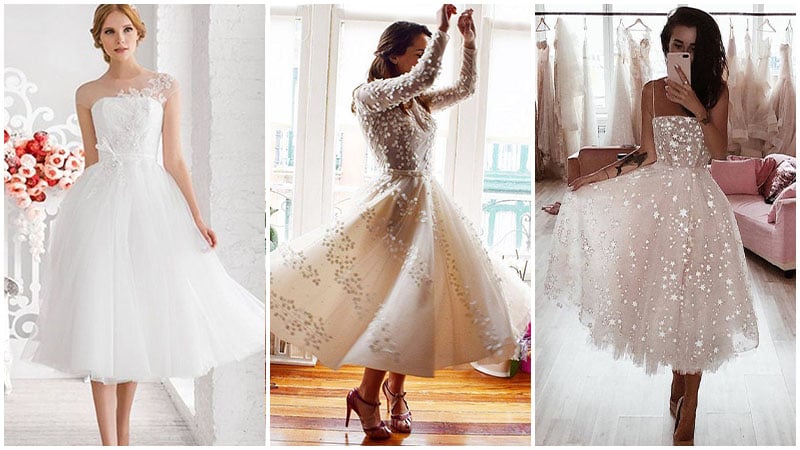 TOP BUYS
Floral Tea Length Wedding Dresses
Leave your bouquet at home and wear the flowers on your gown on your wedding day. From a small collection of flora across the skirt or a bunch located on your shoulder, there is a perfect dress for you. Ideal for the warmer seasons, opt for an A-line skirt or a sheath style dress and combine lace and the blossoms to put a casual twist on the feminine piece.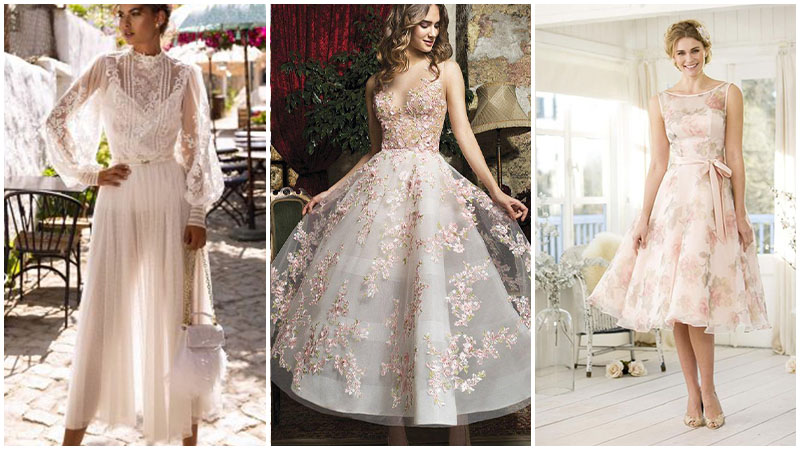 TOP BUYS
Plus Size Tea Length Wedding Dresses
It's your big day, why not look like a superstar in a plus size wedding dress,? Create an instant hourglass shape by choosing an A-line dress. Long sleeves flatter your arms and elongate your legs in a skirt that hits mid-calf. Channel your inner retro goddess in a '50s-inspired gown, and vintage hairstyle and feel like a queen for a day!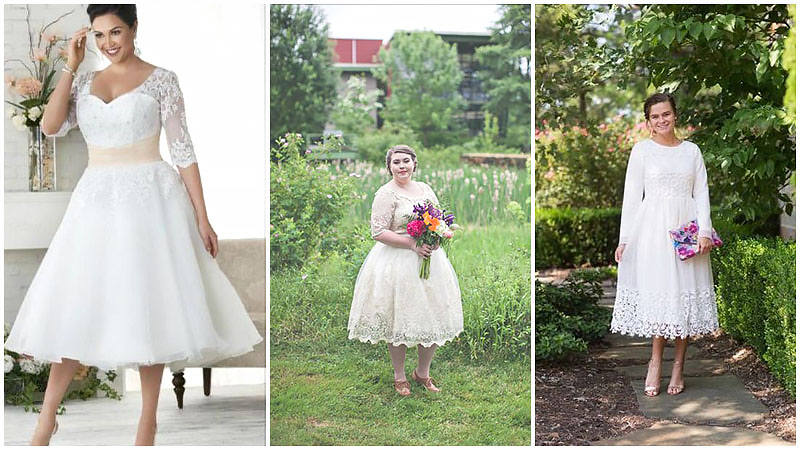 TOP BUYS