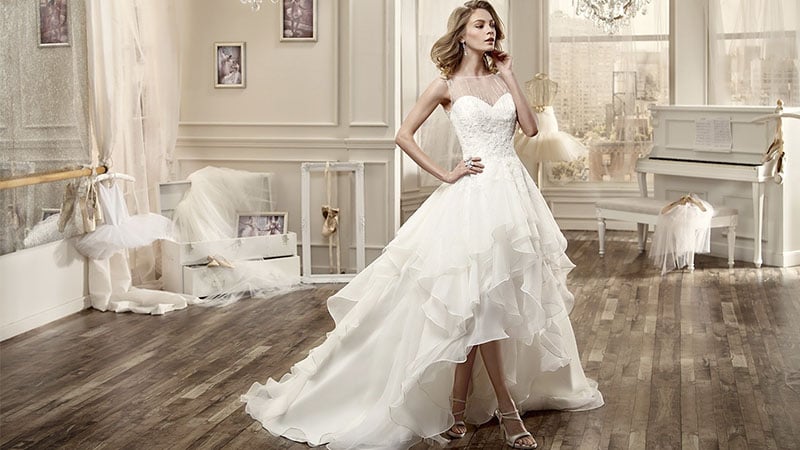 If you're after a wedding dress that's not only beautiful but also practical, you can't go past a high-low gown. Perfect for modern brides, these dresses feature fashionable and functional silhouettes that are long in the back and short in the front. As such, they achieve a lovely, elegant appearance without making it hard to walk down the aisle. On top of that, high-low dresses also allow you to show off your legs and shoes. Of course, before you get to that stage, you'll have to find the right one for you. To do so, take a look at our guide. Here, we've rounded up the most beautiful high-low wedding dresses for brides.
What is a High Low Wedding Dress?
A high-low wedding dress is a gown that features an asymmetrical design. The style's hem is short in the front and long in the back, creating a contrast between high and low as the name suggests. Although a non-traditional choice for brides, high-low wedding dresses have been around for some time now. Today, there are countless different versions available. While some have a sharp contrast in length between the front and back, others are more subtle.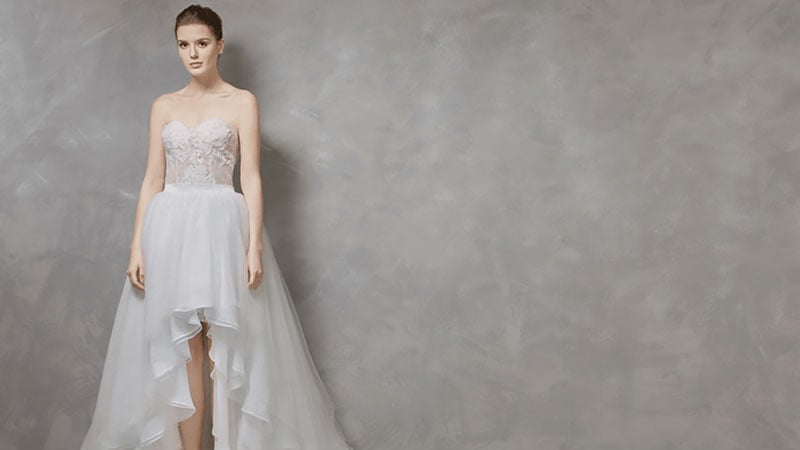 High Low Wedding Dress Styles
High Low Wedding Dresses with Sleeves
For an elegant yet fashion-forward look, you can't go past a high-low wedding dress with sleeves. After all, what better way to balance a flash of your legs than by covering up your arms? Yes, adding sleeves certainly injects a ladylike and demure touch to the high-low gown. To wear the look, try choosing between lace and sheer designs to ensure you don't appear too covered up. For your hem, select an option where the front finishes at or just above your knees.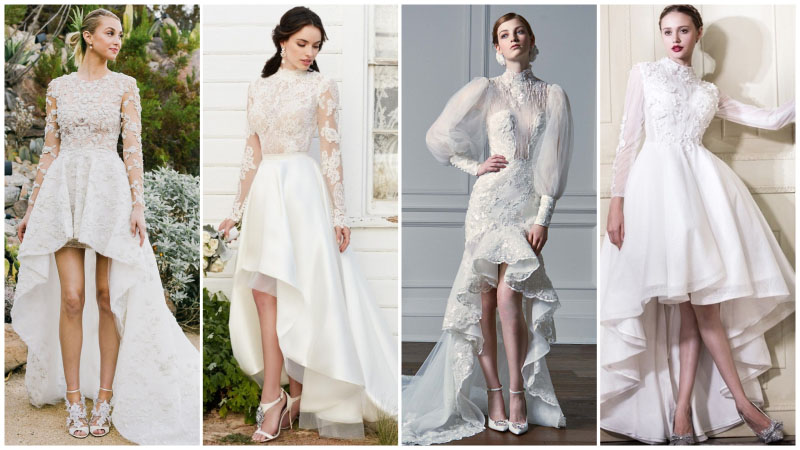 TOP BUYS
One Shoulder High Low Wedding Dresses
A one-shoulder high-low dress can cast a unique and gorgeous silhouette. Featuring an asymmetrical top and bottom, the style is highly eye-catching and fashion-forward. So, if you're the kind of bride who loves to turn heads, this may be the gown for you. All you need to do is find the version that suits your personality. For sophisticated brides, a chic fitted design with ruffles can make an excellent option. For glamorous brides, a one-shoulder style with lashings of tulle may be more appropriate.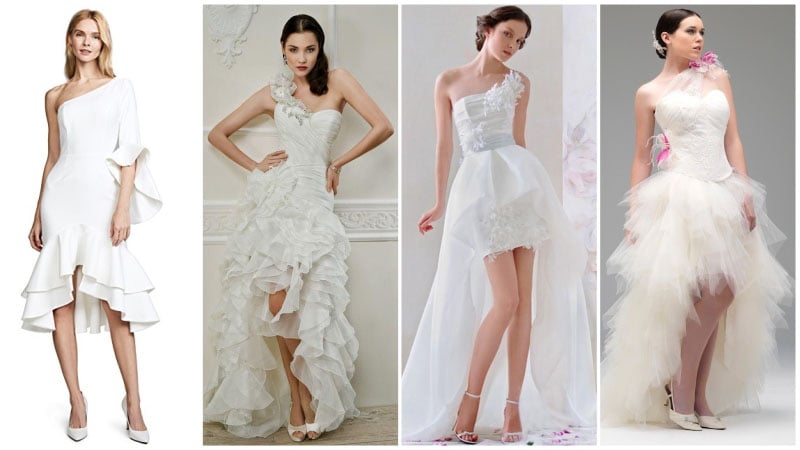 TOP BUYS
High Low Sweetheart Wedding Dresses
High-low wedding dresses may feature a non-traditional silhouette, but that doesn't mean they can't be just as romantic as traditional designs. If you're after a gown that's as charming and special as your love, consider a high-low sweetheart dress. Sweetheart dresses feature a neckline that is low at the front and shaped like the top of a heart. The result is a beautiful and feminine appearance fit for a fairytale wedding.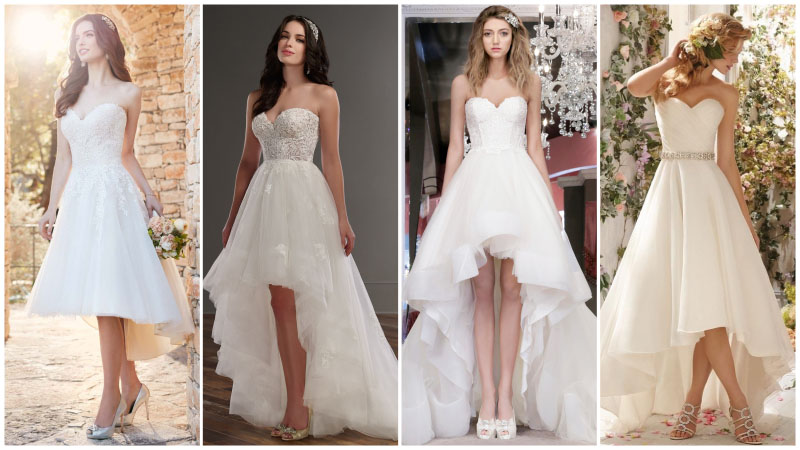 TOP BUYS
A-Line High Low Wedding Dresses
An A-line dress can be an elegant and flattering choice for brides. Of course, without any special details, this traditional silhouette can seem a little simplistic. So, if you prefer a look with wow-factor, you should pick an A-line style with an exciting element that draws the eyes. While this could be unique cut-outs or glittering embellishments, a high-low hemline also works fabulously. The combination is particularly fantastic for creating a gorgeous hourglass appearance while also showing off your legs.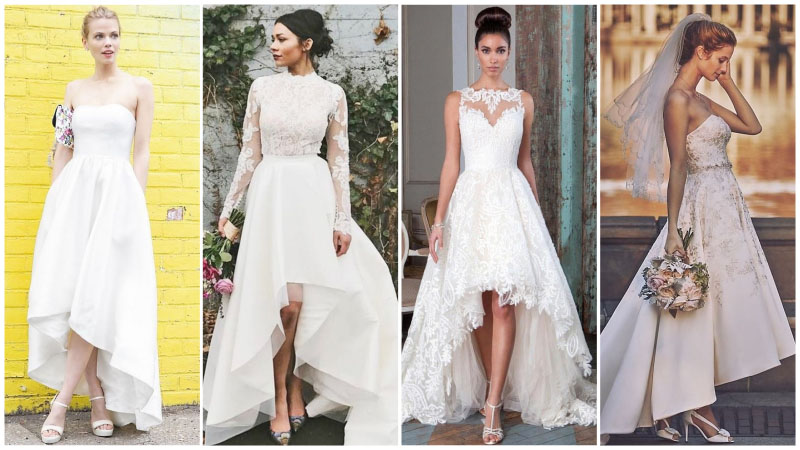 TOP BUYS
High Low Ruffle Wedding Dresses
In recent seasons, ruffles have made a serious comeback. Whether small and delicate or big and bold, frills and flounces can now be found on many fashion-forward dresses, including those designed for brides. So, if you're looking to give your wedding day look an on-trend twist, be sure to pick a high-low dress with plenty of stunning ruffles. These curls of fabric will float around your legs in a lovely way.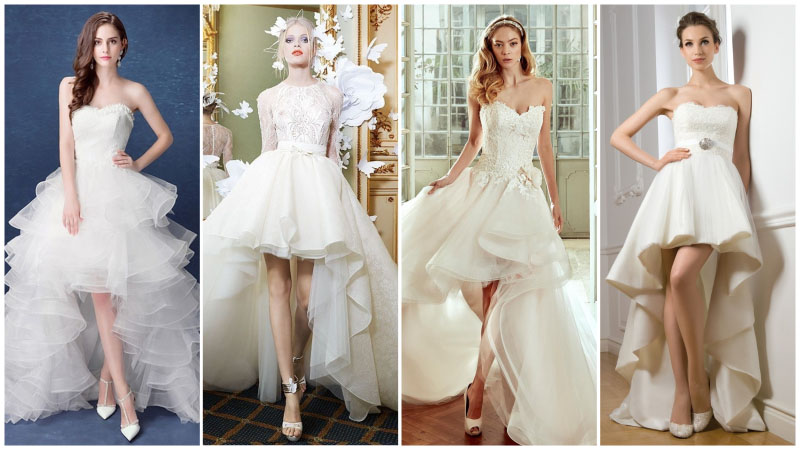 TOP BUYS
High Low Tulle Wedding Dresses
When it comes to creating a gorgeous bridal look, tulle is a go-to fabric for many women. Thanks to its light, airy and sheer aesthetic, tulle creates a beautiful and magical appearance, especially when worn in cascading layers. Of course, while gorgeous, all those layers of tulle can be challenging to walk in. So, if you're worried about tripping and falling on your big day, be sure to opt for a high-low design.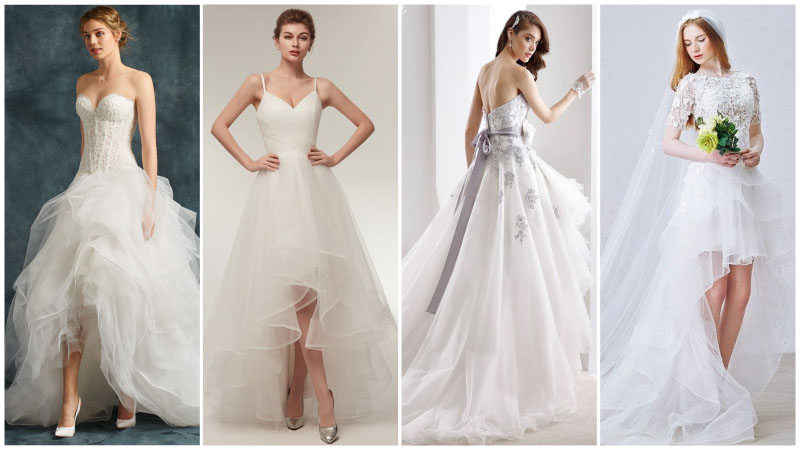 TOP BUYS
Purple High Low Wedding Dresses
Chances are if you've decided on a high-low wedding dress, you aren't afraid to break with tradition and bend the rules. So, why not push things a little further? While white may be the traditional choice for brides, it's not the only option. Today, there are countless stylish and chic coloured wedding gowns on the market. So, why not consider one for your special day? In particular, purple can be an unexpectedly appropriate wedding dress option. All you need to do is find the shade that best suits your skin tone.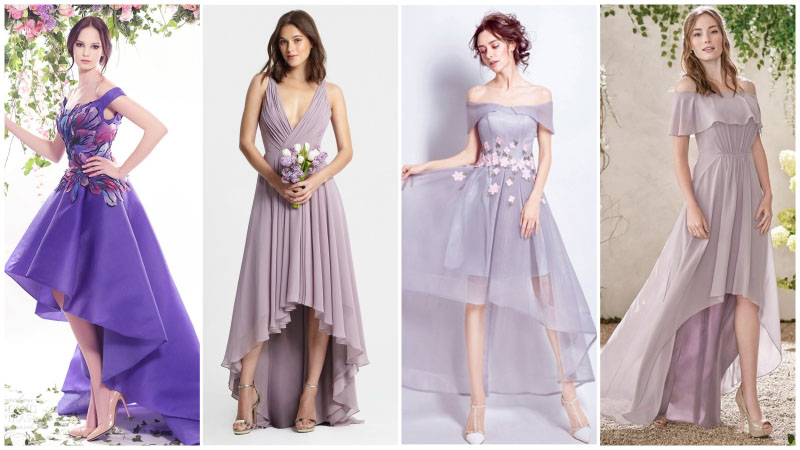 TOP BUYS
Pink High Low Wedding Dresses
If purple isn't your colour, perhaps pink will take your fancy. This pretty hue can make an excellent choice for your big day. As well as looking chic and giving off some princess vibes, pink also pairs perfectly with a high-low hemline. So, if you're after a wedding gown that's equal parts lovely and daring, you can't go past this combination. Just add nude heels, soft makeup and a beautifully loose updo to complete your whimsical style.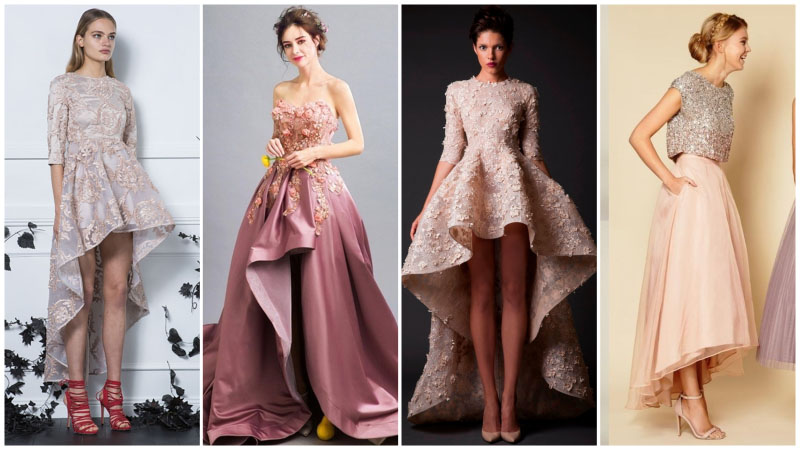 TOP BUYS
Black High Low Wedding Dresses
We all know black is an elegant and flattering colour, so why not wear it on your wedding day? Black wedding dresses are unique, edgy and seriously stylish, so long as you choose wisely. To do so, consider picking a black gown with a high-low hem. As the dark tone of black can appear heavy and overwhelming, breaking it up with a flash of skin at the legs is an excellent way to balance the look.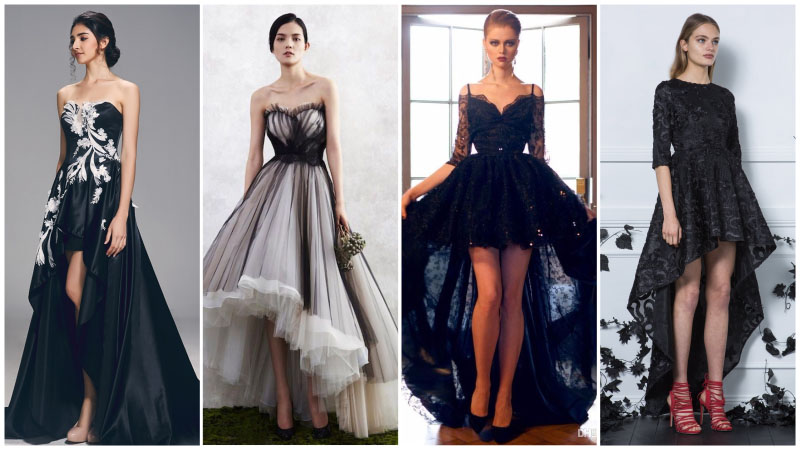 TOP BUYS
SUBSCRIBE TO OUR NEWSLETTER
Subscribe to our mailing list and get interesting stuff and updates to your email inbox.