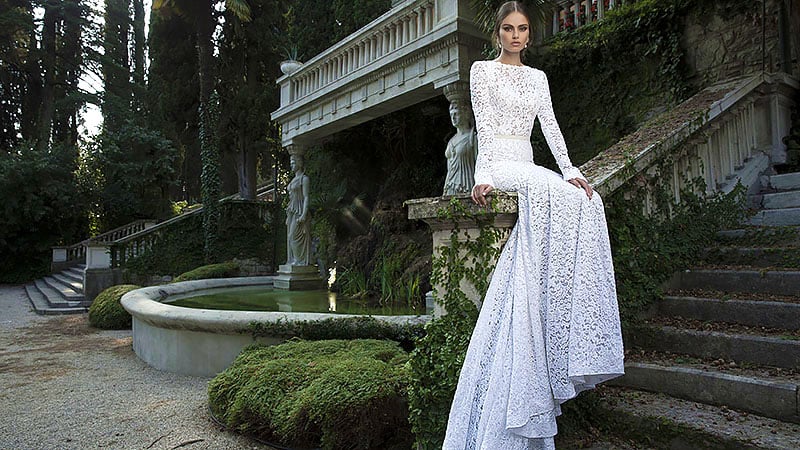 Make everyone's eyes sparkle as you walk down the aisle in a bridal gown worth discussing. Fabric that covers your arms is a classic, stylish, and superb option for any bride, no matter your aesthetic. Whether you're after an ethereal piece or something haute couture, these designs create the perfect silhouette for anyone. From princess-style puffy sleeves to high necklines, here are some of the most awe-inspiring and breathtaking long sleeve wedding dresses that are perfect for any bride.

Long Sleeve Lace Wedding Dresses
Elegant and flattering, lace wedding dresses are a wonderful option for a bride. Whether you choose to have an entire gown made with a delicate fabric or prefer a small feature or a detail, this design will stand the test of time. It's a versatile option for brides who wish to wear long sleeves, and with material so beautiful and classic, you'll be the most unforgettable bride.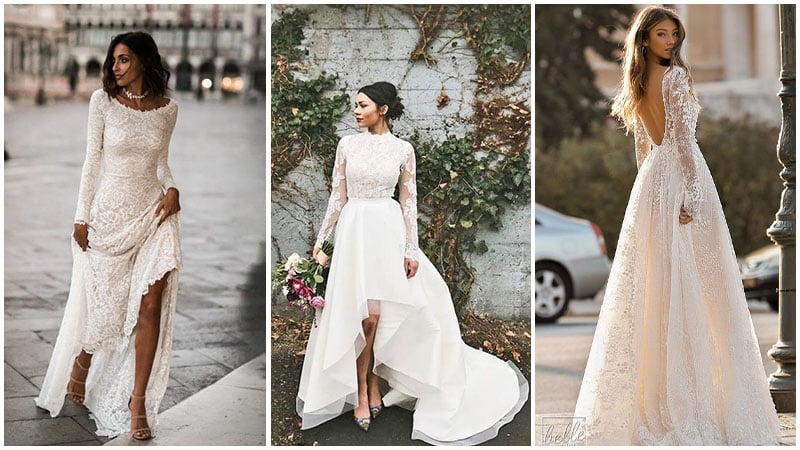 TOP BUYS
Long Sleeve Satin Wedding Dresses
Sometimes simple designs are the most divine, and a silk wedding dress is no exception. Whether you prefer to keep it modest with a boat neckline or you'd dare to show some skin, these satin gowns will keep the guests talking for months. For a non-traditional twist, wear a silky two-piece with a flowing skirt underneath. This is your day; why not show off a bit?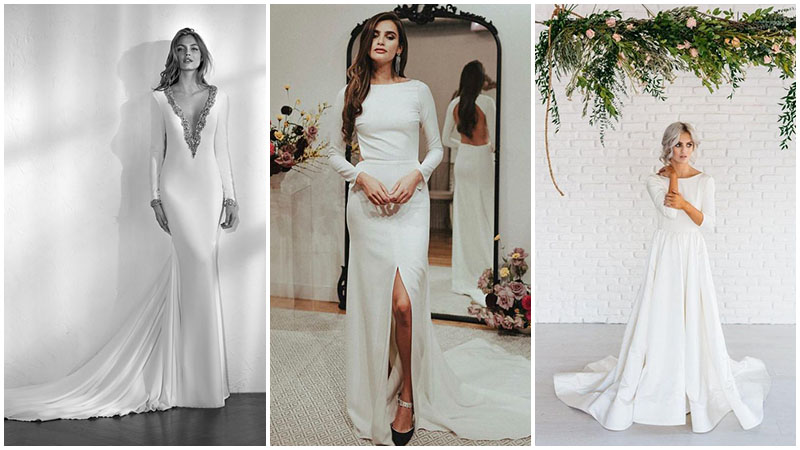 TOP BUYS
Long Sleeve Mermaid Wedding Dresses
Elongate and flatter your beautiful figure with a mermaid wedding dress. This lengthening gown not only gives the appearance of long legs, but it also alludes to an hourglass shape as it nips in the waist. For those who love to put a twist on tradition, choose lacey sleeves for a delicate finish or silk for a nod to haute couture. If you're feeling a little seductive, opt for something with a slit in the front or side, showing off your pins and allowing extra movement. Watch your partner gape in awe as you walk down the aisle.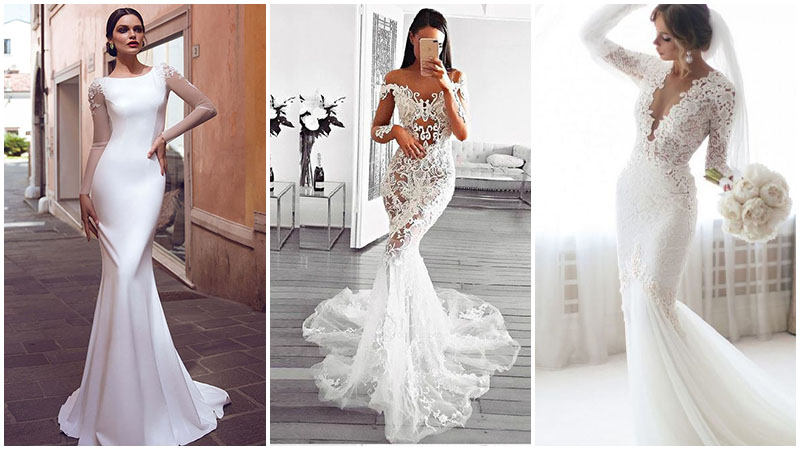 TOP BUYS
Long Sleeve Vintage Wedding Dresses
Give a nod to the past by wearing a vintage wedding dress. Whether it's from the 1980s or the 1880s, these pieces are the perfect alternative to a modern gown. If you'd like to make a homage to the era, you can alter it to fit the current times by leaving the original sleeves and neckline but changing the silhouette. As antique frocks go, be sure that you keep them in excellent condition so that you can look your absolute best on your big day.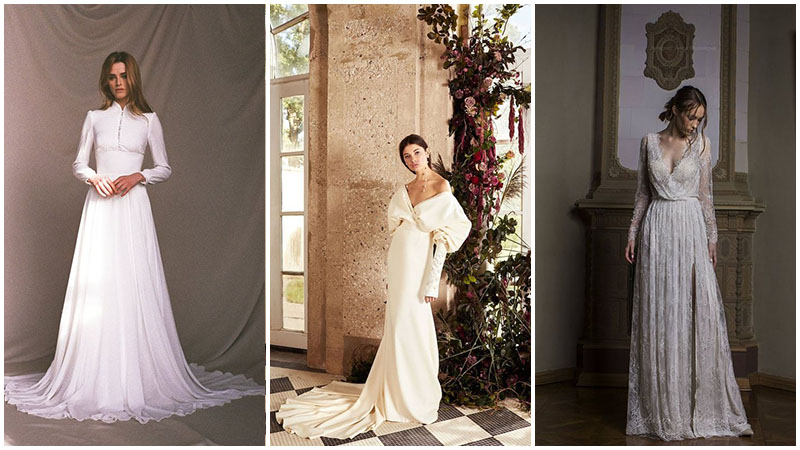 TOP BUYS
Long Sleeve Backless Wedding Dresses
It's your big day; why not show a little skin? Backless wedding dresses with long sleeves are a fantastic option. Small details in the rear can transform the gown's design and make a huge impact when walking down the aisle – wear your hair in a dazzling updo for a maximum impression. Opt for a subtle boatneck or high neckline to compliment the daring backless feature, or be bold in a plunging neckline for ultimate seduction.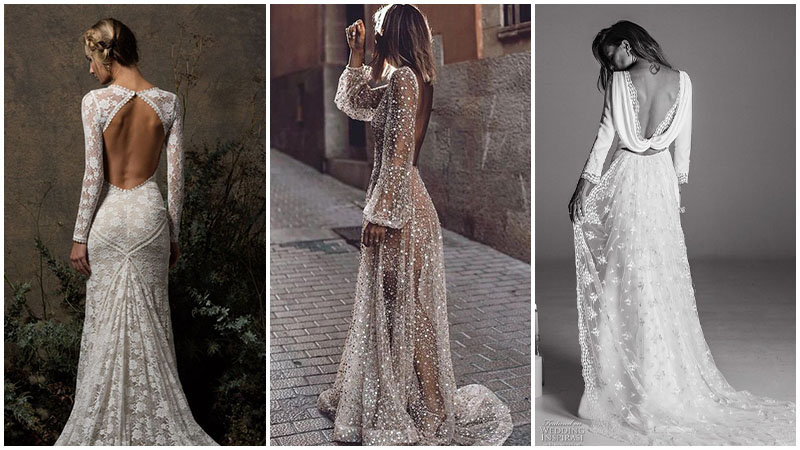 TOP BUYS
Long Sleeve Bohemian Wedding Dresses
Create an effortless and stylish entrance in one of these beautiful bohemian wedding dresses. Whimsical and charming, these pieces are as stunning as they are comfortable. Opt for flowing lace sleeves to create a fairy-esque aesthetic, or wear something loose-fitting with tighter cuffs for a delicate and antique approach to the traditional gown. To complete the look wear your hair down, sprinkled with flowers and minimal jewelry. When you walk down the aisle, your guests will marvel at your ethereal presence.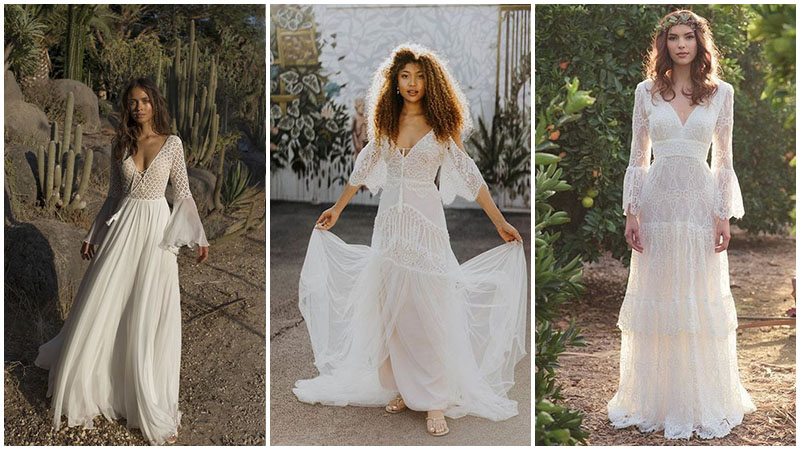 TOP BUYS
Long Sleeve Beach Wedding Dresses
Say "I do" against the crashing waves and gorgeous sunset in one of these divine beach wedding dresses. For an event on the sand, it's best to avoid wearing an A-line silhouette, as it will become dirty and wet in the process. For this surrounding, opt for a gown with a long-line design that barely touches the ground, paired with bare feet for a mermaid-esque aesthetic. Long sleeves are a superb opportunity to bring attention to your back.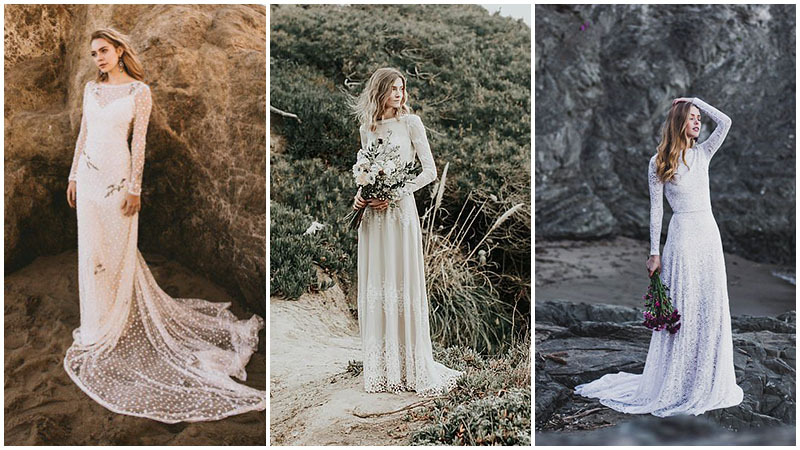 TOP BUYS
Long Sleeve Short Wedding Dresses
Add a bit of zest to the traditional wedding dress by shortening the length a little. Whether Audrey's gown inspired you in the 1957 classic Funny Face or you wish to show off your pins, this cute silhouette is an excellent alternative to the standard design. Opt for a tea-length piece or shake up the dancefloor in a mini for a retro feel. Swap out your heels for delicate ballet flats, and watch as the compliments fly in!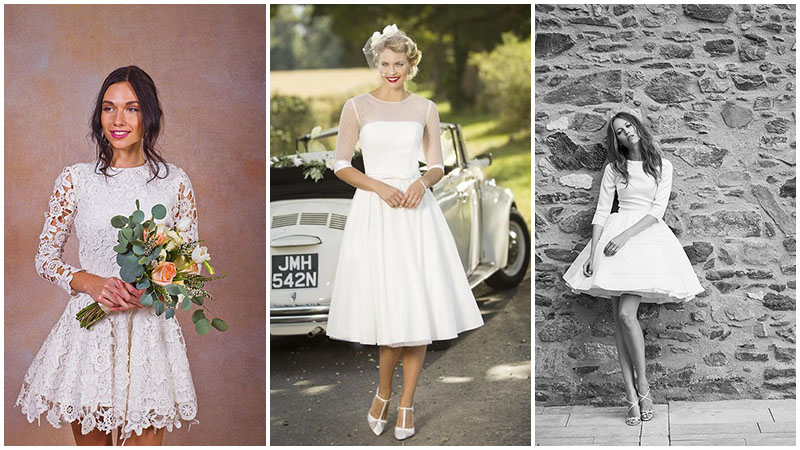 TOP BUYS
Long Sleeve Simple Casual Long Sleeve Wedding Dresses
Why should you feel uncomfortable on one of the happiest days of your life? If you're getting hitched somewhere low-key, why not knock everyone's socks off in a gown that's simple and casual, and breathtaking? Longline wrap dresses look amazing when paired with accessories such as a veil or a floral headpiece. Up the ante with a long-sleeved cold-shoulder frock and a messy updo, blending an understated silhouette with a bridal twist.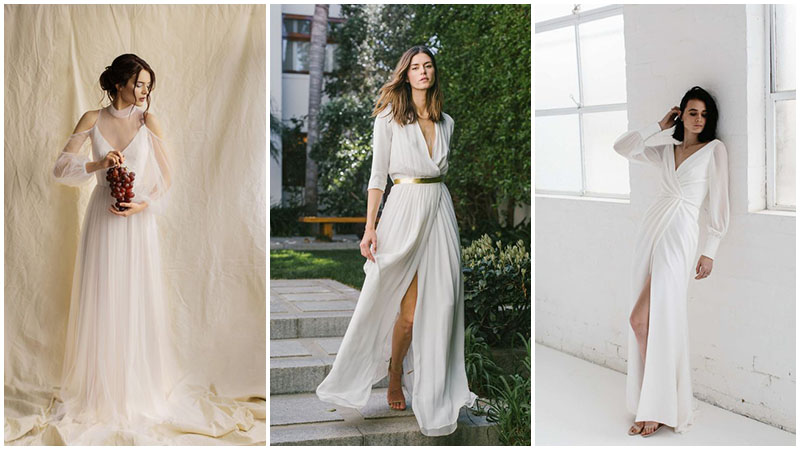 TOP BUYS
Long Sleeve Off the Shoulder Wedding Dresses
Who says long-sleeved dresses have to be boring? Off-the-shoulder gowns add an instant ethereal aesthetic to any setting and showcase your décolletage. Streamline your figure with silk or satin fabrics or feel like a princess for a day in an A-line silhouette, with lace sleeves to complete the look. Wear your hair up to exhibit your collarbones, or leave it down for a whimsical finish. No matter how you style this, it's an eternally graceful option for any bride.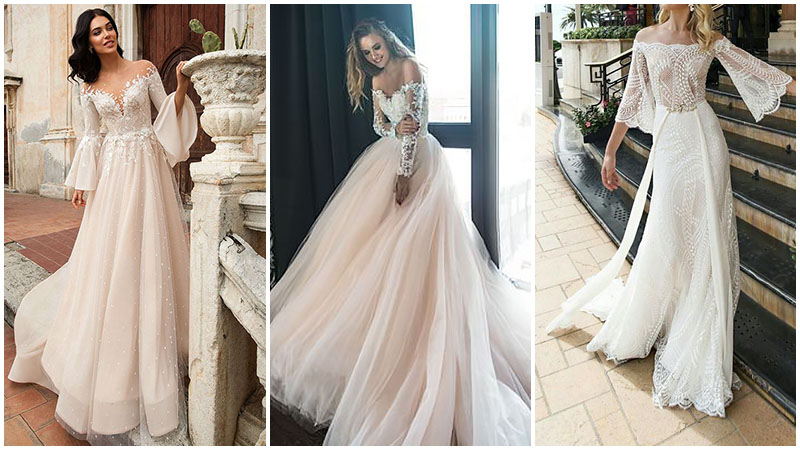 TOP BUYS
Long Sleeve A-Line Wedding Dresses
Have you ever wanted to be a princess for a day? Well, an A-line wedding dress is an answer to your wishes. With a nipped-in waist and a flowy bottom half, these gowns are as classic as they are dazzling. Simple fabrics allow the bride to get creative with accessories or the bouquet, whereas sparkling and lace detailing emulates a royal aesthetic. Bring out your inner Diana with over-the-top puffy sleeves or keep it casual with tight-fitting cuffs – either way, you'll feel like the belle of the ball in an instant!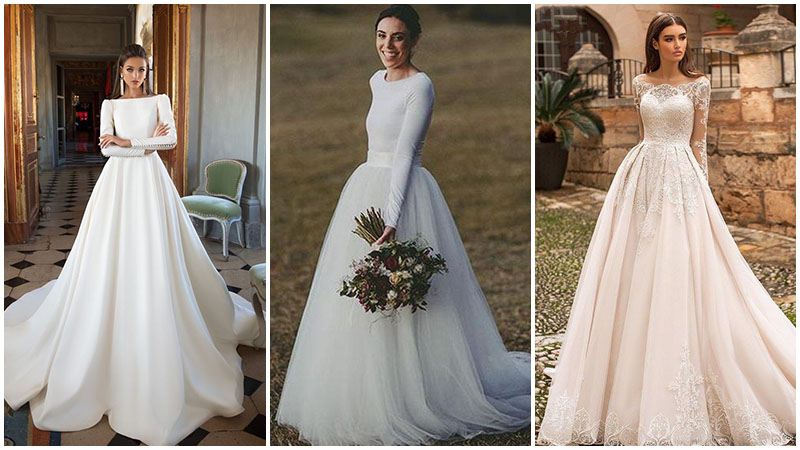 TOP BUYS
Long Sleeve V-Neck Wedding Dresses
Make a real entrance in a V-neck wedding dress. Daring and worthy of attention, this neckline is a flawless finishing touch to any silhouette. Dare to bare some skin with a plunging cutout, complemented with long, tight-fitting sleeves. This combination of sweet and sultry is sure to turn every head. Wear your hair in a low chignon and veil to showcase your décolletage. This is the perfect piece for you if you're after a timeless design!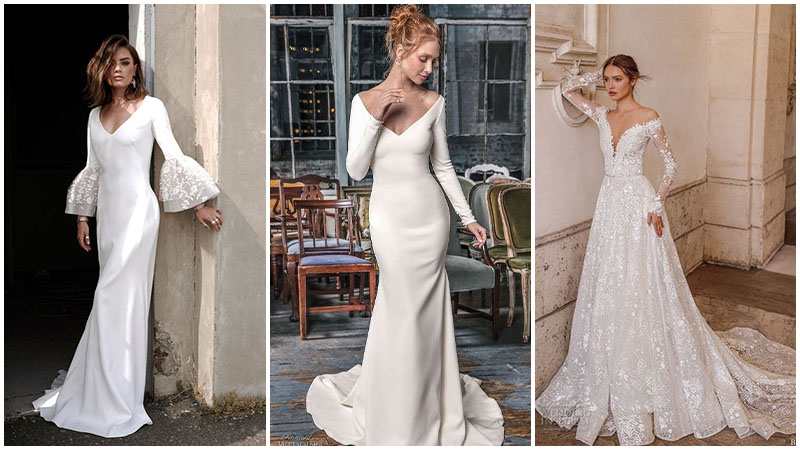 TOP BUYS
Long Sleeve High Neck Wedding Dresses
Modest and daring all at once, these gowns are as dazzling as they are simple. Mock turtlenecks are an elegant choice, and when combined with long sleeves, emulate a timeless feel. If you'd prefer something with less coverage, take a leaf out of Meghan Markle's book with a boat neckline. Lace, silk, and sparkling fabrics all look brilliant with this silhouette, so you'll easily be able to find the piece that speaks to you!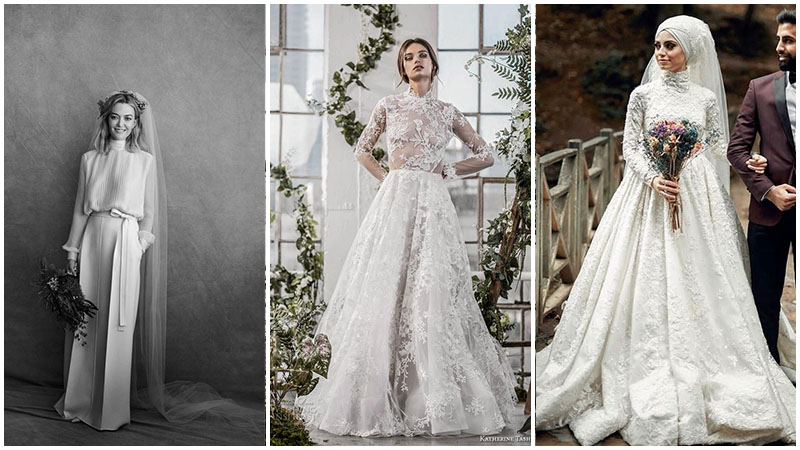 TOP BUYS
Long Sleeve Plus Size Long Sleeve Wedding Dresses
Flatter your figure and impress your guests in one of these stunning plus size wedding dresses. Accentuate your hips with an hourglass silhouette made easy in a mermaid gown or an A-line. For those with a fuller bust, showcase your décolletage in a plunging neckline and enhance a traditional aesthetic with long, beautiful sleeves. Lengthen your neck by wearing your hair in a low bun or sweep your locks to a single side. If you'd prefer to wear something tight, opt for a long train to create a sleek profile. Watch your partner's jaw drop in awe as you go down the aisle.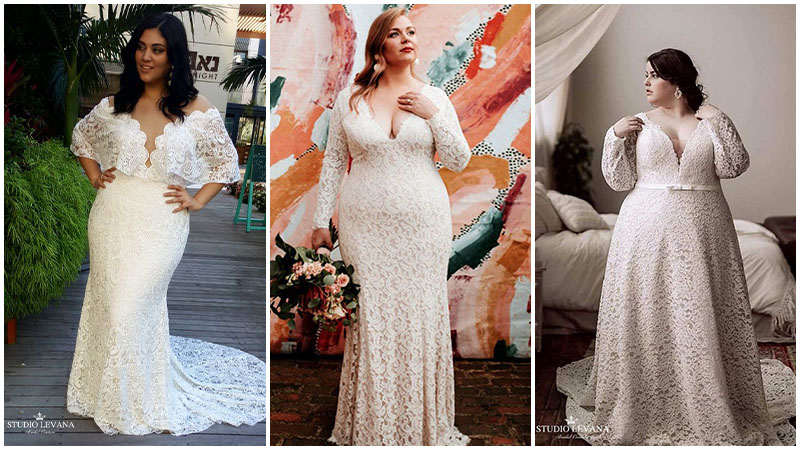 TOP BUYS
Long Sleeve Black Long Sleeve Wedding Dress
In 1840 Queen Victoria made wearing white the bridal style of choice, but why follow this short-standing tradition when you were made to stand out? Black wedding dresses are the ultimate rule-breaker and flawless scene-stealer. Unleash your inner Morticia with a dark mermaid silhouette, or feel like a gothic princess in a lace A-line gown. If you're hoping to sway from tradition a little bit more, why not wear something ombre?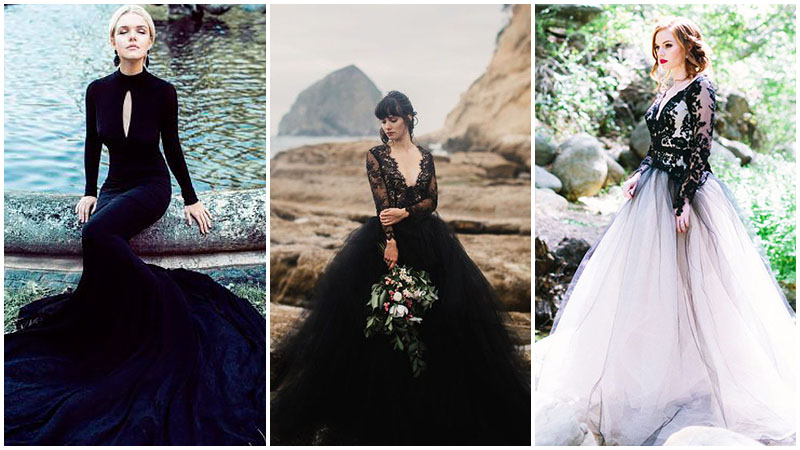 TOP BUYS