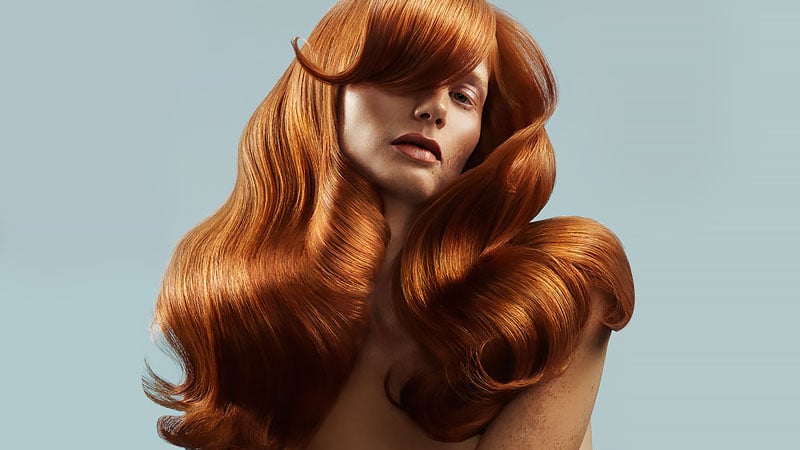 Ginger is a gorgeous shade of reddish brown color that also has orange tones. It can be an excellent way to get your hair noticed and will highlight your texture and chosen cut. There are also various ways to wear ginger hair, letting you adapt it to best complement your skin tone and suit your preference. This could be by adding blonde highlights to the hair to tone it down for a softer, less vibrant approach. Or you could focus on the red tones of the hue, creating a fiery finish that demands attention. If you have been looking for a way to update your appearance, then this could be it! We have all the inspiration you need to try out ginger hair.
1. Dark Ginger Hair
Ginger hair is a reddish brown hue that has orange tones in it. The color can be tweaked to best suit your preference including opting for a darker shade. Dark ginger will have more dark red or brown tones in it and be less vibrant but no less gorgeous. This will also make it easier to wear for people with different complexions and it is not as bold as a more saturated version of the color would be.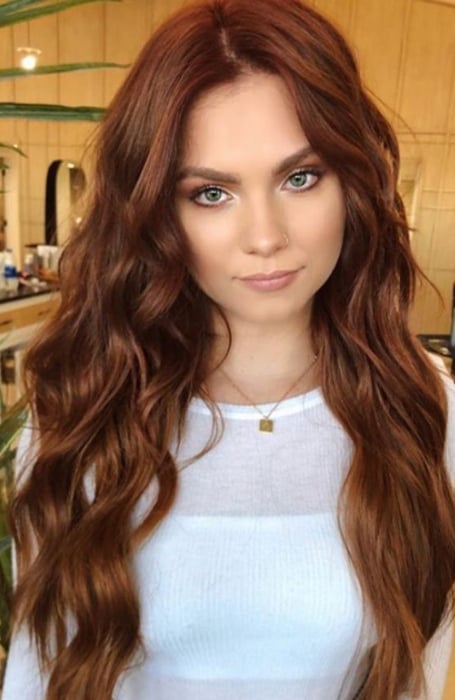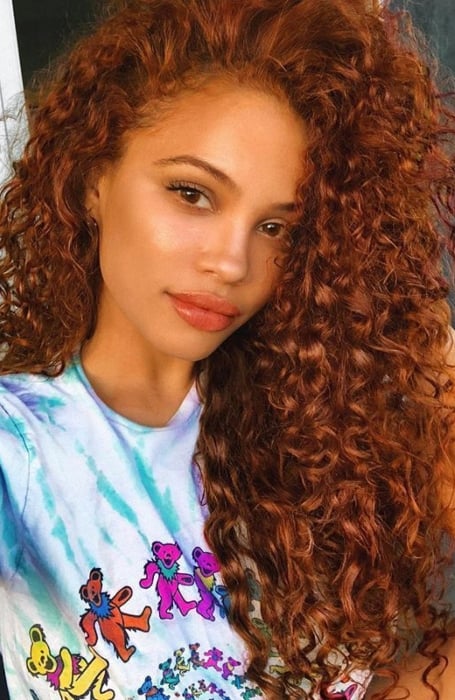 2. Ginger Brown Hair
Ginger hair is a variety of red hair but is often orange in appearance more than red. There are several variations of this color depending on your preference and you can work with your stylist to find the perfect option. This could include adding brown tones to the hair, which will make the hair appear less warm and toned down.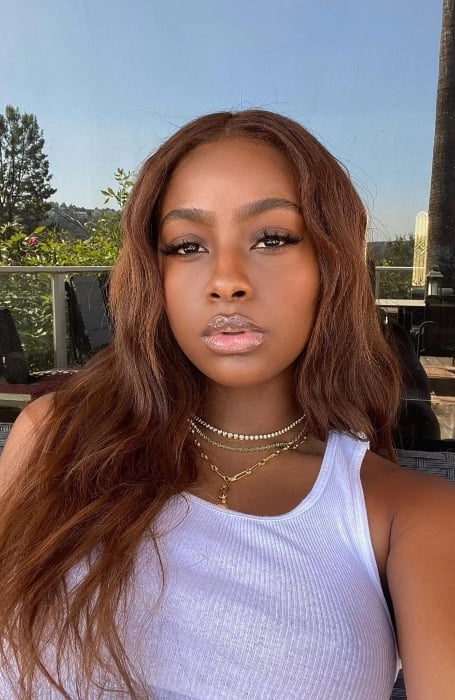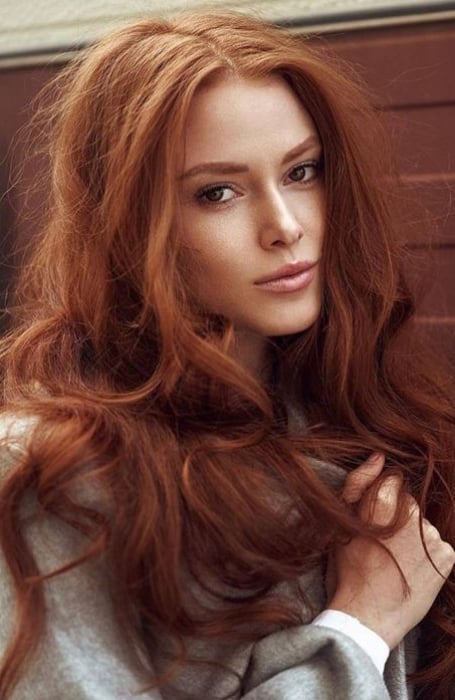 3. Natural Ginger Hair
The percentage of people in the world who are natural gingers is very small, so if you were blessed with this hue, why not embrace it? In general, ginger hair complements those with light eyes and fair complexions. It is a surprisingly versatile color and will complement all hair textures and types. Keeping your hair natural will also require very little maintenance.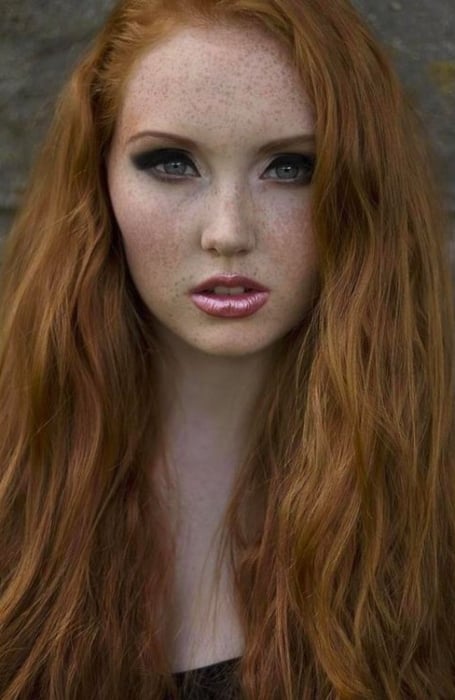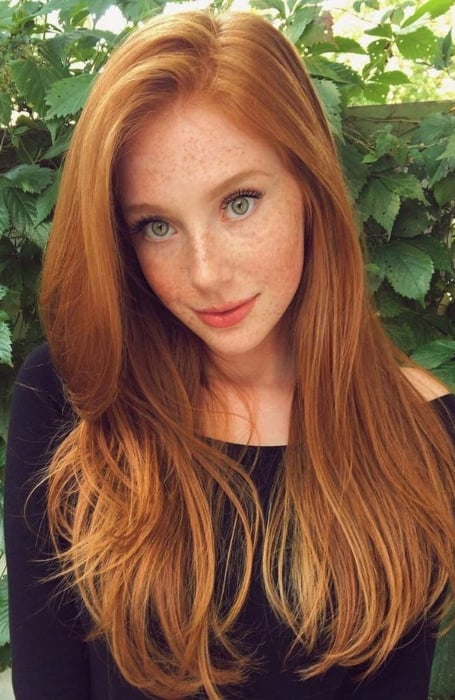 4. Ginger Hair with Blonde Front Pieces
There is no denying that ginger is a hair color that demands to be seen. It is bright, vibrant, and warm, and it will instantly draw attention to your hair while also highlighting your facial features. There are several ways to style the color, including adding depth and dimension with blonde pieces. Focusing the color around the face will frame it, creating a flattering and youthful finish.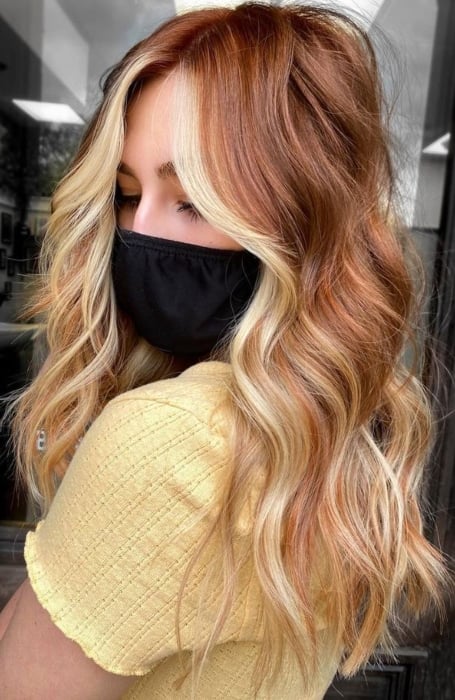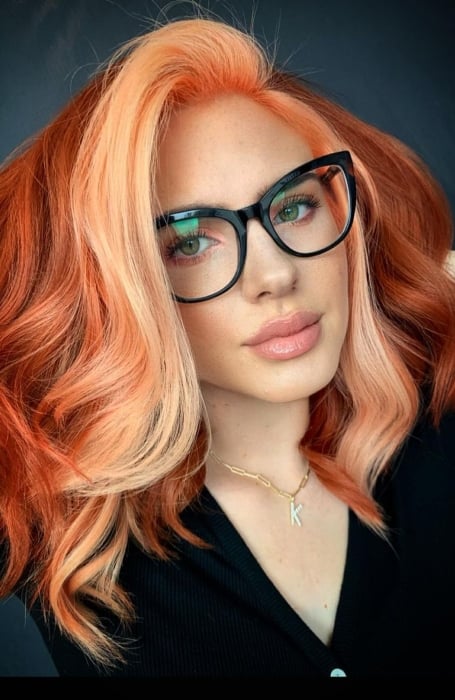 5. Blonde Ginger Hair
Ginger is gorgeous and bold, but it does take a lot of confidence to pull it off. A welcome alternative to trying the color is to add blonde to it, either with highlights, balayage, or one of your favorite coloring techniques. The blonde hair will give your hair depth and dimension while also toning down the richness of the color and creating a softer finish.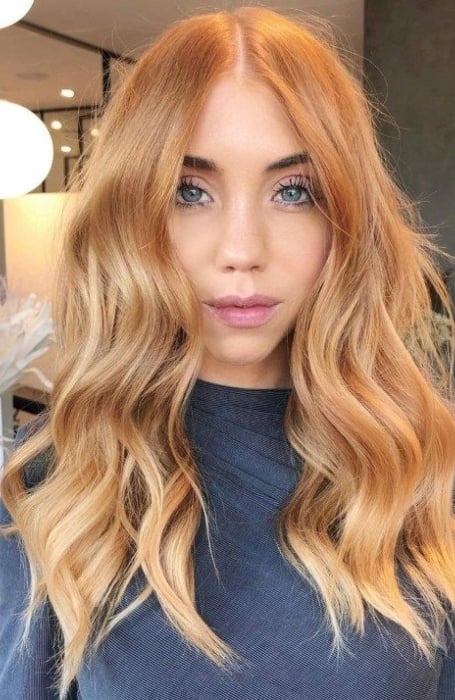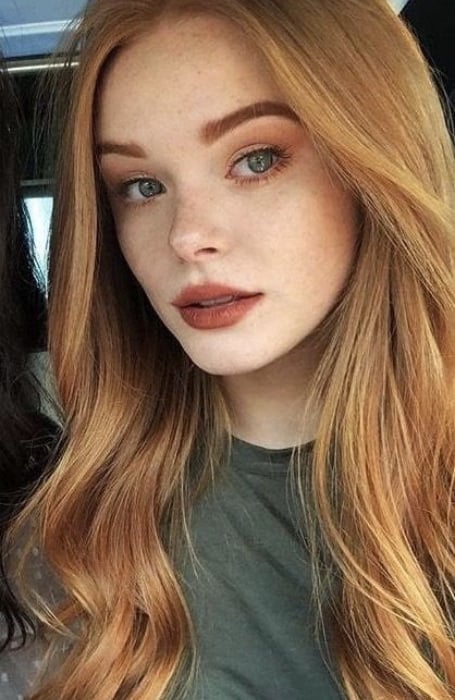 6. Copper Ginger Hair
Ginger is a variety of red hair that is orange in appearance while copper is a blend of red and bronze colors. Ginger can be a natural hair color, while copper is artificial. Adding copper to the hair will give you depth and dimension, but will also make your hair appear more modern. How you combine the colors is up to you, but you may also wish to focus the copper in subtle highlights around the face, which will frame it and highlight your features.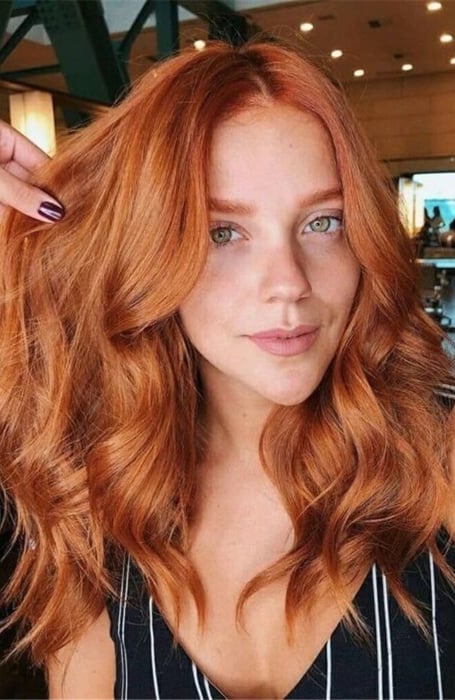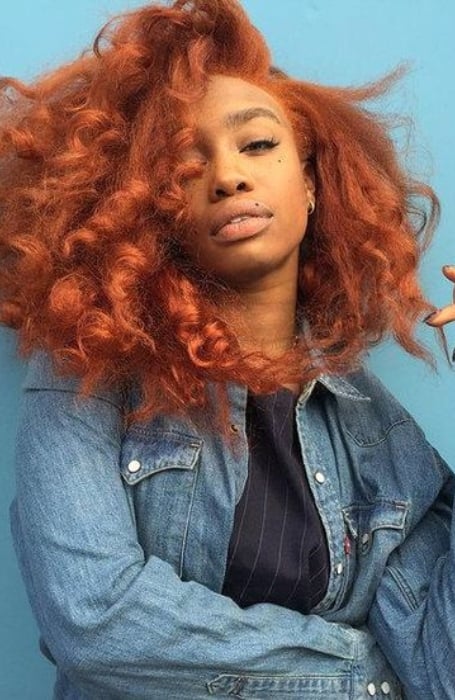 7. Auburn Ginger Hair
The best thing about dyeing your hair a new color is that there are many options to choose from. Your stylist will help you mix the perfect shade of ginger, whether you want to keep it more natural or highlight other tones. Auburn ginger is a brilliant blend of reddish-brown colors and dark ginger hair and can range in color from dark to medium.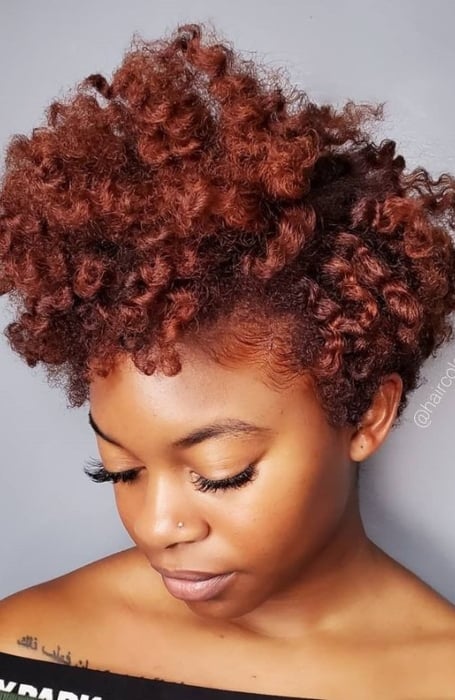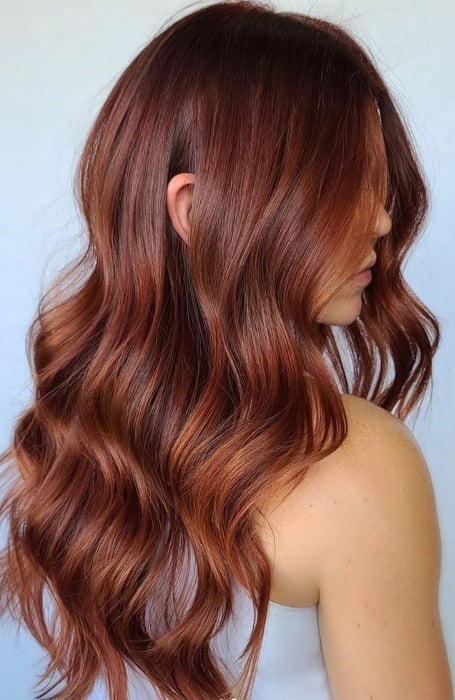 8. Ginger Orange Hair
Ginger is most commonly recognized as an orange hue and you can focus on the orange tones for your look. This will be a bold, vibrant color that will instantly draw attention to your hair, highlighting your texture. The hue will take confidence to pull off because it is so bold, but this makes it an excellent choice for a woman who wants to express herself and have fun.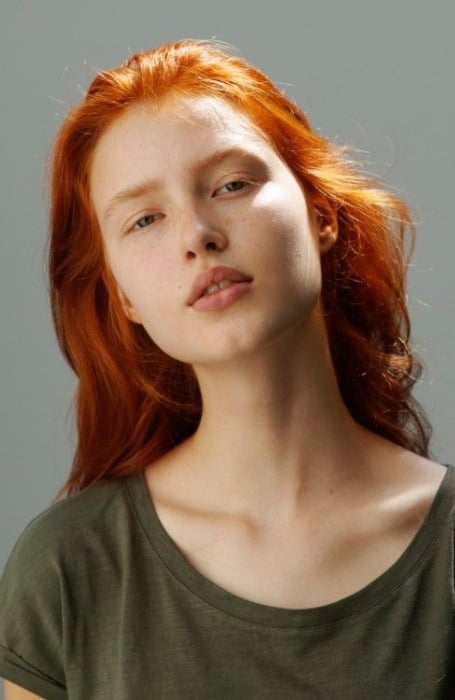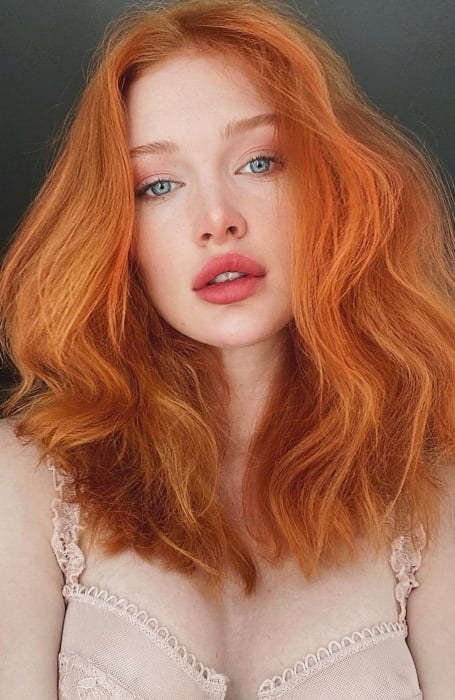 9. Ginger Hair With Highlights
If you have natural ginger hair and are looking for a subtle way to update your color, consider highlights. Highlights are pieces of hair that are lighter than the base color and can be added as delicate strands or thick, chunky stripes, depending on your preference. You can also experiment with colors, from warm hues like caramel to something brighter like light blonde. This is a great way to give the hair depth and modernize your style.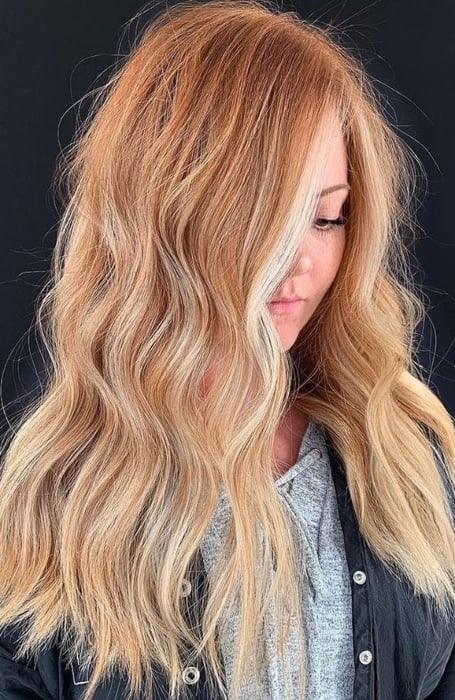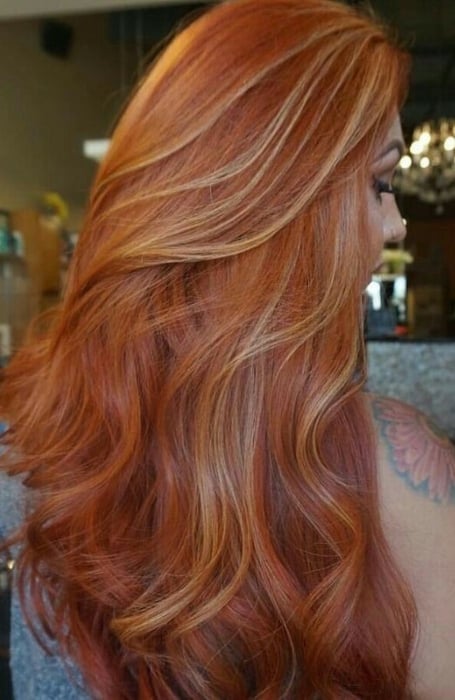 10. Ginger Ombre Hair
The ombre hair color technique is one of the most popular ways to try out hair colors because it is low-maintenance, affordable, and ultra-chic. Starting in the middle of the hair, this approach blends two colors, one light, and the other dark; often the ends are lightened. For dark hair, you can leave your roots uncolored and create a brilliant contrast, and for light hair, you can add depth and dimension by adding ginger to the ends.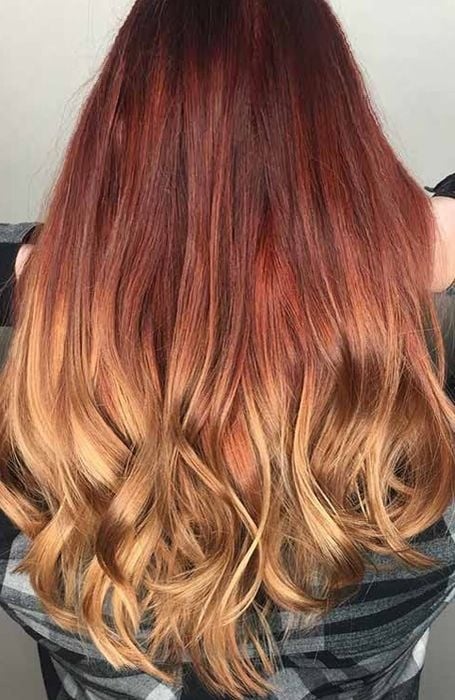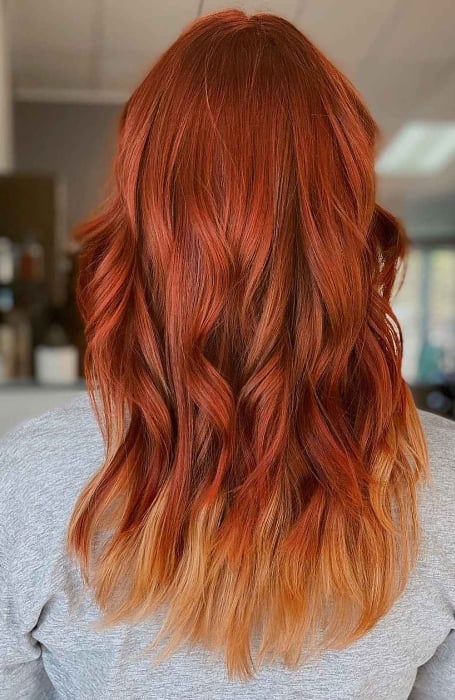 11. Red Ginger Hair
Ginger is a shade of red hair, but it appears more orange than red. However, you can work with your colorist to alter the color so that it has more reddish tones in it. Focusing on more red and less orange can make the hair color easier to wear and flattering on more complexions than only fair skin.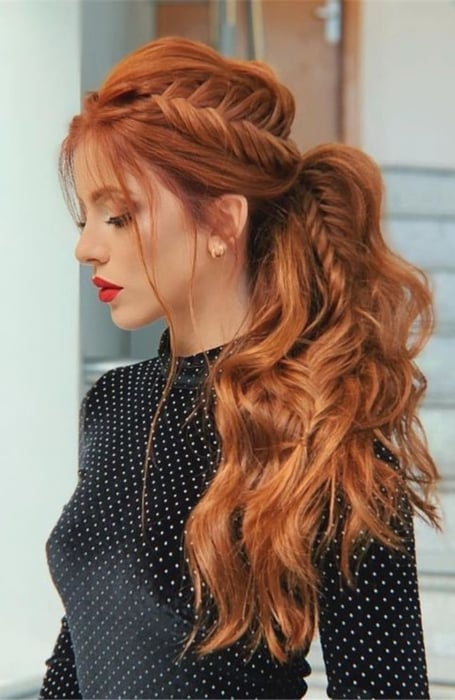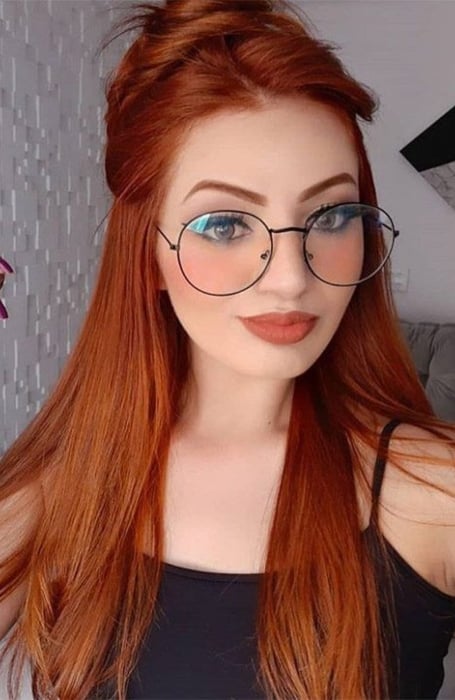 12. Auburn Brown Ginger Natural Hair
Auburn is a reddish-brown color while auburn brown is a combination of shades that focuses more on brown tones and ranges from medium to dark. It is vibrant, yet flattering on most complexions and can be added to natural ginger hair to create a more modern finish. The subtle contrast in color can also give the hair depth and dimension, which is incredibly flattering.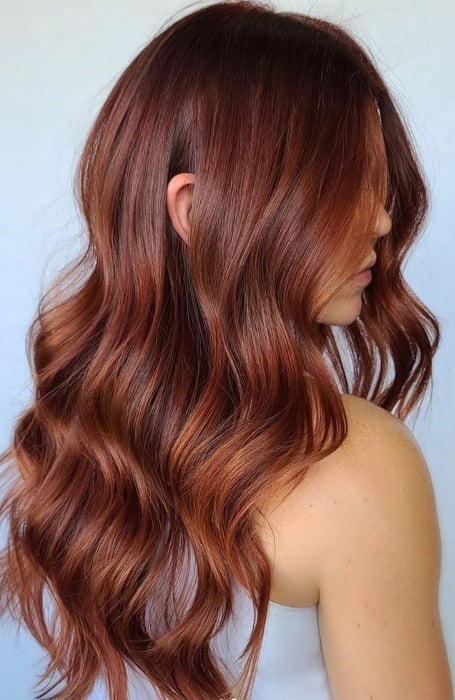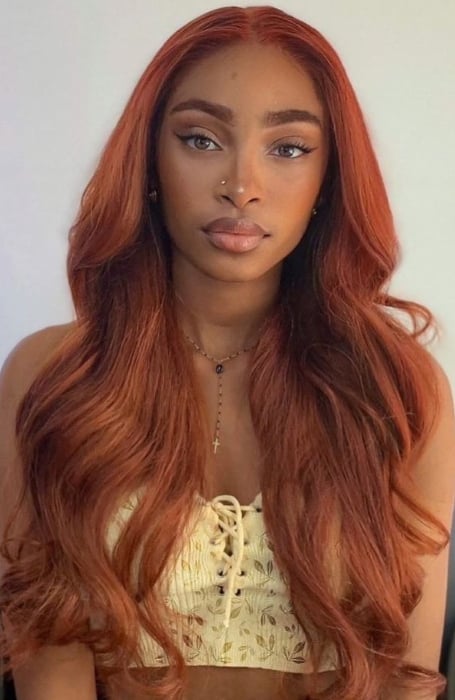 13. Black and Ginger Hair
Black hair and ginger are not colors that you would typically think to pair together, but the result can be striking. The contrast between these two colors will instantly draw attention to your hair. The most natural way to combine them would be to add ginger over dark hair using balayage or ombre. Keep the roots dark for a low-maintenance approach, while letting the ginger lighten your hair and brighten your appearance.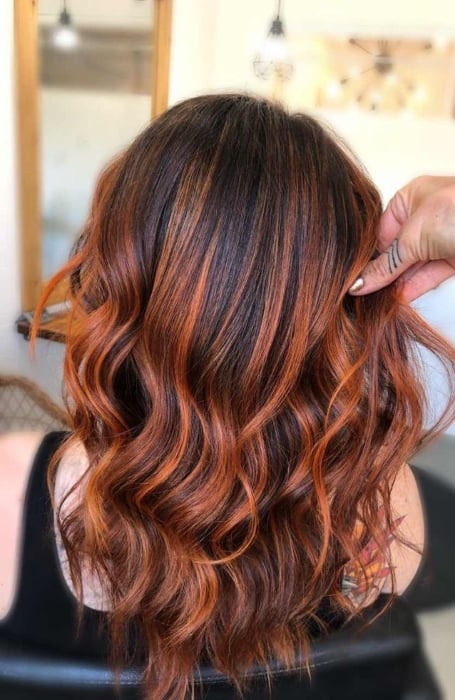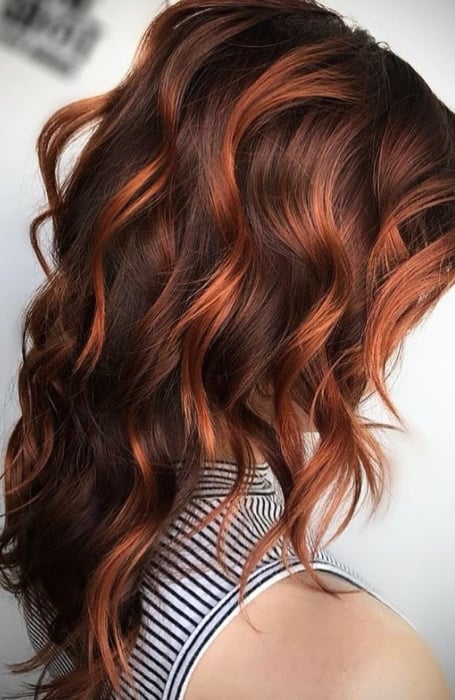 14. Strawberry Blonde Ginger hair
Strawberry blonde is a mixture of red and blonde colors and there are many shades of this hue. Some are lighter and more blonde in appearance, while others can be darker and red. Or you can opt to combine the color with an orange tone for a brilliant mixture of strawberry blonde and ginger. This will give you a softer approach to the ginger, toning down some of the oranges. It is incredibly chic and flattering.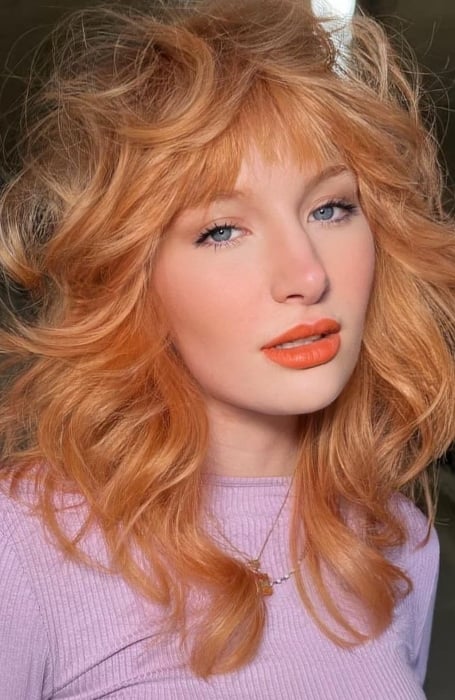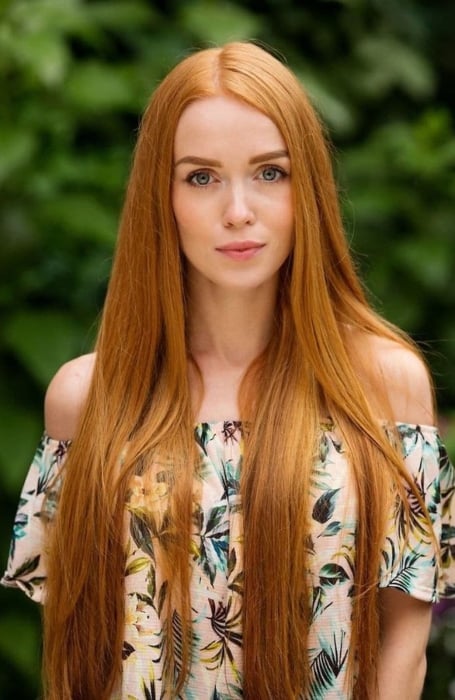 15. Light Brown Ginger hair
Light brown ginger hair is a mixture of colors from natural ginger with light brown hues. This combination will be less vibrant but therefore also easier to wear and flattering on a wide range of complexions. For a way to update your ginger hair, you could also add light brown highlights to the hair which will create a subtle contrast and give the hair more depth.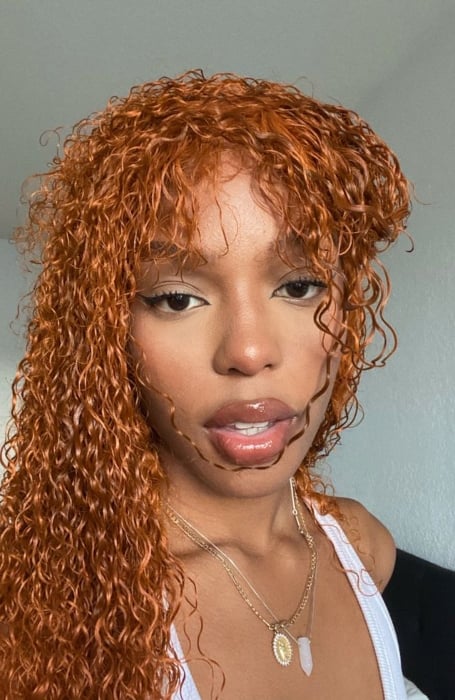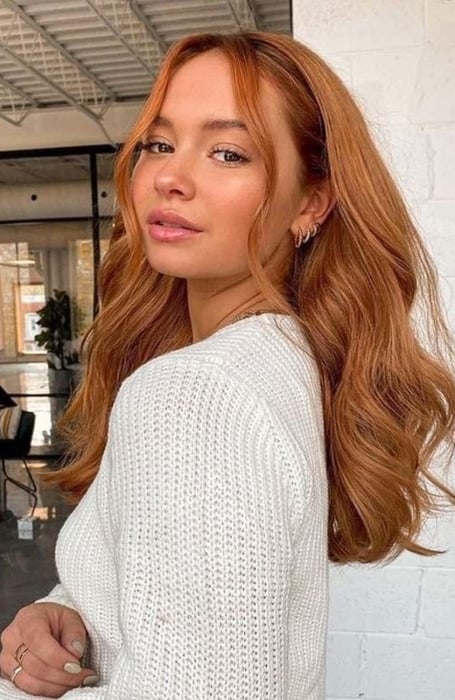 16. Metallic Ginger Hair
Metallic ginger is a version of the color that has reflective hues in it and is ideal for giving the hair a shiny finish. With ginger hair, the metallic will create a balance between cool and warm tones. This lets you experiment with the bold, orange hue in a chic and wearable way. This is is an excellent option for your next hairstyle and a great way to draw attention to your hair texture.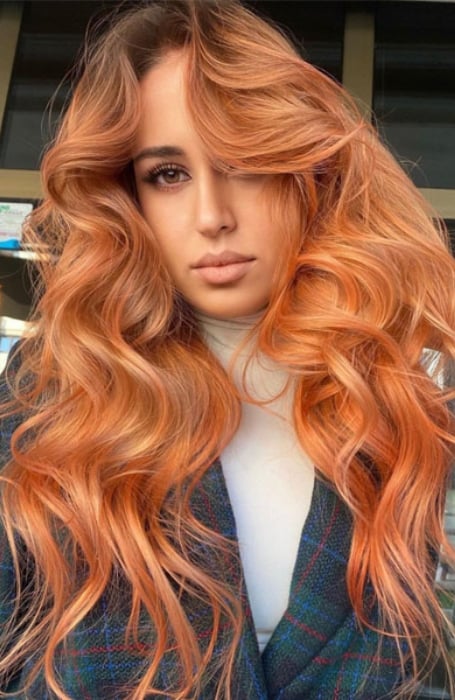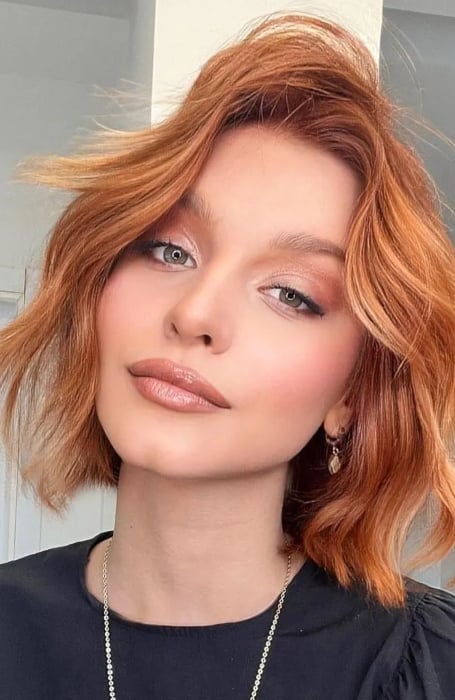 17. Rusted Ginger Hair
Rusted ginger is an orange and reddish shade with metallic tones. It is a darker color than natural ginger and can be easier to wear. You can add golden highlights to the hair to create even more depth and dimension, while also lightening the hair subtly and naturally. Work with your colorist to find the perfect color combinations to suit your complexion.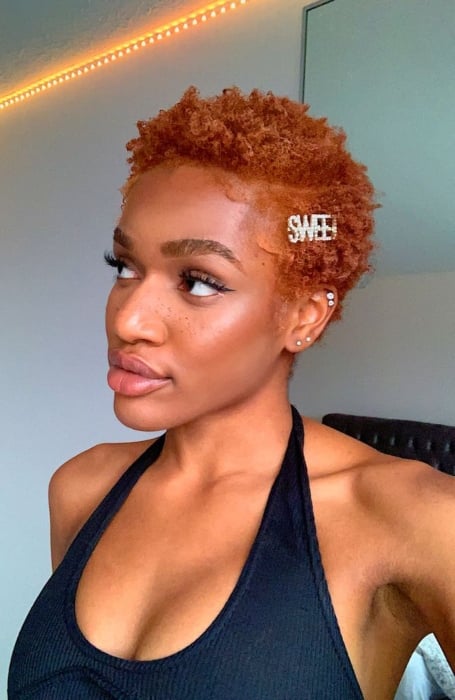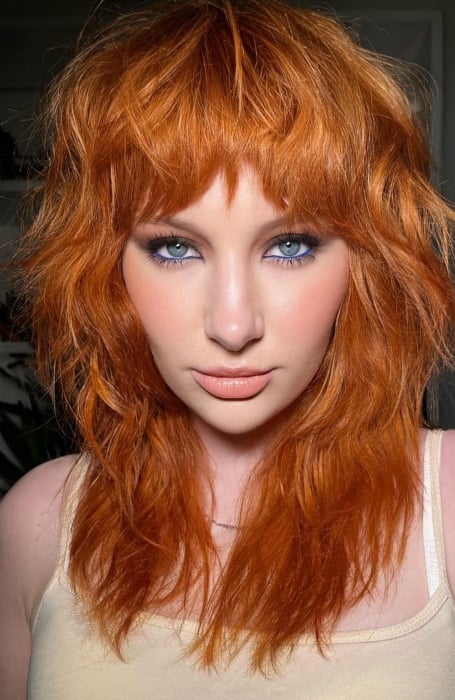 18. Ginger Hair with Dark Brown Streaks
Dark brown is a color that suits most people and can be added to the hair in various ways. This includes combining it with a bold hue like ginger. Adding brown streaks to your ginger hair will create a brilliant contrast and tone down the redness of the shade, making it appear browner. This can be incredibly flattering and a wonderful way to ease into trying ginger hair color.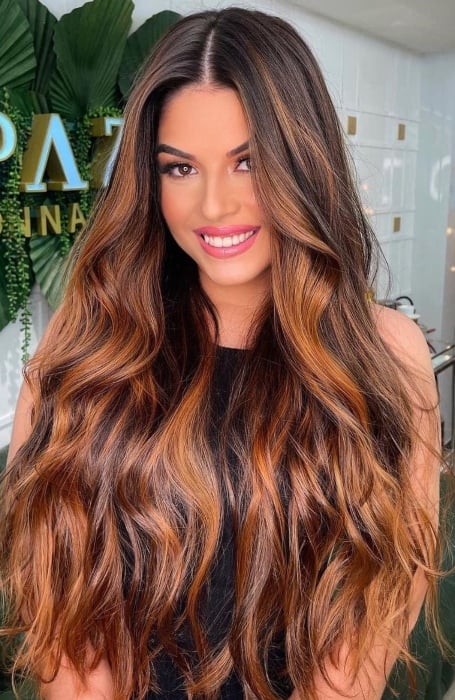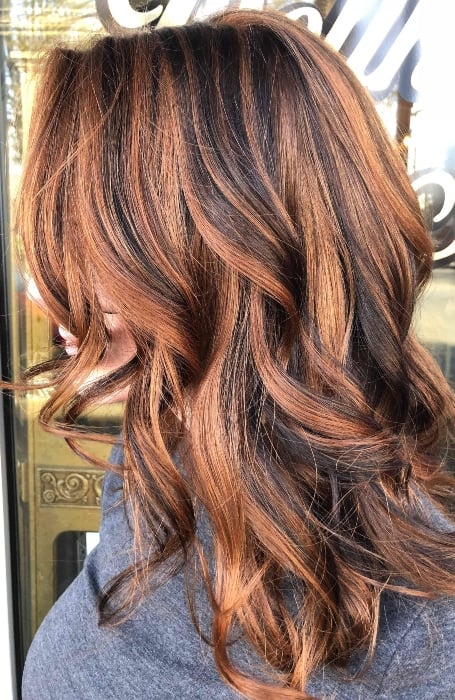 19. Ginger Hair Peekabook Color
Peekaboo hair is when only the bottom layers of the hair are colored. It is a gorgeous way to experiment with different colors without having to worry about root regrowth or regular trips to the salon for touch-ups. On ginger hair, you can add bold, bright colors underneath to express yourself and have fun. While on blonde or brunette hair, this is a subtle and low-maintenance way to try the ginger hair color trend.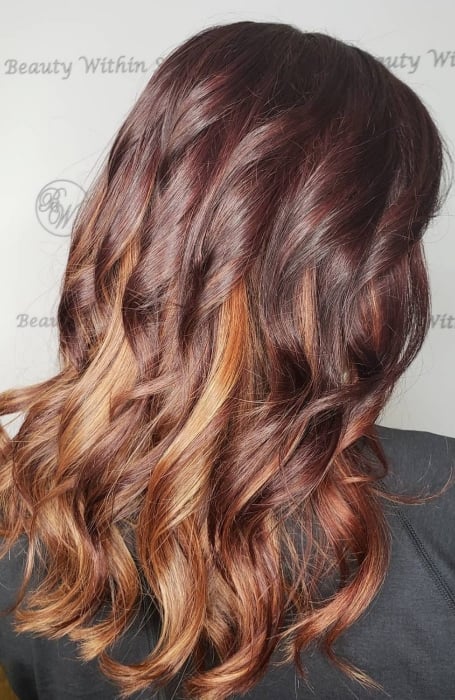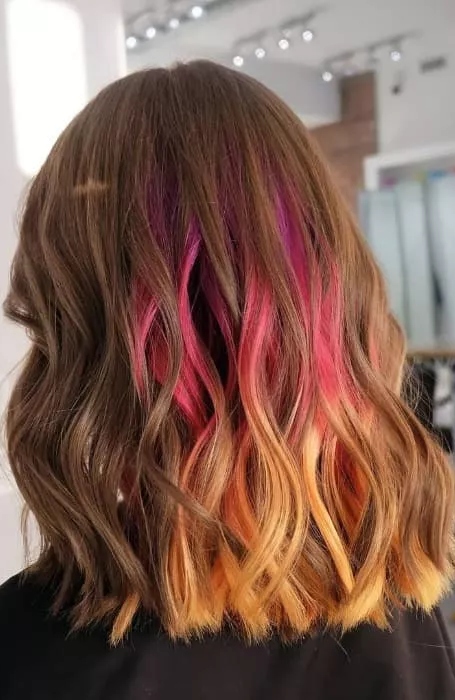 20. Ginger Skunk Stripe Hair
The skunk stripe is fun and expressive and is designed to draw attention to your facial features by highlighting your hairline. This is achieved by adding color to the hairline that is different from your base color. You can create a bold contrast with an artificial hue, or a more subtle, natural finish by pairing blonde with ginger hair. You can also experiment with the thickness of the "stripe" and it can be thin or chunky.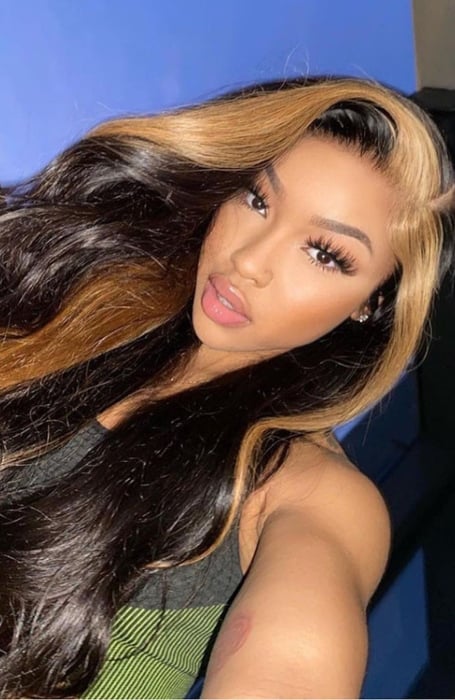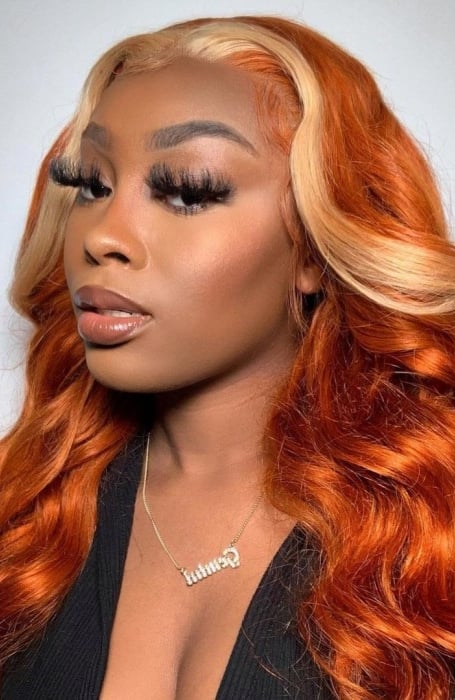 21. Ginger Hair Color with Caramel Highlights
You can update your ginger hair by adding caramel highlights. Caramel hair color is a brilliant blend of blonde and brown tones, and there are many variations of the color, making it easy to find the ideal option to suit your preference. These highlights will also lighten your hair, brighten your appearance, and give your hair depth and dimension. The subtle difference in color will create a natural finish.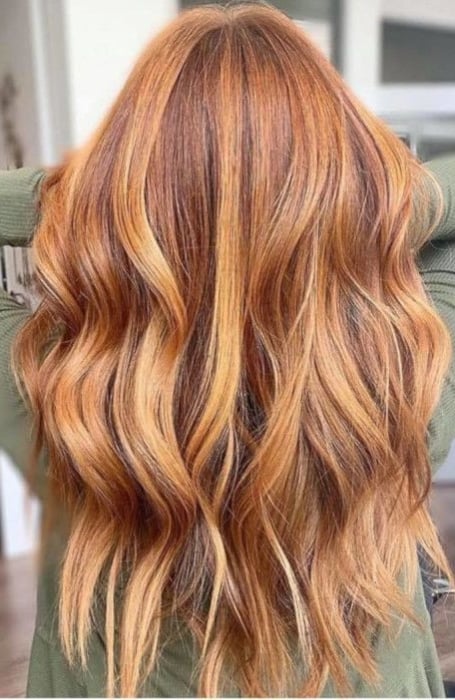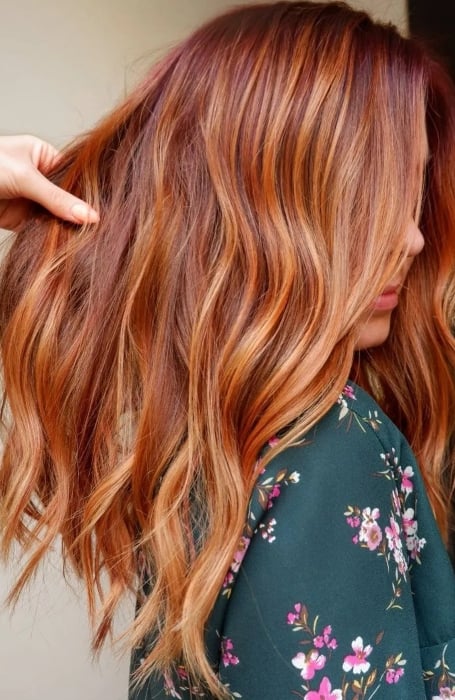 22. Ginger Hair with Dark Roots
If you are not naturally ginger maintaining the color can take some work, which is why leaving your roots natural can be an excellent option. Ginger hair with dark roots looks great and the difference in color will create a subtle contrast. It will also make the hair color last longer; you can let your hair grow out without having to re-dye it.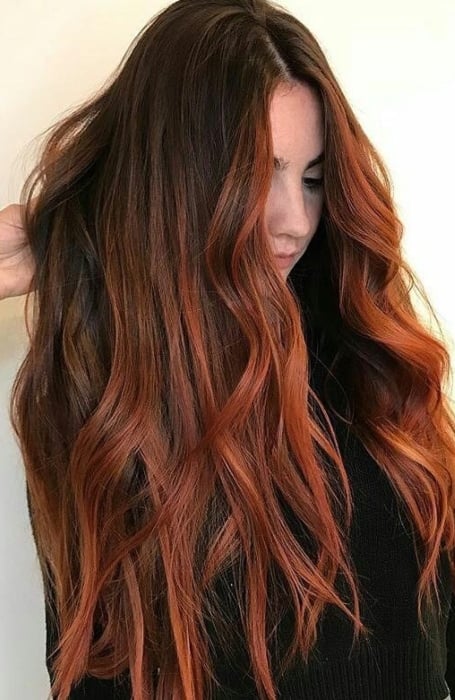 23. Rich Ginger Hair
Rich ginger is a tone that is orange in appearance and is a color that demands attention. It is bright, bold, and ideal for any woman who wants to change her hair and transform her appearance. This hue can be easily adapted to suit your preference and complement a wide range of skin tones. It will also look gorgeous on all hair textures and is an excellent way to draw attention to your curl pattern or natural wave.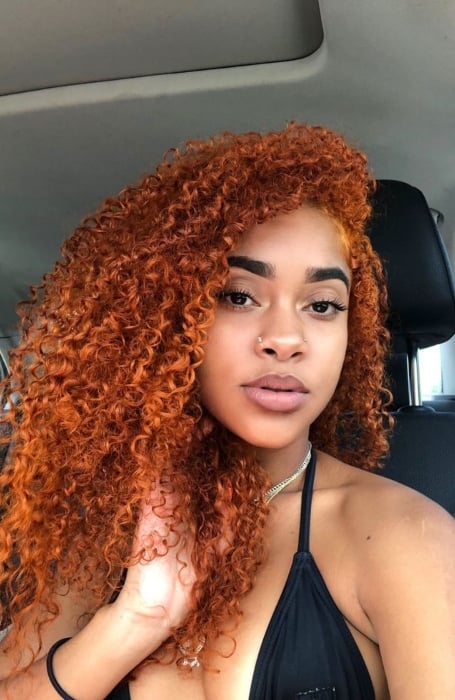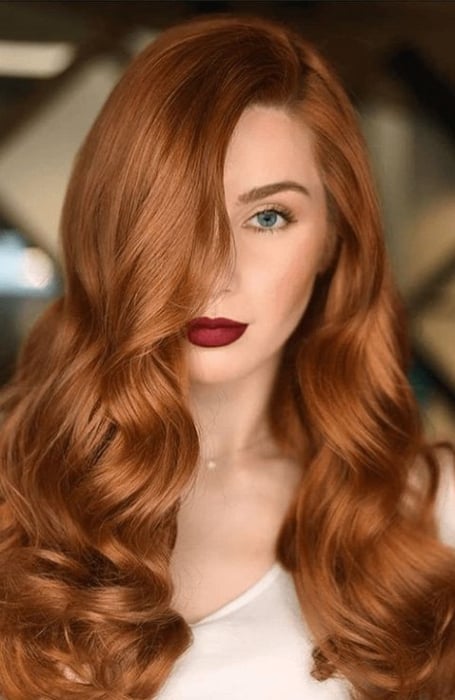 24. Ginger Hair Split Dye
The split dye color trend is one of the most fun and youthful ways to experiment with different colors. The idea is that each side of the head is a different color. This can be two natural hues, like ginger and blonde, which will create a subtle contrast, or you could pair your ginger hair color with an artificial color like blue or pink to really make a statement.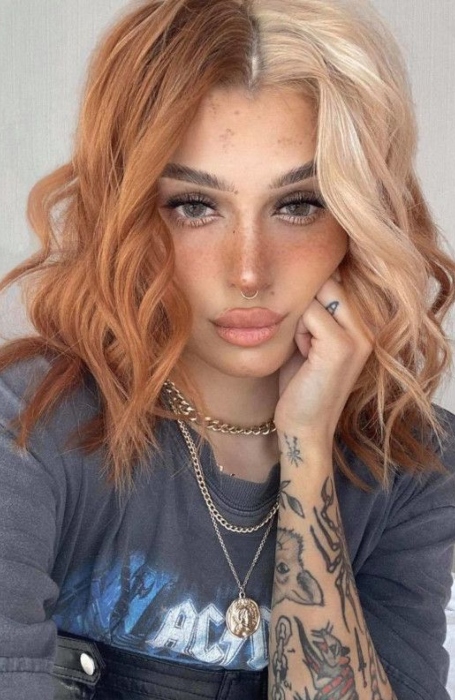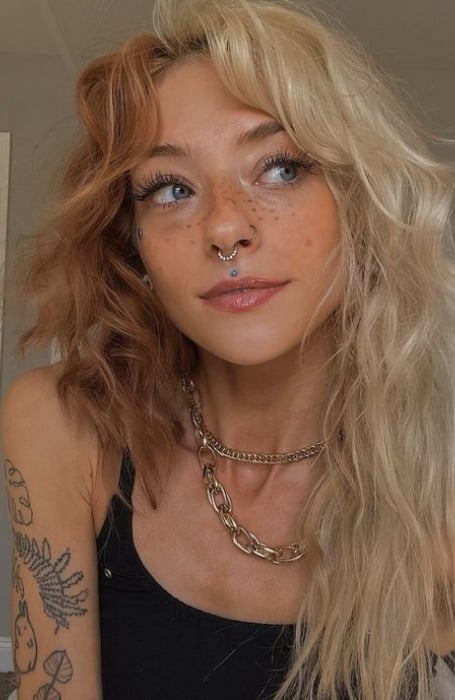 25. Ginger with Pink Hair
Pink hair is one of the most gorgeous options for any woman because it is fun, fresh, and associated with femininity. There are multiple shades of pink to choose from, making it easy to find the perfect shade to suit your preference and complement your complexion. You can also get creative with how you add pink to the hair, including adding it over a ginger base color to give the hair depth and dimension.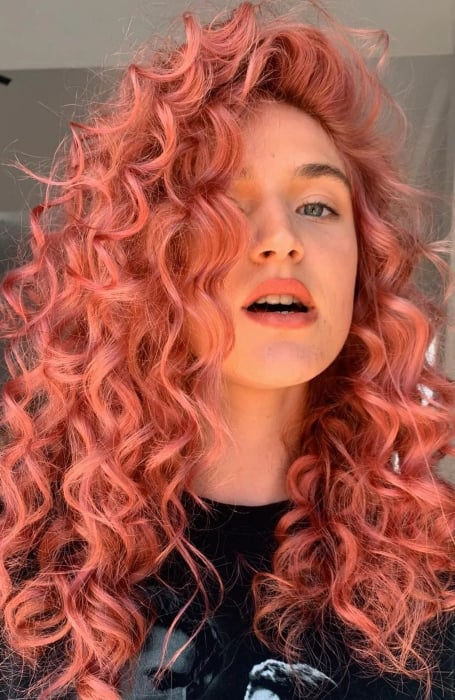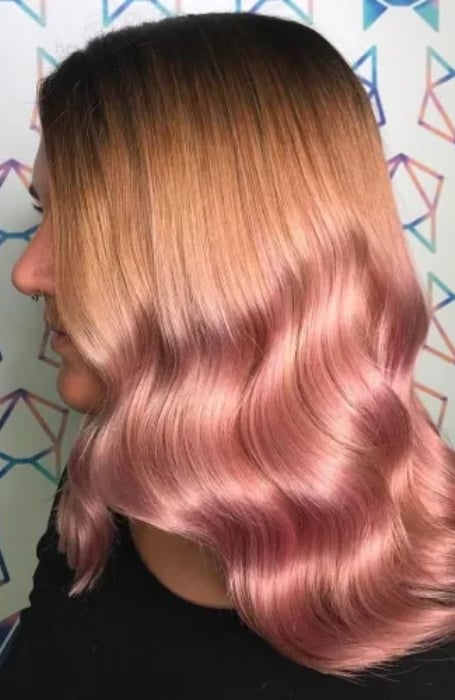 Best Ginger Hair Dye
You have committed yourself to try out a wonderful shade of ginger to modernize your appearance and make you feel fabulous. Now all you need is the right hair dye! There are many options to choose from, including temporary and permanent hair dyes, and the colors can be anything from natural ginger hues to dark oranges. Remember that before dyeing your hair, you will need to consider your base color. While light hair is easy to dye, darker hair may have to be bleached first. If you are opting for a bold change, it is always advisable to seek help from a professional colorist to minimize any damage.
Ginger Hair Color FAQs
What color of hair is ginger?
Ginger is a shade of red hair that is often orange in appearance. However, there are many different shades, from lighter hues that have blonde or golden tones, to darker shades with more red or brown.
What is the best ginger hair dye?
The best ginger hair dye will depend on what you want to achieve in terms of color and whether you want it to be temporary or permanent. Big brands like L'Oreal, Garnier Nutrisse, Clairol Nice' n Easy Crème, and Schwarzkopf LIVE all have a wide range of color options to help you achieve your perfect shade of ginger.
Is ginger hair red or orange?
Ginger hair is a variety of red hair, and is a mixture of red, brown, and orange tones. It can often look more orange in appearance.
Is Ginger Hair Color Right for You?
When determining whether the ginger hair color is right for you there are several things to consider, but you want to pick a shade that will suit your complexion and highlight your features. There are various shades of ginger to choose from, some lighter and others darker, some vibrant and bold, others toned down. It is best to work with a hair colorist to determine the best option for you. Your base color will also determine which shade of ginger is best, as dark hair will often need to be bleached beforehand whereas light shades can be colored without this step.
SUBSCRIBE TO OUR NEWSLETTER
Subscribe to our mailing list and get interesting stuff and updates to your email inbox.