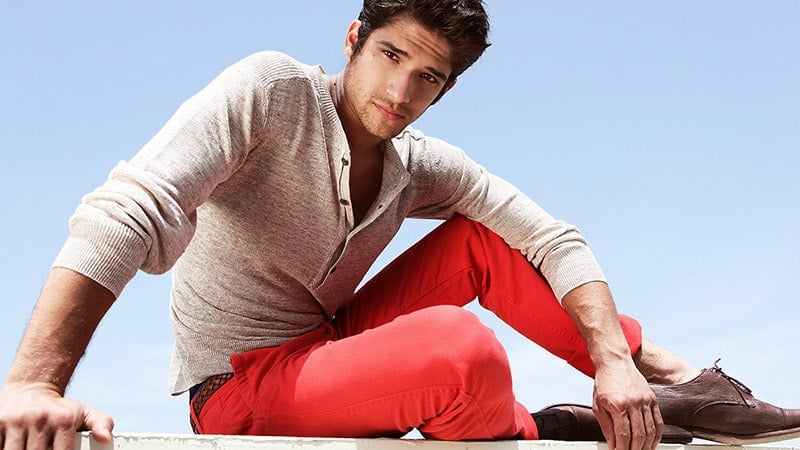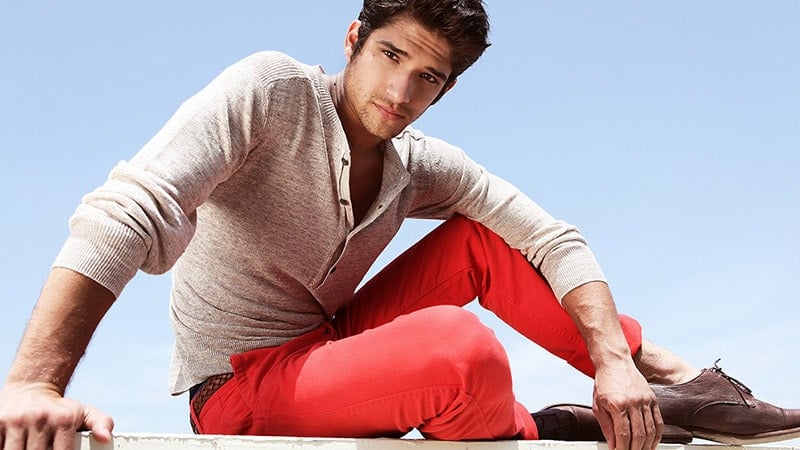 It may be a bold look but wearing red pants can also be incredibly stylish. After all, the attention-grabbing color creates quite the fashion statement. As such, red trousers are perfect for gents who like to stand out and look good. But, successfully rocking a pair of ruby-hued pants takes more than just confidence. It also requires knowledge of style and color. Thankfully, we can help provide you with that knowledge. Here's our roundup of men's red pants outfit ideas to inspire your next look.
What Matches with Red Pants?
Red pants can be tricky, but not impossible, to match. The key to pulling them off is to partner them with complementary garments that won't fight for attention. To do so, try sticking to a neutral color palette. Both white and black work well with red, as can cream and grey. Alternatively, the cool tones of blue and navy can also pair excellently with red pants. While other colors can also sometimes work with the fiery hue, it's best to avoid any overly bold tones.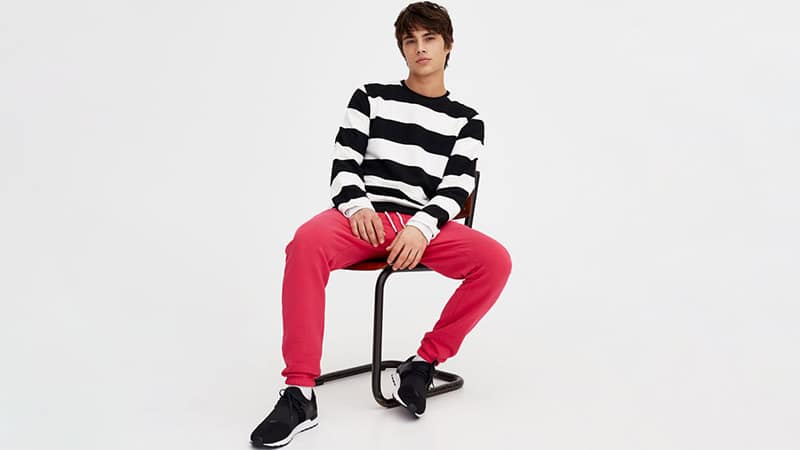 When to Wear Red Pants
Casual
Red pants tend to look best when worn casually. All you need to do is select a casual trouser style, such as jeans, chinos or track pants, and style according. Basic items such as T-shirts, sneakers, and denim and leather jackets, can all work excellently with casual red pants. Then, finish your look with comfortable shoes and a simple pair of sunglasses for summer or an overcoat for winter.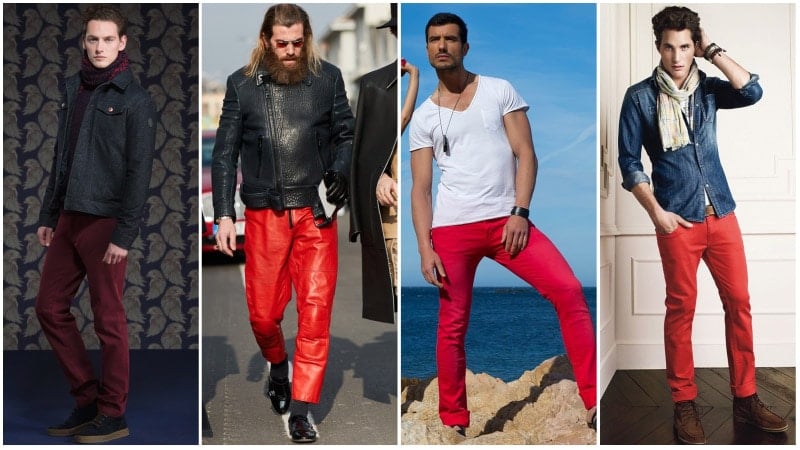 SHOP THE LOOK
Smart Casual
Red pants can work surprisingly well for smart casual outfits. Thanks to their bold tone, these pants can impress without any embellishments or added accessories. As such, you can quickly and easily style them in a smart casual manner with fantastic results. To do so, start by selecting a pair of red chinos or trousers. Then, add a button-up shirt and classic footwear, such as loafers or derby shoes. Alternatively, partnering red pants with a T-shirt and blazer can also make for a stylish and modern, smart casual ensemble.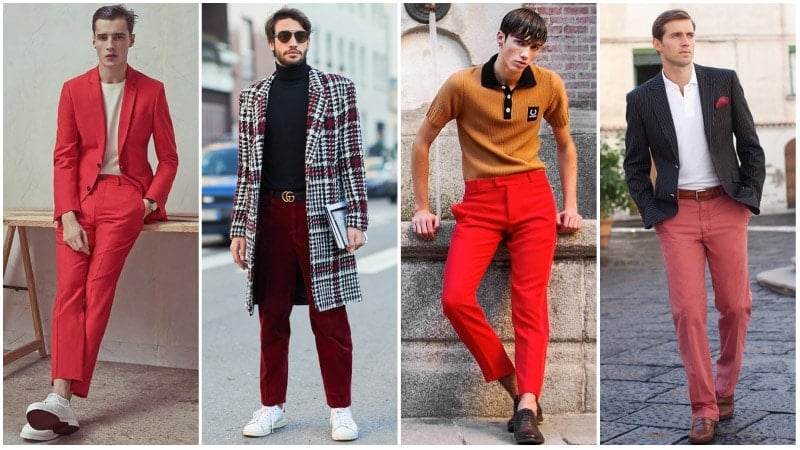 SHOP THE LOOK
Semi Formal
Red trousers are a bold and unconventional choice for semi formal occasions. But, that doesn't mean you can't or shouldn't wear them. To successfully rock a pair of red pants in a semi formal setting, stick to a smart and classic trouser. Then, either pair your pants with a matching suit jacket or keep things neutral with a white shirt and black or navy blazer. Opting for a dark shade of red, such as burgundy, can also be ideal for more formal settings. Additionally, remember to keep accessories minimal to ensure your outfit isn't over the top.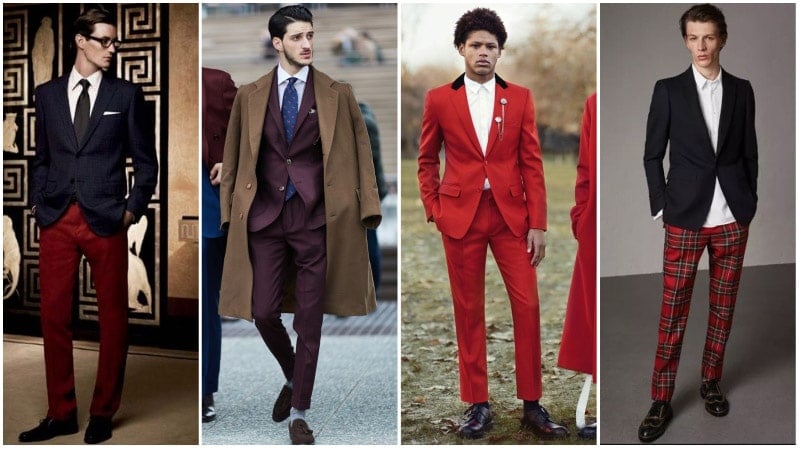 SHOP THE LOOK
Men's Red Pants Outfits
Red Chinos Outfits
Red chinos make an excellent option for men. The cotton twill trousers appear fashionable and sophisticated without feeling stuffy. As such, they can work for a range of looks from casual to semi formal. For the most stylish appearance, opt for a pair of slim-cut, tapered chinos. You can also consider cuffing or pinrolling the bottoms and not wearing socks to show off your ankles. When it comes to footwear, try white sneakers for a stylish casual look or opt for boat shoes, loafers or derbies for a smart casual style.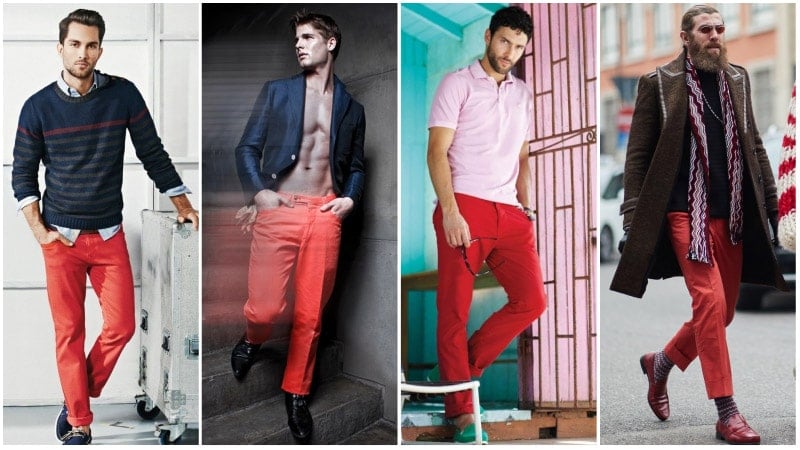 SHOP THE LOOK
Red Jeans Outfits
When it comes to wearing red jeans, the cut is essential. So, be sure to select a pair that's neither too baggy nor skin-tight. A simple slim cut tends to look best and feel comfortable. Also, don't forget to consider the shade of red. While bright reds are loud and statement-making, darker tones are more subtle and understated. As red jeans are inherently casual, they tend to work best with relaxed items, such as T-shirts and basic jackets. As for footwear, boots and sneakers look great with red denim.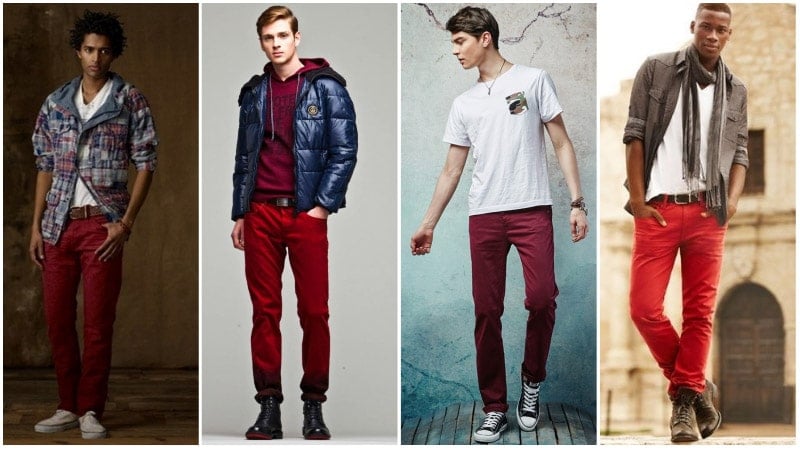 SHOP THE LOOK
Red Trousers Outfits
While jeans and chinos make excellent choices for casual and smart casual occasions, nothing beats a sleek pair of trousers or suit pants for formal settings. So, if you have a sophisticated evening event on your calendar, be sure to consider red trousers. Just select a pair that is well-fitted, neatly tailored, and that features high-quality fabric to nail the look. You can even opt for a complete suit for a statement style. But, be sure to finish your ensemble with neutral additions, such as a white shirt and black coat.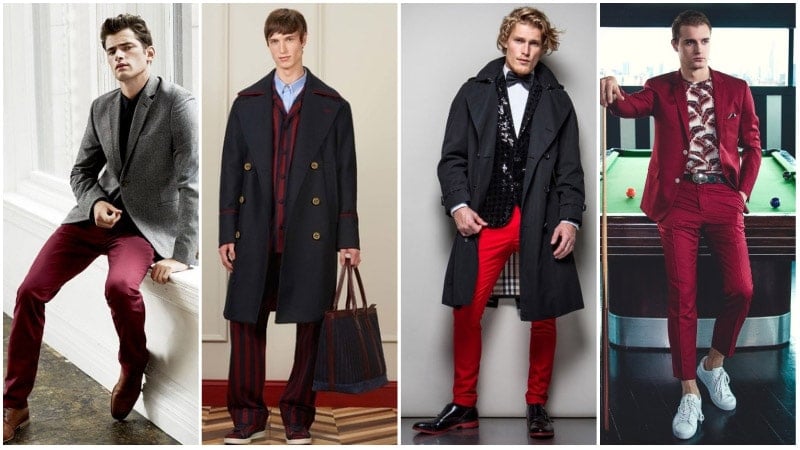 SHOP THE LOOK
Red Track Pants Outfits
Thanks to the rise in both streetwear and athleisure, red track pants can make a fashionable and appropriate choice for casual outfits. However, pulling off sweatpants in a statement colour isn't always easy. To ensure you appear stylish instead of sloppy, opt for an attitude-filled ensemble that's perfect for the street. Items such as sneakers, oversized T-shirts and puffer jackets are perfect for achieving this aesthetic.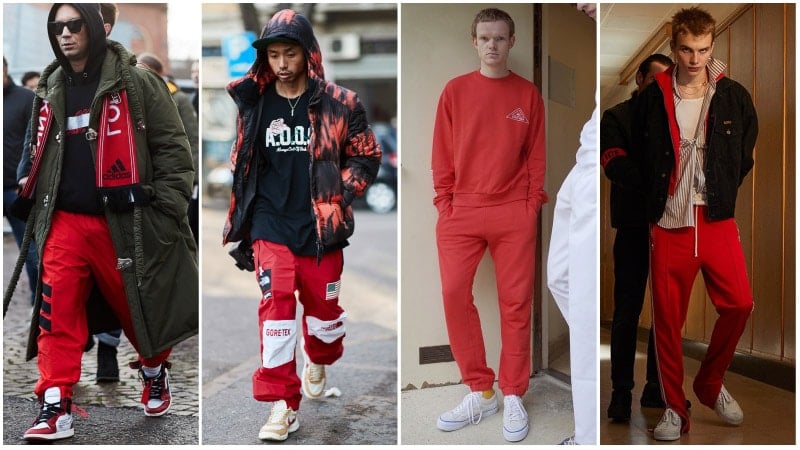 SHOP THE LOOK
Red Shorts Outfits
If you want to try a red pants outfit, but aren't feeling overly confident, consider wearing red shorts instead. Due to their short length, red shorts provide a splash of colour without appearing excessively bold. As such, they are often simpler to wear and style than full-length pants. Red shorts are especially suitable for achieving a bright and summery appearance. They can easily be partnered with other light shades, such as white or blue, and are great to wear to barbeques, the beach and more.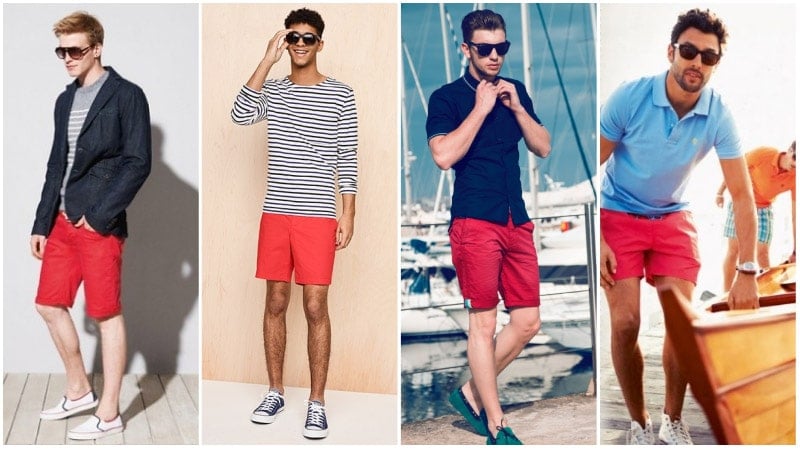 SHOP THE LOOK
Burgundy Pants Outfits
Bright red is a fantastic colour, but it can also be tricky to pull off, especially in formal situations. As such, opting for a dark shade, such as burgundy, can often make red pants more wearable. Burgundy trousers are more versatile and less intense than standard red pants. Therefore, they can suit a variety of events and provide an exciting touch of colour without appearing overly eye-catching.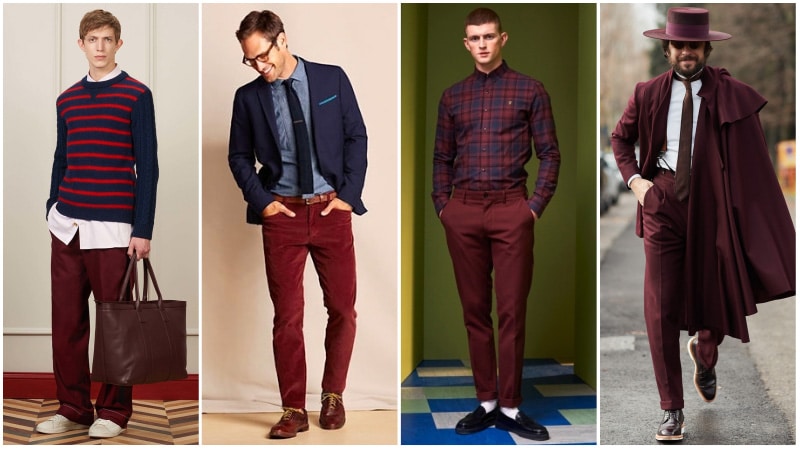 SHOP THE LOOK
Coral Pants Outfits
Light shades of red, such as coral, can also make a good option. Unlike burgundy tones, which appear sophisticated, coral projects a youthful and fun aesthetic. As such, it is particularly ideal for the carefree spring and summer months. The bright hue works exceptionally well for preppy looks with chinos or shorts. It also partners excellently with both white and blue.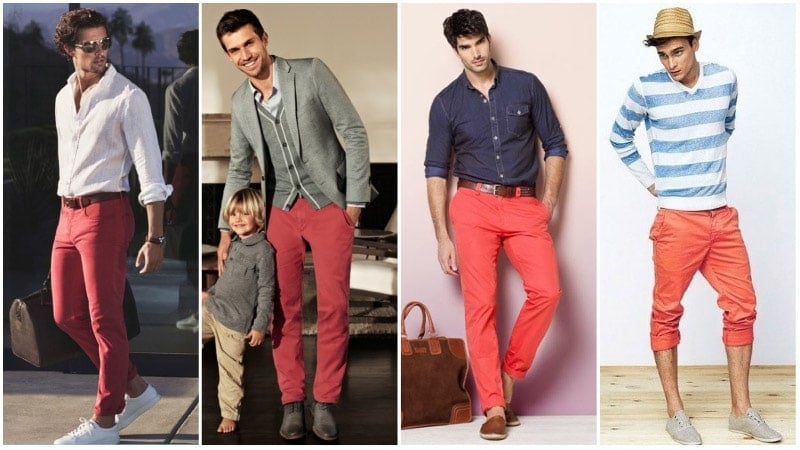 SHOP THE LOOK
How to Wear Red Pants
Allow your red pants to stand out by pairing them with neutral and cool tones, such as white, black, blue and navy.
Wear red jeans for a casual look and red chinos for a smart casual style.
For semi-formal functions, try red trousers with a matching suit jacket or white shirt and navy or black blazer.
Try a dark red, such as burgundy, for a sophisticated look, and a bright red, such as coral, for a fun and summery appearance.
Complete your red pants outfit with neutral shoes and minimal accessories.
FAQs
What color shoes goes with red pants?
Red pants are a bold choice and can be best paired with neutral shoes. Options include white, cream, navy, dark brown, black and light brown.
What color shirt goes with red pants?
Red pants look good with white and black, as well as blue and navy. A general rule to remember is that they work best with cooler, neutral tones.
What to Wear with Red Pants?
Let your pants be the statement piece of your look. For casual or smart-casual wear, try red chinos or jeans, and for semi-formal options, red trousers with a matching jacket or a white shirt with a navy or black blazer are great choices. You can complete your look with simple accessories and shoes.
Are red pants in style?
Red pants demand attention. They are an easy way to make a fashion statement and are also incredibly stylish. With a few styling tips and a lot of confidence, this is a wonderful color to add to your wardrobe.
SUBSCRIBE TO OUR NEWSLETTER
Subscribe to our mailing list and get interesting stuff and updates to your email inbox.