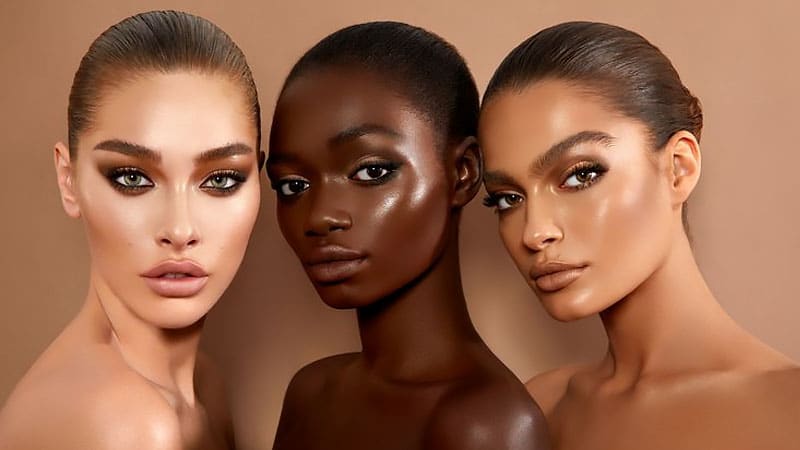 From the runway to Instagram, there is makeup inspiration everywhere you look. Whether your go-to look is a crisp winged liner or you love to experiment with different colors, there are endless ways to update your cosmetic game. Whether you're a pro or a novice, there are amazing looks you can try to spice up your summer makeup routine or add to your TikTok feed. Get the effortless 'woke up like this' look or unleash your inner '90s supermodel with this inspiration overload. We've compiled the best makeup looks you should try this season.
1. Natural Makeup Looks
The natural makeup look instantly gives the impression of an off-duty model. Although it may not appear like it, it requires a bit of effort, but the results are so worth it. Begin with a clean base, sunblock, and moisturizer. Depending on your skin type, apply a medium coverage foundation and concealer if you wish, but keep it sparse. Stick to fluffy brows, slightly filled in if required – use soap or gel for a lifted and refreshed feel. Add some warmth to your face with a light touch of cream blush and bronzer for a natural glow – less is more. Minimal eye makeup is the key to a natural finish, so keep it simple with black or brown mascara and delicate eyeliner on the outer corners of the eye. You can finish off the look with a clear gloss or nude satin lipstick, which will leave you looking radiant and confident.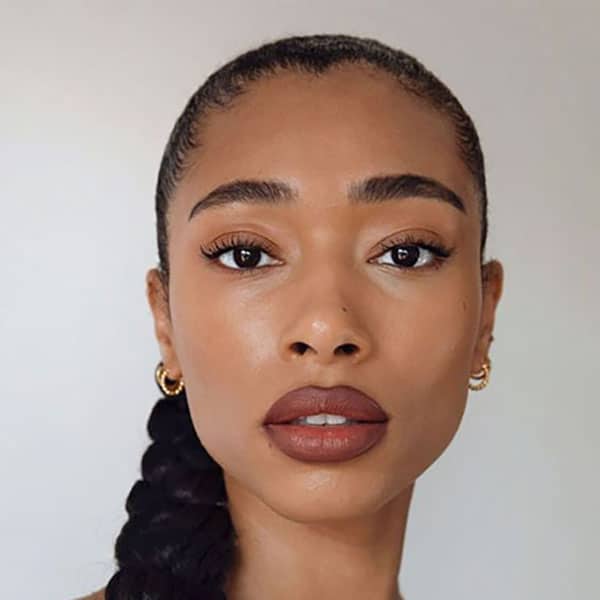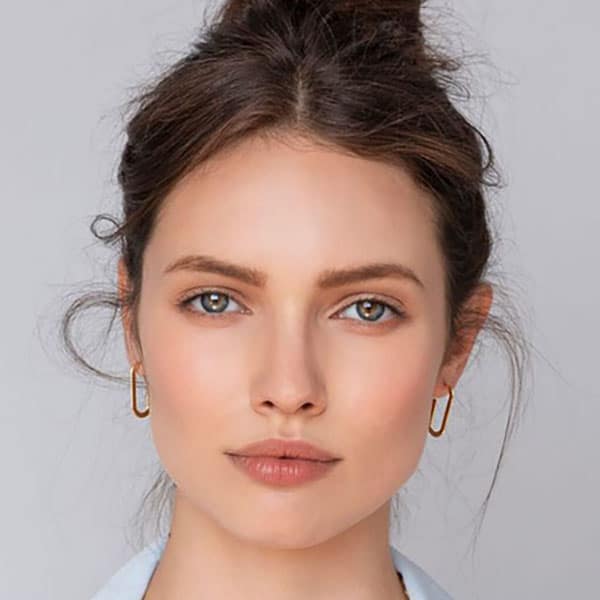 2. Easy Makeup Looks
Getting the perfect makeup application can take a while, so everyone should have an easy makeup look up their sleeve if they're in a rush. For an easy routine, you will only have to use a few key elements. Before applying foundation, ensure you have sunblock and moisturizer on – keep the base minimal, concealing any imperfections. Lightly brush through your brows and fill in any gaps, and apply a thin layer of gel to keep them in place. A touch of bronzer will warm up your complexion and will save time on contouring. If you want to go all out, add a bold red lip, but keep the eyes minimal with a coat of mascara. Alternatively, you can have a statement eye in a flash by creating a cat eye in a purple, blue, or gold color. Pro tip: use your lipstick as a blush to save time.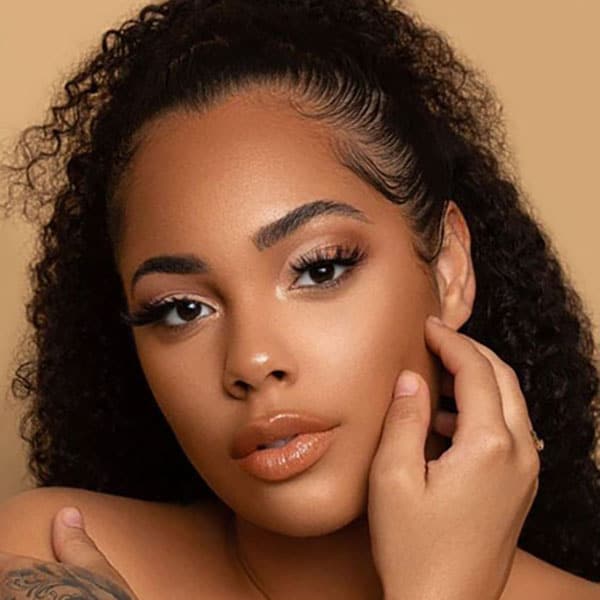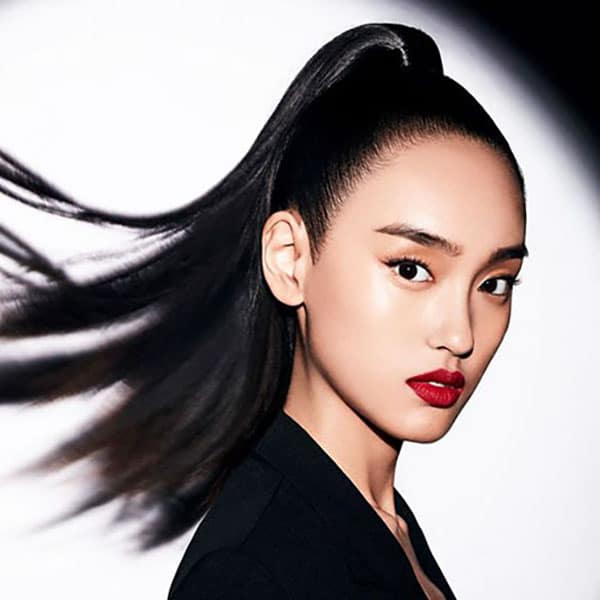 3. Cute Makeup Looks
Are you a fan of sugar, spice, and all things nice? Then you will love these cute makeup looks, which are great for any occasion. Start with a clean base, with draped cream blush along the cheekbones for a lifted look. Mix and match different pop colors, such as yellow, green, and blue, located on different parts of the eyes and face. Create a blue cut crease, working its way into green and blending in with your rosy cheeks. Add some rouge to the top of your nose or across the cheeks and nose bridge for a fresh and youthful finish. This style is major with the soft girl aesthetic, and it is a great trend to try.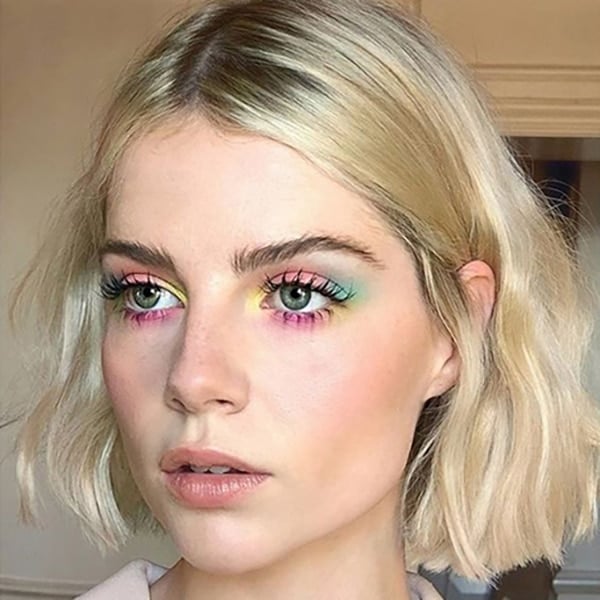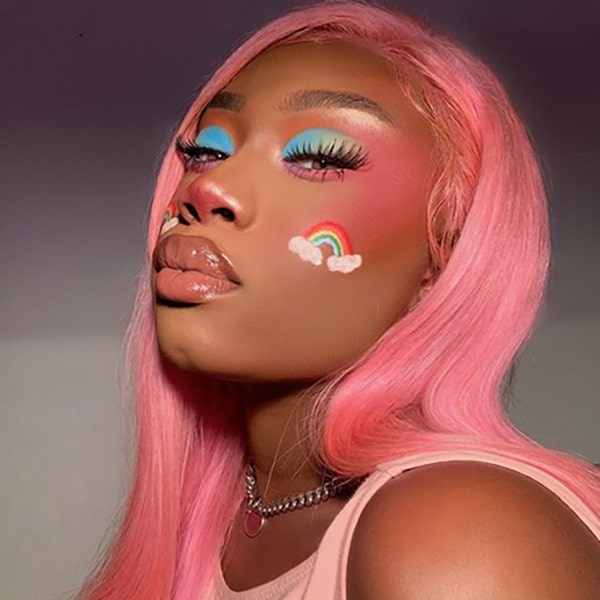 4. Euphoria Makeup Looks
It's not just the stars of Euphoria that fans have fallen for – it's the makeup. Rhinestones, bold colors that cover the whole lid, and brightly infused eyeliner. Recreate the iconic looks by applying primer on the lid – this will secure the eyeshadow for hours and prevent it from looking cakey or creased. There are many characters you can base your eye makeup on, but most of these looks will have one thing in common – natural foundation and minimal concealer. This is all about the eyes. Using a fluffy brush, apply your first color, be it lavender, sage, or aqua, over the entire lid. Create depth with a slightly darker hue eyeliner, outlining the crease, corner, or lower lash line. Then, add a few rhinestones to your eyebrows, the lid and underneath the eye, and voila.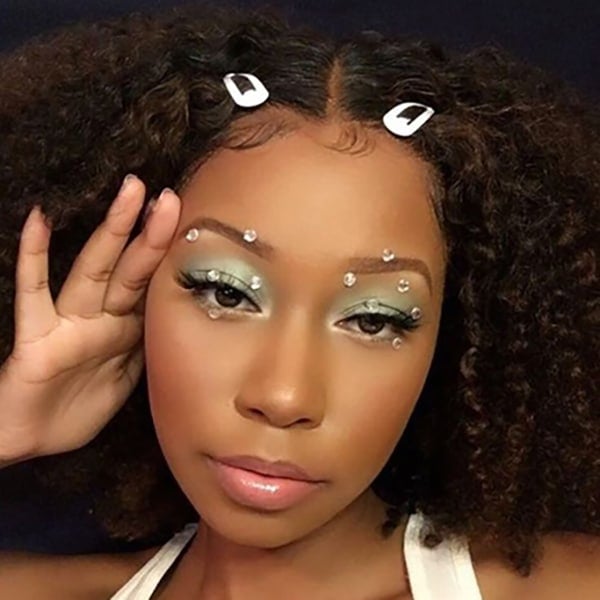 5. Simple Makeup Looks
Sometimes the most simple looks have the biggest impact. A fresh and flawless base with a few distinct colors is all you need to create this style, and it is easy to replicate. Begin with foundation, concealer, and a touch of translucent powder. If you wish to warm up your features, add some cream blush or bronzer beforehand, using a makeup sponge or stippling brush. With a nude, bronze, or dusty pink cream eyeliner or eyeshadow, apply a small amount to the outer corner of your eyes – gently blend it out with a fluffy brush for a natural finish. A bold lip in plum, brick, or brown can amplify this look, but to keep it as minimal as possible, apply a single coat of mascara.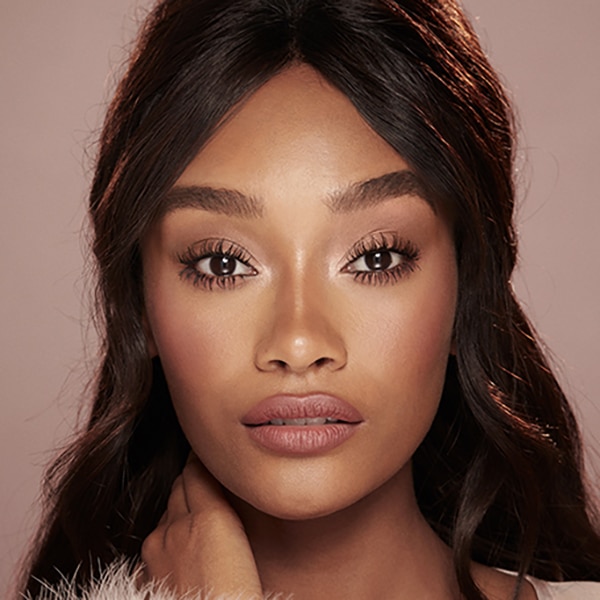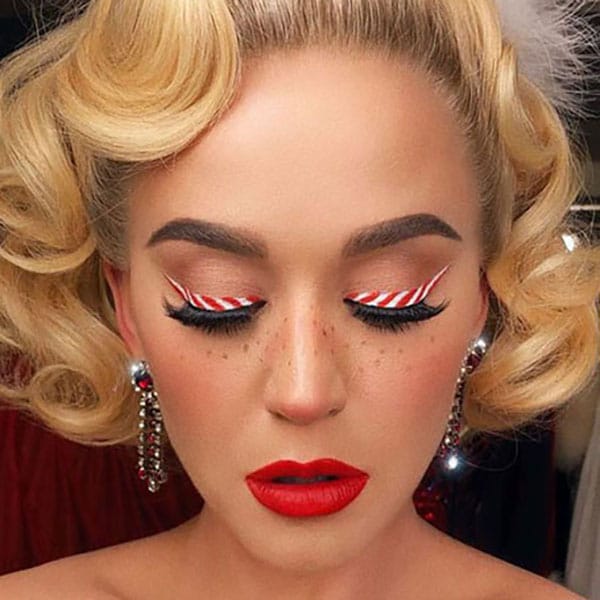 6. Wedding Makeup Looks
As one of the most important days of your life, you'll want your makeup to look flawless all day and night. Whether you are doing your makeup or hiring someone, it's important to research the event. Depending on your dress, theme, and overall mood of the wedding, your makeup should reflect and flatter the day. Popular wedding makeup looks include neutral and bronzed tones, nude and glossy lips, dramatic lashes, and fluffy brows. You can try a bold red or pink lip for a sultry feel or a smokey eye for something dramatic. Be sure to practice the application a few times ahead of the actual day – don't forget to add primer to keep your complexion looking radiant from the ceremony to the dance floor.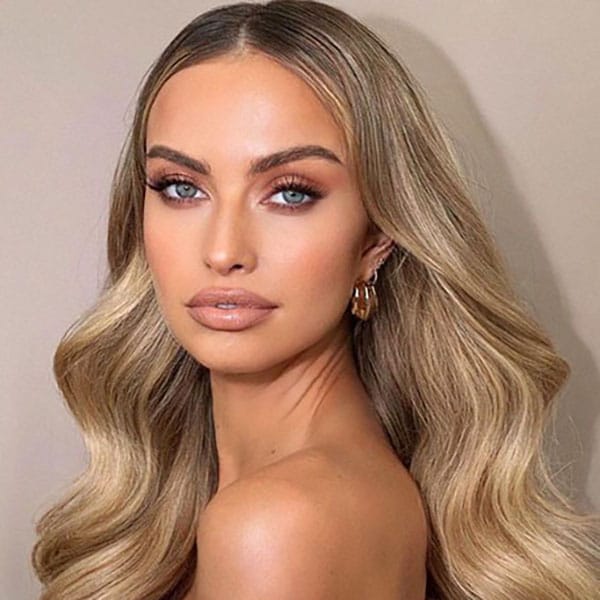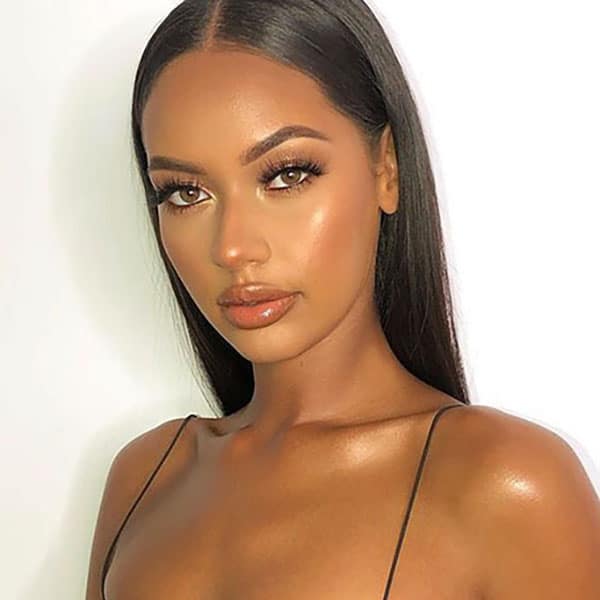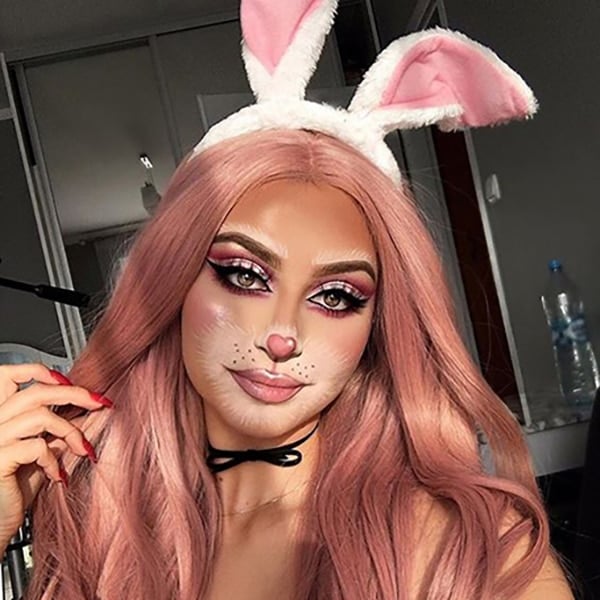 7. E-Girl Makeup Looks
Famous mostly on TikTok, the e-girl trend has taken the internet by storm. With easily recognizable E-Girl makeup, you can recreate it over and over again in different ways. Some of the main features of this trend include fake freckles, which are painted directly over the nose and the top of the cheeks. You can even place hearts in the same place as your freckles for a cute twist. Another key element of this trend is blush, which is usually strategically placed on the tip of the nose and the apples of the cheeks. E-girl eyeliner is sharp and typically is drawn horizontally across the eye, starting from the center. Try overlining the cupid's bow on your lips for an uplifted look – add some gloss for a natural finish.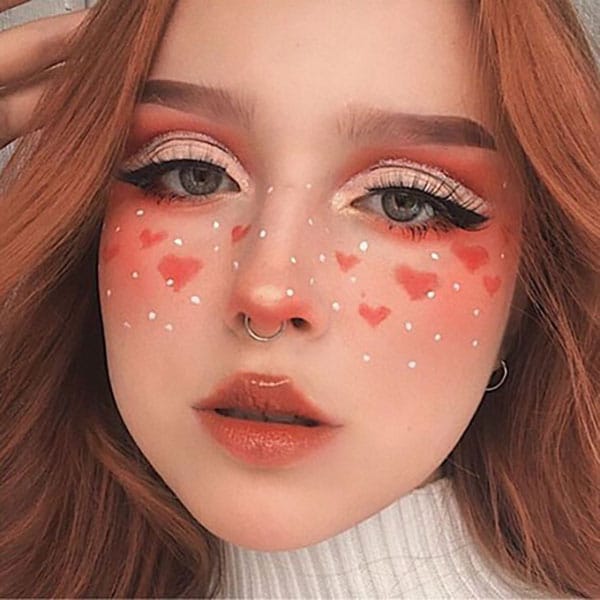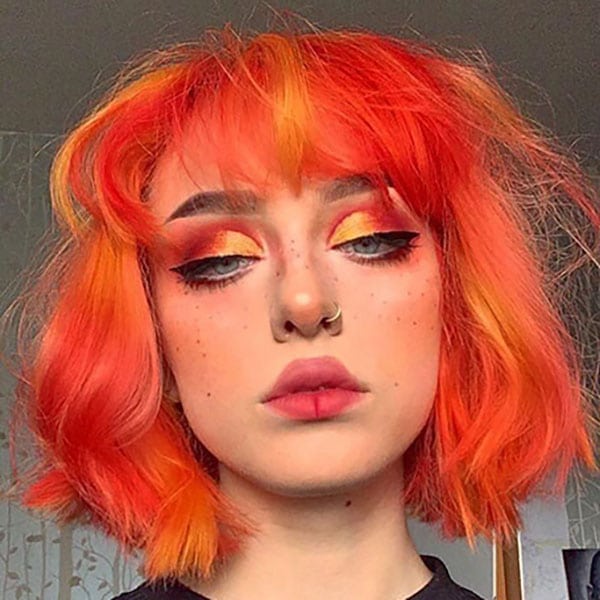 8. Simple Makeup Looks with Red Lipstick
One look that every makeup lover should master is the classic red lip. This elegant look is a timeless choice and is perfect for a night out or a selfie session. With this look, it's important that you create a neutral and flawless base – use foundation, concealer, and translucent powder to remove any irregular pigmentation. The lipstick is the main attraction for this look, meaning the eyes should be relatively neutral. However, this doesn't mean you can't experiment with a cat eye, smokey shadow, or bushy brows. This is an easy way to get glam without going all out.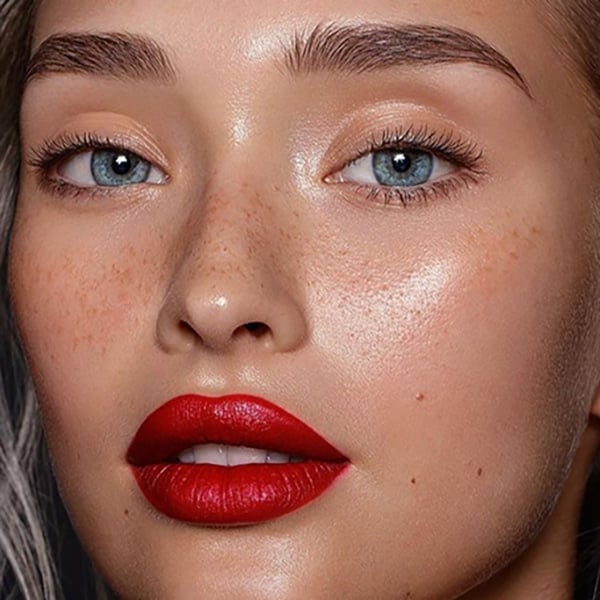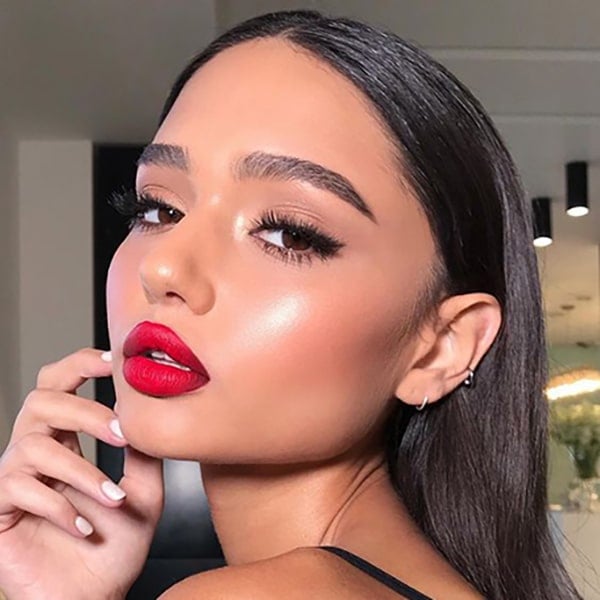 9. Nude Makeup Looks
Whether you're attending a dinner with friends or you're going to prom, a nude makeup look is always an excellent choice. This timeless and flattering look is perfect for all seasons and is flexible, so you can go as natural or glam as you like. For a natural look, apply a medium-coverage foundation and a touch of concealer in the inner and outer corners of your eyes for a brightening effect. Drape pink blush on the highest points of your face, and use the same color on the entire eyelid – use a fluffy brush for an even finish. Add a sheen of bronze liquid gloss on top of your lids for a radiant glow, and add a glossy neutral lip to tie it together. If you want to go all out, swap out the neutral eyeshadow for a smokey look – use primarily dark brown tones for a sultry feel.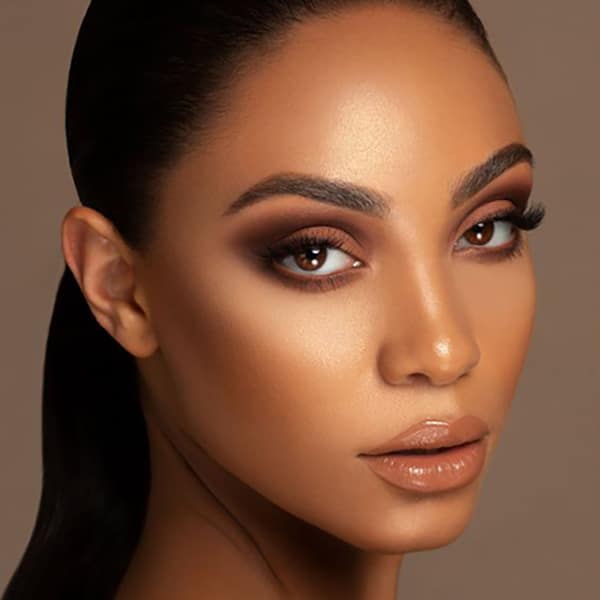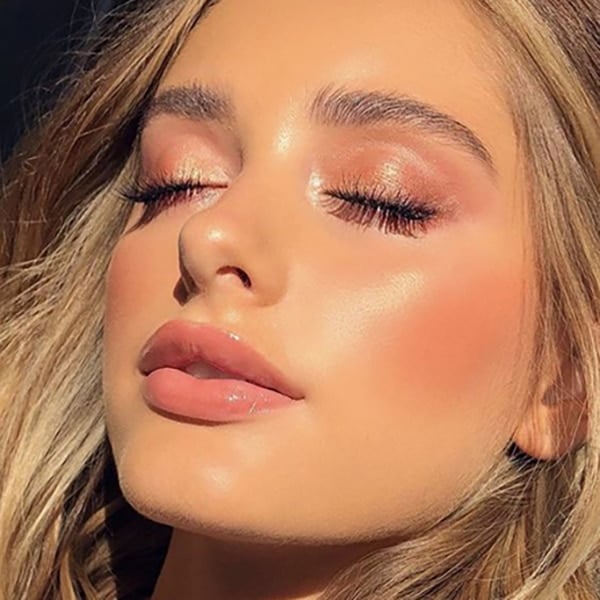 10. Summer Makeup Looks
Summer is the perfect time to experiment with bright colors, and fun makeup looks. Celebrate the sunshine with a buttery soft pink eyeshadow, a nude lip, and fluffy soap brows. If you want to go a bit bolder, try a purple brush over the entire lid, with faux freckles and purple ombre glossy lip? As the temperature increases, use a lighter foundation or BB cream – you can mix your go-to shade with moisturizer for a natural finish. Make sure you always apply sunblock before your makeup to avoid sun damage, no matter the season.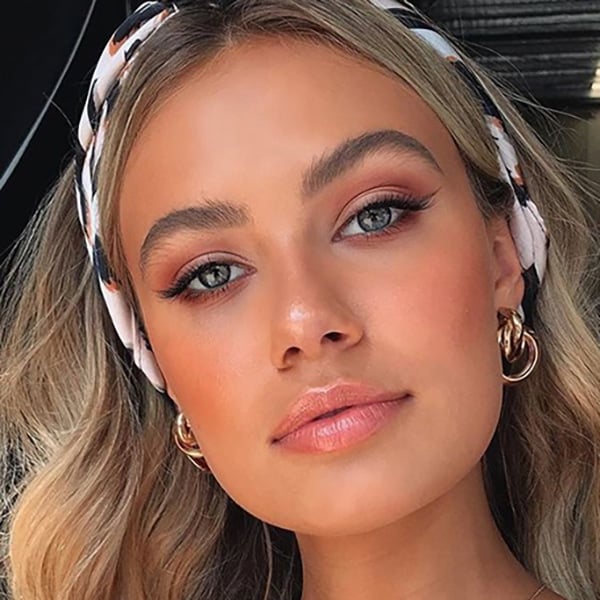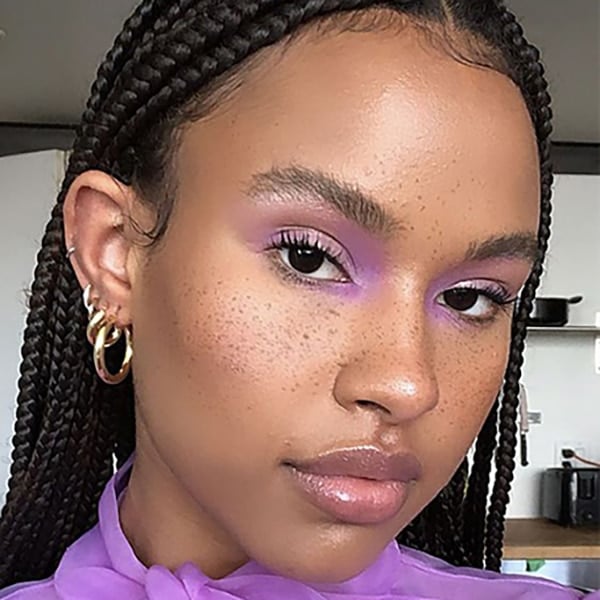 11. Fall Makeup Looks
We're inching closer to Christmas, and it's time to snuggle up and watch the leaves fall. If you're counting down the days to Halloween or you love the chilly temperatures, you can use autumnal colors like brown, orange, and gold in your makeup. You can't go wrong with a bold lip and simple eye look, but why not reverse it with a vibrant eye look and neutral gloss this year? Radiate all season long by prepping with moisturizer and SPF beforehand, giving your skin a healthy and natural glow.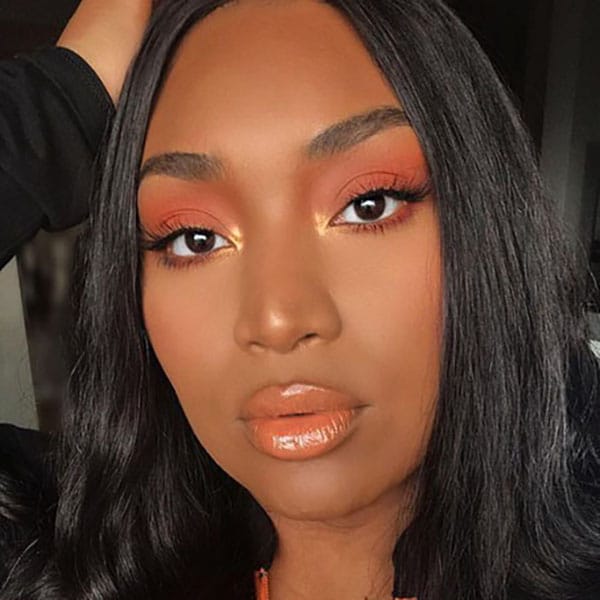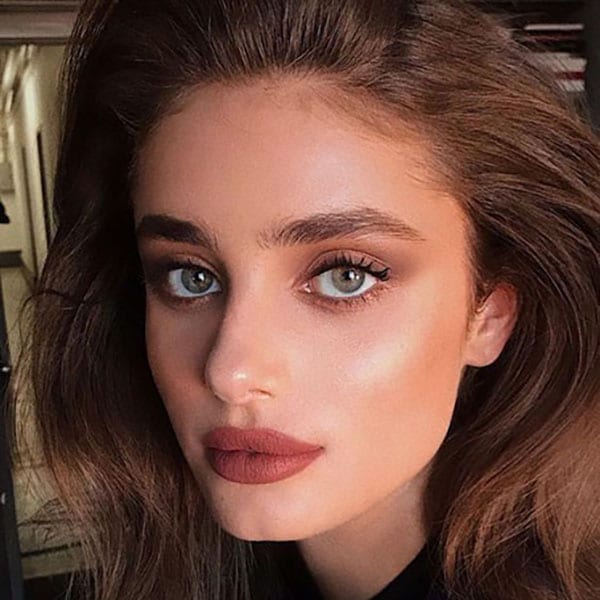 12. Goth Makeup Looks
The goth style is a diverse and wide-reaching subculture, from Cyber Goth to the original English genre in the late '70s. The makeup look has evolved over the decades, but the key elements remain. The main features of goth makeup include dark eyeliner, bold lips, and red eyeshadow. Take a leaf out of Siouxsie Sioux's handbook with bold eyeliner in geometric shapes, now commonly seen in Trad Goth subculture. For a more fashion-forward look, you can try the reverse cat eye, emphasizing the dark eyeshadow on the underside of your eyes – use cream concealer and a spooly brush to adapt a bleached eyebrows effect.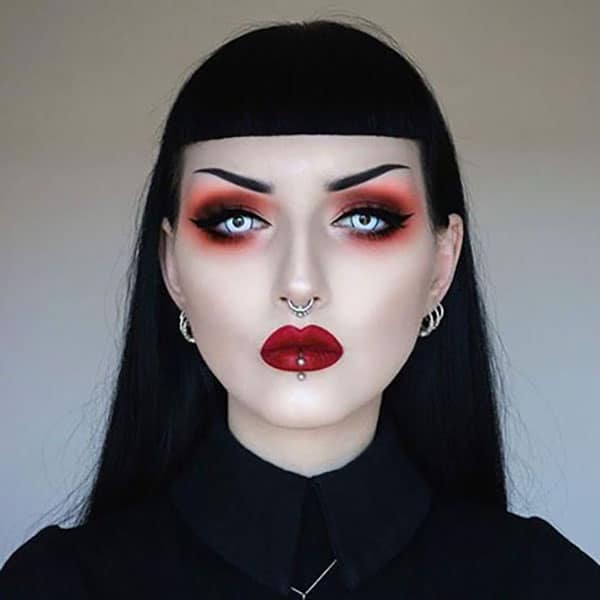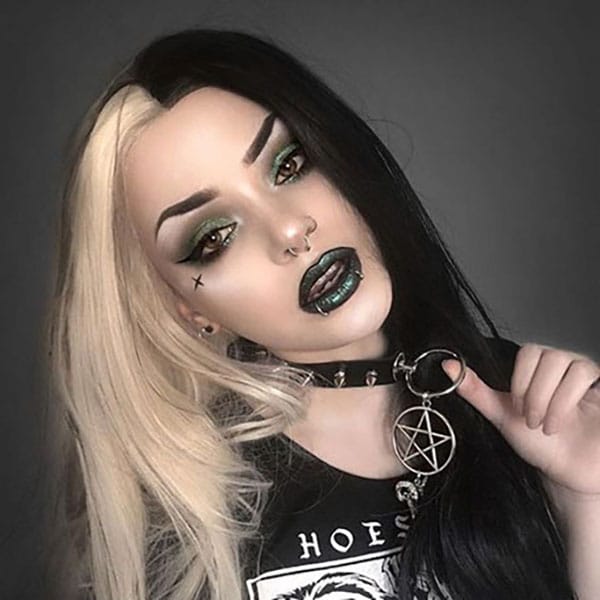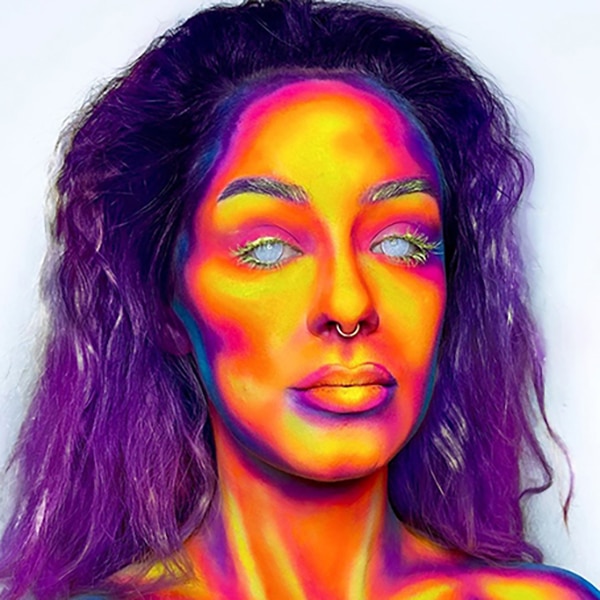 13. 1920s Makeup Looks
It was a time of talkies, the flapper, and dramatic makeup. However, the cosmetics from the '20s may not have been so Great Gatsby as you may imagine. While it's true that women often shaved off their brows in favor of thin penciled lines, they usually had a smooth and natural complexion with pink, rosy cheeks. Typically, the women that wore the most makeup were actresses like Clara Bow and Louise Brooks- the dark makeup appeared better on camera. This decade saw the heightened interest in Egyptian culture, which was reflected in their decor and fashion. For an authentic look, use eyeliner to pencil in a thin, arched brow and add a Cleopatra-inspired liner. Alternatively, you can keep the eyes natural and opt for a deep red lip.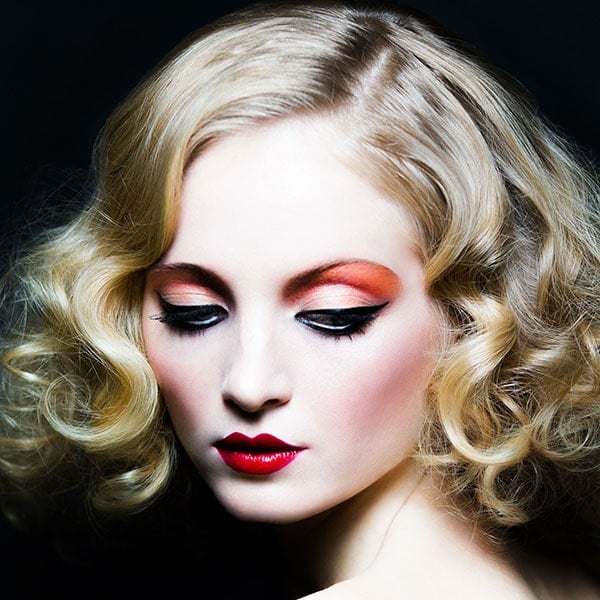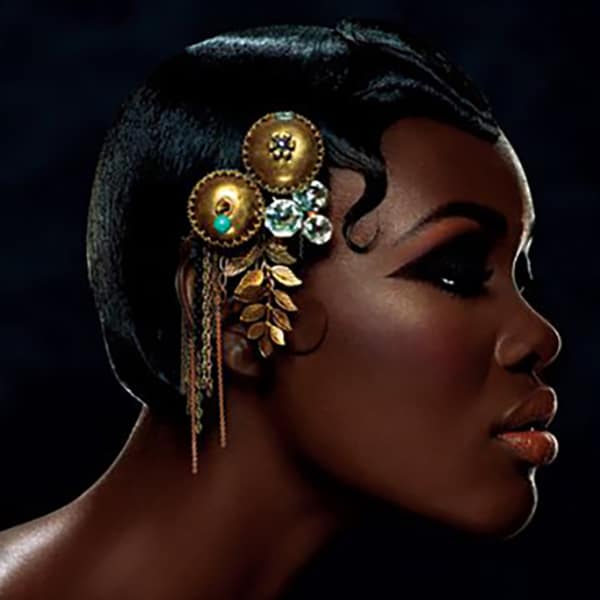 14. '60s Makeup looks
It was a bold time for makeup, the '60s introduced a multitude of statement and replicable makeup looks. It was all about the eyes in this period. From mod icon, Twiggy's, drawn on bottom lashes to Diana Ross' eyeliner crease cut, celebrities, and models of the time have immortalized this style. Keep your skin clean and bare to recreate the look, with a touch of blush and lip stain. This will add some depth to your features. Next, use eyeliner to outline the natural crease on your eyelid in a crescent shape, starting from the inner corner to the outer side of the eye. With the same pencil, draw individual lashes underneath your lash line. White eyeliner in the waterline will make your eyes appear larger and more doll-like.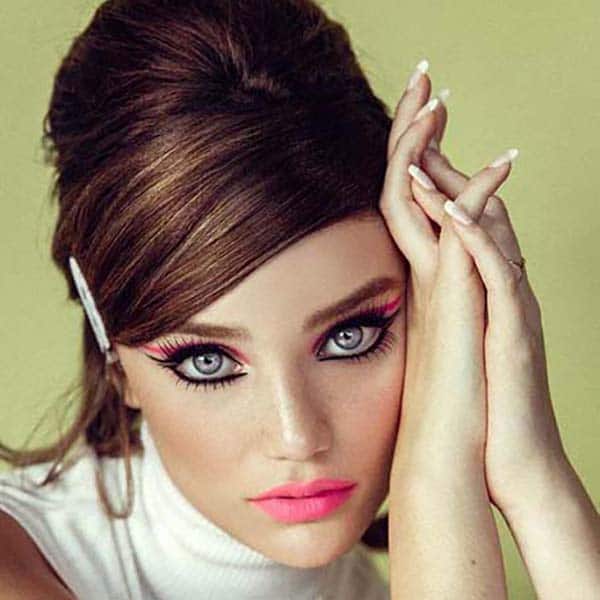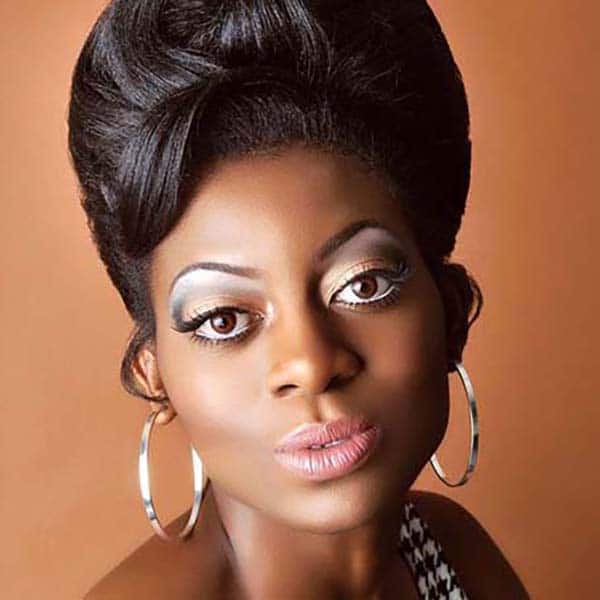 15. '80s Makeup Looks
The bold and beautiful makeup from the '80s is making a comeback, but with an updated twist. This era was all about bright eyeshadow, heavy blush, and a full eyebrow. Think Brooke Shields, Iman, and Cindy Crawford. To recreate the look, use a spooly brush and soap to create full and fluffy brows, filling in any space areas with a pencil. Next, use a brush and drape pink blush on the highest points of your cheekbones and downwards. Vibrant hues such as purple, blue and pink were major in the '80s, and they work just as well today.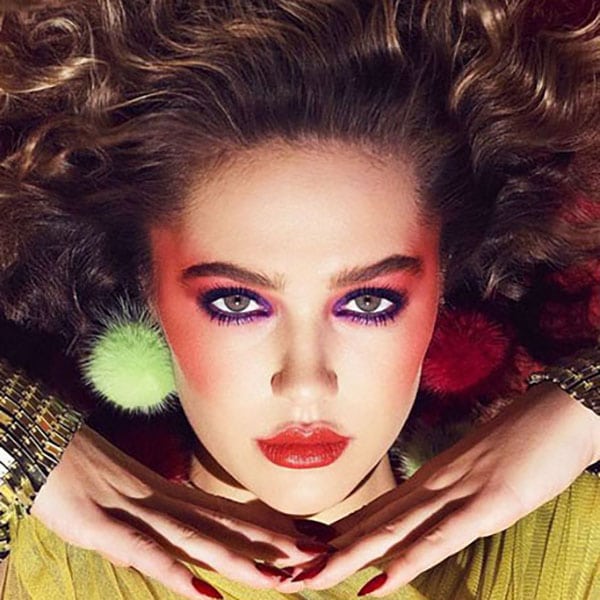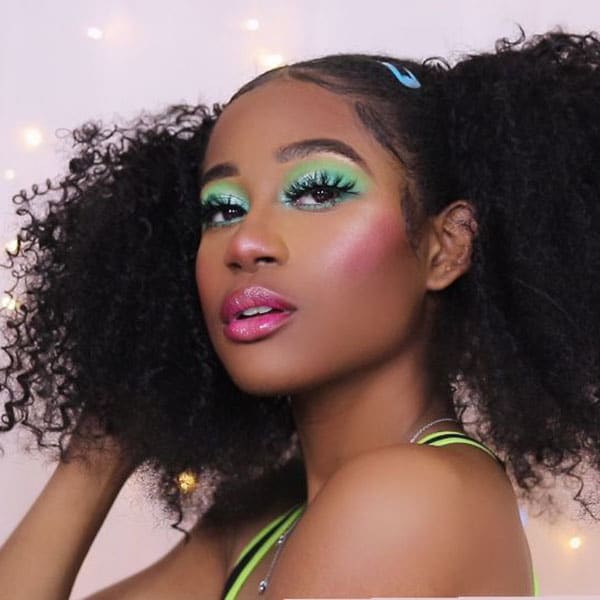 16. '70s Makeup Looks
The '70s was a time for makeup experimentation. Coming out of the '60s, it was all about glitter, natural brows, and plenty of bronzer. From Bianca Jagger, Cher, and Jerry Hall at Studio 54 to the Flower Power movement, which was prevalent early in the decade, this era inspired many different styles. Start with a medium coverage foundation, with a touch of concealer and some translucent powder under the eyes. Some of the most popular eyeshadow choices in this era were blue, purple, and green, often applied with a large fluffy brush across the entire eyelid. Apply mascara to the tops and bottoms of your lashes for a full-eyed look with a touch of eyeliner.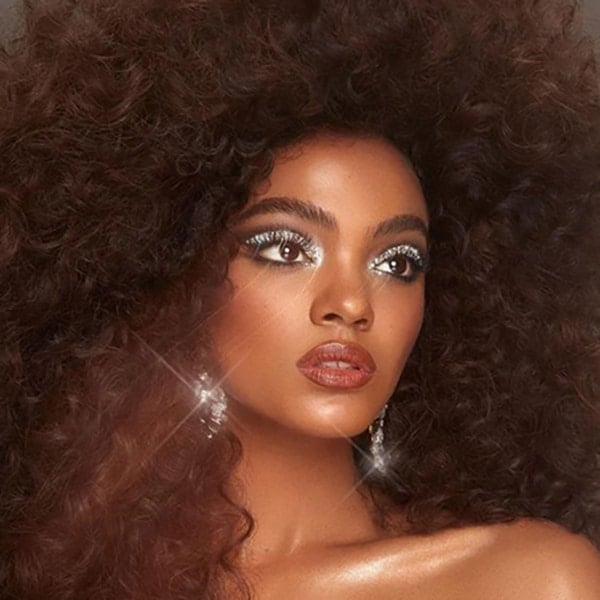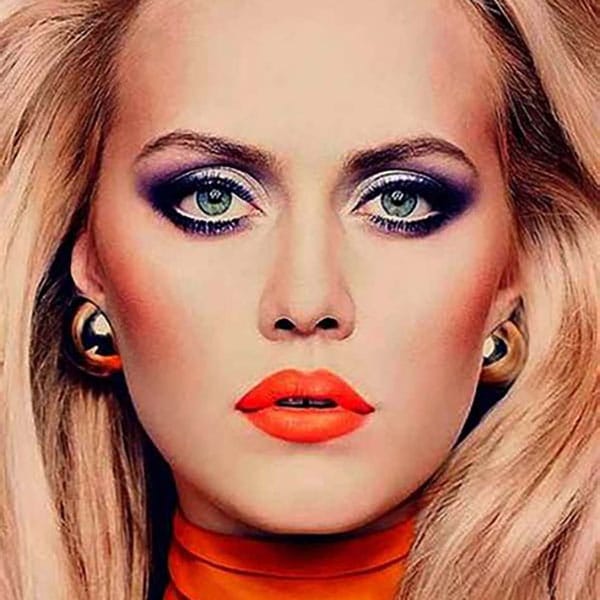 17. '90s Makeup Looks
The '90s are back in a big way, and we're here for it. Although typically natural and effortless, this makeup was heavily inspired by the grunge movement with dark lip colors and edgy eyeliner. Begin by applying your foundation, adding concealer under your eyes with translucent powder – matte and flawless skin is key. Eyebrows were notoriously thin in the '90s and '00s, but there's no need to pull out your tweezers! Keep your brows full and fluffy with a pencil and some gel for a natural look. Popular eyeshadow choices include blue, purple, and brown – frosted creams were all the rage and look amazing today. Another makeup trend of choice was a lot of eyeliner, which was taken from the genre of music popular at the time. Slightly overline your lips with a lip liner and a swipe of lip gloss for a juicy pout.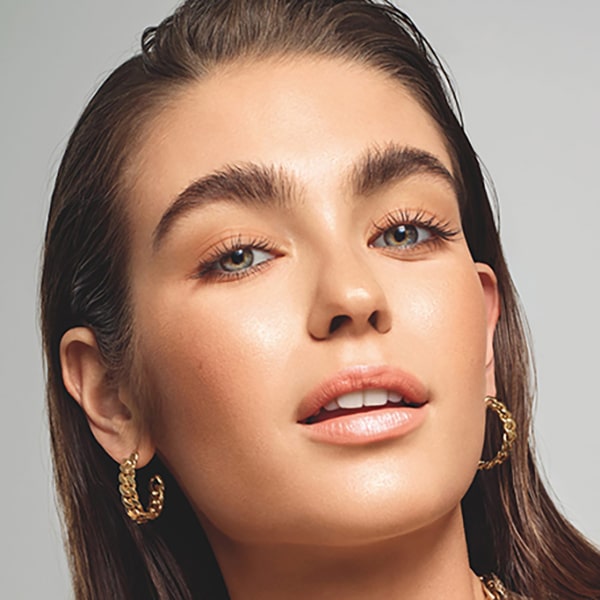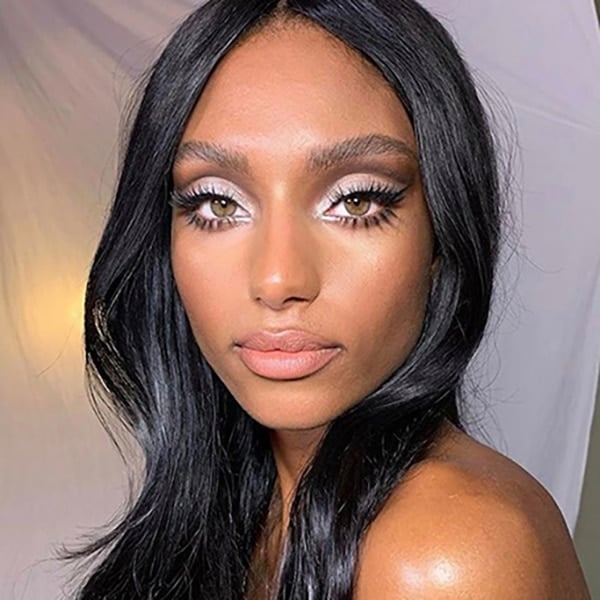 18. Creative Makeup Looks
It's time to show off your creative side with makeup brushes and let your mind run free. These pieces of art aren't just for Halloween – they make for a great crafty afternoon or photoshoot for Instagram. Using cosmetics and tools, you can transform your face into beautiful scenery, a cup of tea, fiery flames, or an emotional rainbow. From subtle and graphic eyeliner to colors covering your entire face, your skin is the canvas. There are no limitations to your imagination!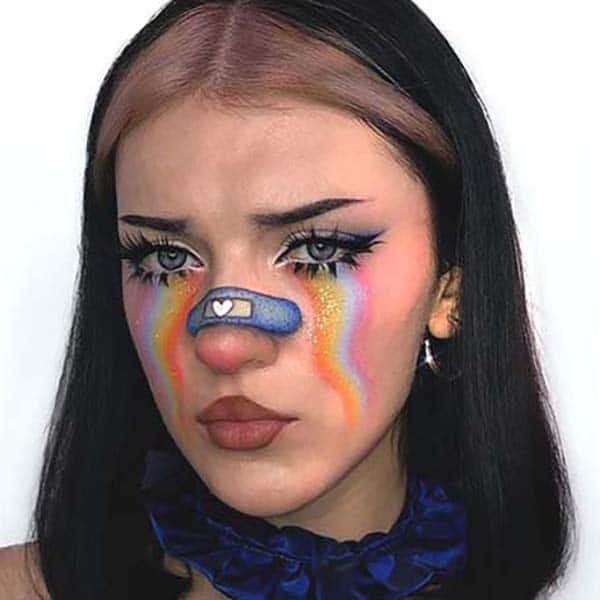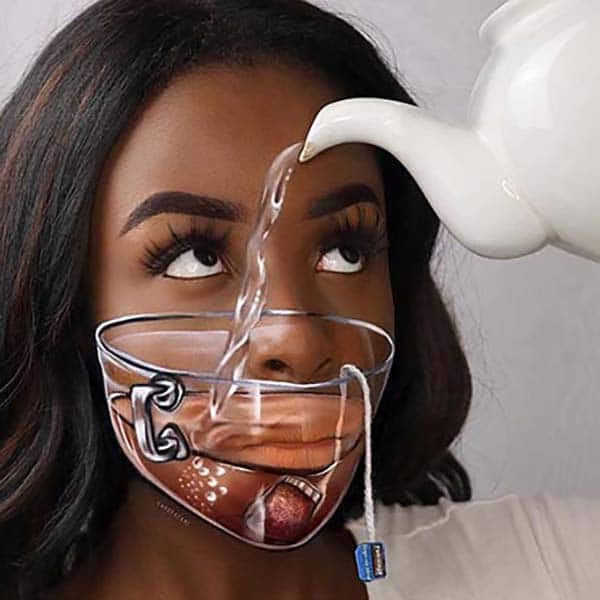 19. Colorful Makeup Looks
Are you looking for an instant mood booster? Dance to some music, walk around the block, and add some color into your makeup routine. One of the biggest trends this year for makeup is loud and bright multicolor eyeshadow. With one shade on the lash line and another on the lid, it's a fun way to spice up your regular everyday steps. For maximum color payoff, apply a layer of primer to your eyelid – it will keep the pigment there longer, too. Mix and match various colors on the wheel, like bright yellow and orange with blue, purple with mint, and blue.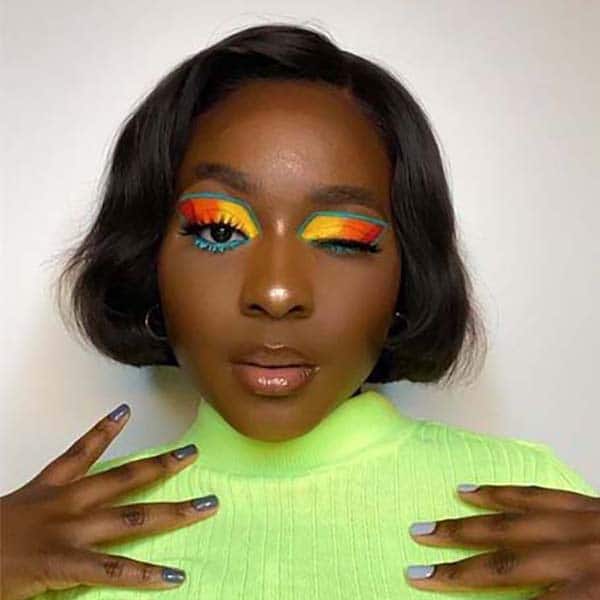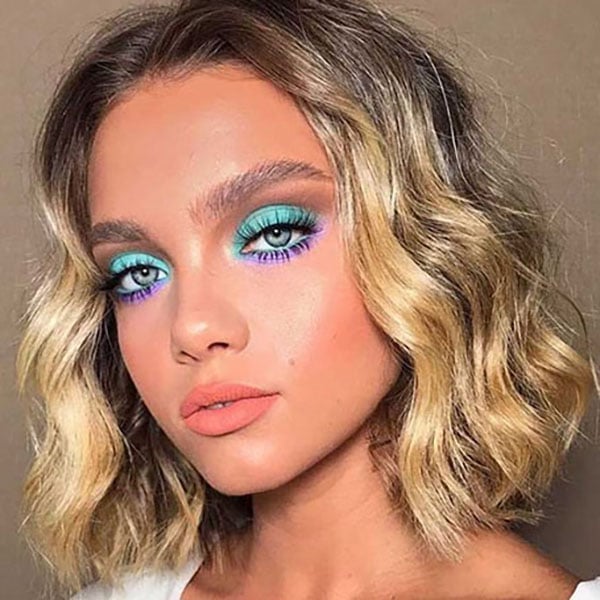 20. Green Makeup Looks
As one of the most versatile shades, green is an excellent choice for your next makeup inspiration. NO matter your eye color, there is a way you can rock this look effortlessly. Sweep a shimmery peridot eyeshadow on the entire eyelid with an exaggerated wing, or cut a crease with a sage liner for a '60s mod look. Try your hand at neon liquid pencils, or add some sparkle or glitter to the mix. You can even try multicolor looks with different shades in the palette – have some fun and play around.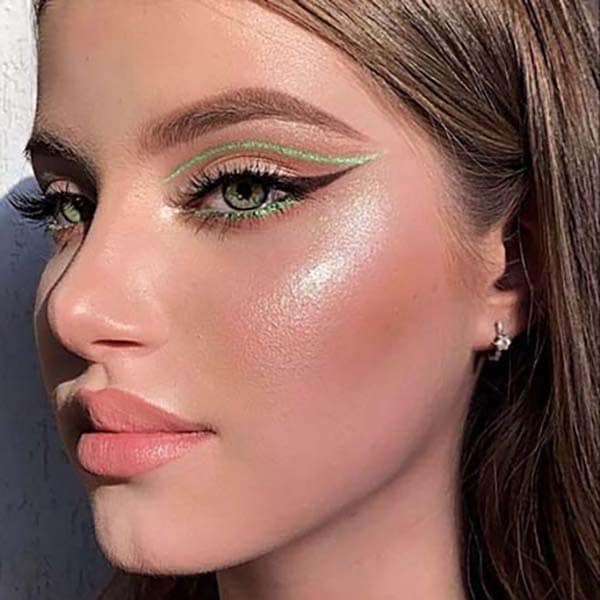 21. Yellow Makeup Looks
Bright as a sunny day, this lemon look is becoming increasingly popular with makeup lovers. From the screens on TikTok to the runway, there's an array of inspiration to seek out. For an everyday look, you can sweep a single color across the entirety of your lids, complete with a swipe of mascara and a subtle lip stain. Blend a darker hue in the outer corners and use a white eyeliner for a bold cut crease to get a bit more drama. For a sunkissed glow, apply a touch of the yellow eyeshadow to your cheeks with a shimmery highlighter.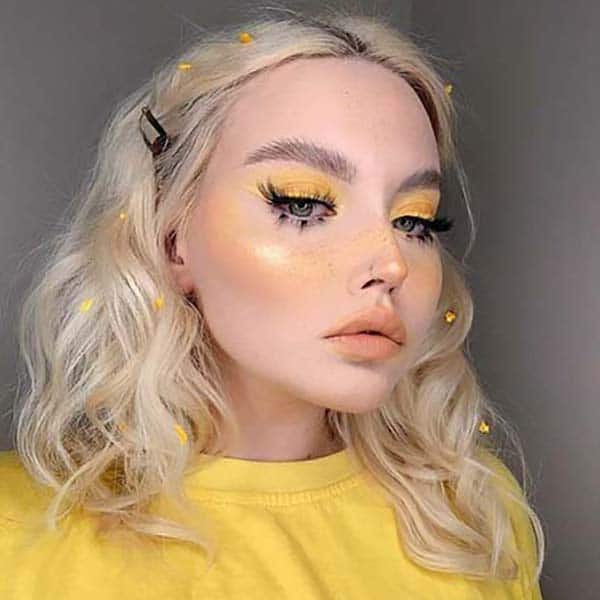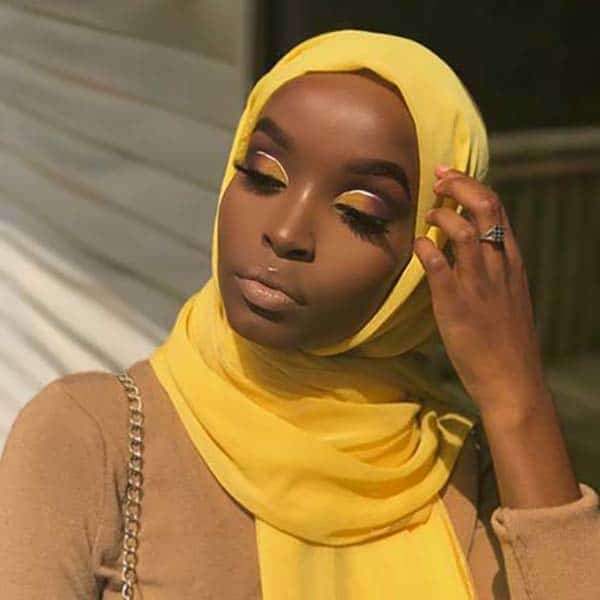 22. Gold Makeup Looks
You don't have to save gold makeup looks just for the holidays. This stunning and luxe color is versatile and can be used in any setting. From subtle liner in the inner corner of your eyes to a sweep of metallic cream shadow across the entire lid, you can warm your features and dazzle everyone. Pro tip: use a bronzer in the outer corner of your lid for a lifted look. Enhance the glimmer of those colors by applying primer beforehand – it will prolong the life of the shadow and prevent creasing. Add a touch of nude or clear gloss to complement the metallic eye look without going overboard.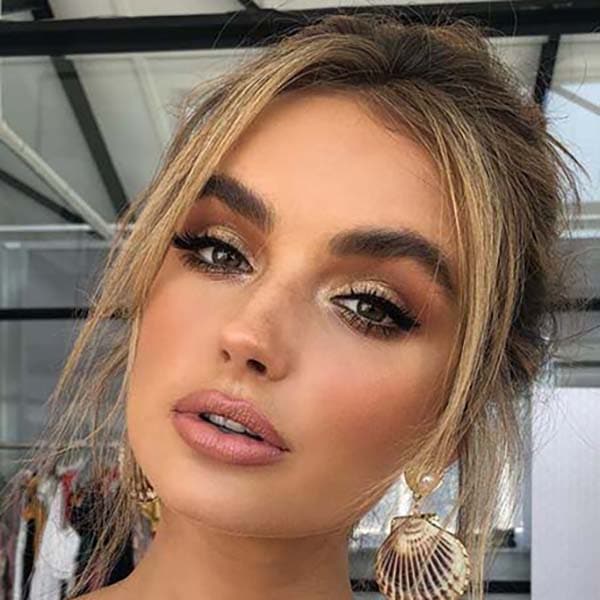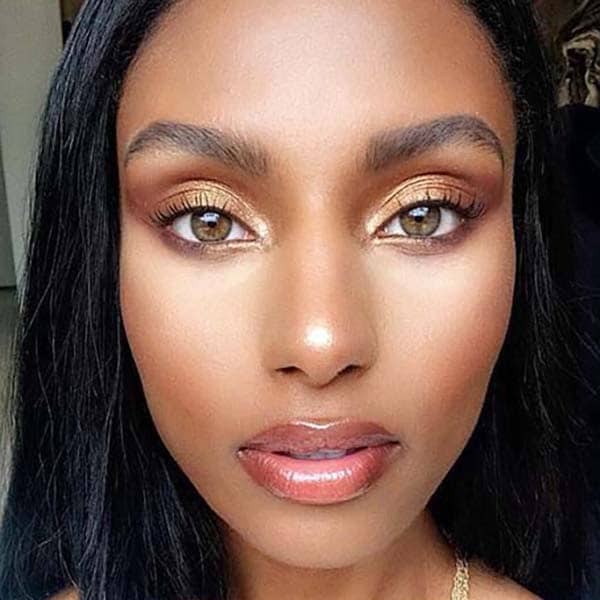 23. Purple Makeup Looks
Who said only those with green eyes could wear purple eyeshadow? This regal color combination is a great choice for all features, and there are many ways you can rock the style. Start with a subtle cat-eye in the vibrant hue, using a liquid liner for precision. Alternatively, you can apply a smokey eye, fading out to purple, or a cut crease with different shades for added depth. Sweep the color over the entire eye for an effortless and '70s inspired look. Complete the style with pink cream blush on the highest point of your cheekbones and across the tip of your nose for a subtle and natural finish.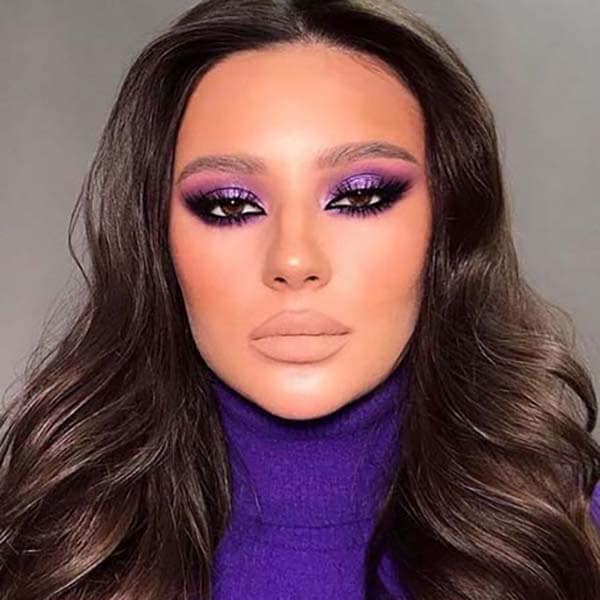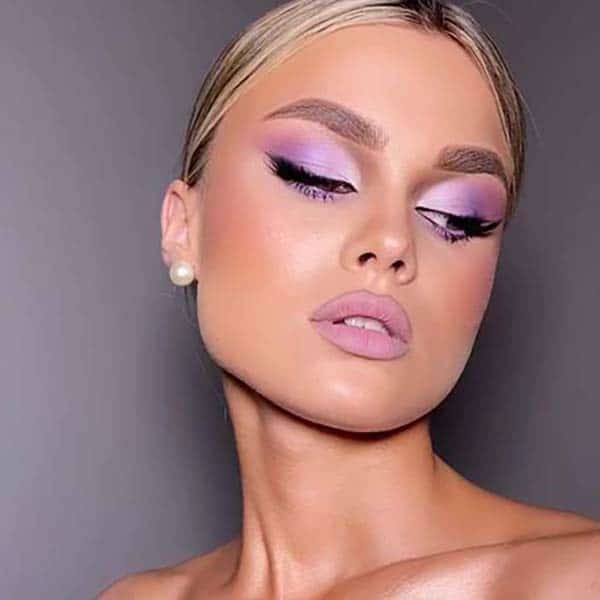 24. Red Makeup Looks
Red makeup no longer means a simple red lip. This sultry and bold makeup look offers versatility, meaning you can try something new every time and get fantastic results. The classic lip is a perfect starting point, with graphic liner and delicate bronzer. Switch the dark liner for something rosy if you want to shake things up a bit. Go all out by replacing your neutral eyeshadow with a cherry color. Add a touch of gold or pearl in the inner corners and the tip of your nose to brighten your face.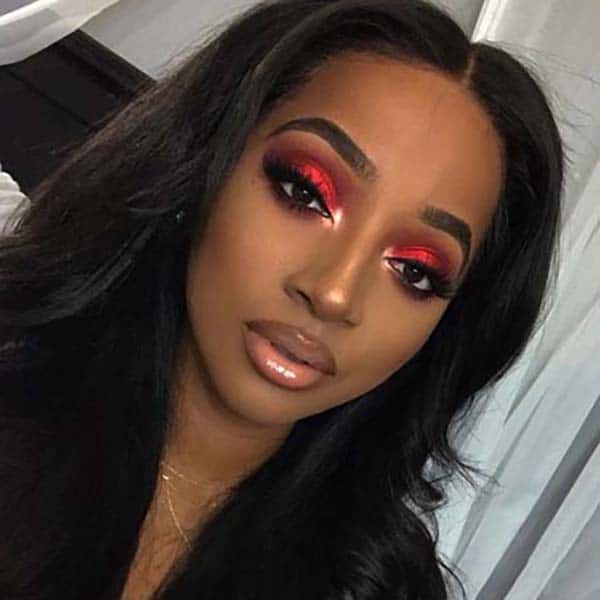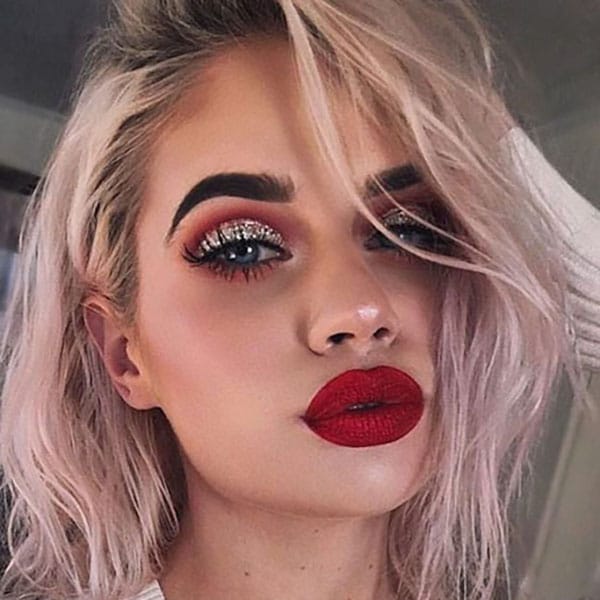 25. Blue Makeup Looks
While this was massive in the '70s and '80s, blue eyeshadow is making a major comeback. From frosted cream shadows to subtle navy eyeliner, there are a myriad of ways you can rock this look in a modern and sophisticated way. Start by prepping your skin with sunblock and primer – keep the foundation and concealer minimal for a natural look. Play with varying shades to create a multidimensional look, such as a lighter lid with a dark graphic liner. A fashion-forward approach to the trend is the reverse cat eye, featuring the colored eyeliner on the lash line – it's a bold look that's loved on and off the runway.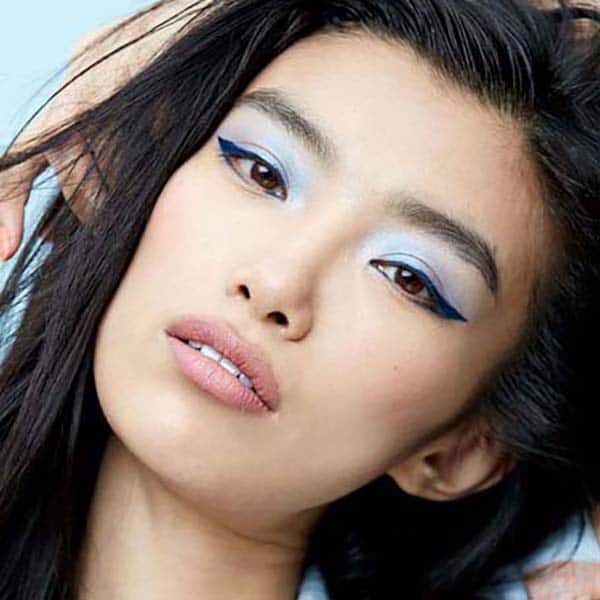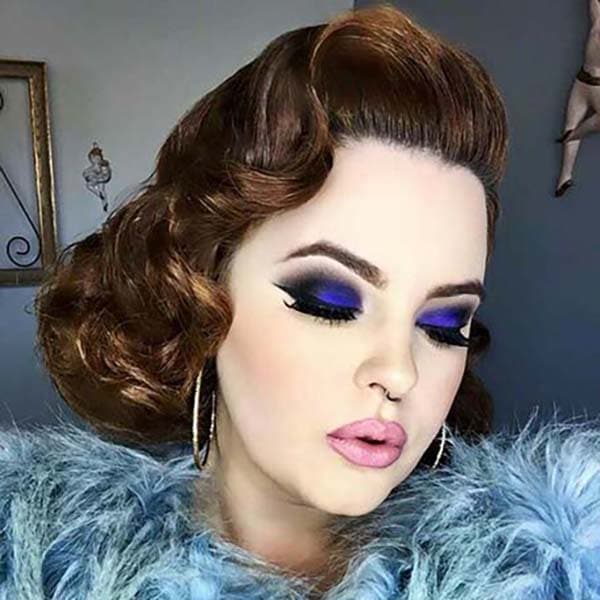 26. Black Makeup Looks
There's nothing quite like black makeup. As one of the most versatile shades out there, it can enhance anyone's features and works for every setting. A subtle black liner is perfect for the everyday routine, and you can blend it out to a smokey eye when you head to drinks with the girls. You can bring the drama by incorporating the dark hue into other elements of your makeup, too. Work with deep plum, or go all out with a matte black lipstick for a dark and sultry feel. Wing it out, smudge the lash line, add a mascara or false lashes – there are no limits with this iconic style.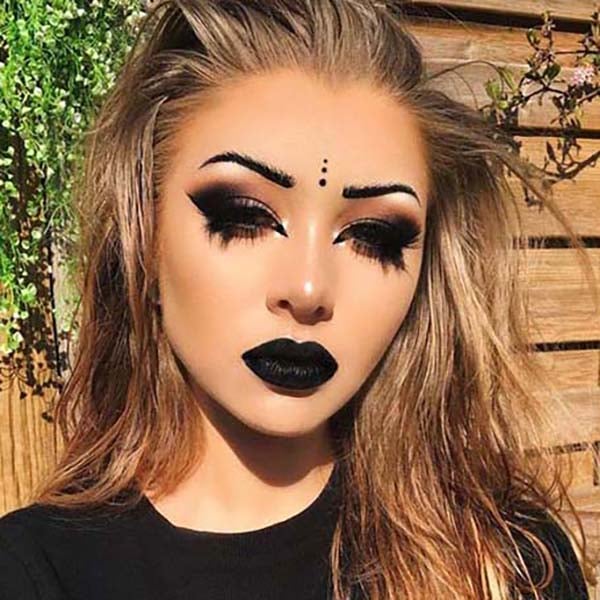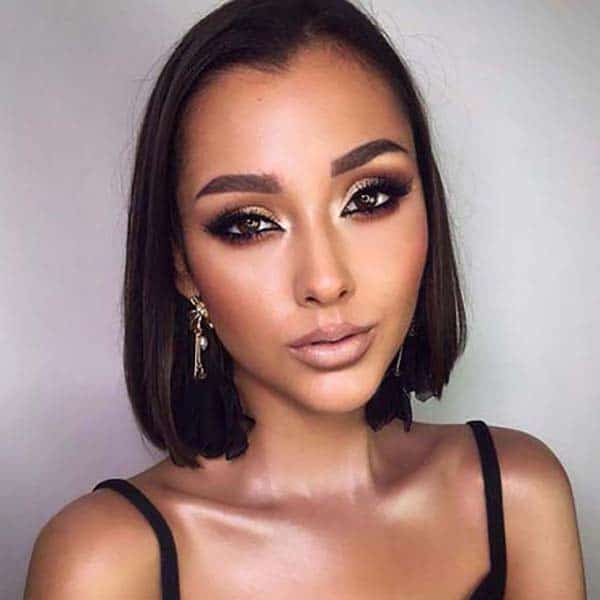 27. Pink Makeup Looks
It's time to unleash your inner Bratz doll with a pink makeup look. The Y2K aesthetic has truly taken over from Instagram to the runways, and these looks prove it. Bold graphic liner with a strawberry hue, soft blush, and glossy lips are some of the most popular choices with his trend, and you can try them separately or all at once. Use the same color for your cheeks and lids to create unity, or blend a mixture of shades for a sophisticated feel. This is a trend that suits everyone and is perfect all year round.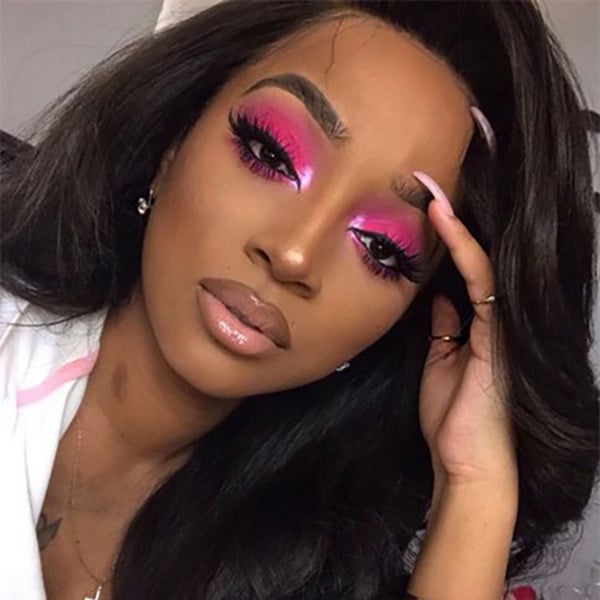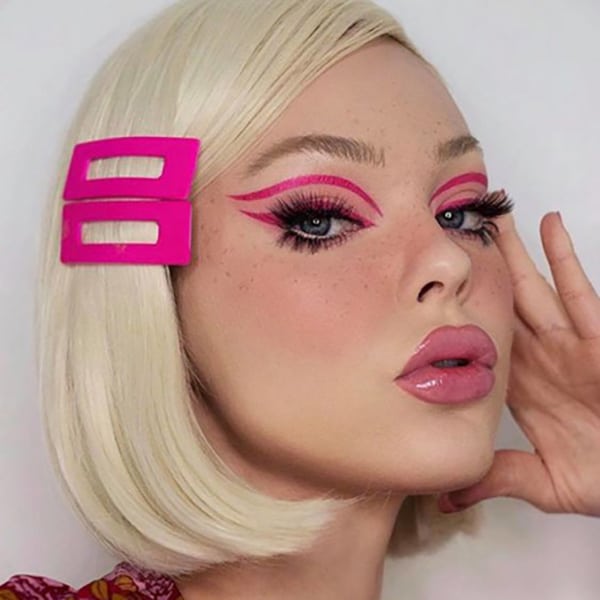 28. Fun Makeup Look
The beauty behind a great makeup look is the imagination that went into its thought process. Your face is a canvas, and this is the perfect opportunity to go a little wild with a fun makeup look. Experiment with bright eyeliner, perfect your cut crease, and channel your inner Euphoria with crystal embellishments. There are no rules with makeup, so you can blend opposite hues or play with patterns and graphic shapes to create a piece of artwork. Find your creativity from other makeup artists and everything around you – there is inspiration everywhere you look.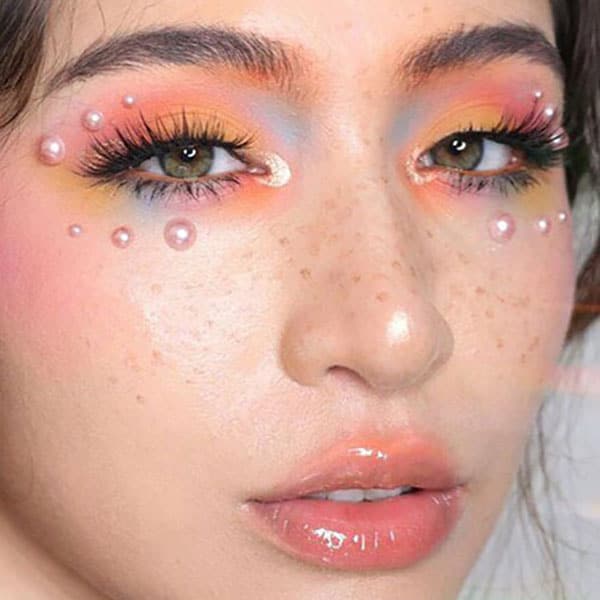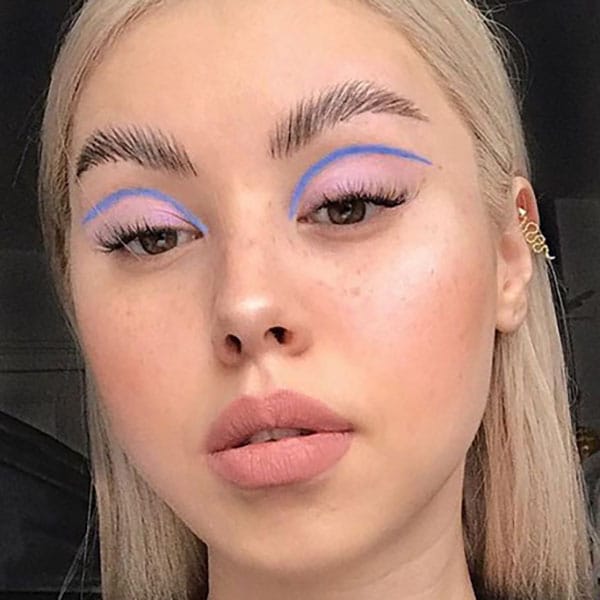 29. Dark Makeup Looks
Sultry and mysterious, dark makeup is an ongoing style that changes with every trend. Perfect for the colder months, this cosmetic creation lasts the test of time and is so easy to replicate. Start with a clean and flawless base, and use a dark liner to outline the corners of your eye. Add another color into the smokey eye look, such as purple or red, for a fresh and flirty feel. You can wear a dark lip if you like, or keep it classic with a nude or red color.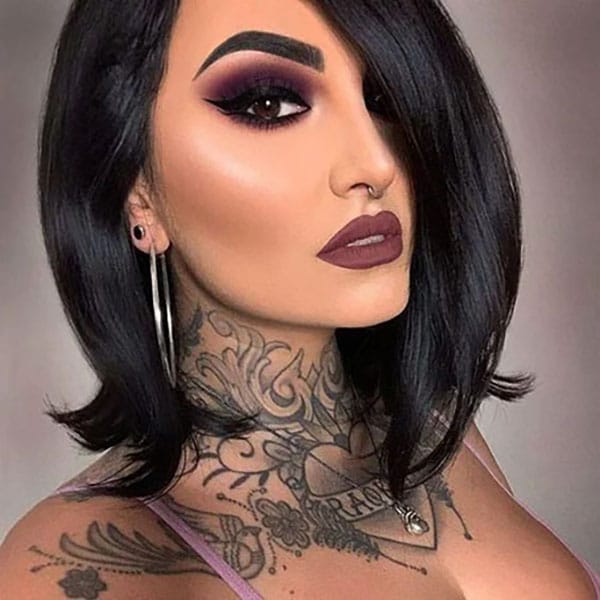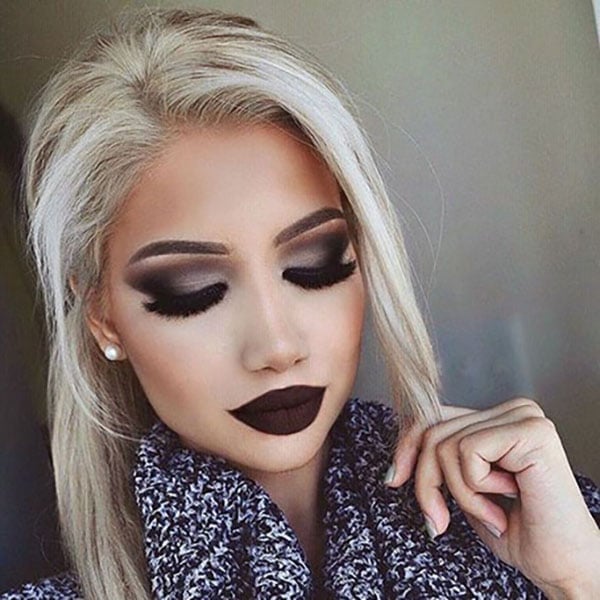 30. Smokey Eye Makeup Look
The classic smokey eye is something that every makeup lover should have up their sleeve for a night out. From subtle looks to something full of drama, it is versatile and timeless and will never go out of style. The most iconic version includes a dark eyeliner that slowly fades outwards, creating a smokey effect with dark shadows. However, you can swap out the black and dark shades for something a bit brighter, such as dusty rose or bronze for a summer vibe. Add some cream bronzer and blush with a layer of clear gloss for a sophisticated and everyday look.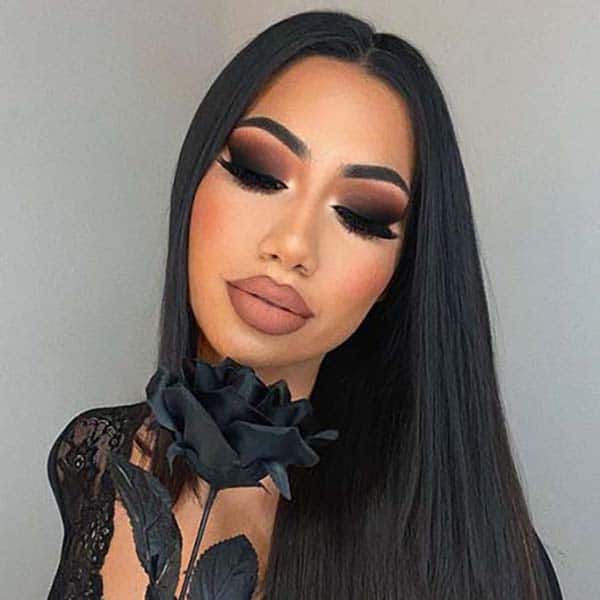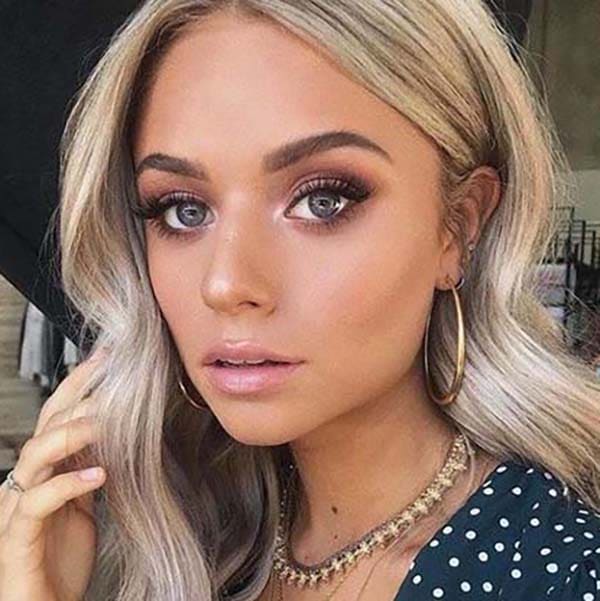 31. Butterfly Makeup Looks
Another major throwback from the '90s and '00s, butterflies have made their way back into everyone's minds. The beautiful and intricate wings of these insects are the perfect inspiration for your next makeup look, even if you're a novice. Recreate the gossamer designs onto your eyelids using your favorite color combination and liquid liners, turning yourself into the creature simultaneously. For those new to the makeup scene, sweep lavender or baby blue shade across the entire lid and use a metallic gloss for a shimmery finish. Then, apply tiny stickers to decorate your cheeks, eyelids, nose, and forehead.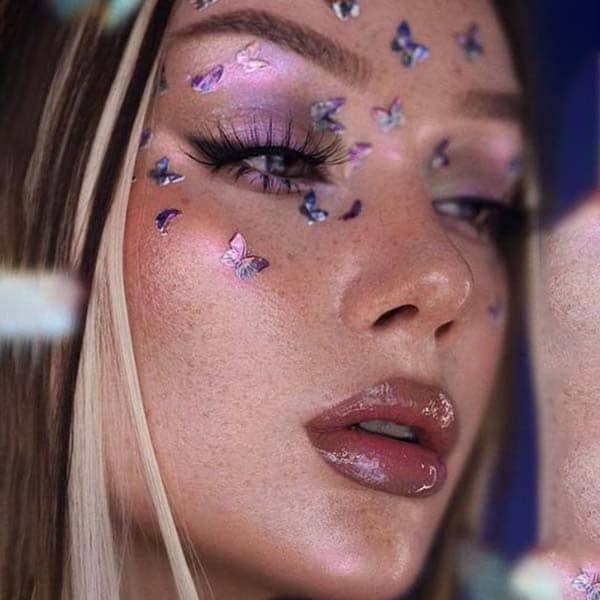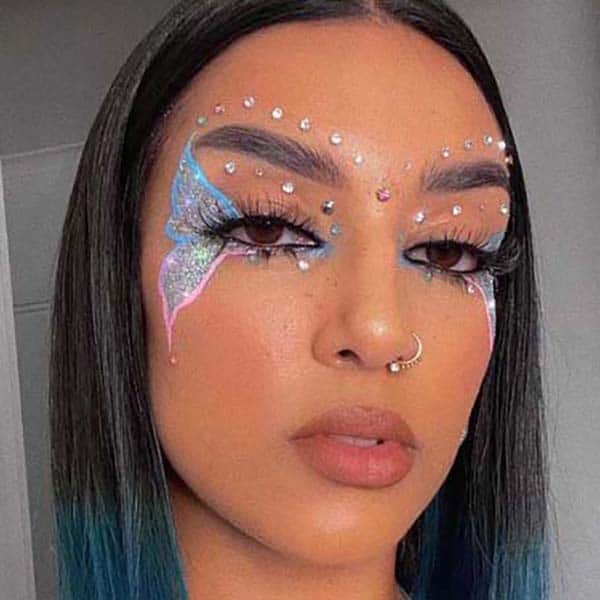 32. No Makeup Looks
Everyone wants to look like they've rolled out of bed looking like a supermodel, but even top models need a little pick me up to get the results. There are a few essential steps to look as if you're not wearing anything at all. Start by moisturizing and adding SPF to your skin – this can add a glow to your skin while keeping it protected from the sun's harsh and damaging rays. This look is all about doing the bare minimum. Add a few sparing touches of concealer in the inner and outer corners of your eyes to lift and brighten. Apply small amounts of cream blush and bronzer to warm up the face and add dimensions to your features. A swipe or two of mascara and some brow gel are all you need, but you can't go wrong with a light lip stain or gloss, too.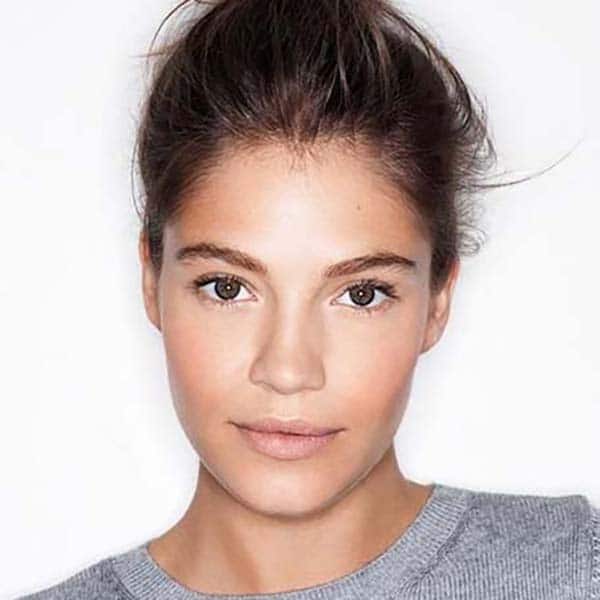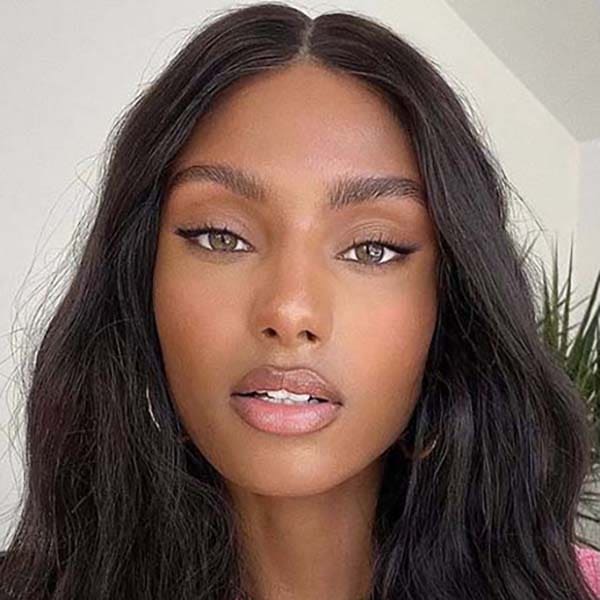 33. Baddie Makeup Looks
You've probably seen the baddie aesthetic all over the internet, and this trend isn't slowing down soon. The most popular makeup choices with this style are nude lips, bold lashes, and clean, flawless skin. On an individual basis, these looks can be quite different, but they all have similar principles. Start by moisturizing your skin, then apply a base of medium coverage foundation. Add concealer under your eyes and set it with translucent powder. Bold and graphic eyeliner is all the rage, and you can swap out the traditional black for another color to brighten up the look. Apply some contour to the cheekbones and the nose. A touch of highlighter on the tip of your nose and the highest points of your cheeks will lift the features. Slightly outline your lips with a nude or dark shade, and then use a gloss for a sleek finish.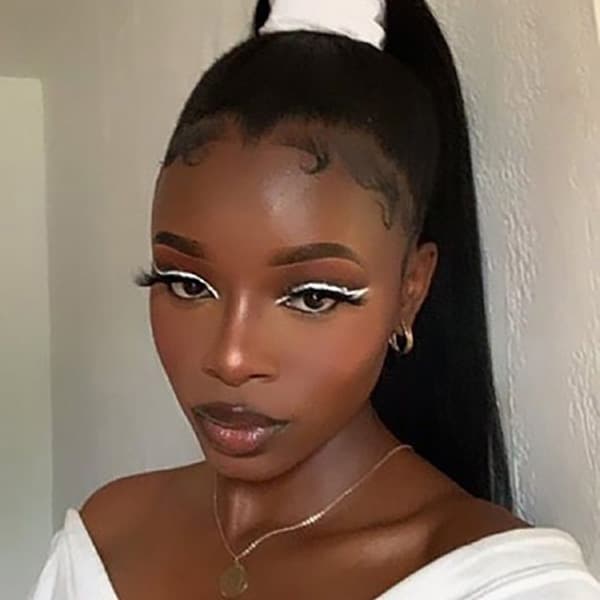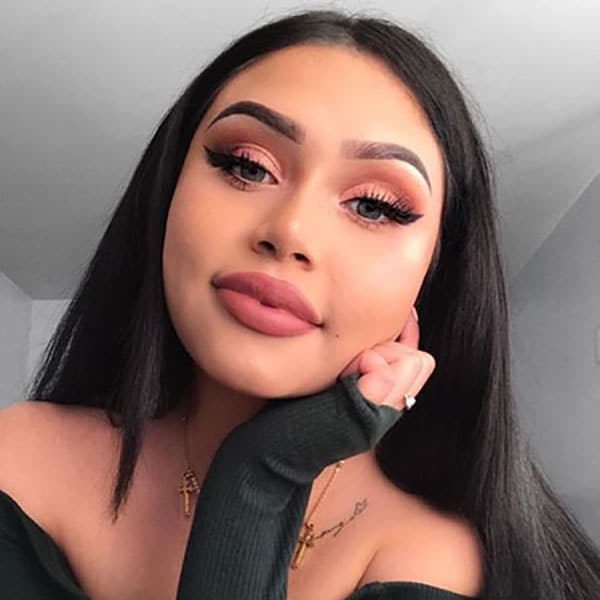 34. Crazy Makeup Looks
If you're tired of the traditional beauty makeup looks, why not showcase your talent with something a little crazy? From a head radar map on your entire body in purple, yellow, and pink to a melting face, this is the perfect time to unleash your creative side. It's an excellent way to test out your application skills, but don't feel discouraged if it doesn't look right the first time. These looks take hours of practice and may need a while to look perfect.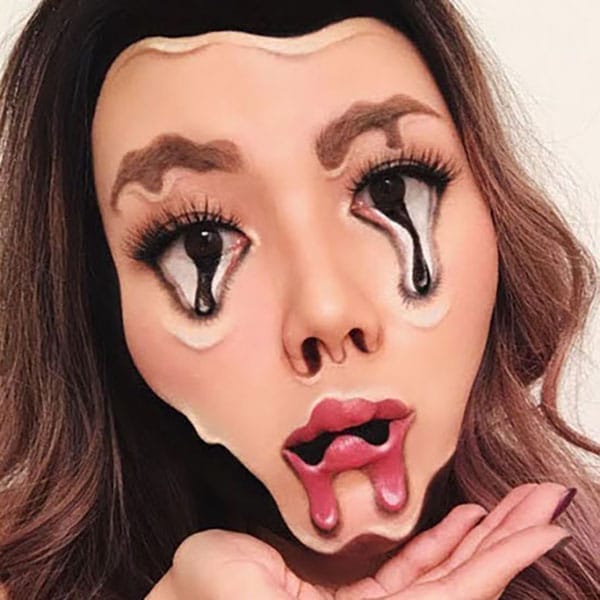 35. Graduation Makeup Looks
Are you about to graduate? Congratulations! For the big day, aim to keep your makeup subtle but radiant. Depending on your preference, there are plenty of beautiful looks to try. Let your eyes steal the show with a deep smokey eye with a nude glossy lip and light contour. Alternatively, you can keep the eyes fairly neutral with bold brows, a nude lip, and a highlighter. You can't go wrong with something bold, such as a red lip, fierce cat-eye, or draped blush – but it's best to keep the rest of your complexion fairly natural for maximum impact. At the end of the day, you're celebrating your academic excellence, so pick something comfortable, and that shows off the real you.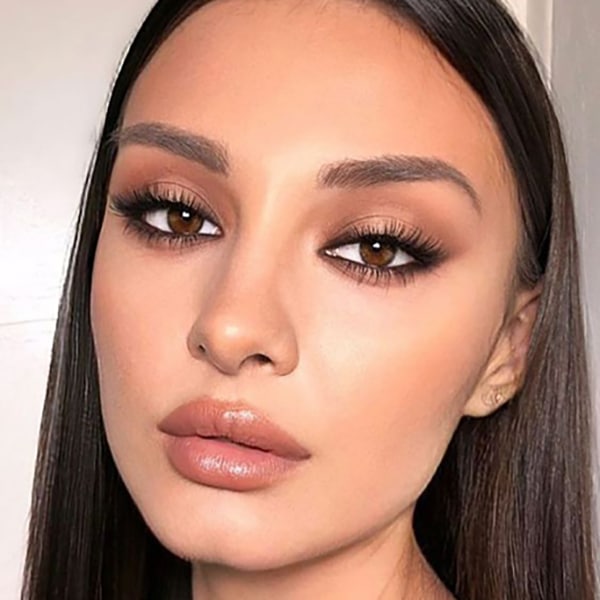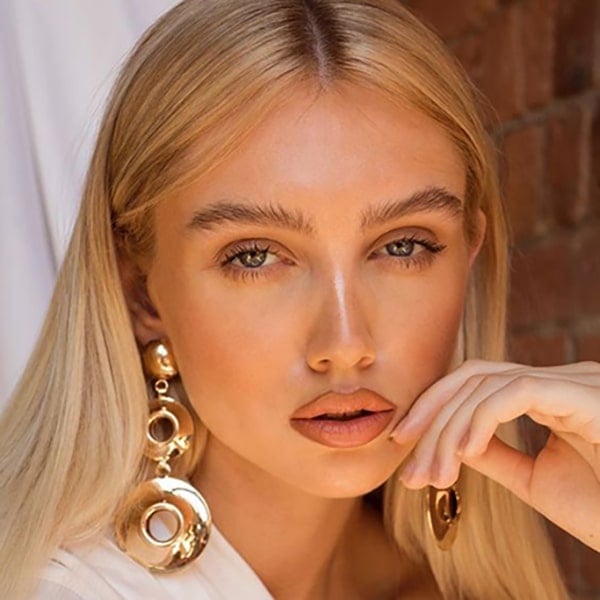 36. Prom Makeup Looks
Prom is one of the biggest nights of your high school life, and the prom makeup look you choose should reflect not only your outfit but your personality. A go-to look is soft and buttery, with a bronze base and golden eyeshadow. A classic cat-eye is a timeless choice and works well with a red lip color or a nude gloss. Typically, you should aim for either a bold eye or a standout lip. Otherwise, you may look a bit messy. Be sure to practice plenty before the night, so your application is flawless and dance-floor ready!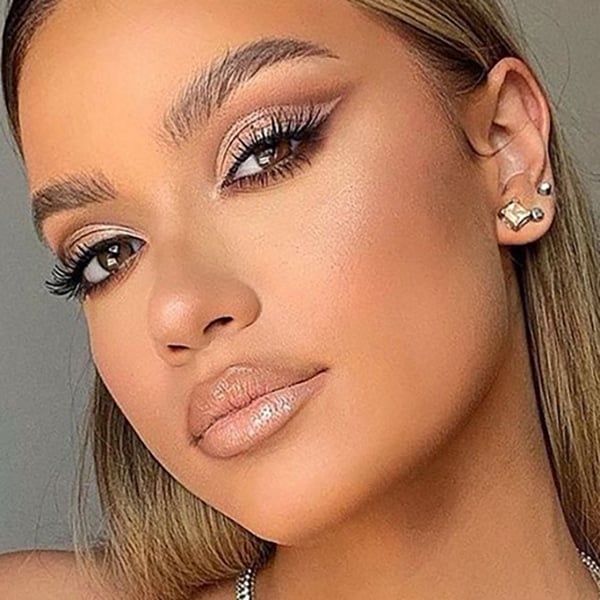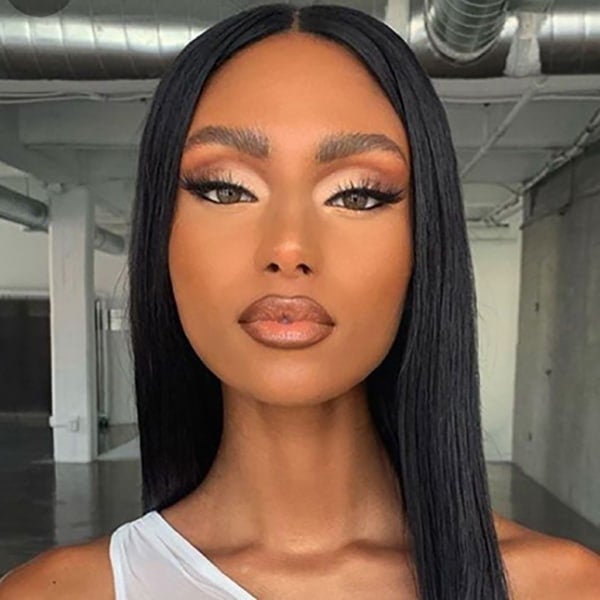 37. Valentine's Day Makeup Looks
Roses are red; violets are blue; we can totally see this makeup look on you! This Valentine's Day, unleash your inner romantic and try your hand at some of these gorgeous looks. Give the classic red lip an upgrade with a dark cat eye on the outer corners of your eye – keep your base fairly neutral with the addition of some cream bronzer and blush. For a more natural look, use a large fluffy brush to dust some pastel pink across your eyelids, with a few coats of mascara and a clear gloss. However, if you're ready to be a showstopper, paint some tiny hearts on the eyelids or across the highest points of your cheeks.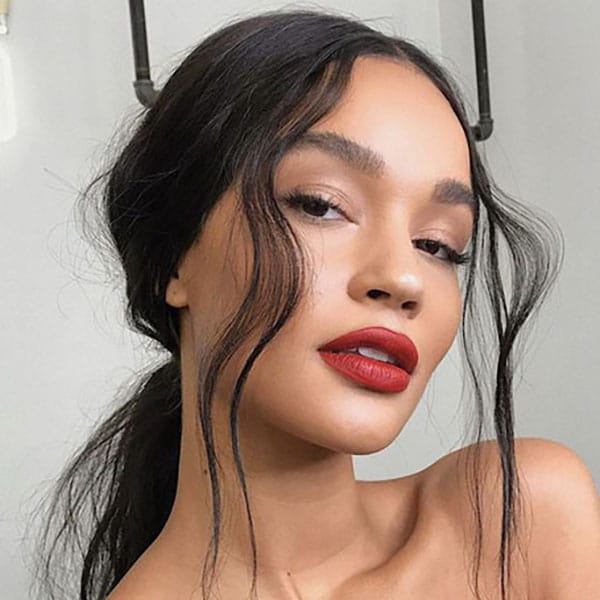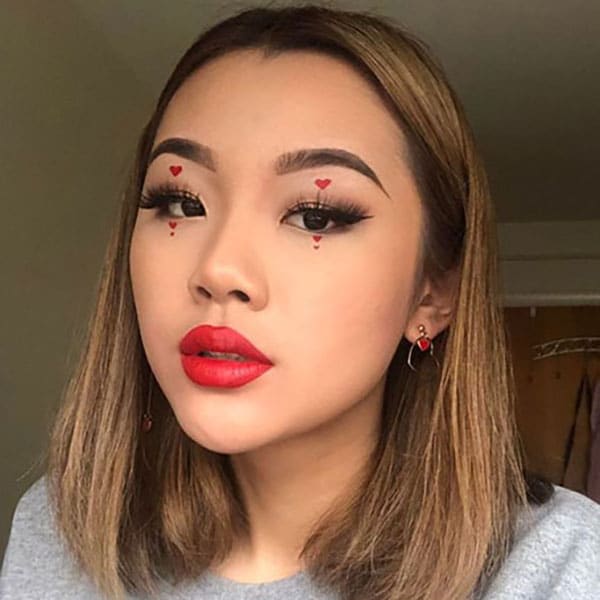 38. Halloween Makeup Looks
Spooky season has arrived, and it's the perfect time to test out some of those looks you've saved on Instagram. From an homage to your favorite Disney villain to Beetlejuice or the Queen of Hearts, you can mix it around and create an illusion with a few brushes and makeup sponges. Keep it simple with a bold eye, featuring some of the key elements of the character you're emulating – this is an awesome idea for a relaxed Halloween party or Zoom call. However, if you want to go all out, why not try a full face and body concept, such as Pennywise or Sally from The Nightmare Before Christmas? Be sure to practice the style a bit before the event to perfect every detail in time.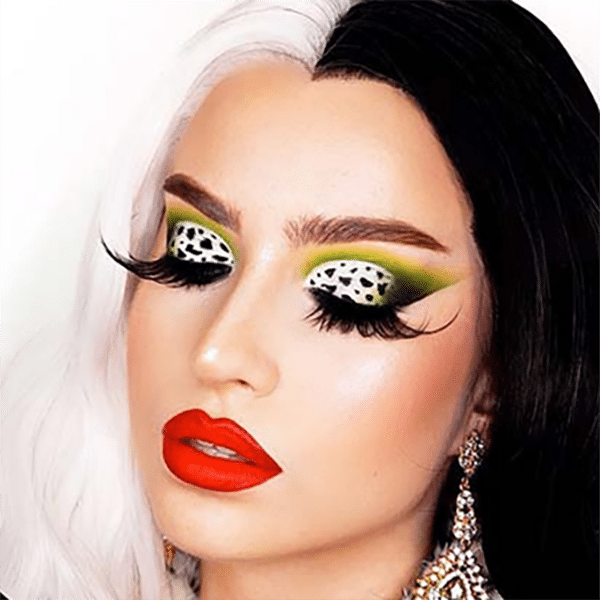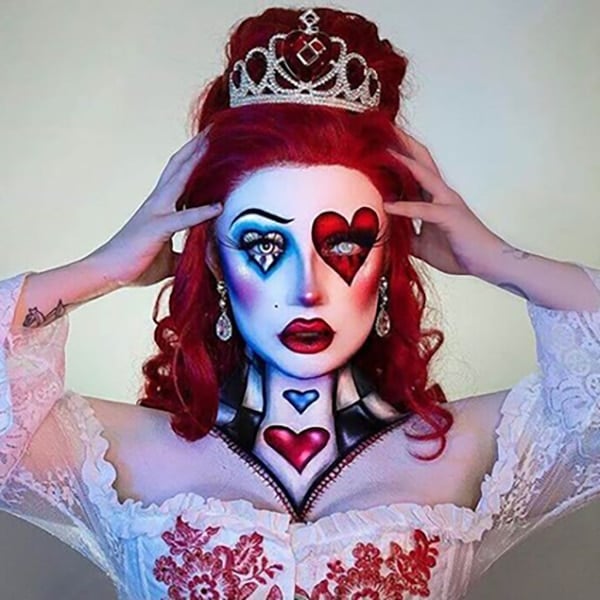 39. Easter Makeup Looks
Whether you love pastels or you're hoping to win the Easter egg hunt, these looks are perfect for the holiday. Channel your inner cottagecore aesthetic with a subtle and natural makeup look, but with soft pink blush draped across your cheekbones and pastel flowers on the eyelids. However, if you want to go all out this Easter, why not create a pink cut crease and either paint bunny ears on top of your brow or add a nose and whiskers and become the Easter Bunny themself? We guarantee that you'll be hoppy you tried this bunny-inspired look.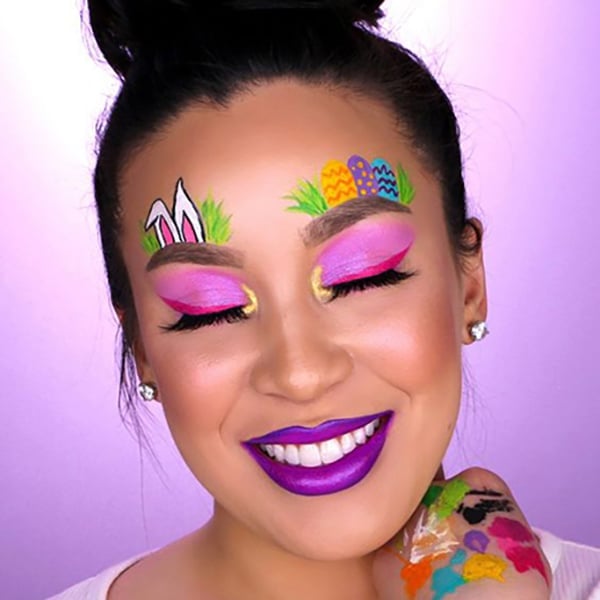 40. Christmas Makeup Looks
Celebrate the festive season with a stunning makeup look. Whether you love the chilly weather, the food, or Santa Claus himself, these looks are super cute and will bring joy to every occasion. Channel your inner Hollywood bombshell on Christmas eve with a candy cane cat eye and a bold red lip – add a rosy blush for an in-the-snow feel. For a more subtle look, apply green shadow on the inner and outer corners of your eye, blended with gold in the center of the lid. Keep the rest of your look clean, with a pink gloss and full brows. Even the Grinch would be unable to steal Christmas with makeup this festive.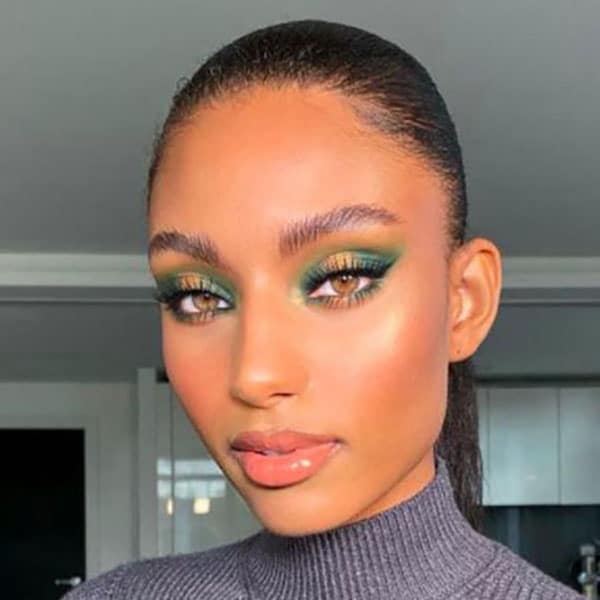 FAQs
What are the types of makeup looks?
There are many different makeup looks, depending on the event, time of year, or preferred style. Common styles include everyday makeup, including foundation, concealer, and mascara - these are perfect for beginners and those who want a clean canvas. For a night out, you can apply a cut crease, a smokey eye, a cat-eye liner, or something metallic. With a multitude of colors, you can mix it up and try something new every time you take out your brushes. There are no rules with makeup; it's based entirely on your imagination.
How to look pretty without makeup?
Everyone is beautiful in their own unique way, but who doesn't love glowing and healthy skin? Make sure you drink plenty of water every day and get at least eight hours of sleep. You should also start developing a skincare routine morning and night to unleash your inner radiance. Before you get your beauty rest, ensure you have clean skin. Apply moisturizer, toner, and serums if needed, and an essential key to maintaining healthy skin is applying sun bock every day - even if it's raining outside. SPF will protect your skin from premature wrinkles, burning, and any other damage from prolonged exposure.
Why does my makeup look cakey?
Cakey makeup is always annoying, so you may need to up your hydration game to prevent it from happening. This doesn't just mean drinking more water (which you should do anyway), this means using hydrating moisturizers and serums to keep your skin supple and soft. Choose a foundation with light or medium coverage that you can build up if required. Often full overage foundation can apply too thick, which looks creased and cakey over time. Instead of using a brush, opt for a makeup sponge to give a natural finish to your skin. Apply setting spray to your face and sponge to prolong the life of your look, and use powders sparingly across your face.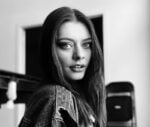 Alexandra Feiam is an experienced fashion writer who holds a degree in journalism. She has an impressive portfolio and expertise working as the Editor at Power Retail and Commercial Content Editor at Newscorp. Ally has been writing for The TrendSpotter since 2018, and her work has been featured in notable publications such as The Herald Sun, Arirang TV South Korea, Kidspot, The House of Wellness, and The Daily Telegraph.
SUBSCRIBE TO OUR NEWSLETTER
Subscribe to our mailing list and get interesting stuff and updates to your email inbox.