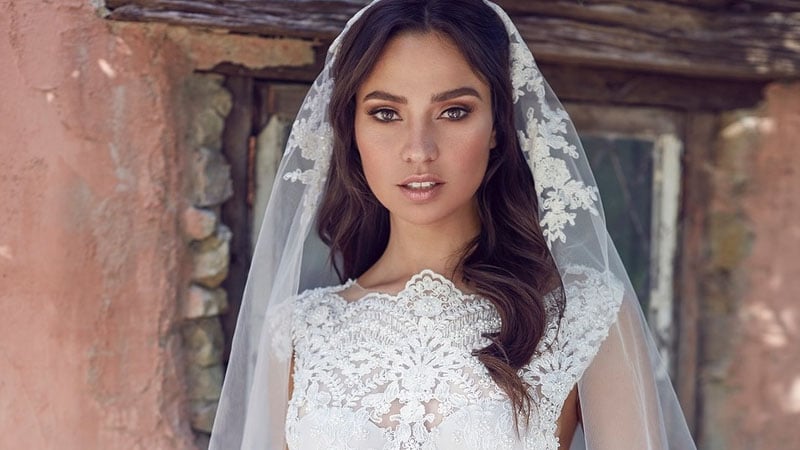 Nailing the perfect wedding makeup look for your special day can be tricky – many styles, choices, and beauty trends can complicate your decision-making process. We've got you covered with a guide to the most beautiful makeup styles available for every kind of bride, making planning your special day much more manageable.

1. Natural Wedding Makeup
The last thing you need on your special day is worrying about your makeup and whether it is staying fresh and as beautiful as when it was first applied. Natural makeup ensures all-day longevity, focusing on dewy skin and neutral eyeshadows. A nude lip means no colorful smudging after a ceremonial smooch, and it won't be noticeable if you can't touch it up regularly. A natural bridal makeup look is also perfect as it highlights your features, ensuring you are the best version of yourself on your special day.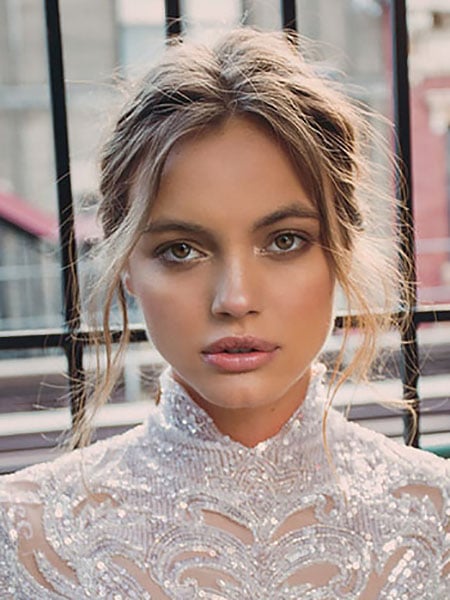 2. Classic Wedding Makeup
A classic makeup look is perfect for your big day, as it will be elegant, timeless, and won't go out of style. To achieve this look, go for simple eye makeup with velvety browns and a clean-cut eyeliner depending on your eye shape. Try dark brown eyeliner instead of black, teamed with rosy pink lipstick to further soften the look. Don't overdo it on the bronzer either – keep your natural features enhanced and not masked for a classic, all-day glamour.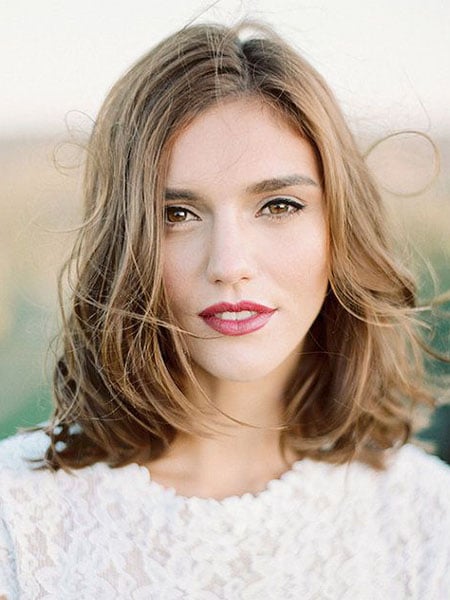 3. Dramatic Wedding Makeup
You can still achieve flawless, romantic wedding makeup and make a statement simultaneously. For a more dramatic style, go for thick, full lashes and eyeliner teamed with smokey brown hues. For bigger eyes, run a pencil eyeliner in your waterline to make your eyes pop, and for smaller watches, stick with a liquid eyeliner with a flick to elongate the look. In keeping with the dramatic theme, opt for a nude lip, as a bold lip may be too much for your canvas. To finish, lightly dust the frame of your face with a bronzer to compliment the deep tones of your eyeshadow.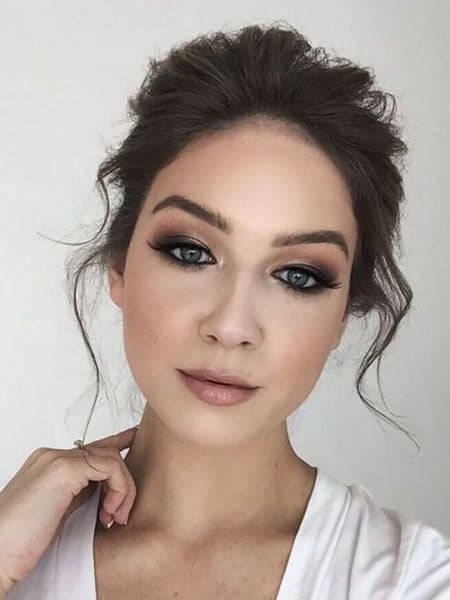 4. Glamorous Wedding Makeup
The key to beautiful wedding makeup is to keep it soft but still feminine and flirty. A glamorous bridal look will take your wedding outfit to the next level, playing up your features in the most flattering way. Keep brows bushy and natural, with eyes golden for a timeless shade. Apply thick coats of mascara on both top and bottom, and for the shorter-lashed ladies, don't be afraid to use false eyelashes. For a soft, sultry touch, use a copper eye pencil along the top lash line for extra depth and blend it out so the line isn't severe. For a seamless finish, match your lip and cheek shade to the tones in your eyeshadow.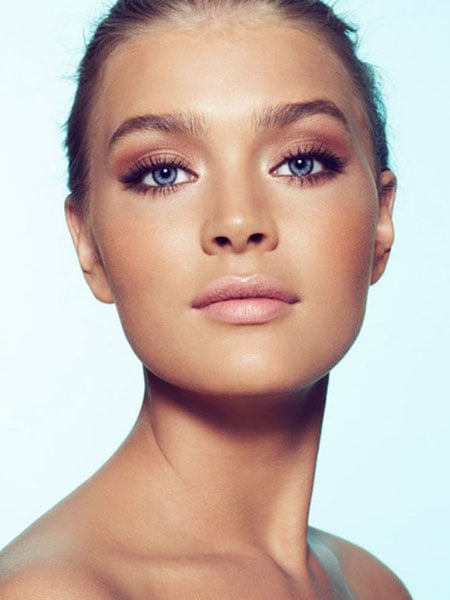 5. Smokey Eye Wedding Makeup
You can still achieve romantic smokey eye makeup without looking too heavy or dark for your special day. Go for a charcoal grey palette, building darker shades in the outer corners of the eye and lighter on the lid. If you aren't a massive fan of ashy hues or they don't suit your complexion, opt for sultry plum shades, meaning you can still achieve the smokey trend. To balance the colors, finish with nude lipstick with warm undertones.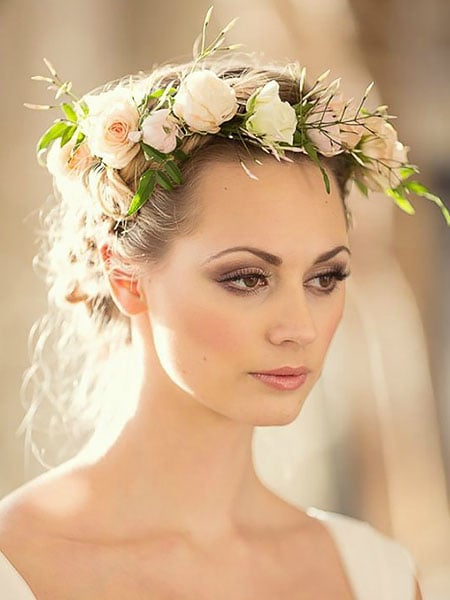 6. Red Lips Wedding Makeup
Timeless and classic, a red lip has long been a favorite of the beauty world. This look is foolproof in pulling off a beautiful wedding makeup look, and if you have a bold, modern style, then this is a perfect option. In choosing the correct shade, take into account your skin tone and whether you have cool or warm undertones – this will ensure you get the right color and, hence, the right makeup. Additionally, go for a long-lasting formula so your pout is perfect all day.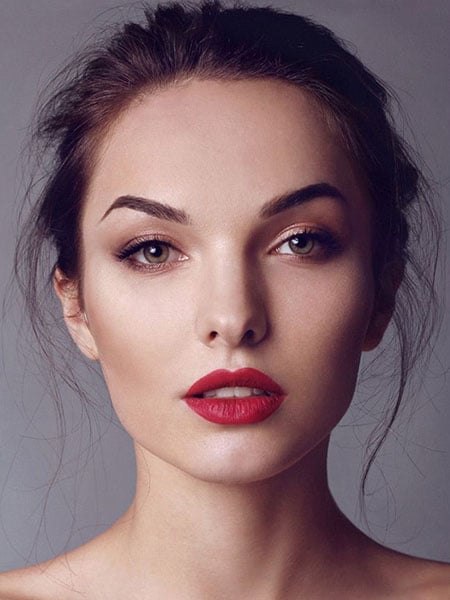 7. Vintage Wedding Makeup
When thinking vintage makeup, dramatic winged liner and cherry lipstick all spring to mind. Fear not; you can still get gorgeous vintage vibes from your makeup without going over the top. Keep it sheer and straightforward for skin, leaving the bronzer in the drawer for this one. Instead, let the eyes be the focus, with a flicked liquid liner and voluminous lashes. Finish the look with a glossy apricot lip.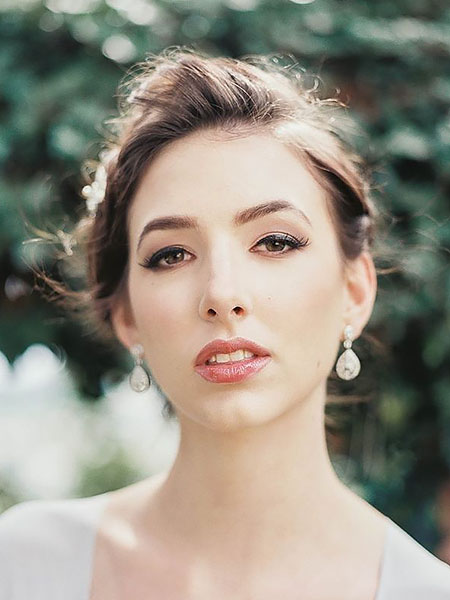 8. Bohemian Wedding Makeup
Boho bridal makeup is the ultimate romantic style for your wedding day, and is so easy to achieve. Keep skin natural and dewy, priming skin with an illuminator for bright and glowing skin for the base. Highlight the high points of your face to accentuate your features while adding some sparkle and pastel rose lipstick to keep the makeup soft. If you're wearing a floral crown, use similar shades to the flower arrangement for your eyeshadow.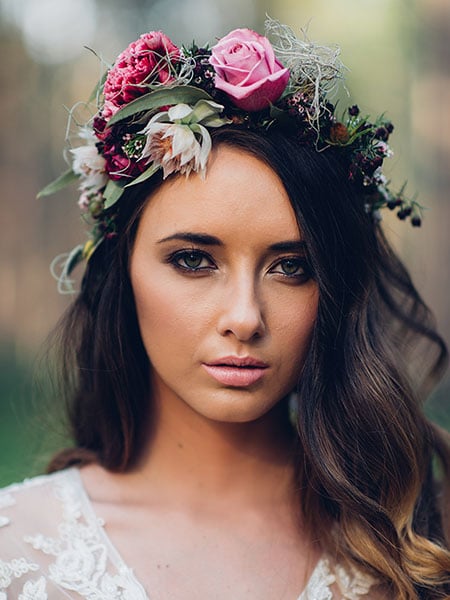 9. Beach Wedding Makeup
Everyone dreams of having a beach wedding, and now you can have your dream makeup to match. Think dewy, bronzed skin to get the ultimate beach babe look paired with a cool-hued nude lip gloss. To prepare the skin, use an illuminating primer to get a sunkissed complexion. Keep brows bushy and natural, with champagne eyeshadow on the lids. To complement, a pop of highlighter on the cupid's bow, inside corner of the eyes, and brow bone will take the glossy look to the next level. To finish, work your bronzer along the frame of your face in the shape of a number 3, along the hairline, into the cheekbone, and along the jawline.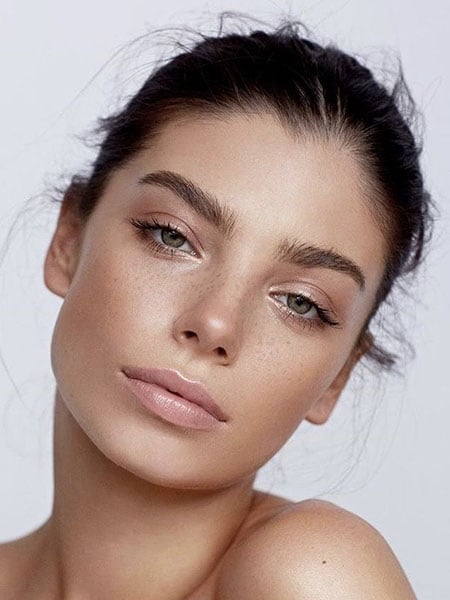 10. Winter Wedding Makeup
Winter is notorious for drying out your skin, so make sure your skin is moisturized and prepped, and go with a liquid or cream foundation for your base. A bold lip for your wedding look will add even more glam – go for plum, berry, and red wine tones for the ultimate winter shade. Keep lids simple and not too dramatic, allowing the lipstick to be the show's star.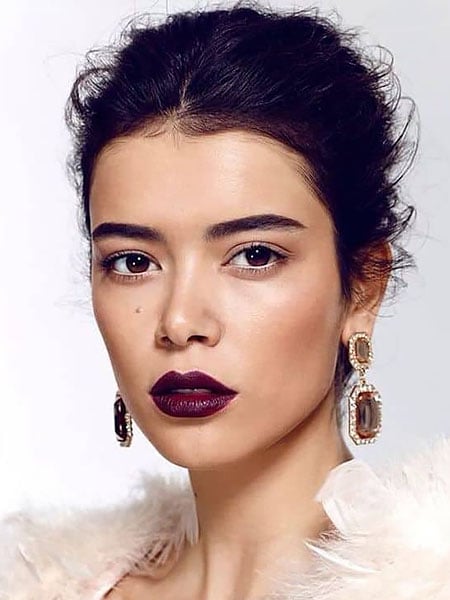 Wedding Makeup Looks FAQs
What is bridal makeup look?
A bridal makeup look is one you wear to your wedding. Generally, it is designed to last all day, photograph well, and look beautiful. Just like regular makeup, there are lots of styles you can choose from. These include natural, winter, summer, vintage, smoky, dramatic, red-lipped — the options are almost endless. You'll want to choose something that reflects you and your aesthetic but also brings out your best features.
How do I choose my wedding makeup?
Choosing your wedding makeup can be tricky. Things to consider are the season, location, venue, theme, dress, skin coloring and undertones, and your regular makeup look. If you're having a beachy summer wedding, it's best to go for something light, whereas if you're having a winter wedding in the snow, it's the perfect opportunity to rock something more dramatic. Of course, you also don't want to look unrecognizable as you walk down the aisle, so if you don't typically wear makeup, go for something more natural.
What are the different types of makeup looks?
Some of the different wedding makeup looks include natural, classic, dramatic, glamorous, smokey eyes, red lips, vintage, bohemian, beach, and winter. Of course, the options are almost endless, and you can take inspiration from anywhere you like.
Should I do my own makeup for wedding?
Doing your own makeup for your wedding can save some cash, but it might also cause more stress. If you're a bit of a pro and have your technique down pat, then it can be fun to do it yourself. Plus, you know exactly what you like and what works. However, if you don't usually do a lot of makeup or don't own many products, it can be useful to get a professional. They'll be able to make it stress-free, ensure your look lasts, and give you a bit of pampering on your special day.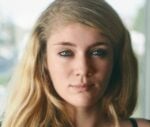 Cailyn Cox holds a degree in journalism and has been working with The Trend Spotter as a writer for over ten years. She has worked with some of the most prestigious women's and men's lifestyle publications. For her, writing is not just a job; it's a passion, which is why each article she writes is approached with such enthusiasm and dedication. She has extensive knowledge of hairstyles, tattoos, and beauty and has made a career out of creating informative articles that appeal to women and men of all ages.
SUBSCRIBE TO OUR NEWSLETTER
Subscribe to our mailing list and get interesting stuff and updates to your email inbox.