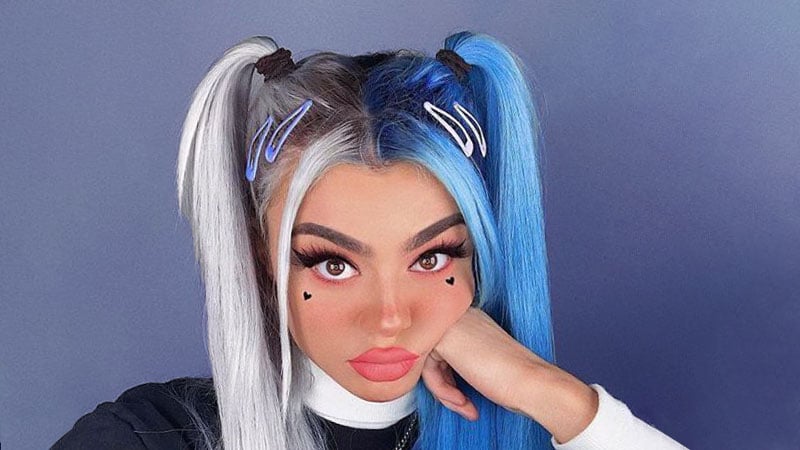 From TikTok to Instagram and everywhere online, the e-girl makeup look is hard to ignore. Inspired by Japanese culture and adapted to the 2022 aesthetics, this makeup look is easy to replicate at home. With easily recognizable elements such as dramatic eyeliner, blush across the middle of your face, and, of course, fake freckles, there are connecting qualities to every look. But within this subculture of makeup comes varying aesthetics and styles. We have written a guide to the coolest e-girl makeup looks that have been trending. Who knows, film the process, and you may just go viral!
RELATED: 25 Cool E-Girl Hairstyles & Hair Color Ideas
RELATED: 10 Cool E-Girl Outfits That are Trending
1. Soft E-Girl Makeup
There are many different aesthetics to the e-girl trend, but soft makeup is a very popular choice online. This makeup is delicate and hyper-feminine, featuring gentle colors like pink and purple. Using an eyeshadow brush, apply a single shade across your entire eyelid, blending a lighter shade along the browbone to lift the eyes. Carve out bold cat eyes with black eyeliner, with the flick moving upward. Add the eyeliner in the bottom corner of the eye, and line it with white to create the illusion of larger eyes. Keep your face base quite neutral – a sheer foundation or BB cream is a great place to start. Add blush, freckles, and highlighter across the cheeks and your nose for a sunkissed look.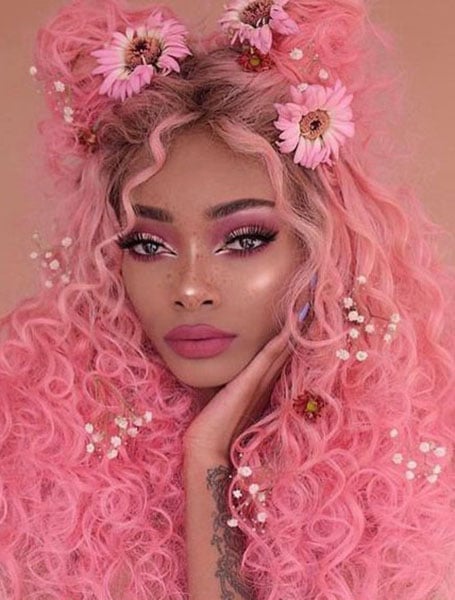 2. Grunge Egirl Makeup
The grunge movement has come a long way from the '90s and has transitioned into an e-girl aesthetic. Much like the original concept, it's all about sticking to darker colors but with a modern twist. This style calls for larger eyeliner, bold hues, and playful elements like all-over blush. Choose a classic shade like green or purple and apply the eyeshadow to the top and bottom of your eyes. Blend black or gray into the crease of your eye for a smokey look. Add a pair of bold lashes to make your eyes pop and keep your brows full and natural. Like the soft aesthetic, keep your base relatively clean, only adding blush across your cheeks and nose for a sunkissed effect. You can stay true to the movement by wearing dark lipstick with gloss.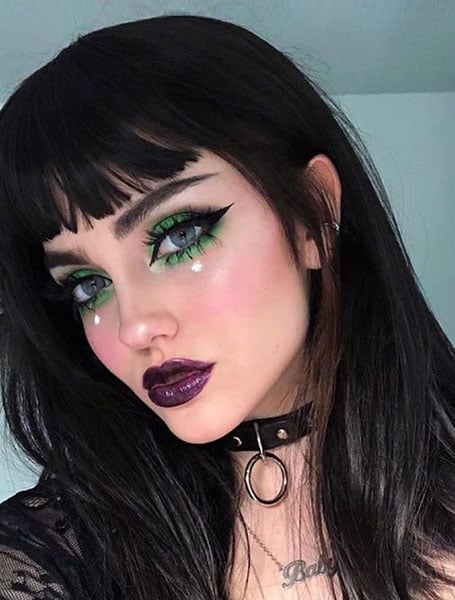 3. Edgy E-Girl Makeup
Just like the grunge e-girl aesthetic, edgy looks are slightly different from a decade ago. Today's update has heavy cutting-edge eyeliner, bold eyeshadow, and thick brows. Don't go overboard with bronzer, but feel free to add plenty of brush along the bridge of your nose and the apple of your cheeks. Use a cream highlighter on the tip and bridge of your nose and the highest points of your cheeks to catch the light. Bonus points if you use a non-traditional shade like blue. Sweep a bold shade across the entire eyelid. Then draw the eyeliner in from the middle of the eye, facing outward rather than in a cat-eye shape. Using a small amount of concealer, carve out a small cut in your brows at the highest point of the brow arch.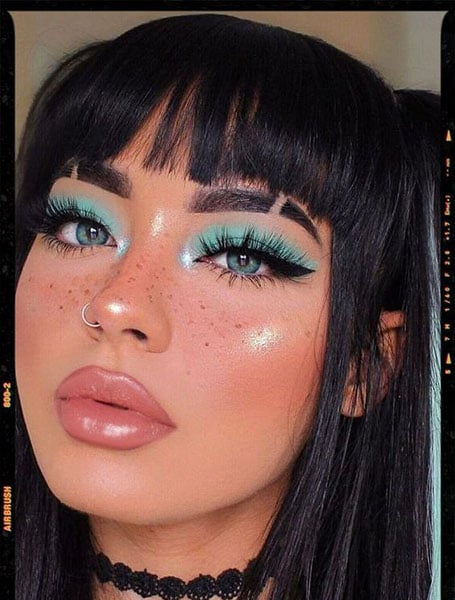 4. Cute E-Girl Makeup
Makeup for a cute e-girl look is easy to achieve once you get the aesthetic down pat. As always, start with a natural-looking base. Keep your brows clean and tidy, and don't add any bronzer. Apply peach eyeshadow to the eyelid, carving out the crease with a darker shade for a subtle look. Line your eyes with black eyeliner in your usual style. This is where things get interesting. Using white eyeliner, apply a small amount to the lower lash line and down the apple of your cheeks in the pattern of tears. Use tiny face stickers and arrange them to the same part of your face. This will look as if you are crying stars or little hearts, which is so cute. Finish the look with a lip stain, blurring it out with a high-shine gloss. For the ultimate cute feel, apply a band-aid to your nose.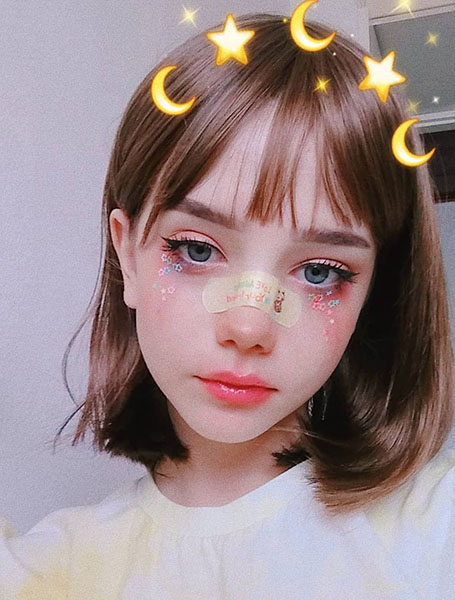 5. Gothic E-Girl Makeup
Taking cues from the trad-goth and other subcultures, this gothic e-girl look is a new way to express yourself. While other e-girl aesthetics are about having plenty of shine and glass-like skin, this trend is instead about sharp lines and angles. Create the eyeshadow style you prefer, using neutral colors like pink and brown. Using a liquid eyeliner, draw an exaggerated cat eye, with the flick extending closer to the wing of your brow than usual. You can use that same pen to sketch small symbols, such as a star on your cheek. This is a reference to the 18th century, which is a common inspiration for post-punk bands like Adam and the Ants. Contour using small touches of bronzer, but add no blush. Apply fake freckles using a light eyebrow pencil for a sun-kissed look, and add black lipstick for the finishing touch.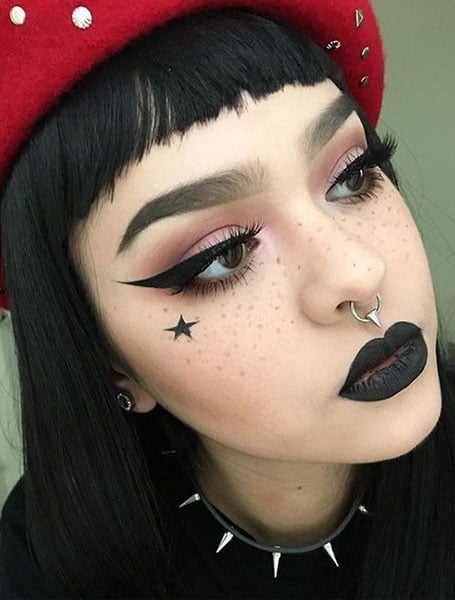 6. E-Girl Heart Makeup
You can do so many interesting things with blush, as proven by this e-girl trend. Begin your look with a neutral base and avoid heavy contouring using bronzer. This time, we're letting the soft pink shade add depth to your features. Apply small amounts on the hairline as you would with bronzer. Then apply the same shade on your temples and down the cheeks – this is a technique referred to as draping. Use a similar or darker eyeshadow or blush to create an interesting eye look. Apply plenty of the pink across the apples of your cheeks, along the bridge, and down your nose until you reach the tip. You may need to apply a few layers to achieve the desired effect. Take a small amount of cream concealer on a brush and draw hearts on the cheek and nose. Add some stickers or face jewels to catch the light.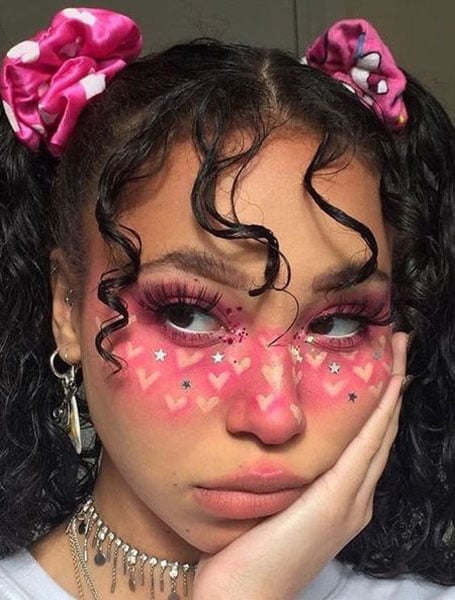 7. Simple E-Girl Makeup
Not every e-girl look has to be overly complicated to look great. To create this simple makeup, it's important to master the basics. All e-girl aesthetics give the impression of sunkissed and natural skin. Keep the foundation minimal, and use concealer under your eyes for a fresh-faced feel. The key to creating this aesthetic is adding blush to your cheeks and across the nose – this will make you look innocent, cute, and as if you've spent some time in the sunshine. Take it one step further by applying a sprinkle of fake freckles in areas where the sun would kiss your skin. Another element of this trend is the sharp and edgy eyeliner, counterbalanced by the soft and light eyeshadow. Choose any color you prefer, but the most popular choices are pink, purple, and blue.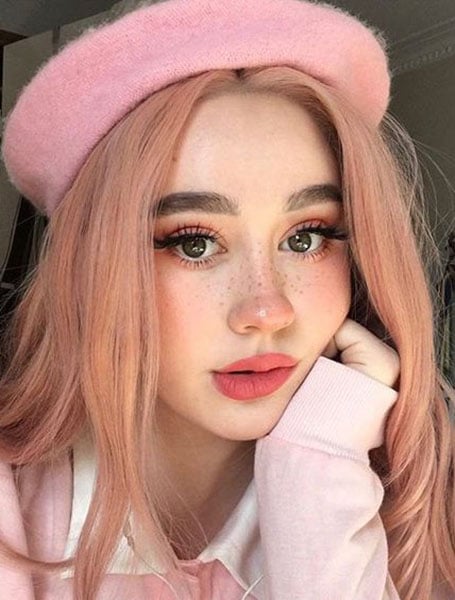 8. Basic Egirl Makeup
If you're in a rush and you need to apply the e-girl aesthetic in less than ten minutes, we've got you covered. To get the ultimate basic feel, don't apply any foundation at all. Instead, apply concealer to the corners of your eyes in an upward direction. Use it sparingly on any discoloration across the skin, but leave the rest bare. Use gel to brush the hairs upwards, but don't fill them with a pencil. To get the real e-girl look, you will need to apply a blush across the cheeks and over the nose. Create a seamless eye look by adding a touch of pink to the outer corners of your lid. Line the edge of your outer eye with a black pencil – don't add a cat eye as it takes away from the natural feel. Add a lip gloss or stain for a touch of extra color.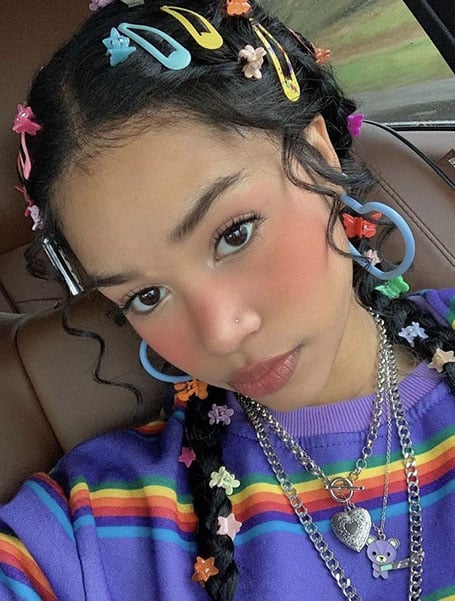 9. Subtle and Light E-Girl Makeup
As any e-girl knows, there are so many different ways to achieve the look. While the makeup can sometimes look heavy or overcomplicated, this fresh and dewy look is the epitome of subtle and light. Using blush, create a sweeping motion across the entirety of your cheeks and nose, not just the apples. Avoid too much on the temples or forehead, and keep it solely in the middle of your face. Then use eyeliner to create a natural cat eye, flicking upwards to lift the eyes, and apply wispy lashes on the outer edges to continue this lifting effect. An eyebrow pencil is a great option if you want to include some fake freckles – apply them sparingly to look as natural as possible. Finish the look with a cream blush for a glass skin feel.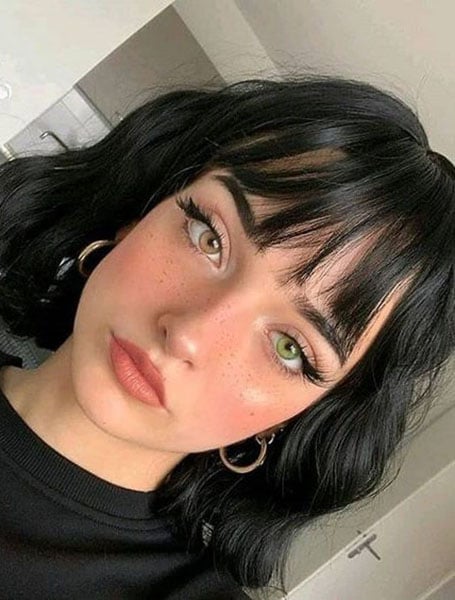 10. Dark E-Girl Makeup
In a similar vein to the grunge and gothic e-girl aesthetic, this makeup is all about using dark shades to create exaggerated and funky looks. The initial steps remain the same as other e-girl looks, but instead of applying pink blush to your cheeks and nose, instead, use a peach shade on the highest points of the face. Using a range of black, gray, and white eyeshadows, craft a smokey eye look with an upward flick to lift your features. Use the lightest shade in the corner of your eye to brighten and widen your face. Grab a liquid eyeliner to draw little hearts across your eyelids and on the cheekbone. Whether you prefer matte or liquid lipstick is your choice, but find a nude shade that suits your skin tone to tie the look together.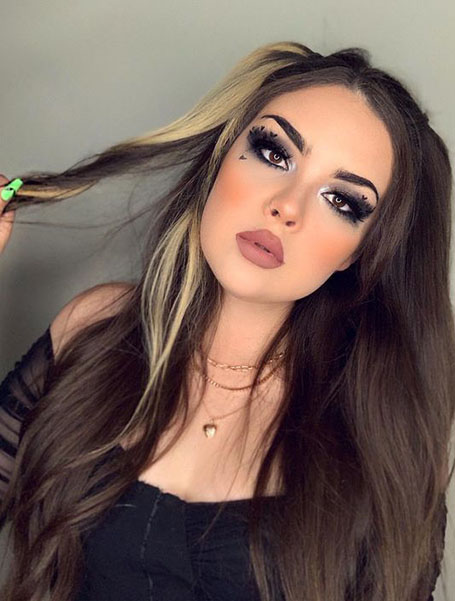 11. Aesthetic E-Girl Makeup
The aesthetic e-girl is hard to describe, but you take one look, and you instantly understand. This look relies on the combination of many e-girl trends, such as blush as contour, lip stain, an overlined cupid's bow, sharp eyeliner, fake freckles, and face stamps. As always, the base foundation is relatively neutral or light enough to look natural. Using blush, apply it to the apple of your cheeks and a touch to the tip of your nose, creating a doll-like appearance. Apply eyeliner outward, moving towards the ear rather than upwards. A light touch of eyeliner on certain parts of the face gives the impression of beauty spots rather than freckles, and you can add a tiny heart or star to the cheek for a final touch.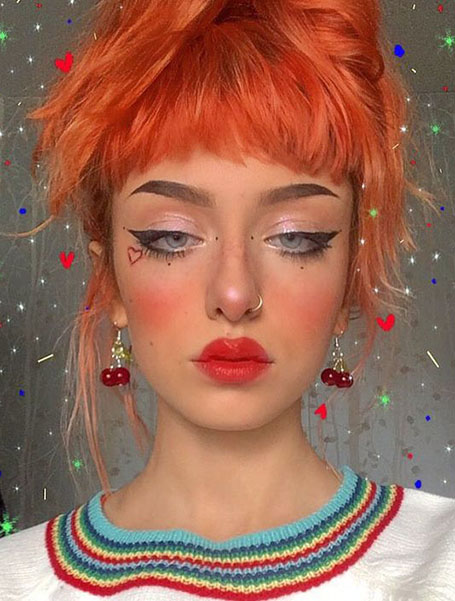 12. Natural E-Girl Makeup
This natural e-girl style is the glow-up from the no-makeup-makeup look. The key to achieving this look is to avoid powder products, opting instead for cream products. Use a sheer foundation with a sponge blender, and apply dots of concealer under the eyes. Apply cream bronzer to the forehead and cheekbones, and blend until it is evenly dispersed. Cream blush is the next step in this routine – use your finger for a more sheer effect, as your body's natural temperature will help it apply closer to the other products. For your brows, you can fill them in sparingly with a pencil, and use a gel or soap and spooly, brushing them in an upward direction and laying flat against the skin. Add a touch of brown eyeliner in the outer corners and mascara. Splashes of light freckles where the sun hits the skin are the perfect finishing touch.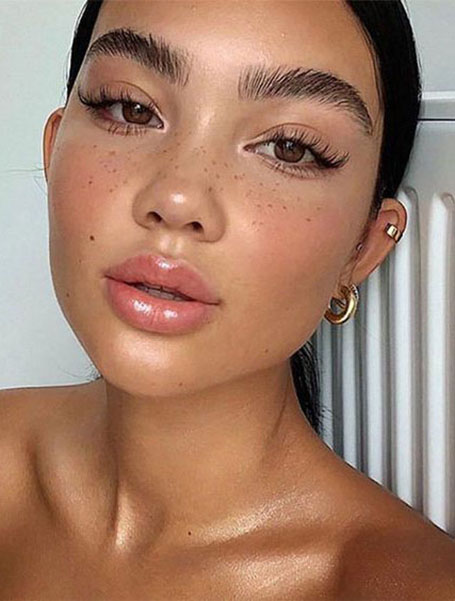 13. Purple E-Girl Makeup
If purple is your favorite color, then this is the look for you. In the same fashion as the other looks, this makeup is the ultimate e-girl aesthetic. Grab two purple shades, one darker than the other, and apply the lightest along the base of the lid, focusing more on the inner corner. A big fluffy brush disperses the color more effectively. Then use the darker hue to do the same thing to the other side of the eye. But this time, take this color to the outer V and the lower lash line. Apply a dab of white or pink highlight to the tear duct to open the eye. Sharp black eyeliner unifies the tones – wispy lashes will create a lifted look if you want to take it one step further. Use a pink eyeliner or lipliner to draw tiny sprinkles of hearts on the crease.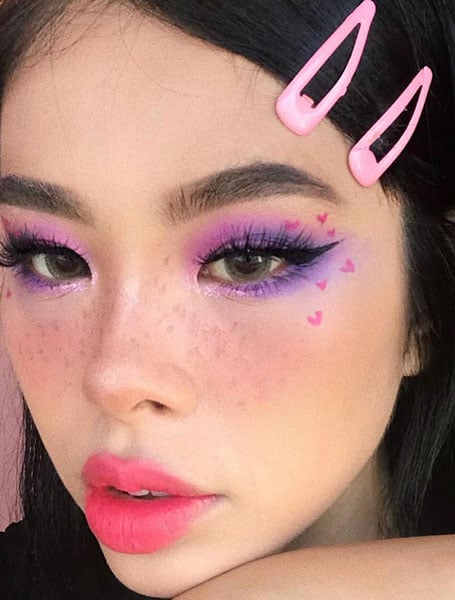 14. Black E-Girl Makeup
The e-girl aesthetic is somewhat dominated by lighter skin people online, making it harder to find for Black girls. But that should never stop you from creating killer looks such as this. Keep the base clean and neutral, and fill in brows with a natural shape – apply gel to lock it in place. Using a mixture of soft and bright pinks, create a bold eyeshadow look with a large fluffy brush across the whole lid. Balance it out with sharp eyeliner, moving slightly upwards to lift your features. Find a pigmented blush or use eyeshadow, sweeping the color across your cheeks and nose. Don't be afraid to apply as much as needed, as long as it's evenly distributed. For the ultimate e-girl touch, use concealer to carve out little hearts in the center of your cheeks. Your TikTok will go to the next level once you've perfected this look.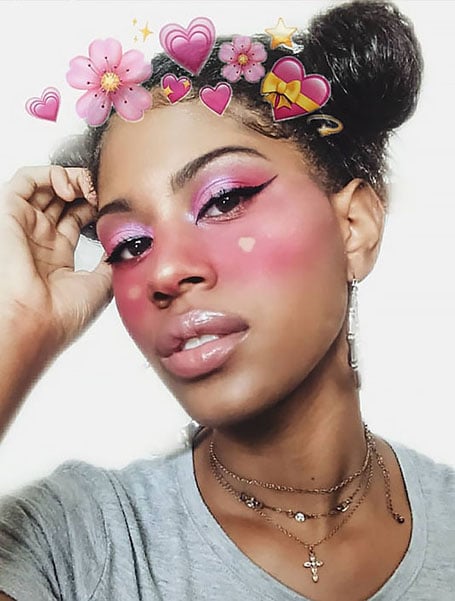 15. Vibrant Pink E-Girl Makeup
This look isn't for the faint of heart – literally. It is all about pink and graphic eyeliner, so it's a great option to try if you want to experiment with your style. Begin with a classic eyeshadow, applying a darker shade to your eye's outer V. Next, you will need pink and white eyeliner – lip liner is a great alternative if required. Get creative when drawing the shapes – apply lines, curves, swirls, and hearts in a frame around the eye. Don't be afraid to go around the entire shape of the eyelid, underneath the lash line, and onto the cheeks. Place a small amount of white highlighter in the tear duct to open the eye a little.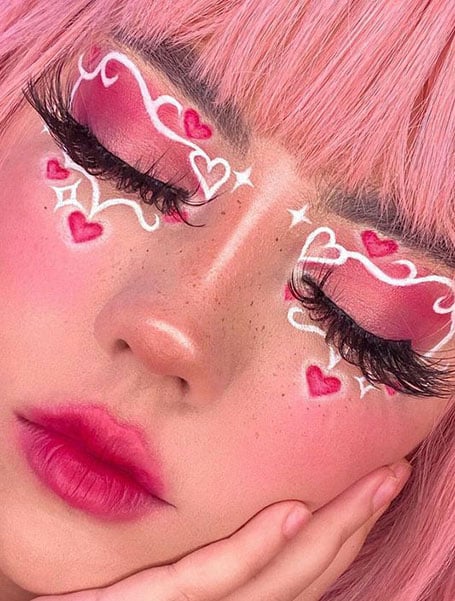 16. Light Pink E-Girl Makeup
A fun makeup look to try is the all-pink e-girl aesthetic. Not only are the eyeshadow, blush and lip shades all the same, but it even extends to the eyebrows! The eye look is reminiscent of the '60s trend, a la Jean Shrimpton or Sharon Tate. How this differs from other pink makeup looks is the shade you choose. This offers a preference for a lighter hue, which gives off a more natural and charming vibe. Use an eye or lip liner to draw hearts on your cheeks and freckles along the bridge of your nose. Using a lip stain, apply the majority of the color to the middle of your lips and evenly disperse it outwards. Continue the e-girl trend by applying a touch of blush to the tip of your nose, and invert the freckle trend with white dots of eyeliner to balance out the pink above.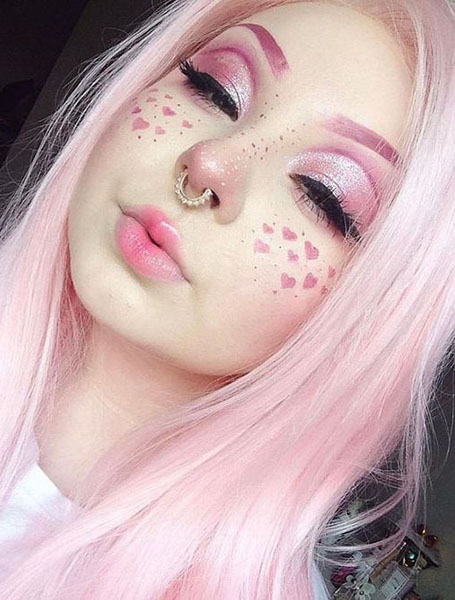 17. Pastel E-Girl Makeup
The pastel aesthetic is heavily tied in with pastel goth, a subculture of the aesthetic that finds its roots in Tumblr. These days, the e-girl look has taken over, giving fresh life to the old trend. Taking cues from the blush all-over theme, use a light and soft pink along the nose, cheeks, and across the eyes. But rather than ending it there, add other shades into the mix, such as baby blue. Use this sparingly on the tip of the nose, and try not to blend it too much with the pink, as it may come across as a bruise. Using a white liquid liner, draw stars and freckles across your face and along the brow bone. If you don't want to use eyeliner, add jewels to catch the light and add extra dimensions to the already stunning makeup.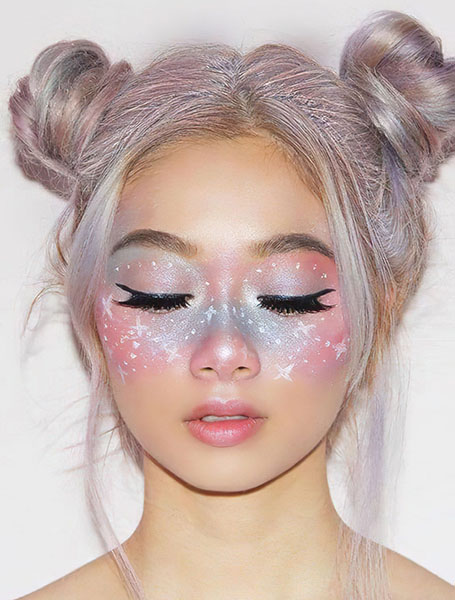 18. E-Girl Makeup With Glasses
Glasses should never stop you from creating cute makeup looks, and we're here to prove it! With more emphasis on a clean and neutral makeup look, you can add quintessential e-girl elements, such as blush across the face, sharp eyeliner, and a soft but bold lip. Avoid using makeup trends like fake freckles or overly elaborate eye looks, as they will either smudge or be hidden by your specs. In place of the freckles, add a statement feature, such as a band-aid with a cute print on it. Rely more on eyeliner, which should be sharp and prominent in the outer corner, as it lifts the face and draws attention to your gorgeous eyes.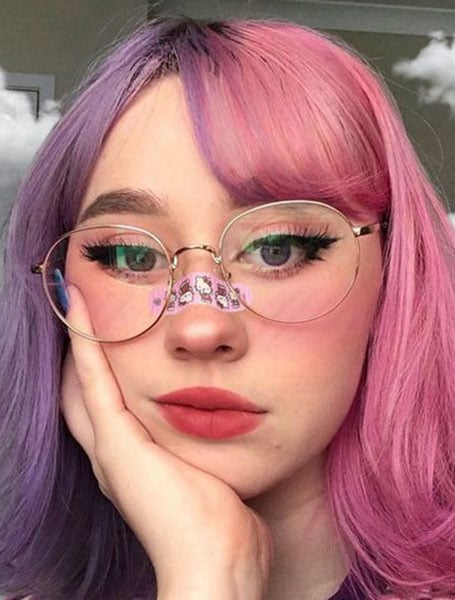 19. Doja Cat E-Girl Makeup
Who is more of an e-girl in the celebrity world than Doja Cat? The undoubted queen of TikTok, this star has the aesthetic look down to a fine art. Making use of the trends, she perfectly blends soft eyeshadow with cutting-edge eyeliner. She stays true to the aesthetic by keeping her base clean but doesn't rely on blush to contour – instead, she opts for traditional bronzer for a more subtle feel. Using a few different shades of lip liner, she creates the illusion of larger lips by starting with a darker shade and working her way to a lighter in the middle. Adding a gloss over the top will unify the colors and give a more natural finish.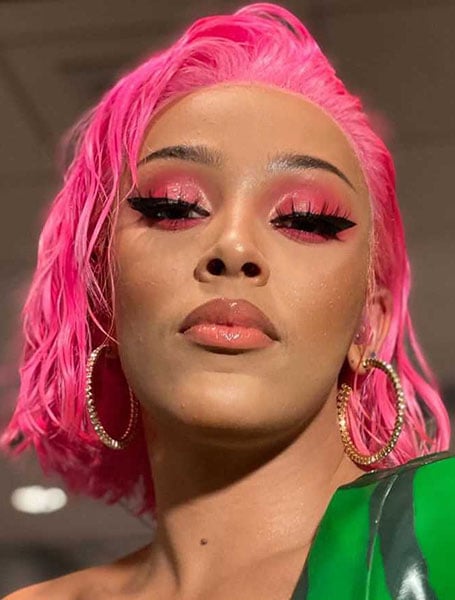 20. Tiktok Egirl Makeup
The e-girl may not have originated from TikTok, but the app has certainly solidified the trend for the ages. This look is a mixture of lots of different styles, from two-toned hair to streetwear and classic makeup elements. Draw a sharp cat eye using liquid liner and fluttery lashes on the outer corners in an upward direction to create a lifted look. Apply a subtle amount of blush on the cheeks and in a single strip across the bridge of your nose. A small touch of highlighter on the tip will catch the light – plus, it looks so good in photos. For a finishing touch, add two small heart stamps on both sides of your cheeks, or draw them yourself.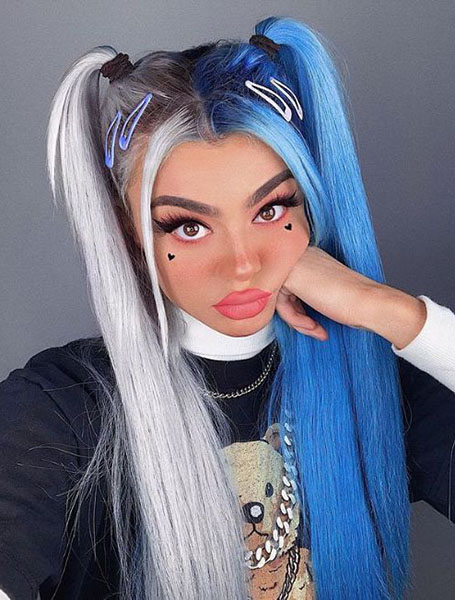 21. Kawaii E-Girl Makeup
The culture of cuteness in Japan is commonly referred to as Kawaii and is quite different from the Western view of cuteness. This aesthetic relies on a lot of pinks, doll-like eye makeup, and hearts, among other elements. To create this look, keep your skin looking as clean as possible. Skip the bronzer and instead focus on blush. Emphasize the apples of your cheeks and the temples by draping the hue from your eyes to the top of your cheekbone. Then add a touch of pink to the tip of your nose – it will look as if you've stepped out of the snow. As with other e-girl aesthetics, fill the Cupid's bow with some lip stain for a lifted and effortless feel. If you want to go to the next level, use concealer to carve out hearts on the pinkest parts of your cheeks.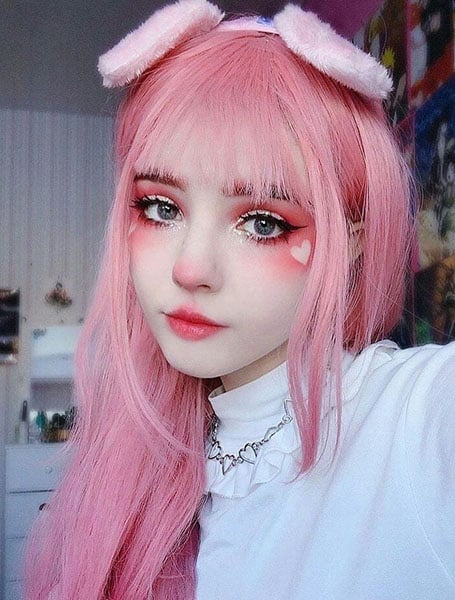 22. Fruity E-Girl Makeup
For a fresh summery spin on the e-girl aesthetic, this fruity makeup is a great alternative to the standard TikTok trend. Swap out the usual pink blush and eyeshadow for orange. Your base should begin like any other makeup look – clean and neutral. Using a large fluffy brush, cover the lid with two shades of orange eyeshadow, with the lighter hue in the inner corner. Apply a small amount on the lower lash line and finish the look with a bold liquid liner. For your cheeks, instead of drawing fake freckles or hearts, go one step further by creating slices of your favorite fruit. This is a bit tricky to master, so don't be afraid to try more than once to get it right.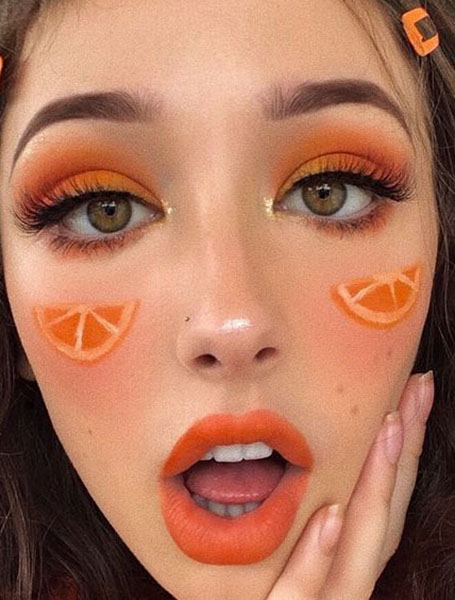 23. Emo E-Girl Makeup
The emo aesthetic was a huge trend in the early and mid-'00s, with sweeping bangs, dark eyeliner, Hot Topic clothes, studded belts, and striped socks. While the days of MySapce are long behind us, the TikTok update takes cues from the original era and adds a fresh flair. Using similar elements of the e-girl makeup, keep your base neutral and refrain from putting blush anywhere except the tip of your nose. Apply a semicircle of the color underneath your eyes to achieve a faux sleepy effect. This look requires heavier eyeliner than usual. Create a cat eye with a slightly thicker base, but rather than an outward flick, move the line down below the lash line. Create the appearance of tears or another gothic shape underneath your eyes, to the point where it hits your cheeks. Finish the look with black lipstick, and you're ready for anything.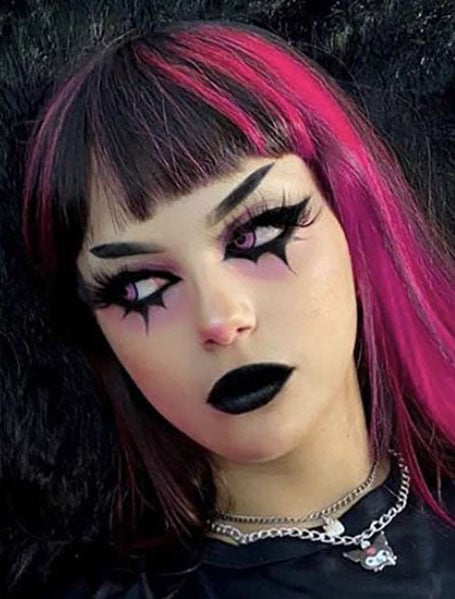 24. E-Girl Makeup with Hooded Eyes
While it can be tricky to apply a lot of fun eyeshadow looks on hooded eyes, this trend is easy to accommodate. Hooded eyes feature skin that folds and sits closer to the top of your eye, you most likely have hooded eyes. The trick to achieving the perfect e-girl look with this eye shape is the placement of the wing. While almond eyes allow for almost any style, hooded eyes require different steps. Look directly at the mirror when applying makeup, and place the brush where you want your crease to be rather than where it actually is. This will give the appearance of a lifted eye. Apply eyeliner with a fine-tipped pen – this will allow for extra precision and help you achieve the perfect look. Let loose and allow your creative juices to run wild. Play with colors, styles, blush placement, and anything your heart desires.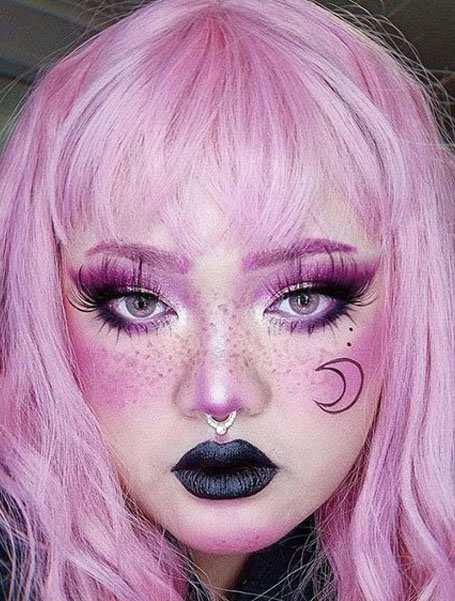 25. E-Girl Makeup Without Eyeliner
While one may think of e-girl makeup to feature black eyeliner, this isn't always the case. In fact, you can create beautiful e-girl makeup looks sans liner. Getting the elements of the aesthetic is key to achieving the trend. This includes a base using sheer foundation and a touch of concealer under the eyes. Apply a small amount of bronzer in three key areas of the face – the forehead, cheekbones, and jawline. Buff it out with a touch of blush on the highest points of the cheekbones and add some to the tip of your nose for a cute and sunkissed look. Your eyes should be relatively neutral, and instead of drawing sharp eyeliner, instead outline the outer corners with a brown or gray shadow, smudging it slightly for dramatic effect. Adding cream highlighter will enhance your natural glow and perfect the e-girl look instantly.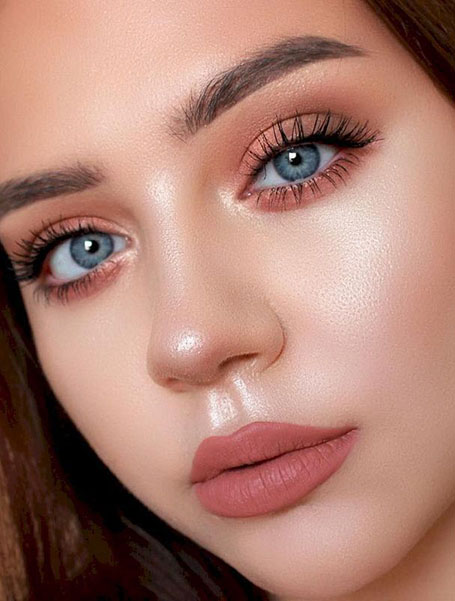 26. Blush E-Girl Makeup
One of the most important elements of achieving the e-girl aesthetic is the use of blush. We've seen it plenty of times in this trend, but if you want to get it right, you have to know where to place it. With this trend, there are a few different ways to rock the pink blush, but the most popular choices are on the apples of your cheeks or draped along the cheekbones. While powder blush is great for a full coverage look, cream alternatives will give you a sheer and natural finish. Pro tip: use your fingers to warm the formula for a next-level glow. There's one thing that no e-girl can go without, and that's blush on the nose. As with your cheeks, the most popular choices include across the bridge for a sunkissed effect or on the tip to create the illusion of stepping out of the snow.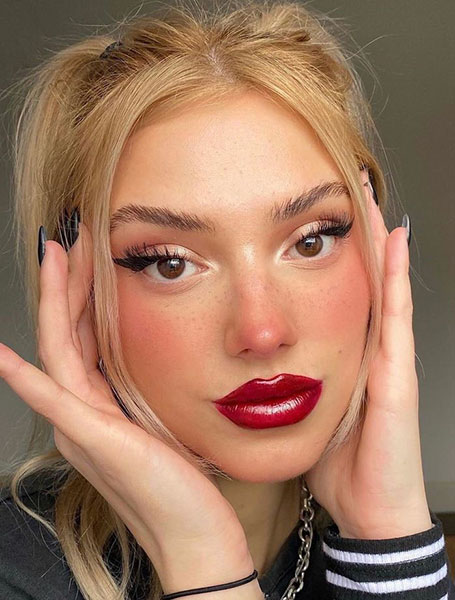 27. E-Girl Eye Makeup
The creativity behind the e-girl look is what makes it so appealing. You can try any style and make it completely your own. When experimenting with eye makeup, try different art styles and get inspiration from your surroundings. Butterfly wings, fluffy clouds, cute shapes, and rainbow hues are great choices. No matter your skill set, with practice, you will be able to achieve these looks in no time. Who wouldn't want to take a selfie with a look this cute? What's more, you don't need to add much to other parts of your face – keep your makeup base clean, without too much blush or bronzer. Let your eyes do the talking.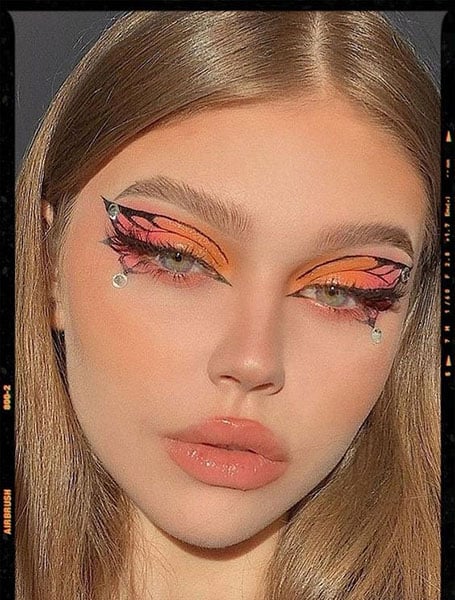 28. E-Girl Lip Makeup
If you're not in the mood to put heaps of time into your e-girl look but would like to give off the overall impression, this lip look is the way to go. Subtle yet bold, it requires only a few products to achieve it. Using a lip stain, apply it to the entirety of your lips – a fluffy brush is a great tool to buff out the edges to give a worn-in appearance. Add a gloss over the top if you want a fresh-faced feeling, or keep it matte if you prefer the look. When you are focusing on the lips in a makeup look, it's best to avoid anything too bold in the other areas o your face. Stick to similar shades with your eyeshadow, and keep your bronzer and blush to a minimum. A sprinkle of fake freckles across the nose is a beautiful finishing touch.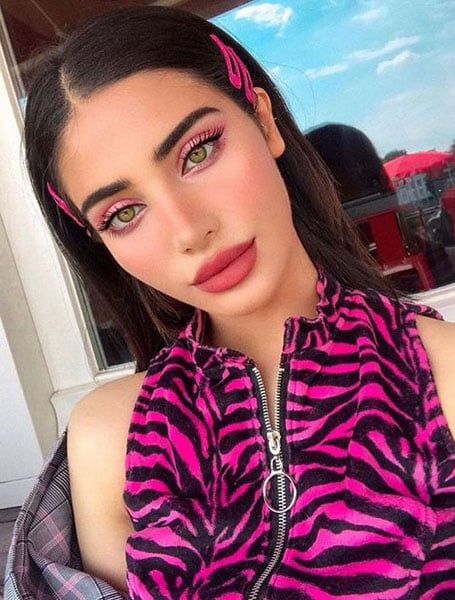 29. Halloween E-Girl Makeup
When the spooky season approaches, there is no better time to get creative with your makeup. And the e-girl trend doesn't sleep when Halloween rolls around. In fact, it only gets bigger. This is the time to go bolder than before, with contrasting shades like back, red, orange, and green. Create a two-toned eye look with thick eyeliner on a single eye in an upward direction. Using a thin liner brush, draw something spooky or Halloween-related, such as rosary beds, a skull, or a cross. On the other side, apply crystals, pearls, or metal balls in the shape of a heart around the perimeter of the area. Staying true to the e-girl aesthetic, apply an orange blush to the tip of your nose, and create an ombre lip look with lacquer over the top for a slick finish.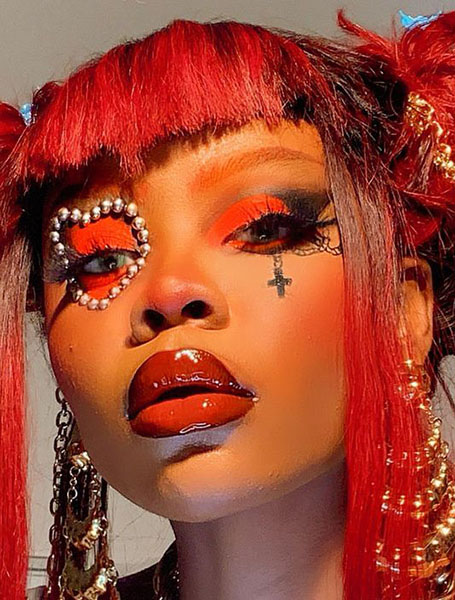 30. E-Girl Makeup Tutorials
It's one thing to read about e-girl makeup, but it's another thing to see them created in real-time. Watch this Tiktok tutorial for all the makeup tips you need to get the trending look.
Egirl Makup Look
How does E-girl makeup look?
Heavily inspired by the anime and the Kawaii scene in Japan, the e-girl makeup look is all about large and elongated eyes, cute blush along your cheeks and nose, and an overall fresh look. The typical makeup consists of minimal foundation, concealer, and heavy eyeliner. There are also touches of fake freckles to appear as if you've been out in the sun for a stroll.
How do you do simple E-girl makeup?
To create a simple e-girl look, stick to the basics. This includes a natural base without much foundation or concealer and natural brows. Grab your black liquid liner and draw a dramatic sharp cat eye in an upward direction. Using a large fluffy brush, apply plenty of blush on your cheeks and the tip of your nose. Apply fake freckles with a light eyebrow pencil, and tap into the skin using your finger for a live-in effect. Finish it off with overlined lips and lip gloss, and you're set.
How do you apply E-girl eyeliner?
E-girl eyeliner is a unique skill to master. You will need two types of eyeliner to achieve the look: liquid and pencil. Start by drawing a straight line from the corner of your eye in an outward and upward direction. This will create the illusion of larger and lifted eyes. Then, closing one eye, swipe the pen downward towards the middle of your eye, filling in the empty space. For an extra step, use the fine tip liner to draw a small wing on the tear duct, going in a downward direction towards your nose. If you wish, you can use the cream pencil to fill in the lower lash line. 
What is needed for E-girl makeup?
You will need a few key elements to create an E-Girl makeup look., This includes concealer, liquid eyeliner (or maybe two pens), a light brown eyebrow pencil, mascara, highlighter, and plenty of blush. For a natural glow, use cream products instead of powder. However, you're more likely to get a dramatic look with powders, as they have more pigment. Another great tool to create a subtle and natural shine is liquid or cream highlighter or glitter -it will catch the light and sparkle on and off camera. 
SUBSCRIBE TO OUR NEWSLETTER
Subscribe to our mailing list and get interesting stuff and updates to your email inbox.