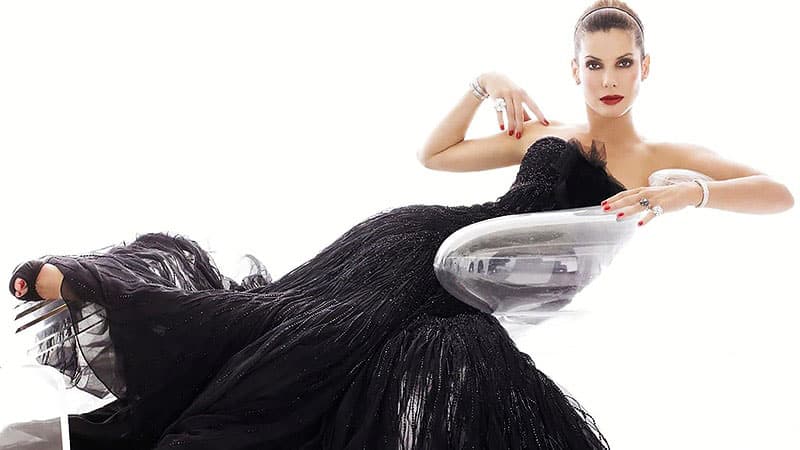 Since the Victorian era, white has been the traditional color of choice for brides to wear on their special day. But, while white appears classic and lovely, it isn't a bride's only option. For those who are willing to abandon tradition in the pursuit of something a little more unique, there are many other color choices. In particular, black makes a gorgeous selection for a wedding gown. Dark, decadent, elegant, and chic, this inky hue is ideal for fashion-forward brides. So, if you're looking to create a bold statement on your big day, why not consider this shade? Here, we've rounded up a selection of the most stunning black wedding dresses for you to view.
Black Wedding Dresses
Black Lace Wedding Dresses
One of the best ways to wear black on your wedding day is with a lace gown. Black lace appears incredibly romantic and elegant, making it an excellent choice for a wedding gown. All you need to do is choose the style and silhouette that best suits you. While head-to-toe lace designs appear incredibly luxurious, styles with just a touch of lace can project a sophisticated aesthetic. But, no matter which type you select, you'll easily be able to wear your wedding dress again after your big day.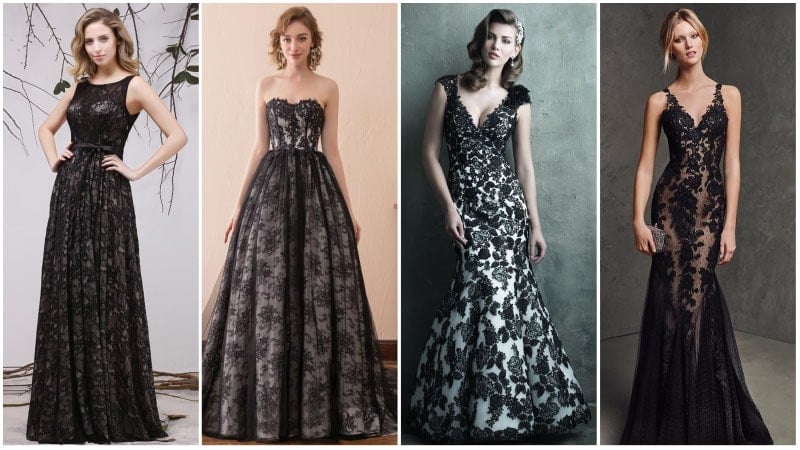 TOP BUYS
Long Black Wedding Dresses
To keep a touch of tradition in your wedding look, consider opting for a long black wedding dress. With a floor-sweeping length, your black gown will instantly feel more bridal. You can even add a train if you want to extend your dress further. However, it's important to note that a long black gown will instantly draw a lot of attention. As such, you should remember to keep the rest of your look, including jewelry, hair, and makeup, relatively simple to avoid appearing overdone.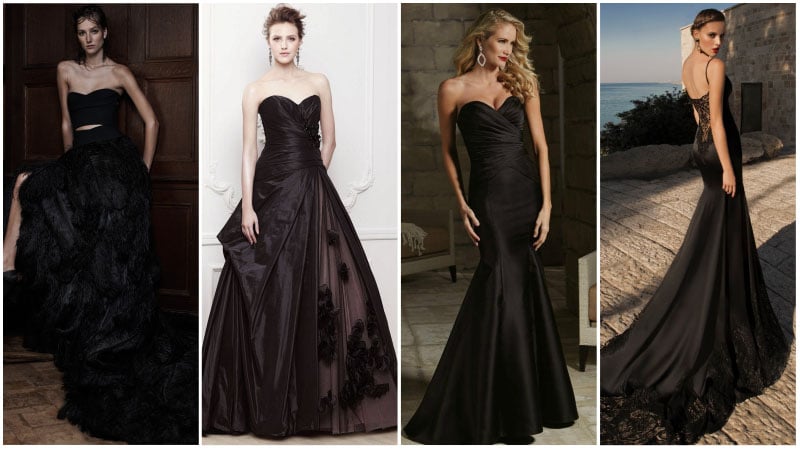 TOP BUYS
Short Black Wedding Dresses
If you have your heart set on a modern wedding, then a short black dress could be the one for you. Whether tea-length, mini or even a high-low design, short wedding dresses can make a chic and contemporary choice. However, you'll need to ensure your wedding dress appears more sophisticated than a standard cocktail number to make it ideal for your big day. To do so, look for classic bridal silhouettes and fabrics, such as tulle, lace, and organza. Also, consider a design with embellishments or embroidery for an extra special touch.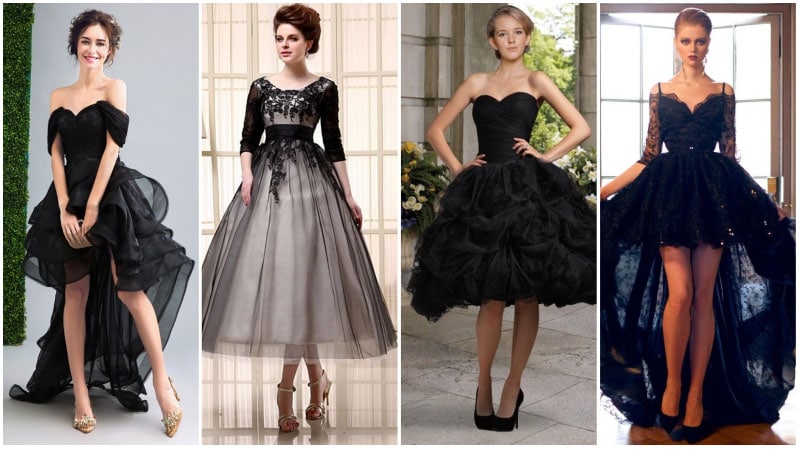 TOP BUYS
Plus Size Black Wedding Dresses
Curvy brides can also rock black wedding dresses if they wish. A fantastic, flattering choice, black gowns can highlight your feminine silhouette while disguising any problem areas. All you need to do is ensure you select the right style. While a mermaid gown will showcase hourglass bodies beautifully, an A-line design will draw attention upwards, away from tummies and thighs. You can also consider a short style if you want to show off your legs.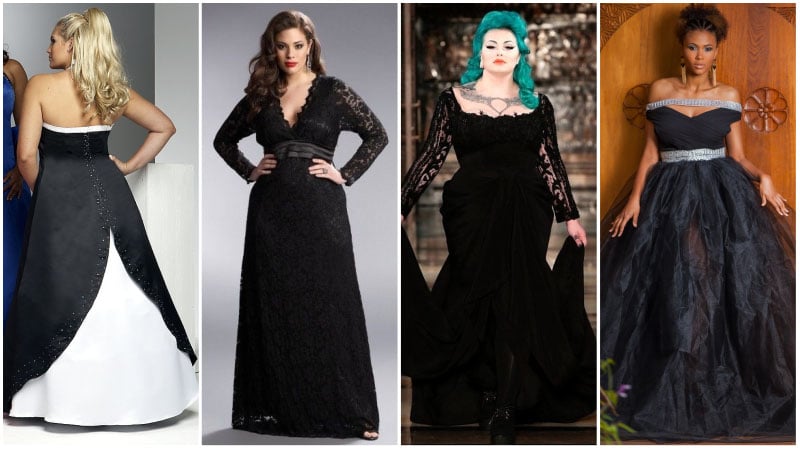 TOP BUYS
Black Gothic Wedding Dresses
A black wedding dress makes a particularly perfect option for brides who love a gothic look. While most black dresses will project a slight gothic aesthetic, specific styles do embrace the beautifully dark style more intensely. So, if you're after a wedding dress with an air of fantasy, look for a design with elements such as thick lace, long sleeves, heavy fabrics or black brocade. Adding a black veil and opting for dark makeup can also help achieve an entire gothic appearance.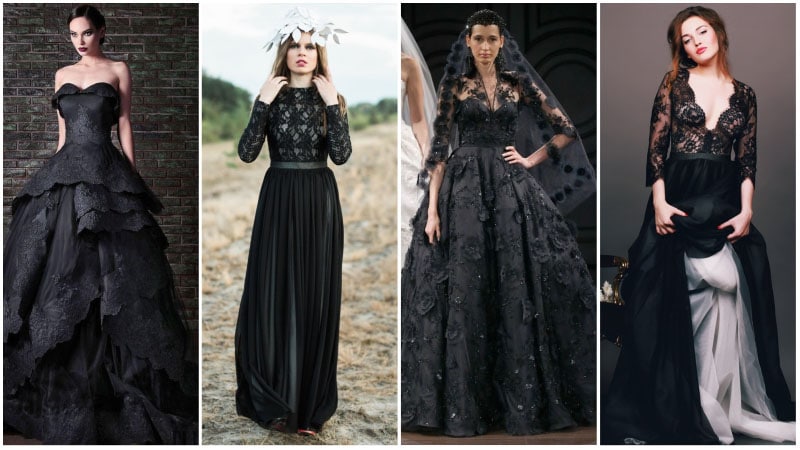 TOP BUYS
Black and White Wedding Dresses
If you're contemplating wearing a black wedding dress, but aren't sure about completely abandoning the classic white, why not embrace both shades? With a mixture of black and white, you can maintain a sense of tradition while also showcasing your unique style. Best of all, this look can easily be tailored to suit how bold you're feeling for your big day. For a subtle look, opt for a white dress with hints of black. For a more intense appearance, choose a black style with touches of white.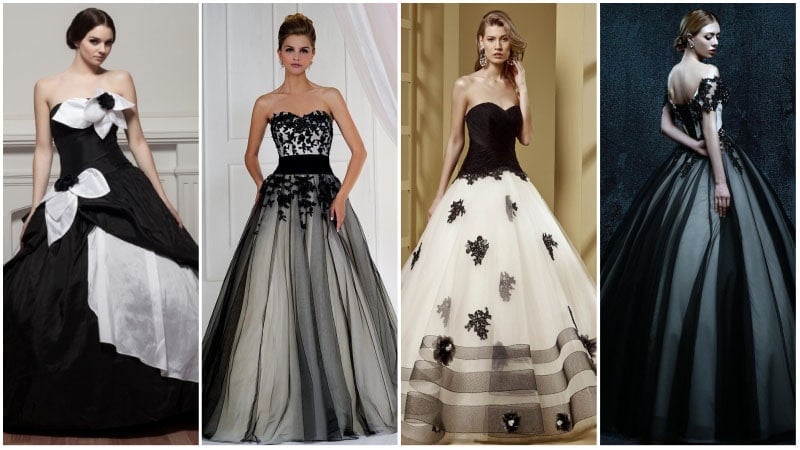 TOP BUYS
Black and Gold Wedding Dresses
Your wedding day provides an excellent opportunity to embrace glamour and opt for a luxurious look. To do so, you should consider choosing to wear a black and gold gown. By combining rich black with glittering gold, this look achieves a stunning appearance. To try it for yourself, select a black dress with gold embroidery or embellishment.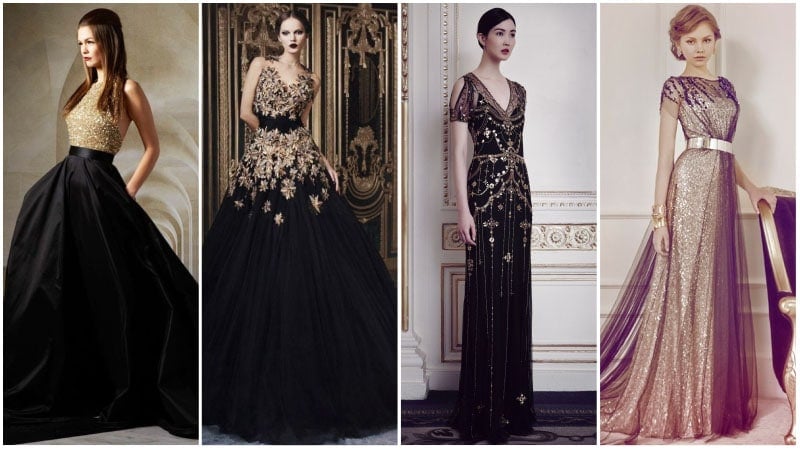 TOP BUYS
Red and Black Wedding Dresses
Although not for the faint of heart, a black and red wedding gown can make a superb choice. By combining two bold hues, a red and black dress appears striking and unmissable on your special day. To rock the look, you should first decide on the shade of red you want. To do so, consider both your skin color and how intense you want the tone to appear. If you're after a sharp look, select a bright candy apple shade. If you prefer a more subtle appearance, opt for a deep crimson tone.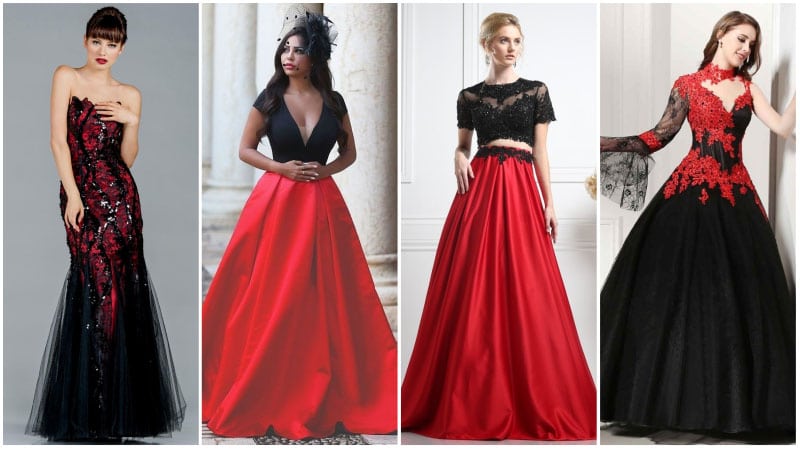 TOP BUYS
Black and Blue Wedding Dresses
Getting married in winter? Why not embrace the icy season with a cool black and blue dress? This gorgeous color combination provides the perfect match for a chilly special day. All you need to do is select the right shade of blue for you. While rich navy tones will appear regal and sophisticated, soft light blues will achieve a magical appearance. For a bolder look, you can also consider a bright royal pop. Either way, you'll always have your "something blue" covered.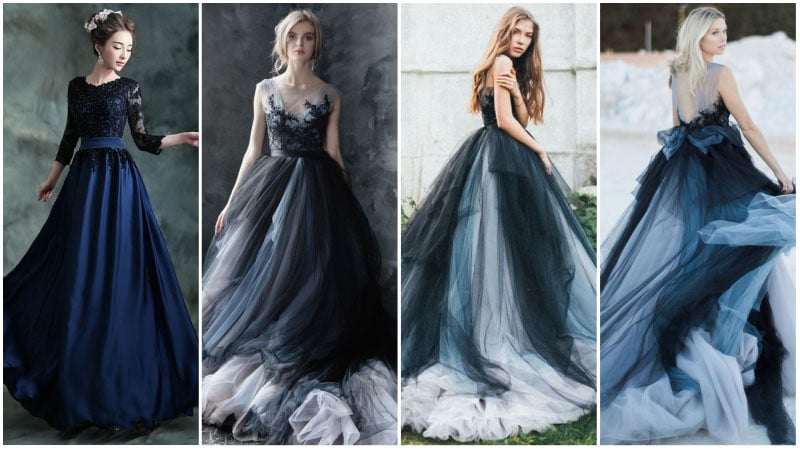 TOP BUYS
Black and Purple Wedding Dresses
Dark and sensual, tones of purple make beautiful partners to inky black. As such, the two hues work perfectly together to achieve a bold yet feminine bridal look. To wear the pair, consider opting for a purple dress with a black lace overlay. You can choose between vibrant violet shades and softer lavender hues to find the perfect look for you. But, don't forget to consider your skin tone in the process.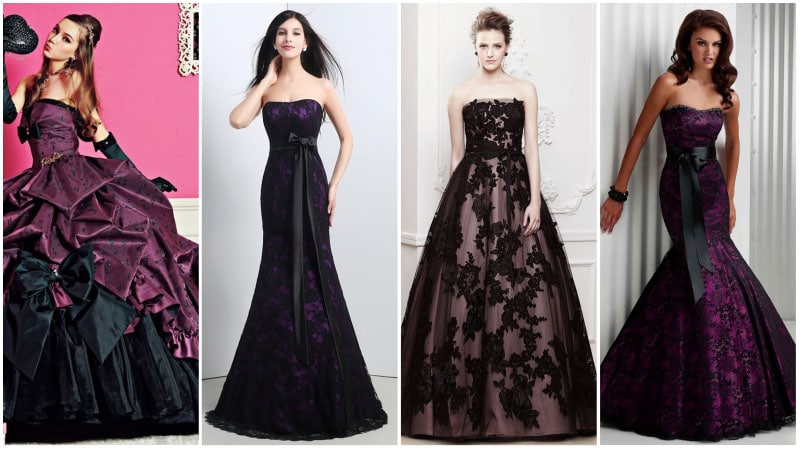 TOP BUYS
FAQs
What does it mean to wear a black wedding dress?
Black wedding dresses are more modern and edgy and definitely need a lot of confidence to pull off. It can also represent power and sophistication, making it perfect for a fashion-forward bride who is not afraid to take chances.
Is it OK to wear a black wedding dress?
Black wedding dresses may not be traditional, but they are daring and fashion-forward. For some, it may not be the right choice, especially if you are particularly conservative, but for others, it is a way to make a statement. You should consider your wedding setting and if a black gown is truly the right option for you, but yes, it is perfectly OK to wear this to your wedding.
Is it bad luck to wear a black dress?
If you believe that luck can be associated with a color, you may feel that a black wedding dress is unlucky. That said, if you are someone who believes you determine your own luck, then you have nothing to worry about with this choice.
Are there black wedding dresses?
There are black wedding dresses, and although they are not overly common and may not be stocked in regular bridal stores, you can buy them off the rack or online. If you want this color option, be sure to do your research into where you can buy them.
Where to buy black wedding dresses?
You can purchase a black wedding dress from retailers or a few select bridal boutiques. If you have your heart wet in a black design, you may want to call the bridal store ahead of your appointment to ensure that they do stock them.
SUBSCRIBE TO OUR NEWSLETTER
Subscribe to our mailing list and get interesting stuff and updates to your email inbox.