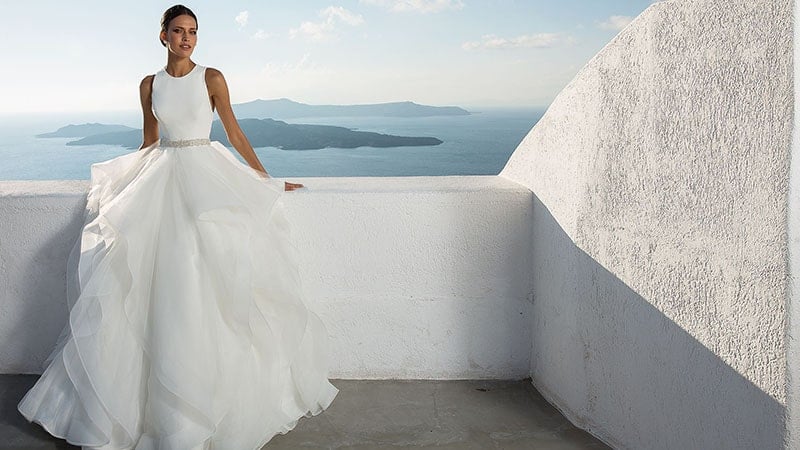 A beach wedding is a magical and romantic affair. But the beautiful location does require some special planning, especially when it comes to your dress. Of course, you want it to be beautiful, but it must also be suitable for the sand, sun, and sea breeze. That means you'll need to forget those heavy ball gowns and excessive trains and opt for something a little lighter and more whimsical instead. Something chic, comfortable, and cool will do the trick nicely. Not sure where to begin? That's ok because we're here to help you find the perfect gown for your big day. Here's our selection of stunning beach wedding dresses for brides.
Beach Wedding Dresses
White Beach Wedding Dresses
The location of your wedding may not be the traditional choice, but that doesn't mean you need to break every rule. A classic white wedding dress is the dream for many brides-to-be and can look seriously beautiful against a beach backdrop. To find the perfect white gown for your sandy ceremony, avoid overly structured and embellished designs. Not only can such dresses be uncomfortable, but they can also appear out of place. Instead, you should embrace your calm surroundings with a breezy and beautiful gown. Lightweight lace and chiffon styles are especially ideal.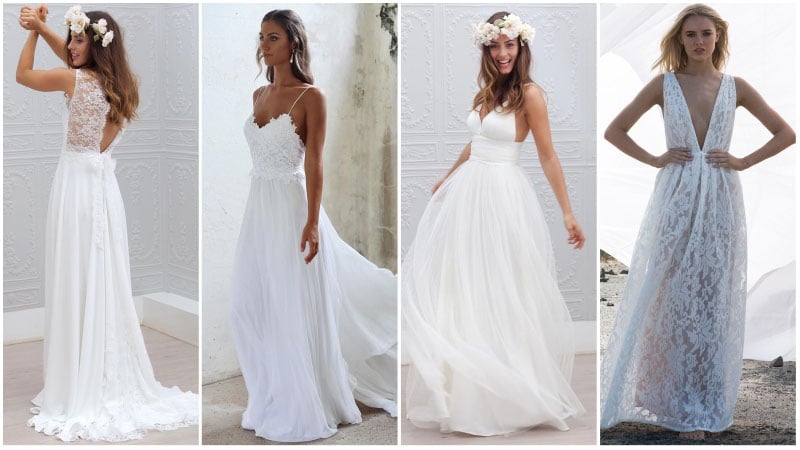 TOP BUYS
Colored Beach Wedding Dresses
For modern brides who aren't afraid to do things differently, a colored wedding gown can make a fantastic choice. To nail the look, stick to light, pastel hues that beautifully blend into your backdrop instead of working against it. Soft pinks, baby blues, muted purples, and champagne tones are excellent options. That being said, remember that this is your day. So, if you want to wear a vibrant cobalt gown, you go for it.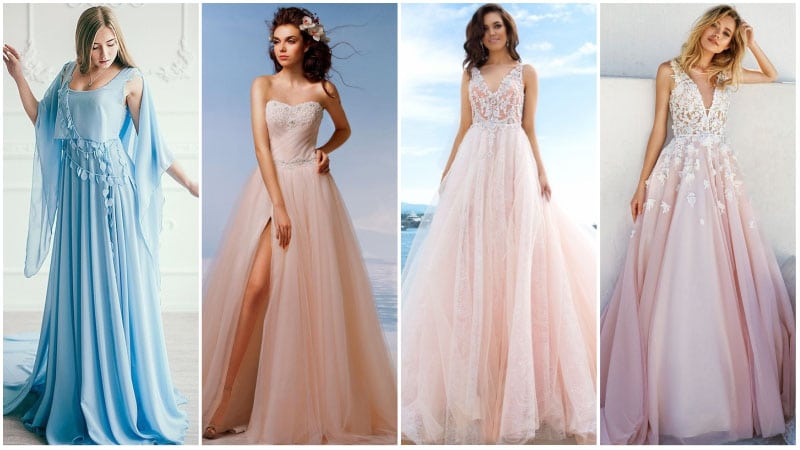 TOP BUYS
Lace Beach Wedding Dresses
A lace wedding dress can make a wonderful option for a beach ceremony. Not only is lace romantic, beautiful, and sexy, but it can also be lightweight and airy, which will help you stay cool if the sun's out. Select a flowing lace design without sleeves for extra relief from the heat. A strapless, halter-neck, off-the-shoulder, or spaghetti-strapped style will appear feminine while keeping your arms cool.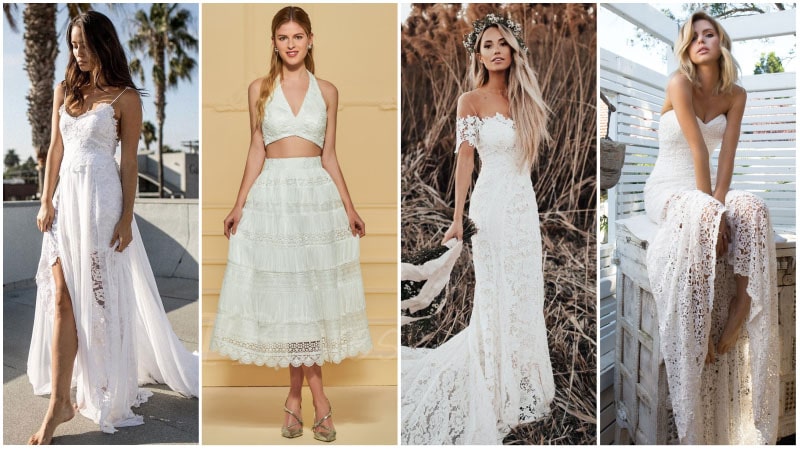 TOP BUYS
Chiffon Beach Wedding Dresses
The airiness and flowing nature of chiffon make it an excellent option for a beach wedding. Additionally, as chiffon gowns come in many styles, there's an option to suit every bride. So, whether you're after a dress that makes you look like a Grecian goddess or something a little more modern, you can find it. Also, remember that chiffon can be quite transparent. As such, you can either select a layered design for a ladylike appearance or up the sexiness of your look with a daring see-through style.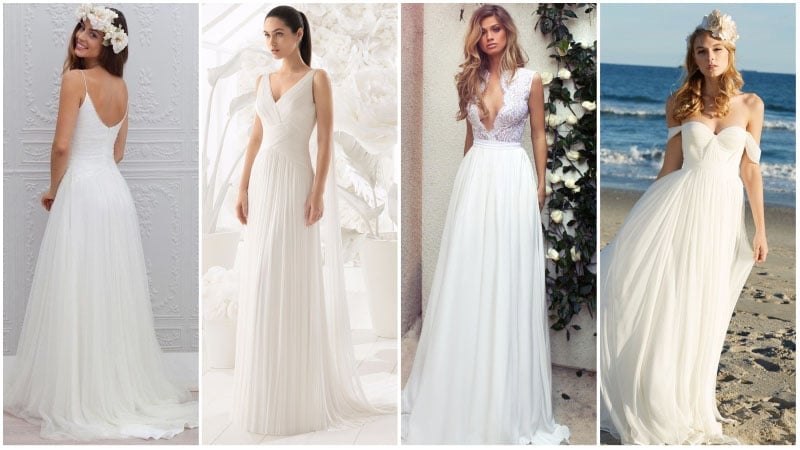 TOP BUYS
Short Beach Wedding Dresses
A short wedding dress makes a fashionable and smart choice for a beach wedding. Not only is the style on-trend, but it's also incredibly practical for shoreside ceremonies. After all, the medium length is perfect for beating the heat and makes walking around in sand oh-so-simple. On top of that, short gowns are also ideal for showing off bronzed legs, and they can make dancing up a storm at your reception a breeze.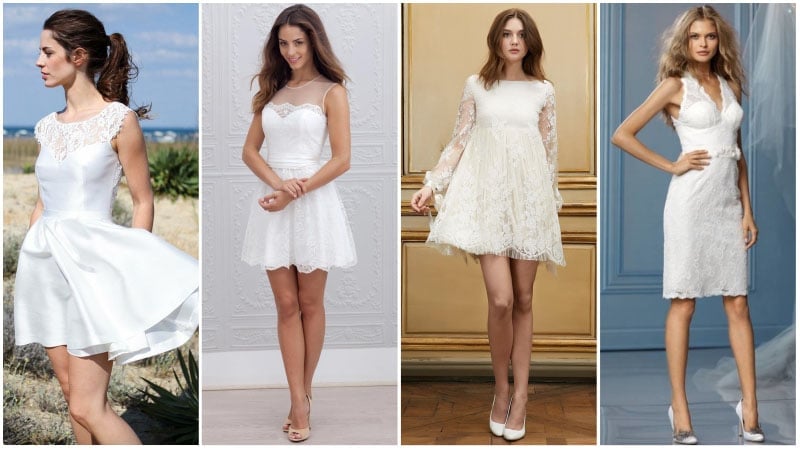 TOP BUYS
Casual Beach Wedding Dresses
You can give your gorgeous beach wedding a genuinely relaxed feel with a casual beach wedding dress. A perfect choice for the location, a casual wedding dress is simple yet beautiful and understated yet elegant. It should also be comfortable and easy to move in while freeing from excessive embellishments and bold details. Don't limit yourself to wedding gowns when shopping for such a dress. Sometimes a luxurious maxi dress makes an even better alternative.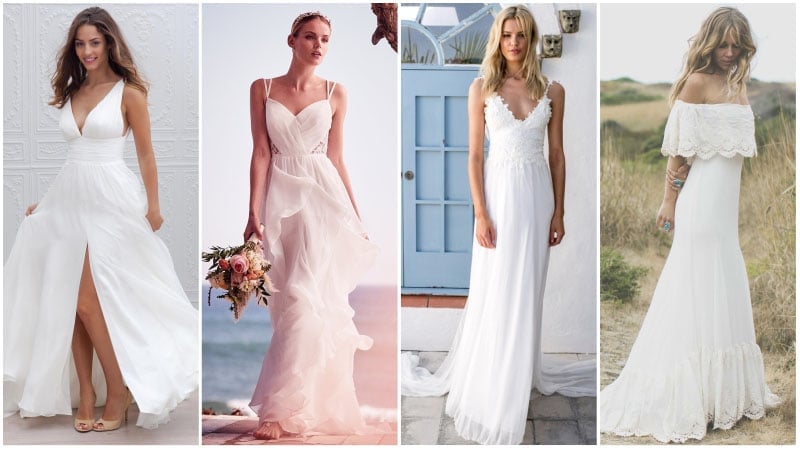 TOP BUYS
Sexy Beach Wedding Dresses
Want to embrace your enticing beach environment? Why not do so with a dress that's both elegant and sexy? A gorgeous gown is perfect for modern brides who want to sizzle on their special day. Consider opting for a fitted design that showcases your figure to nail the look. Alternatively, a low-cut neckline can be just as alluring and add a sensual touch to traditional gowns. As for materials, lace makes a particularly romantic choice.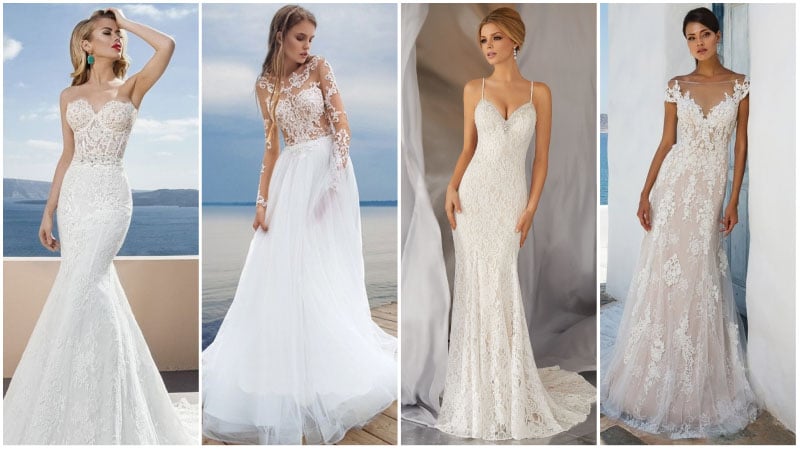 TOP BUYS
Boho Beach Wedding Dresses
For bohemian brides, the beach makes a spectacular wedding venue. But what about the dress? If you're after a boho wedding gown, try selecting a whimsical and romantic style. In particular, lace designs that feature a simple and slim silhouette excellently project the free-spirited nature of boho babes. Then, once you've found your perfect dress, just let your hair blow loose and free in the sea breeze to complete your look.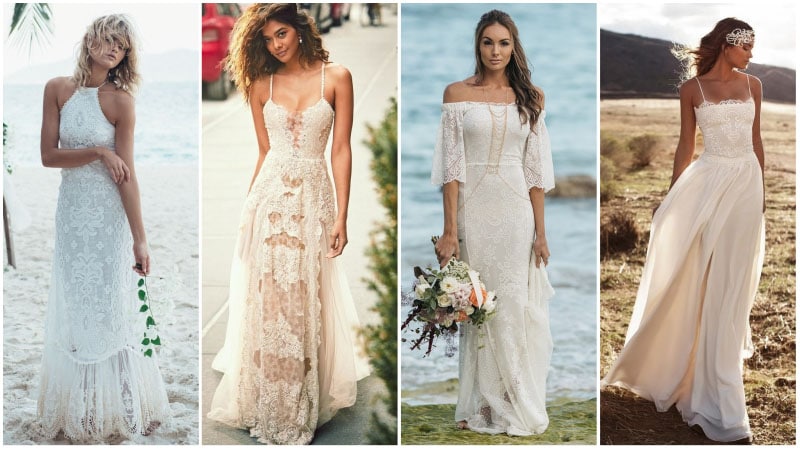 TOP BUYS
Plus Size Beach Wedding Dresses
Today, there are more choices than ever before for plus sized ladies, and that includes wedding gowns. So, curvy women no longer have to wear ill-proportioned dresses on their special day. Instead, they have various choices that can enhance and flatter their figures. In particular, empire waist designs, which highlight the bust and glide over the stomach, can appear especially lovely on curvy ladies. Of course, if you're the type to get hot, be sure to select a style in a lightweight and breathable fabric.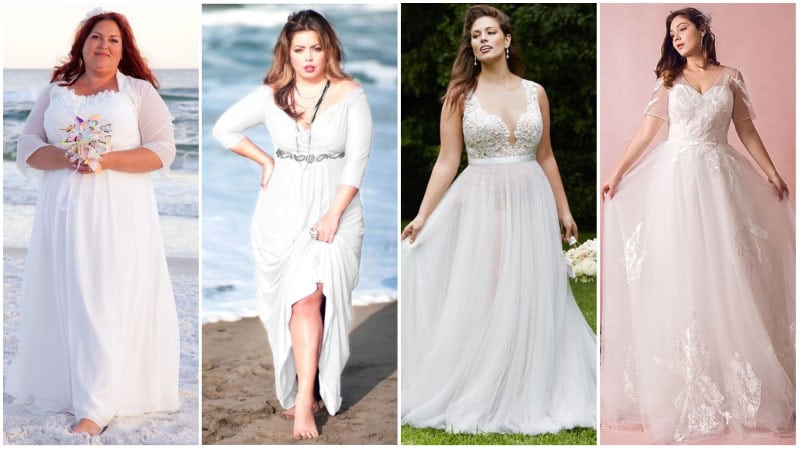 TOP BUYS
Backless Beach Wedding Dresses
A backless beach wedding dress makes a beautiful option for brides. Not only will the cut keep you cool if your beach wedding falls on a hot day, but it also looks sensational. It's an especially lovely option for adding a flash of skin to your look without revealing too much. Consider wearing your hair up in a chignon or bun to make the most of a backless gown. Also, be sure your photographer gets some photos from behind to capture this gorgeous design feature.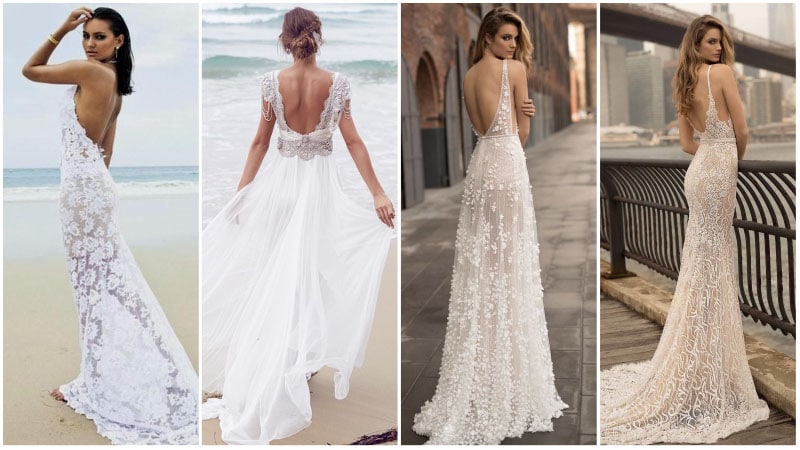 TOP BUYS
Beach Wedding Dresses FAQs
What is the best material for a beach wedding dress?
If you are opting for a beach ceremony, you will be outdoors and in the heat, and this should affect the fabric you choose for your dress. The best material is lace, which can be light and airy but still romantic and feminine. Other fabrics to consider are chiffon, which is flowy, and lightweight tulle, which can add volume and ventilation.
Where to buy a beach wedding dress?
A beach wedding dress is usually simple yet chic, and you should be able to find them at your local bridal boutique. If not, there are many online stores to choose from, including ASOS and Nordstrom.
What to wear under a beach wedding dress?
Your beach wedding dress will likely be made from lightweight fabric, and at times this can be a tad transparent. The best undergarments, if you are wearing white, should be a nude color. Pick good, comfortable underwear that offers support and enhances your shape.
What is the best wedding dress style for the beach?
Not all wedding dress styles will look good on the beach, and you are better suited not wearing a ball gown, a structured dress, or a long train. Instead, opt for cool fabrics and flowy styles. Beach weddings tend to be more laid-back, and you can benefit from a simple silhouette with lace detailing like a boho dress or a pretty chiffon gown.
SUBSCRIBE TO OUR NEWSLETTER
Subscribe to our mailing list and get interesting stuff and updates to your email inbox.