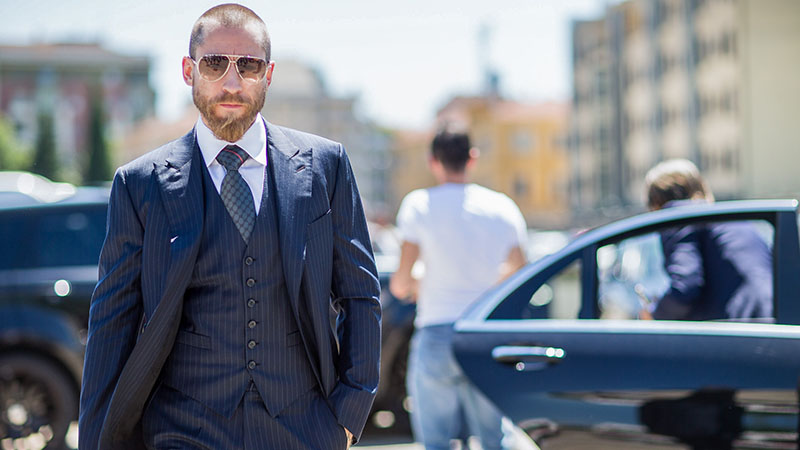 It may not be something you'll wear every day, but a three piece suit is a worthwhile investment for your wardrobe. After all, nothing projects polish and style quite like a three piece suit. Perfect for dapper gents, this traditional menswear option is classically smart while also being currently on-trend. So, if you're looking to up your suiting game, there's no better choice. Best of all, it just takes the right fit, colour and styling to look damn good in this gentlemanly outfit, and we have advice on all three. So, if you're ready to suit up with style and sophistication, simply read on.
What is a Three Piece Suit?
As its name suggests, a three piece suit includes three pieces: a jacket, pants and a waistcoat. As such, it is a dressier alternative to standard two-piece designs. When choosing a three piece suit, you have the option of either a matching waistcoat or one that provides contrast. No matter which you select, it's essential to get the fit of your suit right. To do so, ensure it is well-tailored with the waistcoat fitting close to the body and the jacket roomy enough to easily button up over the top. Also, note that your waistcoat should cover the waistband of your pants without extending too far below.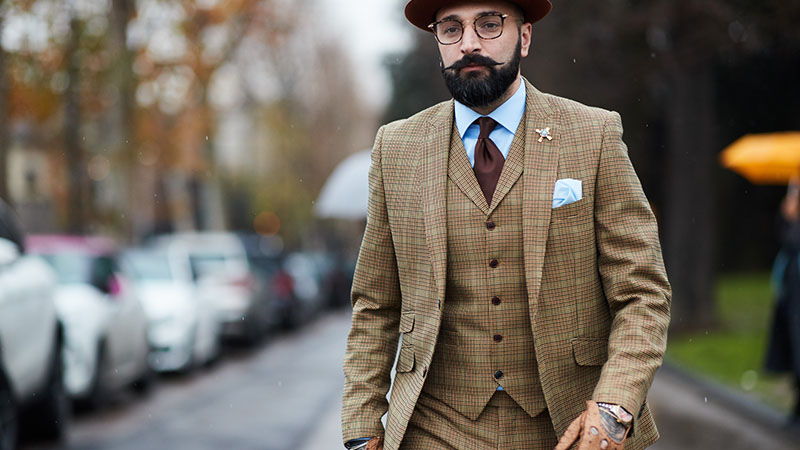 Three Piece Suit Dress Code
Formal
Due to their sophisticated appearance, three piece suits are often reserved for formal dress codes. To wear a three piece suit for a formal occasion, such as a wedding or the races, choose a well-fitting design in a classic color. Black makes an especially good choice for evening functions while grey and navy hues are better suited to events taking place during the day. To complete your formal, three piece look, add a smart dress shirt and a sleek tie or bow tie.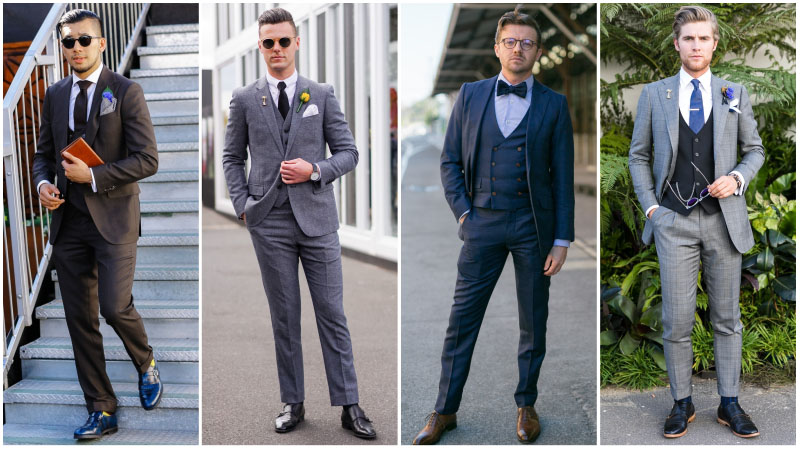 Semi-Formal
While three piece suits can often appear too sophisticated for casual office environments, they can be ideal for semi-formal events. The trick to pulling off the look is to keep it work-appropriate. To do so, avoid bold colors and loud accessories. Instead, choose a grey or navy suit and partner it with a basic Oxford shirt in white or pale blue. Then, complete your look with a smart and subtle pair of leather Oxfords or derby shoes and a conservatively patterned tie.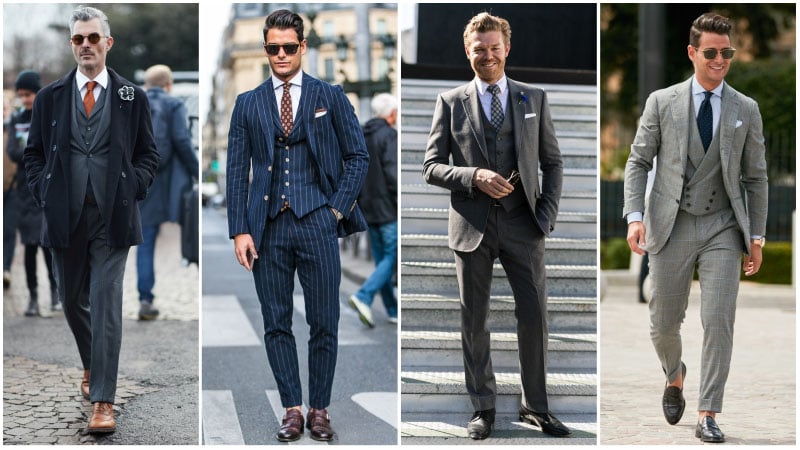 Three Piece Suit Colours
If you're looking to purchase your first three piece suit, navy makes an excellent option. This versatile and classic color appears clean, smart, and flattering on almost any skin tone. Opt for a plain navy design if you plan to wear it for formal and business occasions. Or, select something more creative, such as a bold check or contrast stripe, for less conservative settings. To style your navy three piece suit, try adding a white shirt and burgundy tie. Then, finish the look with footwear that blends sophistication and style, such as a polished pair of monk strap shoes.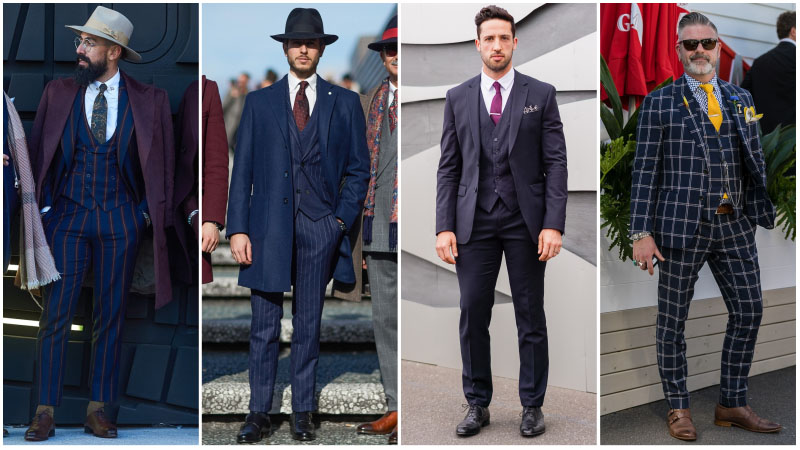 Blue Three Piece Suit
Choosing a blue hue is a great way to add a little fun and freshness to your smart three piece style. To nail the look, be sure to select the right shade for your needs. While light and washed-out blues are perfect for daytime events during the warmer months, a bright blue tone, such as a midnight blue, is better suited to evening functions. To play up the contemporary style of a blue three piece suit, add relaxed yet smart footwear, such as a pair of loafers. You can also consider going sans tie and donning a pocket square to keep your look laid-back yet luxurious.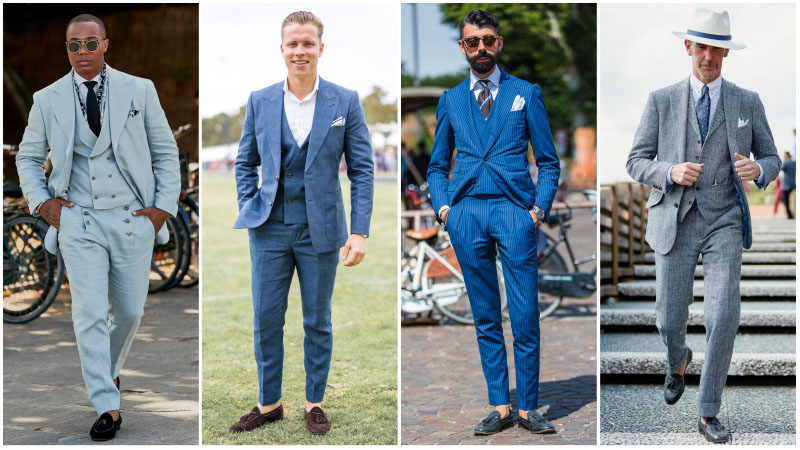 White Three Piece Suit
A white three piece suit is a bold and uniquely stylish choice. As such, it can require a man with plenty of confidence to successfully pull it off. But, if that sounds like you, you should be sure to give this look a try. After all, going colorless can be quite the statement. To rock the look without appearing bland, add some subtle color, such as a light blue shirt, patterned tie, and brown shoes. Alternatively, consider opting for a white suit with a contrasting colored waistcoat. But, if you do so, remember to keep the rest of your look simple.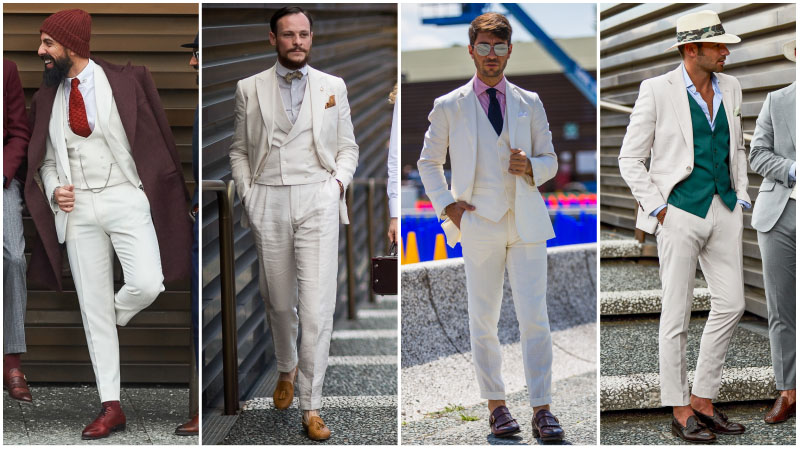 Black Three Piece Suit
Thanks to its dark color and sophisticated style, a black three piece suit appears particularly polished and elegant. Therefore, it makes an excellent option for formal functions and events. Add one to your wardrobe to have on hand for weddings, awards nights, charity dinners, and more. When it comes time to don your inky three-piece, keep the rest of your look sleek and free from loud colors or embellishments. Also, ensure your black waistcoat matches your suit for a smart and coordinated appearance.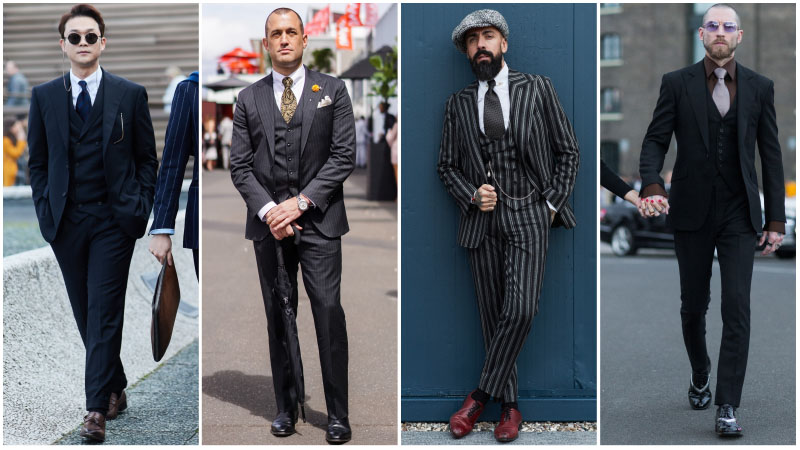 Grey Three Piece Suit
When choosing a grey three piece suit, one of the most critical considerations is tone. Grey suits can vary drastically in their hues, so finding the shade that's right for you is essential. Also, once you've selected your shade, you'll need to decide between a solid and patterned design. While plain grey is a timeless choice, even a subtle pattern can add a lot of excitement to your look. Just remember, to ensure the rest of your outfit doesn't appear too intense, keep things neutral. Try a white shirt for formal occasions and a pink or blue shirt for more relaxed settings. As for footwear, brown shoes will add an easygoing elegance to your ensemble while black will dress it up.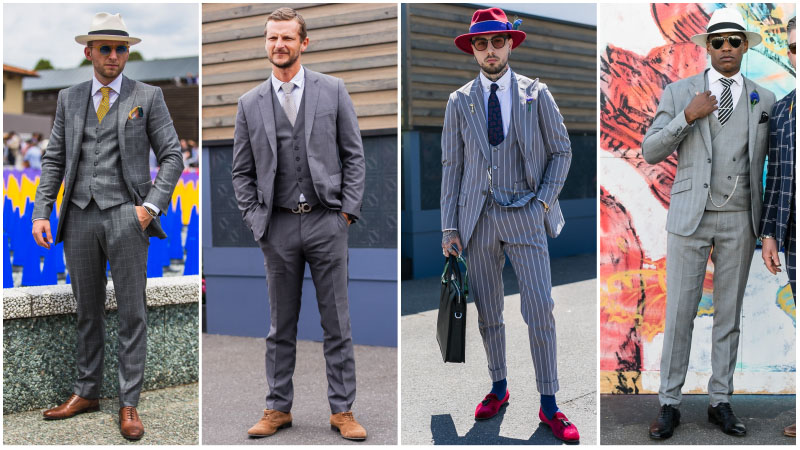 Brown Three Piece Suit
Donning a three piece suit doesn't mean you have to look like you're in a period drama. To rock the look with an on-trend flair, try opting for a brown style. Brown suits have been popping up on catwalks and in street style shots for a few seasons now and look fantastic in three piece designs. For a cool take on the look, try opting for a light brown three piece suit paired with a white shirt, blue tie, and dark brown Oxford shoes. derby shoes or loafers.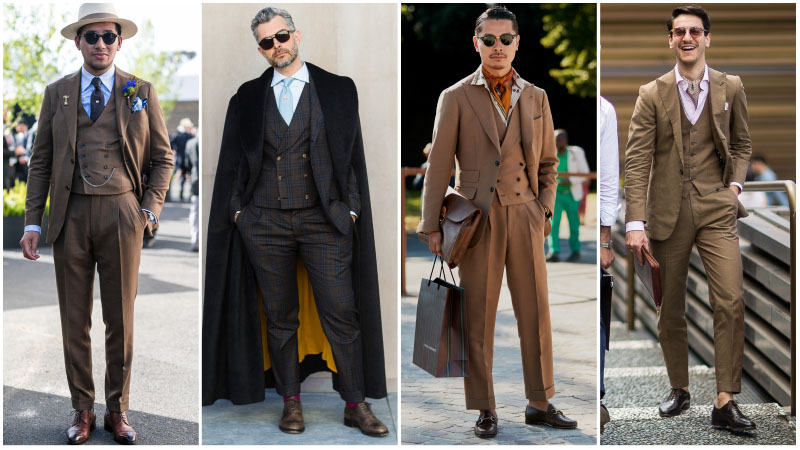 How to Wear a Three Piece Suit
Make sure your three piece suit fits well and that you can comfortably do up your jacket over your waistcoat.
Keep your shirt simple to ensure it doesn't compete with your three piece suit for attention.
Pair your three piece suit with smart accessories, such as a tie, pocket square, and dress shoes.
To wear a three piece suit for a formal occasion, stick to classic colors, and ensure the fit is excellent.
To wear a three piece suit to work, keep your look smart with a navy or grey style and business accents, such as a subtle pinstripe or traditionally patterned tie.
FAQs
Can you wear a 3 piece suit as a 2 piece?
A three-piece suit is a smarter alternative to a two-piece as it also includes a waistcoat. This gives you multiple outfit options, and you can wear the suit as a two-piece without the vest. On other occasions, you can also wear a vest without your suit.
Do you wear a belt with a 3 piece suit?
You should not wear a belt with a three-piece suit because it will cause the waistcoat to bunch up. With this design, the fit is always essential, and anything that compromises it will not look good.
Which is a better 2 piece or 3 piece suit?
To answer this question is a matter of personal preference, but a three-piece suit may be slightly harder to pull off, and it is a much more formal option. You need to ensure that you have an excellent fit and choose a simple shirt and smart accessories to wear it correctly.
What is the price of a three-piece suit?
Three-piece suits have a very sophisticated appearance and are designed for formal occasions. When deciding on this option, there are several factors that you should consider, including the fit and the fabric chosen, which will ultimately affect the total price. Even a high street option will cost a couple of hundred dollars.
SUBSCRIBE TO OUR NEWSLETTER
Subscribe to our mailing list and get interesting stuff and updates to your email inbox.