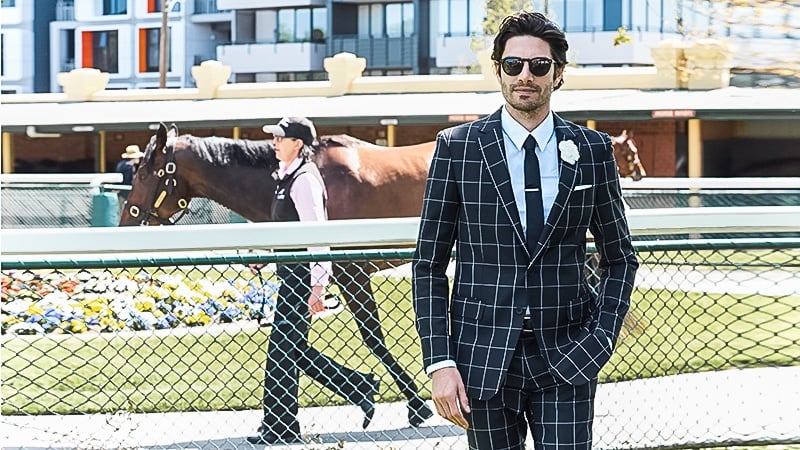 The racing day best known for its monochromatic dress code, Derby Day is most renowned for its classic, traditionalist tone. Black, white and grey can be a little boring if done wrong, so capitalising on tailoring and finding a way to refresh this dress code is important. While tradition speaks for itself with regards to this prestigious race day's mandated colour scheme, we encourage fresh interpretations that will pay homage to the past but will still be fit for contemporary viewing. To take on the monochrome dress code refreshingly, take a browse through our race day guide for Derby Day which will ensure your outfit is literally 'black and white', but not your interpretation.
Derby Day Dress Code
It can be a little tricky to do justice to a colour scheme that is typically considered basic; after all black and white can be tricky to get just right. Your clothing and apparel choices for this day should be executed to perfection. It's best to get things tailored most precisely, given you are working with a sombre colour scheme. Nonetheless, see Derby Day as an opportunity to play with tradition, but reimagine it with a modern aesthetic. Get things right with traditionally inspired ties, novel cufflinks and of course a stylish pair of shoes. Organise a fresh flower to complement your race day look for Derby day. For this particular race day, it is the cornflower, which is a purple toned blue floral that is the perfect addition to your monochromatic clothing and apparel choices.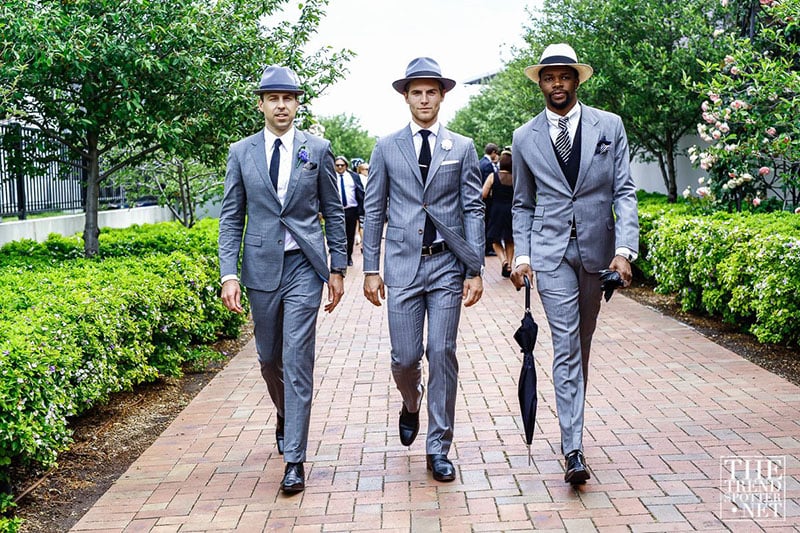 Suits
Traditionally, morning suits were worn by gentlemen attending Derby Day. While a well fitted black suit will work perfectly for the dress code, it is our recommendation to play with different prints and materials. A suit in a larger check will work wonders and will be a refreshing change from the sea of black suits you see on Derby Day. Likewise, a lighter grey suit will also do justice to your Derby Day look. Ensure that your cuffs peek out a little from your blazer arms and remember that extra long pants are an absolute no-go. As with all suits, if the fit isn't perfect, take it to a dependable tailor, and then edit the piece at your discretion. Whether a suit or monochromatic separates is how you want to interpret this dress code, ensure it is styled with coordinating accessories that will boost the tailoring.
BEST BUYS
Monochrome Separates
At times, a matching suit pant and blazer won't do; which is why all gents should ensure that they can style separates to their sartorial advantage. Monochromatic separates are a nice way to boost your Derby Day look and will prove to create a much more contemporary style story. Switch things up with white, grey or tweed blazers and team them with grounding black trousers. However, you nominate to rework your separates, always keep in mind that formality should be observed.
BEST BUYS
Shoes
Bad shoes destroy looks. Period. Don't fall victim to comfortable shoes that are bulky or unrefined in style. Remember, minimalism is key, and shoes should be sleek and round toed. A classic oxford shoe in a high-quality leather is perennially a hit, as are tassel loafers which will also prove to be a worthy long-term investment. Monk strap shoes have also been popular in recent years and will add an unexpected touch to your race day look.
BEST BUYS
Jewellery
When it comes to jewellery, we emphasise that less is most definitely more. So, with this in mind, our most favoured jewellery for Derby Day are watches and cufflinks; which will not look too garish and allow you to add accessories in a highly wearable and masculine manner. No matter how you interpret your jewellery, understand that simple clean lines should always be the go-to; given they will prove versatile for other looks and allow you to look perpetually stylish, as they won't date as much.
BEST BUYS
Pocket Squares
Pocket squares are those accessories that give any gent an instant boost to any outfit. Whether you select pocket squares in black and white stripes, paisleys, geometric prints or oriental florals, ensure that you fold your pocket square accordingly. Pay mind to the colour of your suit. The best way to find the perfect pocket square is to experiment; try different versions with your suit and go from there. Keep in mind that Derby Day relies on a great deal of formality, so ensure that your pocket squares are in excellent materials and are presentable.
BEST BUYS
Ties
A simplistic, grounding black crochet tie is timeless and will work with different coloured suit options for Derby Day. Likewise, a preppy stripe in a high-quality silk also works phenomenally, as does a subtle spotted version. Geometric prints also add a touch of modernity to any look and will refresh the traditionalism of a black and white dress code. Harness a tie bar for a little touch that will read sophisticated and refined.
BEST BUYS
Lapel Pins
The devil is in the detail, so utilise novel pieces like lapel pins to make the world of difference to your Derby Day attire. Lapel pins can take the form of crisp white or sombre black versions or can be great in a hounds tooth print or appropriately spotted version. Regardless of how you choose to style a lapel pin, we note that at times a fresh flower does the job effortlessly and will enable you to retain an element of classicism in your Derby Day outfit in the best way possible.
BEST BUYS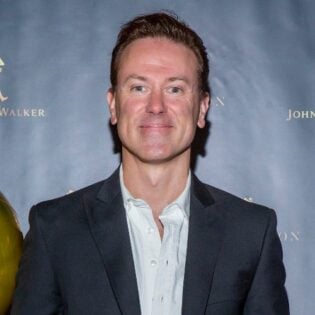 Roger Grinstead is a senior apparel designer for X2U with over 25 years of expertise in the fashion industry. He has expertise in menswear and womenswear trends and product development. When Roger is not designing the latest fashion garments, he enjoys writing about men's fashion, hairstyles, and grooming.
SUBSCRIBE TO OUR NEWSLETTER
Subscribe to our mailing list and get interesting stuff and updates to your email inbox.