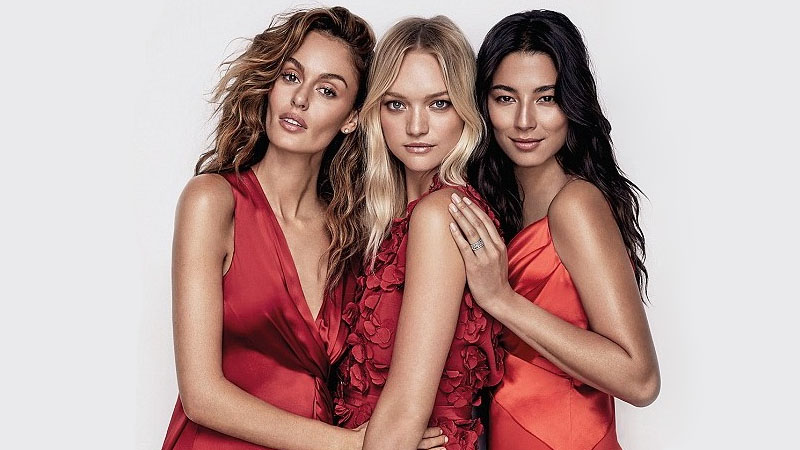 Everyone loves a wedding, but not everyone loves trying to figure out what to wear. The dress code on the invitation says 'semi-formal' or 'cocktail,' and your mind starts racing. What does this mean? What kind of outfit can I wear that fits the theme? Is this too formal, or can I be a bit more laid-back? The questions are endless. But have no fear. From a summer wedding on the beach to classic little black dresses, we have every single possible occasion covered. Whenever the wedding takes place, and no matter what time of year these are the most classy cocktail dress for wedding guests.
RELATED: Cocktail Dress Code for Women Defined
Cocktail Dresses for Weddings
1. Summer Cocktail Dresses
A cocktail dress is the best bet during a wedding in warmer months. These styles are suitable for many different venues and are stylish enough to wear repeatedly. Depending on the location, you can try a short slip dress in a satin fabric – it's a breathable option that you can pair with earrings or a necklace. A plaid or gingham midi dress is a great choice for a farm or garden location – add kitten heels for a subtle and feminine twist.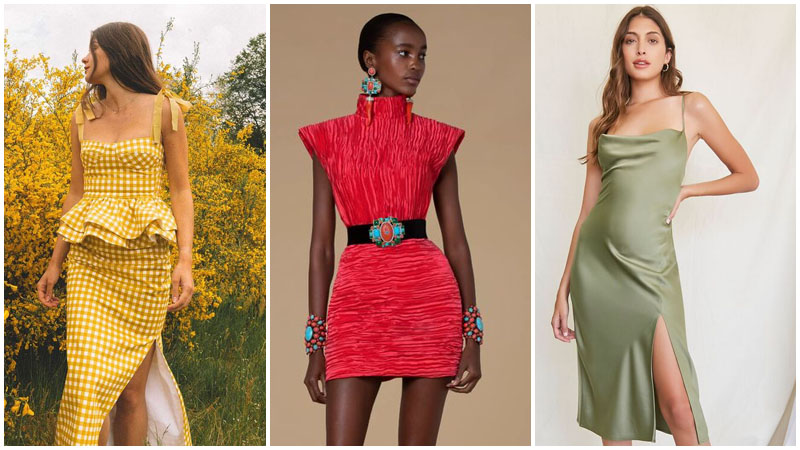 Get the Look
2. Fall Cocktail Dresses
As the season between the most extreme temperatures, fall requires many different styles to keep you warm and comfortable. These dresses provide the right amount of clothing to your body without overheating. Choose an asymmetrical dress with one sleeve that hits the knee – a bold color like blue or green will brighten any cloudy day. Alternatively, you can stay true to the autumnal palette with burgundy, brown, or gold shades.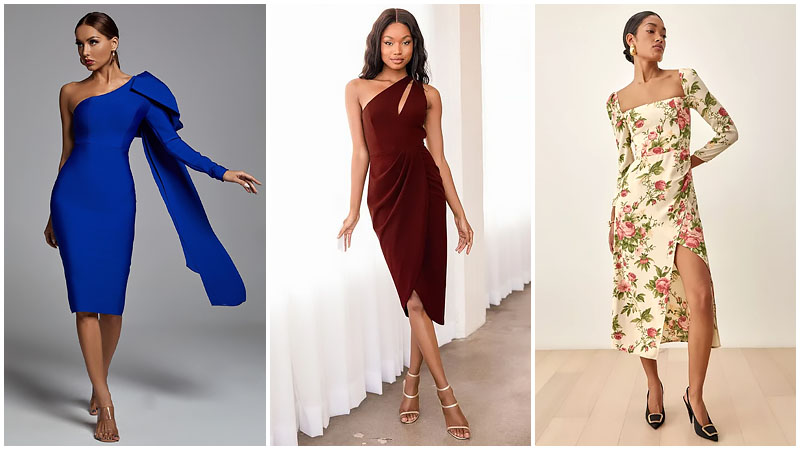 Get the Look
3. Cocktail Dress for Beach Wedding
Beach weddings are a beautiful place to make memories – so you'll want to look your best at the event. The perfect outfit for an occasion such as this is something that allows motion- ideas include a midi dress with a leg slit or something that flows for freedom of movement. The best colors for these nuptials include green, pink, or cream – bold shades are the perfect contrast against the soft sand and sea. Alternatively, try a hue that complements the landscape – you'll look perfect at every angle.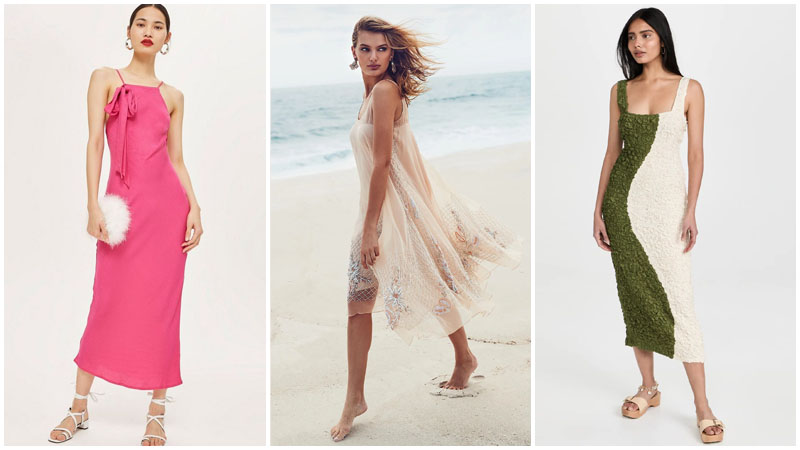 Get the Look
4. Floral Cocktail Dresses
There's no denying that a floral dress is a great choice for a wedding. No matter the season, you can look spectacular as a guest and keep the dress for another wear at a later date. The cocktail length is a great choice for many different types of dress codes but works best for smart casual and semi formal events. Popular shades for these sorts of designs include soft pinks and blues, but you can always venture outside of the box with darker hues and varying silhouettes. A drop waist midi dress offers a throwback to the '20s, and a bodycon style captures the essence of the '50s. Try varying styles to see what suits you best, and opt for different-sized prints to mix things up.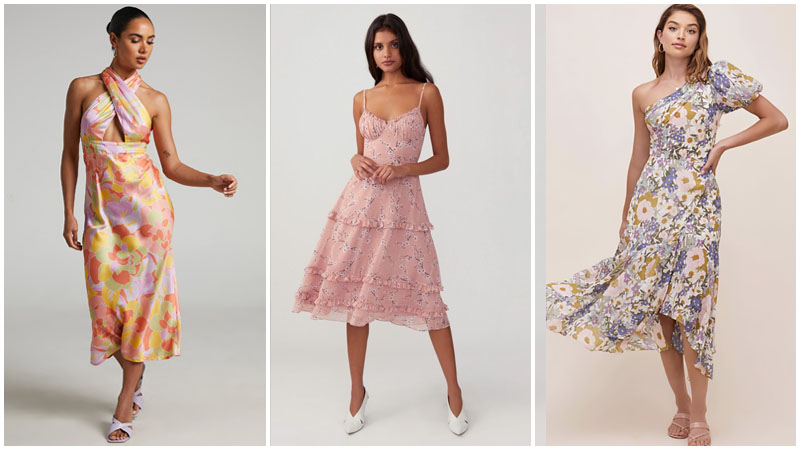 Get the Look
5. Petite Cocktail Dresses
Dressing for a smaller frame doesn't need to be a challenge – these dresses complement your body and showcase your beauty instantly. These styles accentuate your silhouette – try a cocktail dress that hits at the mid-calf to create the appearance of a longer midsection. Choose any colors that you prefer, and be sure to check the theme of the wedding before deciding. Any style that has a split in the leg will allude to longer limbs – we recommend you wear nude heels with these styles to elongate the legs and streamline your pins for a stylish look.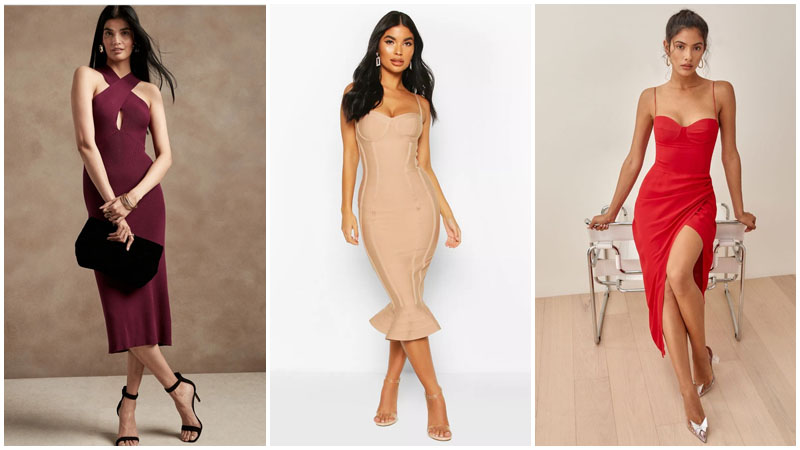 Get the Look
6. Plus Size Cocktail Dresses
There are countless ways to dress for a curvy figure – any dress that shows off your curves will inspire many amazing photos! These designs are flattering and stylish – a satin bias cut slip dress is a modern option for a fall or garden wedding when the temperatures are higher. If it's cold outside, you can't go wrong with a long-sleeve silhouette – opt for something that falls at mid-calf for a sleek and streamlined look. If the wedding takes place at night, stand out with sparkles – there's nothing quite like a show-stopping sequin number! Finish the look with a pair of high heels and behold jewelry for an unforgettable ensemble.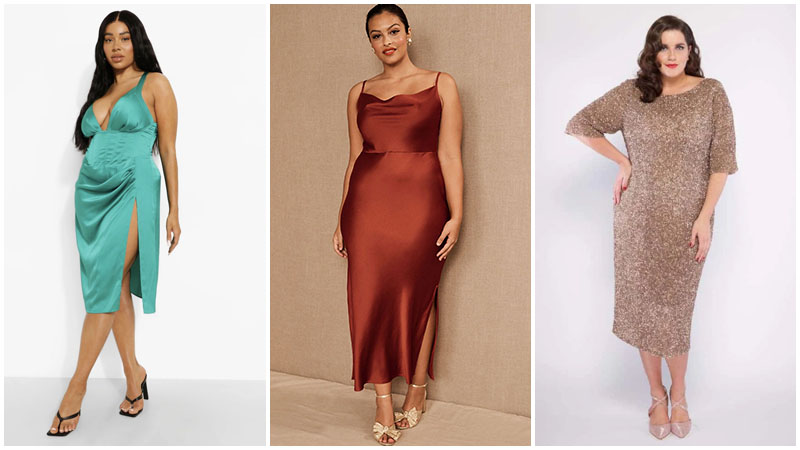 Get the Look
7. Long Sleeve Cocktail Dress
For weddings that take place outside or in colder months, these long-sleeve cocktail dresses combine practicality and style. Whether you're looking for a modest silhouette or want to show a little skin, we've gathered something for everyone. Having sleeves that hit the wrist gives you the freedom to explore different dress lengths – a shorter style is great for an occasion in the evening, whereas something longer is best suited for a daytime event. Keeping the outfit balanced is key here – if you are wearing a shorter skirt, try not to show off too much skin at the top. In contrast, if it hits the calf or ankles, you can experiment with cut-outs and more risqué necklines.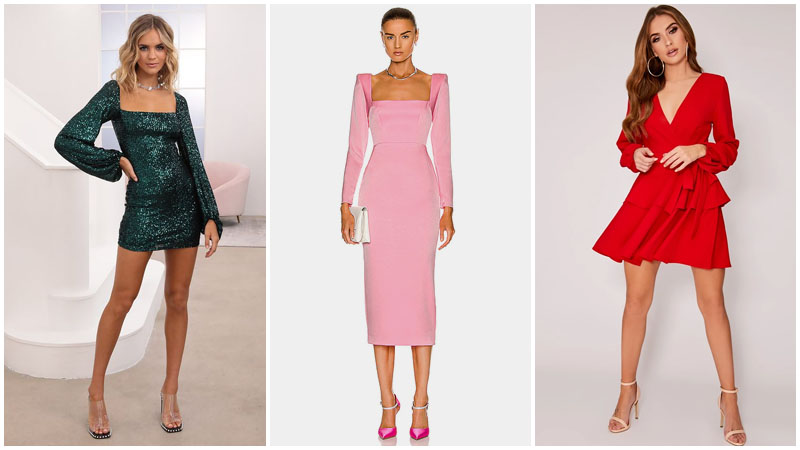 Get the Look
8. Midi Cocktail Dresses
Traditionally, a cocktail dress will hit at the knee or slightly below. So, these midi dresses are the perfect option for a semi-formal dress code. You can experiment with varying necklines and silhouettes with this length – an A-line is perfect for those with a column body type, whereas a body con style works best for those with a pear or hourglass body type. For a strapless or spaghetti strap neckline, wear your hair with a pair of bold earrings. If you have long sleeves, keep your hair down in loose waves or sleek and straight, instead with bold makeup and forgoing jewelry.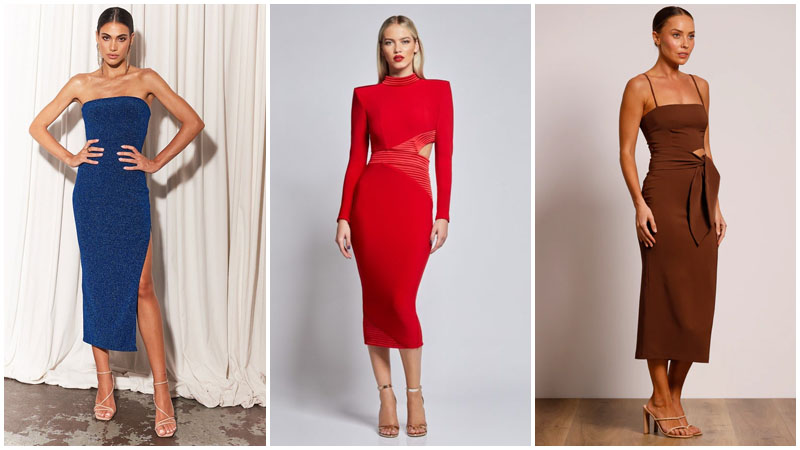 Get the Look
9. Long Cocktail Dresses
While cocktail dress codes are typically less formal than others, it doesn't mean you can't let your dress hit the floor (or at least your ankles). These stylish options are great for a winter or fall wedding, and they're not overly dressy so you can style them for a more casual affair. Experiment with patterns and different fabrics, such as lace, satin, or pleats, and don't be scared to test out a bold color choice you've not tried before. Some of the season's most favored shades include green and hot pink, thanks to the likes of Bottega Veneta and Valentino. However, you can't go wrong with the classics, such as black or navy blue.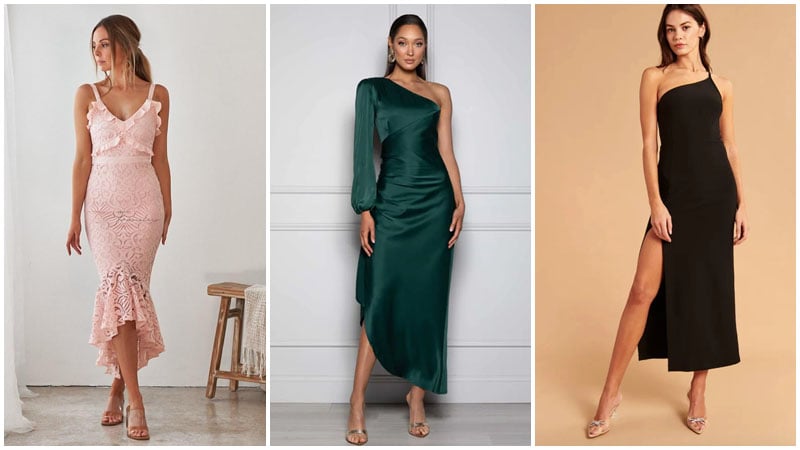 Get the Look
10. Short Cocktail Dress
On the other side of the coin, a short cocktail dress will make a splash. The trick to getting this style right is to make sure it hits slightly above your knee – any shorter, and it may not be wedding appropriate. Designers such as Norma Kamali create exquisite dresses that showcase your silhouette but give enough fabric to let you move around, especially on the dance floor. Search around on platforms such as Pinterest to find a neckline that flatters your body type – someone with a larger bust would look best with a cowl or plunging neckline. In contrast, if you're more flat-chested, you can stick to a high neck or a strapless style. You can even try your hand at flowing fabrics or textured fabrics to create an interesting and unique look – it's all about wearing what makes you feel great.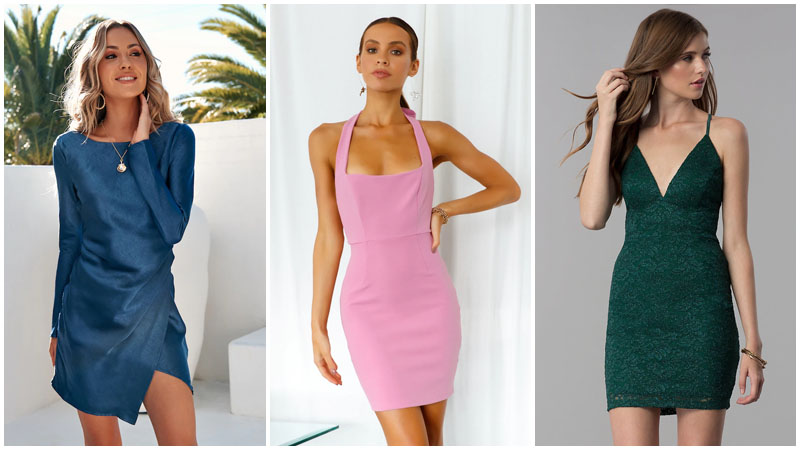 Get the Look
11. Designer Cocktail Dresses
While splurging on a dress may seem silly for a wedding, a designer garment can truly last the test of time. From Moschino to Nensi Dojaka, there are so many iconic labels that can perfectly capture the essence you're aiming for. Start by exploring ready-to-wear pieces from the latest runways – designers include LaQuan Smith, Versace, and Aje – each has unique qualities that make them some of today's biggest designers. Choosing a piece from a designer can be tricky, so when deciding, be sure to get all of your measurements correct (especially when ordering online).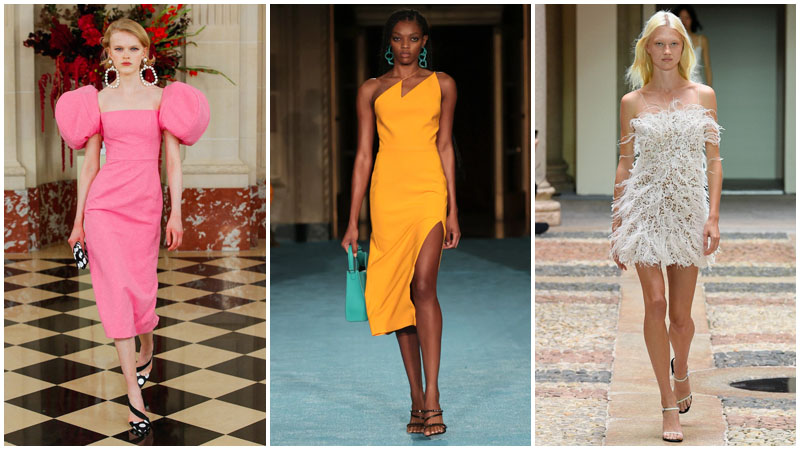 Get the Look
12. Green Cocktail Dress
Thanks to myriad designers and off the runway, green is one of the biggest color trends of the season, Thanks to its evergreen nature (pardon the pun), you can wear it any time of the year – from freezing cold winters to balmy summer weddings, you will look the part in this stunning shade. Fabrics such as satin work exquisitely with this hue – especially jewel tones – as it captures the light and looks incredible on almost any skin tone. Opt for a lime shade, a la Bottega Veneta, for a more high-fashion twist. You can wear this with an asymmetrical neckline or hem, hitting the ankle on one side and the mid-thigh on the other. Wear this style with nude heels or something brown that complements the cool tone.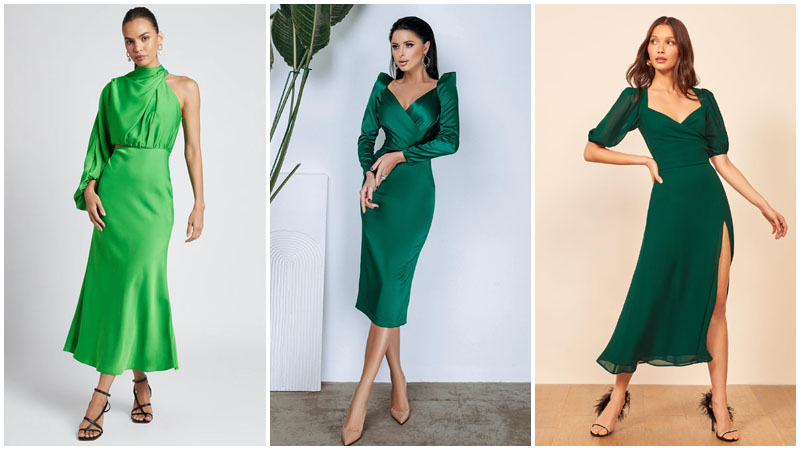 Get the Look
13. Blue Cocktail Dresses
Another shade that works at any time of year is blue. This multi-faceted color has been a staple for fashion-goers for decades, and we can see why. Subtle and charming, you can choose something light like baby blue for a summer event or stick to darker options like French Navy for a winter wedding. Play with layering different textures on each other with different shades for a complex look, or keep it simple with a Bardot neckline and a high slit. For warmer days, take it back to the '90s with a nostalgic patterned dress – liquid-style patterns are all the rage. Alternatively, you can play into a ballet aesthetic with an Audrey-inspired drop-waist silhouette and tutu-esque skirt that hits at the mid-calf. Take a look at designers for inspiration, and gather your favorites together before deciding.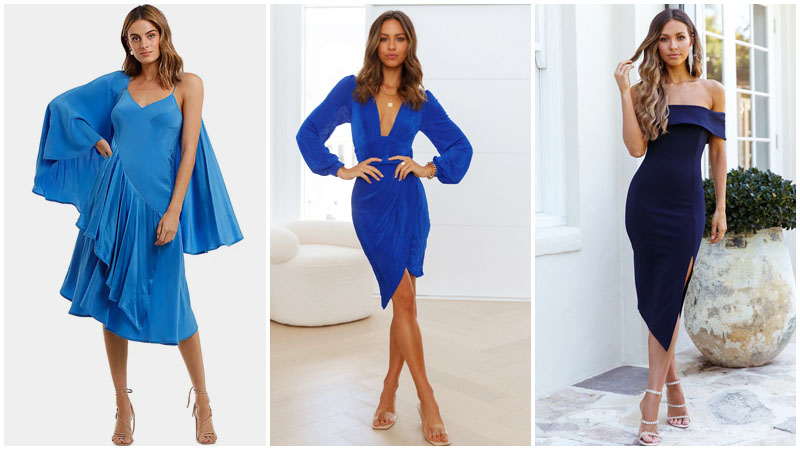 Get the Look
14. Pink Cocktail Dresses
While the most popular option for a spring or summer wedding, don't be fooled – you can wear pink cocktail dresses in every season. This stunning shade is hyper-flattering and is a great choice for nuptials with loved ones. As made famous by runway favorites Versace and Valentino, hot pink is the biggest shade right now. Try it in a monochrome look, with matching heels and jewelry to boot, or play with neutrals for a more holistic feel. Blush, white or nude heels are classic choices, but why try a bold shade like yellow or orange? You can also experiment with different styles – stray from tradition by wearing a Richard Quinn dress complete with gloves or take it back to the '80s in a puffy-sleeved dress from Aje. Of course, this depends on the theme of the wedding, so be sure to check in advance before committing.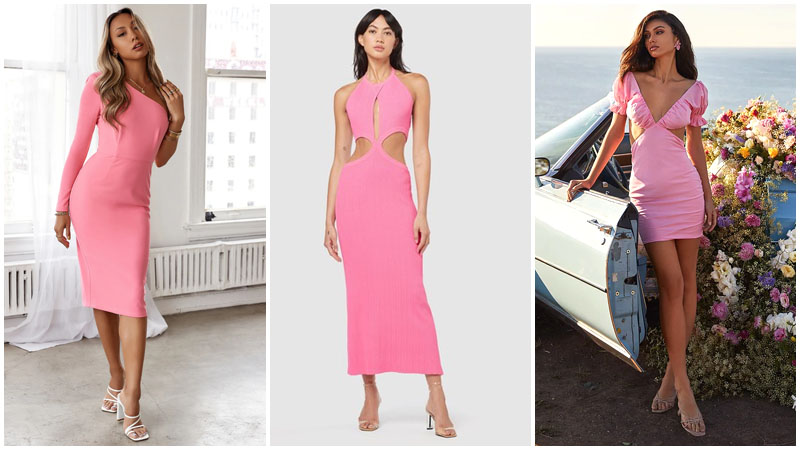 Get the Look
15. Blush Cocktail Dresses
In a similar vein to pink, this shade is subtle and feminine, making it the ideal candidate for a wedding. It's close enough to the buttery warm shade but isn't as flashy, so it works well for a formal event. Take into consideration the time and location of the event, and choose a design that flatters your figure and personal style. Do you love to make a statement? If so, take a dip into a dress with cut-outs at the torso. If you prefer something classic, an A-lin silhouette is stylish and sophisticated – add classic pumps in nude or gold to elongate the legs and add some sparkle. Keep the jewelry light – avoid anything too bold or brash; gold or silver work best.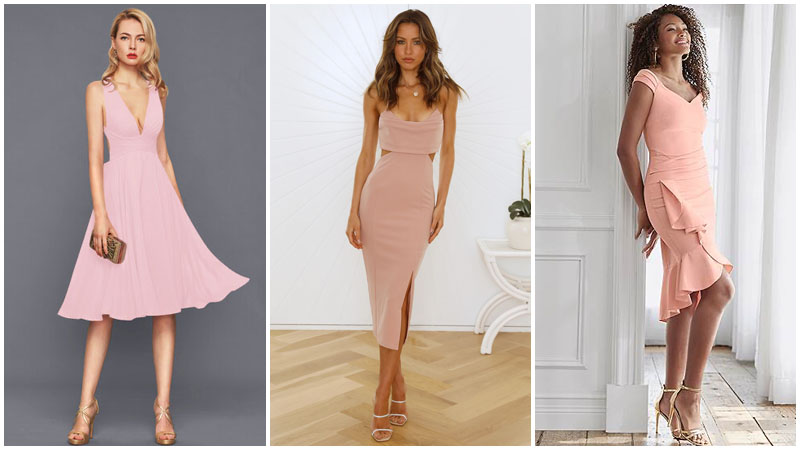 Get the Look
16. Burgundy Cocktail Dresses
From a wedding on a vineyard to a chapel, burgundy is a great shade to play with when deciding on an outfit. A classic fall staple, it is flattering and works in myriad styles. A backless dress is bold and daring, but keeping the fabric simple and jewelry minimal will accentuate the best bits without going overboard. Add a ruffle to the font of an asymmetrical dress for a bit of extra jazz, or opt for a Bardot sleeve for something timeless. Once you've chosen your silhouette, you determine the other colors you want to add to the outfit. Black is an obvious and safe choice for footwear, but if you want to stand out, why not try something out of left-field, such as pink or mustard? For the illusion of longer legs, neutral or clear heels are the best choice.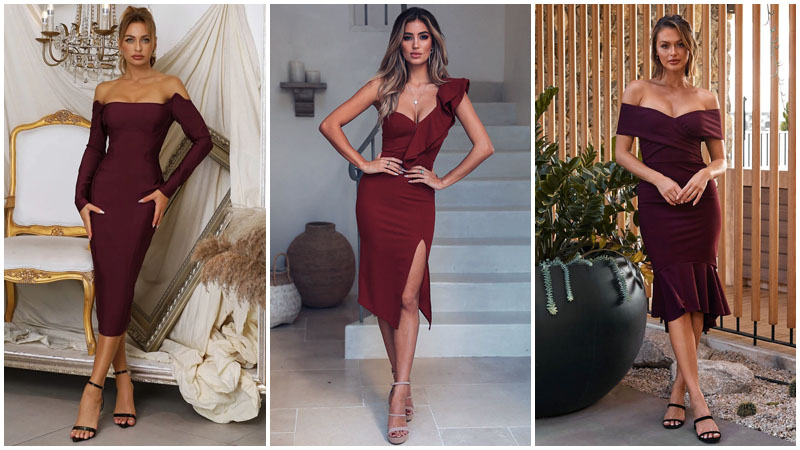 Get the Look
17. Boho Cocktail Dresses
The boho aesthetic is all about being free-spirited and carefree, and these dresses are no exception. Full of energy and beautiful softness, they're a great choice for a summer or boho wedding. The cocktail silhouettes stay true to the dress code but are laidback enough for a walk along the beach with your shoes off. This style stays true to natural shades – think brown, cream, neutral, and pinks. Fabrics of choice include linen or cotton – add different patterns or prints like florals and lace for a textured and complex look. Play with different lengths, too – shorter silhouettes are great for warmer temperatures. If it starts to get chilly, opt for something that hits at the knee or below. Finish the look with strappy sandals, or go without footwear entirely!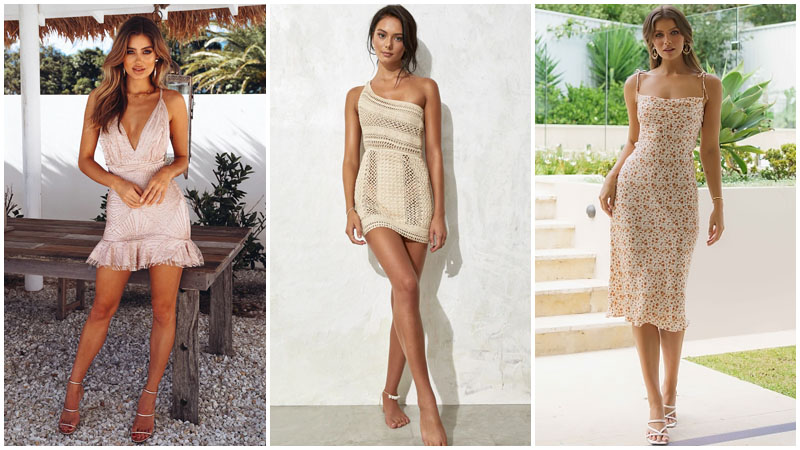 Get the Look
18. Black Cocktail Dresses
There's nothing quite like a little black dress. Iconic and timeless, they are the perfect type of outfit for a wedding. These cocktail dresses look great with other color palettes and textures, all while looking elegant and classic. You can mix and match with different lengths of the fabric, such as an asymmetric neckline or high-low silhouette. Play with puffy sleeves, plisse fabrics, or cut-outs to help you stand out in your own way. If you opt for a bold ensemble, keep the makeup minimal and clean. However, if you're wearing something simple, why not go bold with a red lip or cut-crease?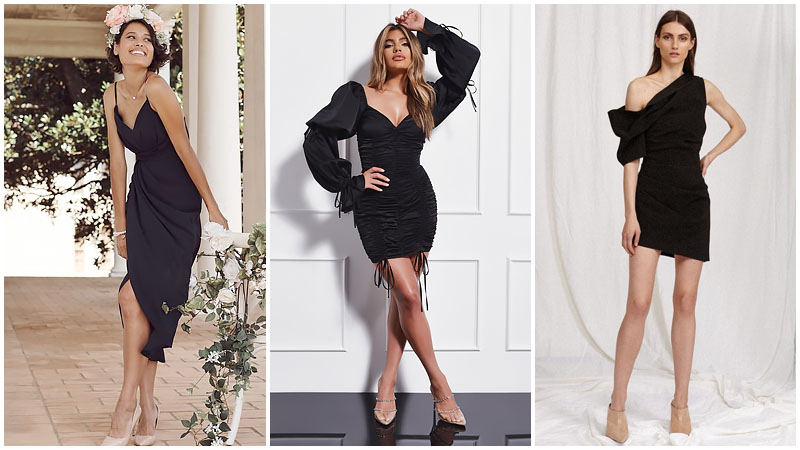 Get the Look
19. Maternity Cocktail Dresses
Carrying another person with you for nine months should not stop you from looking bomb – just as Rihanna and Adriana Lima! These maternity cocktail dresses are flattering and comfortable for all-day or evening wear. Bodycon silhouettes that hug your body are a great choice for showing off your bump and make for brilliant photos. However, if you plan to get down on the dancefloor once in a while, why not wear something flowing that hits below the knee. For maximum impact, play with different colors, such as hot pink, red, or baby blue. Plus, make sure you choose shoes that allow you to walk and dance!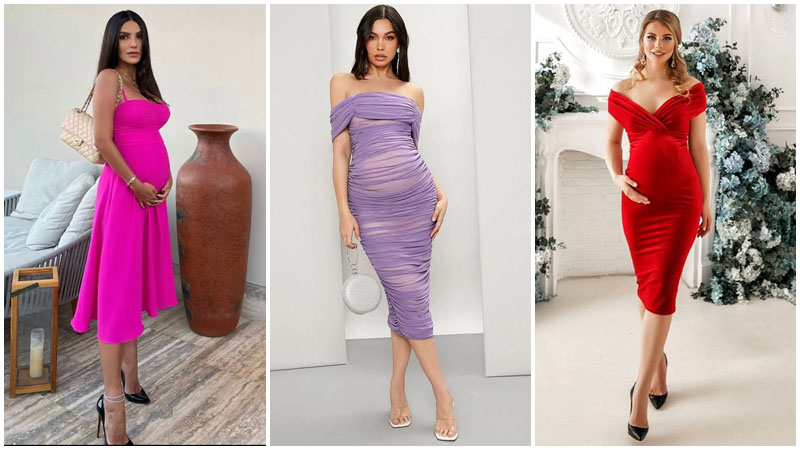 Get the Look
20. Formal Cocktail Dresses
Cocktail dress codes are traditionally smack-bang in the middle of casual and formal attire. However, sometimes an event calls further to one side of the spectrum. That's where these formal cocktail dresses come into play. Varying in lengths and fabrics, they rely on ball-gown or sheath silhouettes, and while they don't hit the floor, they're dressy enough to pass as a blend between the two dress codes. Channel, a ballerina with a tulle midi corset dress or your inner Marilyn in a pink strapless dress for maximum impact. A great way to keep a formal dress on the more casual side is by wearing minimal makeup, jewelry, and strappy heels. This will keep all focus on the dress, and keep the rest of the look laidback. Another great tip is to avoid an overly dressy hair-do – a classic ponytail or beachy waves are excellent options.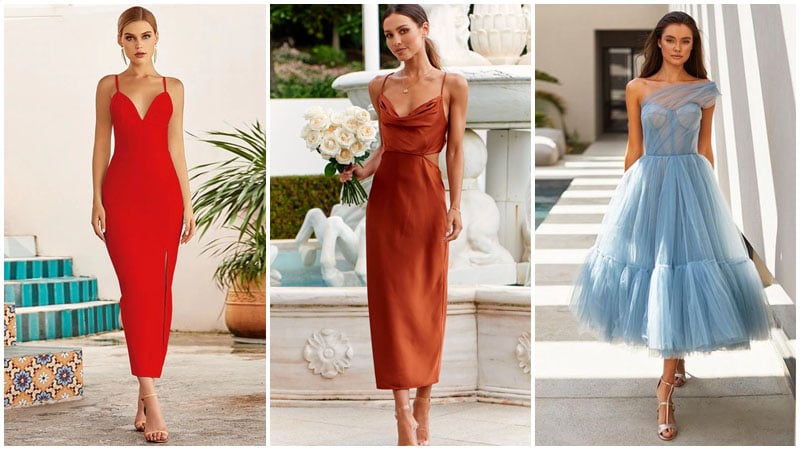 Get the Look