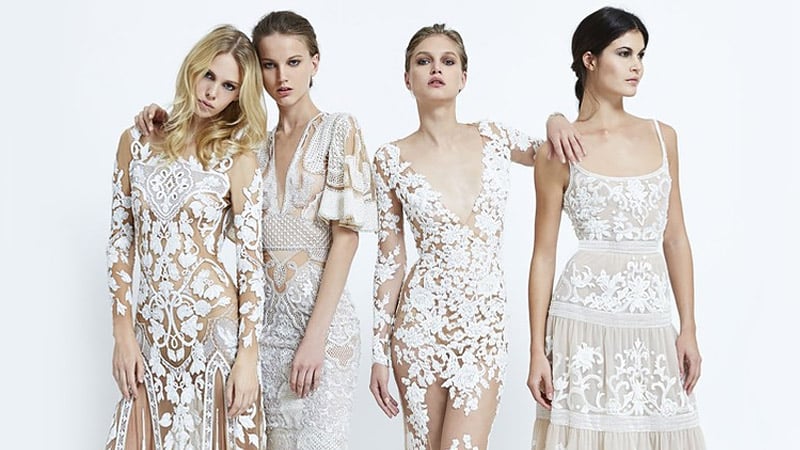 Planning a wedding can be incredibly exciting. But, when it comes to finding the perfect dress, it can also be stressful. With many options to choose from, picking the right bridal gown can seem challenging. Luckily, we're here to help. From romantic bohemian dresses to high low gowns, we've got it all. Here are the best casual wedding dresses for carefree brides.
Casual Wedding Dresses
Casual Beach Wedding Dresses
A beach wedding is the most relaxed of them all, but that doesn't mean you cannot look elegant on your special day. When picking the perfect dress, we recommend that you opt for something plain and understated. It should also be comfortable and easy to move in while being free from bold details. A lace or satin wedding dress can make a stunning option for a beach ceremony. Not only it is romantic, sexy and feminine, but it can also be airy and lightweight, which will help you stay cool on a warm day. Alternatively, you could choose something short and fuss-free that is sure to avoid the sand. When it comes to accessories, try to keep it as low-key as possible. To avoid falling face first into the sand, opt for wedges, flats or simply go barefoot.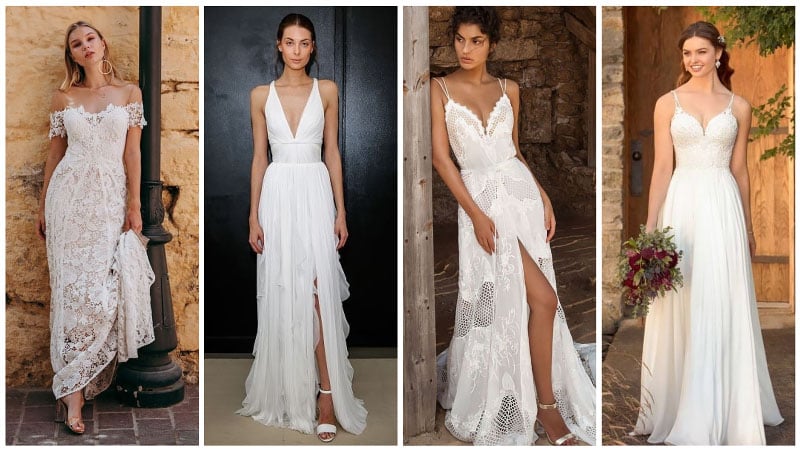 GET THE LOOK
Casual Country Wedding Dresses
Perfect for nature lovers, a country wedding is not only incredibly beautiful but also carefree and low-cost. A country wedding in a barn or on a farm strikes the perfect balance between casual and classic attire so you want to dress in a way that is suitable to your surroundings. For this type of wedding, you need to consider the type of floor your venue will have. If you have a floor where your dress can get torn, it makes more sense to select a gown that falls around your ankles or shorter. Go for the gorgeous designs in vintage lace, look for details such as elegant ruffles and floral appliqués.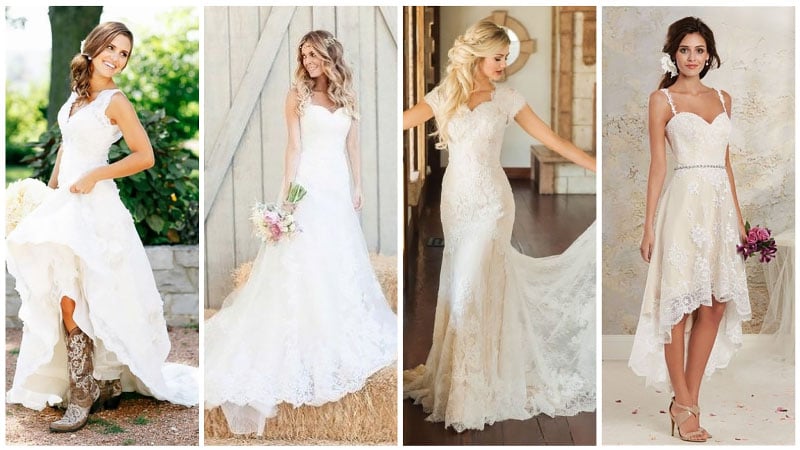 GET THE LOOK
Casual Bohemian Wedding Dresses
Bohemian wedding dresses come in various styles. But what they all have in common is a feminine aesthetic with an airy twist. This style make the perfect choice for low-key, casual outdoor ceremonies. They are especially ideal for weddings held during summer as well as trendy, backyard receptions. They can also suit rustic weddings, such as those held in a barn or on a farm. Crochet and lace fabrics are synonymous with the bohemian style, making them an ideal choice. Of course, not just any lace dress will suit the boho aesthetic. To nail the look, opt for a long, flowing style.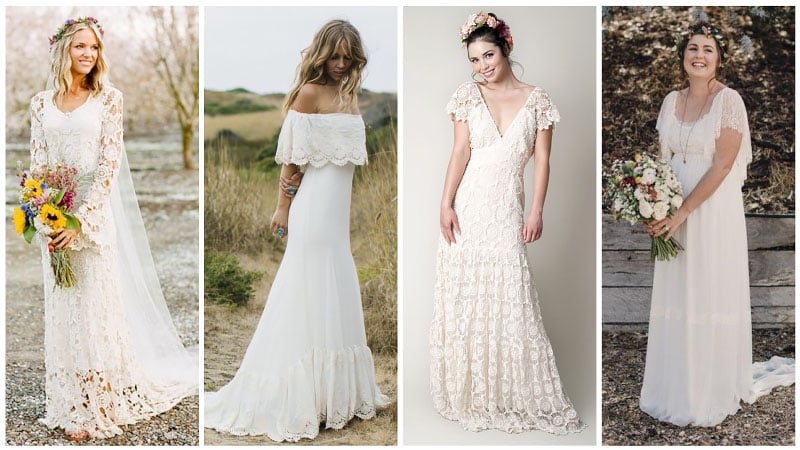 GET THE LOOK
Casual Vintage Wedding Dresses
Want a wedding full of nostalgia? Then you need a vintage wedding with a gorgeous dress to match. You're no average bride, which is why you don't want to settle for an average gown. Get inspired by the designs of the 50s and early 60s. Think sweetheart necklines, lace and frills. Choose something adorned with pearls, beads, lace or crystals and finished with long sleeves. Or, you can go for a full ruffle dress, but be sure to choose fabrics wisely. You want something plain but luxurious that will complement the wedding.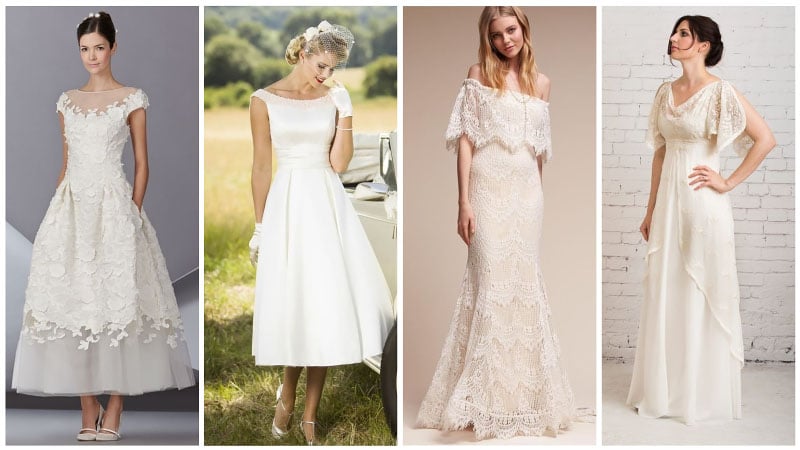 GET THE LOOK
Casual Wedding Dresses for Summer
When it comes to a summer wedding, you should embrace the warmer weather with a gown that's breezy and beautiful. Breathable and lightweight silk and chiffon styles are especially ideal to help you stay cool. For extra relief from the heat, consider a flowing lace design without sleeves. A strapless, off-the-shoulder, halter-neck or spaghetti-strapped style will appear particularly sexy and feminine while also keeping your arms cool. For the modern bride, try out a draped lace gown. The great thing about summer weddings is that you have so much versatility.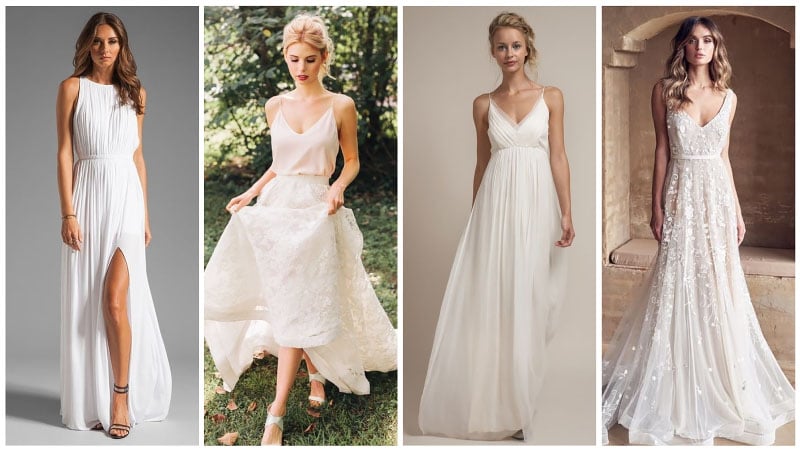 GET THE LOOK
Casual Wedding Dresses for Winter
Every bride wants a gown to suit the season, especially when it comes to a cold, winter wedding. It's difficult to keep a constant bridal smile on your face when your teeth are chattering. Staying warm doesn't mean you have to sacrifice style! The most obvious way to add some extra warmth to your outfit is sleeves. Short or three-quarter length sleeves cover your shoulders and add that little bit of coverage to keep the chills at bay. Another option for winter brides to warm up is layers. You may think that layering is not possible, or a good look for your wedding ensemble, but larger A-line skirts mean extra warming material.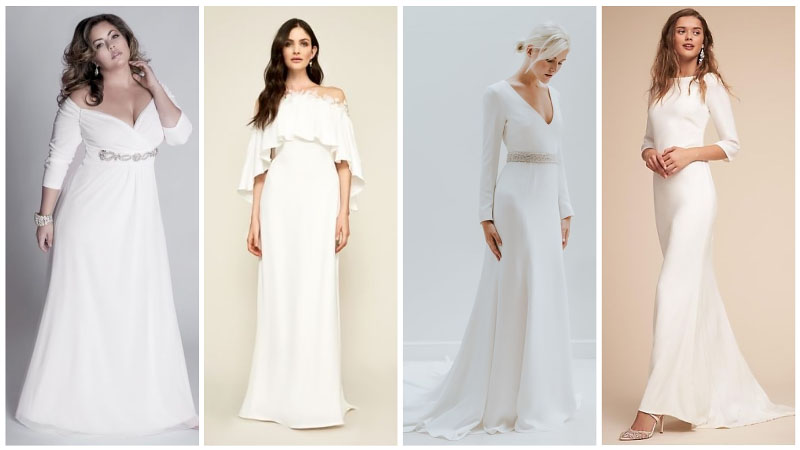 GET THE LOOK
Casual Wedding Dresses with Sleeves
Looking to add a touch of glamour to your wedding day style? Look no further than wedding dresses with sleeves. Once thought of as the traditional staple for dresses, gowns with sleeves have grown to become one of the most stylish options amongst brides. From simple sheaths to lace gowns, sparkly dresses with plunging necklines and off the shoulder styles, the latest designs with sleeves vary greatly, from the sexy to the completely covered up. Flattering, modest and a suitable seasonal choice for winter or autumn weddings, wedding dresses with sleeves will have you looking like a princess.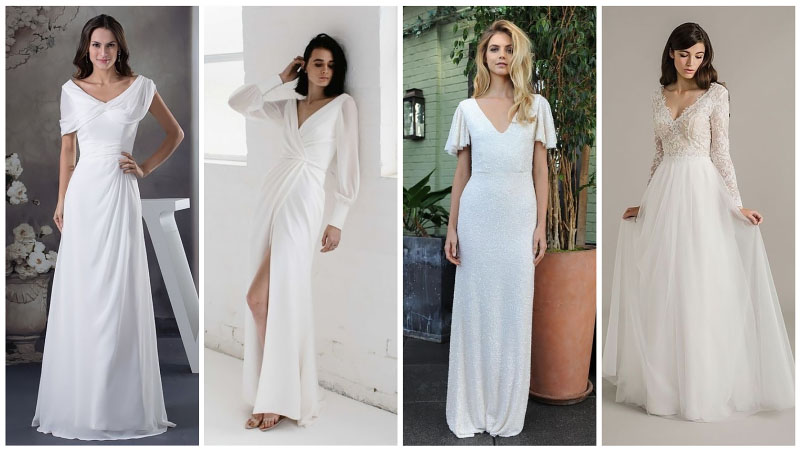 GET THE LOOK
High Low Casual Wedding Dresses
A high-low wedding gown features an asymmetrical design, which is short at the front and long at the back, creating a contrast between high and low. They achieve a lovely, graceful appearance without making it difficult to walk down the aisle. As well as this, high-low dresses also allow you to show off your legs and shoes. Although a non-traditional choice for brides, high-low wedding gowns have been around for quite some time now. Today, there are countless different designs to choose from. While some have a sharp contrast in length between the back and the front, others are more subtle. Whichever style you choose, a high low wedding dress is sure to make you stand out on your special day.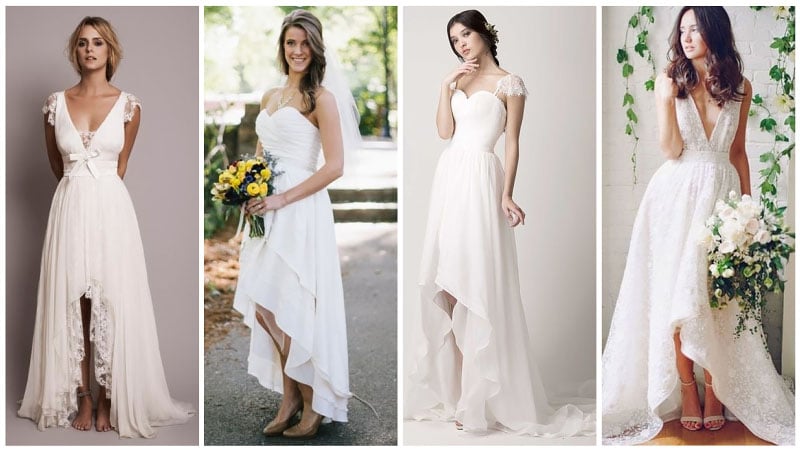 GET THE LOOK
Sexy Casual Wedding Dresses
Want to embrace your enticing personality? Why not do so with a gown that's both elegant and romantic. A sexy wedding dress is a perfect choice for modern brides who want to stand out on their special day. To nail the look, consider choosing a fitted design that shows off your figure. Alternatively, a low-cut neckline can be just as alluring and can add a modern touch to otherwise traditional gowns. As for materials, lace or silk designs make a particularly romantic choice.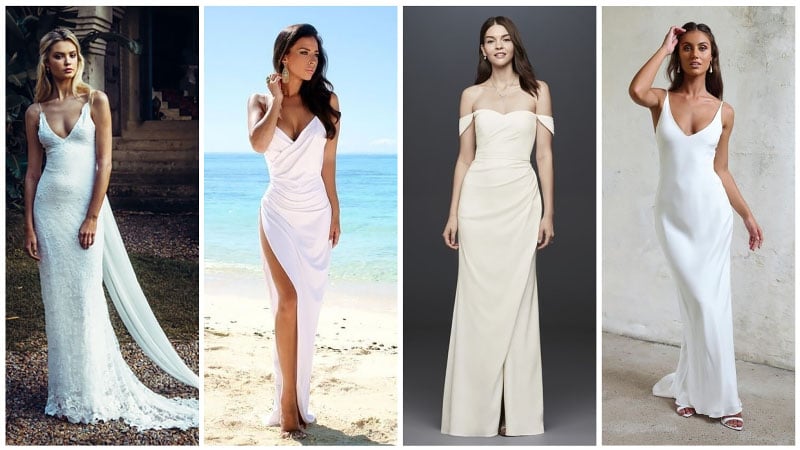 GET THE LOOK
Plus Size Casual Wedding Dresses
Today, there are more choices than ever before for plus-sized ladies, and that includes wedding dresses. Curvy women no longer have to wear oddly shaped gowns on their special day. Instead, they have a variety of choices that can enhance and complement their figures. In particular, empire waist designs, which accentuate the bust and glide over the stomach, can appear especially attractive on curvy ladies. A-line can be another very flattering choice, especially if you want more coverage.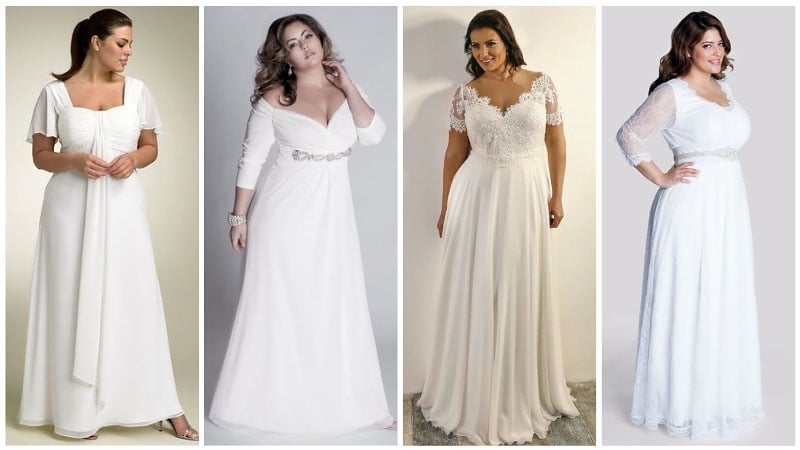 GET THE LOOK
 Casual Wedding-Guest Dresses
The casual wedding dress code for guests is the most relaxed of all, it allows you to wear something comfortable. However, that doesn't mean you shouldn't also look stylish. Opt for a sundress in a casual fabric or a plain midi. When it comes to footwear, keep things laidback by swapping your usual stilettos for low wedges or dressy sandals.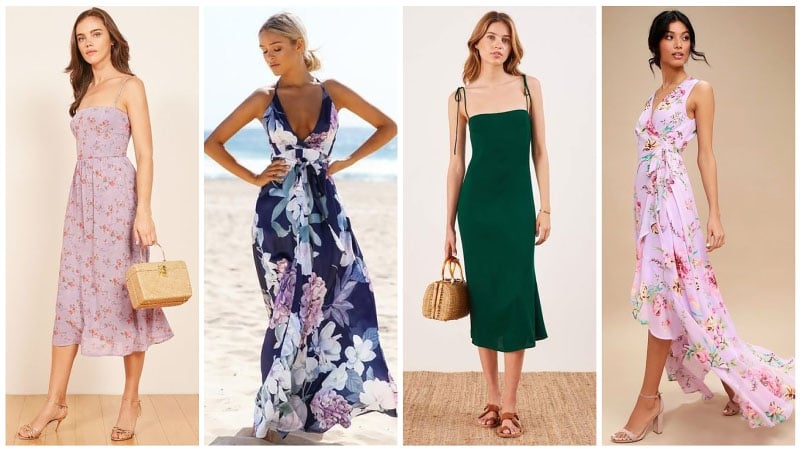 GET THE LOOK
How to Wear a Casual Wedding Dress
Look for dresses that are comfortable and easy to wear. Fabrics like silk and lace are ideal.
To keep things simple, try to steer clear of excessive embellishments and accessories.
Opt for a dress which is suitable for your surroundings.
When it comes to footwear, choose something comfortable and easy to walk in. Strappy sandals or wedges are a great choice.
SUBSCRIBE TO OUR NEWSLETTER
Subscribe to our mailing list and get interesting stuff and updates to your email inbox.