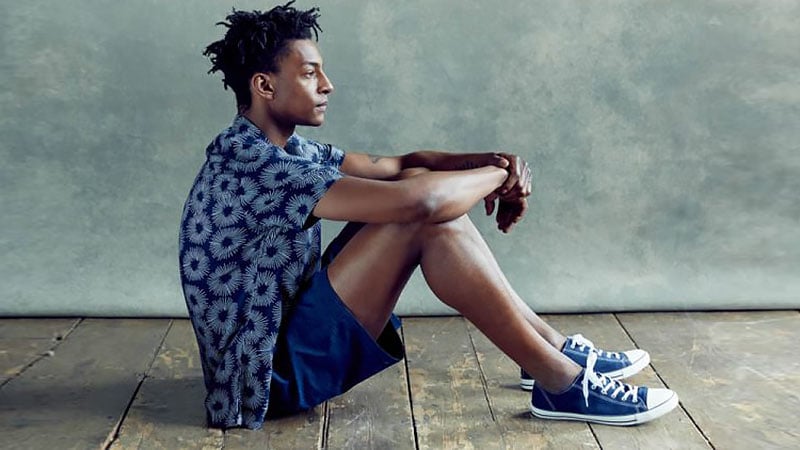 Thanks to their effortlessly cool style and versatility, shorts can be sported for countless occasions and multiple dress codes. While this adaptability makes shorts an easy choice of clothing, it can also make deciding on accompanying footwear incredibly difficult. Choosing the correct style of shoe is essential to creating a stylish appearance. Luckily, we're here to help with our guide that shows you the best styles and how to wear them properly.
1. Sneakers
Looking to experiment with street style in a fashion-forward way? Sneakers are the ultimate choice in footwear for the cool guy. From classic sports brands such as Nike, Converse, and Adidas to the high fashion houses of Prada and Alexander McQueen, designers far and wide are now producing contemporary, must-have sneakers. No matter your sense of style, these casual, comfortable yet fashionable shoes are an essential staple in your wardrobe all year round. Partnered with shorts, sneakers nail an effortlessly cool aesthetic, perfect for the summer months. What's best is they can be dressed up or down to fit any occasion. For a day-to-day casual look, we recommend pairing your sneakers with a polo or t-shirt. On the other end of the spectrum, a more formal occasion calls for a shirt and chino shorts.
RELATED: 20 Best Sneakers Brands You Must Know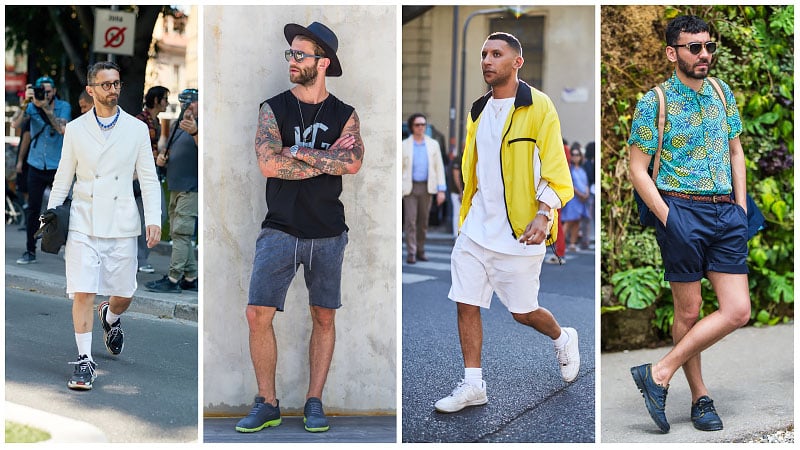 2. Loafers
If you don't already own a pair of loafers, then what are you waiting for? These stylish slip-on shoes are a wardrobe must-have and come in three different styles: the penny, tassel, and Gucci. Paired with shorts, loafers make the perfect ensemble for daytime outings. It's up to you how formal or informal you go, but a pair of chino shorts combined with a shirt, casual blazer, and loafers make a great semi-formal look for the summertime. That being said, loafers are a very versatile shoe. If you're looking for a casual ensemble, a plain white tee will work just as well. The key to making this look work is choosing the right style in the right color. Of course, this style will only look sharp provided it's worn sock-free.
RELATED: How to Wear Loafers Like a Dapper Man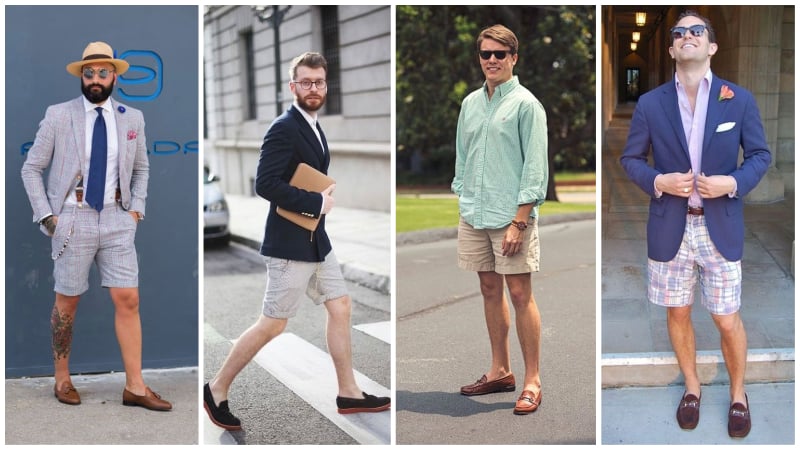 3. Brogues
For a classic look, brogues are a timeless item in men's fashion. Not only are they neat and stylish, but they can also add a unique touch to any outfit thanks to their distinct perforations. Brogues typically come in two styles: the Derby with open lacing and the Oxford with enclosed lacing. They are further categorized by the different perforations they feature. Designs include the full brogue (wingtip), half brogue, and quarter brogue. When styling an outfit, it's important to remember that a smart shoe must be matched with a pair of equally smart shorts. Coupling brogues with a tailored short creates a look that's perfect for a smart casual setting. The key to making them look great is to balance them with a classic colored shirt. Just remember to ditch the socks and grab a pair of sunglasses.
RELATED: How to Wear Brogue Shoes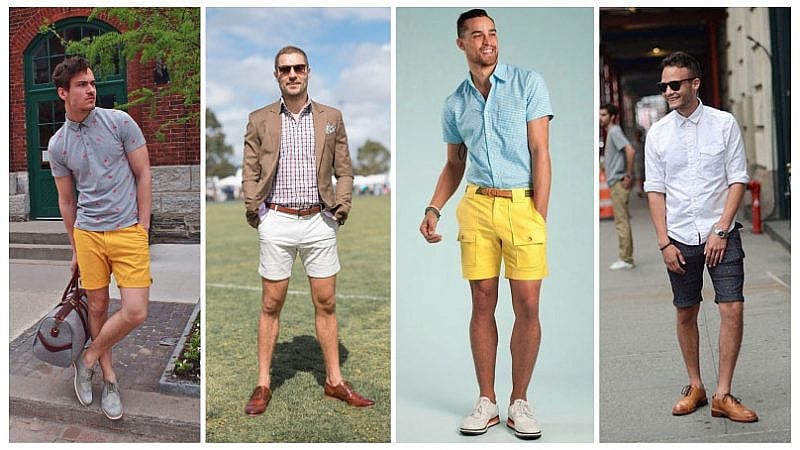 4. Sandals and Flip Flops
Spending the day on the beach or by the pool? You'll need a shoe that is both comfortable and breathable. Sandals are a great choice in footwear for the summer months. Being such an affordable and simple shoe, it's no surprise why they've become so popular in recent years. There are now so many styles to choose from, and when paired with shorts during the warmer weather, they make a great match. For this look, team a pool or denim shorts with a plain tee and practical sandals. Just make sure your feet are properly groomed before slipping on these shoes.
RELATED: 25 Best Sandal Brands for Men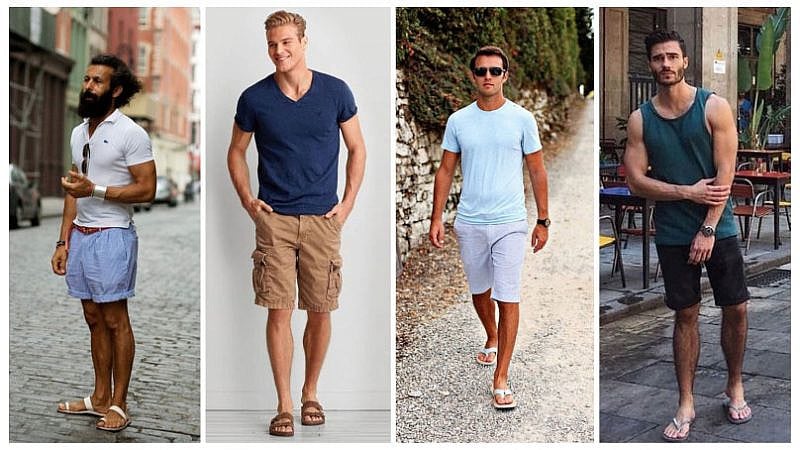 5. Boat Shoes
When boat shoes are worn the right way, they can be incredibly stylish and can bring some maturity to an outfit. Boat shoes strike a comfortable balance between smart and casual, making them easy to dress up or down. When it comes to more formal events, pair them with chino shorts for an effortlessly refined look. Opt for a good fit, and match them with a tailored shirt for balance. It's best to choose boat shoes in neutral colors such as navy, tan, or beige.
RELATED: How to Wear Boat Shoes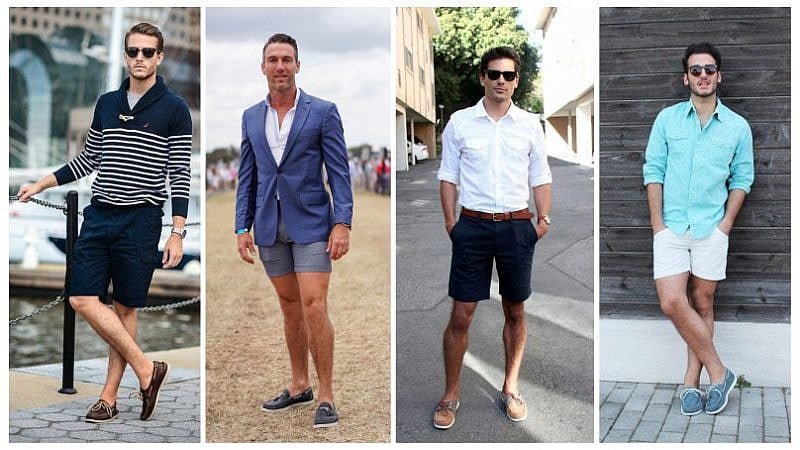 6. Espadrilles
For a casual yet trendy style, espadrilles are a great option. Espadrilles are some of the comfiest summer shoes on the market. When it comes to styling these shoes, there are a few items of clothing that will help you achieve a casual appearance. As versatile as they are stylish, chino shorts are one of those items you can sport for multiple occasions. Pair them with your espadrilles, a shirt, and a blazer for a polished look. Or for something a little more casual, a simple polo teamed with denim shorts will create the perfect weekend ensemble.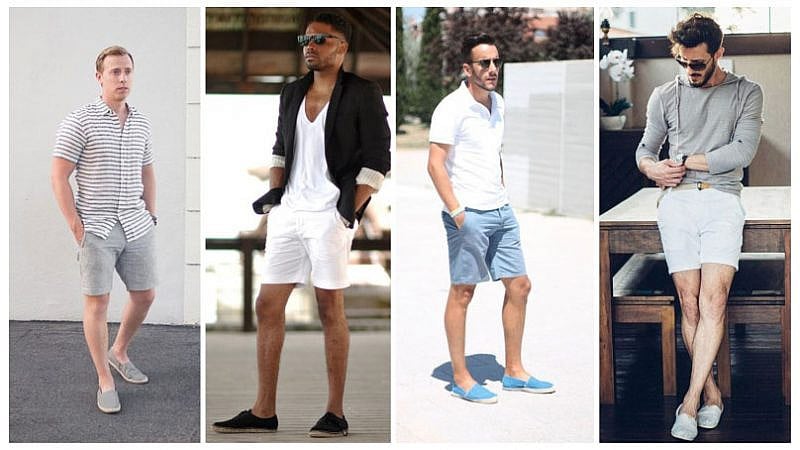 7. Desert Boots
While shorts are thought of as the cool, casual essential in any wardrobe, the addition of some desert boots can instantly change their appearance. The classic footwear style is a staple for any closet and lends a unique aesthetic to any ensemble. Ideal for casual outfits yet easily dressed up for more formal occasions, these shoes are versatile and fashionable. Pair desert boots with a tailored shirt and chino shorts for a rugged yet chic appearance. Boots and shorts may seem like an odd combo, but coupled with the right clothing, it can make for an ultra-stylish ensemble!
RELATED: How to Wear Desert Boots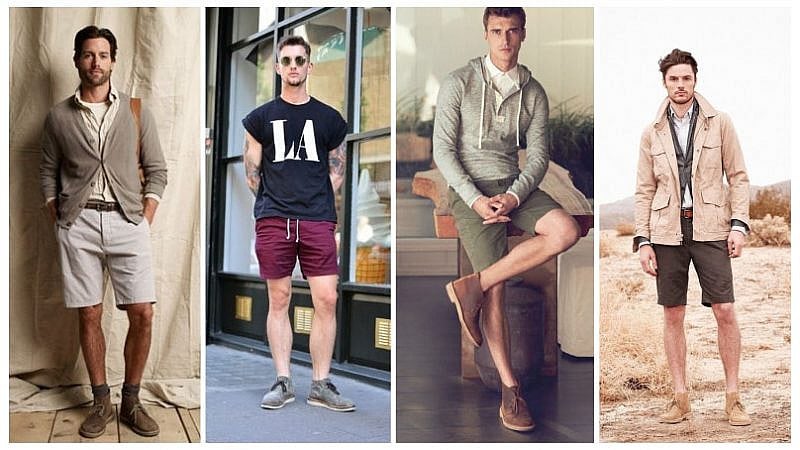 FAQs
What shoes go best with shorts?
There are several great shoes to wear with shorts. These include; sneakers, loafers, brogues, sandals and flip flops, boat shoes, espadrilles, and desert boots. Each choice depends on your style and the look you are going for.
What shoes look good with jean shorts?
Sandals look great with denim shorts, but so do sneakers. Both options are casual and comfortable. Sandals and flip flops are great for the summer months, while sneakers are more versatile and can be worn with just about everything. They can also be dressed up or down. Try out a pair of low-top sneakers with shorts and a fitted T-shirt for a simple but stylish outfit.
Should you wear socks with shorts?
If you are wearing closed shoes, you should wear socks, but you want to wear hidden ones that aren't visible. The exception to this rule could be with sneakers. Not wearing socks can cause odor problems and discomfort.
How short should men's shorts be?
Most shorts should stop just above the knee or a little higher.
SUBSCRIBE TO OUR NEWSLETTER
Subscribe to our mailing list and get interesting stuff and updates to your email inbox.