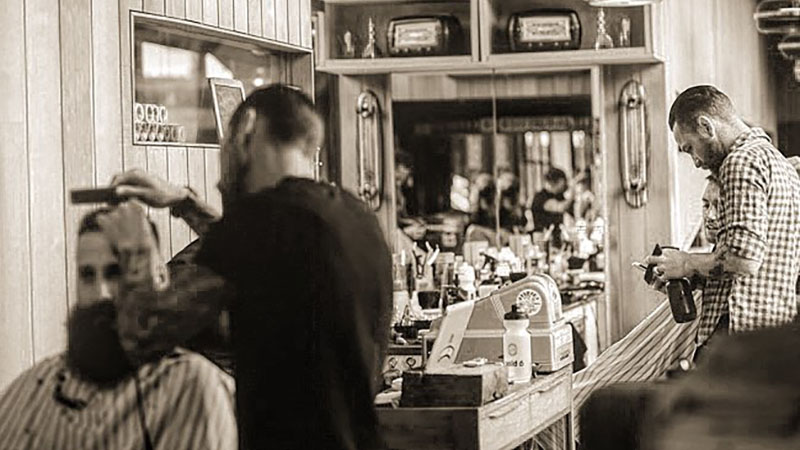 Are you looking for the best barbers in Melbourne? Whether it's an edgy, modern-day cut or a classic gentlemanly look, there is no denying that getting your hair done right can make all the difference to your day. To help you out, we have compiled a list of some of the top barber shops around town so you don't have to worry about settling for anything less than perfection. From modern cuts to old-school classics, these experienced barbers know what they're doing and will create a look that suits your personality perfectly.
Best Barber Shop in Melbourne
Best Barber CBD: Men + Co Barber Shop
Best Barber Port Melbourne: Uncle Rocco's Barber Shop
Best Barber North Melbourne: Barber on Errol
Best Barber South Melbourne: Good Barber Shop
Best Barber Windsor: The Bearded Man
Best Barber Prahran: Brother Wolf Barber Shop
Best Barbers in Melbourne
1. Men + Co Barber Shop
If you're on the hunt for the best barbers in Melbourne, you won't want to miss Men + Co located in the CBD. This modern and sophisticated barbershop was founded by two experienced barbers, Chris Dunkley and Gary McKenzie, who have been perfecting their craft for decades. The team at Men + Co offers a wide range of services to cater to all grooming needs, from a simple cut to a luxe hot towel shave. They also offer VIP membership packages that make it even easier for regulars to stay looking their best, with extra bonuses and discounts thrown in depending on the level you choose.
Location: Studio 2, Level 1, 377 Little Bourke Street, Melbourne
Website: www.menandco.com.au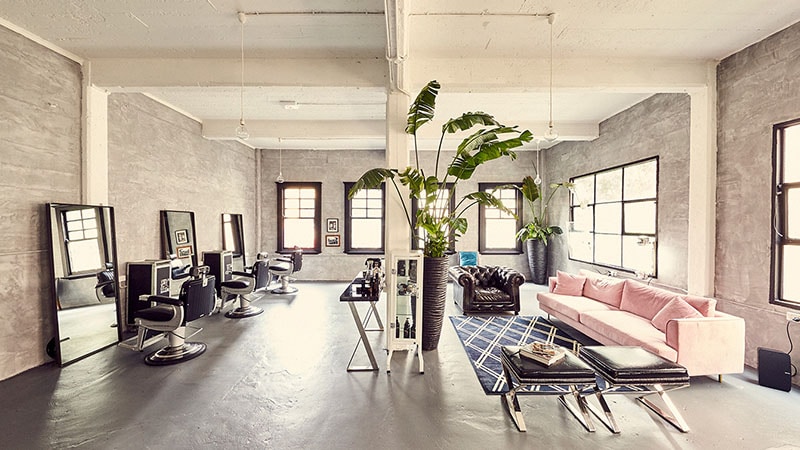 2. Brother Wolf Barber Shop
Brother Wolf is dedicated to embracing the essence established by the finest Melbourne barber shops from the past. It aims to create an atmosphere reminiscent of a distinguished social club where individuals, regardless of gender, can gather to engage in conversations about life while enjoying a beverage such as beer or whiskey, all while receiving an extraordinary fade haircut. The friendly and inviting ambiance of this barber shop might even entice you to visit simply for the opportunity to hang out. Additionally, enhancing the experience are traditional features like indulgent hot towel shaves.
Location 1: 113 Greville Street, Prahran, Melbourne
Location 2: 162 Carlisle St, Balaclava / St Kilda
Website: www.brotherwolf.com.au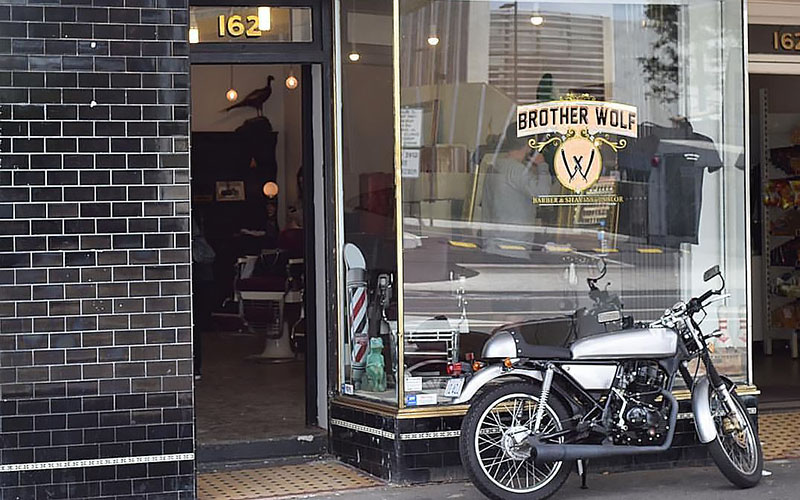 3. King's Domain Barber Shop
When it comes to grooming, King's Domain is considered one of the best barbers in Melbourne. The barber shop offers top-quality services that are sure to leave you feeling refreshed, confident, and ready to tackle the world. They take pride in providing the best possible advice and recommendations to ensure that every client leaves with a tailored experience that meets their specific needs. From hair and scalp consultations to product recommendations, the staff at King's Domain go above and beyond to ensure that every customer feels cared for and appreciated.
Location 1: 1/177 Toorak Road, South Yarra, Melbourne
Location 2: 1/12 Collins Street, Melbourne
Website: www.kingsdomain.com.au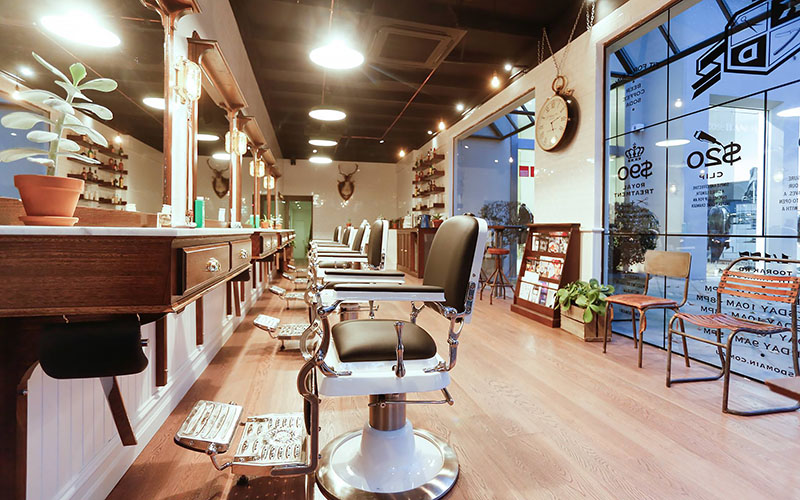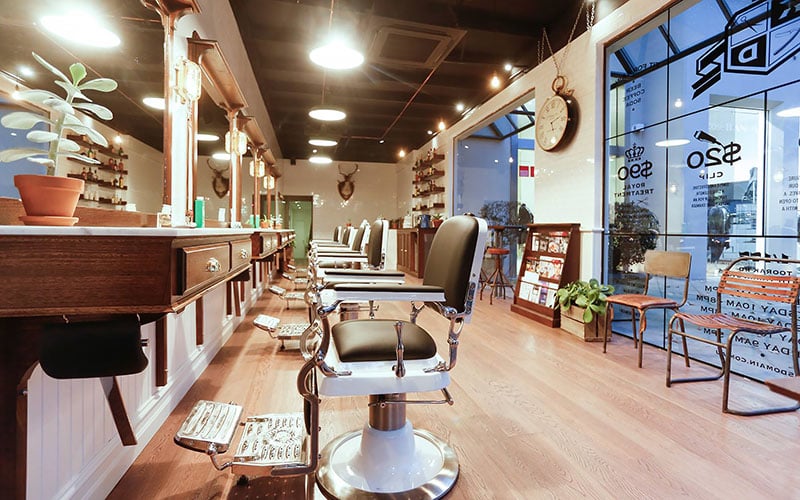 4. The Bearded Man Barber Shop
The name "The Bearded Man" might lead folks to believe that only the bearded and mustached men are welcome, but that couldn't be further from the truth. Regardless of our beard styles everyone is invited to step inside. The hipster vibe is undeniable, but the skilled staff at this Melbourne barbershop are experts at more than just beard trims. Hairdressing is what they excel at, and their clientele rave about their work. On top of that, The Bearded Man offers weekly DJ sets to keep the atmosphere lively and a cup of award-winning Industry Bean coffee for a welcoming treat. With all of these elements combined, it's no surprise that it's considered one of the best barbers in Melbourne.
Awards: Australian Men's Hairdresser of the Year 2016/2018
Location 1: 203 Chapel Street, Prahran, Melbourne
Website: www.thebeardedman.com.au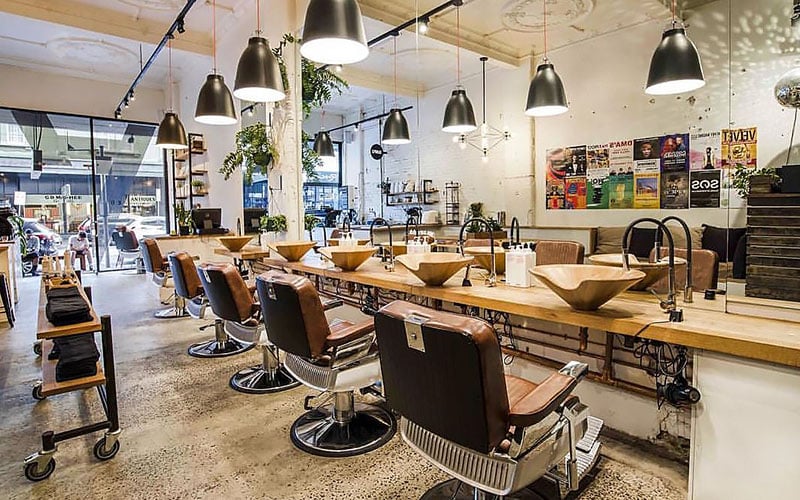 5. Uncle Rocco's Barber Shop
Uncle Rocco's is an old-school barber shop in the industrial area of Port Melbourne run by Fabian Sfameni a third-generation barber who established three of his own shops in Melbourne in 1996. Fabian has honed and developed his own personal style and skills over the years, and his passion for barbering has inspired him to provide his clientele with the highest standards paying special attention to quality and personalized customer service. With the desire to expand this passion beyond barbering to men's grooming and other style conscience products, the brand Uncle Rocco's was born and is now considered one of the best barbers in Melbourne.
Location: 1 Fennell Street, Port Melbourne
Website: www.uncleroccos.com.au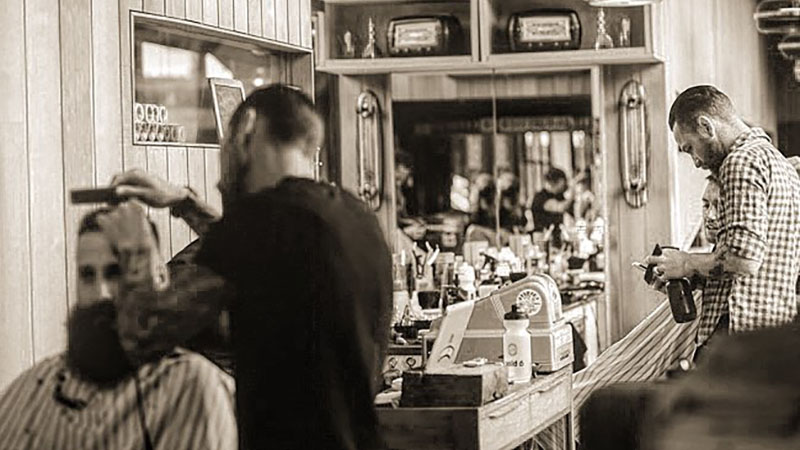 6. The Melbourne Barber Shop
The Melbourne Barber Shop, established in 1994, is situated in a historic area of Melbourne at the intersection of Victoria and Russell Street. With an auto-inspired atmosphere, it is a popular choice amongst car enthusiasts. Catering to discerning gentlemen, the barber shop offers a range of hairstyling options such as skin fades, crew cuts and beard trim combos. Complementary services include moustache, ear, and eyebrow trims, ensuring a polished and refreshed look. Additionally, the team provides kids' cuts, making it a family-friendly destination and one of the best barbers in Melbourne.
Location: 394 Russell St, Melbourne
Website: www.melbournebarbershop.com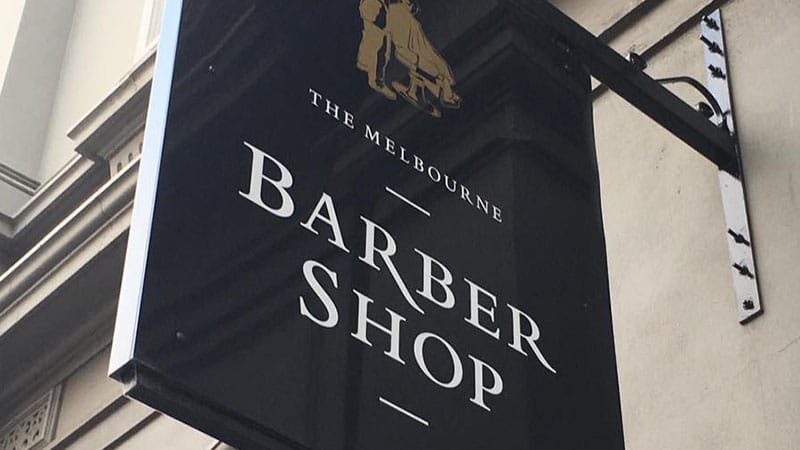 7. Rockit Barber Shop
Old world meets new at Rockit Barbershop. Located in a 1930s art deco building, this barbershop combines both traditional and modern barbering techniques for the best results. Enjoy the latest fashion cuts, modern designs, classic quiffs, or a quintessential cut-throat shave. While you wait, take in the mix of decor and memorabilia, from antique barbering tools to fun bobbleheads and a large television to keep you entertained. Additionally, if you have a special event or wedding planned, you can hire their pop-up barbering service that will come to you. Alternatively, if it's a weekend, book a private styling session at this best barber shop in Melbourne.
Location: G15/546-566 Collins Street, Melbourne CBD
Website: www.rockitbarbershop.com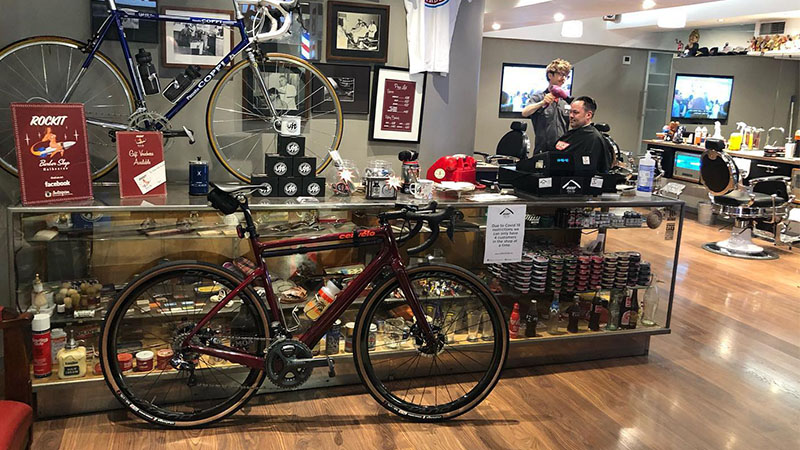 8. Area Studio Barber Shop
If you're on the hunt for the best barbers in Melbourne, look no further than Area Studio. Situated on Franklin Street in the city, they offer personalized and award-winning service that's hard to beat. The team is experienced and has undergone international training, so you can trust that you're in good hands. They understand that everyone's hair is unique, which is why they offer a range of services to cater to different needs. From beard trims with a hot towel to contemporary or classic haircuts for men, they've got you covered. Plus, with their convenient opening hours until 8:00 pm most nights, it's easy to fit in an after-work appointment.
Awards: HBIA's Small Salon of the Year 2017 & 2018
Location: 257 Franklin St, Melbourne
Website: www.area-studio.com.au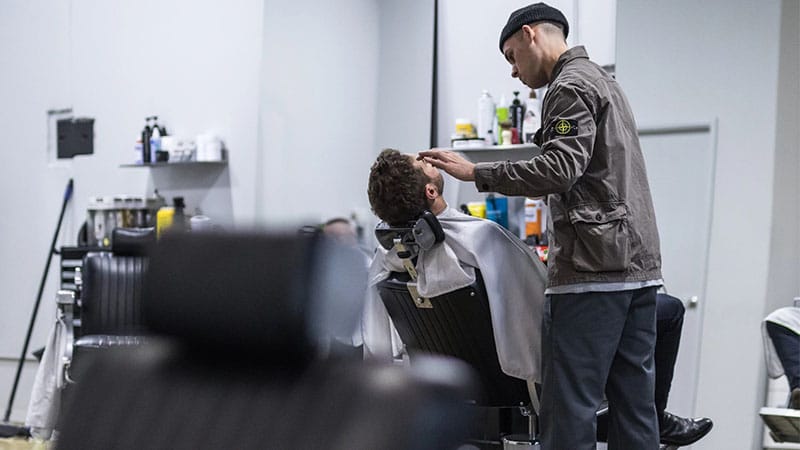 9. Good Barber Shop
The bright, open, and airy space of Good Barber Shop is fresh and welcoming. Established in 2017, the barber shop has been bringing sophisticated style to the gents of South Melbourne ever since. The stylists combine barbershop tradition with Korean sensibilities, offering classic cuts and straight-razor shaves. Visiting the shop also gives back to the community. The team donates a portion of profits to selected charities such as Save the Children Australia, Good Neighbours Australia, and Greenpeace Australia Pacific. Drop a matchstick into the jar of the charity you want to see the money go to.
Location: 246 Park St, South Melbourne
Website: wwwgoodbarber.shop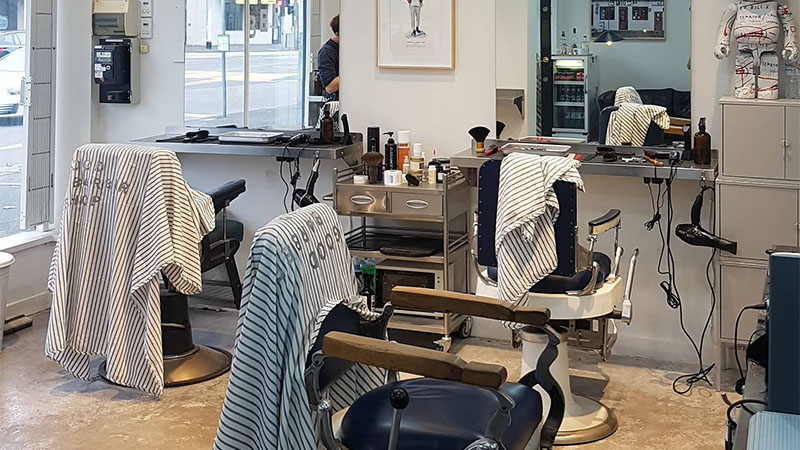 10. Oxbridge Barbers
Oxbridge Barbers is one of the best barbers in Melbourne, offering a warm and welcoming environment, and is the ideal place to chill and step away from the craziness of your day. Equipped with comfy Chesterfield couches and craft beer, as well as cozy interiors with a vintage vibe, it's easy to make yourself at home. When it comes to your actual cut, the team of British and European barbers has more than 30 years of experience. Pick from clipper or scissor cuts and skin fades, as well as a hot towel shave, beard trim, or full beard line-up. They also offer bucks parties so you and your mates will look extra sharp for your special day.
Location: 459 Little Collins St, Melbourne
Website: www.oxbridgebarbers.com.au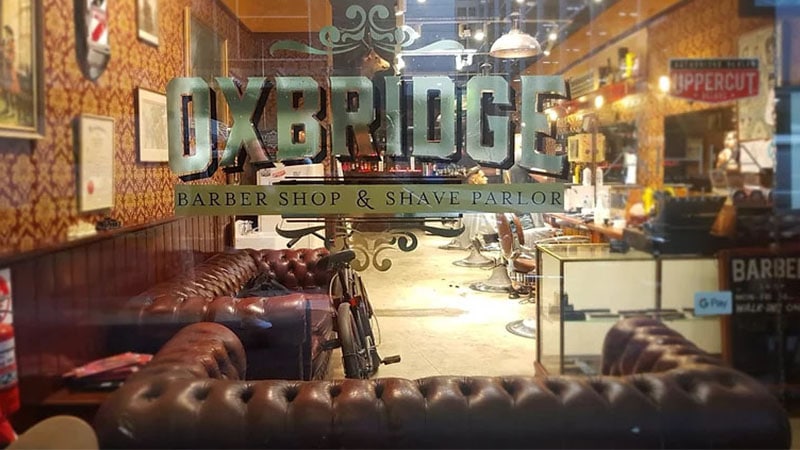 11. Twin Barbers
Get yourself a smooth fade and crisp lineup haircut at Twin Barbers. Located on Elizabeth Street, this sleek barber shop in Melbourne is owned by twin brothers Zed and Omarion Freihat. Their menu includes cuts, shaves, and trims, using the highest quality equipment and a variety of techniques to suit your hair. However, the team is especially good at working with textured hair and executing sleek fades. Outside the world of barbering, the brothers are also professional dancers and musicians, so you might be lucky enough to hear some of their tunes while you're there!
Location: 4/640 Elizabeth Street, Melbourne
Website: https://www.twinbarbers.com/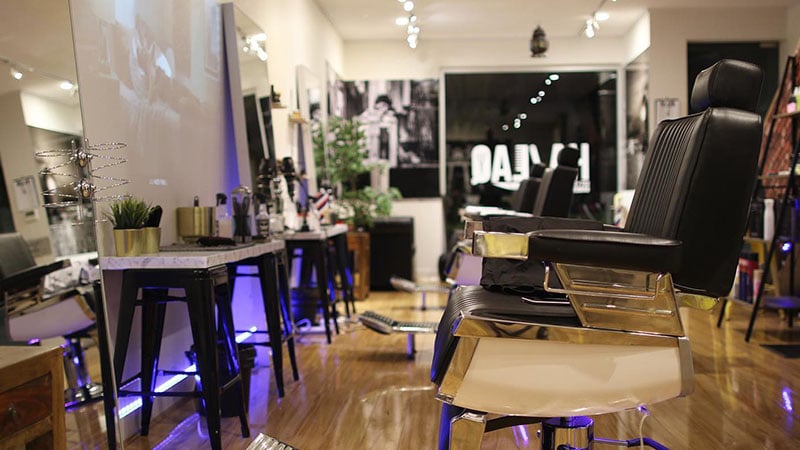 12. Ab's Barber Shop
If you're in need of a good haircut, then look no further than Ab's Barber Shop. With three convenient locations throughout Melbourne – William Street, Carson Place, and Flinders Lane – you'll never be too far away from some of the best barbers in Melbourne. Whether you're looking for an after-work appointment or a quick trim before heading into the office, Ab's has you covered. Owner Ibrahim El Osman brings over 30 years of experience to each shop, ensuring that you leave with a stylish and professional haircut every time.
Location 1: 162 William Street, Melbourne
Location 2: 2/1 Carson Place, Melbourne
Location 3: 497 Flinders Lane, Melbourne
Website: www.absbarber.com.au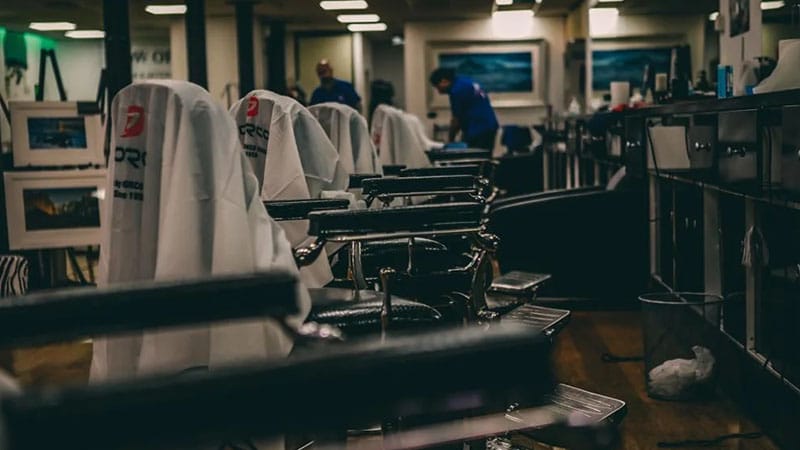 13. Pickings and Parry Barbers
Fitzroy's Pickings and Parry is a unique Melbourne barber shop. This four-seat venue is part of a retail boutique selling all kinds of men's fashion and accessories, as well as a selection of women's clothes and homewares. As such, you'll be able to update your whole look at once! Expect friendly and quality service from the passionate team of barbers. They're industry veterans who are keen to develop a trusted relationship and ensure you leave looking your best. The service menu includes re-styles, razor fades, tidy-ups, and beard trims with a style and shape. Plus, every appointment comes with a drink from their bar. Appointments are recommended, but you can call to see if there are any last-minute walk-ins.
Location: Shop 3, 166 Gertrude Street, Fitzroy
Website: www.ppbarbers.com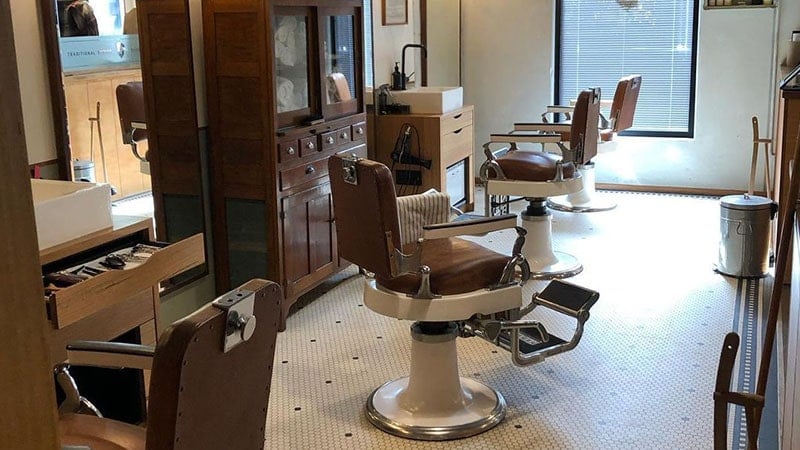 14. Hardware La Barbers
Adam Scott and the team at Hardware Ln Barbers have been in action at that location since 2011. Situated in the heart of the CBD, it's ideally located for trimming the hair and beards of inner-city gents. The cut and grooming menu includes services such as scissors, clippers, and razor cuts, as well as beard shaping, line-ups, and a hot towel face shave. It's open six days a week, and appointments aren't necessary – just wander on in. They've also opened a second venue in Yarraville called Jugga's Barbers.
Location: 36-38 Hardware Lane Melbourne
Website: www.hardwarelabarbers.com.au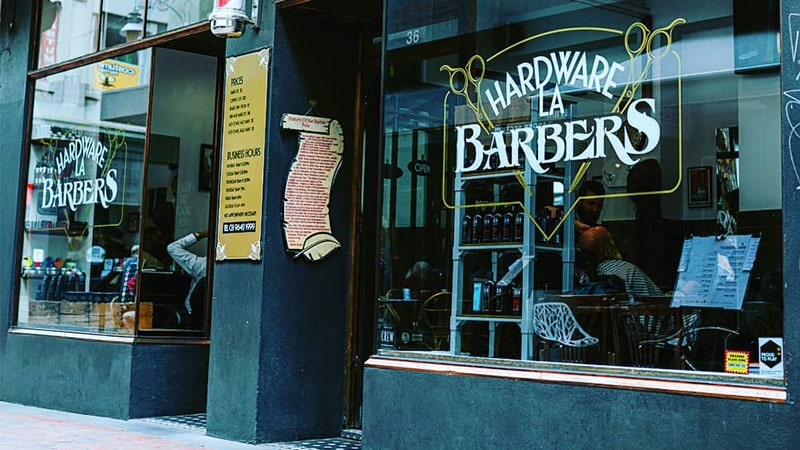 15. Barber on Errol Barber Shop
Located in North Melbourne, Barber on Errol is a neo-classical barber shop in Melbourne that exudes warmth and style. With a nostalgic ambiance that reflects its 40-year history and traditional skills, this venue offers a range of services, including standard cuts, skin fades, buzz cuts, cut throat shaves, beard trims, and complete restyling. Parents can also bring their kids for stylish cuts, ensuring a fashionable look for everyone.
Location: 73 Errol Street, North Melbourne
Website: www.barberonerrol.com.au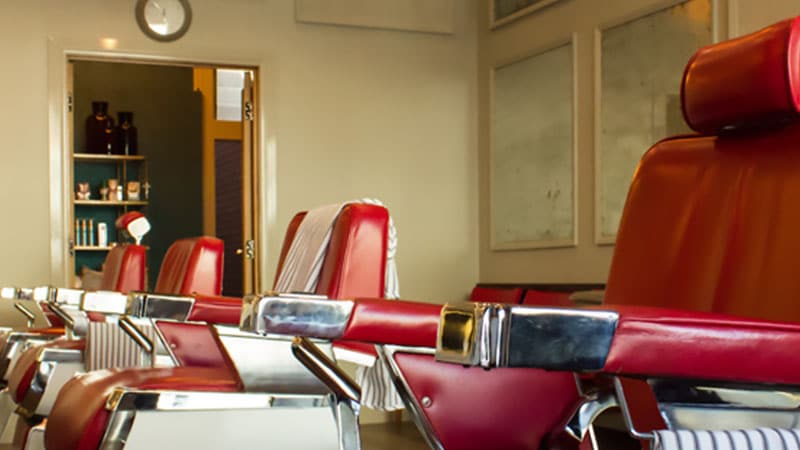 16. The Barber Club
Enjoy a touch of nostalgia at one of the best barbers in Melbourne, The Barber Club. It's one of Melbourne's oldest and most-respected family-owned barber shops, with two locations – one in Bentleigh and one in Port Melbourne. The Bentleigh location has exposed brick and vintage styling, while the Port location is modern, sleek, and features a fun plant wall. Regardless of which venue you pick, the team provides premium service and prides itself on each client leaving happy and feeling their best. Whether you're in need of a wet shave, fade, or beard trim and styling, you'll be looked after. They also stock styling products from the Australian brand CLUB.
Location 1: 375 Centre Rd, Bentleigh
Location 2: 103A Bay St, Port Melbourne
Website: www.thebarberclub.com.au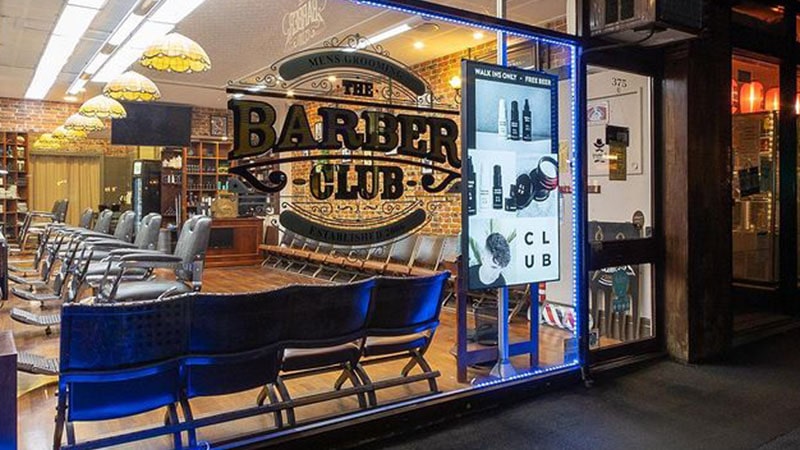 17. Rokk Mans Barbers
The Rokk Man Barbers are a new contemporary barber shop located in the heart of Melbourne's CBD and Toorak. The salons offer a hot towel shave service, beard trims, and premium men's haircuts, including skin fades and clipper cuts. They have created a relaxed male space where you can sit and unwind with a fine selection of beer, spirits, or wine. For the time-poor gents, there are 30-minute appointments.
Location 1: 446 Toorak Rd, Toorak, Melbourne
Location 2: Shop 26/45 Collins St, Melbourne
Website: www.rokkmanbarbers.com.au
18. All the Kings Men Barber Shop
If you're looking for the best barbers in Melbourne, look no further than All the Kings Men. This iconic gentlemen's barber shop has been delivering high-quality haircuts and shaves for nine years and is still thriving. Their trademark blend of traditional grooming techniques with a quirky edge has earned them a loyal following of satisfied customers. The best part? You don't even need an appointment – just pop on down to their Queensberry Street location in North Melbourne when you have some spare time.
Location: 558 Queensberry Street, North Melbourne
Website: www.longlivetheking.com.au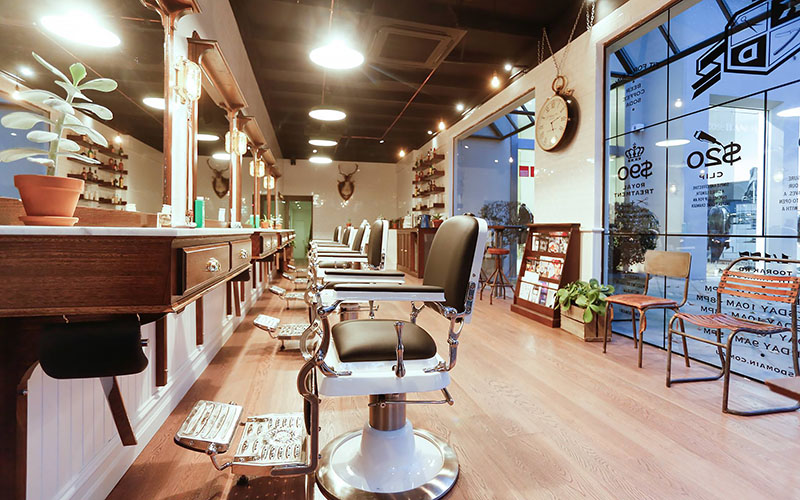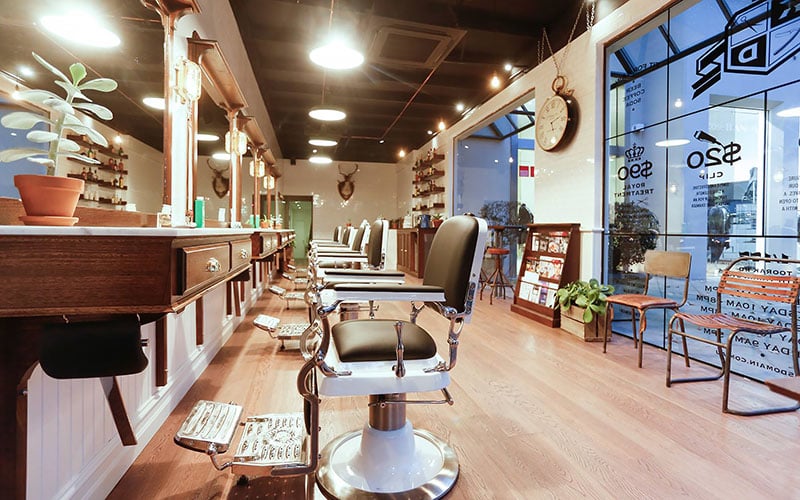 19. Captains of Industry Barber Shop
Captains of Industry is so much more than one of the best barbers in Melbourne. As well as being a top barber shop, it's also a great spot to grab a bite to eat for breakfast or lunch, purchase leather accessories and bespoke footwear made by hand to your exact measurements, and pick up pieces of contemporary and fine jewelry. Located in a tucked-away spot in the heart of Melbourne, Captains of Industry has a distinct and charming, old-world ambiance. Like you've found your way into a secret club, you'll quickly want to become a lifelong member after stepping foot through the front door.
Location: Level 1, 2 Somerset Place, Melbourne
Website: www.captainsofindustrybarbershop.com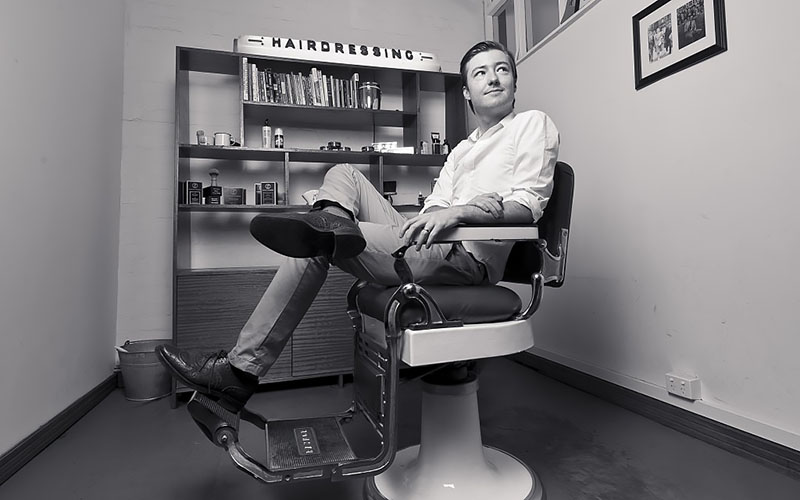 20. Little Rebel Collective Barber Shop
If you're looking to break from the crowd and express your individuality, then Little Rebel Collective is the barber shop for you. Specialising in looks that express their clients' personalities, the team here will give you the confidence to try that style you've been thinking of. Rhia is the stylist and barber on hand, creating killer looks for both gents and ladies. With over ten years of experience, she's a real pro with precision cuts and barbering. Located on the iconic Johnston Street, Little Rebel Collective has that true Fitzroy feel. Creative, edgy, and filled with energy, this spot is as cool as the suburb in which it dwells.
Location: 2/104 Johnston Street, Fitzroy
Website: www.littlerebelcollective.com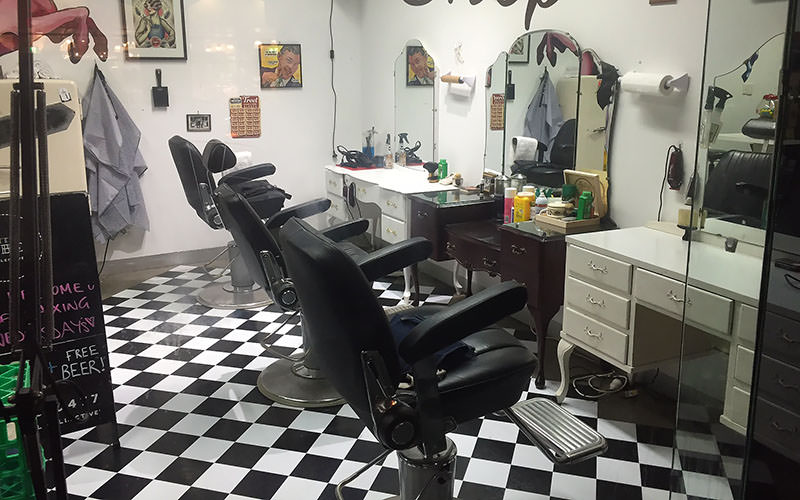 Haircuts and Hairstyles
Popular Haircuts for Men
Best Barbers in Melbourne FAQs
What are the best barbershops in Melbourne?
Melbourne has many high-quality barbershops, all with unique qualities to recommend them. However, The Bearded Man – which has locations in Prahran and Fitzroy – has won several awards over the years, and is ranked by many among the city's top spots for a cut.
How much is a men's haircut in Melbourne?
The price of a haircut in Melbourne depends on the location and the barber's experience. On average, you can expect to pay $30–$60 for a standard cut and wash. 
What are the best barbershops in the Melbourne CBD?
A few renowned barbershops located in the Melbourne CBD include Captains of Industry, Kings Domain, Men+Co, and The Melbourne Barber Shop.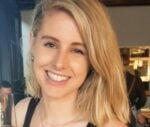 Taylah Brewer holds a bachelor's degree in fashion and business and is a skilled writer with several years of experience in the world of online content creation and copywriting. She is passionate about fashion, beauty, and all things lifestyle-related and has been writing for The Trend Spotter since 2016. She currently works as the Head of Digital & Ecommerce at White & Co.
SUBSCRIBE TO OUR NEWSLETTER
Subscribe to our mailing list and get interesting stuff and updates to your email inbox.