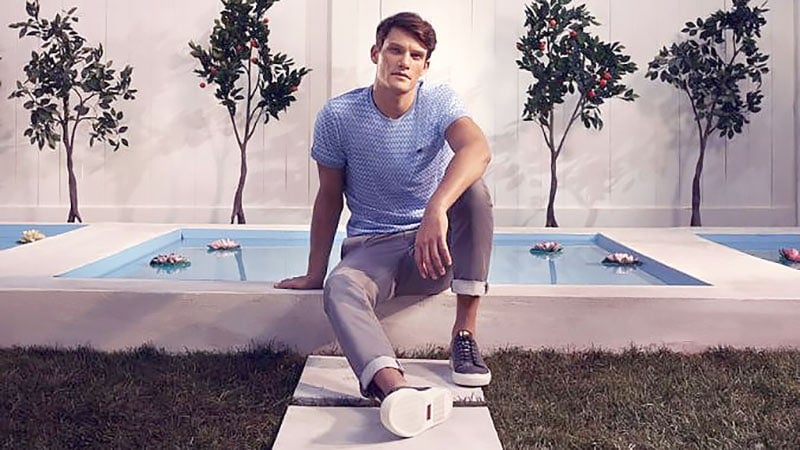 When it comes to the most versatile trousers for men, grey pants are the winner. Although you may think that black can partner with the most looks, grey, due to its diverse range of shades and tones, can suit so much more. So, whether you're planning a casual weekend outfit or a formal function ensemble, you should consider this wardrobe staple when getting dressed. Offering a sleek and sophisticated aesthetic, grey pants can appear seriously stylish. But, like any fashion item, these trousers are only as good as the rest of your outfit. Thankfully, this guide will show you what to wear with grey pants for a killer look that you're sure to love.
RELATED: How to Wear a Grey Blazer
What Colors Go with Grey?
Thanks to its versatility, grey can be successfully partnered with many colors. However, to select the most flattering combination, it's important to consider shade and tone. Grey can vary drastically between different garments, so not all items featuring this color will look good with the same hues. Although, there are general guidelines that you can follow to make selecting a compatible combination easier. For example, if your grey pants are a cool shade, try partnering them with other cool shades, such as blue. If they are a warm grey tone, consider wearing them with warm colors, like brown. Likewise, try pairing light grey shades with other light colors, such as white, and dark grey shades with dark tones, like black. That said, don't be afraid to have a play with contrast if you like a bold look.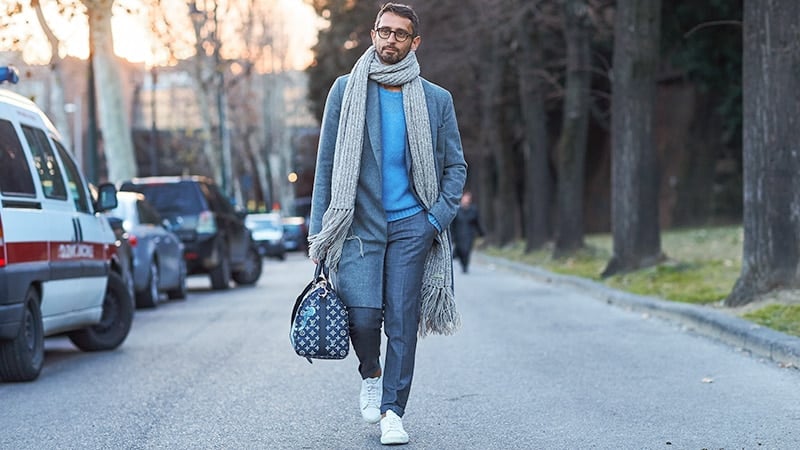 Outfits with Grey Pants
Grey pants can suit a range of both formal and casual occasions, depending on their style. For casual occasions, try selecting more relaxed trouser styles, such as jeans or joggers. For formal events, on the other hand, tailored trousers and suit pants are a logical choice. Chinos are another excellent pant option that looks stylish in grey. To wear them informally, just partner them with a T-shirt. Alternatively, wear them with a collared shirt for a smarter aesthetic.
Casual Occasions
When dressing for casual occasions, don't just reach for your blue jeans and be done. Grey jeans can be an awesome alternative that'll help you stand out from the pack. As well as being just as stylish, these pants are also just as versatile as your standard denim designs. For a simple yet sleek look, partner your grey jeans with neutral colors, such as black, white, navy, and other shades of grey. Alternatively, chinos can make a good casual option as long as you pair them with other casual pieces, such as a crew-neck T-shirt and sneakers.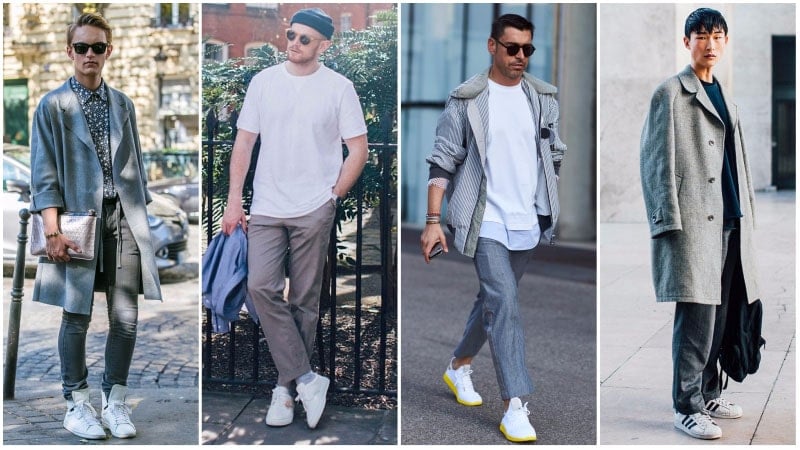 SHOP THE LOOK
Smart Casual Occasions
Due to their chic appeal, grey pants can be an excellent choice for smart casual occasions. For a summery style, select a light grey pair of chinos or trousers or, for a winter outfit, choose a dark grey style. Then, finish your ensemble with pieces that are sleek yet relaxed, such as a shirt or T-shirt, blazer, and sneakers. For cool weather, you can also consider adding a sweater to your outfit for a perfect finishing touch.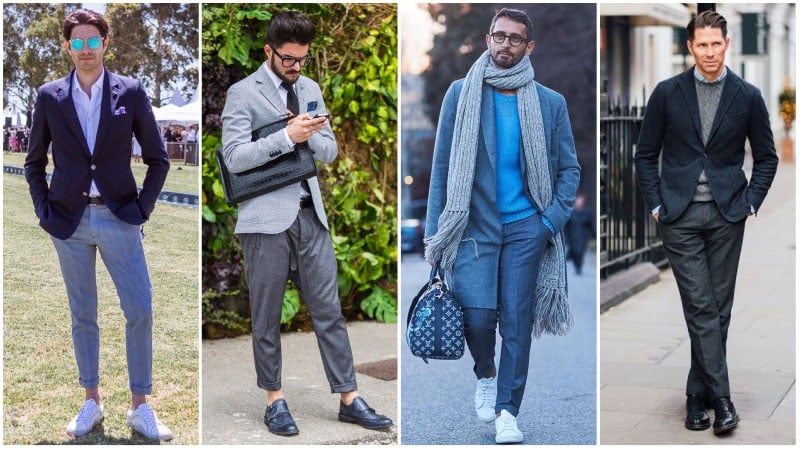 SHOP THE LOOK
What Color Shirt Goes with Grey Pants?
To achieve a stylish outfit, selecting a shirt that matches and flatters your grey pants is essential. While the style of shirt you choose will have an impact on your outfit, its color will be the most important feature to get right. While grey is versatile and can suit many shades, several hues, such as black, white, and blue, will partner better than others. All you need to know is when and how to wear these colors for the best look.
Black Shirt Grey Pants
Grey pants worn with a black shirt is a classic combination for gents. The dark look is sleek and sophisticated, making it ideal for formal evening events. As such, it's the perfect partnership for your next cocktail or semi-formal function. For a dapper finish, just add black oxford shoes and a black leather belt. For men who prefer a more traditional appearance, you can also add a matching grey suit jacket or blazer.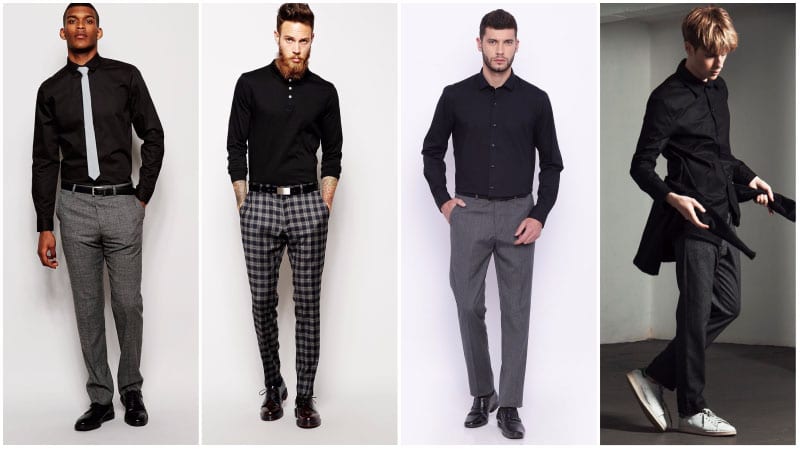 SHOP THE LOOK
White Shirt Grey Pants
A white shirt with a pair of grey pants is one of the easiest outfits a gent can wear. This combination will always look great, no matter what shade your pants are. As such, it can work for many events and occasions. All you'll need to do is change your shoes and jacket depending on the setting.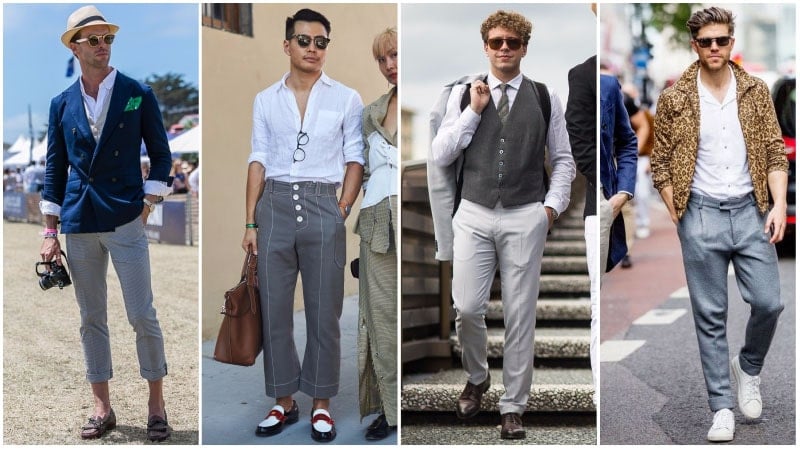 SHOP THE LOOK
Blue Shirt Grey Pants
The combination of grey pants with a blue shirt is simplistic yet stylish. Perfect for both business and smart casual occasions, this look is fresh and sleek. Just select a pair of dark grey trousers for a formal outfit or light grey pants for a more relaxed aesthetic. To complete your look, black shoes and a navy tie will work perfectly for a sophisticated style while brown footwear will appear casual and cool.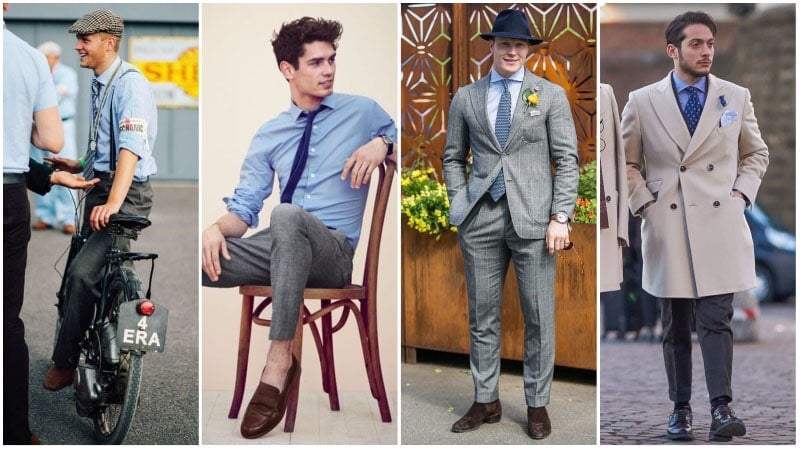 SHOP THE LOOK
What Shoes to Wear with Grey Pants
Shoes are another important consideration when rocking grey pants. As your footwear and trousers are placed right next to each other, choosing a pair that matches well is essential to achieving a fashionable outfit. While black is a good choice for most formal occasions, don't forget to try out other colors. Brown and burgundy shoes can both be excellent choices and appear surprisingly sleek when worn with grey trousers.
Grey Pants Brown Shoes
Brown shoes can appear seriously stylish when paired with grey pants. To nail the combination, all you need to do is pick the right shade. For a look that's bold and fresh, select a pair of dress shoes in a light brown tone. For an appearance that's more traditional and subtle, consider opting for a dark brown hue instead.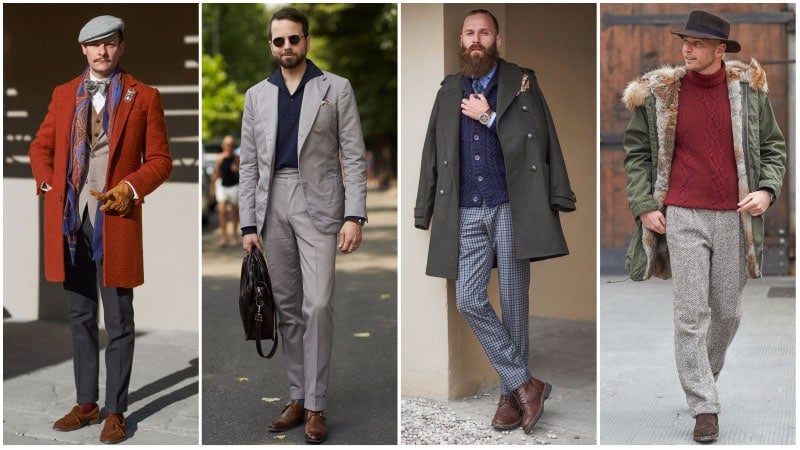 SHOP THE LOOK
Grey Pants Burgundy Shoes
Burgundy shoes create a stylish contrast when paired with grey pants. The unique color is more daring than traditional black or brown styles without appearing overly bold. As such, it's the ideal choice for those who want to stand out without looking like a sore thumb. Just select a pair of sleek dress shoes for a chic look. You can even add a matching burgundy blazer for a statement style.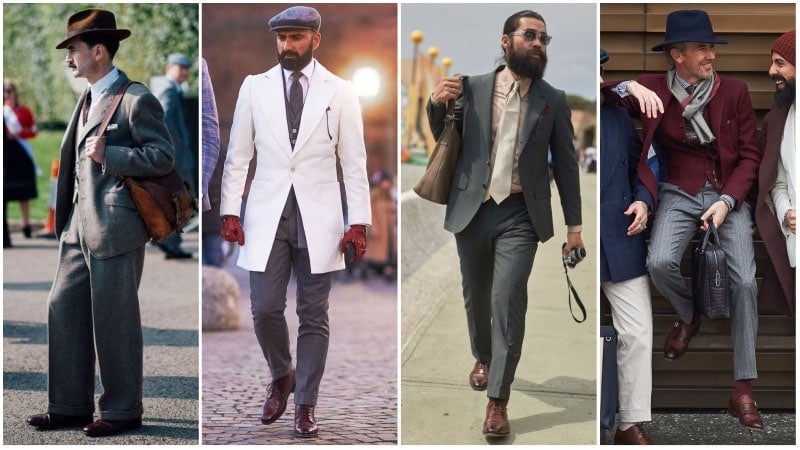 SHOP THE LOOK
What to Wear with Grey Pants
Pair grey jeans with a T-shirt and sneakers for a stylish casual look.
Opt for light grey pants in summer or for relaxed occasions.
Choose dark grey pants in winter or as an alternative to black pants for formal events.
When selecting a shirt to pair with grey pants, choose either white, blue, or black for the most flattering appearance.
Try pairing grey pants with black shoes for traditional looks and brown or burgundy shoes for statement styles.
FAQs
What Colours go best with grey jeans?
Grey is one of the most versatile colors for any wardrobe. Grey jeans look amazing paired with other monochromes like crisp white and deep black. However, when it comes to brighter hues, try to consider both the depth of the color and the undertones. Warm greys look good with other warm colors like brown, rust, or mustard, while cool grey suits blues, greens, and purples. Additionally, the darker the grey, the better it will look with darker shades, and vice versa for light and pastels. Of course, if you're feeling brave, contrasting can look amazing when done correctly.
What tops to wear with grey pants?
You can wear most types of tops with grey pants, depending on the style. Something casual like grey chinos looks perfect matched with a simple t-shirt, hoodie, leather jacket, or short-sleeve button-down. Alternatively, if you're heading to the office in grey tailored slacks, opt for a polo, long sleeve button-up, sport coat, or pea coat. The easiest colors to work with include black, white, and blue, but you can experiment with different colors because grey is such a flexible shade.
SUBSCRIBE TO OUR NEWSLETTER
Subscribe to our mailing list and get interesting stuff and updates to your email inbox.