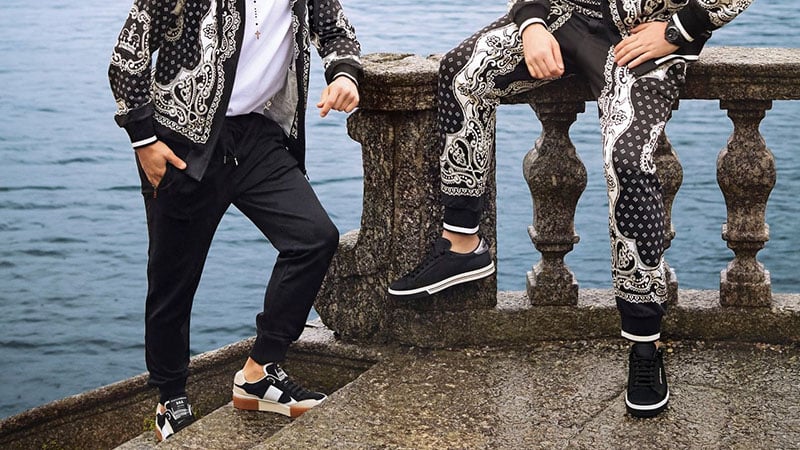 Whether you're a dedicated sneakerhead, casually street stylish, or a sports enthusiast, sneakers should be a staple in every man's wardrobe. No longer relegated to the gym, sneakers have had a makeover and now sit firmly in the realm of the fashion elite. Wear them with a suit, head out on date night, or casually on the weekend — anything goes. This also means that luxury brands have taken up the call for more premium, innovative, and sophisticated styles. From Prada and Gucci to Fear of God and Visvim, there is a brand of luxury sneakers to suit every discerning gent's style.
1. Y-3
Designer Yohji Yamamoto has teamed up with the brilliant minds at Adidas to bring together a luxury line of men's sneakers. It marries the innovative and performance-based materials that Adidas is famed for with Y-3's signature street style. The designs include mixes of textured mesh and leather, revolutionary 4D printed soles, and sports-inspired silhouettes. Choose from both low and high-top designs to elevate your casual look.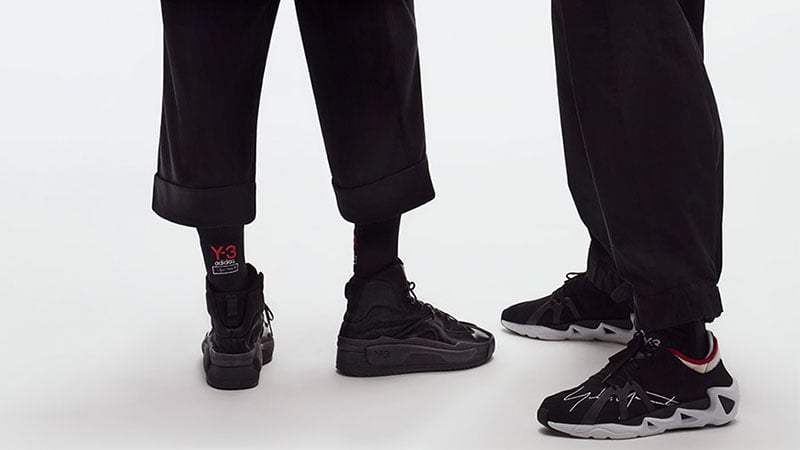 2. Prada
Complete your luxury Prada look with a pair of their stylish sneakers. The brand is currently lead by Miuccia Prada and Raf Simons, who continue to channel Prada's unique aesthetic. Check out styles like the futuristic Techno Stretch sneakers, the classic shape of the Nylon gabardines, or the Cloudbust Thunders that feel like you're walking on a cloud. Plus, their styles are still incredibly comfortable, bringing traditional sporting tech into the designs. You'll be at the peak of street style with a pair of Pradas on your feet.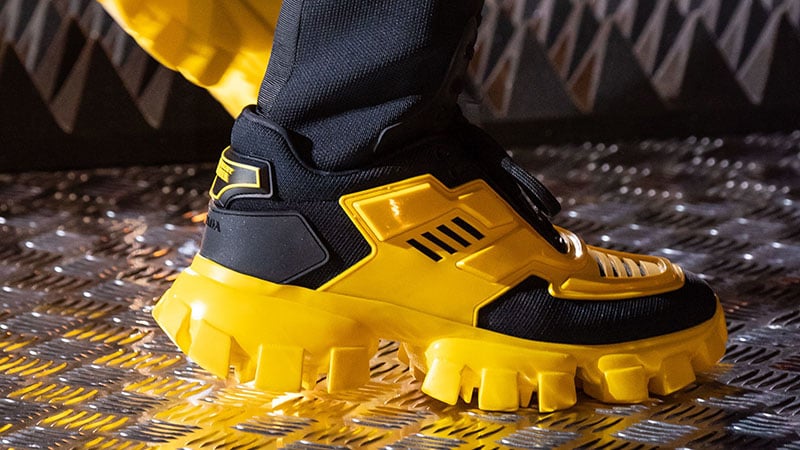 3. Gucci
Make your style pop with a pair of Gucci sneakers. With a range of styles that vary from low top fashion silhouettes to ultra-functional hiking-inspired styles, there's something for everyone. Of course, all their trainers exude the opulent Gucci aesthetic, whether it's through bright colors, unique materials, the iconic logo, or motif fabric. Plus, some styles join the Off The Grid range of sustainable fashion. These items use sustainably sourced, recycled, and organic materials in the construction to reduce the environmental impact.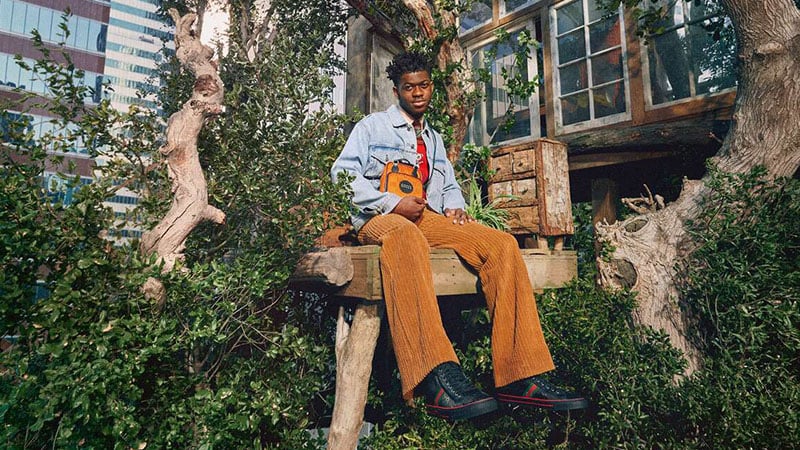 4. Christian Louboutin
The iconic red sole of ladies' Louboutins might be the first thing to come to mind when you think of their footwear. However, Christian Louboutin also does an incredible job with luxury men's sneakers. The French fashion house has a wide range of styles varying from classic everyday looks, to extraordinary Avant-garde styles boasting metallic accents, studs, and different textures. You can also choose from runners to low and high-top sneakers to fulfill every wardrobe need.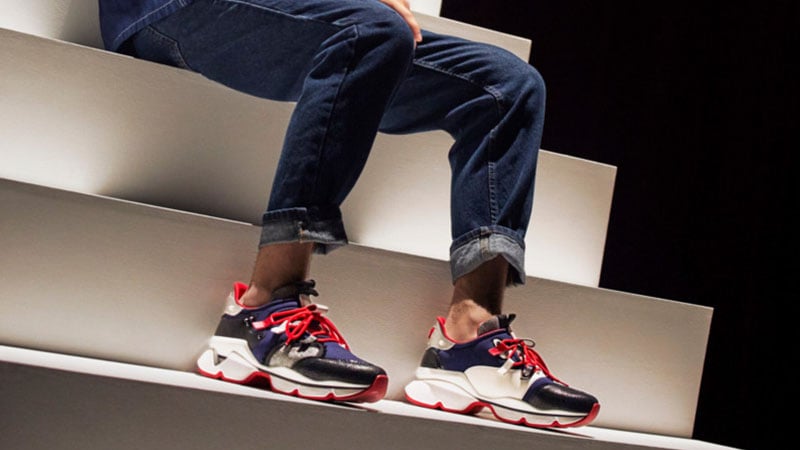 5. Balenciaga
Add some luxury to your sneaker collection with a pair from Spanish house Balenciaga. Their revolutionary Speed Sock sneaker is one of their most esteemed concepts. The comfortable fit is both comfortable and modern. Other styles include the Track.2 sneaker with a more traditional profile but intricate detail in various colorways. There's also the Triple S Clear Sole, which is sure to put a spring in your step. Demna Gvasalia, the former founder of Vetements, is the current head of design at the now Paris-based brand and brings with him years of sport-inspired design experience.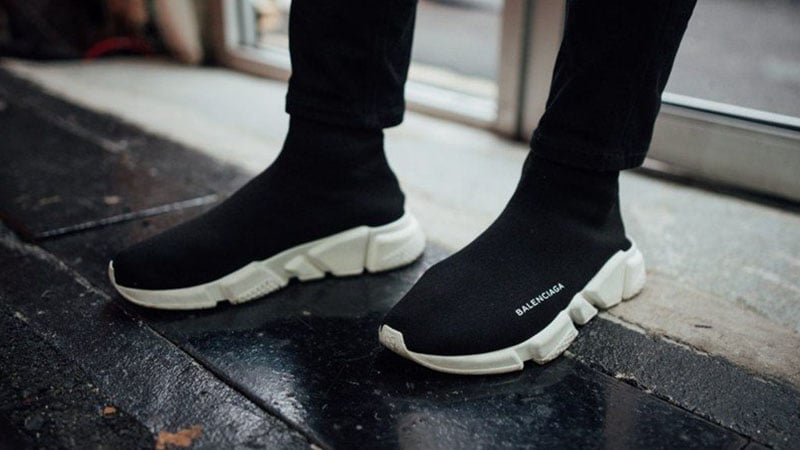 6. Lanvin
French fashion house Lanvin brings fresh Parisian style to men's luxury sneakers. You can keep it simple, with a classic low-top lace-up, with a contrast toe. Alternatively, throw-it back to the 80s with the bold color panels of the Bumper low-tops or Clay high-top sneakers. The bright colors will bring some character to your outfit and some cheer to your day. No matter what style you choose, you'll be feeling just as comfortable as you are stylish.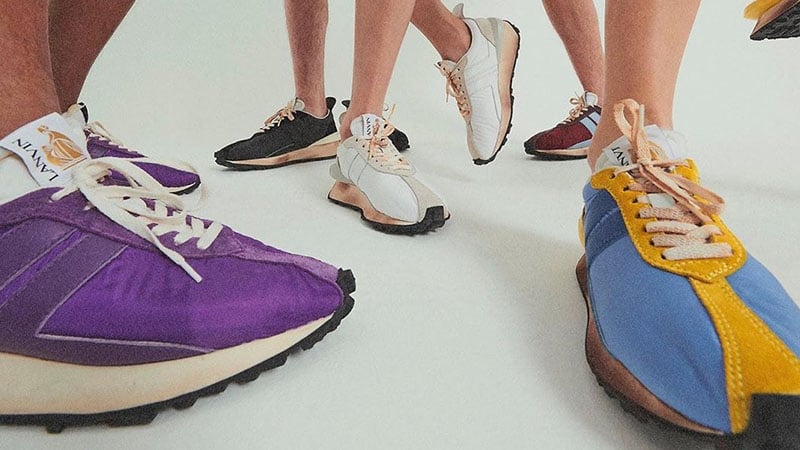 7. Saint Laurent
Choose from a selection of stylish sneakers from Saint Laurent. The French fashion house has been creating luxury items for men and women for nearly 60 years. A lot of their sneaker styles, like Court and Venice, are classic and understated, making them perfect for a casual office, boys weekend, or laid-back date night. However, for gents looking for something a bit more fun, try out animal prints, or star-spangled canvas for a different look.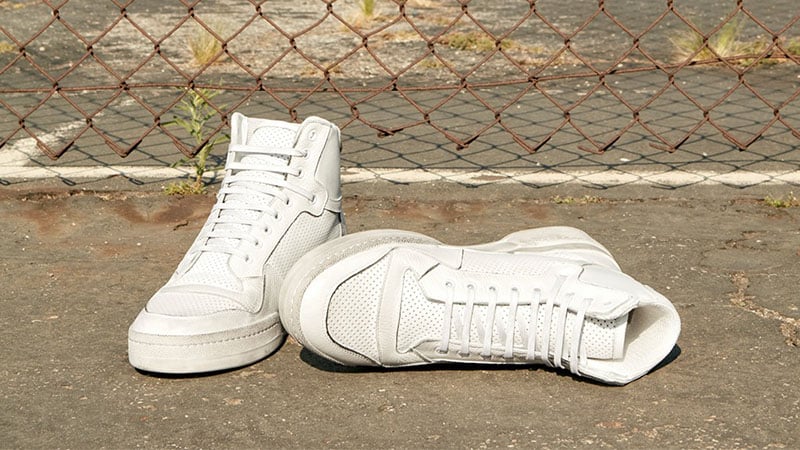 8. Versace
Versace has always worked to redefine elegance when it comes to men's fashion. Their range of luxury sneakers is no exception. Expect to discover bold and chunky silhouettes melded with bright colors, metallic accents, and signature motifs. Everything is bound to make a strong statement. Not to mention, you'll be exceptionally comfortable while doing so, as the construction contains premium materials, superior workmanship, and Versace's high quality.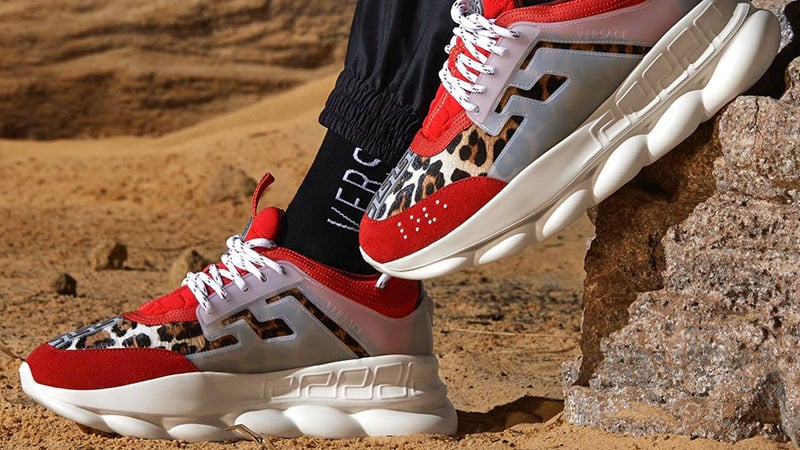 9. Alexander McQueen
Oversized is all the rage at Alexander McQueen when it comes to men's luxury sneakers. The London-based brand is known for pushing the boundaries of avant-garde couture and street style. The range of sneakers does just that. With chunky soles and heavy tread, you'll easily be putting your best foot forward. Enjoy finishes that include fluoros, pearlescent accents, and contrast trims to make your shoes stand out.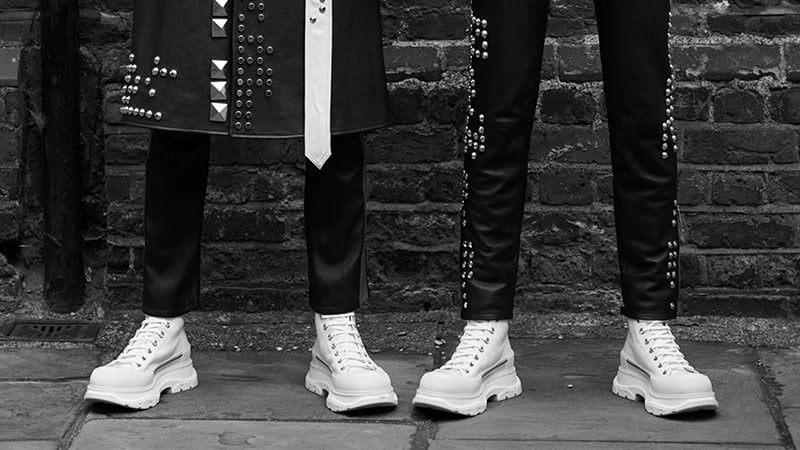 10. Fendi
Earthy tones come together to keep Fendi's sneaker range, bold, yet not over the top. Think color blocks of muted browns, warm yellows, subtle khakis, and pastel pinks. The iconic Fendi motif makes a regular appearance across the selection of high and low-top sneakers and runners. You'll enjoy both comfort and style with a pair of these kicks.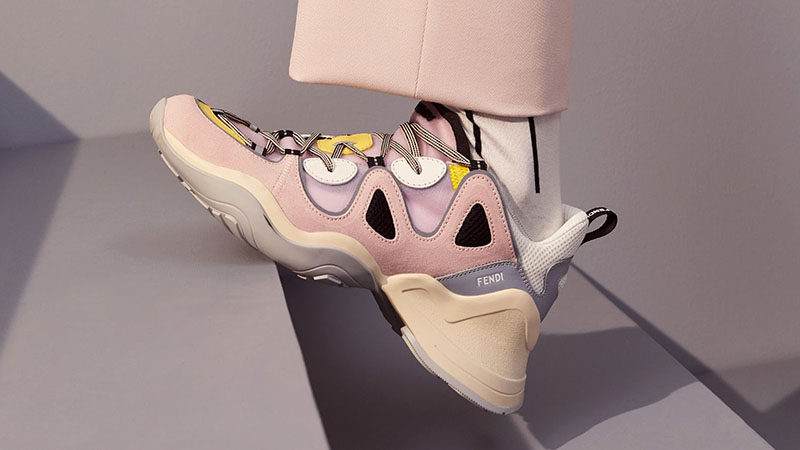 s
11. Tom Ford
Tom Ford's resume is impressive, having worked at both Gucci and Saint Laurent. As such, he brings a wealth of experience to his own label and line of luxury men's sneakers. The timeless style and classic tailoring show in the traditional and stylish designs. Select from both high and low-top shoes with warm coloring or crisp white. Quality materials round out these refined styles, using fabrics from soft leather and suede to ultra-comfortable and conforming neoprene and mesh.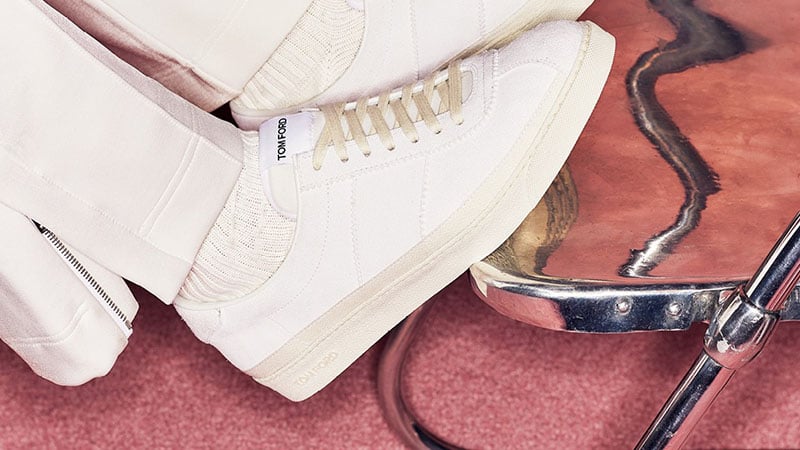 12. Valentino
Sneakerheads will love the selection of shoes from Italian company Valentino. These luxury kicks come in styles to suit every taste and need. There are hiking-inspired styles such as Climber and Bounce, or Rockrunner that's well suited for getting out and about and active. If you seek a more street-savvy vibe, then any of the casual fashion-forward options like VL7N and the signature Rockstuds will be the best choice.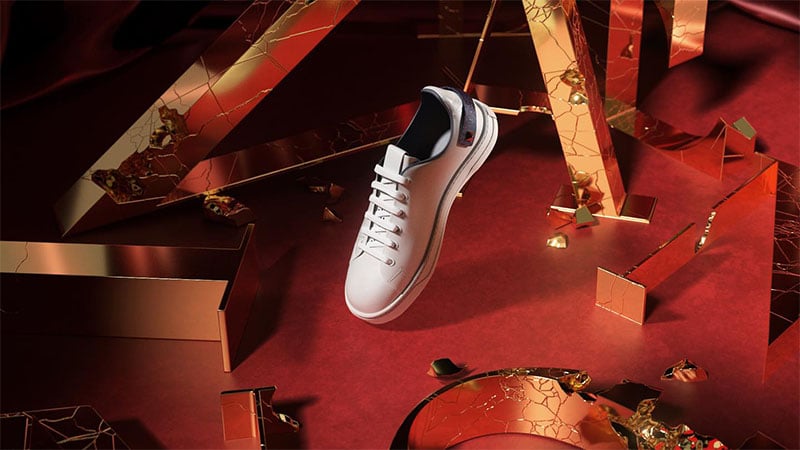 13. Dolce & Gabbana
Add a touch of glamor to your luxury sneaker collection by indulging in a pair or two of Dolce and Gabbana styles. Regal embellishments and rich patters mix with the brand's signature motifs to adorn their shoes. While there are more subdued options such as the sleek black Portifinos, the majority are out for making a bold statement. Chunky rubber soles ensure you're just as comfortable as you are stylish, so you can spend a full day kicking around with not a worry in the world.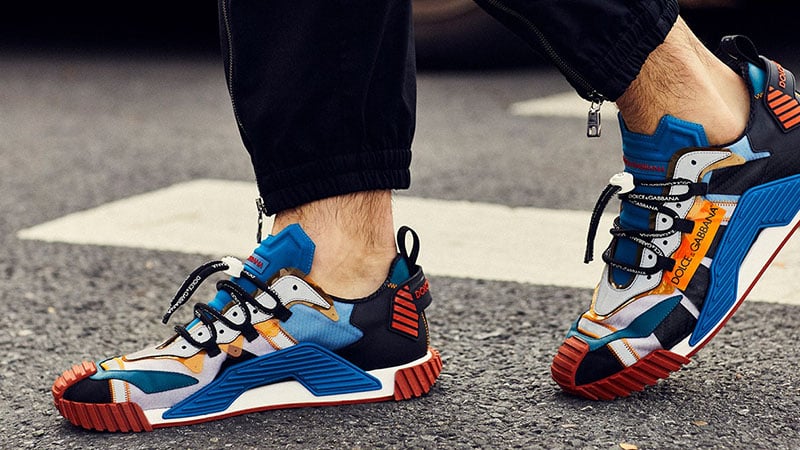 14. Balmain
French fashion house Balmain brings its spin to luxury men's sneakers. Discover simple, timeless styles like the B-Court that take you through your day with ease. On the other hand, fast forward time with futuristic, trendsetting styles like the BBold high-top sneaker. It features sock-style uppers, with thick platform soles that secure the Balmain branded straps across the foot. The style is completed with accents of gold. No matter the shoes you choose, they'll take pride of place among your shoe collection.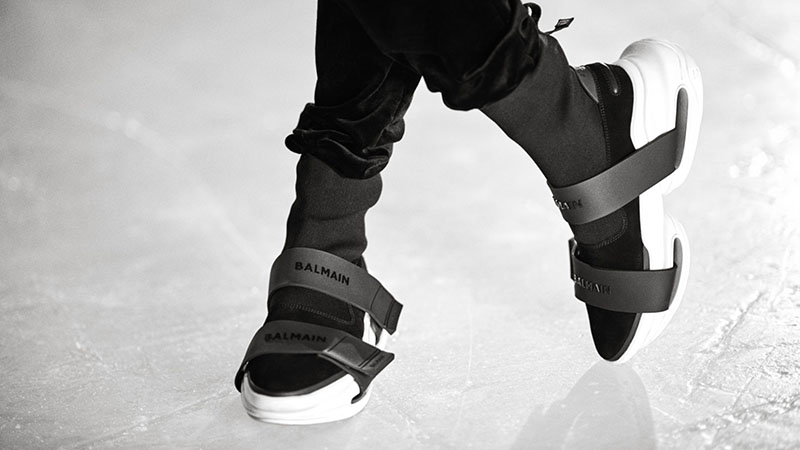 15. Common Projects
Founded by Prathan Poopat and Flavio Girolami, Common Projects is a luxury footwear brand. Their style is defined by timelessness, with silhouettes inspired by tennis, running, and basketball. The Achilles was their debut design and boasts a quiet elegance. This Italian-leather sneaker comes in a range of colors, including plain black, pristine white, and tan suede. The collection has expanded hugely since its 2004 launch. However, the one thing that remains constant is their distinguishing 10-digit codes found on the back of the heel. This number indicates the shoe style, size, and color code, and is embossed in a neat gold font to keep the minimalist styling.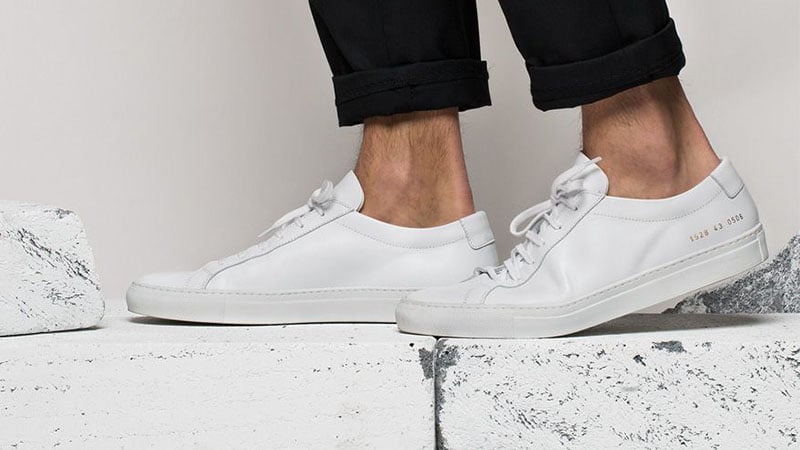 16. Visvim
At Visvim, founded by Hiroki Nakamura in Tokyo in 2001, Americana meets Native American and Japanese inspiration. This cult-favorite label uses traditional methods for creating both its clothing and shoe ranges. Hiroki spent time in his youth traveling rural America and learning about life and culture from indigenous tribes in Alaska, developing a passion for American footwear. Hence, shortly after forming the company, he created the iconic Visvim FBT, a mix-up of moccasin and trainer. Nowadays, the line of luxury sneakers features styles that bring together Hiroki's passions, while embracing street-savvy style.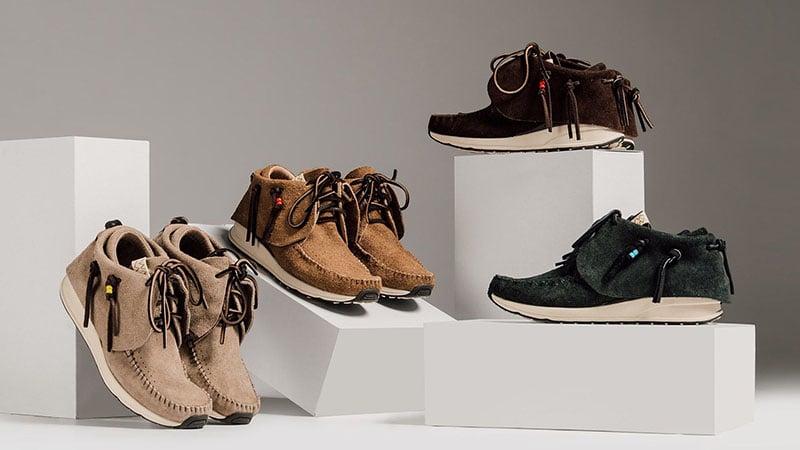 17. Off-White
Another company with a cult following is Off-White. It's here that high-concept streetwear meets Italian craftsmanship. Founder and designer, Virgil Abloh, celebrates boldness and eccentrics through his work. The use of color, cultural iconography, and quotes is quintessential of the brand and adds to the hype surrounding the styles. Choose from graffiti-covered high-tops to joggers with distinctive rubber soles that help you stand out from the crowd.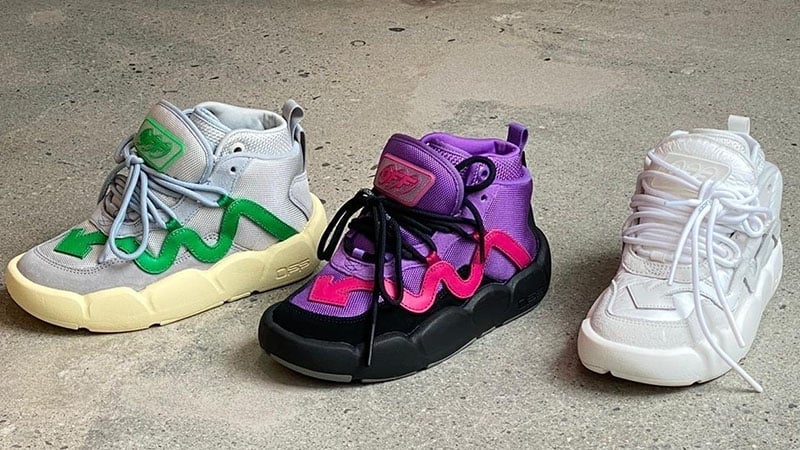 18. Berluti
Gentlemen in search of a more sophisticated sneaker should look to the house of Berluti. This French fashion brand has been creating luxury men's shoes that are true masterpieces since 1895. From inception, the focus has been on expert craftsmanship, using the finest quality leathers, while quietly bending the rules. As such, the range now features styles inspired by tennis, running, and basketball sneakers, yet still, maintains an understated elegance. You can comfortably wear these styles with a casual suit to the races, or just with your cotton shorts on a weekend by the coast.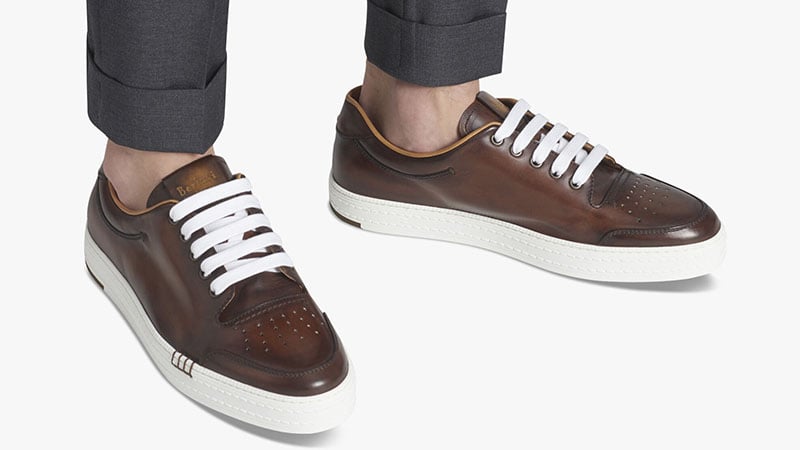 19. Maison Margiela
Some genuinely incredible conceptual designs have come from Maison Margiela. Perhaps the most notable was the divisive tabi boot, which debuted in 1998. While there are more modest styles, such as Replica and Wedge, it's the more curious creations that demand attention. Opt for the Tabi low-top sneakers that boast the split toe, choose the mind-meltingly embellished Fusions, or go crazy with a bubble-soled style. Whatever way you go, you'll be turning heads and radiating street-cred.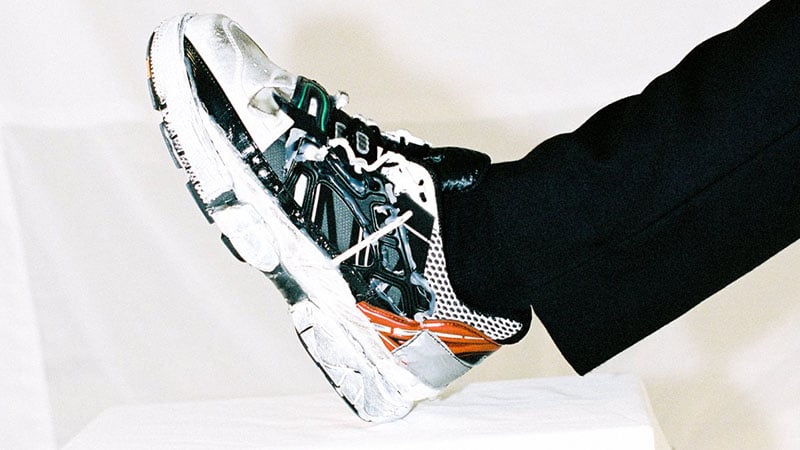 20. Golden Goose
Every shoe from Golden Goose is made by hand and individual distressed. Based in Venice, the company was started by Francesca Rinaldo and Alessandro Gallo in 2000, and their focus is on modern, refined footwear with a vintage feel. Contemporary gents with an easy-going style will love these luxury men's sneakers that channel a West-Coast skater vibe and feature the signature superstar logo. There's an abundance of colorways for both high and low-tops, all with great shades and that well-worn aesthetic.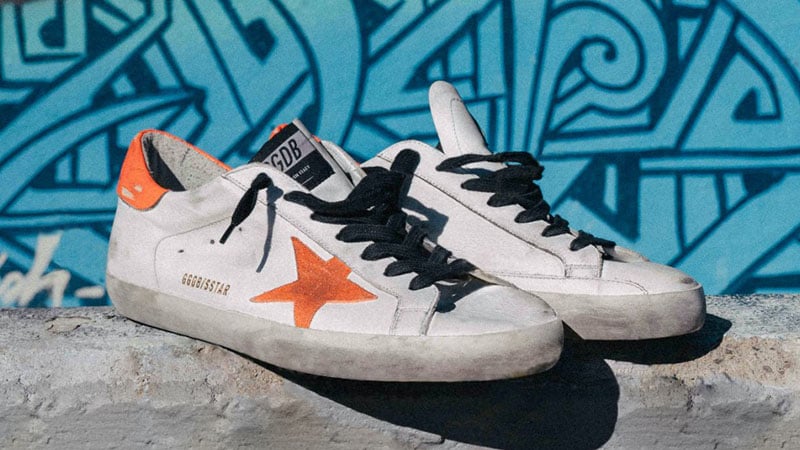 21. Ermenegildo Zegna
It's the fine finishings, quality materials, and decorative details that make Ermenegildo Zegna luxury sneakers stand out from the crowd. The stitched-panel Tiziano sneakers are one of the most popular styles from the collection and are the epitome of premium street style. Alternatively, choose a more futuristic look with a pair of paneled low-tops with chunky rubber soles or the Claudio sneakers with threaded detail. The high standard of all their creations means you can team them with your chinos at the office or wear them casually on the weekend.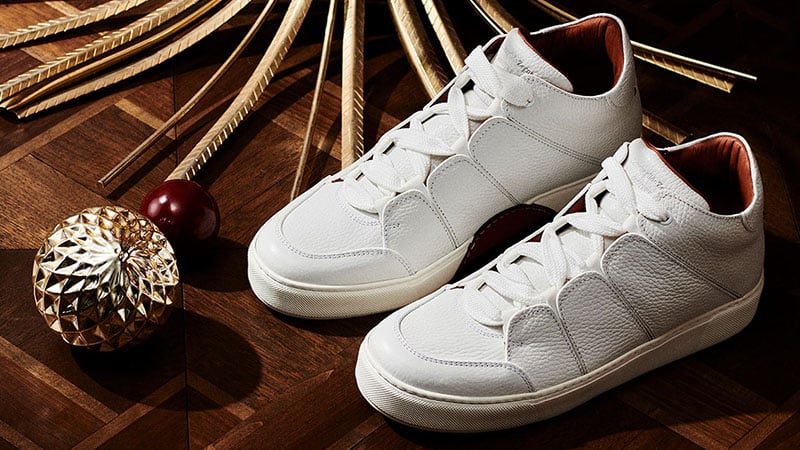 22. Church's
Now owned by Prada, Church's was originally a British company that started in 1873. Consequently, there is some significant history behind the classic and stylish designs that now grace the feet of the brand's most fashionable customers. Enjoy a selection of classic kicks and retro runners. The Boland is a prolific sneaker style that comes in all sorts of combinations of soft suedes and high-shine leathers. Wear it to work or style it casually. If you're after a more sporting look, try the nostalgic vibes of the Dalton, or the active feel of the Ch873 runners.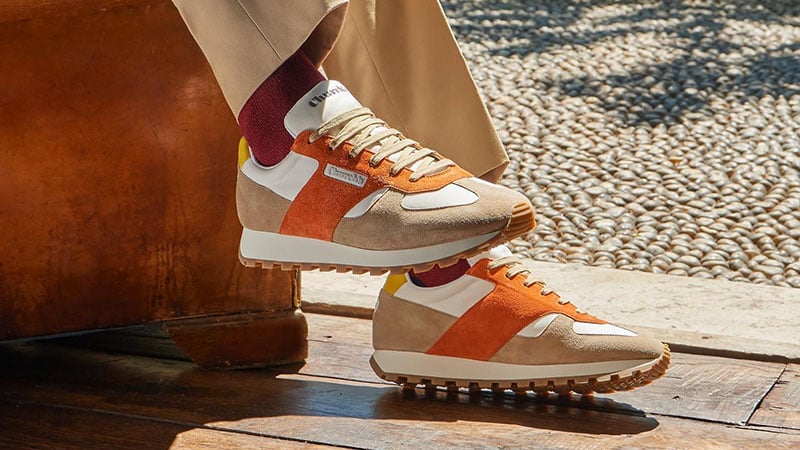 23. Grenson
Grenson has been a pioneering shoe manufacturing company since 1866. They were one of the first businesses registered in the UK, as well as one of the early factories to use the Goodyear Welted method of shoemaking. While the brand's history lies in dress shoes and boots, they've now branched out to creating luxury sneakers as well. The first style was Sneaker 1, based on a 70's tennis shoe silhouette. Currently, there are dozens of styles to select from, yet all maintain a refined and dignified feel.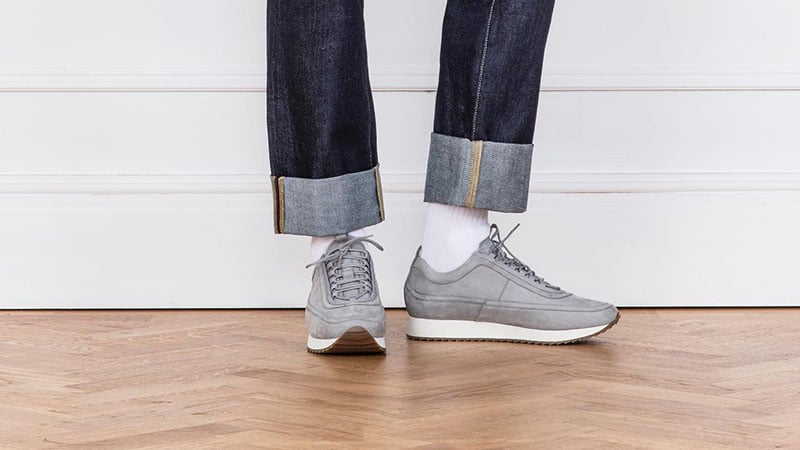 24. Rhude
Rhude may not be a household name yet, but with its increasing fanbase, this Los Angeles based label soon will be. Founder Rhuigi Villasenor combines streetwear style and elements with luxury techniques to create stylish designs. The high-top Rhecess basketball sneakers are one of the staple lines, and feature vintage details and are hand-distressed. Meanwhile, the range of V2 Bandana shoes brings festival vibes to the street scene with both a colorful option and a more subdued grey and white. Additional collaborations with companies like PUMA will undoubtedly see the brand continue to grow in popularity.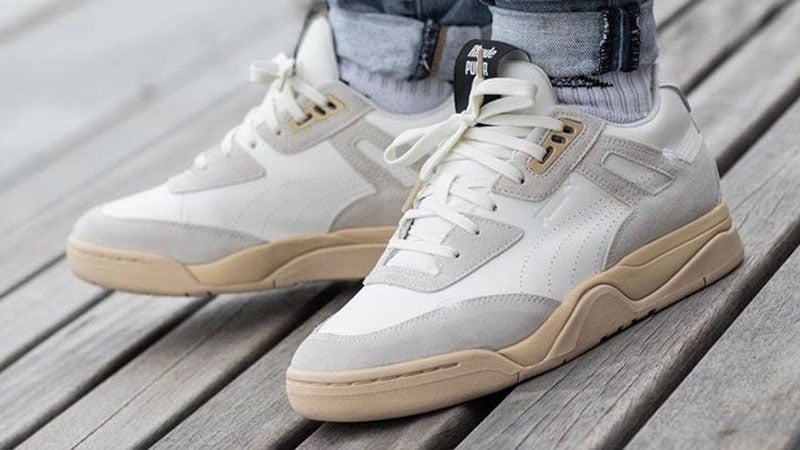 25. Fear of God
American fashion and sneaker designer, Jerry Lorenzo heads up his company Fear of God. This rebellious brand appeals to both hip-hop and grunge styles, dropping new collections as they please and collaborating with the likes of Nike and Zegna. The current range features high and low tops, showing mostly neutral suedes and classic shapes.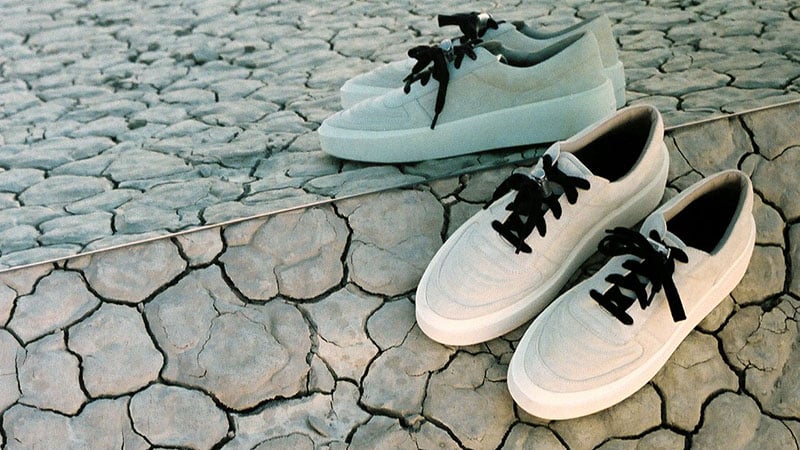 26. Vetements
Vetements started as a design collective, founded by Demna Gvasalia and Guram Gvasalia. A combination of tongue-in-cheek designs, collaborations, and famous fans saw the brand's notoriety and popularity skyrocket in a short time. Their luxury sneakers styles are limited by fun; however, some of their partnerships have included Reebok, therefore expanding the range. Opt for sock-style high-tops that hug your feet, or go more traditional with the Spike Runner than comes in geat colors including orange, and red and blue.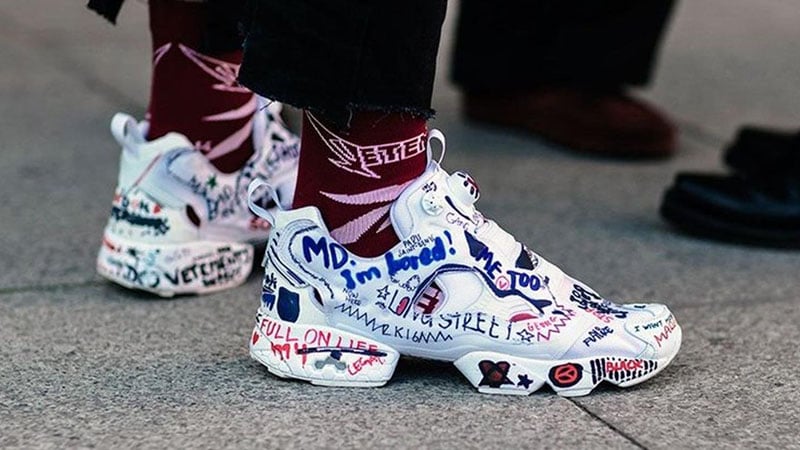 27. Officine Creative
Embrace the lived-in charm of Officine Creative's low-top sneakers. This luxury Italian brand has perfected leathercraft over the years since its establishment in 1968. The exquisite craftsmanship ensures an understated refinement. Meanwhile, the neutral palette makes the full range incredibly wearable and versatile. These shoes are perfect for gents who appreciate quality style, without being flashy.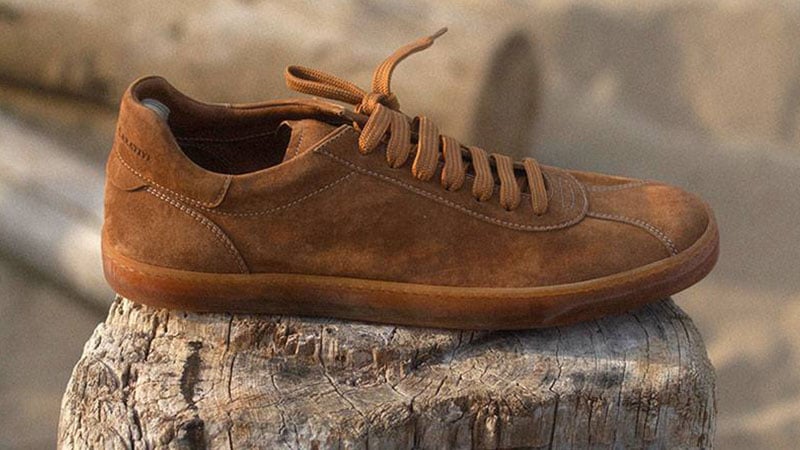 28. Salvatore Ferragamo
A timeless label like Salvatore Ferragamo has the know-how to make stylish and contemporary luxury men's sneakers. Italian craftsmanship ensures that even though the styles are casual, they're no less decadent. Sticking to mainly low-profile tennis and jogging-style shoes keeps the range classic and versatile. However, the materials used, such as embossed jacquard uppers, calfskin leather, and detailed paneling, take it back up a notch.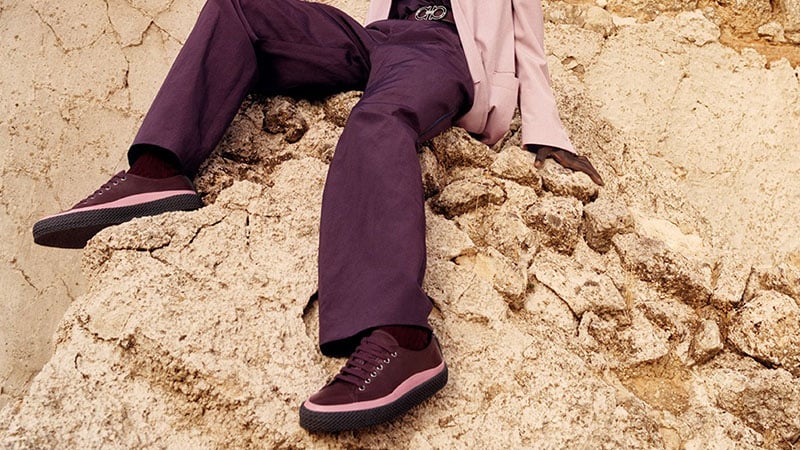 29. Moncler
Get your feet into some stylish kicks from Moncler. Street-savvy and sports-ready, there's a variety of looks to choose from. The Leave No Trave, Bubble, and Trevor sneakers are great for gents who love the running-shoe aesthetic. They're comfortable, practical and they look good. If you like a more casual tennis shoe approach, the Monaco and Montepellier sneakers are perfect.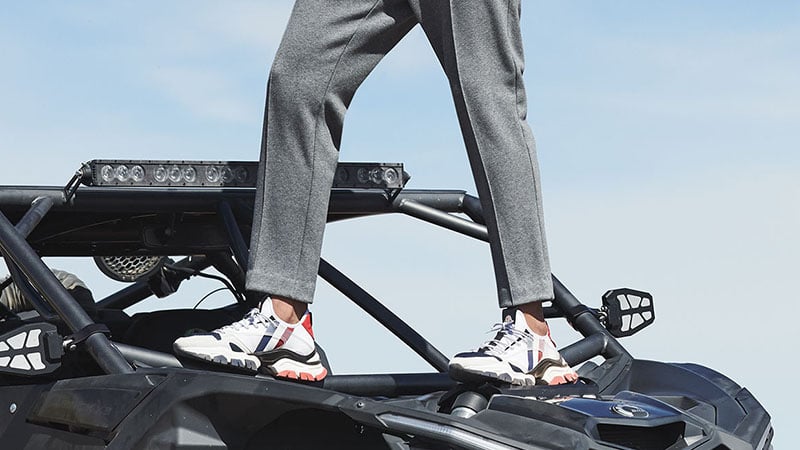 30. Amiri
If you're looking for a side of fun with your luxury, sneakers from Amiri ticks the box. The company combines rock'n'roll with a California energy. The result is shoes adorned with buckles, chains, and skeletons. The low profile tennis style shoes slip on easily and pair well with shorts, chinos, and even tailored trousers. If the grungier style is not your vibe, pretend you're on vacation with the Hawaiian or Banana print designs for a tropical feel.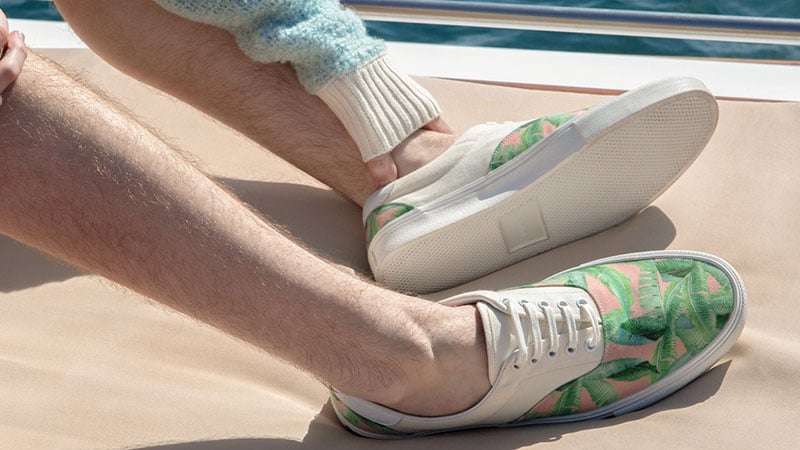 FAQs
What are the best designer sneakers?
The best designer sneakers make a style statement and are made from premium quality materials using advanced construction techniques. For minimalist luxury, Common Projects are one of the best brands. For a darker futuristic aesthetic, you can't go past Y2. And often copied Balenciaga sneakers are sought-after for their boundary-breaking design. 
What is the most expensive sneaker brand?
While designer brands make more expensive sneakers, Common Projects and Golden Goose Deluxe Brand are the most expensive sneaker-only brands in the world. 
What is the most expensive shoe in the world?
Sold at auction for $615,000 a pair of 1985 'Shattered Backboard' Air Jordan 1s, worn by Michael Jordan, are the most expensive shoes in the world. Of shoes that could be purchased in stores, an ultra limited-edition pair of Nike Air Mag Back To The Future 2016 cost $35,000. 
SUBSCRIBE TO OUR NEWSLETTER
Subscribe to our mailing list and get interesting stuff and updates to your email inbox.