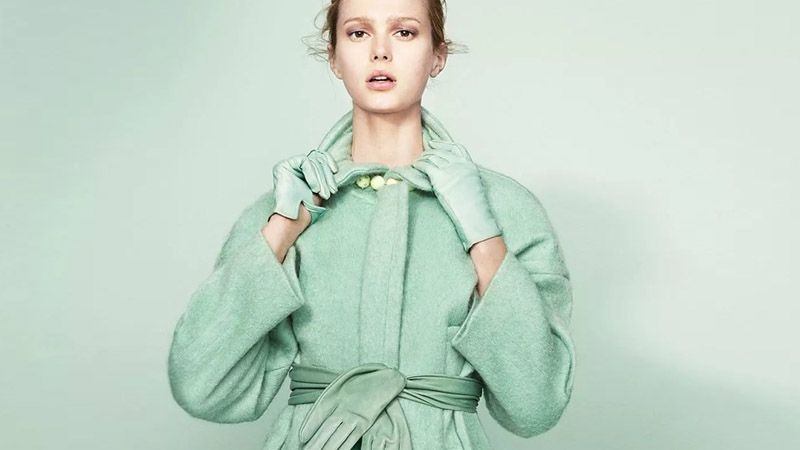 Want to spice up your wardrobe with the hottest colour trend? Why not try something exciting and new. The wardrobe equivalent of a caffeine hit in your morning coffee, mint green is painting itself as the desired hue of the season. Paired with pastels or cream, mint has a gentle retro effect. And for the full whack, why not give a head-to-toe mint ensemble a go. Consider these options with our expert guide on how to wear mint green colour with style.
Mint Green Colour
The colour of freshness, coolness and the sea breeze, the colour of vigour and courage. It's all about mint. A softer shade of turquoise and green, mint green is the perfect choice for the up and coming season and we are obsessed with it! Minty fashion is everywhere, from accessories to clothing, makeup to nail polish, and even the walls in our home are painted in this colour. Flattering on almost all skin tones and so attractive in combination with peach, white, black, beige, navy and practically all shades of the rainbow, what's not to love?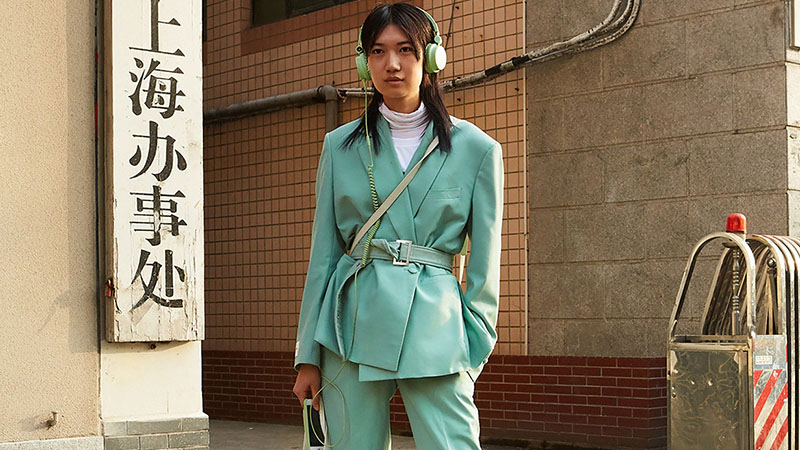 Colours that Match with Mint Green
Being such a unique shade, mint green can be matched with many other colours. Pair it with delicate pastels for a sugary sweet look. This incredible shade of tenderness and femininity is in perfect harmony with baby pink, lavender, beige and nude. Colour blocking is a good idea here, so choose one more pastel shade and play with these colours. Another light colour that looks great with mint and flatters almost all skin tones is white. You can't go wrong when pairing your mint skirt, shorts or pants with a white blouse. So whenever you have no idea about what colours go with mint green, simply stick to the purest colour duo: mint and white. The options are endless, so trust your inner stylist and mix and match the pieces you already have in your wardrobe!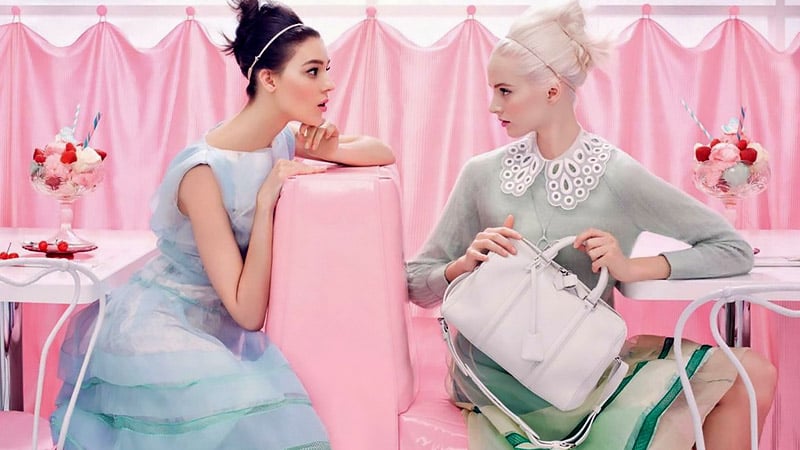 Mint Green Outfits
Mint Green Dresses
If you are looking for a dress in a colour other than black, mint green is a great option. Just make sure to keep your colouring in mind and pick the shade that flatters you the most. Wearing a mint green dress will ensure an uber-romantic and fresh appearance wherever you go. With this in mind, this colour dress is a stunning look for the first date. You can also choose this shade for your bridesmaids, especially if your wedding is going to be in feminine, romantic themes. To warm up your mint green dress, finish off your ensemble with rose gold metallic accessories.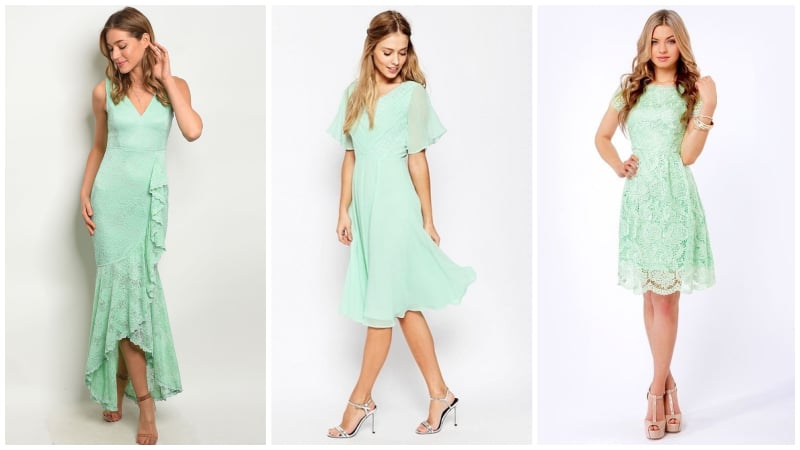 GET THE LOOK
Mint Green Pants
Cool and comfy pants will make any ensemble more eye-catching and incredible! So if you are tired of wearing the same old dresses and skirts, then pastel colour pants will be an excellent choice for spring days. For casual looks, you can try to wear mint green jeans, for more formal outfits, opt for trousers. Whatever you choose, pastel mint coloured bottoms are very trendy and can look fabulous in combination with a neutral solid top. Finish off your look with one mint accessory, like a minty watch, or go for metallic accessories.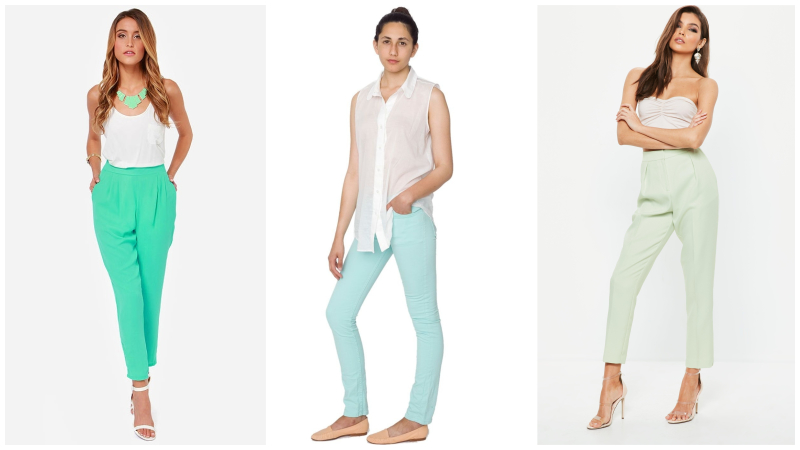 GET THE LOOK
Mint Skirt
A mint coloured skirt is sure to win a round of applause because of how refreshing and stylish the colour is. Mint coloured skirts can boost the overall look of your outfit. Paired with the right colour, they look ultra-modern and snazzy. The easiest way to pull off this shade is by matching it with either a white or black top. You can wear heels, boots or whatever footwear suits your ensemble provided the colour of it fits. To look fashionable, try to keep the look minimalistic. Remember, less is more and simple is stylish. To complete the look, you can throw on a denim or black leather jacket.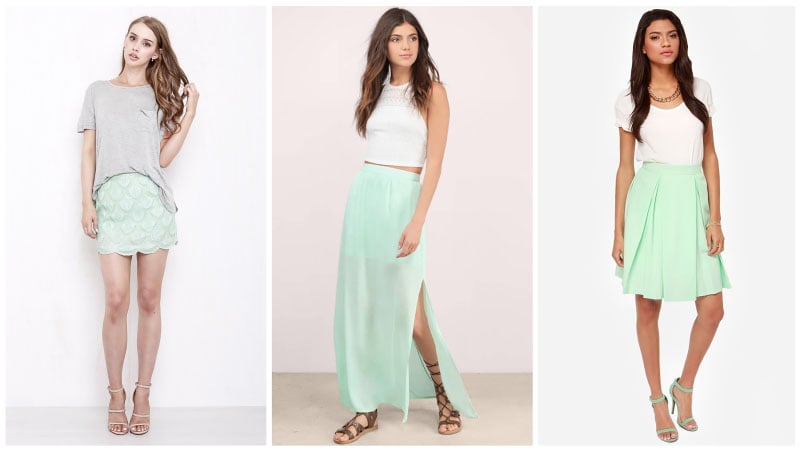 GET THE LOOK
Mint Shorts
There are several types of shorts and all of them, when worn in a minty shade, are bound to captivate attention. The shade always looks gentle, feminine and so adorable – perfect for the warmer seasons! Mint green blends great with almost all colours from neutral and pastel to bright ones. In particular, mint green shorts look fantastic with white pieces of clothing. Combine a white loose off the shoulder blouse with mini mint shorts, a straw wide brim hat and metallic flats. Wear white lace, scalloped or ruffled shirts to look more girlish and romantic. For those who love complicated looks but are afraid of too eye-catching combinations, mix mint green with other pastel colours such as light blue, yellow or pale pink.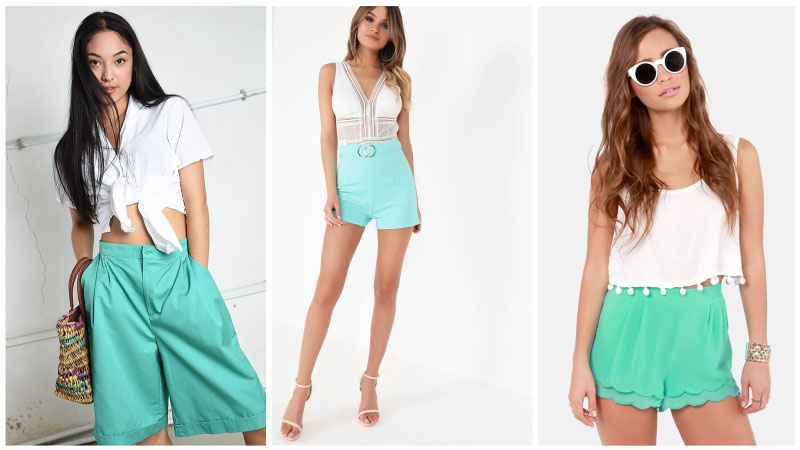 GET THE LOOK
Mint Shirt
Want to add a light, romantic touch to your outfits? Why not try a mint green shirt! Feminine and versatile, this piece makes for a great option for a variety of occasions. A mint green shirt paired with denim shorts makes for a very youthful, casual and attractive look. For the shoes, try a pair of low top sneakers or flats to look sharp and cute. For a more formal option, pair your shirt with black skinny jeans and a pair of open toe strappy heels. This style makes for an instantly lean and sharp look. To finish, add a clutch bag into the mix to look mature and feminine.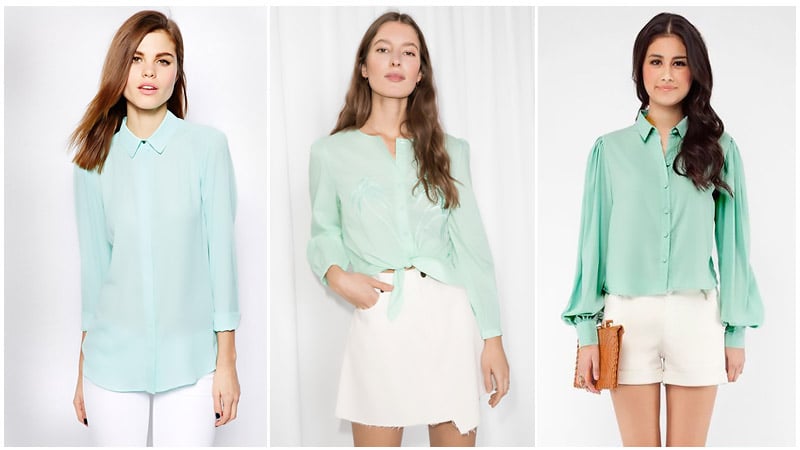 GET THE LOOK
Mint Jacket or Coat
Why not invest in a statement piece that keeps you cozy? A mint green jacket or coat will make for a breath of fresh air in a sea of wintery black and grey! This stand-out coat will be a pretty and feminine addition to your outfits all year round. For a head-turning winter outfit, we recommend pairing a mint green coat with white jeans and pastel colour boots. On the other hand, layering a three-quarter length coat over a shorter skirt or a dress will create a long-over-short silhouette outfit for spring that feels modern.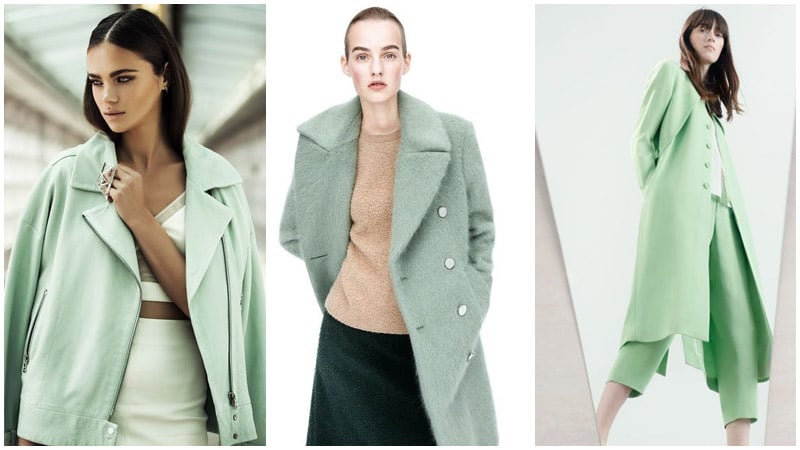 GET THE LOOK
Mint Colour Shoes
If you normally don't wear much colour, try to sneak some in with your shoes. Wearing mint green on your feet is a great way to add a pop of colour to any ensemble, plus, it'll work for almost any occasion! You can rock it on an evening out on the town, or to brunch with the girls. To make it work, just make sure not to overdo it. Mint in a delicate light shade will be perfect. This shade is really energising and unique. You can easily pull off great looks with mint green and appear fashion-forward. However, in order to rock the trend, be sure to keep the good in small portions.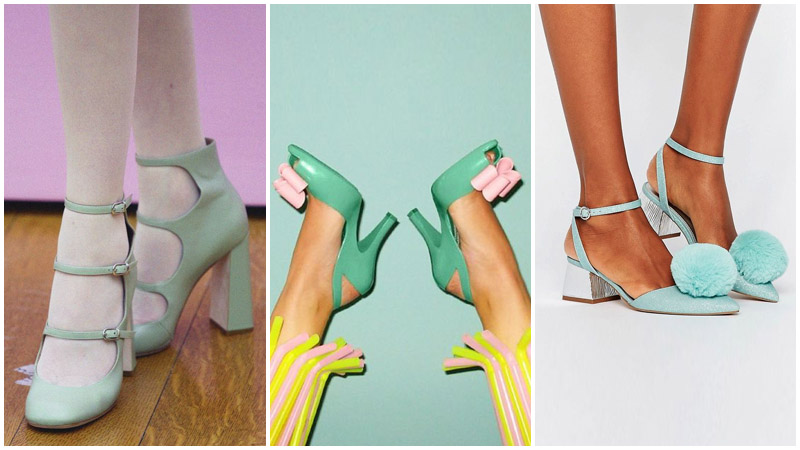 GET THE LOOK
Mint Green Jewellery
All those fashionistas who love this fabulous colour, yet lack self-confidence to wear it, can go for mint green accessories. It doesn't have to be huge bauble jewellery, you can go with something subtle. Think mint green studs, mint green beaded necklaces and mint green opal rings. They are perfect for adding a pop of colour to your look. These accessories look especially gorgeous when matched with a white dress and a glowing tan. Mint green sunglasses, a mint green watch, mint nails, a mint hat, a mint green scarf or a belt are other mint accessories worth trying. Mint beauty is in fashion and it looks astonishing. Besides, this is a great way to nail down the mint green trend and show off your fashion sense.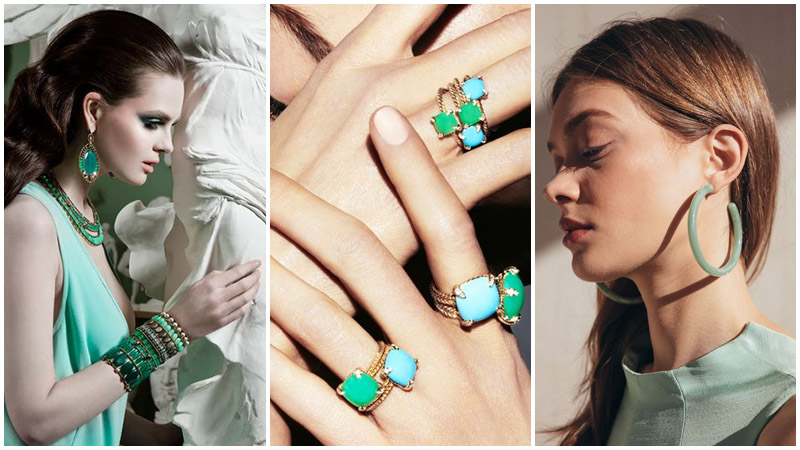 SHOP THE LOOK
How to Wear Mint Green
Mint green is incredible in itself, or it can be matched with other pastel shades like powdery pink, beige, or dark turquoise.
As a summer colour, mint is great, but too much of it can be a bit of an overload. Try to keep things minimal.
It looks fantastic in combination with other eye-catching shades, like orange, yellow or green.
Add a touch of mint to your black, white or pastel outfits, with a few statement accessories in this shade.
SUBSCRIBE TO OUR NEWSLETTER
Subscribe to our mailing list and get interesting stuff and updates to your email inbox.