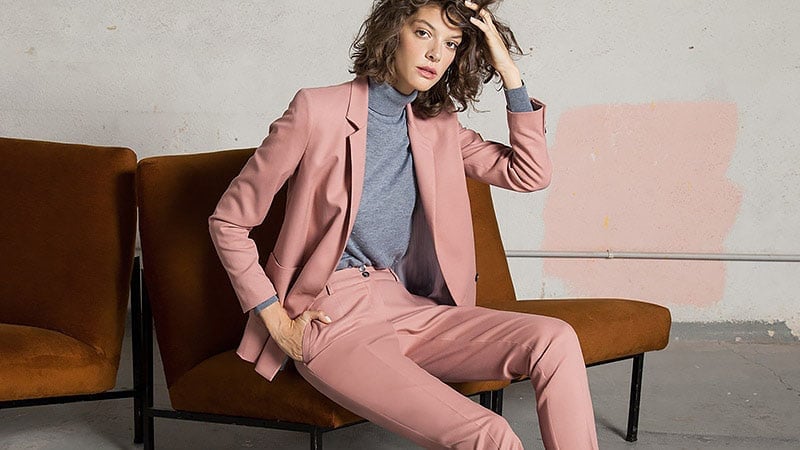 If you've ever worked in an office, attended a corporate meeting, or had a professional interview, you'll undoubtedly understand the challenge of dressing for business. Today, business attire is more confusing than ever before, and striking the perfect balance of professionalism and style can be tricky. Thankfully, we're here to help with our guide to chic yet appropriate workwear. From smart suits to sophisticated separates, these outfit ideas are sure to inspire you all week long. Here's how to wear business attire for women.
RELATED: What to Wear to a Job Interview
RELATED: How to Dress Business Casual for Women
What is Business Attire?
Business attire is a formal dress code for many offices and corporate events. It denotes a professional style of dress that appears smart and sophisticated. For men, a suit is generally required. On the other hand, women can interpret business attire in various ways. While pantsuits and skirt suits are ideal, polished separates and business dresses can also work well.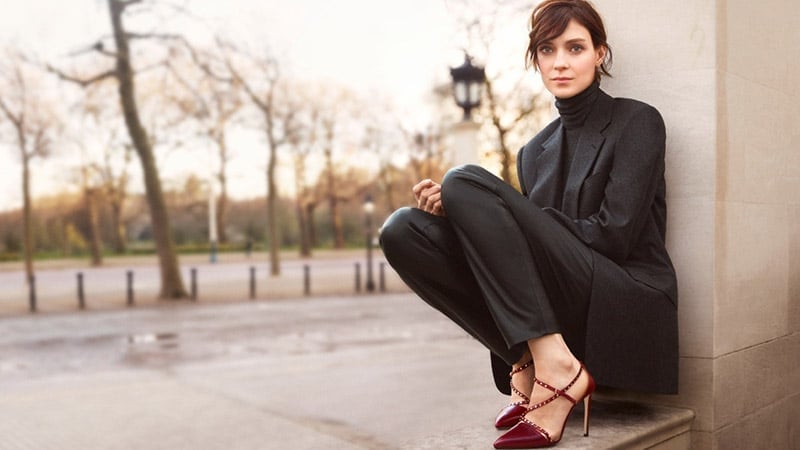 Business Casual Attire vs Formal Business Attire
Business casual attire and formal business attire differ significantly. As such, knowing which one you're dressing for and how to do so appropriately is essential. Business casual is a somewhat relaxed style of office wear. It is often called upon for contemporary places of work along with "casual Fridays" in more conservative offices. Formal business attire is more sophisticated than business casual and is typically reserved for more traditional offices along with certain professional occasions, such as client meetings and presentations.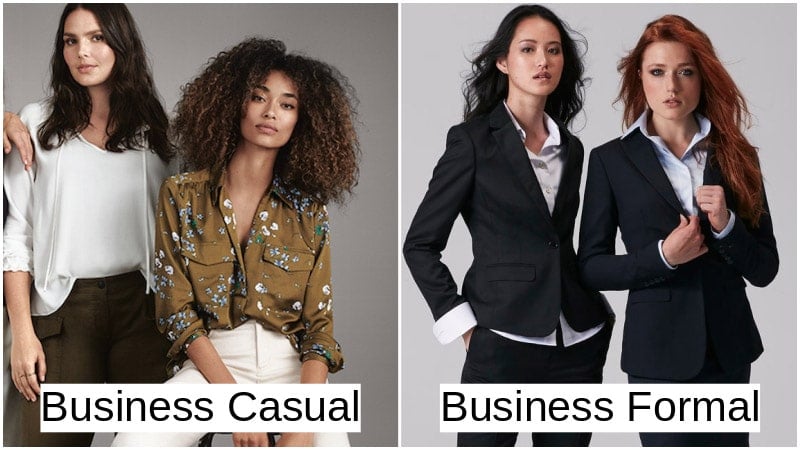 When to Wear Business Attire
Business Attire for the Office
When dressing for the office, it's important to feel comfortable as you'll be wearing these clothes all day. Therefore, pants often make a good choice as they're typically easier to move and sit down in than fitted dresses and skirts. If you've been in your job a while, you'll better understand what works for your office. As such, you can inject personality into your wardrobe without worrying about appearing underdressed.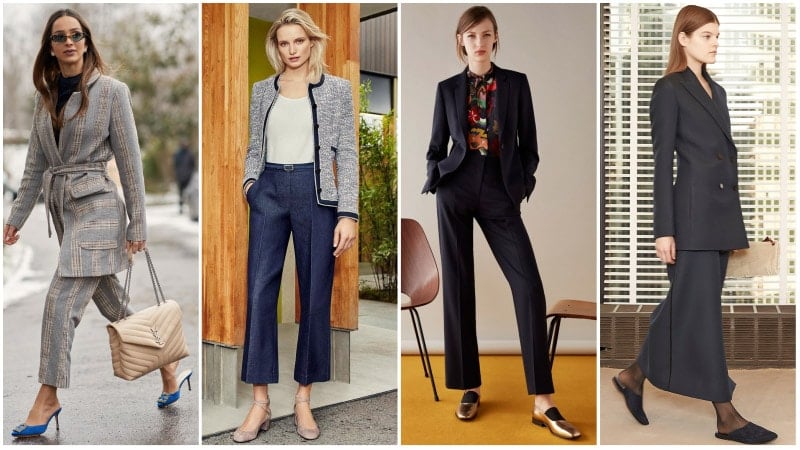 SHOP THE LOOK
Business Attire for Interviews
Business attire makes a fantastic choice for professional job interviews. It projects a polished and smart appearance, creating an excellent impression. To nail the look, keep your outfit conservative and flattering. A slim-cut navy suit with a white shirt and heels is a great option. Don't forget about accessories, either. Select minimal jewelry and opt for a structured black handbag. You can also try tailoring your look to match the job and office that you're applying to.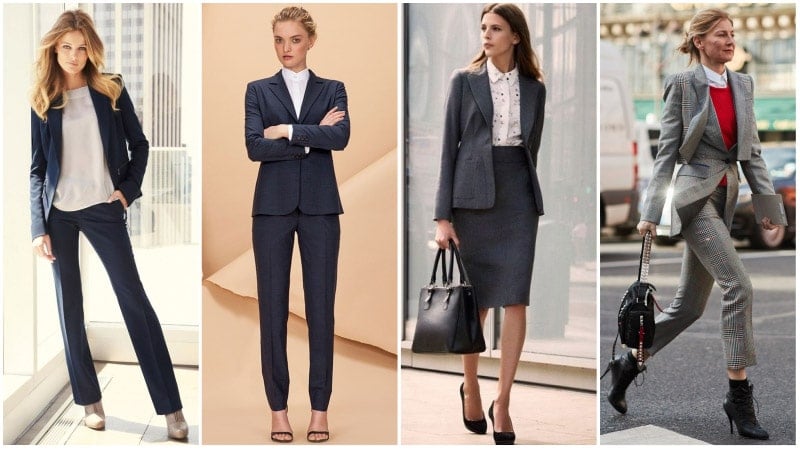 SHOP THE LOOK
Cocktail Business Attire
Cocktail business attire is often required for after-hours work events. As such, you'll want to appear dressy but also somewhat conservative. To do so, try selecting a dress with a business-appropriate cut and a little personality. Flounced sleeves, a unique pattern, or a jeweled neckline will do the trick. Then, finish your look with pumps, a clutch, and jewelry. If you don't want to wear a dress, you can try a slim suit instead. But avoid wearing it with a collared shirt to ensure an after-five appearance.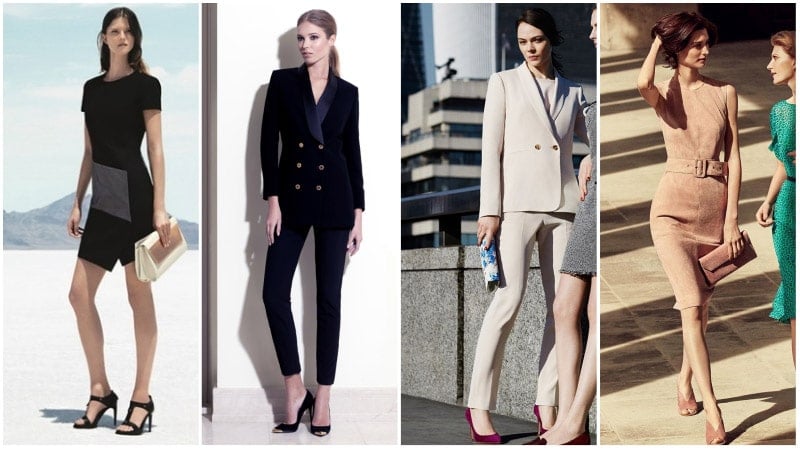 SHOP THE LOOK
Summer Business Attire
Nailing the perfect business outfit in the heat of summer can be challenging. Challenging but not impossible. Lightweight pants, dresses, and skirts are key to achieving a sophisticated work look throughout the season. Although wearing a blazer at your desk isn't necessary, you should keep one for daily meetings. Regarding footwear, you may feel tempted to wear open-toe shoes, but it's generally best to stick to closed-toe styles as they are more office-appropriate.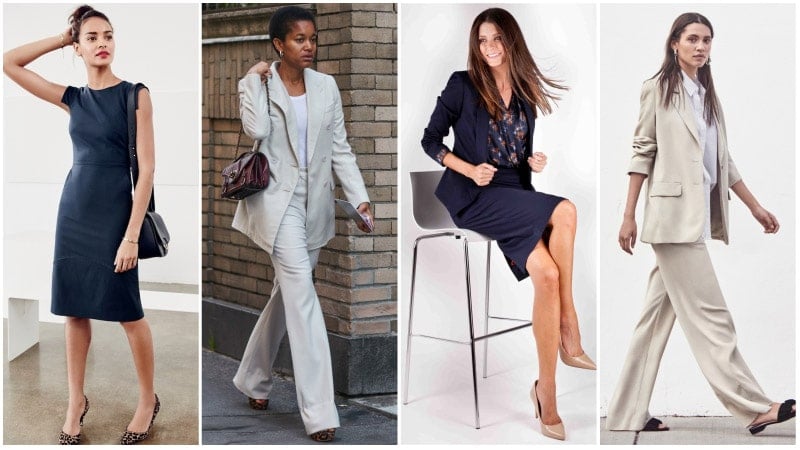 SHOP THE LOOK
Winter Business Attire
When dressing for the office in winter, try making simple changes to your usual work wardrobe to beat the cold. Swapping a collared shirt for a turtleneck sweater will provide warmth while also looking stylish. Likewise, changing pumps for heeled boots can have a similar effect. Other ways to stay warm while looking sophisticated include opting for heavier fabrics and investing in a smart coat.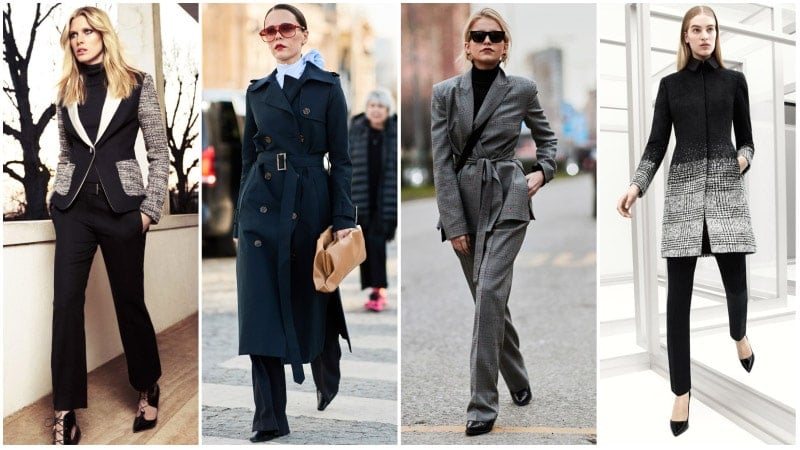 SHOP THE LOOK
Business Attire for Women
Women's Business Pants
Business pants for women come in many varieties, including straight-leg, bootcut, and cigarette styles. Select the cut that best flatters your body type when choosing a pair. But be mindful of the length. If your pants bunch at the bottom, be sure to take them to a tailor instead of cuffing them. Regarding colors, neutral hues, such as black, navy, and grey, are ideal.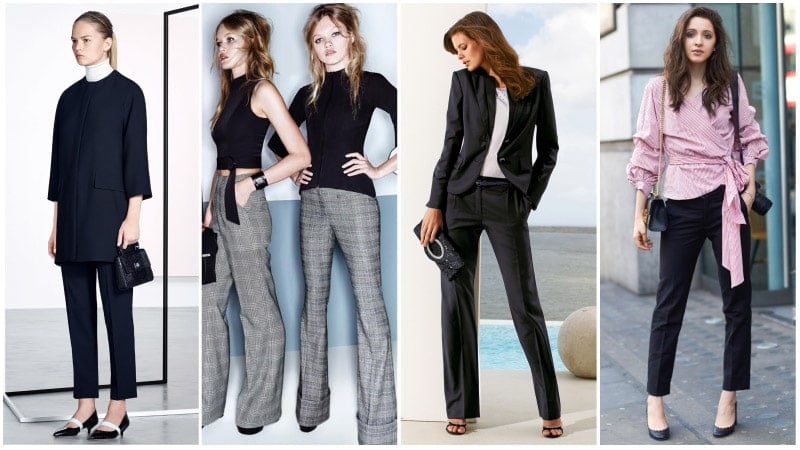 TOP BUYS
Women's Business Skirts
When wearing a skirt for business attire, the length is critical. Ideally, your skirt should finish around your knees or below. Also, make sure any slits don't come up too high and that it's not too tight, so you can comfortably sit and walk. Pencil skirts make an incredibly fantastic choice, but A-line options can also be ideal.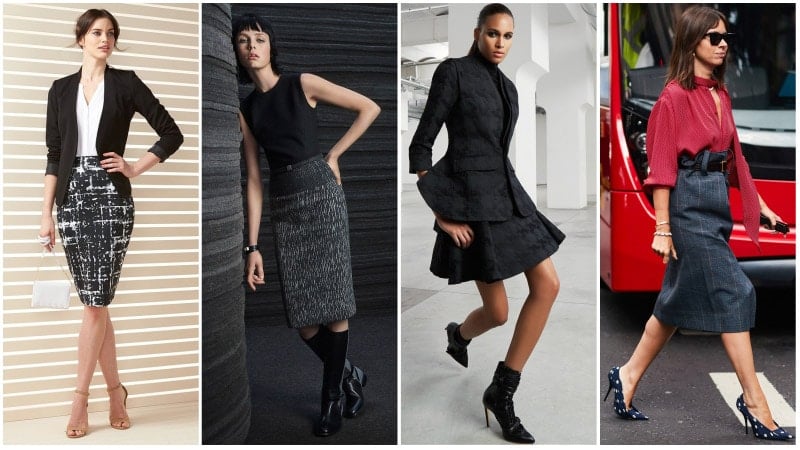 TOP BUYS
Women's Business Shirts
You can't go wrong with a button-up shirt for work. Not only do they appear smart and professional, but they also come in various materials and colors, meaning they're suitable for all business occasions. When choosing shirts, invest in black and white styles that work as wardrobe basics. Then, add designs in soft tones or deep hues for something different.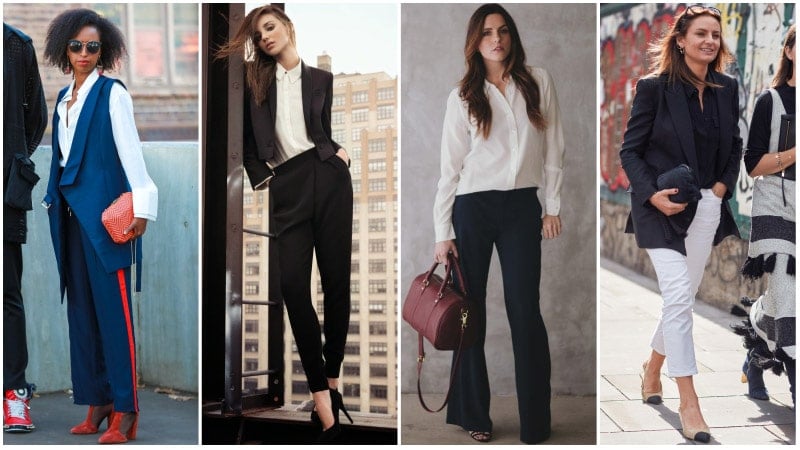 TOP BUYS
Business Dresses
Business dresses should be well-fitted without being overly tight. They should also be a nice length, finishing at the knees or below, and not too revealing. While short- and long-sleeved dresses are more appropriate for business settings, sleeveless styles can also work when partnered with a shirt or sweater underneath or a blazer on top.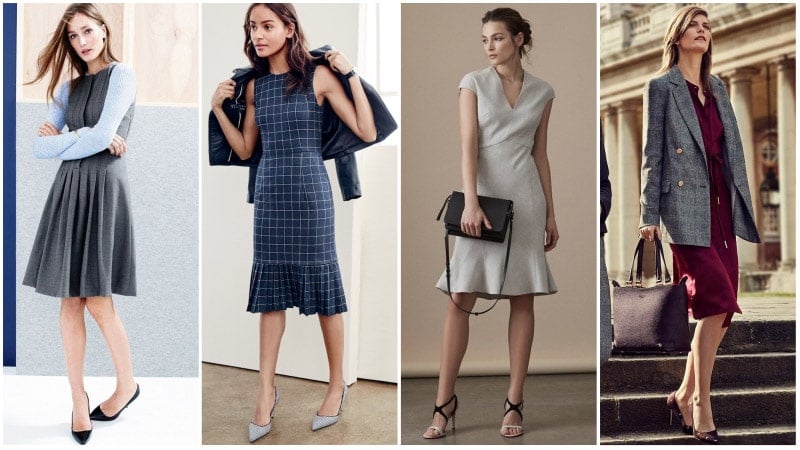 TOP BUYS
Business Suits for Women
Whether with pants or a skirt, a business suit is an excellent option for women working in a formal environment. When choosing a suit, it's best to keep things simple with a neutral color, plain fabric, and little to no embellishments or decorative details. Then, all you need to do is add a business shirt and some court shoes, and you'll instantly appear sharp and stylish.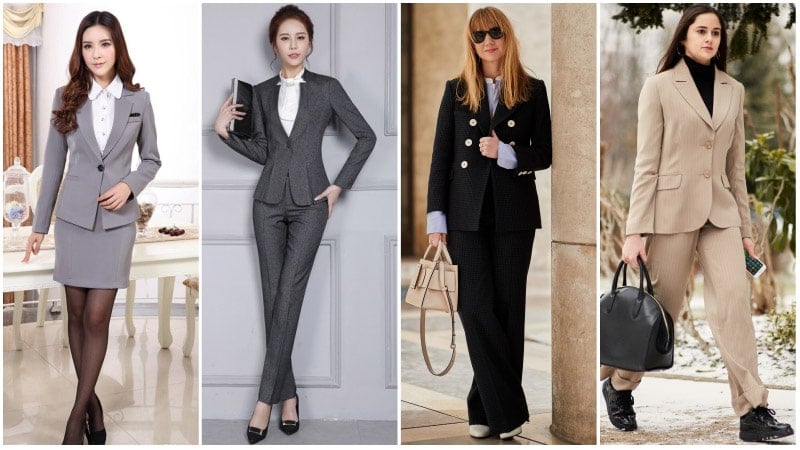 TOP BUYS
Women's Business Attire FAQs
Why do you dress professionally?
Understand whether you're dressing business casual or business formal and what that means before planning your outfit. Rely on workwear basics, such as suits, shirts, business dresses, pencil skirts, and tailored pants. Stick to a neutral color palette and only add prints or other tones when appropriate. Consider having garments tailored to ensure they fit correctly and appear professional. Ensure your outfit is clean, neatly pressed, and doesn't have any stains, marks, or tears. Keep jewelry minimal, opt for a structured handbag, and choose smart closed-toe shoes.
Why is business attire important?
Business attire is important because it presents a visual image and sends a message that the employees are professional.
SUBSCRIBE TO OUR NEWSLETTER
Subscribe to our mailing list and get interesting stuff and updates to your email inbox.