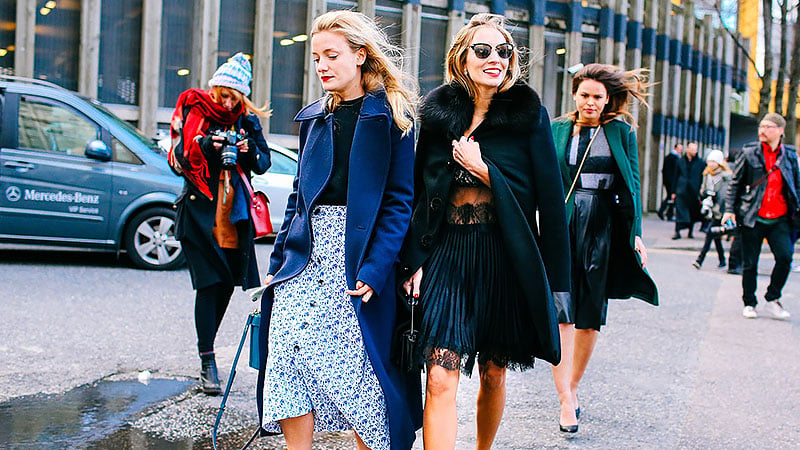 As the weather gets colder, it can be tempting to throw style out the window and simply grab the warmest coat in your wardrobe. You know the one. The one that's comfortable and warm but leaves you looking like an unfashionable marshmallow. Well this year, it's time to let that coat gather some dust as you discover that fashion and function do work together. From the humble trench coat to the practical raincoat and even the trend-worthy cocoon coat, we've found the perfect outerwear pieces to update your winter wardrobe. Whether you decide to invest in just one or buy the whole lot, these coats are bound to turn this chilly season into your chicest season.
1. Trench Coat
A trench coat is an essential wardrobe item for every woman. Despite beginning its life as a raincoat for the British Army, this simple style has become a feminine classic for women all over the world. If you don't already own one, make this the season you invest in one. After all, every style icon from Audrey Hepburn to Kate Moss has owned one, so why shouldn't you? The lightweight, weather-proof style is perfect for transitioning in and out of winter and can be worn with anything. Dress it down with jeans and sneakers for day, or up with a dress and heels for night.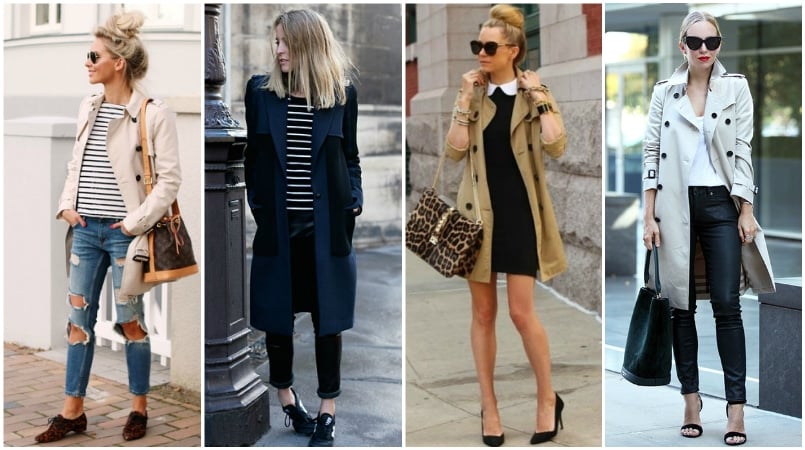 2. Wrap and Belted Coat
If you've ever felt like wearing your dressing gown out of the house, this is the coat style for you. Wrap and belted coats feature extra material at the front that allows the closure to overlap for added warmth. A thick fabric belt is then tied at the waist for shape definition, keeping the look feminine and polished. Completely warm and comfortable, this robe-like style can be worn by anyone, however, if you're not very tall consider wearing heels.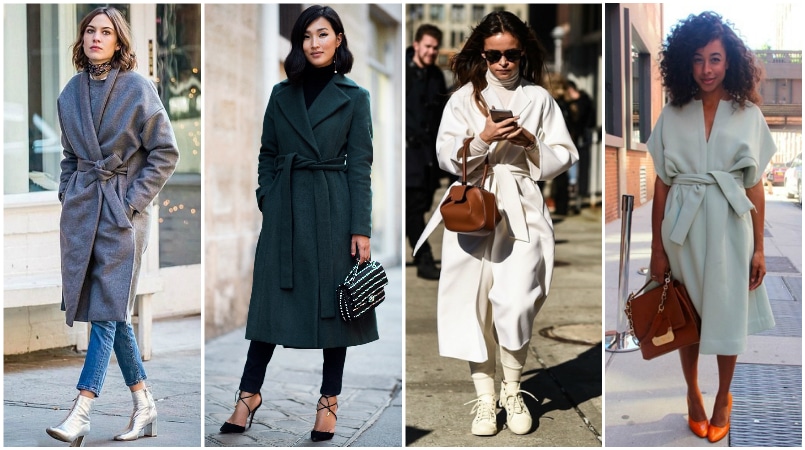 3. Mac and Raincoat
Raincoats aren't what they used to be. They're much better! Gone are the days of the oversized, shapeless, yellow, fisherman's coat. Today's Macs and raincoats are waterproof and fun. Think fashionable colors, cute patterns, and stylish shapes. Whether you're wearing gumboots or high heels, there's now a raincoat to suit your style. Choose longer, more fitted, styles for occasions that call for a dressed-up look and shorter lengths for casual day wear. Then, layer your knitwear underneath to keep it protected from the wet and cold weather.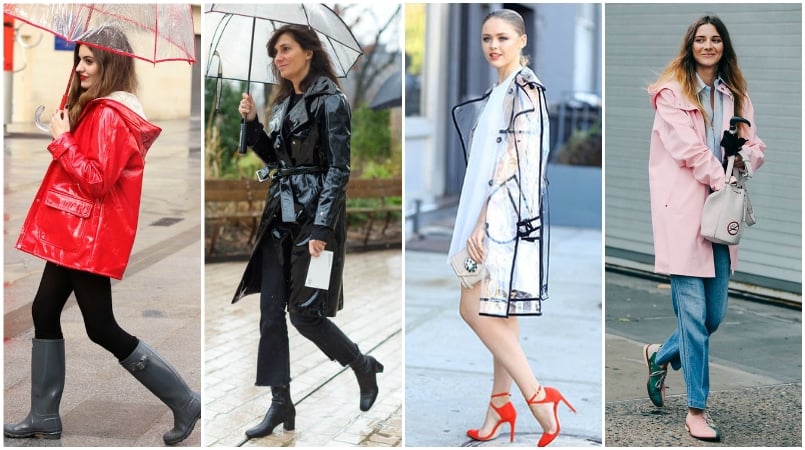 4. Parka and Anorak Coat
Parka and anorak coats tend to finish at the thighs and be loosely fitted, with anoraks featuring a drawstring waist. Made from thick, sometimes waterproof material, both styles tend to feature hoods and zip/press-stud closures. This relaxed style is traditionally seen in khaki and army green tones, adding a somewhat masculine touch. The style is perfect for casual, urban looks and goes great with black, skinny jeans, and boots. Choose an anorak for warmer days and a parka with added down or shearling for colder weather.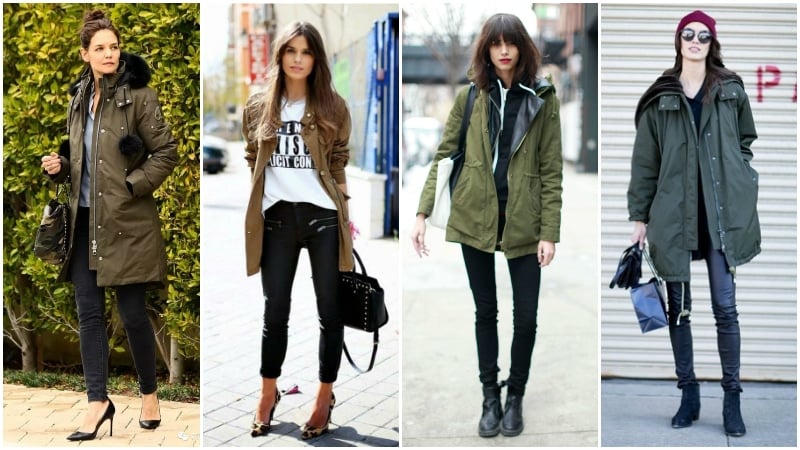 5. Pea Coat
A pea coat is a classic outerwear style for both men and women. Originally worn by sailors, this traditionally woolen coat is well designed to keep you warm in winter and looks totally fashionable to boot. Featuring a double-breasted front and typically finishing just below the hip, pea coats make a polished addition to any outfit. Wear this style with pants to offset its short length and add a contrasting sweater underneath to give your style some dimension.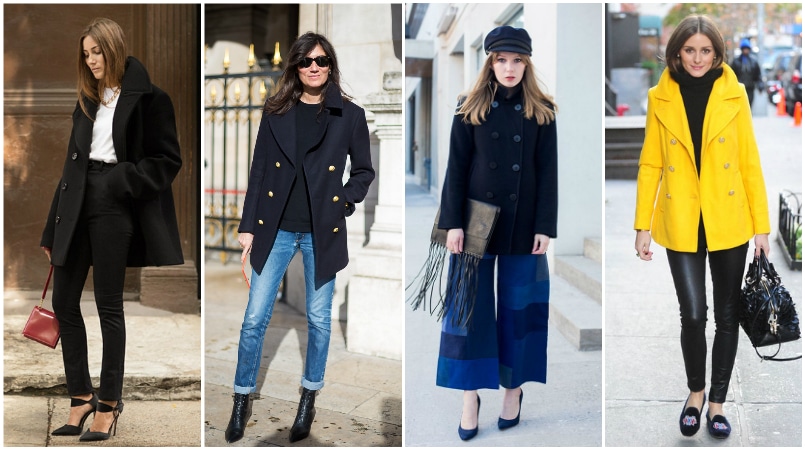 6. Chesterfield Coat
If you're in the market for a long and slimming coat that will still fit all your layers underneath, a Chesterfield coat should be your go-to style. Promising to keep you warm all winter long, this coat breathes comfort and oozes relaxed elegance. Chesterfield coats are tailored overcoats with a slim, column-like silhouette and blazer-like lapels. Wear this style at night or day but be sure to leave the front open, offering the world a peek at your fabulous outfit underneath.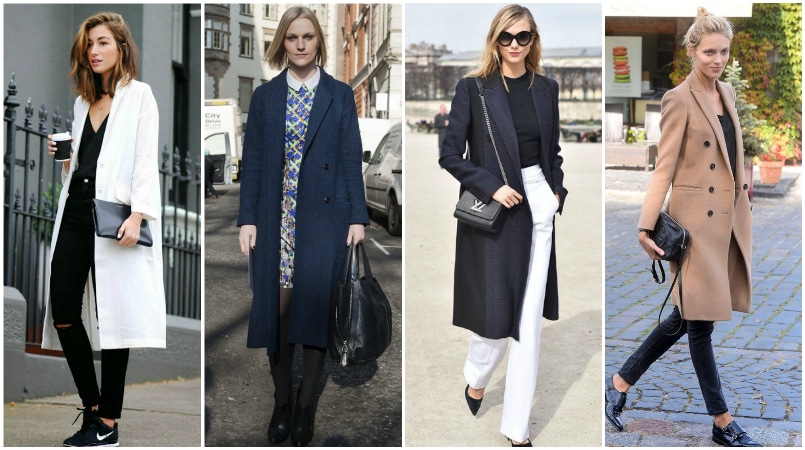 7. Military Coat
Today's military coat is a stylish reinterpretation of the traditional men's military coats. Featuring a fitted bust and waist, a double-breasted closure, and classically metal buttons, this style is feminine and strong all in one. Far from looking like a marshmallow, this coat will have you looking sexy (which we all know can be somewhat tricky in winter)! The military coat's structured, hourglass silhouette makes it one of the most flattering styles while its thick fabric ensures that it's still one of the warmest. Just choose a color and length to suit you and you'll be wearing this classic coat year after year.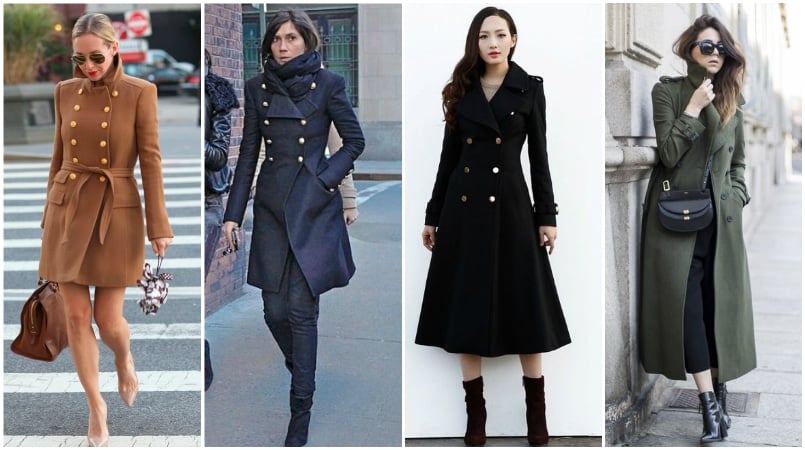 8. Cape Coat
Wearing a cape coat can be a bit like wearing a warm and comfortable blanket, though much more stylish. Their unique, arm-less, design stretches as far back as medieval times and is still popular today. The feminine style completely covers the shoulders before draping downwards, often creating a bell-shaped silhouette. This look is perfect for the lady who wants a polished look that goes beyond the standard button-front coats. Just remember to pair this style with long sleeves for warmth and a clutch or a top handle bag, as over-the-shoulder bags won't work.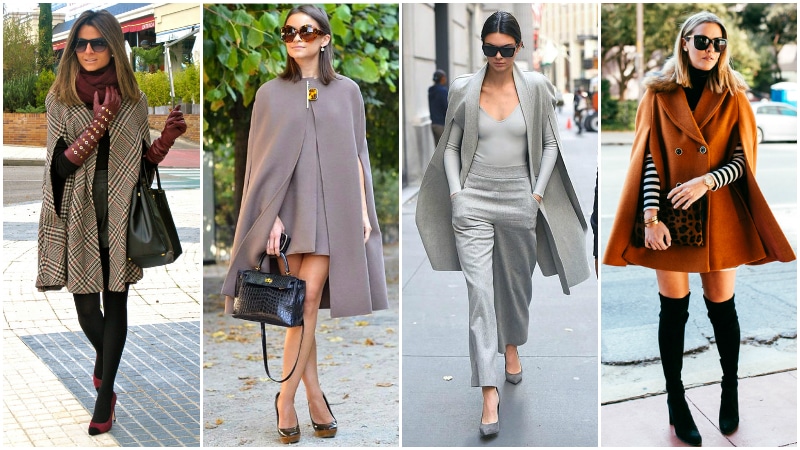 9. Car Coat
Today's car coats may be worn around the streets more than in an automobile, but its coverage and comfort are still greatly appreciated. This classic style is back again this season and just waiting for you to try it. These days, the most popular version of the car coat sees it finish above the knee with a single-breasted closure. Its boxy silhouette remains its best feature, however, making it a must-have for anyone who considers themselves a minimalist dresser.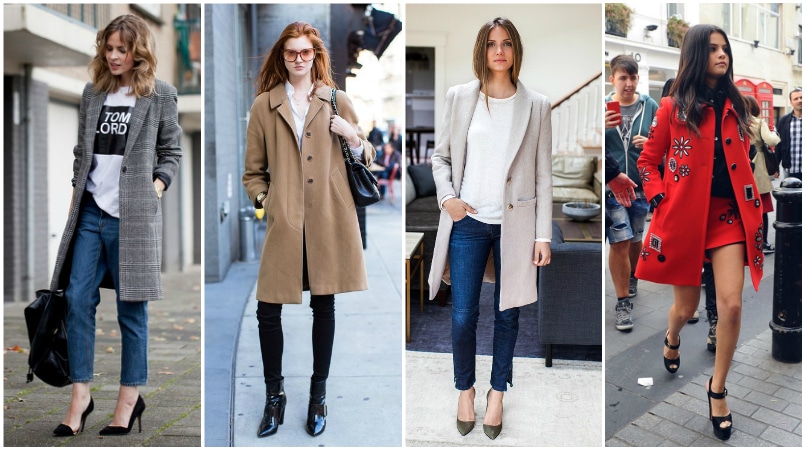 10. Cocoon Coat
While classic coat styles make sound investment items that you'll keep in your closet for years, there's something to be said for a new style that stands out from the crowd. Of recent seasons, that coat, the one that stands out, is the cocoon coat. This trend-worthy style is the one that you need in your wardrobe right now because some days a black pea coat just isn't going to cut it. So, when fashion calls, choose a cocoon coat that features dropped shoulders and a ballooned waist. It may not be the usual style you'll go for, but it will look ultra-cool.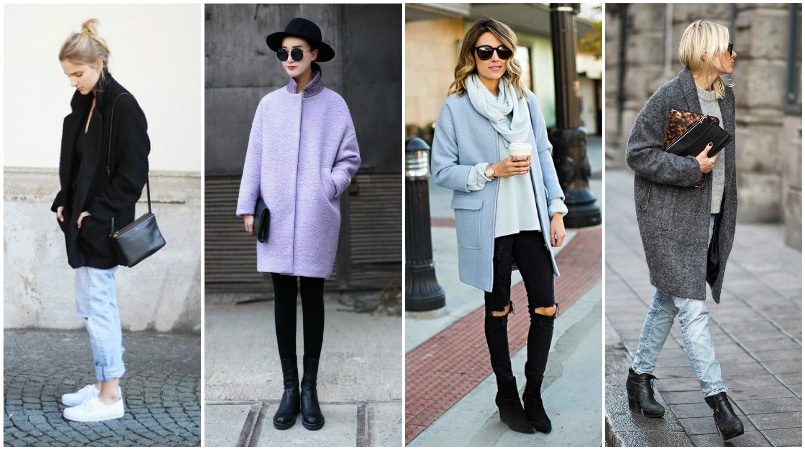 11. Toggle and Duffle Coat
Headed on a winter holiday to the mountains or country? Pack a toggle or duffle coat with you and you won't be sorry. These chic styles are made to be out in nature during winter. Traditionally made from thick, woolen material, duffle coats are comfortable, warm, and practical. They feature wooden toggle fastenings with rope or leather loops to hook onto and large front pockets. Most styles also feature a hood and finish at thigh-height. Choose a camel-brown version for a traditional look and pair with blue skinny jeans and boots.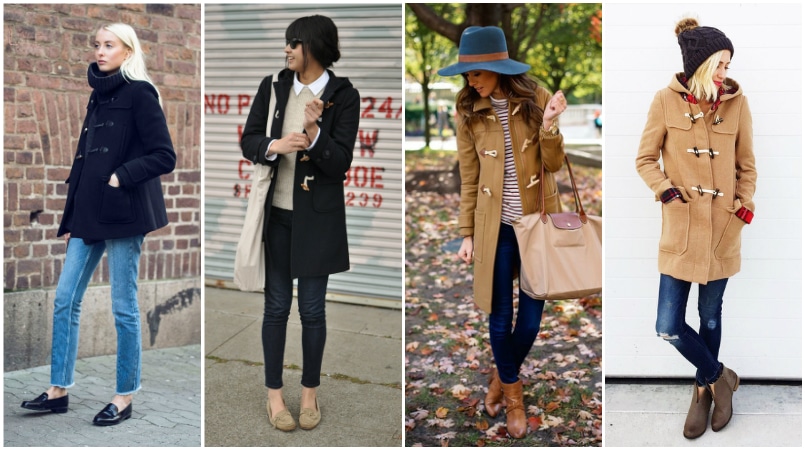 12. Maxi Coat
The long, ankle-length coats of the '80s are back again. Though, thankfully, sans shoulder pads. These maxi coats have been spotted on the streets of major fashion cities across the world and are now ready to enter your wardrobe. By investing in this on-trend and full-length style, keeping fashionable and warm this winter will be a breeze. Just remember, this garment will cover the majority of your look. So if you choose a basic color, like black, add interesting accessories and style details to take your look from bland to bang-on.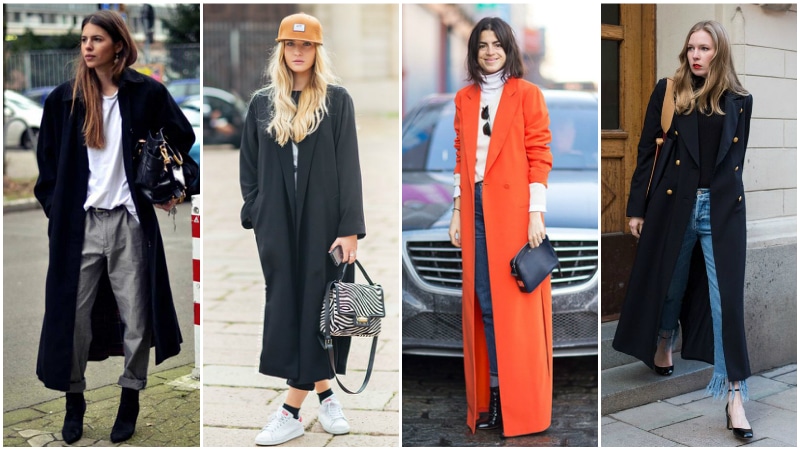 FAQs
What is the warmest winter coat?
The warmest coat styles include parkers filled with warm down; wrap and belted coats that are basically like wearing a stylish blanket; and woolen military and pea coats that keep you toasty.
What winter coats are in style?
Coats that are in style for winter include trenches, wrap and belted coats, mac and raincoats, parkas, anoraks, pea coats, Chesterfields, military coats, cape, and car coats, as well as cocoon, toggle and duffle, and maxi coats.
What is the best color for a winter coat?
If you only want one color coat to get you through winter, black is eternally classic, stylish, and versatile. However, if you want to mix it up, bright colors such as red, yellow, and green are a great way to inject some fun into cold, dreary days.
What are the best women's winter coats?
The best winter coats for women will keep you warm and stylish. Casual options include wrap and belted styles, parkas, anoraks, as well as car, cocoon, and toggle and duffle coats. If you want to dress up more, choose a trench, pea, Chesterfield, military, cape, or maxi coat. Lastly, raincoats are the best for staying warm and dry in the winter rain.
SUBSCRIBE TO OUR NEWSLETTER
Subscribe to our mailing list and get interesting stuff and updates to your email inbox.