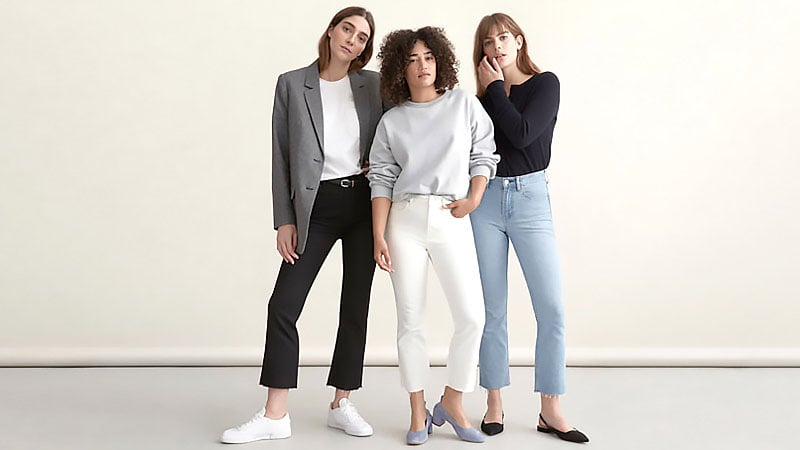 Trends come and go—but denim is one that will never go out of style. Whether it's a summer skirt or a pair of skinny jeans, denim will always be a classic wardrobe staple. High-waisted jeans, in particular, can be a stunning choice all year round. This style gives you a well-balanced silhouette, making them ultra-flattering on just about everyone. Read on to find out how to wear high waisted jeans for any body type.
RELATED: The Ultimate Guide for Wearing Jeans
RELATED: How to Wear Mom Jeans With Style
High Waisted Jeans
Mom Jeans
Want an everyday style staple you can wear all year round? How about a pair of classic mom jeans? Sweet and stylish, mom jeans are universally flattering and can be styled to suit just about any occasion. Their high waist demands a tucked-in top, but when it comes to footwear, they are surprisingly versatile. Layer a blazer over the top and add a cute belt into the mix to dress up your ensemble.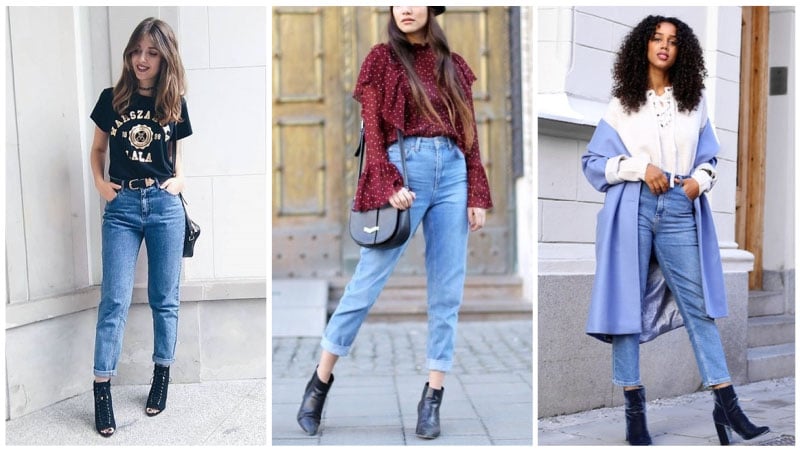 GET THE LOOK
Boyfriend Jeans
Every woman should own at least one pair of boyfriend jeans. The staple typically involves a relaxed, slouchy fit as if they were a men's jean, but tailored for a woman. There are, however, many variations of the boyfriend jean that feature a slimmer, more tapered fit. What's best about the loose, laidback style is that it suits just about every body type! Known for its comfortable fit and overall versatility, the boyfriend jean is the perfect option for weekends out and about.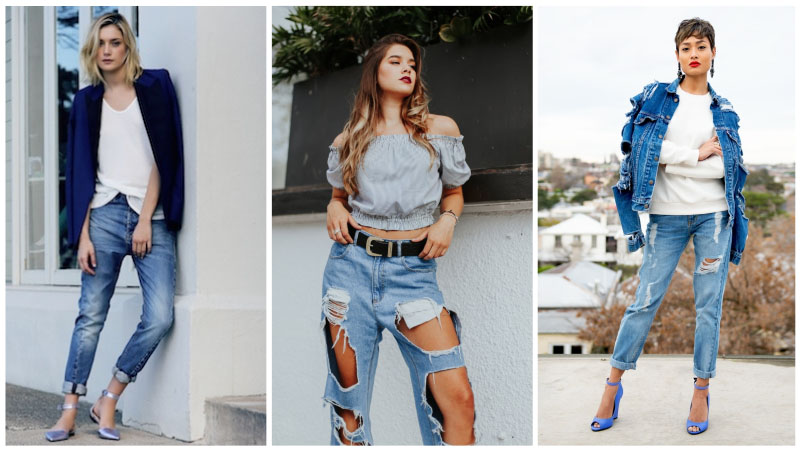 GET THE LOOK
Skinny Jeans
Universally flattering, the ever-so-classic skinny jean features a streamlined silhouette that is perfect for off-duty days. The wardrobe essential is surprisingly versatile, and can even be sported for smart-casual occasions. For a chic look, pair your skinnies with a blazer and heels. The classic style of a blazer adds a polished touch to denim that will instantly make you look put together.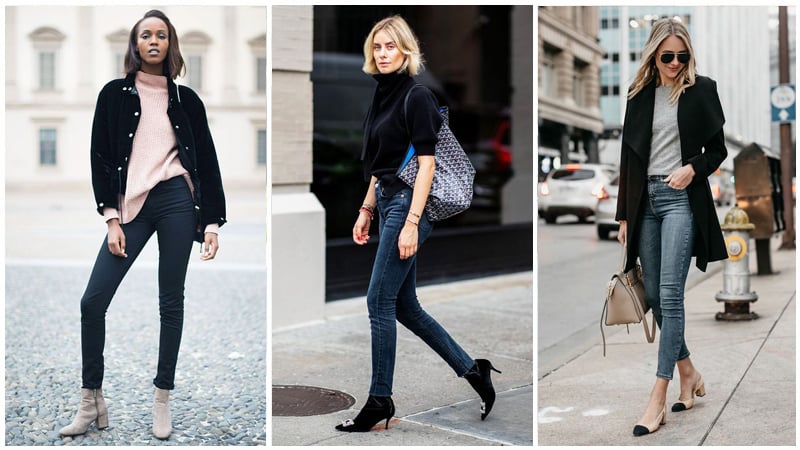 GET THE LOOK
Flare Jeans
Flare jeans are a striking denim style that looks great on every body type. Whether you're sporting them for casual weekend outings or pairing them with a crisp white shirt for the office, flare jeans inject a touch of sophisticated, boho-chic into any outfit. To take these classic bottoms from day to night, accessorize your look with a stylish clutch and dangling earrings. A chic leather jacket can be pulled on if the temperature cools down later on. Finish your outfit with a pair of stilettos to give the appearance of longer legs.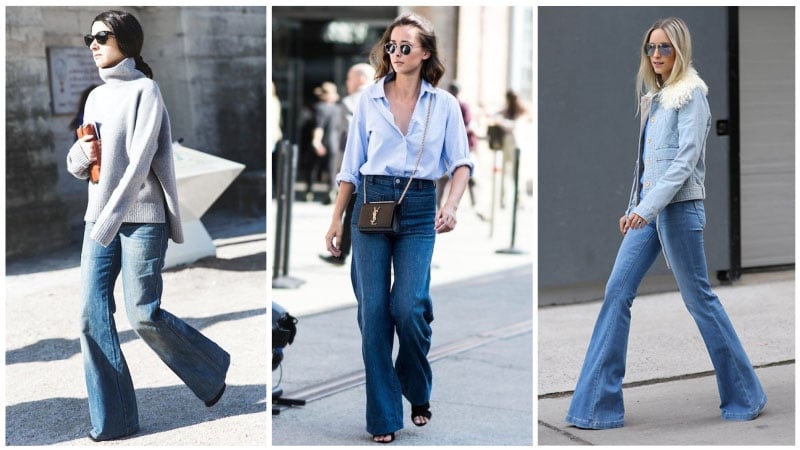 GET THE LOOK
Straight Leg Jeans
As versatile as they are comfortable, straight leg jeans are becoming a fashion favorite and it's easy to see why. The ultra-flattering style goes with just about anything, from chunky knits and sneakers to blazers and booties. Once you find your perfect fit, the leg-lengthening straight jean will become your go-to for just about any occasion. For an on-trend ensemble, we recommend opting for mid or high-waist styles with a slim fit on the leg.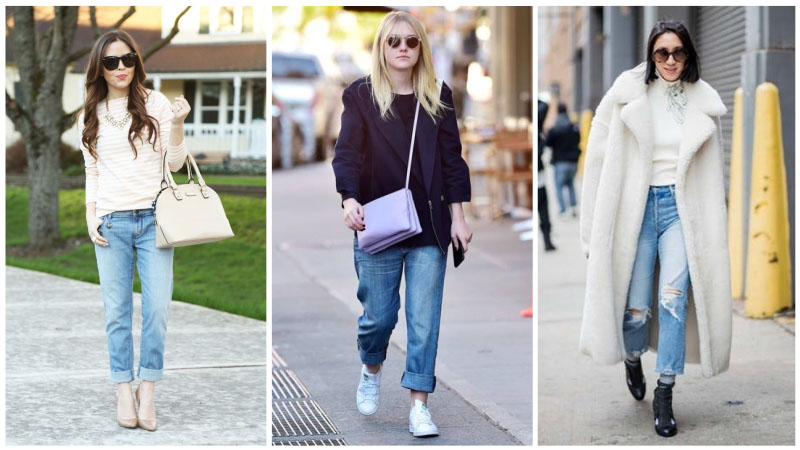 GET THE LOOK
Bell-Bottom Jeans
It's official: bell-bottom jeans are back! The 70′s denim style is certainly not for everyone, but there's no time like the present to give this daring trend a go. The key to making the most of the bell-bottom jeans is a high waist and a pair of stunning heels to match. The added height will balance out the flare of the jeans. Finish the look with an off-the-shoulder top and rounded sunglasses for a pretty boho look that will have heads turning.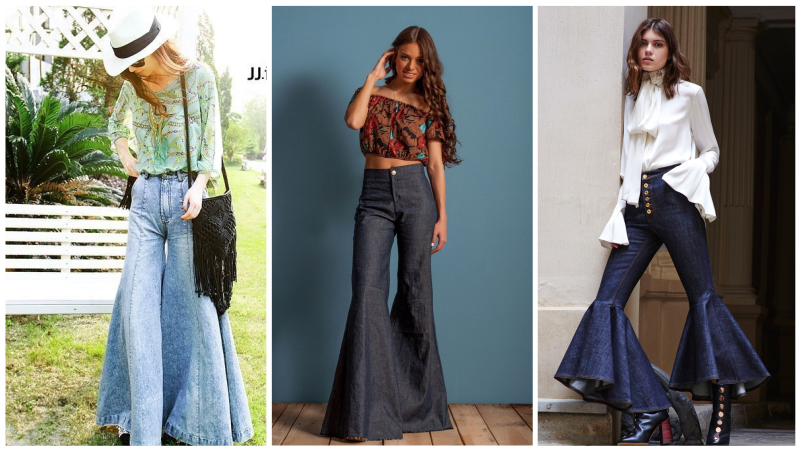 GET THE LOOK
Ripped Jeans
No matter your sense of style, ripped jeans are a must-have in every woman's wardrobe. The cool and casual essential can be worn for various occasions, from brunch with the girls to happy hour and beyond. Pair your ripped jeans with a blazer and ankle boots for a chic, semi-formal look. On the other hand, a simple tee and leather jacket will make a great option for more casual occasions.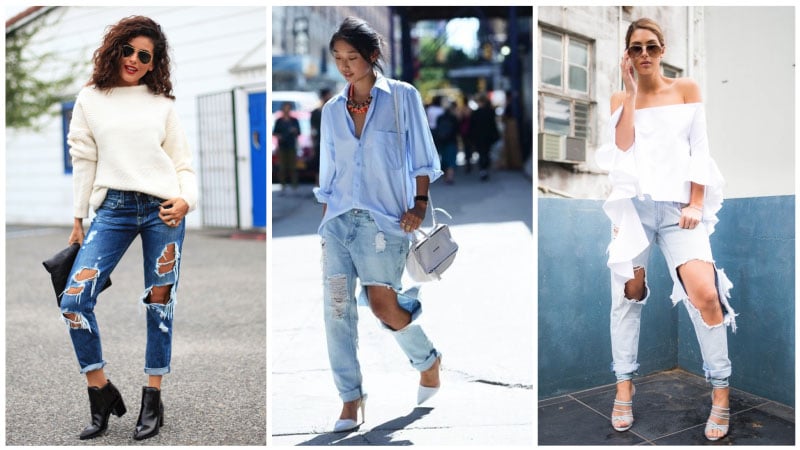 GET THE LOOK
Light Wash Jeans
For a refreshing, summer look, you can't go past light wash denim jeans! The cool casual pairs just as well with sneakers and a plain white tee as it does with a black blazer and heels. Not only is the light wash look on-trend, but it also lends a cool and casual vibe to any ensemble. What's best is this stunning shade can be dressed up or down to suit a variety of occasions!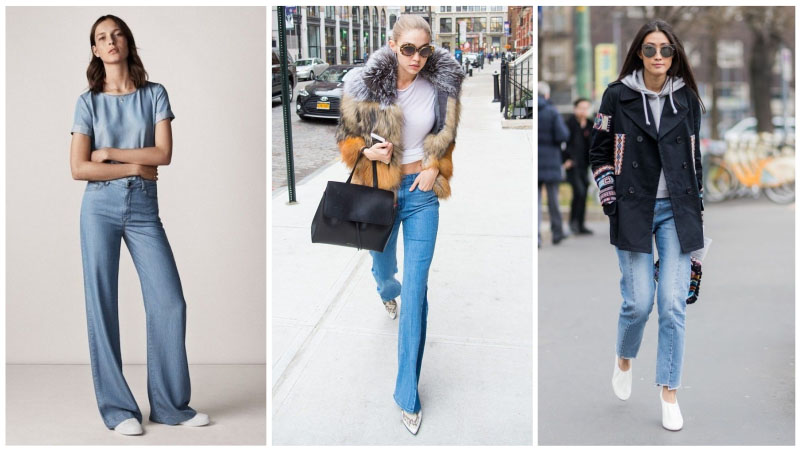 GET THE LOOK
Acid Wash Jeans
If you're the type of girl who likes to take risks when it comes to fashion, then the acid wash trend is perfect for you! Eye-catching and bold, this classic denim style has made a comeback and our favorite celebrities are catching on. The key to pulling off this trend is to keep things minimal. For an everyday look, balance your acid wash jeans with a white tee and sneakers. After a more polished ensemble? Pair your denim with a black leather jacket and stilettoes.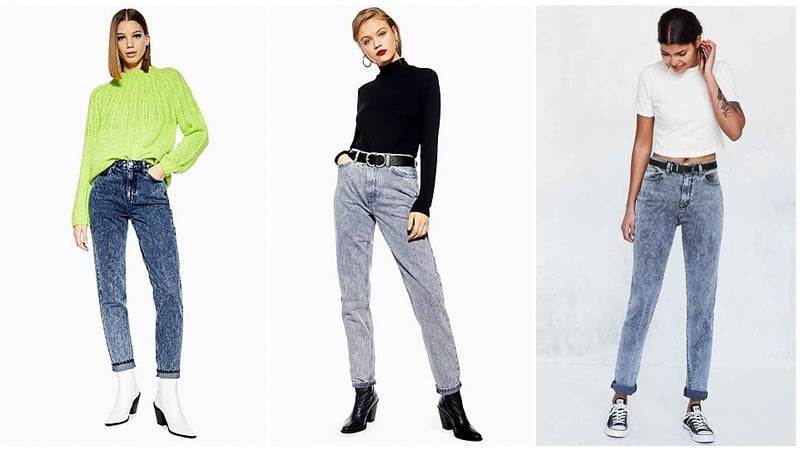 GET THE LOOK
Vintage High Waisted Jeans
Vintage high-waisted jeans are a must-have in your denim collection. Oh-so-flattering, this style looks just as good with a chunky knit and sneakers as it does with a blouse and statement heels. Featuring a versatile, polished silhouette, the vintage high waist jeans can be reinvented time and time again depending on how you style them. We recommend matching them with pieces that show off the high waist – like camis or crop tops. Complete the look with a belt for a stand-out finish.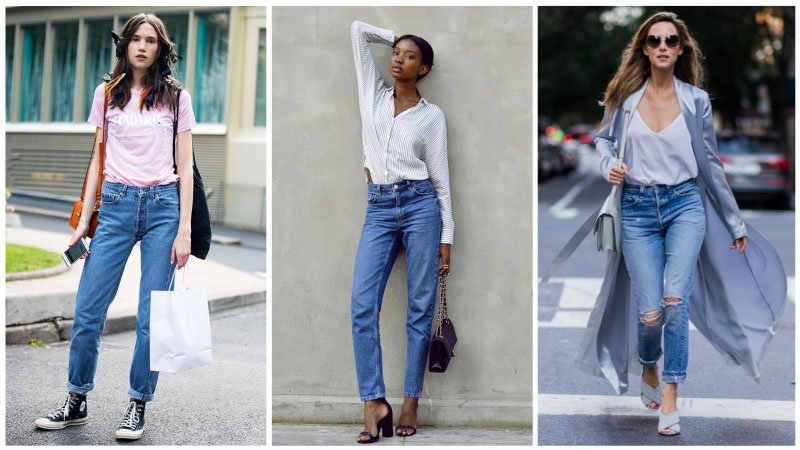 GET THE LOOK
Black High Waisted Jeans
No matter whether they're skinny, straight, slim, or cropped, a pair of black high waisted jeans are the wardrobe basic every girl should own. The leg-lengthening style can be dressed up or down to suit almost every occasion. Plus, with such a figure-hugging silhouette, they really are perfect for any shape or size! Pair them with a basic tee and sneakers for an effortlessly casual look that will never go out of style.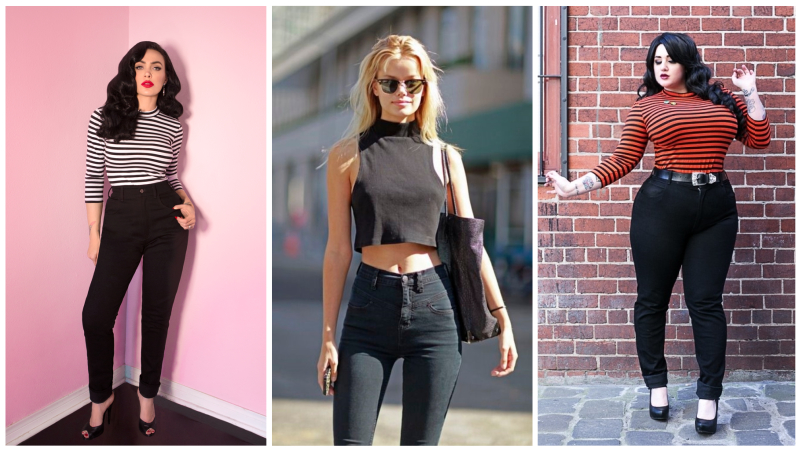 GET THE LOOK
White High Waisted Jeans
You may be wary of the white denim trend and we can understand why. Being such a bright and eye-catching color, it's a bold fashion choice. But we're here to tell you that white high waisted jeans are a stylish choice all year round! They are surprisingly versatile, making them a must-have wardrobe staple for those who are daring enough to try the trend. For a chic outfit that's suitable for a night out with the girls, try pairing your white jeans with a simple black shirt and black stilettos. Or for something more casual, you can dress down your denim with a checkered shirt and sneakers.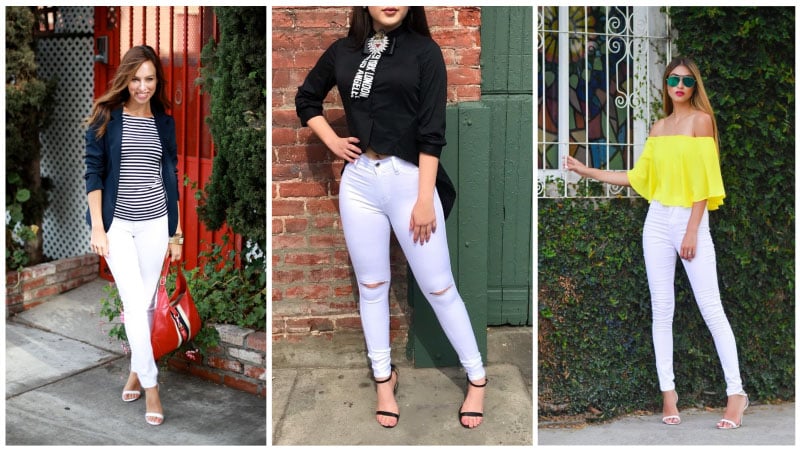 GET THE LOOK
No wardrobe is complete without a pair of classic navy high waisted jeans. It's probably one of the few pieces of clothing we all own—no matter your sense of style. This versatile item is one that can work for both day and night time events. Being such a neutral shade, navy lends itself to a variety of other colors. But when it comes to creating an effortlessly stylish appearance, you can't go past blue jeans and white shirt combination. Finish the ensemble with a black belt and ankle boots and you'll be good to go!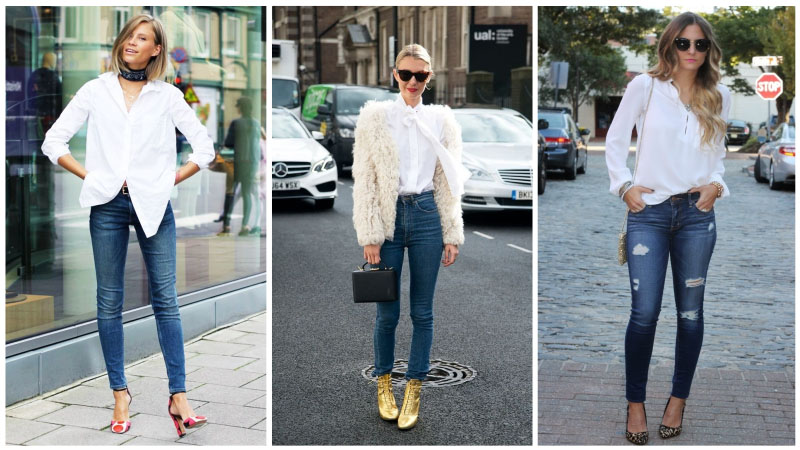 GET THE LOOK
Plus Size High Waisted Jeans
A pair of skinny, high waisted jeans are actually a great option for plus-sized women. The figure-hugging style works to accentuate your gorgeous curves in all the right places. When it comes to color, a pair of dark-wash jeans are definitely the most slimming option for ladies on the larger side. They are one of the most versatile styles of denim as they can be worn with casual outfits or dressed up for more formal occasions.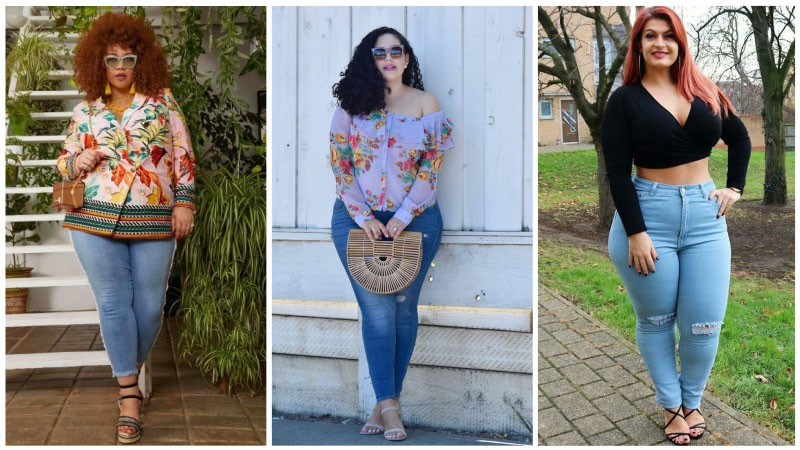 GET THE LOOK
High Waisted Denim Shorts
When it comes to summer fashion, denim shorts are a versatile favorite. A ripped pair always looks cool, while a tailored style can be just as polished as a pencil skirt. No matter what your plans are this season, this super cute denim style is a must-have in your wardrobe. Simply pair them with a cute crop top or relaxed button-up shirt and sandals for a sweet and stylish look.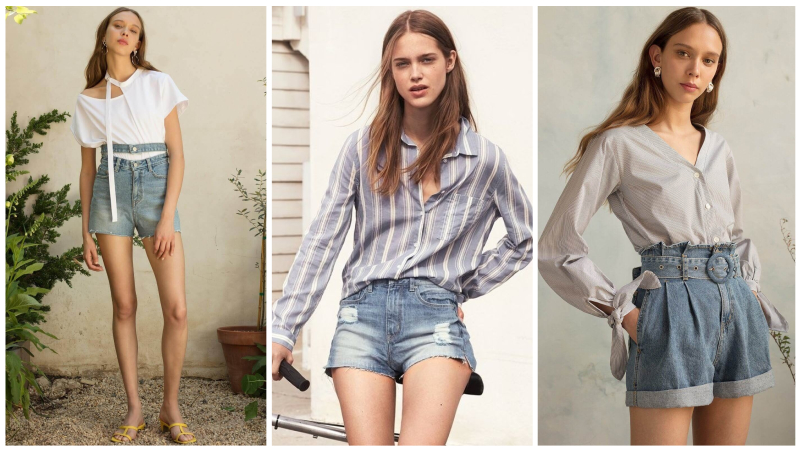 GET THE LOOK
How to Wear High Waisted Jeans Tips
High waisted jeans look better when they're in your correct size.
Don't hide the stylish high waist of your jeans.
Tuck in a blouse or simple t-shirt into the waistband of the jeans.
Play with proportions and wear your high waisted jeans with a long jacket.
Wear them with booties or sneakers.