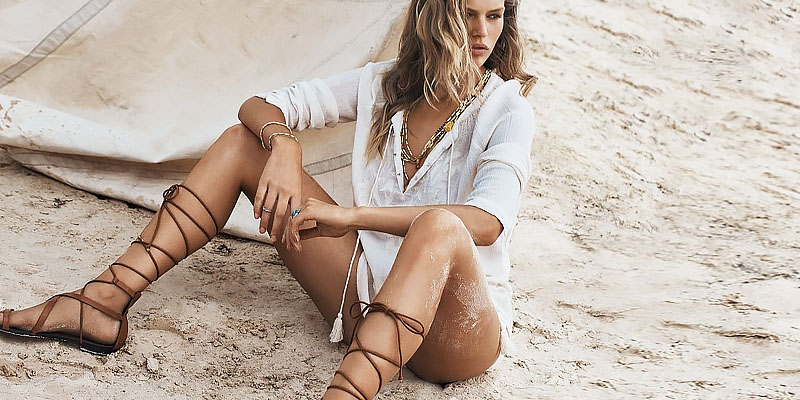 With endless summer styles to choose from, keeping your footwork fancy can feel a little overwhelming. From laced up styles to the contemporary-cool slide, consider which summer sandal will best work with your everyday wardrobe, regardless of the weather forecast. We've collated the best summer sandals to keep you one step ahead of the fashion pack.
1. Gladiator Sandals
All hail the gladiator sandal. Boasting endless styles and shapes that would make even Spartacus green with envy don't be afraid to play around with this season's "it" sandal style. Contrary to what many may think, you don't need Victoria's Secret modelesque pins to wear a pair of gladiators. For the most flattering results, consider adding a bit of height and opting for a nude colourway or a skinny stiletto heel. Pair with an A-line skirt or a mod shift dress with a hemline that falls mid-thigh, to give the illusion of leaner limbs.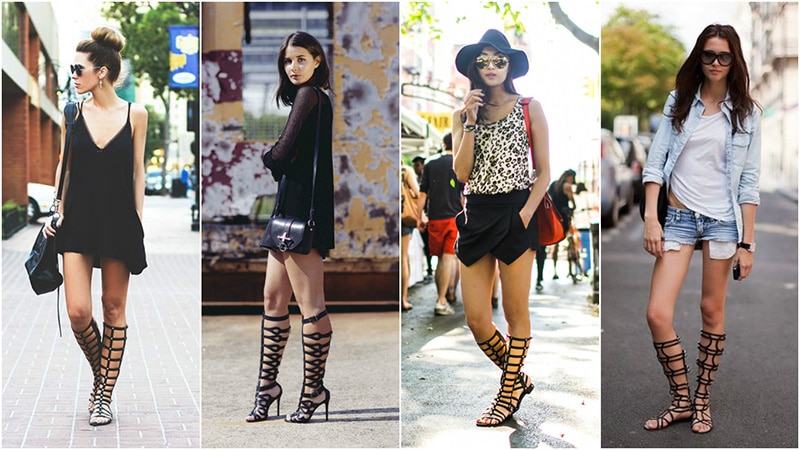 SHOP THE LOOK
2. Slide Sandals
This season it's all about the slide. Birky's and the retro Addidas slide sandals are back in a big way, with this super-comfy summer staple making a welcome wardrobe return. This gender-neutral summer staple can be dressed up or dressed down, paired with everything from boyfriend jeans to a chic leather mini. Whoever said fashion couldn't be practical?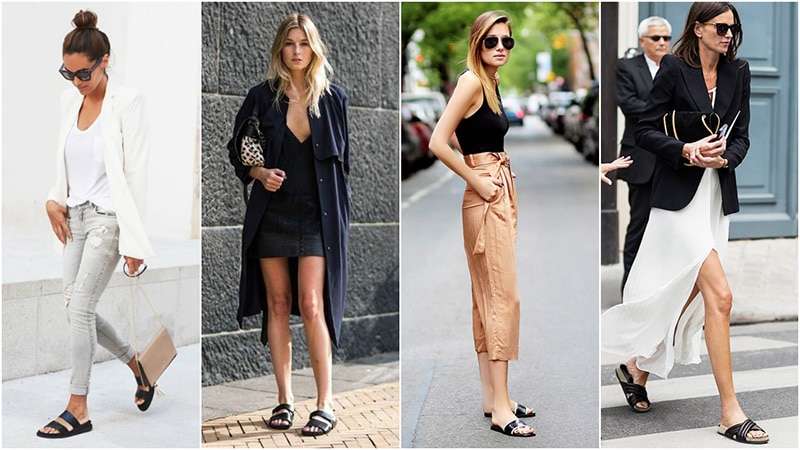 SHOP THE LOOK
3. T-Strap Sandals
T-Strap sandals are a long-reigning summer must-have. Renowned for their eternally flattering cut and deceptively elongating abilities, this style will pair just as well with a Grecian summer maxi dress as it will with your favourite boyfriend jeans. The trick? If you're going to invest in a leather sandal, abide by the trusted old rule of thumb. If you tend to wear brown leather, go for a tan or neutral, if you tend to wear a black belt or carry a black leather handbag, opt for black.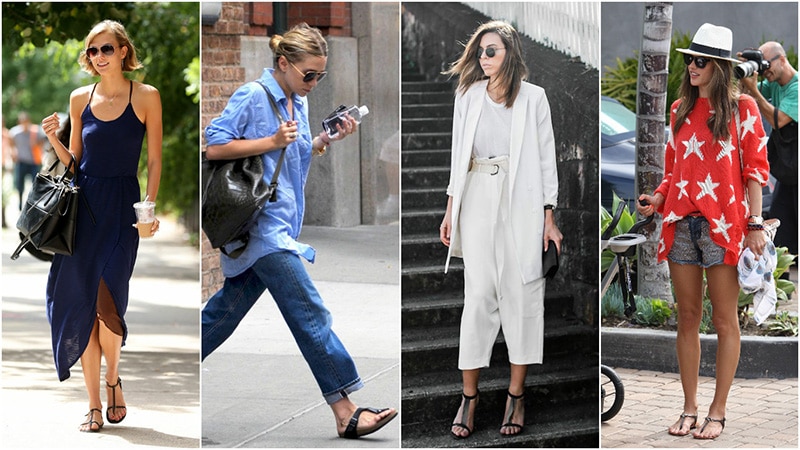 SHOP THE LOOK
4. Lace Up Sandals
Whether laced right up to the thigh or tasselled and tidy at the ankle, laced sandals in leather or suede are both flattering and on-trend. This sandal style must-have made its presence felt last summer, and unsurprisingly they're just as hot as ever. While a laced up sandal may feel like a loud and proud "look at me" sartorial statement, neutral colourways and a subtle ensemble of basic wardrobe pieces will pair them right back. Consider a plain white tee and leather mini with a pair of suede laced up sandal stilettos in a bold colourway like tomato red or royal blue. Tres chic!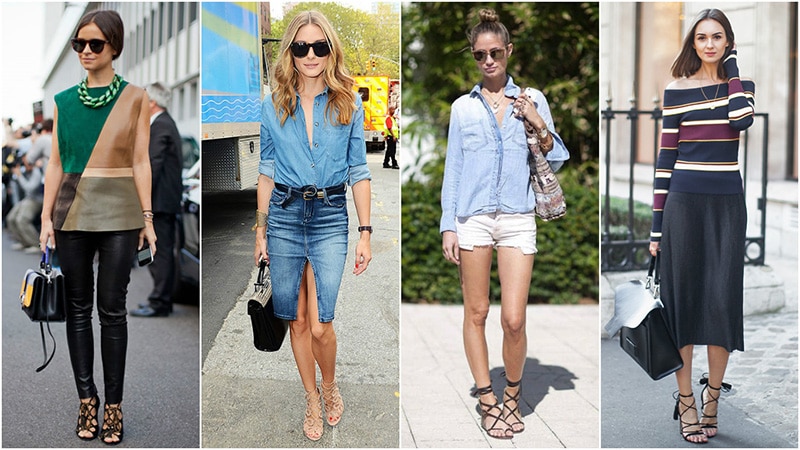 SHOP THE LOOK
5. Neutral Colour Sandals
The new neutral is all about muted, subtle statement footwear. Consider a simple tan, ash grey or taupe sandal that you can pair with just about anything. Neutrals and nude tones will help elongate your leg, giving the illusion of longer, leaner pins – without the man hours in the pilates studio. Sport this style with anything from dark denim capris to a floaty summer shirt dress. A simple cut leather sandal will prove to be your saving grace come summer BBQ season, just make sure your pedicure is eternally on point!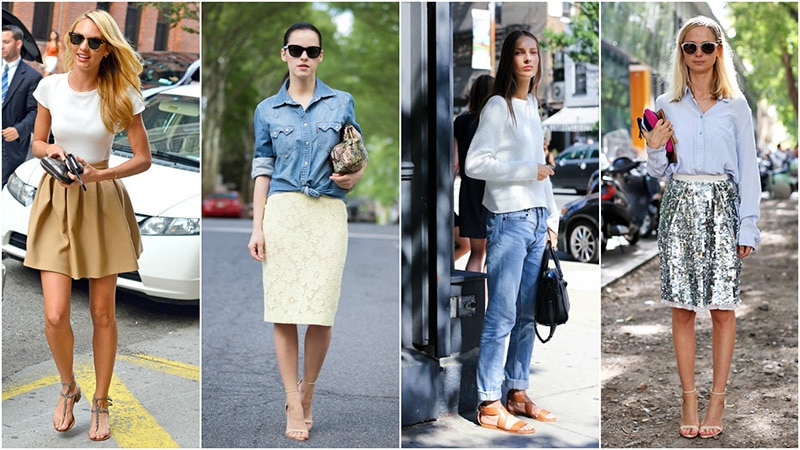 SHOP THE LOOK
6. Monochrome Colour Sandals
Don't be afraid of monochrome this summer. Give your denim cut-offs or low-key summer ensemble an added edge with some strappy cage sandals or leather t-bars in black or white. A simple skinny strap stiletto makes for the perfect summer wedding staple, provided you're not trudging through sand. Or you can go full Bohemian-chic with a Kimono and tasselled flat.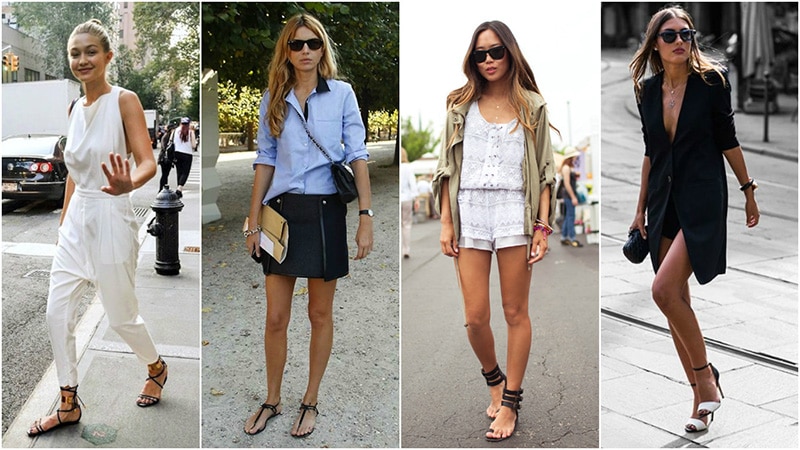 SHOP THE LOOK
SUBSCRIBE TO OUR NEWSLETTER
Subscribe to our mailing list and get interesting stuff and updates to your email inbox.