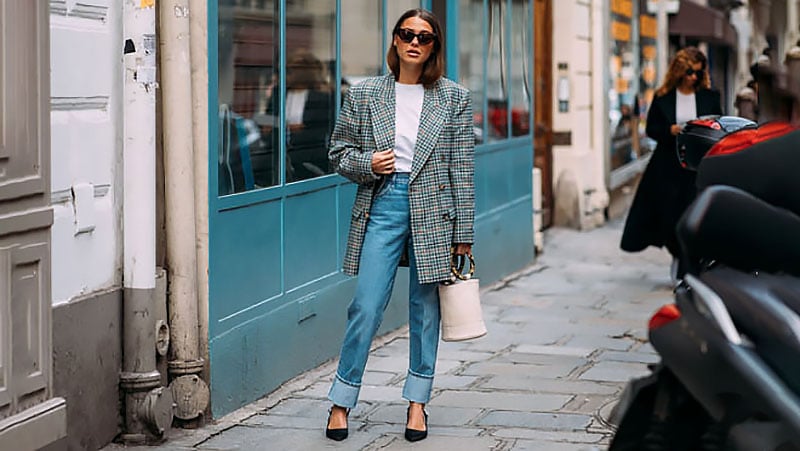 The humble pair of jeans are some of the most versatile and timeless pieces of clothing you can own. Whether you're heading out to the market or lunch with friends, there are many ways you can rock them. With a cinched waist and baggy legs, mom jeans belong in every women's wardrobe. If you're not sure what to wear with mom jeans, then here are the most stylish outfit ideas and new ways to wear the classic denim.
RELATED: The Ultimate Guide for Wearing Jeans
What are Mom Jeans?
As one of the most trendy pieces of casual attire, the mom cut features a high waist and long zipper. This denim offers a baggy leg and often makes you look taller, and it is a feminine alternative to the more relaxed boyfriend silhouette. These typically come in the classic blue color with no rips or tears in the fabric, but they look just as great with a bit of wear. This denim is a perfect option for a cute brunch date, or even a night out on the town with your friends.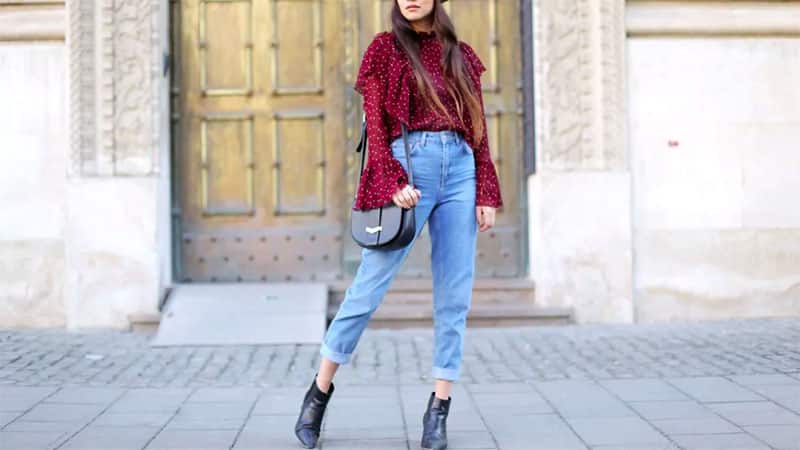 Mom Jeans Outfits
Black Mom Jeans Outfits
Create an edgy appearance while looking effortlessly stylish in a pair of black mom jeans. Finding the blend of sophistication and rebellion, this denim works well with any outfit and flatters a myriad of occasions. Rock it with a leather jacket and boots or create a fun ensemble for the office with a white button-down and mules. There are so many options for this look, and you can try something new every day of the year. It is a staple piece of clothing that belongs in everyone's wardrobes.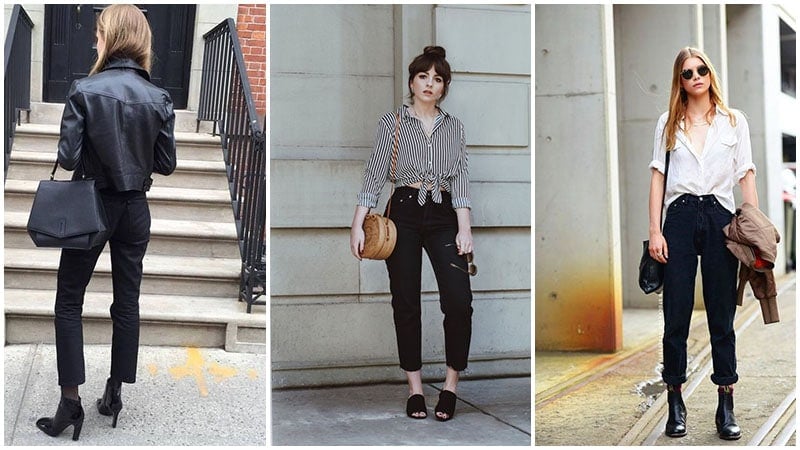 Get the Look
Blue Mom Jeans Outfits
For a laidback feel with effortless styling, opt for a classic pair of blue mom jeans. Its relaxed fit creates an instantly casual aesthetic, and they're easy to dress up or down depending on the occasion. Add a modern twist to your everyday look with a frilly black T-shirt or cinch in your waist with a leotard and sleek belt. As one of the most versatile pieces of clothing, you can rock it during every season and stay comfortable while looking fabulous.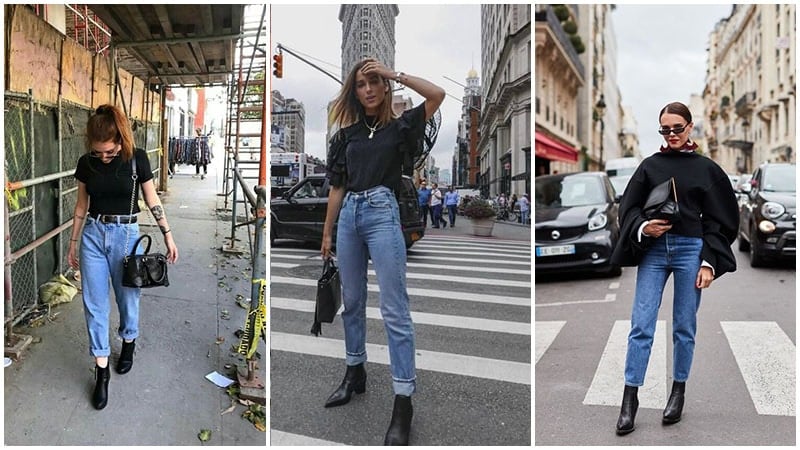 Get the Look
Light Blue Mom Jeans Outfits
Add a fresh and summery twist your casual outfit with a pair of light blue mom jeans. Whether you're on your way to the office or brunch with friends, this is a timeless option for any situation. Wear it with a white T-shirt and oversized blazer for an '80s-inspired feel or with a chunky bright sweater and sneakers to stay warm and cute. There are so many ways to rock this stunning denim, so have some fun and experiment a little.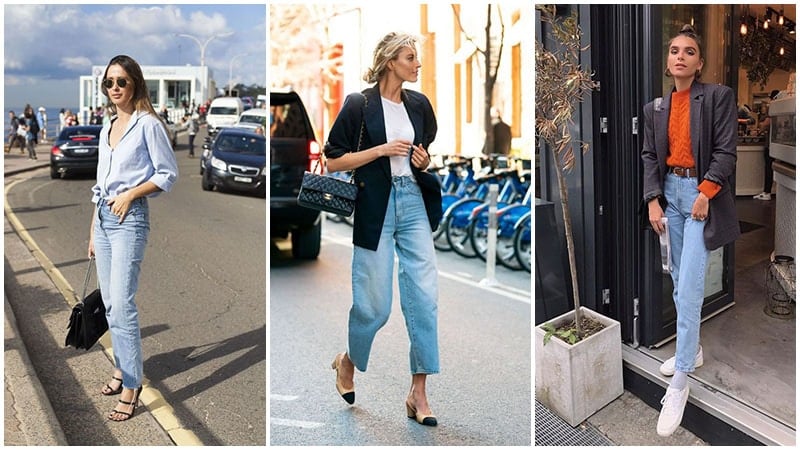 Get the Look
Acid Wash Mom Jeans Outfits
Acid wash mom jeans are a great option if you enjoy thinking outside the box. Featuring light splashes across the denim, these are a fantastic alternative to your regular pair of pants. Rock these with an oversized jumper or a plain white T-shirt – it's a versatile piece of clothing that you can wear with almost anything. Play with lengths to establish a more laidback aesthetic, and complete the look with a pair of heels for a contemporary finish.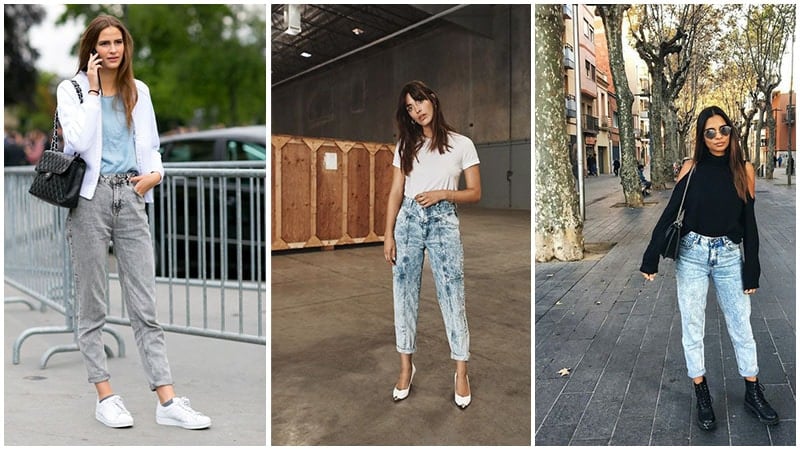 Get the Look
Ripped Mom Jeans
Put a spin on the traditional mom jeans by adding a few rips. From a single tear to a series of shreds, these will instantly add a cool factor to your outfit. When the temperature drops, keep yourself warm by donning fishnets underneath – it's an easy way to look punk and do it style. Although your grandparents may object, you'll be the coolest one everywhere you go in this denim.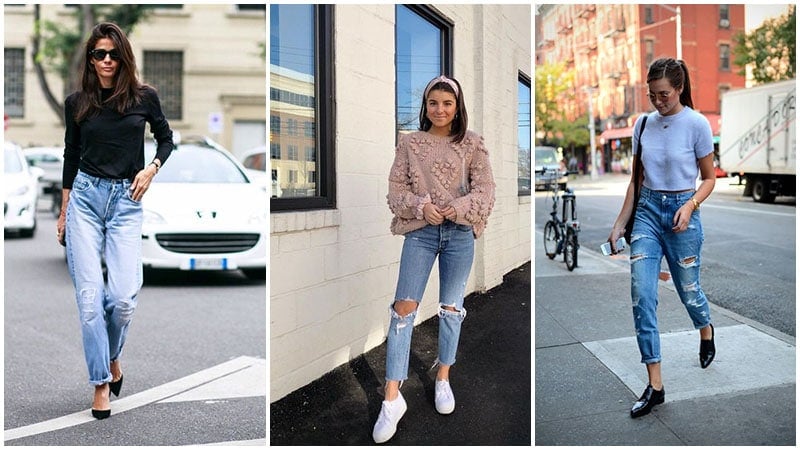 Get the Look
Baggy Mom Jeans
As one of the most comfortable pairs of jeans, the baggy mom silhouette takes your outfit to the next level. Featuring a tapered waist and wider legs, you can complete the look with a tight top and oversized jacket. Keeping the proportions in check, add a heel to lengthen your legs, and create a streamlined aesthetic. Choose from black, light blue, or a traditional denim shade for your ensemble – this a versatile option for everyday wear!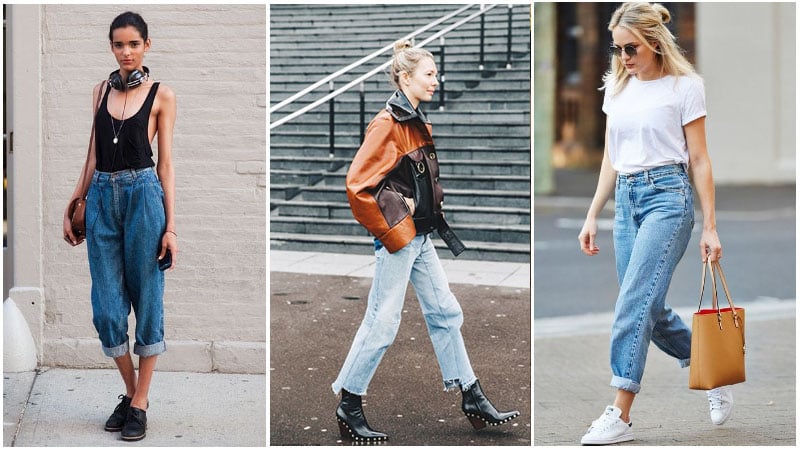 Get the Look
Cute Outfits with Mom Jeans
From the cafe to an art gallery, there are many ways you can wear mom jeans. From the effortless T-shirt and biker jacket to a silky blouse, this is a style that you can rock during any time of the year. Swap out your heels for sneakers for a casual look, or add a statement belt and rollneck for a night out. Add jewelry such as bracelets or a necklace to complete your outfit, and you'll look like you're walking on the runway.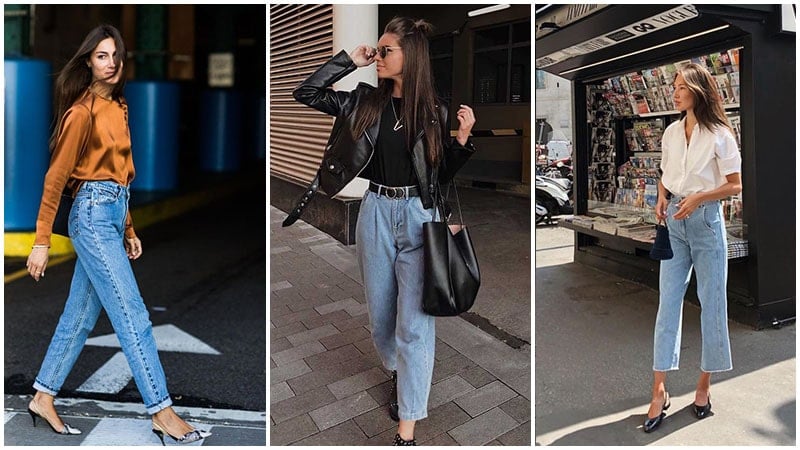 Get the Look
90s Inspired Mom Jeans Outfits
Step back in time by channeling your inner '90s style. Mom jeans are a classic piece of clothing from the decade that looks fantastic with retro styling. From an oversized printed T-shirt or a chunky turtleneck, there's something to choose for every season. Acid wash denim is a great option from this era, and they look lovely with a pair of kitten heels and a sweater. Opt for shades such as yellow, pinks, and blues – this decade is all about having fun!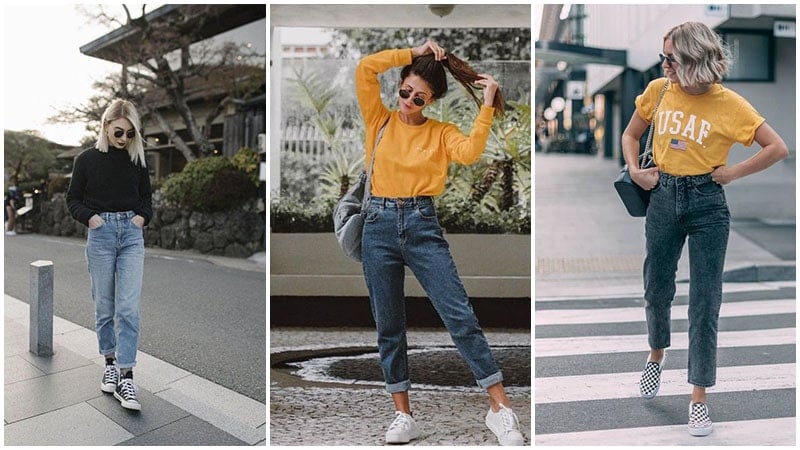 Get the Look
80s Inspired Mom Jeans Outfits
If you're a fan of Princess Diana's style, look no further than an '80s inspired outfit. With mom jeans, you can create the perfect outfit with a vintage flair – opt for a cream sweater, chunky boots, and a small black bag. For a sporty feel, try an oversized athletic T-shirt with a baseball cap, sneakers, and a blazer. It is a timeless choice that you will want to rock every decade!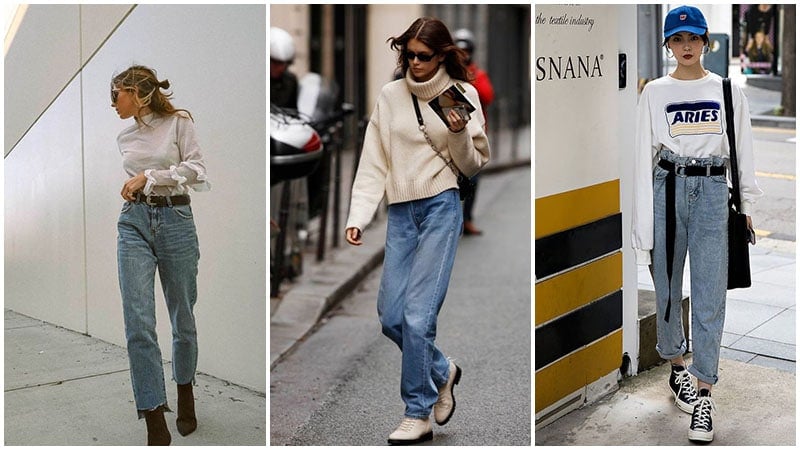 Get the Look
Plus Size Mom Jeans Outfits
The mom jean is one of the most flattering silhouettes for all body types. The loose fit with a high waist creates an hourglass shape and elongates your legs. Rock this with a plain, slim-fitting shirt or bodysuit to streamline your figure and lengthen your pins with a pair of heels. Darker shades of denim are the best option for a night out, but don't be afraid to try something light or with rips in the knees. Cinch your midsection with a statement belt, and you're set.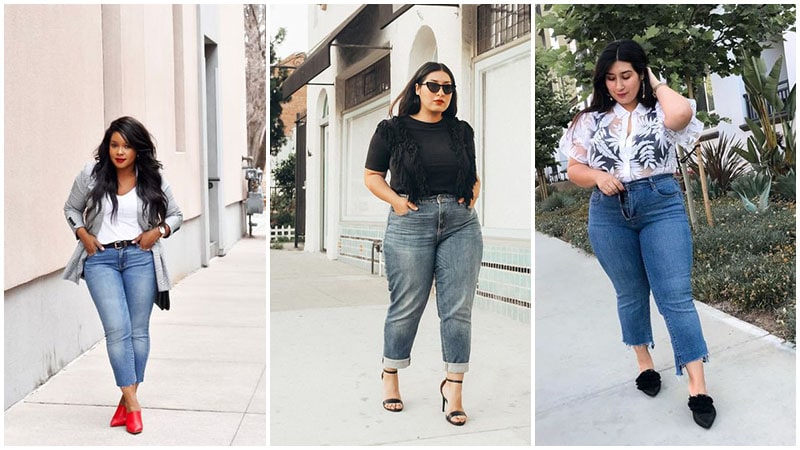 Get the Look
How to Wear Mom Jeans
To streamline your silhouette, wear a slim-fit T-shirt or rollneck to lengthen the body.
If it's cold outside, opt for fishnets under your ripped jeans for a high-fashion twist.
Keep it casual with a pair of kitten heels and a sweater during transitional seasons.
Mix and match with different styles – the denim is a versatile option for every occasion
Don't be afraid to try new silhouettes – opt for oversized blazers and sneakers for a casual and stylish ensemble.
FAQs
Why are mom jeans called mom jeans?
Mom jeans are one of the most versatile pairs of pants that you can own. Defined by their high-waist and long zipper, the legs are also a little baggier, creating a relaxed yet feminine silhouette. You do not have to be a mom to wear them, and women of all ages have embraced these comfortable pants.
Are mom jeans back in style?
Mom jeans are making a comeback. They are comfortable, have a relaxed yet chic appearance, and are easy to wear. Not only can they be mixed and matched with most of what you own, but they are also suitable for many occasions, including dates or simply running errands. The classic blue option, without any detailing or rips, is the best.
What can I wear with mom jeans?
The beauty of mom jeans is that they are versatile and can be mixed and matched with many different pieces. Wear them with button-downs, a black or white T-shirt, a blazer, or a turtleneck. The ankle-length also gives you a lot of choice with footwear options, and you can try out everything from mules to ankle boots. They also lend themselves well to a variety of different settings, whether you have a brunch date coming up or just intend to go on a little shopping excursion.
What body type do mom jeans look good on?
Mom jeans sit on your waist, making them more comfortable and more flattering to many body shapes. In particular, those with hourglass shapes will find this style complements their curves.
Are mom jeans and boyfriend jeans the same?
Mom jeans and boyfriend jeans are not the same things. The difference is the cut. Mom jeans have a high waist and are loose fitted, especially on the legs and back. On the other hand, boyfriend jeans have a slouchy feel and are baggier around the crotch area.
What shirt do you wear with mom jeans?
Mom jeans, especially in a classic blue, are incredibly versatile and can be dressed up or down. Some great shirts to wear with them include button-downs, T-shirts, turtleneck sweaters, silk blouses, simple crop tops, and sweaters.
SUBSCRIBE TO OUR NEWSLETTER
Subscribe to our mailing list and get interesting stuff and updates to your email inbox.