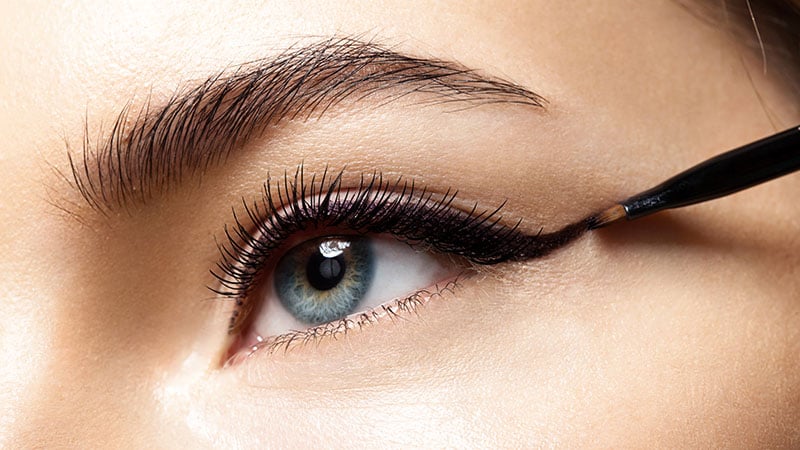 While black eyeliner is undoubtedly a major makeup staple for every woman, it's not the only color you should be using. The dark inky shade is perfect for defining eyes and creating a killer feline flick, but it can't create the depth and sparkle that colored eyeliners can. Green, blue, purple, grey, and brown eyeliners may sound a bit scary at first but they have the power to transform your eyes far beyond any tired black rim. Certain colors can intensify, brighten, define or even change the appearance of your natural eye color. All you need to do is choose the right color for your eyes and they'll be sparkling with new life in no time.
RELATED: 15 Best Drugstore Eyeliners That You Need to Buy
Eyeliner for Brown Eyes
Brown eyes are lucky enough to look great with near all colors of eyeliner, although, they are easiest to pair with brown. Choose "earthy" brown hues that match your eye color for a pretty and subtle beauty look. Use them to line your waterline instead of black for shape definition with a softer touch. Warm amber shades will also look great on your eyes and create a golden glow for your face
While browns will make your eye color appear richer, contrasting colors will make it appear lighter and brighter. Eyeliners in colors such as midnight blue, cobalt, vivid purple, emerald green, grey and cool charcoal will bring out the lighter brown and golden flecks in your eyes. The contrasting color will really make your eyes pop. If you're a bit unsure about these bolder colors, however, try lining just the waterlines of your eyes for a more subtle effect. Doing so in dark blue colors will create the same definition as a black eyeliner but in a softer way. If you feel confident, though, try your usual cat-eye look with a navy blue pencil instead of black for a special twist.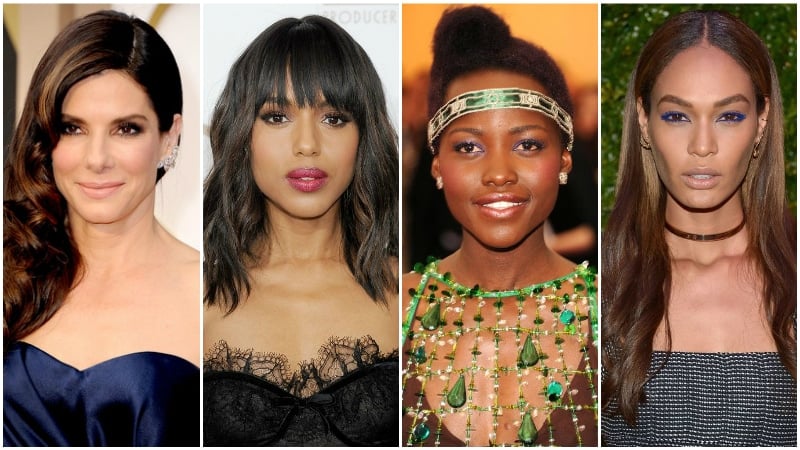 Eyeliner for Hazel Eyes
Hazel eyes contain a mixture of brown and green tones, so different eyeliner colors will change their natural appearance in different ways. By choosing which color eyeliner to use, you can choose which color you want to bring out in your eyes. Green eyeliners, in colors such as emerald and olive, will bring out the green tones in hazel eyes, as will plum, aubergine, and steely grey hues. Brown eyeliners, on the other hand, such as chocolate, will highlight the natural brown tone of hazel eyes. Warm browns and golden metallic eyeliner, including bronze and copper eyeliner, will also bring out the brown tone of hazel eyes while simultaneously creating a yellow-gold glow.
For a glamorous nighttime look, line the lids of your hazel eyes with either a green or rich brown eyeliner. Then create an extra glow by layering gold eyeliner in the corners of your eyes and at the center of the lids. Alternatively, try a gold liquid liner on your upper lid and line your waterline with a cappuccino brown kohl pencil. The combination will make your eyes sparkle and it will highlight their gorgeous multi-colored look.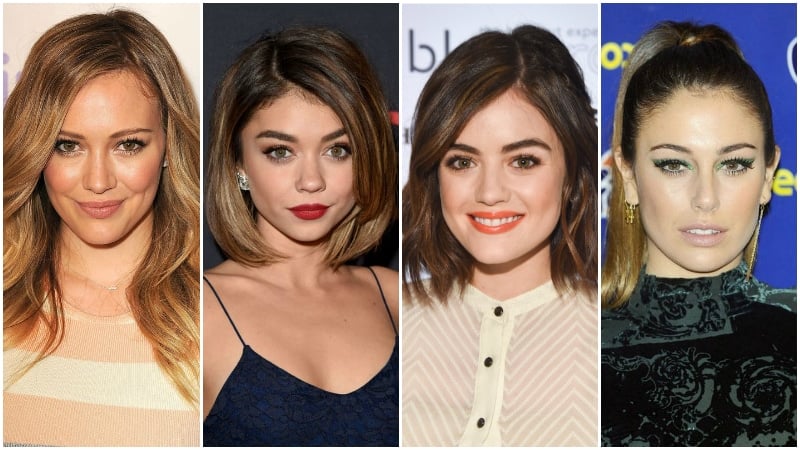 Eyeliner for Blue Eyes
Blue eyes pop when lined with complimentary rich, warm colors. Colors with orange undertones, such as copper and gold, will make blue eyes appear even more vibrant by contrast. These warm metallic tones pick up on gold flashes in the iris of blue eyes, making them really light up. To line blue eyes with metallics, dot the inner corners of eyes with the pencil and keep the liner close to the lashline. Other warm colors that work well with blue eyes include champagne (which will lighten up blue eyes), terracotta, and warm brown.
If warm colors aren't having as big of an impact on your eyes as you would like, just use them in the inner corners of your eyes and then add a black liner to the lids. Alternatively, cool colors and jewel tones, such as navy blue and emerald will create a striking impact on blue eyes. Use navy when you want your blue eyes to appear a deeper shade and emerald when you want to accentuate hidden golden flecks in them.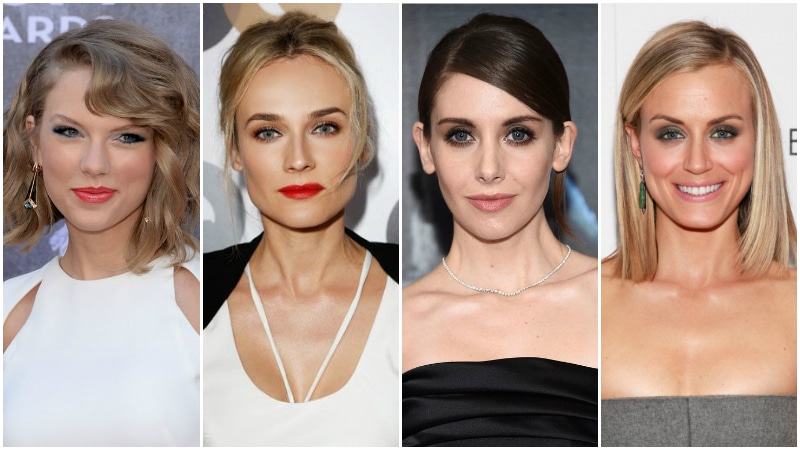 Eyeliner for Green Eyes
Green and red are opposite each other on the color wheel, making them complementary colors that work well together. Following this piece of color theory, green eyes become more vibrant when paired with a complimentary red-based eyeliner. Try a red-based bronze or brown liner to complement your green eyes. In particular, burgundy, and mahogany are great brown-hued eyeliners for women with green eyes. Lining your eyes with colors such as these will have a defining impact while avoiding the flattening effect that black eyeliner often gives light eyes. To ensure that red-based colors don't make eyes look pinkish and tired, line the lid in black before adding the color to your lash line.
While red-based hues are great for green eyes, purple-based colors also make a fantastic choice. Purple eyeliner, in hues such as amethyst, aubergine, plum, and violet will work best for green eyes. The unique contrast of colors will create a feminine and pretty look and bring out their earthy green tone.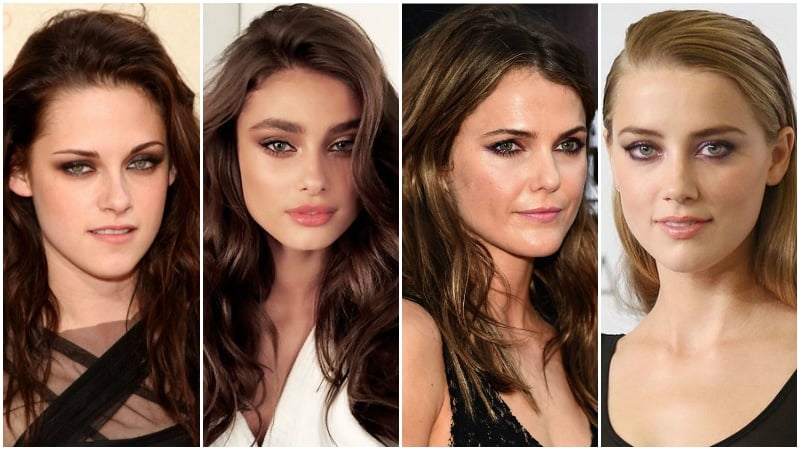 Eyeliner for Grey Eyes
If you're one of the rare few who have grey eyes, play up your special color with the help of eyeliner. Like blue eyes, cool grey eyes look great when paired with rich, warm colors of eyeliner. Warm browns and vivid burgundy hues will have a particularly lovely appeal when applied to the lash and water lines of grey eyes. Shades such as this will bring out the warmth in your eyes, making them appear richer in color than normal. If you want to emphasize rather than change your smokey eyes, however, try a pearly white or silver liner. These liners will highlight your unique eye color and make your eyes appear brighter grey than normal.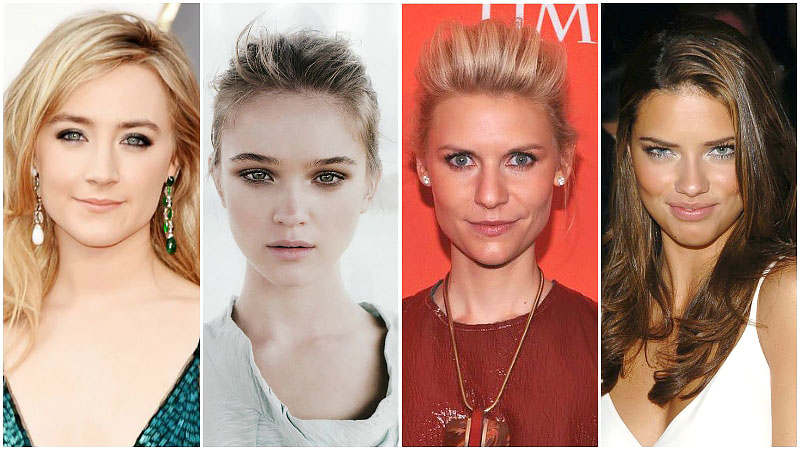 FAQs
How to choose the right eyeliner for your eye color?
Black eyeliner is a universally flattering choice for women, but colored liners also have their appeal, and different shades suit different eye colors. If you want to enhance your blue eyes, colors like orange, copper, and gold will work nicely, as will emerald and blue eyeliners. For green eyes, purple eyeliner is a wonderful choice. Pick shades like amethyst, aubergine, plum, and violet. Brown eyes look best with brown and amber colors, while midnight blue, green, grey, and purple can also make your eyes pop.
How do you know what eyeliner is right for you?
The right eyeliner color depends on your eye color, and picking shades that complement your eyes can really make them pop. Your eye shape can also impact your use of eyeliner. It is also worth noting that the top lid only can give you a more youthful appearance while using liner on the bottom rim can create a more dramatic look or create definition.
What eyeliner should I use for my eye shape?
Almond eye shapes will benefit from using their lid space and using eyeliner on the top lash line. You want to elongate the shape for round eyes, which can be achieved with a winged effect or liner that flicks up at the edges. If you have large eyes, you can use eyeliner both inside and on top of your eye rim, but those with smaller eyes should avoid applying eyeliner to the bottom eye rim because it can make your eyes look even smaller. To open them up, use eyeliner underneath your lashes instead.
What is the best kind of eyeliner?
Pencil eyeliner is the easiest to use and is the best for beginners. They also create a more natural look and are easy to blend and smudge. Liquid liner has a more dramatic effect which can be great if you want a more fierce appearance.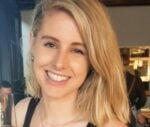 Taylah Brewer holds a bachelor's degree in fashion and business and is a skilled writer with several years of experience in the world of online content creation and copywriting. She is passionate about fashion, beauty, and all things lifestyle-related and has been writing for The Trend Spotter since 2016. She currently works as the Head of Digital & Ecommerce at White & Co.
SUBSCRIBE TO OUR NEWSLETTER
Subscribe to our mailing list and get interesting stuff and updates to your email inbox.