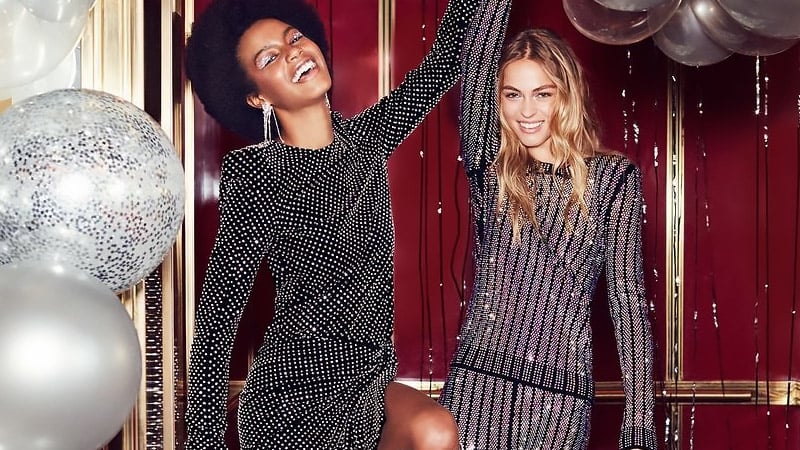 There are so many celebrations to attend during this festive season. Of course, you want to look stylish for each of them. With an endless list of events, each requiring a different dress code, picking your Christmas party outfits has never been so exciting. This is the time of year when you get to dress up, go out, and have some serious fun while celebrating. Whether the event calls for a casual, semi-formal, business, cocktail, or festive dress code, we've got the best Christmas party outfit ideas for a stylish celebration.

1. Casual Christmas Party
If the invitation says that you can dress casual, that means you're open to being yourself. Whether ripped jeans and a cropped sweater are your go-to, or a skirt and flats, it's all acceptable here. Just wear whatever makes you feel comfortable. Casual attire allows your individuality to shine through rather than meeting formal standards or conforming to a certain style.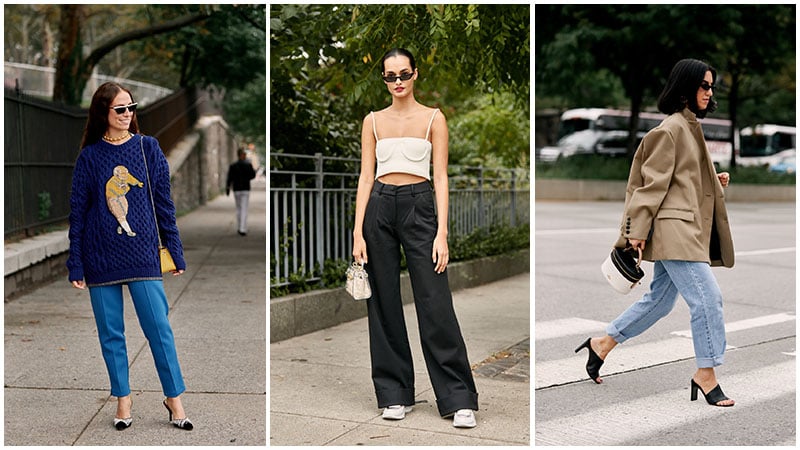 Get the Look
2. Smart Casual Christmas Party
Smart casual means that the host wants you to look polished but not overdressed. The key to this is finding the perfect medium. This means jeans are out while skirts and culottes are in. Usually, a good rule of thumb is to dress like you're going to a fancy restaurant or cafe for lunch. Wear a pair of heels or flat dressy shoes with a nice top or jacket. Of course, dresses are appropriate for this occasion too, just make sure that it's nice and simple, nothing too showy.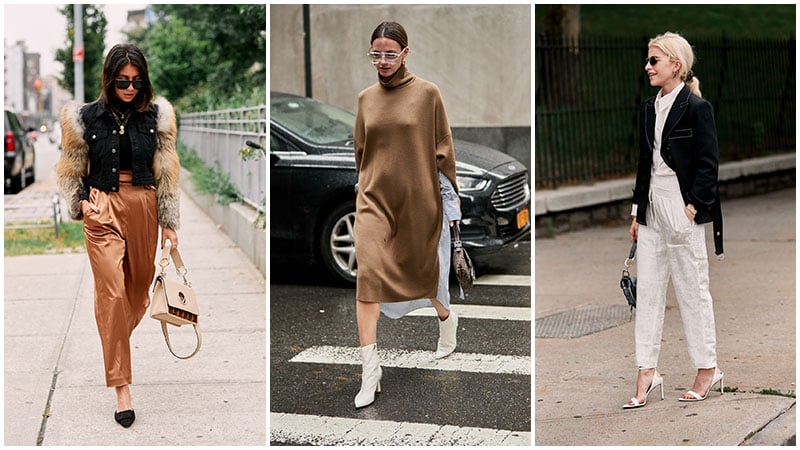 Get the Look
3. Semi-Formal Christmas Party
Semi-formal dress code can be hard to balance. You don't want to dress formally, but it can also be challenging to downplay your look. For women, the best option is a dress; otherwise, a pantsuit will do the trick. Choose something that's more formal than a cocktail dress but more casual than what you'd wear to a black tie event. If you're going for a dress, you should pick one that's knee-length or longer. Though a slit down the side is perfectly fine if you want to reveal a bit more skin. Pair the look with nice heels and a clutch to complete your outfit, and you'll look fabulous.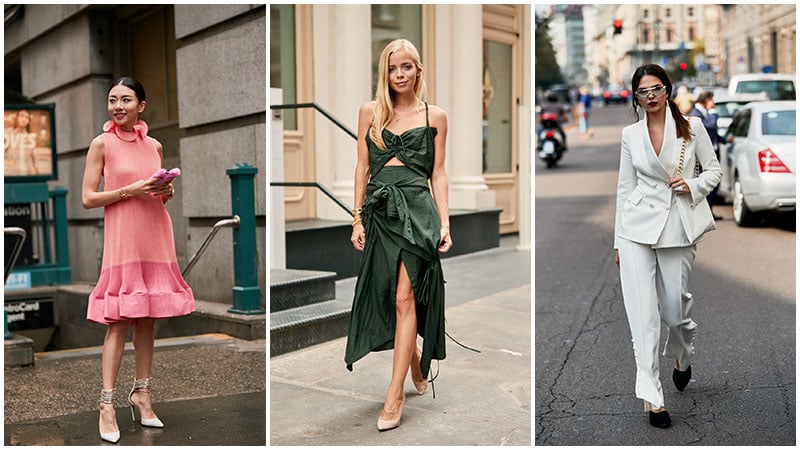 Get the Look
4. Business Casual Christmas Party
Think about what you'd wear to the office and then downplay it. Your outfit should be appropriate but not overly formal. A business casual dress code doesn't mean you have to wear a blazer, either. These days office clothing can be as simple as wearing a nice blouse. For the perfect office party look, wear a jacket with matching pants, then pair it with boots to downplay the outfit. Or you could go for a leather pencil skirt with a shirt, a long coat and a nice pair of heels. Whatever the look, be sure to keep it understated. Shoulder pads and a tie aren't necessary.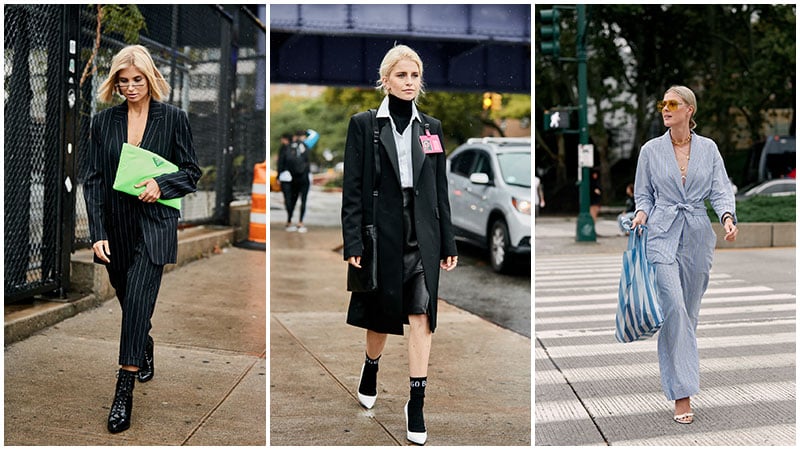 Get the Look
5. Black Tie/Formal Christmas Party
For women, a black tie dress code means a full-length gown is in order, one that is particularly dressy. You can choose something that's quite flowy or tight. Also, don't be afraid to show a little skin. It's perfectly fine for the dress to be backless or strapless. Just make sure that whatever you choose, you manage to look sophisticated and elegant. Pair this outfit with strappy heels and a clutch or small purse to complete the look.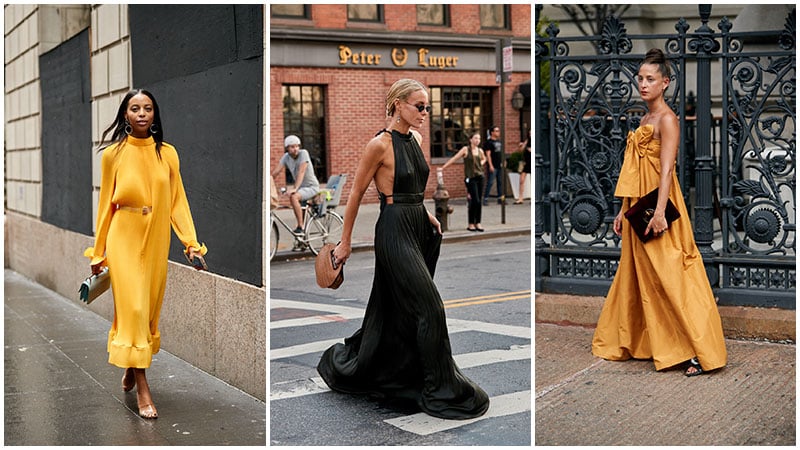 Get the Look
6. Cocktail Christmas Party
The Cocktail attire dress code calls for an elegant dress that sits on or above the knee. Also, keep in mind that heels are a must. When picking a dress, you'll have so much to choose from, so have fun with it. If you're unsure of what to choose, a little black dress will be your best friend. Just make sure it's appropriate for the occasion; you want to look sophisticated, so don't opt for anything too revealing.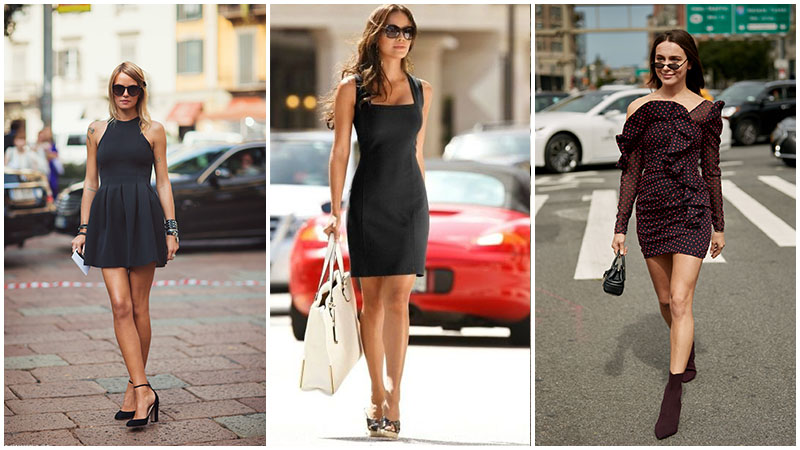 Get the Look
7. Festive Christmas Party
If the invite says festive, then you get to have some fun with your outfit. Pick an outfit that suits a cocktail or semi-formal dress code but remember to get something that has a holiday twist to it. This could be as simple as wearing a red dress, but of course, the more effort you put into your festive attire, the more you'll stand out. Think embellishments, tartan, and festive colors, or even if you're prepared to dress a little wild, find an outfit with Christmas-themed prints.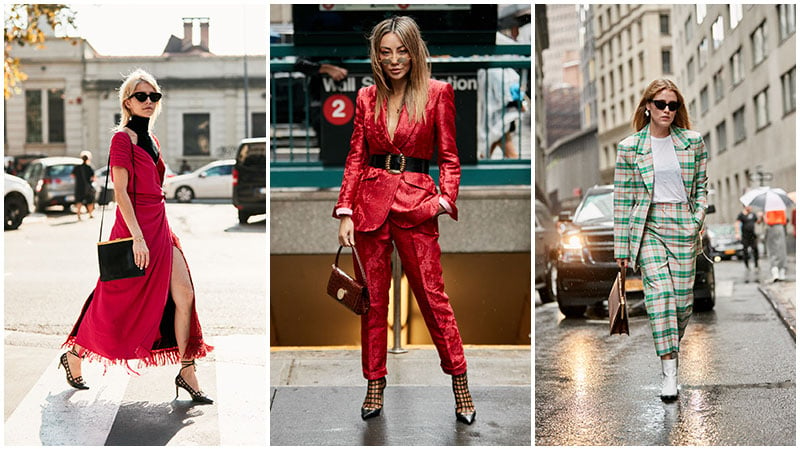 Get the Look
8. Winter Christmas Outfits
Layer your clothing to stay warm while still looking chic. Remember, every layer has to look fabulous as you might want to take a few off. Get your perfect staple pieces down, and then the rest will be easy. Match a cute sweater or turtleneck with a nice pair of trousers, then add killer boots or sophisticated heels. Next, you'll be needing that big warm coat to put over the top. You could even add a statement belt for closure instead of using the buttons. Finally, finish off your look by draping a bag over your arm, and voilà, you're good to go.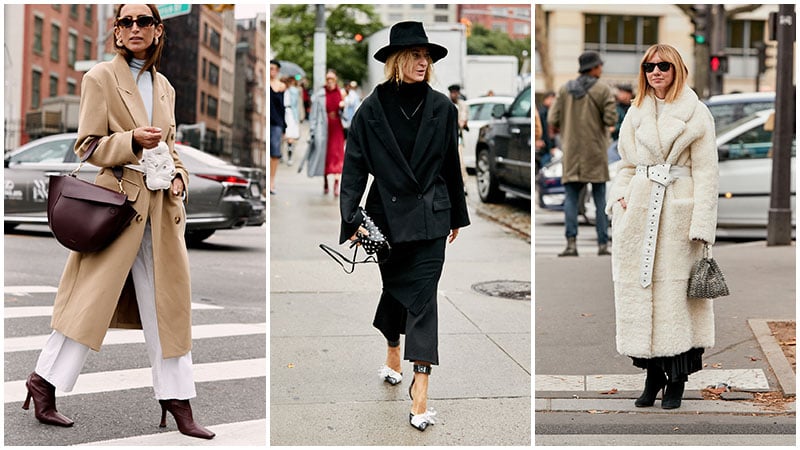 Get the Look
9. Summer Christmas Outfits
Summer Christmas outfits are so versatile. You can wear a dress, a skirt, shorts, or even flowy pants, which can all be paired with a number of nice tops. It's usually best to keep to light or Christmas colors for the festive season. It may be warm outside, but you'll look as cute as a snowflake. Remember, it's a holiday, so you want to dress up a little, therefore, pick shoes will a small heel, and even though it's hot, dress appropriately.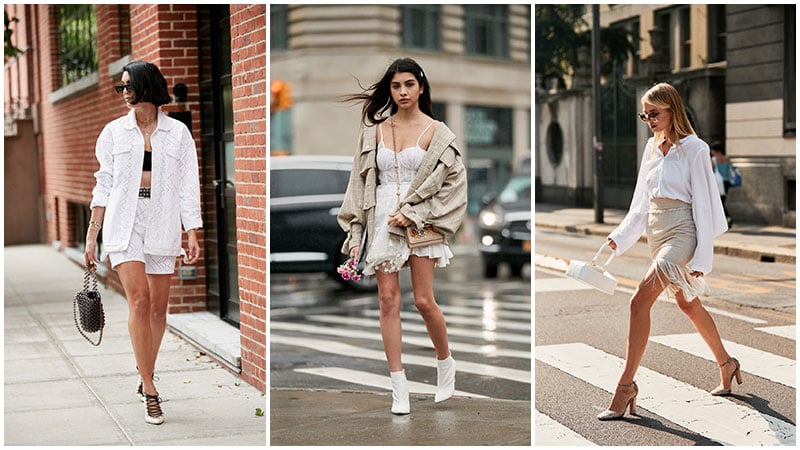 Get the Look
What to Wear to a Christmas Party FAQs
What is a good Christmas party outfit?
There are a wide variety of options when it comes to dressing for a Christmas party – but all should have an element of festive cheer and sparkle! For a casual Christmas 'do with friends, dress up an everyday outfit with a statement jacket and jewellery or a pair of heels. At more formal events, feel free to push the boat out with a glamorous dress or suit.
Can I wear jeans to a Christmas party?
You can wear jeans to a casual Christmas party, such as drinks at a friend's house or a picnic. However, it's still a special occasion – so be sure to dress them up a little with statement heels, a bold top, or a sleek jacket and glamorous accessories.
What do you wear to a church Christmas party?
A Church Christmas party is a fun occasion for everyone in your community to come together. While you can have a little fun with your look with festive colors and patterns, keep the usual rules of modesty in mind. Don't go too short on the hemline or show too much skin, as it is still a church event for all ages. Depending on the activities involved, wear either flats or heels – but don't go too casual with sneakers.
What are good colors to wear for Christmas?
Red and green are the classic colors of Christmas – but they're hard to pull off without looking like an elf, or a tree! Gold, silver, and white are more wearable and glamorous options for a Christmas outfit, and can be adapted to suit your skin tone. For your Christmas photos, you can also consider wearing deeper red and green tones – think emerald and crimson – paired with black or navy. 
SUBSCRIBE TO OUR NEWSLETTER
Subscribe to our mailing list and get interesting stuff and updates to your email inbox.