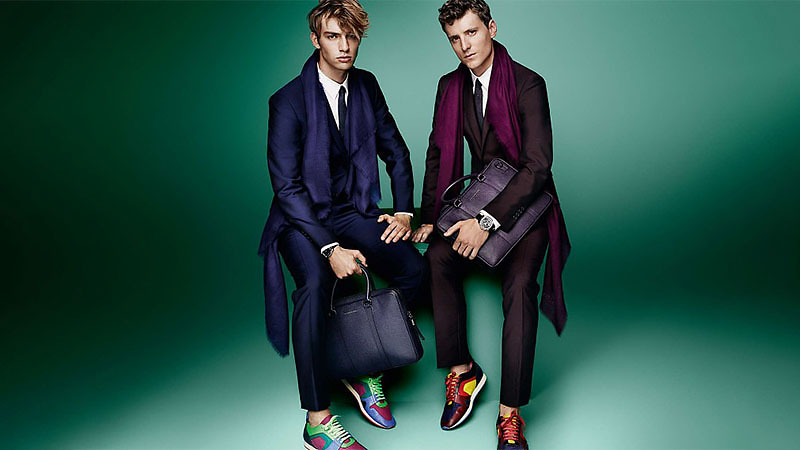 Trends come and go, but staying toasty will forever remain in fashion. As the air cools and the temperature drops, it's essential to keep warm and snug. From an overcoat to thick, woolly socks, you have to protect yourself from the elements during colder seasons. For every guy, there are many ways of tying an outfit together, and this accessory is the perfect way to complete it. From a casual night to a formal event, here is how to style a men's winter scarf to perfection.
RELATED: How to Wear a Scarf With Style
Types of Scarves
Cashmere Scarves
As one of the softest fabrics in the world, a cashmere scarf is a perfect addition to your winter outfit. Ideal for everyday wear, you can knot it to flatter your ensemble or let it hang for a more casual feel. For a monochrome look, opt for a shade that matches the rest of your attire – pick something plaid for maximum impact, no matter the weather. It is a great option to wear underneath your jacket or wrapped around once or twice. When the temperature drops, it's crucial to stay warm in style.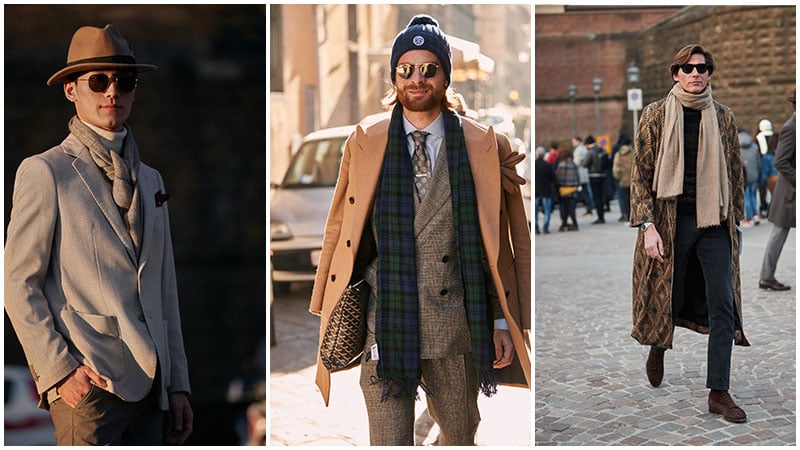 Wool Scarves
For icy weather, the wool scarf is your new best friend. Keeping you warm and snug, this is a versatile accessory to wear when you're feeling the chill. Whether you prefer plain designs or something with a bit of pattern, you can add an extra cozy layer to your winter attire. Perfect for daytime or evening occasions, rock this scarf with jeans, chinos, or even a suit. Keep the look bold by opting for a statement color such as red or tan, or stay cool in blue or black.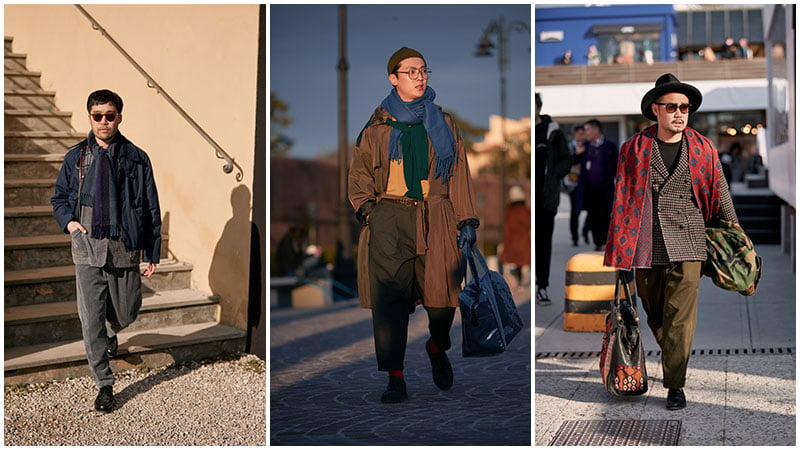 Printed Scarves
Why blend in when you can stand out? The colder months are typically paired with dark and moody shades, so brighten up everyone's day with a patterned scarf. From statement colors such as blue, yellow or red, to loud brand logos and intricate designs – there are no rules with this accessory. Ideal for in-between seasons or in the middle of winter, you can rug up and look as fresh as ever with these pieces. Opt for a myriad of tones for a well-rounded look, or keep it bold in monochrome colors. You can style these any way you like – from clashing hues to an understated ensemble; you will turn heads everywhere you go.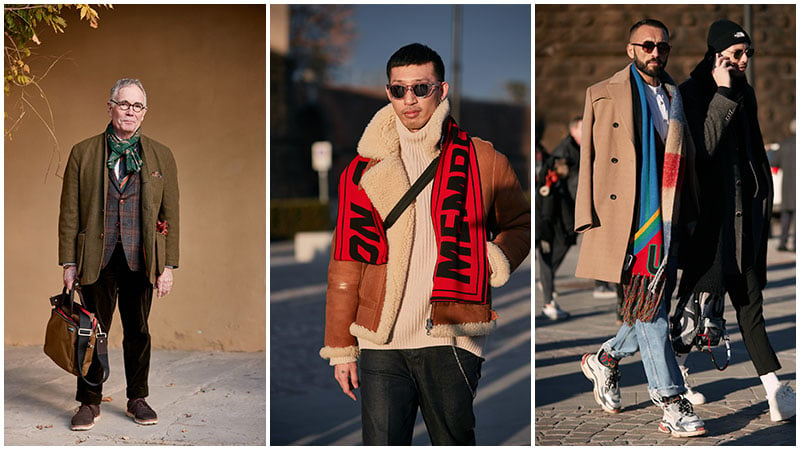 Plain Scarves
Add a touch of elegance to your outfit in a plain scarf. This accessory plays a versatile role in your wardrobe and will be the perfect addition to any ensemble you wear. From a chunky knit to soft cashmere, you can rock it with casual, semi-formal or even black-tie events. The block shade amplifies your exceptional style and looks fantastic, draped, or with an intricate knot. The understated design will add a touch of refinement to your attire, even if you're donning a pair of jeans and a T-shirt.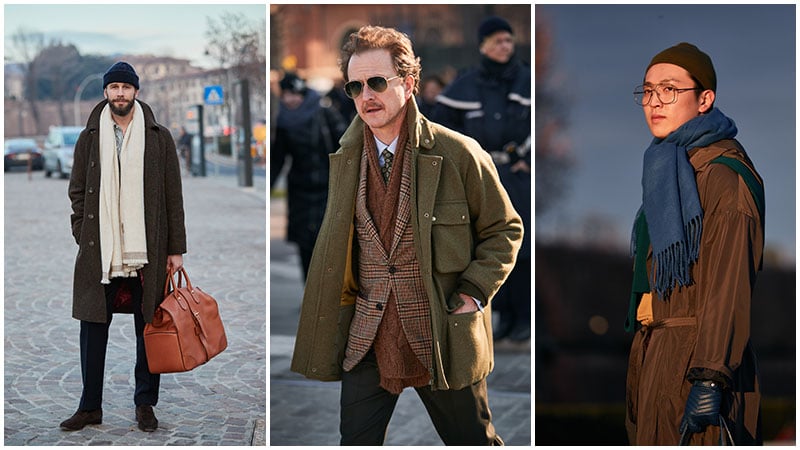 Oversized Scarves
Go big or go home with one of these fantastic oversized scarves. Perfect for wrapping around yourself or letting it hang, it makes a statement in itself. As an ideal finishing touch to your ensemble, you can keep your whole body warm and snug while looking like you've stepped out of fashion week show. From a blanket design to a chunky knit, these accessories are the best way to complete any outfit. Opt for dark shades such as brown, black, or charcoal to flatter your existing wardrobe, or make an entrance everywhere you go with a bold pattern. With an accessory this fantastic – you'll wish it was winter every day of the year!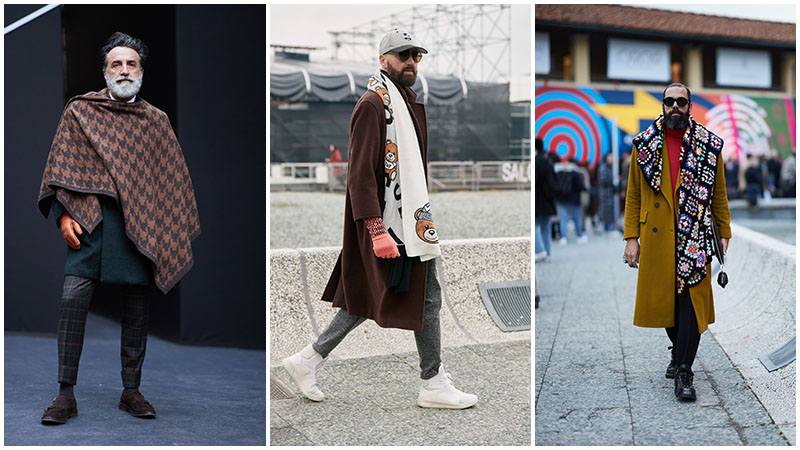 How to Tie a Scarf
Drape
Probably the easiest way to wear a scarf is the classic draping method. Unlike the others, this style doesn't require much effort – simply hang it around your neck and let the accessory do the talking. For formal events, it's a great idea to tuck it under your coat or jacket, creating a stylish incision to your ensemble. This style best suits medium-length, so it hits either just above or below your hips. It's also better to rock this option during the cold weather, as it will keep your neck and front part of your body toasty, and stops the wind from giving you the chills.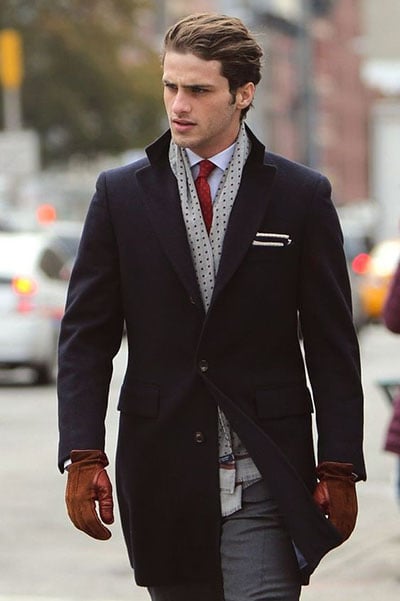 Over-Hand
Although this option looks a bit tricky, the over-hand is an easy skill to master. Acting as a clean and functional presentation, it flatters cooler weather and semi-formal attire. To achieve this look, simply drape the scarf around your neck, making one part hang further down than the other. Taking the longer end, wrap it over the shorter, tuck it under, and then through the opening near your collar. You can then adjust the sides to sit evenly across your body and let the knot sit loosely on your chest. It's a straight-forward and simple way to wear this accessory and is a knack that every man should know.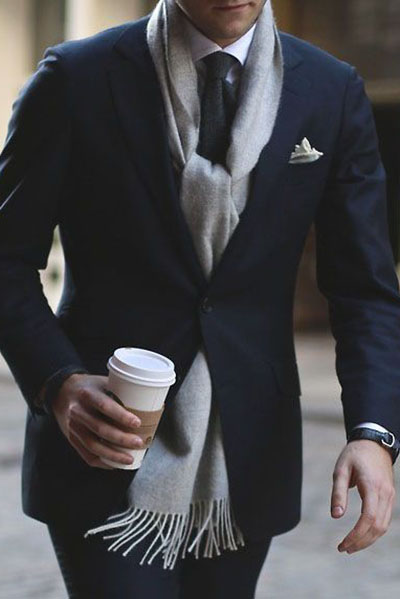 Reverse Drape
To keep your neck feeling extra toasty during the winter, the reverse drape is the best way to go. Ideally worn with medium scarves, it's suited for cold weather as it keeps your chest and exposed skin warm. To achieve this, hang it around your neck and let the ends sit evenly down your body. Then, take one side and bring it over your opposite shoulder – complete the same step to the other, and that's it. Adjust it how you wish, and add a jacket to hide the loose ends on your back. It best suits casual settings and looks fantastic with soft linen or chambray fabric. If you're feeling the chill, swap out the light material for something heavier, such as wool or a chunky knit.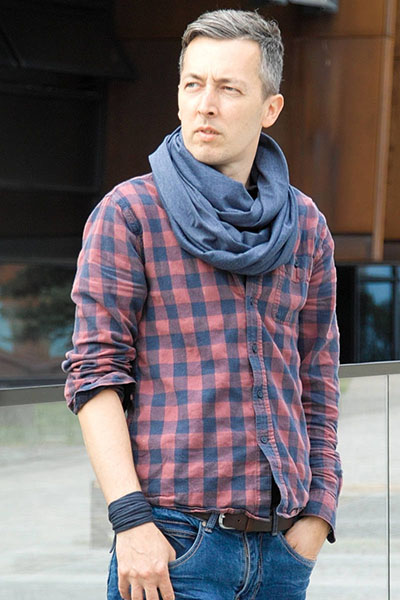 Once Around
The once around is one of the easiest and fastest ways to keep your neck warm. Using a medium length scarf, drape it across your neck, leaving one end hanging slightly longer than the other. Wrap it around and let it dangle where it was initially. No need to tie anything or add any more steps – this is a straight-forward and stylish way to maintain warmth in your upper body during the freezing temperatures. When choosing the right fabric for this look, opt for light linen, cashmere or soft wool – it is an excellent option for all weather conditions and can be dressed up or down, depending on the occasion.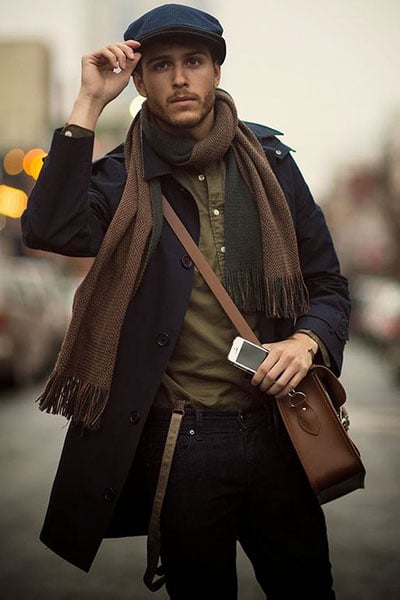 Twice Around
Akin to the style above, the twice around is best suited to colder conditions. Following the same method as before, let the scarf hang around your shoulder, with one end longer than the other. Wrap that elongated end around your neck, this time orbiting your neck twice and leaving it in its original place. It typically works best with a medium length accessory, made with soft or warm fabric. Leave the bottom parts even or at a slight angle – it's entirely up to you.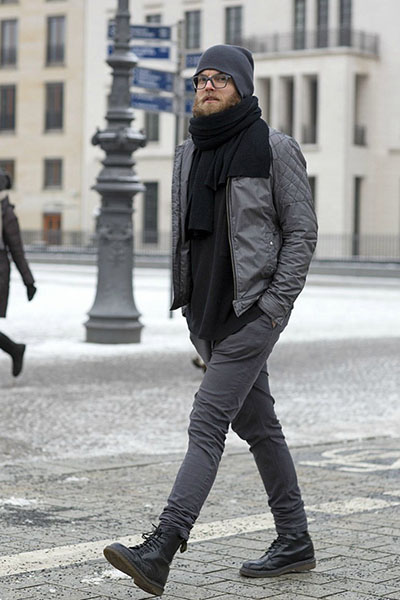 Fake Knot
As one of the slightly more complicated styles, the fake knot is an excellent way to smarten up an outfit without sacrificing your neck to the cold. To achieve this, begin by draping the fabric around your shoulders, leaving one side to hang further than the other. Take the long part and bring it behind and around itself to create a loop, tucking it through the middle. Grab the other end and work it through the knot, adjusting it to suit your preference. For a statement look, opt for a patterned design or a bold shade like plum, emerald, or navy. It's a great option to polish off a business ensemble or a slightly fancier casual outfit – once you have this skill down, you'll be rocking it every chance you get.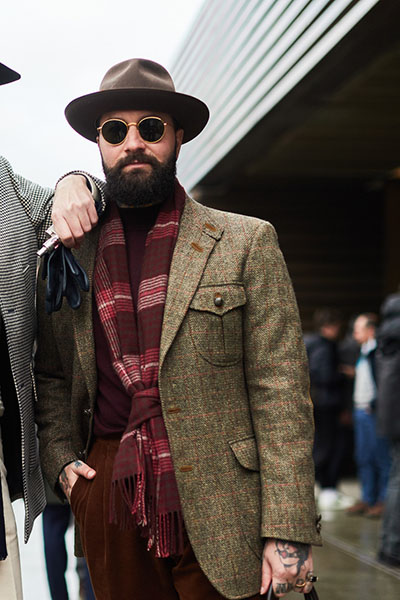 Four In Hand
Once you've got the above knots achieved, you can proceed to one of the more advanced styles: four in hand. Ideal for the cold, it protects your skin and secures the scarf in place all day. Start by folding the fabric in half and wrapping it around the base of your neck. Take one of the loose ends and pull it through the loop, leaving the other hanging by itself. Then, grab the folded bit and twist it, pulling the other end gently through the hole. Slowly adjust the knot by pulling it towards your chin and tuck it into your jacket. This technique may take some time to perfect, but it is one of the most stylish ways to complete your outfit.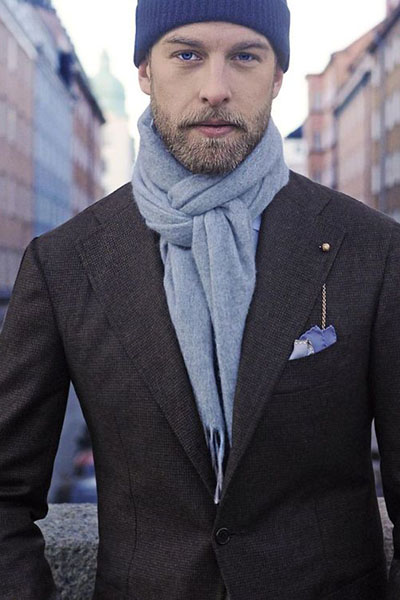 How to Wear a Scarf
If you're going to a formal event, draping your scarf under a blazer or overcoat is an easy way to polish an outfit.
Add a patterned scarf to a colorful outfit for a statement look.
Don't be afraid to try different knots – practice makes perfect!
When you're starting to freeze, make sure you wrap the scarf around your neck to keep warm and snug.
Specific knots work for different occasions – a once over is better for casual, but the four-in-hand works well for formal events.
FAQs
How long is a man's winter scarf?
Men's regular winter scarves generally measure between 50 and 90 inches long. If you are of average height, a scarf at least 60 inches long is best and the taller you are, the longer your scarf can be. The exception to this rule is if you want to wear an oversized scarf – also known as a blanket scarf. 
How should a man wear a winter scarf?
How you wear your scarf depends on the outfit you pair it with and the material of the scarf. Some scarves can only be tied, knotted, or draped in a certain way because the material is thick. Never tie or knot your scarf too tight, as it will look and feel uncomfortable. 
What is a men's neck scarf called?
Men's neck scarves are usually named after their use. For example, a winter scarf, sports scarf, business scarf or dress scarf, formal scarf, and summer or fashion scarf. Modern men's neck scarves come from the tradition of wearing a cravat as well as the Ancient Roman sudarium, which was used to indicate rank and as a sweat cloth.
What type of scarf is warmest?
The warmest winter scarves are usually made from cashmere or merino wool. These natural fibers – from the cashmere goat and the merino sheep, respectively – not only hold in heat but are also supremely soft and comfortable to wear. For winter sports and hiking, a treated 'polar fleece' scarf made from a blend of synthetic materials is usually preferred. That is because these pieces trap body heat while wicking away moisture and repelling snow and rain. 
SUBSCRIBE TO OUR NEWSLETTER
Subscribe to our mailing list and get interesting stuff and updates to your email inbox.