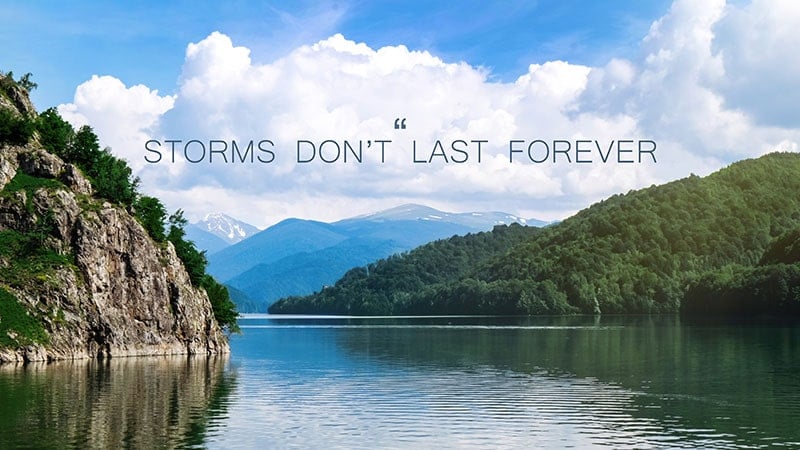 There are so many benefits of seeing the brighter side of life. Looking at things with an optimistic mindset can help you find hidden creativity, complete goals, set new standards for yourself, and inspire others along the way. Seeking inspiration can be a daunting task, but these words of wisdom can make it a bit easier. Whether you need to cheer up a buddy or give yourself a pep talk, a smile is sure to creep onto your face as soon as you read this selection. Print them out, write them in a journal, send them as an SMS to a loved one – here are 200 positive quotes that will certainly inspire you.
RELATED: 250 Inspirational Quotes That Will Motivate You
1. Positive Life Quotes
Life is an incredible thing, and often we seldom celebrate it. Whether you are having the greatest day or feeling like it could improve, a positive life quote is sure to enhance it. These adages aim to give you a little lift -inspiring and encouraging feelings of joy. Every day is a gift, so we must avoid taking it for granted. Write one of these down for the days you need it, or add it to a social post to give your snap-worthy moments a bit of extra oomph.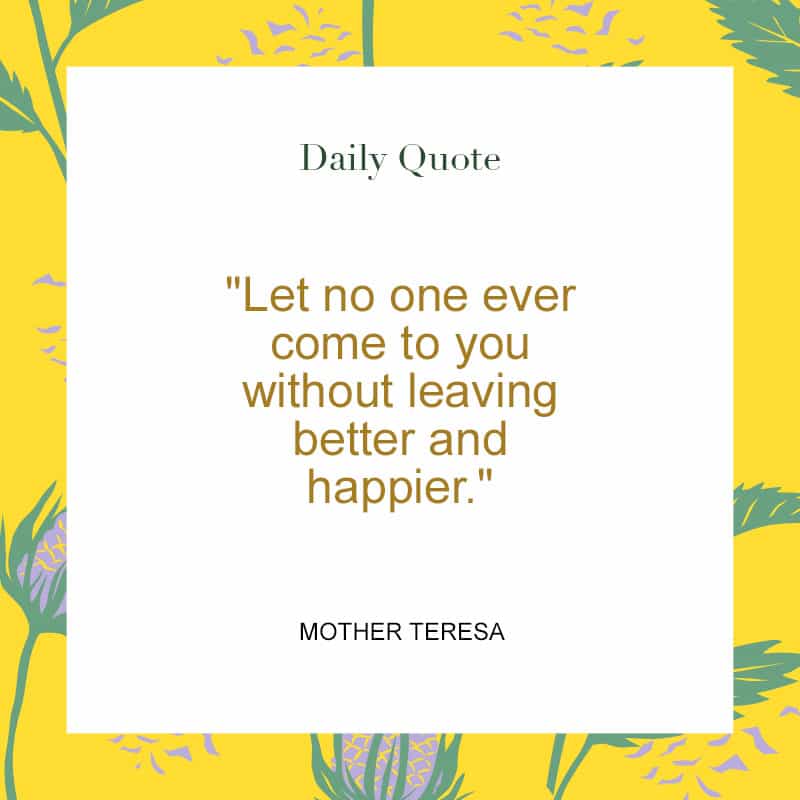 "Let no one ever come to you without leaving better and happier." – Mother Teresa.
"Always find opportunities to make someone smile, and to offer random acts of kindness in everyday life." – Roy T. Bennett.
"Count your age by friends, not years. Count your life by smiles, not tears." – John Lennon
"Life is a series of baby steps." – Hoda Kotb.
"Success is getting what you want, happiness is wanting what you get."– W.P. Kinsella.
"Time you enjoy wasting is not wasted time." – Marthe Troly-Curtin
"Extraordinary things are always hiding in places people never think to look." —Jodi Picoult
"Each day provides its own gifts." — Marcus Aurelius
"Do good and good will come to you." —Adam Lowy
"The world is full of magical things patiently waiting for our wits to grow sharper." —Bertrand Russell.
2. Positive Good Morning Quotes
Make every day a great one with one of these inspiring good morning quotes. Whether it's a great piece of advice, such as smiling in the mirror before you leave the house or going out for a walk, or even just some funny quotes to get yourself in a happy mood, they're an excellent way to boost your serotonin levels. Self-love takes time, and you should approach things little by little. If this time of the day is extra tough for you, some of these wide words can give you the right level of encouragement to smash the day.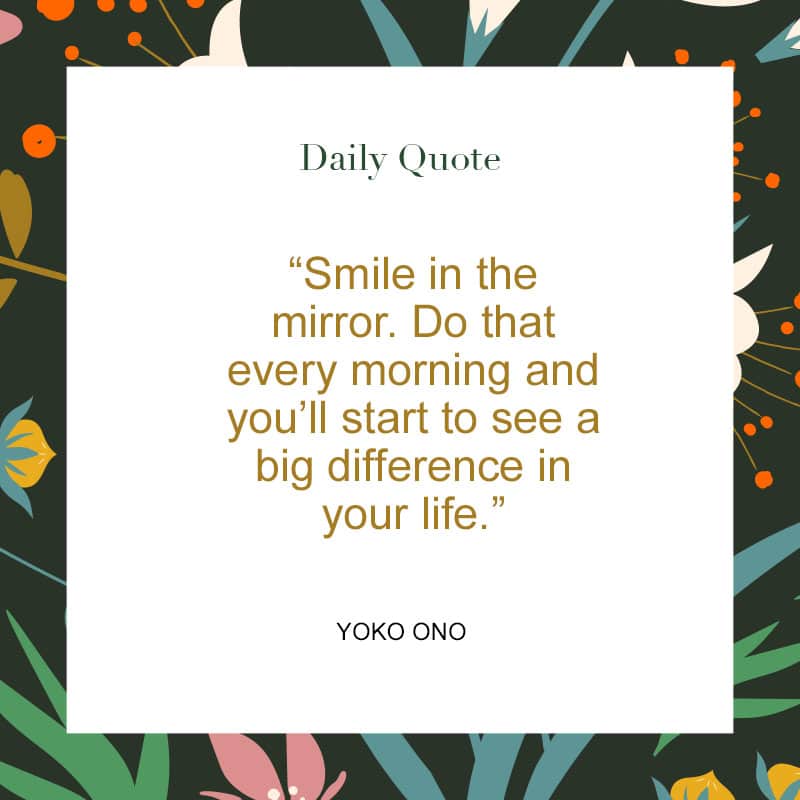 "When you arise in the morning, think of what a precious privilege it is to be alive, to breathe, to think, to enjoy, to love." – Marcus Aurelius.
"I get up every morning, and it's going to be a great day. You never know when it's going to be over, so I refuse to have a bad day." – Paul Henderson.
"Every morning, I wake up saying, 'I'm still alive, a miracle.' And so I keep on pushing." — Jim Carrey
" Write it on your heart that every day is the best day in the year." – Ralph Waldo Emerson.
"All you need is the plan, the road map, and the courage to press on to your destination." — Earl Nightingale.
"If you're changing the world, you're working on important things. You're excited to get up in the morning." – Larry Page.
"An early-morning walk is a blessing for the whole day." – Henry David Thoreau.
"Make a determination that you will live your purpose today." — Daniel Budzinski.
"Words can inspire, thoughts can provoke, but only action truly brings you closer to your dreams." — Brad Sugars.
"Smile in the mirror. Do that every morning, and you'll start to see a big difference in your life." – Yoko Ono.
3. Positive Quotes of the Day
Everyone knows that Rome wasn't built in a day, and neither can your journey in life. That's why these quotes of the day are a positive way to keep moving forward. From words of encouragement to inspiring messages of support, there's something in here for everyone. A great way to remind yourself of these adages is by printing them out and keeping them on your walls, sharing them on social media, or keeping them as wallpaper on your lock screen. Often, saying affirmations such as these can produce feelings of positivity and can help you towards your next steps of success.
"If you don't like the road you're walking, start paving another one." – Dolly Parton.
"When you are imagining, you might as well imagine something worthwhile." —Lucy Maud Montgomery.
"All our dreams can come true, if we have the courage to pursue them." — Walt Disney.
"Just for the record, darling, not all positive change feels positive in the beginning." — S. C. Lourie.
"You're braver than you believe and stronger than you seem, and smarter than you think." — A.A.Mine.
"It always seems impossible until it is done." — Nelson Mandela
"In every day, there are 1,440 minutes. That means we have 1,440 daily opportunities to make a positive impact." — Les Brown
"The only time you fail is when you fall down and stay down." — Stephen Richards
"Positive anything is better than negative nothing." — Elbert Hubbard
"Virtually nothing is impossible in this world if you just put your mind to it and maintain a positive attitude." — Lou Holtz
4. Short Positive Quotes
You don't need to read a paragraph to feel inspiration; these options have few words, but they pack a real punch. From Dr. Seuss to Harper Lee, these sayings will inspire you to achieve great things, no matter what you're feeling that day. Some of these short quotes work great for a social media caption, an inspiring adage for your mood board, or something you say to yourself to get hyped for a new project. Take these quotes, no matter how short, and watch the enormous impact they can have on your day-to-day life.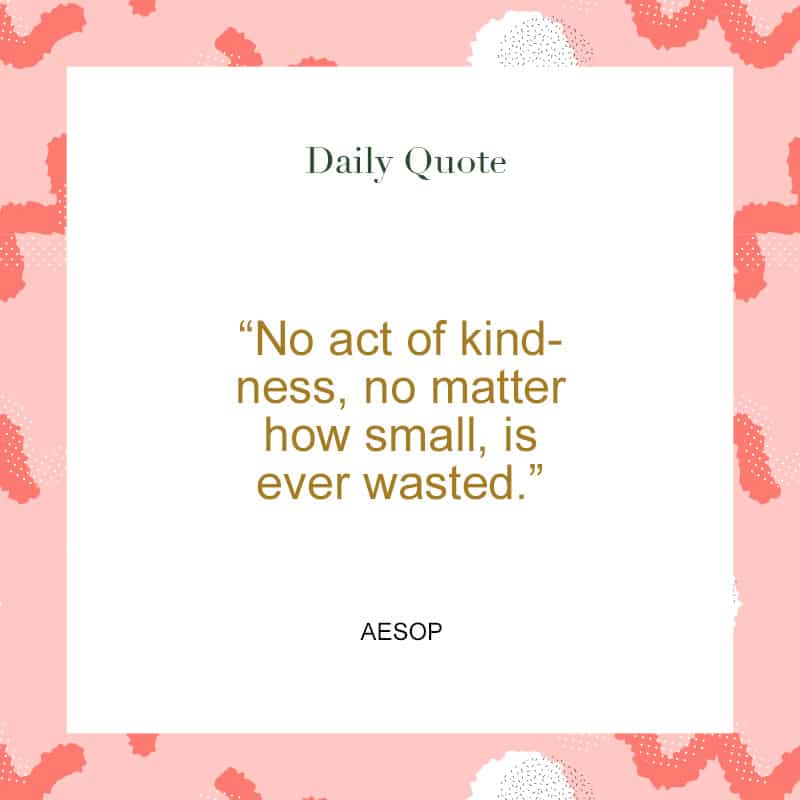 "Done is better than perfect." – Sheryl Sandberg.
"Delete the negative; accentuate the positive!" – Donna Karan
"Say yes, and you'll figure it out afterward." – Tina Fey
"I dwell in possibility." —Emily Dickinson
"Think and wonder. Wonder and think." — Dr. Suess
"No act of kindness, no matter how small, is ever wasted." — Aesop
"Most people are nice when you finally see them." — Harper Lee
"What we think, we become." — Buddha
"Whoever is happy will make others happy too." — Anne Frank
"Be the change that you wish to see in the world." —Mahatma Gandhi
5. Happy Positive Quotes
Happiness is one of the euphoric feelings someone can experience, it is common to want to hold onto it for as long as possible when it happens. Capture the sensation with one of these quotes. Of course, you can't be happy at every second of the day, so if you require a pick-me-up or need to feel hyped for something, give one of these sayings a look-over and remind yourself of how amazing the feeling is. From Oprah to Mark Twain, there are plenty of wise words that you can relate to or help you feel inspired.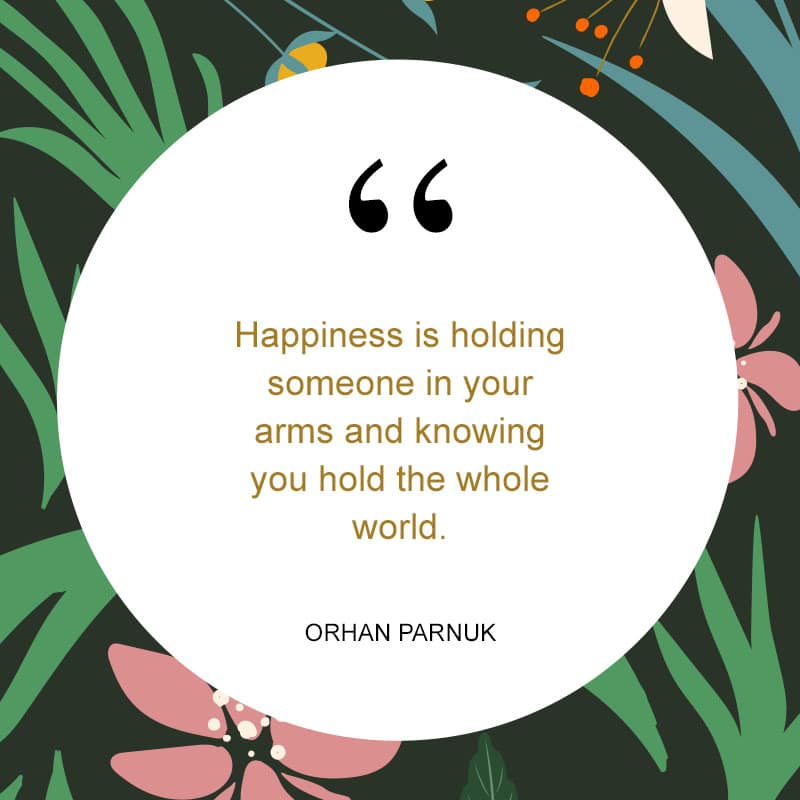 "Happiness is holding someone in your arms and knowing you hold the whole world." – Orhan Parnuk.
"Happiness is when what you think, what you say, and what you do are in harmony." – Mahatma Gandhi.
"Let us be grateful to the people who make us happy; they are the charming gardeners who make our souls blossom." – Marcel Proust.
"For every minute you are angry, you lose sixty seconds of happiness." – Ralph Waldo Emerson.
"The best way to cheer yourself is to try to cheer someone else up." – Mark Twain.
"Keep your face to the sunshine, and you cannot see a shadow." – Helen Keller.
"The most wasted of days is one without laughter." — E. E. Cummings
"If opportunity doesn't knock, build a door." — Milton Berle
"You are never too old to set another goal or dream a new dream." — Les Brown
"The more you praise and celebrate your life, the more there is in life to celebrate." — Oprah Winfrey
5. Positive Motivational Quotes
Need a motivational quote to kick yourself into gear? Well, these are perfect for you. For some, the first step is often the hardest in the journey to something great, but these adages will assist you along the way. Of course, not every journey is easy, and sometimes you can find yourself falling off track – this is a human experience that everyone goes through. That's why wise words such as these have such a great impact – they can get you back on your feet and feel encouraged to smash your goals, one at a time!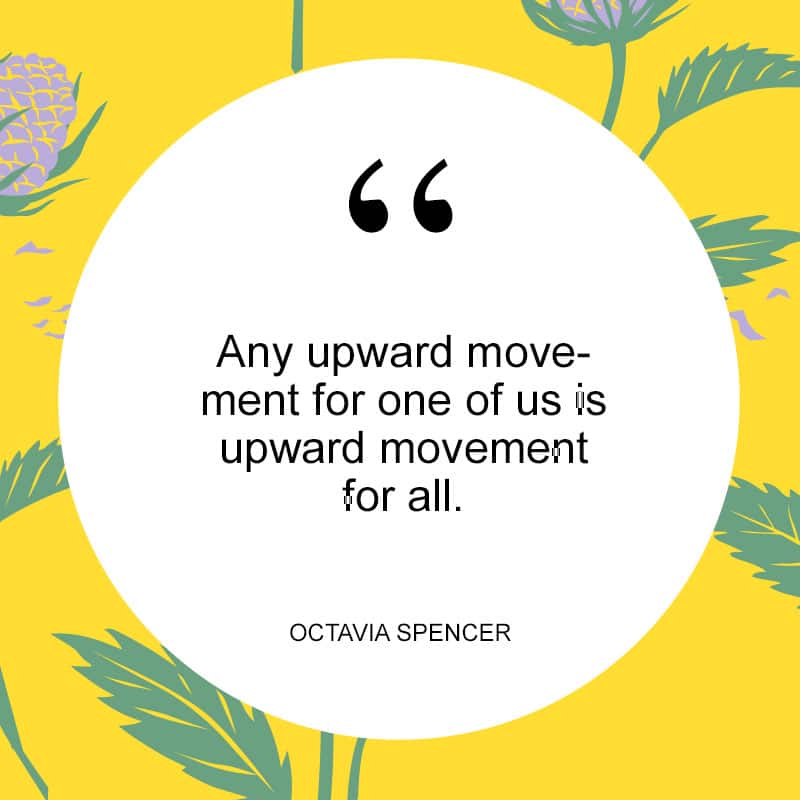 "Any upward movement for one of us is upward movement for all." – Octavia Spencer.
"Setting goals is the first step in turning the invisible into the visible." – Tony Robbins.
"You can have it all. Just not all at once." – Oprah Winfrey
"Train your mind to see the good in every situation." — Unknown
"A goal is not always meant to be reached, it often serves simply as something to aim at." – Bruce Lee
"In a gentle way, you can shake the world." — Mahatma Gandhi
"To win big, you sometimes have to take big risks." — Bill Gates
"To live a fulfilled life, we need to keep creating the 'what is next', of our lives. Without dreams and goals, there is no living, only merely existing, and that is not why we are here." — Mark Twain
"No matter what people tell you, words and ideas can change the world." — Robin Williams
"Few things can help an individual more than to place responsibility on him, and to let him know that you trust him." – Booker T. Washington
6. Positive Quotes for Women
Powerful, kind, and fearless, women are capable of anything, even better, with encouragement along the way. Often, women are bombarded with discouraging trends, beauty standards, expectations, and unrealistic goals, but it doesn't mean they apply to everyone, nor should they! In fact, most of the famous and one-worthy women in history have broken away from these standards. Here are some of the sayings they're most famous for, from fashion designers to authors and activists. Women can do anything; these wise words can get you there.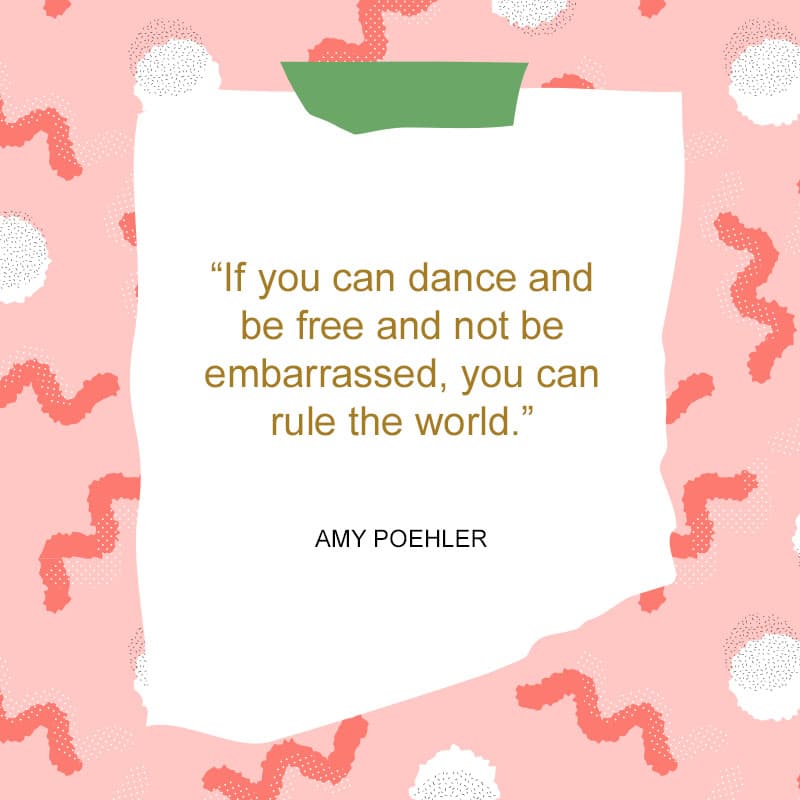 "If you can dance and be free and not be embarrassed, you can rule the world." – Amy Poehler.
"I just think happiness is what makes you pretty. Period. Happy people are beautiful." – Drew Barrymore.
"I raise up my voice—not so that I can shout, but so that those without a voice can be heard. … We cannot all succeed when half of us are held back." – Malala Yousafzai.
"My mission in life is not merely to survive but to thrive and to do so with some passion, some compassion, some humor, and some style." – Maya Angelou.
"You can be gorgeous at thirty, charming at forty, and irresistible for the rest of your life." – Coco Chanel.
"If you want something said, ask a man; if you want something done, ask a woman." – Margaret Thatcher.
"Be messy and complicated and afraid and show up anyways." – Glennon Doyle Melton.
"It took me quite a long time to develop a voice, and now that I have it, I am not going to be silent." – Madeleine Albright.
"There is no limit to what we, as women, can accomplish." – Michelle Obama.
"We need to reshape our own perception of how we view ourselves. We have to step up as women and take the lead." – Beyoncé.
8. Positive Quotes for Men
A man is a lot of things: strong, intelligent, and kind. Unique and great in their own ways, sometimes it can be easy to forget the power a guy has, especially when it comes to their lives. These quotes from inspiring men like Jimi Hendrix and Confucius can encourage feelings of joy, motivation, and imagination. Add them to an Instagram post, or write them down in a notebook if you need an extra boost during your day. They're the perfect pick-me-up for every day.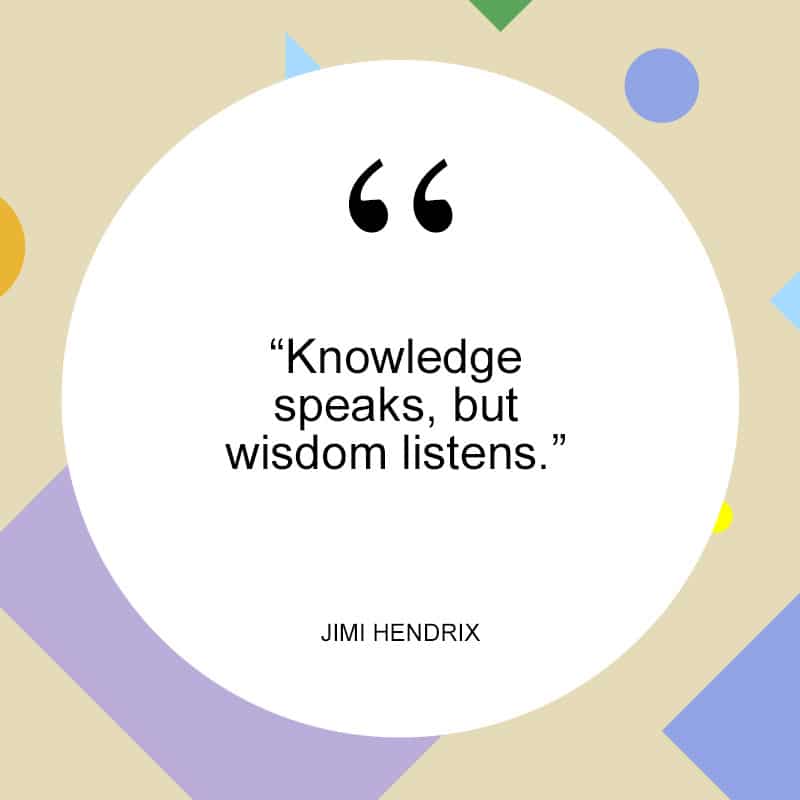 "The first step to be a good man is this: You must deeply feel the burden of the stones some else [is] carrying." – Mehmet Murat ildan.
"Knowledge speaks, but wisdom listens." – Jimi Hendrix.
"The true measure of a man is how he treats someone who can do him absolutely no good." – Samuel Johnson.
"Men are not prisoners of fate, but only prisoners of their own minds." – Franklin D. Roosevelt.
"Champions keep playing until they get it right." – Billie Jean King.
"No one can make you feel inferior without your permission." – Eleanore Roosevelt.
"If a man's mind becomes pure, his surroundings will also become pure." – Buddha.
"I believe that the very purpose of life is to be happy. From the very core of our being, we desire contentment. In my own limited experience, I have found that the more we care for the happiness of others, the great is our own sense of well-being." – Dalai Lama.
"The real man smiles in trouble, gathers strength from distress, and grows brave by reflection." – Thomas Paine.
"The way of a superior man is three-fold: virtue is free from anxieties; wise, he is free from perplexities; bold, he is free from fear." – Confucius.
9. Body Positive Quotes
Everyone's body is worth loving and celebrating. Body positivity activism isn't anything entirely new, but it still takes a long time before the feelings can truly set in. No matter your size, every single person experiences bad days or moments when they need an ego boost – and there's nothing wrong with that. These quotes can help you if you need some gassing up or remind you that perfection is not real. It's important to remember how unique and incredible you are and that you are worthy in any shape or size.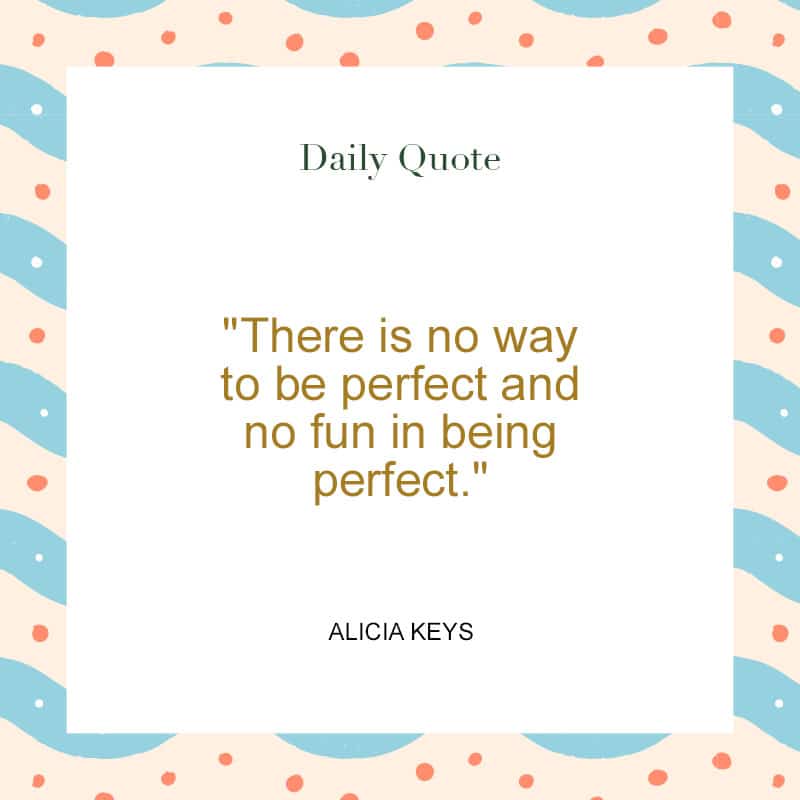 "It doesn't have anything to do with how the world perceives you. What matters is what you see."— Gabourey Sidibe.
"Each individual woman's body demands to be accepted on its own terms." — Gloria Steinem.
"Be yourself, and people will like you."— Jeff Kinney.
"There is no way to be perfect and no fun in being perfect." – Alicia Keys.
"My weight? It is what it is. You could get hit by a bus tomorrow. It's about being content. And sometimes other priorities win." – Melissa McCarthy.
"Feeling beautiful has nothing to do with what you look like." – Emma Watson.
"I definitely have body issues, but everybody does. When you come to the realization that everybody does — even the people that I consider flawless — then you can start to live with the way you are." – Taylor Swift.
"Your words have so much power. Every day, if you tell yourself, 'I love you,' if you give yourself one word of validation, it will change your mind." – Ashley Graham.
"Don't waste so much time thinking about how much you weigh. There is no more mind-numbing, boring, idiotic, self-destructive diversion from the fun of living." – Meryl Streep.
"People often say that beauty is in the eye of the beholder, and I say that the most liberating thing about beauty is realizing that you are the beholder." – Salma Hayek.
10. Strength Positive Quotes
When someone says 'strength,' one might think of sitting in the gym pumping iron, but it's so much more than that. There are myriad definitions for this word, but one of the most common is someone who can withstand great forces of pressure. We face challenges that showcase our power every day, even if it's just getting out of bed. These quotes encourage and celebrate your unique strengths, even if it's understanding and embracing your weaknesses. Print some of these out to remind yourself of your toughness whenever you need a pick-me-up.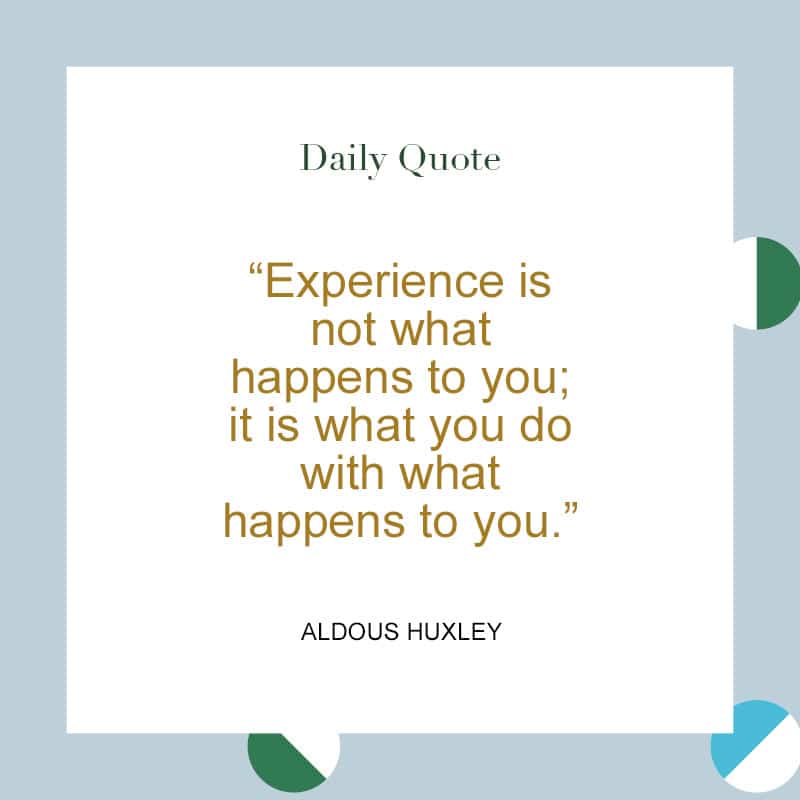 "Be faithful in small things because it is in them that your strength lies." — Mother Teresa.
"Experience is not what happens to you; it is what you do with what happens to you." – Aldous Huxley.
"If you can stay positive in a negative situation, you win." — Unknown.
"A hero is an ordinary individual who finds the strength to persevere and endure in spite of overwhelming obstacles." — Christopher Reeve.
"For what it's worth: It's never too late to be whoever you want to be. I hope you live a life you're proud of, and if you find you're not, I hope you have the strength to start over again." — F. Scott Fitzgerald.
"Be sure you put your feet in the right place, then stand firm." — Abraham Lincoln.
"With the new day comes new strength and new thoughts." — Eleanor Roosevelt.
"You never know how strong you are, until being strong is your only choice." — Bob Marley.
"Calm mind brings inner strength and self-confidence, so that's very important for good health." — Dalai Lama.
"Life doesn't get easier or more forgiving, we get stronger and more resilient." — Steve Maraboli.
11. Positive Energy Quotes
A little bit of positivity can go a long way, and sometimes you need to surround yourself with people who encapsulate these feelings. These quotes can keep you on the right track, remind you to be the best version of yourself, and prevent taking the good things in life for granted. When you put good energy out into the world, it will find its way back to you – use these adages to keep that with you every day.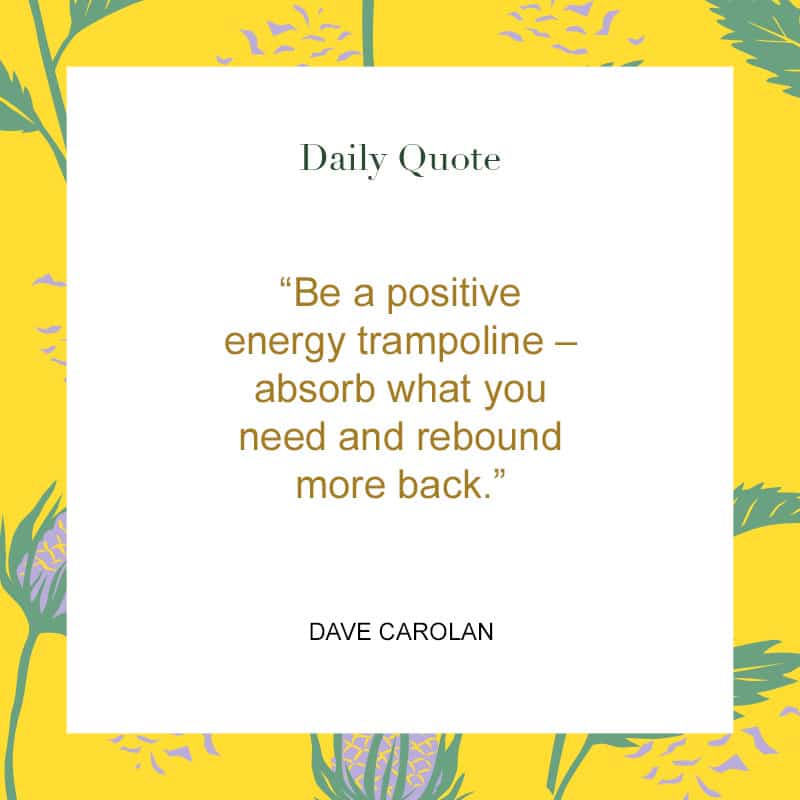 "Focus on an ocean of positives, not a puddle of negatives." ― Kevin Ansbro.
"To attract positive things in your life, start by giving off positive energy." ― Anonymous.
"Be a positive energy trampoline – absorb what you need and rebound more back." ― Dave Carolan.
"There's a direct correlation between positive energy and positive results." ― Joe Rogan.
"The worst times can be the best if you think with positive energy." ― Domenico Dolce.
"When I let go of what I am, I become what I might be." — Lao Tzu.
"Any day above ground is a good day. Before you complain about anything, be thankful for your life and the things that are still going well." ― Germany Kent.
"Give out what you want to get back." ― Anonymous.
"Energy flows where attention goes." ― James Redfield.
"You draw to you the people and events which resonate with the energy that you are radiating. You attract what you are, so be your best." ― Lynda Field.
12. Positive Thinking Change
Almost every great achievement someone has made has been done with a positive attitude. Used to encourage yourself to keep moving forward, these words of wisdom don't have to apply to every situation, but they can truly inspire change. If you have found yourself with a new job role, a significant personal development is underway, or you want to try something new, these adages are sure to motivate you. You can do a lot with an optimistic mindset – let them guide you on your journey to great things.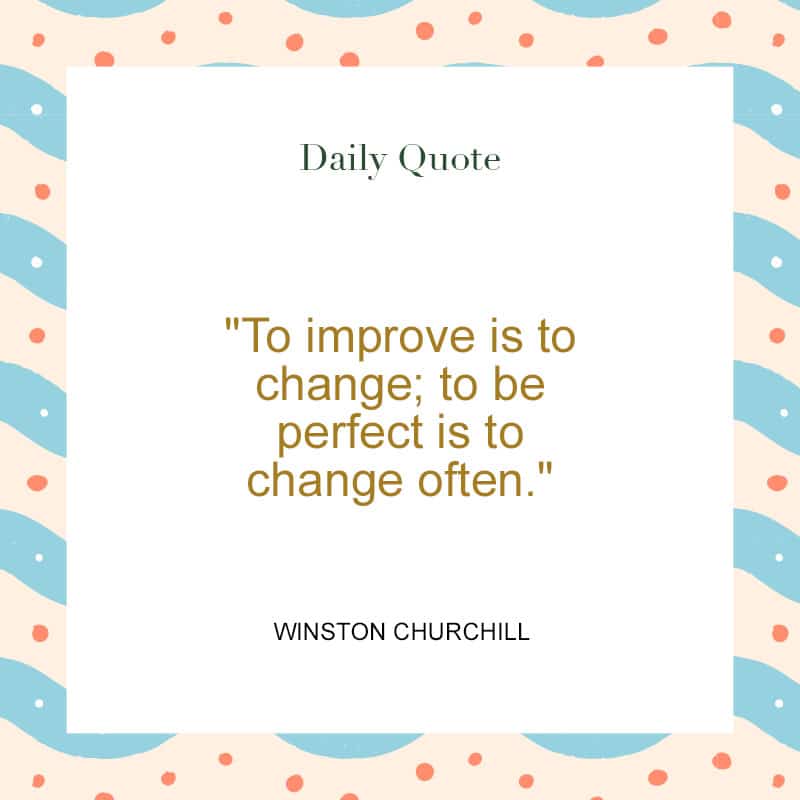 "The positive thinker sees the invisible, feels the intangible, and achieves the impossible." – Winston Churchill.
"When you think positive, good things happen." – Matt Kemp.
"It makes a big difference in your life when you stay positive." – Ellen DeGeneres.
"Folks are usually about as happy as they make up their minds to be." – Abraham Lincoln.
"The happiness of your life depends on the quality of your thoughts." – Marcus Aurelius.
"The truly rich are those who enjoy what they have." — Yiddish Proverb.
"The mind is everything. What you think you become." — Buddha.
"Be the reason someone smiles. Be the reason someone feels loved and believes in the goodness in people."― Roy T. Bennett, The Light in the Heart.
"In order to carry a positive action, we must develop here a positive vision." — Dalai Lama.
"Success is a state of mind. If you want success, start thinking of yourself as a success." – Joyce Brothers.
13. Positive Vibe Quotes
A positive vibe is something you want to protect – they can guide you in your journey to greatness, keep you motivated and help you enjoy life that little bit more. That's why these quotes are an excellent place to start when you need a lift. With examples from some of the most inspiring people in history, you can make one of them your next Instagram caption or post or send it as an SMS for a friend who needs it. They inspire happiness and can ground you when you feel yourself spinning.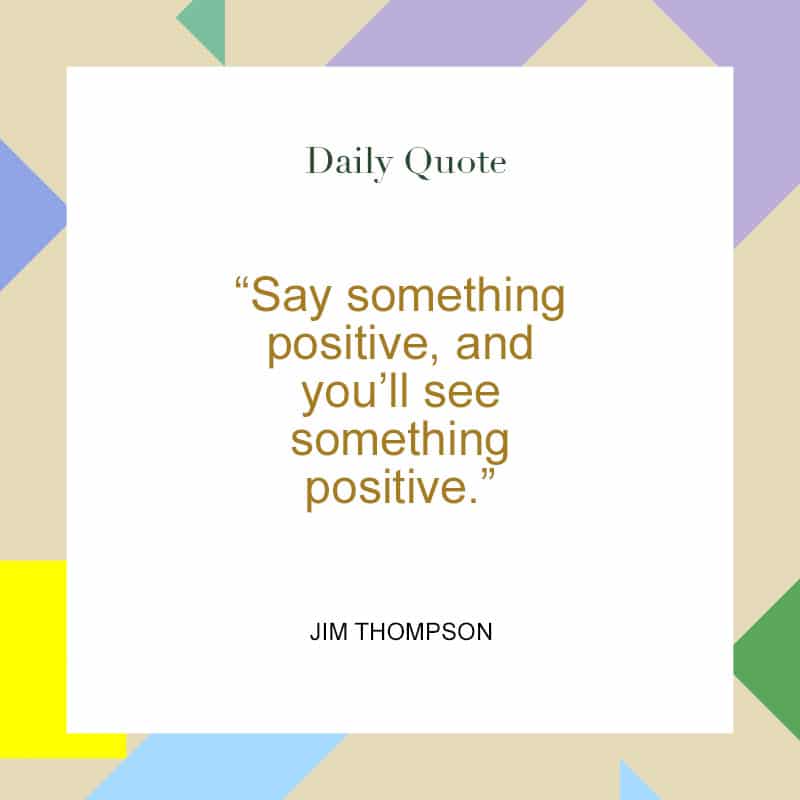 "Say something positive, and you'll see something positive." — Jim Thompson.
"Inspiration comes from within yourself. One has to be positive. When you're positive, good things happen." — Deep Roy.
"Accept yourself, love yourself, and keep moving forward. If you want to fly, you have to give up what weighs you down."― Roy T. Bennett, The Light in the Heart.
"Be such a beautiful soul that people crave your vibes." ― Anonymous.
"When someone else's happiness is your happiness, that is love." – Lana Del Rey.
"Positive thinking is more than just a tagline. It changes the way we behave. And I firmly believe that when I am positive, it not only makes me better, but it also makes those around me better." —Harvey Mackay.
"The key to being happy is knowing you have the power to choose what to accept and what to let go." –Dodinsky.
"I chose to make the rest of my life the best of my life." –Louise Hay.
"If you have the power to make someone happy, do it. The world needs more of that."
–kushandwizdom.
"Wherever you go, no matter what the weather, always bring your own sunshine." –Anthony J. Dangelo.
14. Positive Inspirational Quotes
Everyone needs a word of encouragement once in a while. It's human to require a bit of motivation and inspiration – that's what these inspirational quotes can do. In the morning, make a note to yourself to find later that afternoon, or spread the love to your friends and family. If, at times, you're feeling overwhelmed and you need to find the guiding light, read one to yourself out loud. Self-talk is often the greatest tool for achieving a new task, so read one of these to yourself if you need to seek creativity or encouragement.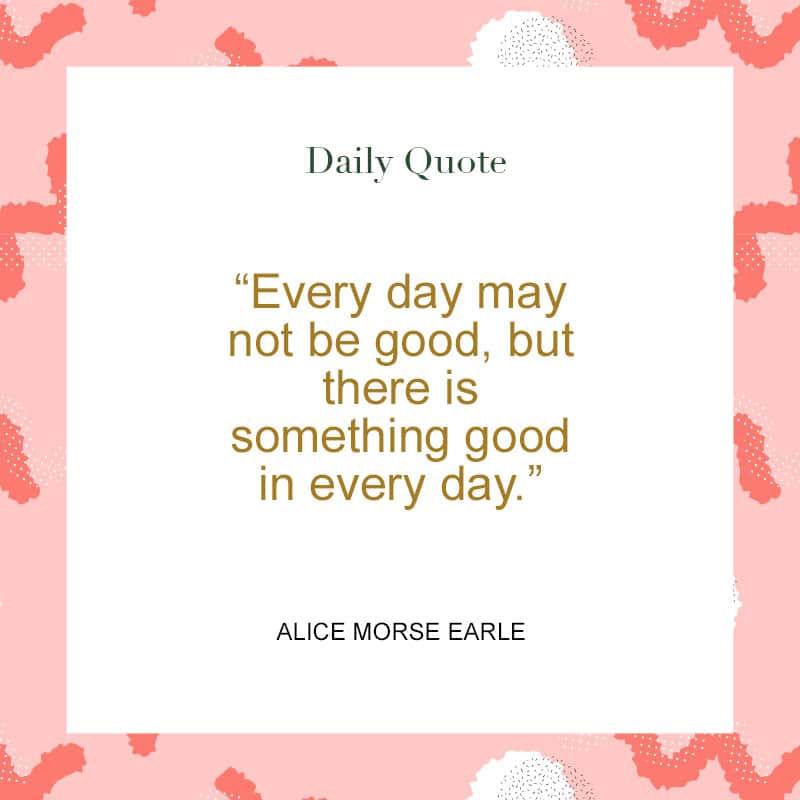 "Every day may not be good, but there is something good in every day." – Alice Morse Earle.
"If the light is in your heart, you will find your way home." – Rumi.
"Nothing is beyond the realm of possibility. There are no limitations except the limits of your own imagination." – Dolores Cannon.
"Smiling is definitely one of the best beauty remedies. If you have a good sense of humor and a good approach to life, that's beautiful." – Rashida Jones.
"Inhale, exhale, it is well, it is well. All of this is a part of the story you will tell." – Morgan Harper Nichols.
"Courage is going from failure to failure without losing enthusiasm." – Winston Churchill.
"When joy is a habit, love is a reflex." – Bob Goff.
"I'm going to make everything around me beautiful – that will be my life." – Elsie de Wolfe.
"Beauty is not in the face; beauty is a light in the heart." – Kahlil Gibran.
"The most beautiful people wear their hearts on their sleeves, and their souls in their smiles." – Mark Anthony.
15. Funny Positive Quotes
Scientific studies have shown that your body releases endorphins that improve your mood and reduce stress when you laugh. So, if you're ever in need of a giggle or smile, these positive funny quotes will certainly bring a smile to your face! These are also great quotes to send to someone who needs a bit of cheering up. A gesture such as this would be appreciated by those close to you and remind them that you're there for them, even on the darkest days.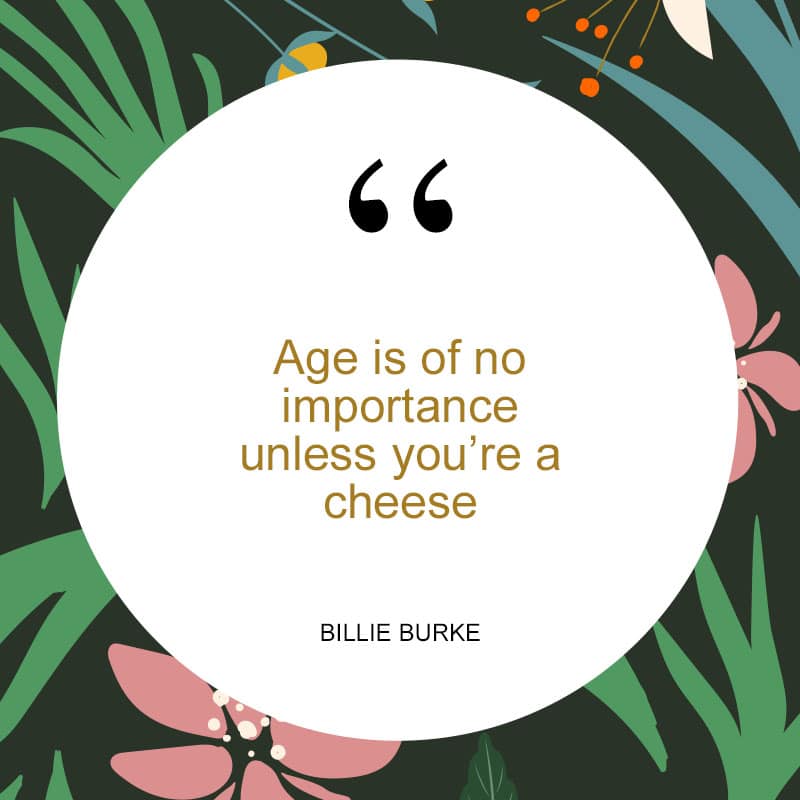 "I always wanted to be somebody, but now I realize I should have been more specific." – Lily Tomlin.
"I find television very educational. Every time someone turns it on, I go in the other room and read a book." – Groucho Marx.
"If at first you don't succeed, then skydiving definitely isn't for you." – Steven Wright.
"It took me fifteen years to discover I had no talent for writing, but I couldn't give it up because by then I was too famous." – Robert Benchley.
"We don't stop playing because we grow old; we grow old because we stop playing." – George Bernard Shaw.
"Age is of no importance unless you're a cheese." – Billie Burke.
"The difference between genius and stupidity is; genius has its limits." – Albert Einstein.
"Always borrow money from a pessimist. He won't expect it back." – Oscar Wilde.
"My therapist told me the way to achieve true inner peace is to finish what I start. So far, I've finished two bags of M&Ms and a chocolate cake. I feel better already." – Dave Barry.
"People say nothing is impossible, but I do nothing every day." – A.A. Milne.
16. Uplifting Positive Quotes
Happiness always has a source, and often you have to seek it for yourself. These adages inspire feelings of happiness and joy, even with the smallest sentences. Changing your mindset to something more positive can have a unifying effect, inspiring you to put one foot in front of another and keep your journey towards your goal. Whatever you do with these quotes, post it on social media, get it tattooed on your body, or write it in a journal, you can remind yourself of what's possible if you just believe in yourself.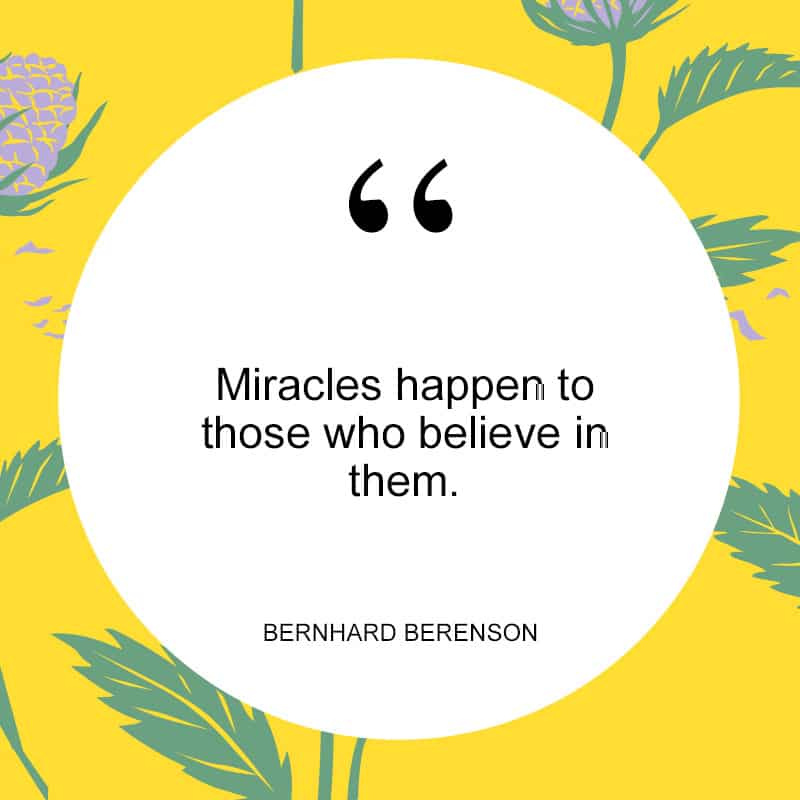 "Let your life lightly dance on the edges of time like dew on the tip of a leaf." — Rabindranath Tagore.
"Miracles happen to those who believe in them." — Bernhard Berenson.
"One small positive thought can change your whole day." — Zig Ziglar.
"Believe you can, and you're halfway there." — Teddy Roosevelt.
"You cannot have a positive life and a negative mind." — Joyce Meyer.
"If you are positive, you'll see opportunities instead of obstacles." — Widad Akrawi.
"Write it on your heart that every day is the best day in the year." — Ralph Waldo Emerson.
"My dear friend, clear your mind of can't." — Samuel Johnson.
"Keep a smile on your face. Keep a spring in your step." — Joel Osteen.
"Believe that life is worth living and your belief will help create the fact." — William James.
17. Positive Mindset Quotes
Goals can be daunting, but if you plan them to the best of your ability and set out to reach them with a positive mindset, you're already halfway there. These quotes inspire greatness, be it in a large or small way, and can provide you with the wisdom you need to keep going. These are also great ways to put things into perspective. Sometimes we can feel overcome with fear or trepidation when starting something new or unknown, but if you put an encouraging spin on it, your goal will feel easier to achieve.
"Those who don't believe in magic will never find it."— Roald Dahl.
"Your positive action combined with positive thinking results in success." — Shiv Khera.
"Inspiration comes from within yourself. One has to be positive. When you're positive, good things happen." — Deep Roy.
"Virtually nothing is impossible in this world if you just put your mind to it and maintain a positive attitude." — Lou Holtz.
"It's almost always possible to be honest and positive." — Naval Ravikant.
"When you are joyful, when you say yes to life and have fun and project positivity all around you, you become a sun in the center of every constellation, and people want to be near you." — Shannon L. Alder.
"In every day, there are 1,440 minutes. That means we have 1,440 daily opportunities to make a positive impact." — Les Brown.
"There is no advertisement as powerful as a positive reputation traveling fast." — Brian Koslow.
"Change your thoughts, and you change your world." — Norman Vincent Peale.
"Dwell on the beauty of life. Watch the stars, and see yourself running with them." — Marcus Aurelius.
18. Positive Love Quotes
As one of the most awe-encompassing feelings in the world, love is to be embraced. It comes in many forms, and while some don't last forever, you should cherish it as it faces you. Powerful sayings such as these describe your feelings, and not always in the form of romance. Soulmates, friendship, leadership, and family can all create experiences of love and tenderness – let these love quotes guide you along the way.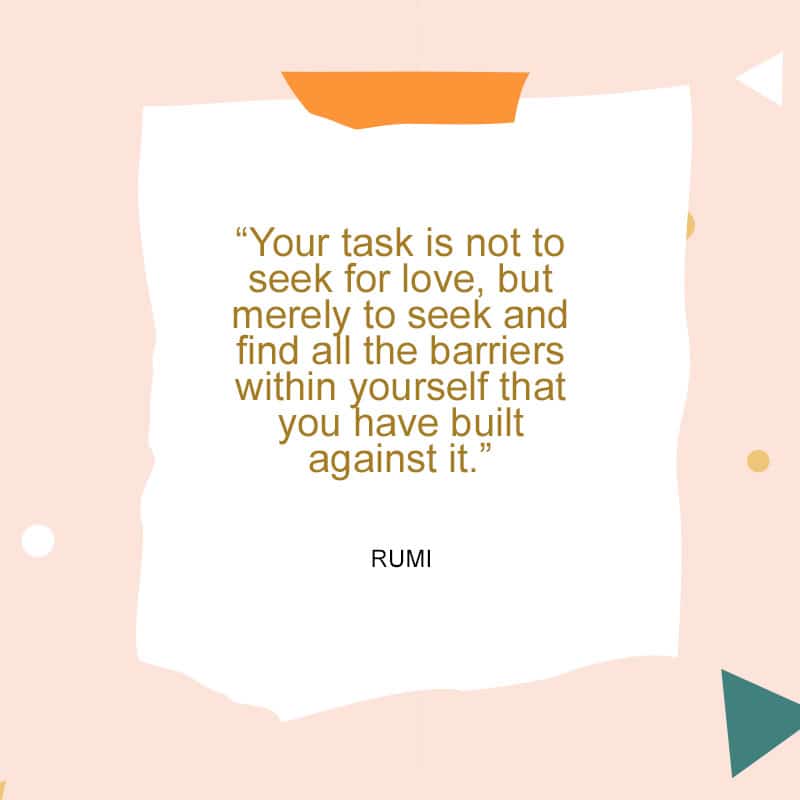 "Lead from the heart, not the head." – Diana, Princess of Wales.
"Sometimes you will never know the value of a moment, until it becomes a memory." — Dr. Seuss.
"Love yourself first, and everything else falls into line. You really have to love yourself to get anything done in this world."— Lucille Ball.
"The most important thing in life is to learn how to give out love, and to let it come in." — Morrie Schwartz.
"We are shaped and fashioned by what we love." — Johann Wolfgang von Goethe.
"Love in its essence is spiritual fire." — Seneca.
"The way to love anything is to realize that it may be lost." — Gilbert K. Chesterton.
"Your task is not to seek for love, but merely to seek and find all the barriers within yourself that you have built against it." — Rumi.
"Love is of all passions the strongest, for it attacks simultaneously the head, the heart and the senses." — Lao Tzu.
"When you arise in the morning, think of what a precious privilege it is to be alive – to breathe, to think, to enjoy, to love." — Marcus Aurelius.
19. Positive Affirmation Quotes
Not only do affirmations motivate you to take action, but they can produce a positive mindset to help you throughout the day. As a trusted and recommended stress reducer and mood booster, these quotes can help you reach your goals and keep your brain ready for anything. Finish that personal project you were working on; say goodbye to a bad habit; take a risk. Listening to your heart, inspiring change, and avoiding negative energy are some of the themes of these quotes – remind yourself of them daily for a pick-me-up.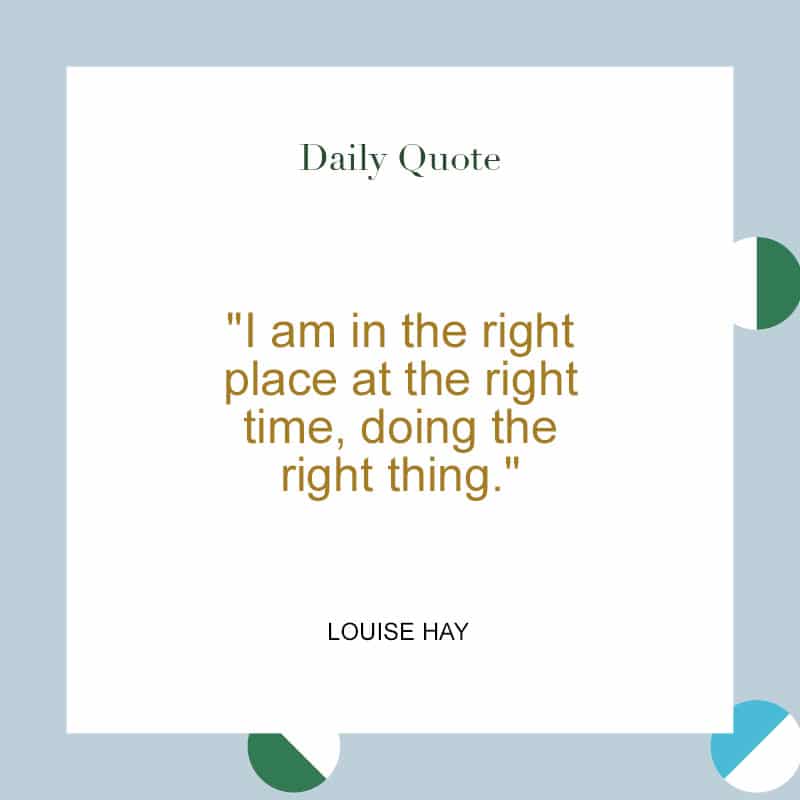 "Twenty years from now, you will be more disappointed by the things that you didn't do than by the ones you did do." — H.Jackson Brown Jr.
"Do what is true to your soul." — Malini Saba.
"The chance to love and be loved exists no matter where you are" — Oprah.
"Choose to be optimistic, it feels better."— Dalai Lama.
"Make way for the unprecedented and watch your reality rearrange yourself." —Yrsa Daley-Ward.
"You are loved just for being who you are, just for existing" — Ram Dass.
"I am in the right place at the right time, doing the right thing."— Louise Hay.
"Courage starts with showing up and letting ourselves be seen." — Brené Brown.
"Am I good enough? Yes, I am." — Michelle Obama.
"I am deliberate and afraid of nothing." — Audre Lord.
20. Positive Quotes About Change
Life presents us with myriad challenges, from beginning to end. Often with these curveballs come many changes, which can be confronting. However, these developments can actually inspire self-evolution, encouragement, and a spark of creativity. In fact, it's all about perspective. Some of the most inspiring people on the planet have had to undergo serious changes in their careers, personal lives, or with loved ones. Rather than running from it, they learned to embrace whatever is thrown their way; it can shape you to become the best version of yourself or help you discover something new and amazing.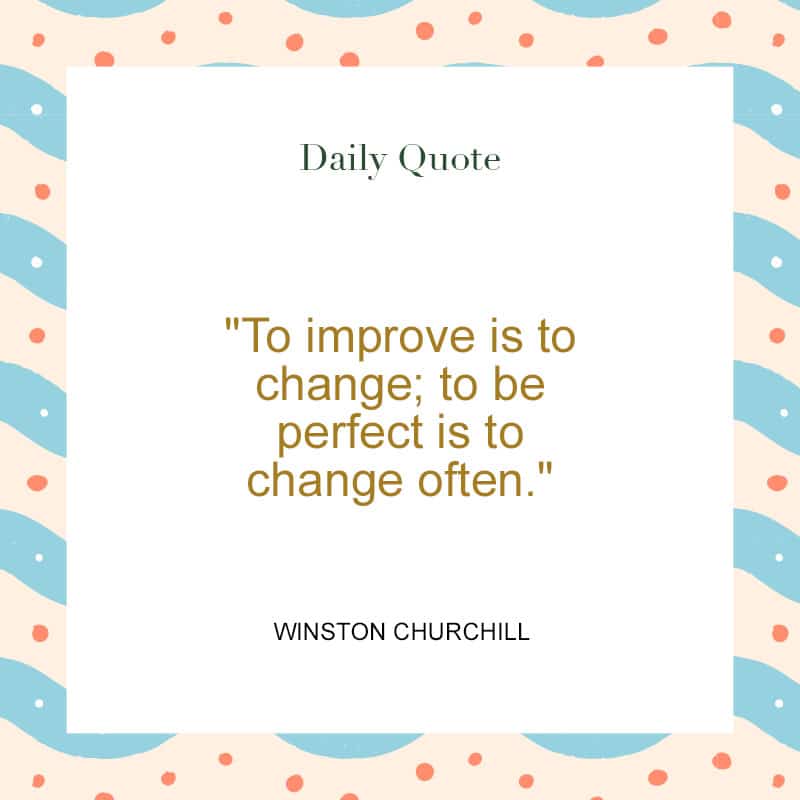 "To improve is to change; to be perfect is to change often." — Winston Churchill.
"The people who are crazy enough to think they can change the world are the ones who do."—Steve Jobs.
"A wise man changes his mind, a fool never will." — Icelandic Proverb.
"Moving doesn't change who you are. It only changes the view outside your window." — Rachel Hollis.
"If you want to fly, you have to give up what weighs you down." — Roy T. Bennett.
"The greatest discovery of all time is that a person can change his future by merely changing his attitude." — Oprah Winfrey.
"Every great dream begins with a dreamer. Always remember, you have within you the strength, the patience, and the passion to reach for the stars to change the world." — Harriet Tubman.
"You will find that it is necessary to let things go; simply for the reason that they are heavy." — C. JoyBell C.
"True life is lived when tiny changes occur." — Leo Tolstoy.
"Be the change that you wish to see in the world." — Mahatma Gandhi.
Positive Quotes FAQs
What is a positive quote for the day?
Starting the day with thoughts of praise and positivity will get you started on the right track. Some of the most inspirational positive quotes of the day come from all walks of life throughout history. Former Roman Emperor, Marcus Aurelius once said: "When you arise in the morning, think of what a precious privilege it is to be alive, to breathe, to think, to enjoy, to love." This is an important reminder for your morning routines or as you walk to work. 
What are some good uplifting quotes?
In times of need, an uplifting quote can feel like a supporting hug. "One small positive thought can change your whole day," by American author, Zig Ziglar, is a small-but-mighty saying that can totally change your perspective. Adages from the most inspiring people make for a wonderful reminder to yourself when you need a pick-me-up or send it to a loved one via SMS or a note. 
What is the most powerful quote?
Quotes that inspire you are entirely subjective; what may work for one individual does not affect another. When it comes to finding a powerful adage, you should consider how it makes you feel. Does it inspire you to take action? If you get a sense of understanding or develop a bond with the saying, you have likely found something worthwhile. A popular strength quote could include something like: "Be sure you put your feet in the right place, then stand firm," from Abraham Lincoln. Ultimately, it's a personal decision, but there's sure to be something out there for you.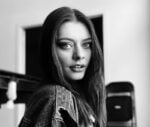 Alexandra Feiam is an experienced fashion writer who holds a degree in journalism. She has an impressive portfolio and expertise working as the Editor at Power Retail and Commercial Content Editor at Newscorp. Ally has been writing for The TrendSpotter since 2018, and her work has been featured in notable publications such as The Herald Sun, Arirang TV South Korea, Kidspot, The House of Wellness, and The Daily Telegraph.
SUBSCRIBE TO OUR NEWSLETTER
Subscribe to our mailing list and get interesting stuff and updates to your email inbox.