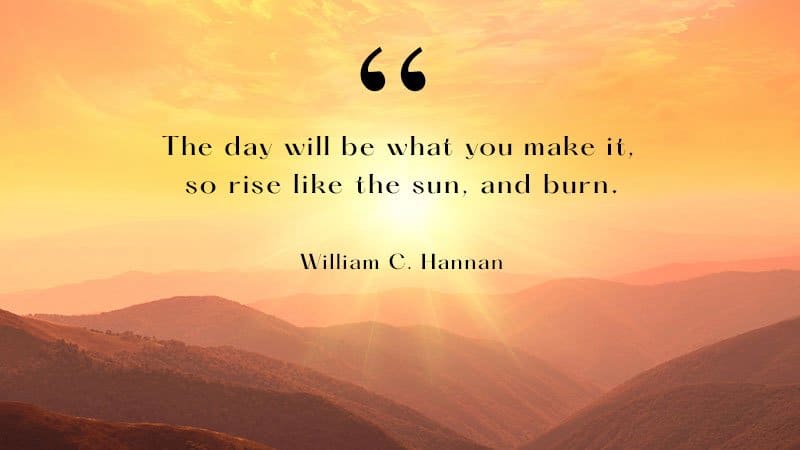 Starting off the day correctly can be done with many steps: coffee, eggs and bacon, and a morning crossword puzzle. But sometimes you need something extra. If you're having trouble getting out of bed, you're preparing for a big test at school, or have a huge meeting with the boss, everyone can use a touch of motivation to help you start the day perfectly. Sure, breakfast is a great start to the day, but we guarantee that looking at these quotes should definitely be added to your morning routine. We've gathered the best good morning quotes to help you start the day on the right foot.
1. Beautiful Good Morning Quotes
Start the day off right with one of these inspiring quotes. Influenced by the start of a new day, you can wake up on the right side of the bed. Whether you need some motivation for the day or you need a bit of a boost during the week, these quotes will get you through. Print them out for your mood board, share them on your social platforms or make one of these quotes a part of your morning routine. They're sure to add a pep to your step!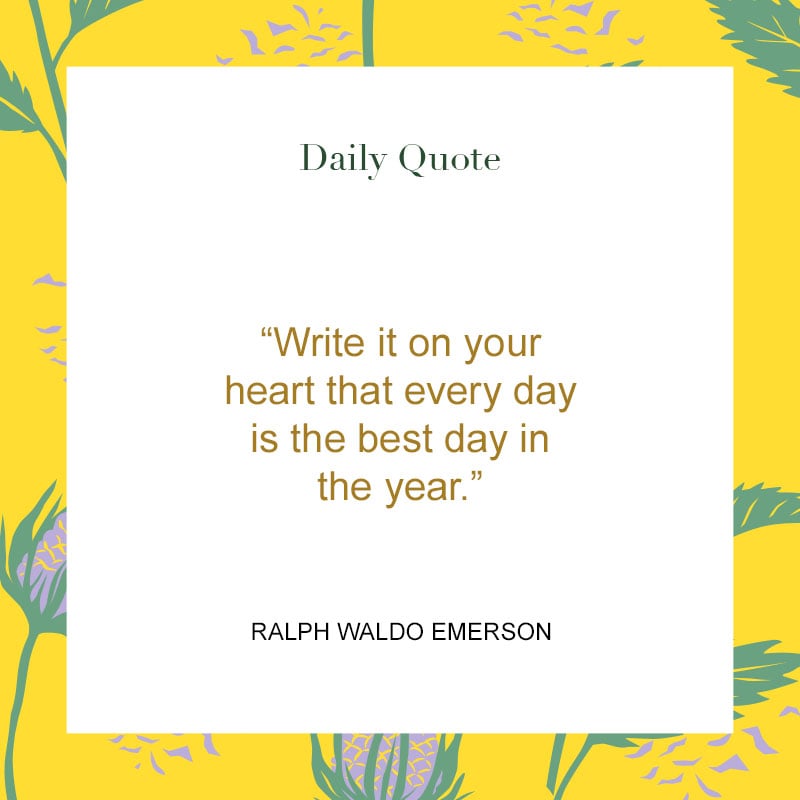 "Write it on your heart that every day is the best day in the year." – Ralph Waldo Emerson
"Every morning, I wake up saying, & I'm still alive a miracle. And so I keep on pushing." —Jim Carrey
"I used to love night best, but the older I get, the more treasures and hope and joy I find in
mornings." – Terri Guillemets
"It is in the early morning hour that the unseen is seen and that the far-off beauty and glory, vanquishing all their vagueness, move down upon us till they stand clear as crystal close over against the soul." – Sarah Smiley.
"Everyone has highs and lows that they have to learn from, but every morning I start off with a good head on my shoulders, saying to myself, 'It's going to be a good day!" – Lindsay Lohan
2. Good Morning Inspirational Quotes
At the start of a new day, these inspirational quotes will help you along the way. With famous quotes from influential historical politicians, comedians, and everyone in between, these are honest and motivational. You don't have to be changing the world, but each day is a blessing, and these quotes can put you in the right mindset to tackle whatever the day throws at you. Share them with the world, or keep your favorite to yourself for the days where you need a pick-me-up.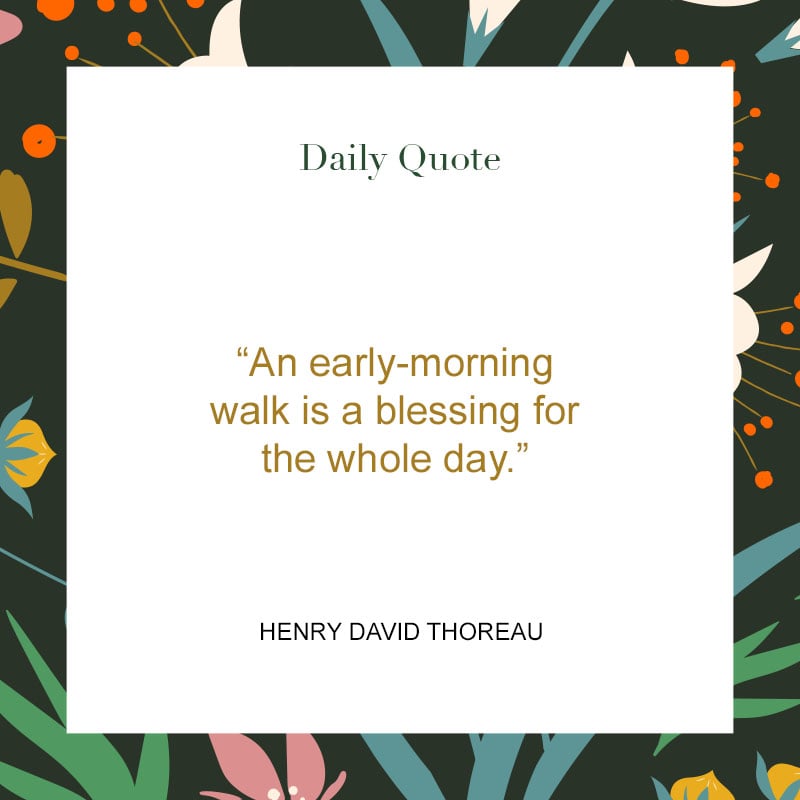 "I get up every morning, and it's going to be a great day. You never know when it's going to be over, so I refuse to have a bad day." – Paul Henderson
"An early-morning walk is a blessing for the whole day." – Henry David Thoreau
"Some people dream of success, while other people get up every morning and make it happen." – Wayne Huizenga
"If you're changing the world, you're working on important things. You're excited to get up in the morning." – Larry Page
"When you arise in the morning, think of what a precious privilege it is to be alive, to breathe, to think, to enjoy, to love." – Marcus Aurelius
3. Good Morning Positive Quotes
There's nothing better than starting the day off with a smile, and these quotes are there to help. Some begin their mornings with a positive quote mantra or affirmation, but there's no harm if you need a bit of extra guidance. From artists like Yoko Ono to music icons like Miles Davis, everyone needs a bit of uplifting from time to time. With saying such as these, you can see the bright side of the day and ensure you set off on the right foot.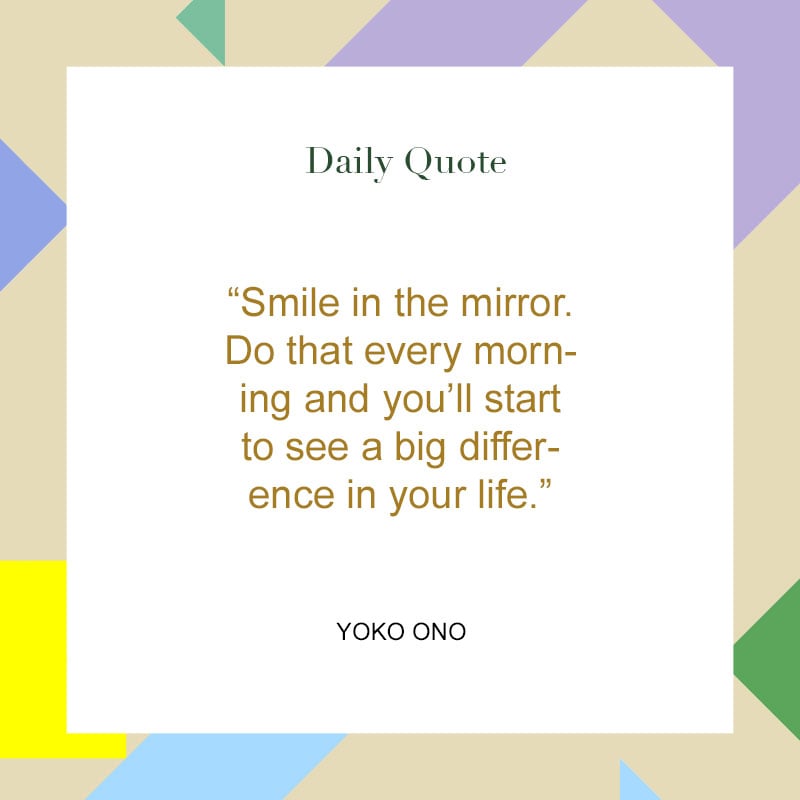 "Smile in the mirror. Do that every morning, and you'll start to see a big difference in your life." – Yoko Ono
"I'm always thinking about creating. My future starts when I wake up every morning. Every day I find something creative to do with my life." – Miles Davis
"Now that your eyes are open, make the sun jealous with your burning passion to start the day. Make the sun jealous or stay in bed." – Malak El Halabi
"Every morning was a cheerful invitation to make my life of equal simplicity, and I may say innocence, with Nature herself." – Henry David Thoreau (101 Nature Quotes)
"Something special awaits you each day. All you need is to recognize it and make the most of it. Have a positive attitude throughout the day and then that today is going to be the best day of your life." — Anonymous
4. Good Morning Monday Quotes
It's undoubtedly the hardest day of the week, and sometimes when you wake up on Monday, you need an extra pep in your step. That's why these quotes are so useful. They use humor and motivation to guide you through the week, ensuring you have the right recipe for success at the top of the week. Sure, Mondays can be rough, but they don't have to be as painful with an inspiring saying from the Dalai Lama or Germany Kent. Who knows, this may turn out to be the best day, if you set your mind to it.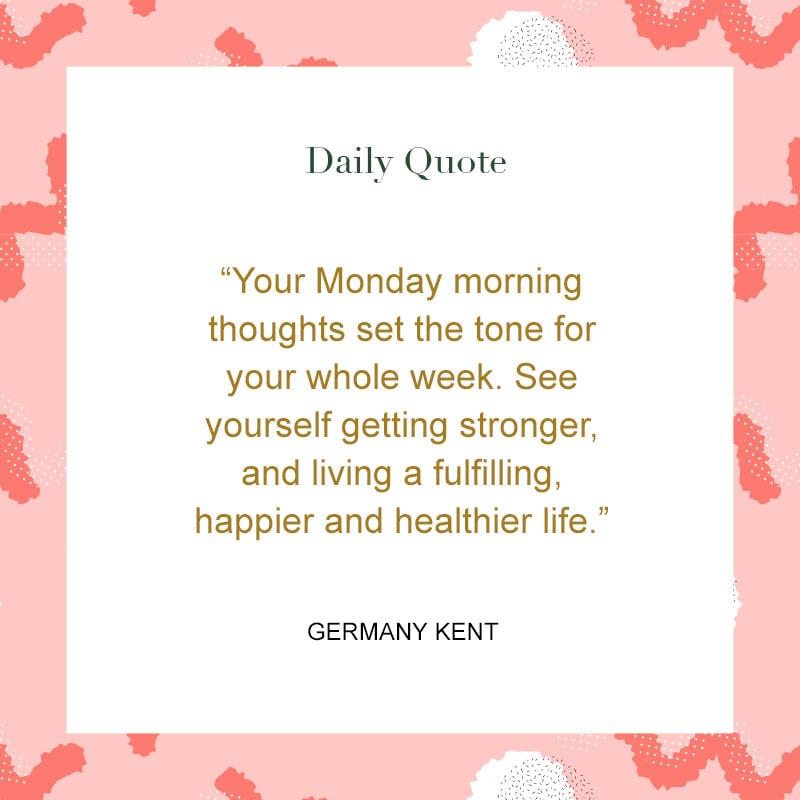 "Morning is an important time of day because how you spend your morning can often tell you what kind of day you are going to have." – Lemony Snicket.
"Your Monday morning thoughts set the tone for your whole week. See yourself getting stronger, and living a fulfilling, happier and healthier life." – Germany Kent.
"Just one small positive thought in the morning can change your whole day." – Dalai Lama
"Okay, it's Monday, but who said Mondays have to suck? Be a rebel and have a great day anyway." – Kimberly Jiménez
"Every morning, you have two choices: continue to sleep with your dreams or wake up and chase them. "– Arnold Schwarzenegger
5. Good Morning Tuesday Quotes
So, you're just beginning the week, and you need an extra use to get you through to hump day? Well, look no further than this selection of quotes. Whether you're beginning the morning with a staff meeting, an important call with family, or you just need the motivation to pull yourself out of bed, these will guide you along the way.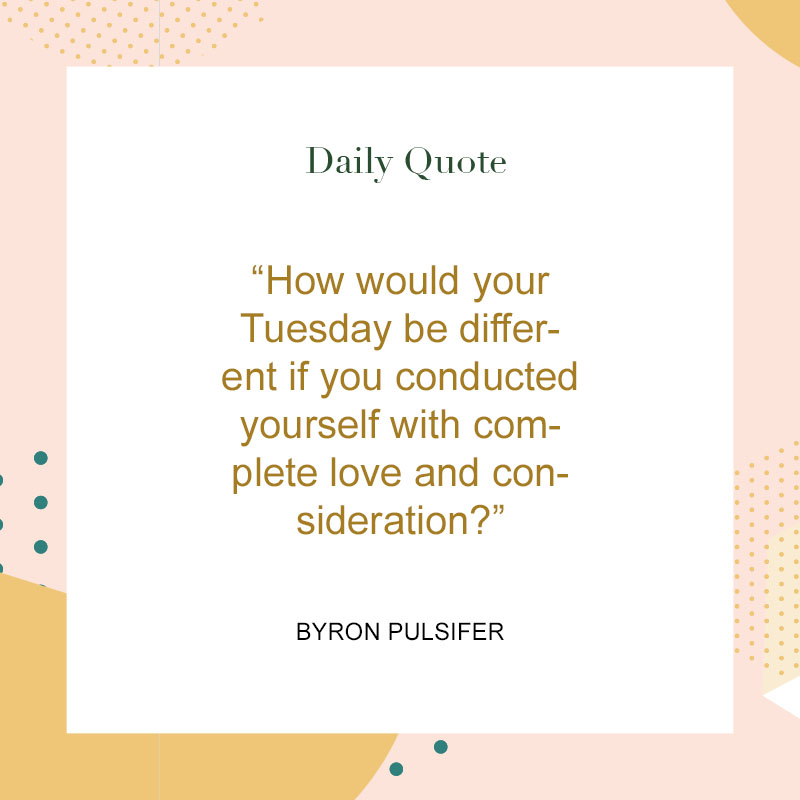 "Tuesday morning is a time to reflect upon what to include in your team meetings; it is your time to deliver words of passion that speak to the dazzling new roads ahead where each person is accountable for their own actions and behaviors; where each day represents a fresh start to be a positive influence; and, where self is expressed as unselfishness with each person you meet." – Byron Pulsifer.
"Did someone order a bright and sunny day? Well…here it is. Happy Tuesday!" – Anthony T. Hincks
"How would your Tuesday be different if you conducted yourself with complete love and consideration?" – Byron Pulsifer.
"Good morning, Tuesday! Please enter and pour out that shower of blessings into our lives, renew our spirits, our strength, our faith, and our hope."- Unknown.
"Tuesday is the affirmation that my goals are being moved another step forward."- Unknown
6. Good Morning Wednesday Quotes
It's the middle of the week, and while it's fair to feel like you're in a bit of a slump, these quotes are sure to perk you back up. The Wednesday blues are no more, thanks to this selection of cute and inspiring saying from literary idols like Shakespeare and icons such as Marilyn Monroe. A bit like 3:30-itis, this day can feel like a drag, but with these motivational pieces of advice, you can smash through the remaining days until you hit the weekend. Share them with friends in the morning, post them on your social feed to lift others up, or simply say something to yourself as an affirmation to get you through the day!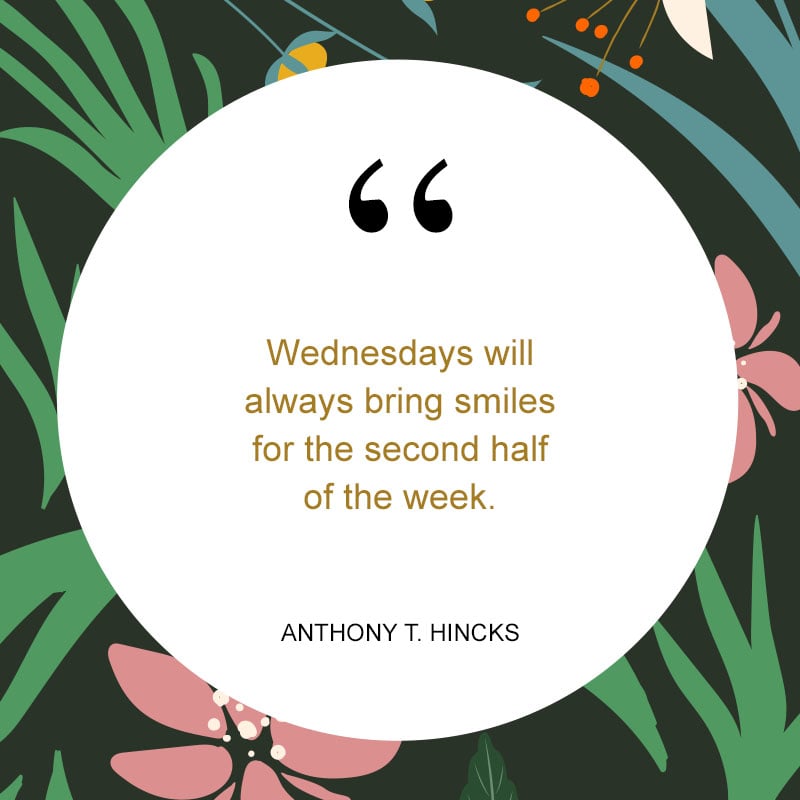 "Wednesday is a day to help others celebrate life. You and only you are accountable for what you extend and give to others. One smile not only increases your value but it gives joy to each person you meet." – Byron Pulsifer
"Keep your head high, keep your chin up, and most importantly, keep smiling, because life's a beautiful thing and there's so much to smile about." – Marilyn Monroe.
"Wednesdays will always bring smiles for the second half of the week." –Anthony T. Hincks
"Happy Wednesday! Cast your love to all, trust in the team to which you are joined, and do not do wrong to others for your own self-gratification." – Byron Pulsifer
"Happy Wednesday! Love all, trust a few, do wrong to none." – William Shakespeare
7. Good Morning Thursday Quotes
You're getting so close to the weekend, how can you give yourself an extra boost? Give these quotes a whirl, and see how you feel! While it may be easy to slack on this day, these quotes may just inspire you to get out of bed and start the day off right. With inspiring figures such as Muhammad Ali and Conrad Hilton, you can get out of bed with a smile on your face and determination in your mind. Whether you use one of these sayings as a caption for your next Instagram post or you write it on a post-it for the office, they can help drive passion and motivation for the day ahead.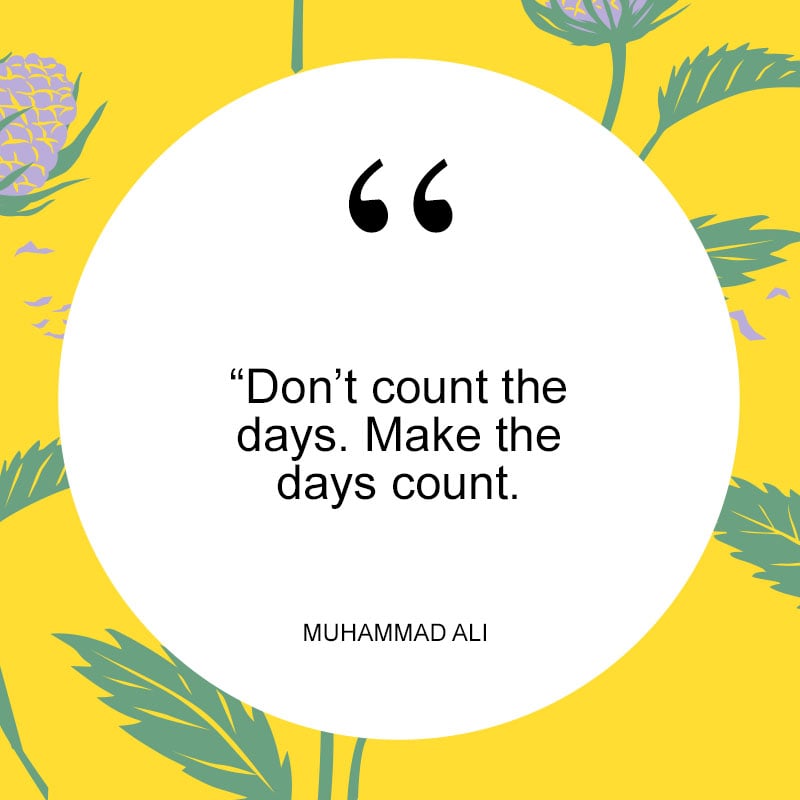 "Happy Thursday! Greet your problems and decisions with peace and calm. Use your inner wisdom to evaluate and make smart decisions for yourself! You got this." – Tracey Edmonds
"It's Thursday and it really feels like a Thursday. Sometimes things just work out." – Demetri Martin
"Successful people keep moving. They make mistakes, but they don't quit." – Conrad Hilton
"Make each day your masterpiece." – John Wooden
"Don't count the days. Make the days count." – Muhammad Ali.
8. Good Morning Friday Quotes
The day has finally come! Friday is one of the most celebrated days of the week worldwide, and as you enter the weekend, you will want to end the week just right. This is the perfect time to get the all final pieces of work done before you enter your well-deserved break, but you may not have the motivation. We get it! These quotes from motivational people can give you a pep in your step and provide a much-needed boost – no cup of coffee could compare!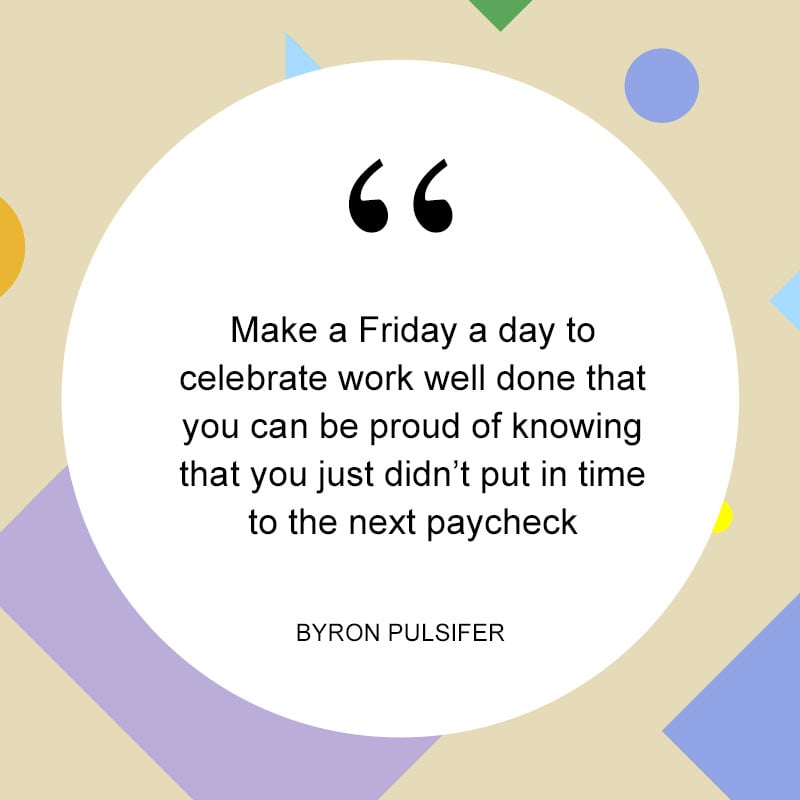 "It's Friday morning, mankind! Good vibe, don't frown and let the monster see you smile!" —Napz Cherub Pellazo
"Every Friday, I like to high five myself for getting through another week on little more than caffeine, willpower, and inappropriate humor." —Nanea Hoffman
"Make a Friday a day to celebrate work well done that you can be proud of knowing that you just didn't put in time to the next paycheck." —Byron Pulsifer
"Rise up and attack the day with enthusiasm." —Anonymous
"If my boss knew how unproductive I am on Fridays, he wouldn't want me here either." —James Johnson
9. Good Morning Saturday Quotes
On the first day of the weekend, it can be easy to sleep in and lose half of the day. But if you have things you need to do, but need a bit of a push to get out of bed, let these quotes help you out. These sayings give you a reason to relax, unwind and fuel yourself up for another week of progress and development. Share these cute quotes alongside a selfie on Instagram, send them as a Tweet, or simply add them to your moodboard for the days where you need to practice a bit of self-care.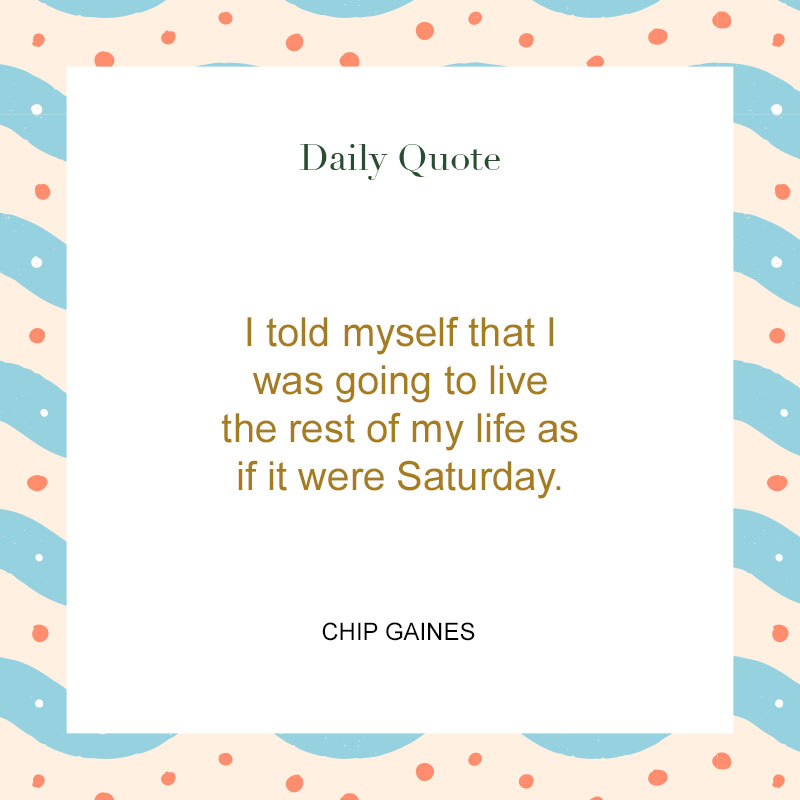 "Saturday is what gives us a weekend of enjoyment." – Anthony T. Hincks
"My work is like my vacation, so in a way every day is like Saturday." – Ludacris
"Saturday is a day for the spa. Relax, indulge, enjoy, and love yourself, too." – Ana Monnar
"I told myself that I was going to live the rest of my life as if it were Saturday." – Chip Gaines
"On a lazy Saturday morning when you're lying in bed, drifting in and out of sleep, there is a space where fantasy and reality become one." – Lynn Johnston
10. Good Morning Sunday Quotes
In the lead-up to the work week, a weekend is a well-deserved way of resting and recuperating. Whether you need to organize meal prep, map out your plans for the week, or complete anything on your to-do list, there is no better day to do it than a Sunday. You don't have to keep yourself occupied on this day, however. These quotes can encourage relaxation and maintain a sense of leisure and enjoyment. In this collection of sayings, you will find proverbs and funny quotes that are sure to put a smile on your face.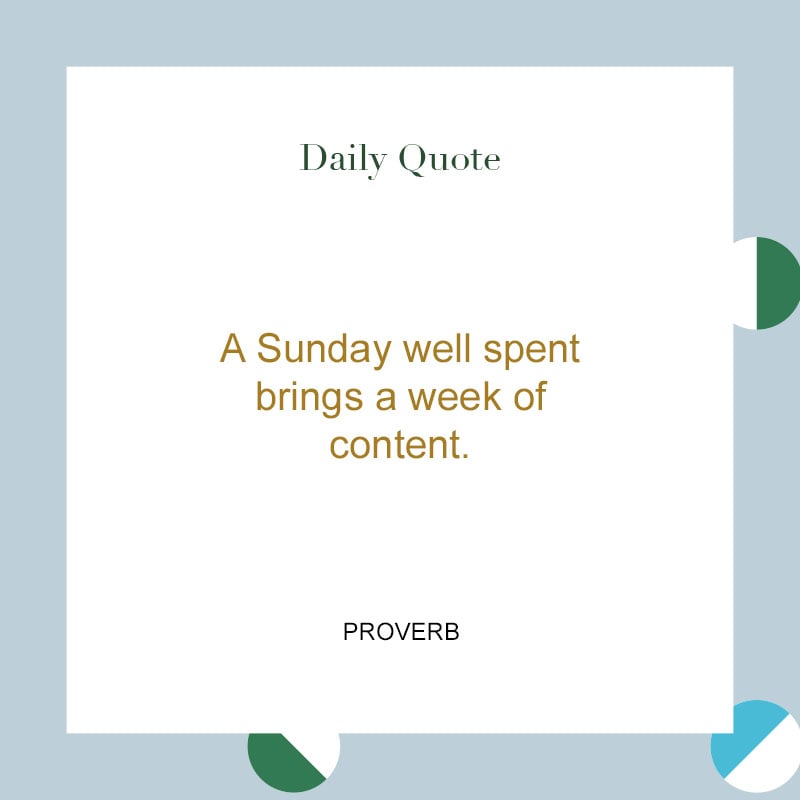 "A Sunday well spent brings a week of content." – Unknown
"Sunday, the day for the language of leisure." – Elfriede Jelinek
"Do not let Sunday be taken from you. If your soul has no Sunday, it becomes an orphan." – Albert Schweitzer
"Sunday clears away the rust of the whole week." – Joseph Addison
"Sunday is the core of our civilization, dedicated to thought and reverence." – Ralph Waldo Emerson
11. Good Morning Quotes for Her
Are you in the mood to etch a smile on her face? Well, look no further than one of these cute morning quotes. Created to encourage happiness and joy, they're the ultimate way to wake someone up. Whether you're in a new relationship, long-distance, or just want to make her happy, there are so many choices to try. Top tip: send these as a text message before she wakes up. That way, when she picks up her phone, your message will instantly brighten her day and put her in an excellent mood!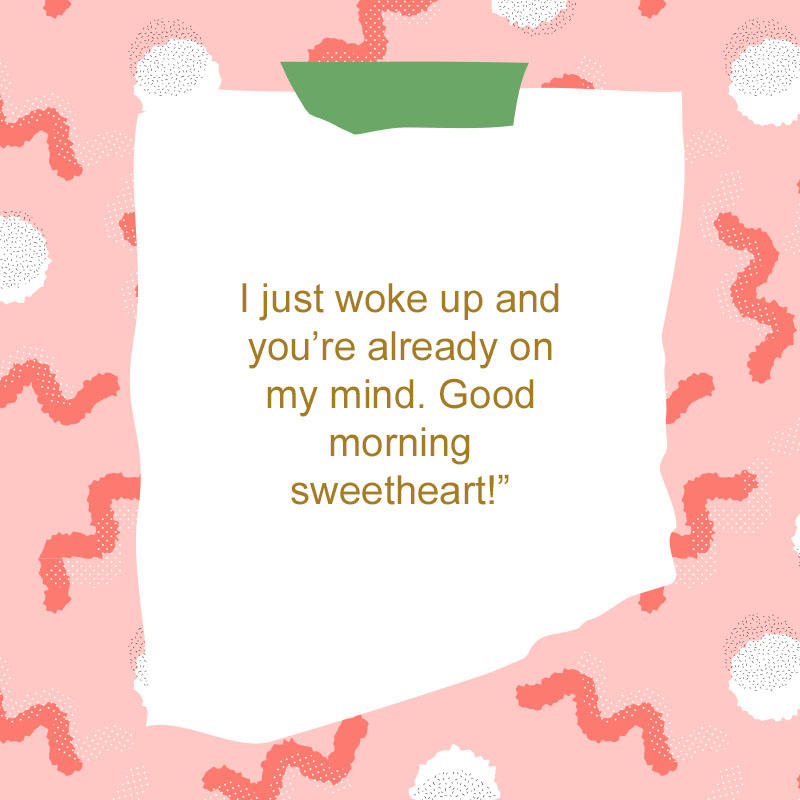 "Every day in my life is perfect because it starts by wishing you a good morning. Have an amazing day, baby."
"My first thought when I opened my eyes was about you. Your eyes, smile, hair, voice… I am happy that a new day begins. Good morning love."
"Good morning, to the woman who makes me smile and warms my heart every day. I love you more than ever before."
"Since I've spent the night dreaming about you, I want to spend the day cuddling up with you. Good morning Love."
"I just woke up, and you're already on my mind. Good morning sweetheart!"
12. Good Morning Quotes for Him
Guys love to feel loved, so make them aware of how much you care with a good morning quote. Even if you are far away from them in distance, these sayings will make them feel as if you're right beside them. These quotes are not sappy but cut straight to the point. When they wake up and see this on their phone, it can encourage a better day and motivate them to make the most of the morning. Who knows, they may expect these to come through every day from now on!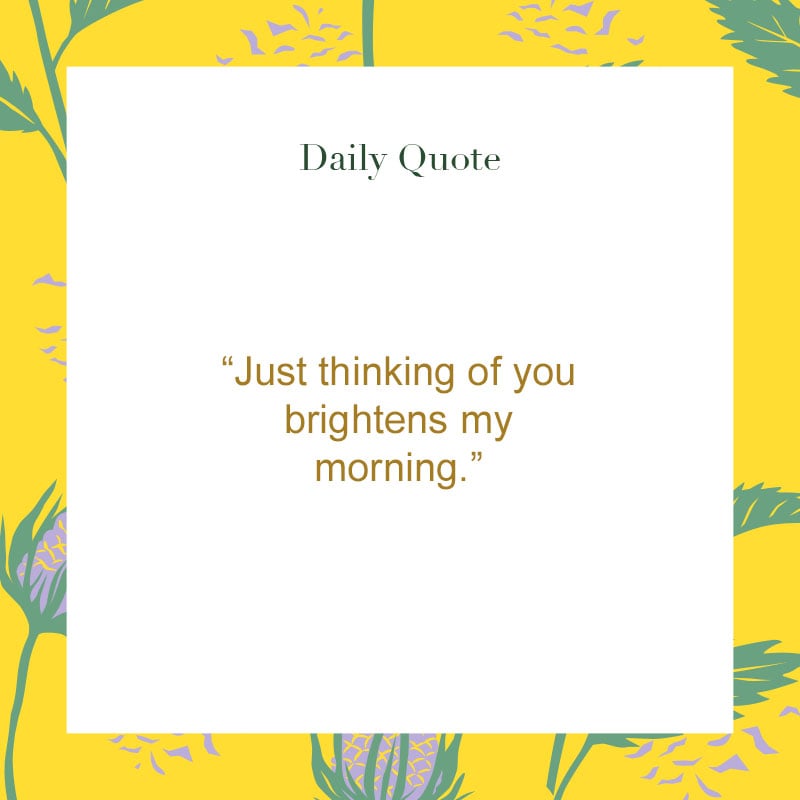 "When I wake up and see you lying next to me, I can't help but smile. It will be a good day simply because I started it with you."
"Every morning, my love for you keeps growing. You are my dream come true. Good morning dear."
"Being with you makes me feel that I can overcome any obstacle coming in my life. Good Morning my love!!"
"Just thinking of you brightens my morning."
"Here are some hugs and kisses to start out your day. Hopefully, they will last until we meet this evening. Have a good day, darling."
13. Good Morning with Love Quotes
Start the day off with a cup of coffee and a big slice of love! These love quotes inspire and encourage feelings of affection, even early in the morning. There's nothing as important as adoration, and when you need a boost ahead of a big day, then these are the perfect sayings for you. Share them in an SMS to someone you care about, or repeat them to yourself as you get ready. After all, self-love is a very important tool for staying healthy and tackling the day!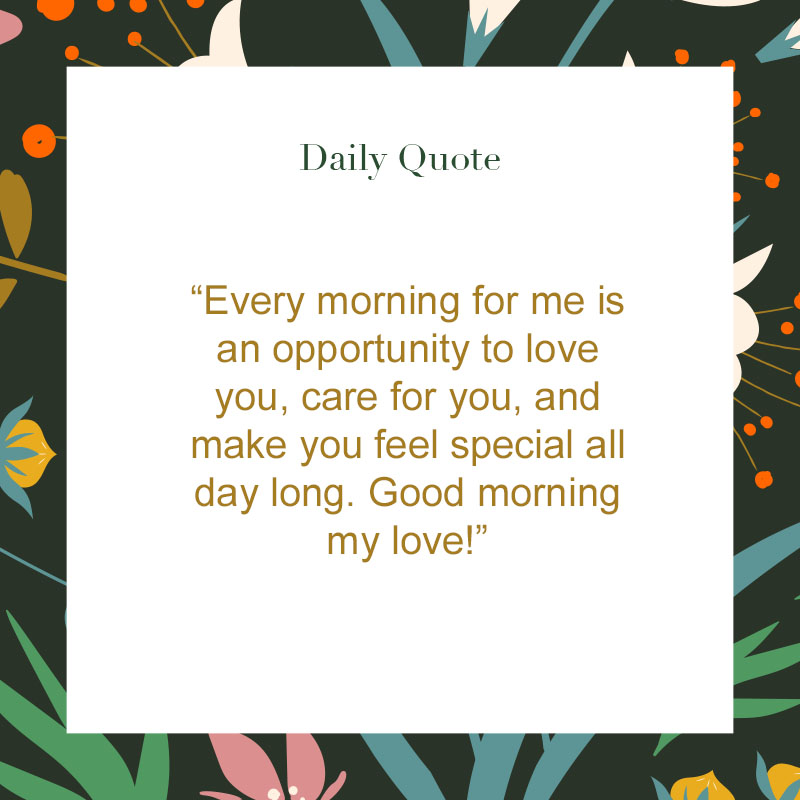 "Good morning, baby. I just wanted you to know how much I care for you. You're always in my thoughts. Have an amazing day."
"Every morning for me is an opportunity to love you, care for you, and make you feel special all day long. Good morning my love!"
"Thank you so much for existing in my life, Love. I love you so much; Good Morning."
"Every time I think of you, half my worries are gone. You make everything around you so positive and energetic. I love you so much. Good Morning!"
"Holding you in my arms and waking up beside you every morning is like a dream come true that I never want to end. Good morning, lady!"
14. Thoughtful Good Morning Quotes
If you're experiencing a hard time, it can often be hard to get out of bed in the morning. But quotes such as these can help you see the sunny side. Thoughtful and inspiring, they encourage feelings of joy and gratitude. Feel thankful for all that you have when you wake in the morning, and be encouraged to achieve all that you desire. Whenever you need a pick-me-up, look no further than here. With sayings from inspiring artist like James Cameron and iconic figures such as Mother Theresa, you will understand that everyone needs a boost from time to time, and you just have to keep moving forward.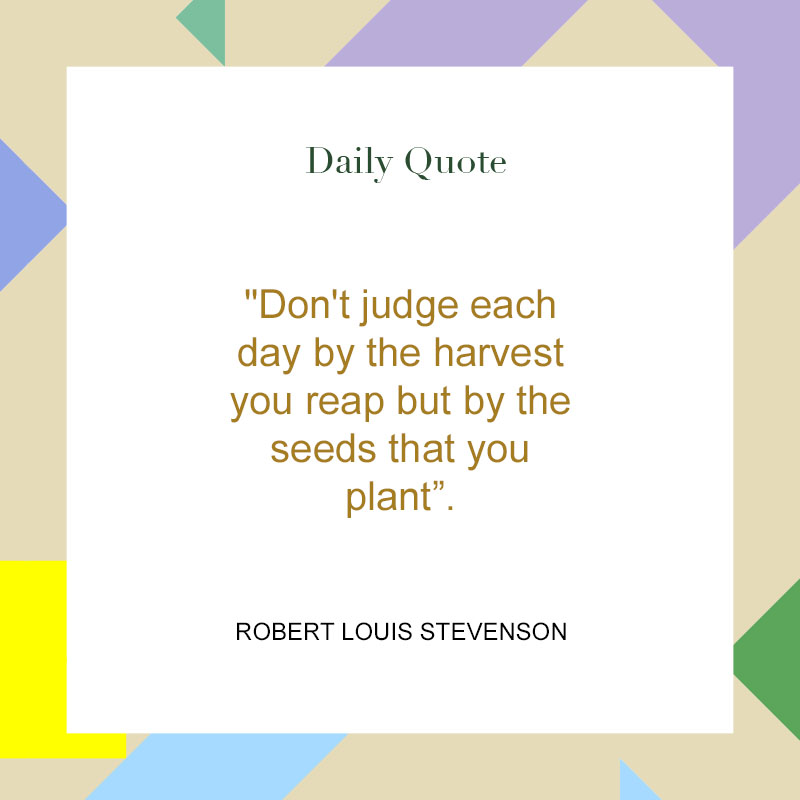 "Spread love everywhere you go. Let no one ever come to you without leaving happier." — Mother Teresa
"Don't judge each day by the harvest you reap but by the seeds that you plant." — Robert Louis Stevenson
"Do not go where the path may lead, go instead where there is no path and leave a trail."— Ralph Waldo Emerson.
"Your current life is the result of your previous choices, if you want something different, begin to choose differently." – Joe Tichio.
"If you set your goals ridiculously high and it's a failure, you will fail above everyone else's success." — James Cameron
15. Wisdom Good Morning Quotes
If you're building out a mood board or you need an extra hit of encouragement in the morning, these quotes will guide the way. Not only are they extremely wise, but they're also from some of the world's most influential figures. Some are funny, others are motivational and uplifting – all, however, offer wisdom that can carry you throughout the day. Picture yourself as a billionaire (without the taxes), develop new strengths and embrace change – it's all in a day's work!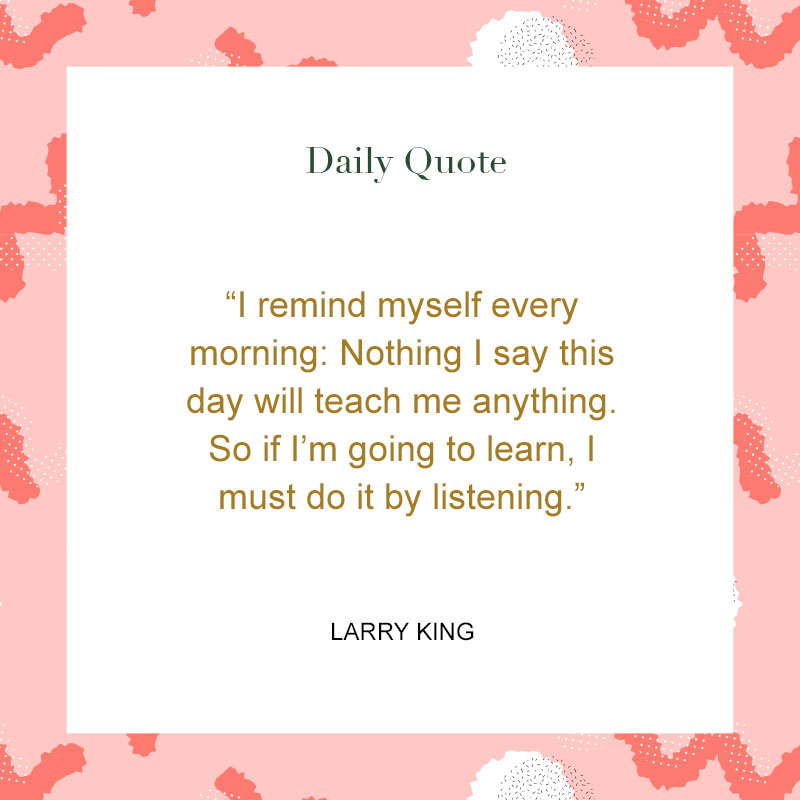 "I remind myself every morning: Nothing I say this day will teach me anything. So if I'm going to learn, I must do it by listening." – Larry King.
"When I wake up in the morning, I feel like a billionaire without paying taxes." – Ernie Banks.
"You know that feeling when you wake up in the morning and you're excited for the day? That's one of my main goals in life." – Kirsten Dunst
"Every morning, my dad would have me looking in the mirror and repeat: "Today is going to be a great day; I can, and I will." – Gina Rodriguez
"With the new day comes new strength and new thoughts." – Eleanor Roosevelt
16. Morning Prayer Quotes
Every day is a blessing, so why not celebrate the birth of a new day with one of these prayer quotes? When you wake up in the morning, these spiritual sayings can offer guidance and light to help you throughout the day. Share them in a social post with your friends and loved ones, or simply repeat them to yourself to encourage light. Here, you will find sources from the Bible and inspiring leaders who turn to God to help them even on the toughest days.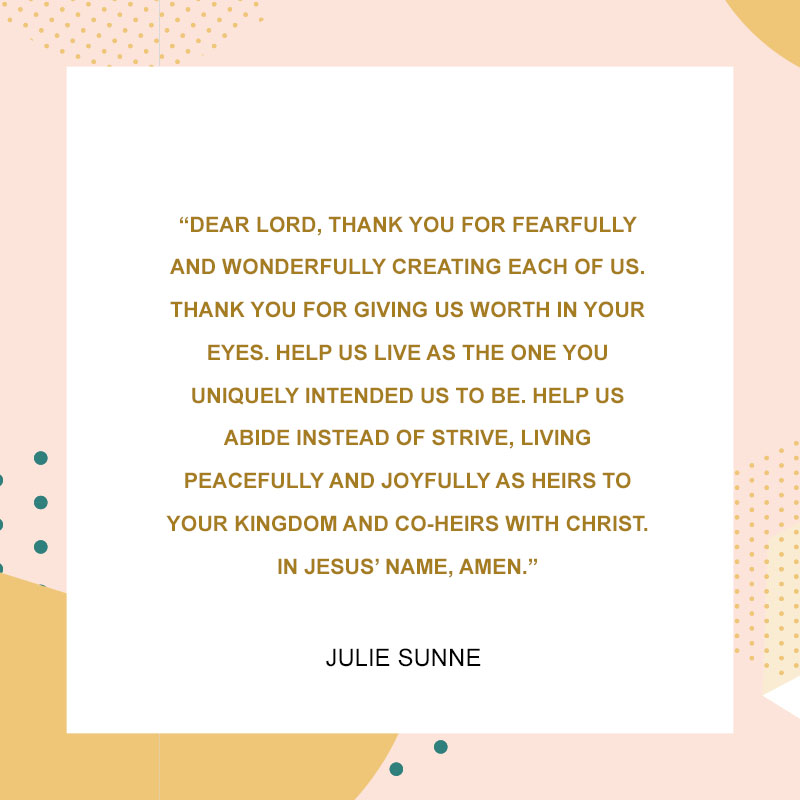 "Dear Lord, Thank You for fearfully and wonderfully creating each of us. Thank You for giving us worth in Your eyes. Help us live as the one You uniquely intended us to be. Help us abide instead of strive, living peacefully and joyfully as heirs to Your Kingdom and co-heirs with Christ. In Jesus' name, Amen." – Julie Sunne
"O Lord, support us all the day long until the shadows lengthen, and the evening comes, and the busy world is hushed, and the fever of life is over, and our work is done. Then in your mercy, grant us a safe lodging and a holy rest, and peace at the last. Through Jesus Christ Our Lord, Amen." – Cardinal John Henry Newman
"I pray that, according to the riches of his glory, he may grant that you may be strengthened in your inner being with power through his Spirit and that Christ may dwell in your hearts through faith, as you are being rooted and grounded in love." – Paul's letter to the Ephesians, 3:16–17
"Father God, come be with us today. Fill our hearts with joy. Fill our minds with learning. Fill our classrooms with peace. Fill our lessons with fun. Fill our friendships with kindness. Fill our school with love."
"As the sun rises, may your love rise in my heart—a love that dispels tiredness, a love that overcomes difficulty, a love that builds a relationship, a love that inspires diligence, a love that delivers excellence, a love that develops trust, a love that produces praise. Lord, may I live in the light of your love."
17. Funny Good Morning Quotes
Start your morning with a laugh! Sure, some may enjoy coffee or eggs, but these quotes will fill you with a belly laugh to get you in the right mood. With comedians, actors, and poets in the mix, you can ensure the start of a brilliant day instantly. While some are certified knee-slappers, others are clever and witty. Send these to your friends to tickle their funny bone, or simply read them to yourself in you're in need of a boost.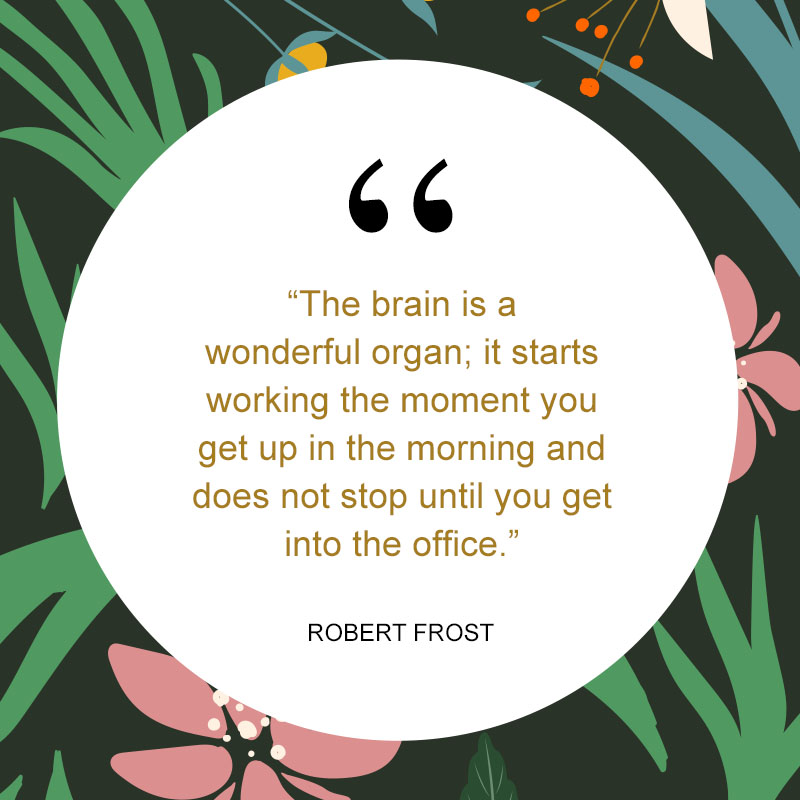 "I like freedom. I wake up in the morning and say, 'I don't know, should I have a popsicle or a donut?' You know, who knows?" – Oscar Nunez
"The brain is a wonderful organ; it starts working the moment you get up in the morning and does not stop until you get into the office." — Robert Frost.
"Be the person that when your feet touch the floor in the morning, the devil says, 'Awe sh*t, they're up.'" – Dwayne Johnson
"The first thing I do in the morning is brush my teeth and sharpen my tongue." – Dorothy Parker.
"I can rise and shine, just not at the same time." – Unknown
18. Uplifting Good Morning Quotes
Everyone has days where they don't want to get out of bed, but it's those days where you can use these quotes the most. Uplifting and motivational, they can give you the kick in the butt you may need to make the most out of your day. With inspirational figures like Nelson Mandela and Confucius on this list, there are plenty of people that can give you wisdom and encouragement to achieve whatever you need. Remember, even if you fall down, the thing you need to do is get up, so you can keep moving forward.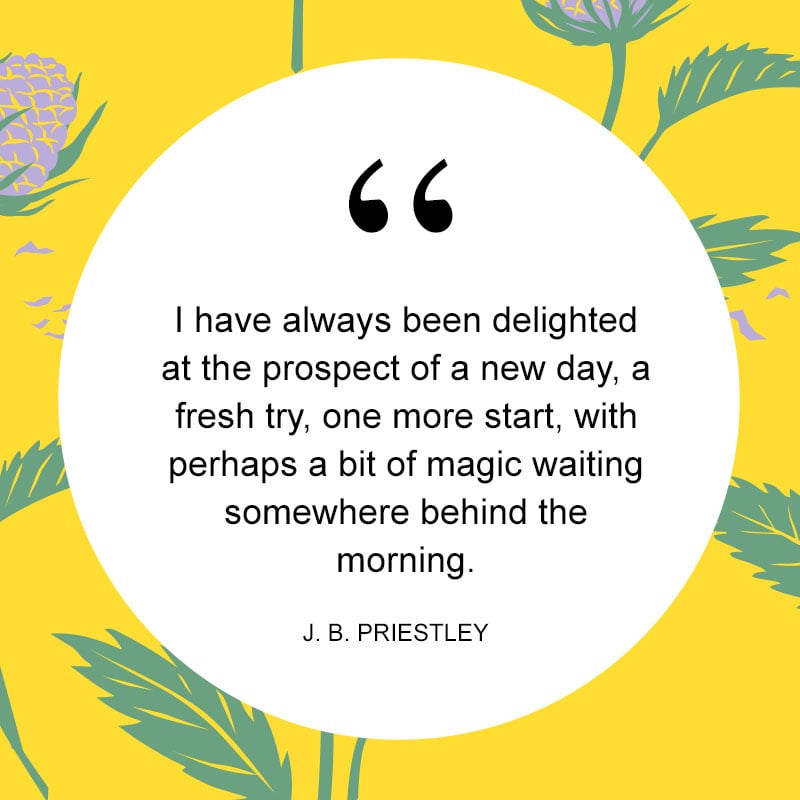 "I have always been delighted at the prospect of a new day, a fresh try, one more start, with perhaps a bit of magic waiting somewhere behind the morning." – J. B. Priestley
"You may be disappointed if you fail, but you are doomed if you don't try." – Beverly Sills.
"It does not matter how slowly you go as long as you do not stop." – Confucius
"Rise up, start fresh, see the bright opportunity in each day." – Anonymous
"The greatest glory in living lies not in never falling, but in rising every time we fall." — Nelson Mandela
19. Good Morning Life Quotes
Life is short, so celebrate every moment of it – even in the morning! While it can be hard to get out of a comfortable bed in the morning, you can achieve plenty of amazing things in these hours. Let this selection of life quotes get you on your way. Not only are these sayings inspirational to all who read them, but they're also a beautiful way to share the beauty of life. In dark times and the brightest, we all need a boost to get us up and running – sometimes coffee just won't cut it! Whether you share these on social media or to a friend, they're bound to inspire!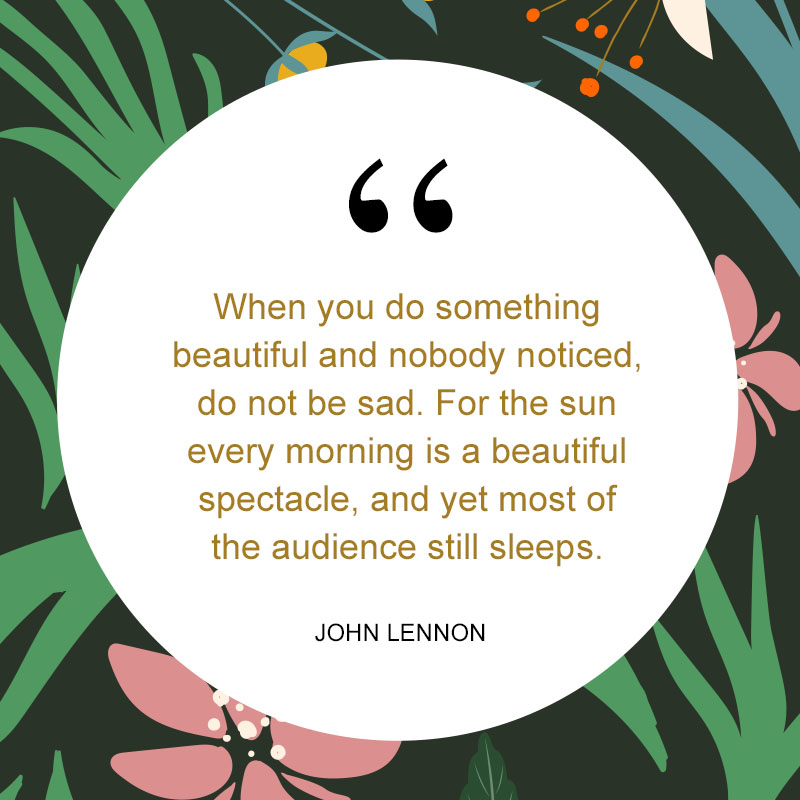 "When you do something beautiful and nobody noticed, do not be sad. For the sun every morning is a beautiful spectacle, and yet most of the audience still sleeps."– John Lennon.
"Nobody can go back and start a new beginning, but anyone can start today and make a new ending." – Maria Robinson
"Do not shorten the morning by getting up late; look upon it as the quintessence of life, as to a certain extent sacred." – Arthur Schopenhauer.
"The sun is a daily reminder that we too can rise again from the darkness, that we too can shine our own light." – S. Ajna.
"Life is what we make it, always has been, always will be." – Grandma Moses
20. Morning Love Quotes
Love is a feeling that is hard to describe, but it is a sense that can inspire and motivate us to do anything. Start the day off right with these love quotes about infatuation, adoration, and devotion. From Jane Austen's most famous works to Amit Ray and everyone in between, these sayings can keep you feeling fresh and ready for anything. As long as you have love on your side, you can tackle anything that life throws at you!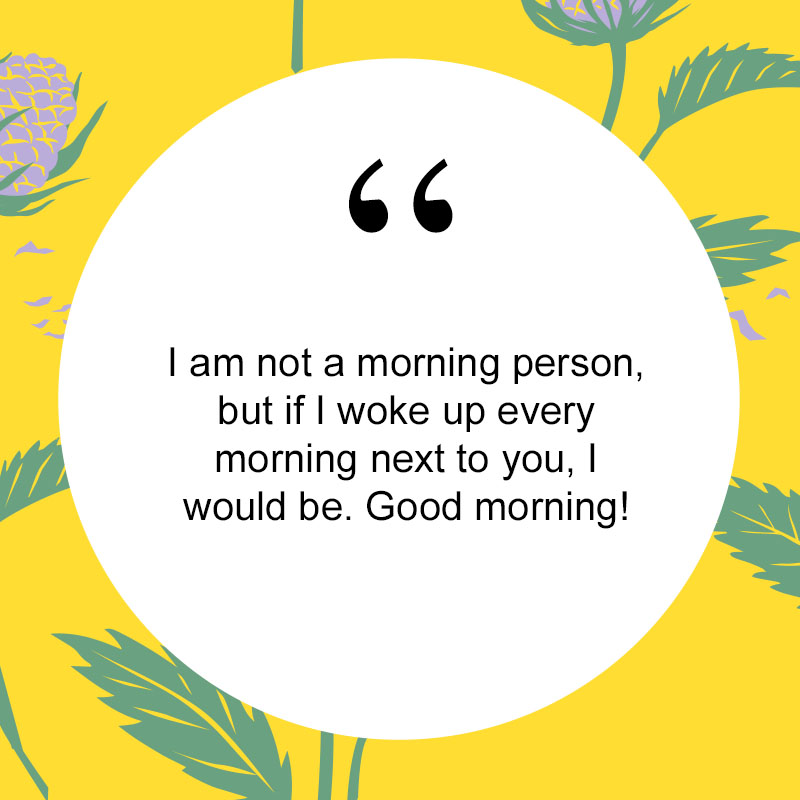 "What is love? It is the morning and the evening star." – Sinclair Lewis
"For each new morning, let there be flow of love. Let there be light of happiness in every direction." – Amit Ray
"There are so many reasons to be thankful every day. I am thankful for you." – Unknown
"You have bewitched me, body and soul, and I love … I love … I love you. I never wish to be parted from you from this day on." — Pride and Prejudice
"I am not a morning person, but if I woke up every morning next to you, I would be. Good morning!"
SUBSCRIBE TO OUR NEWSLETTER
Subscribe to our mailing list and get interesting stuff and updates to your email inbox.