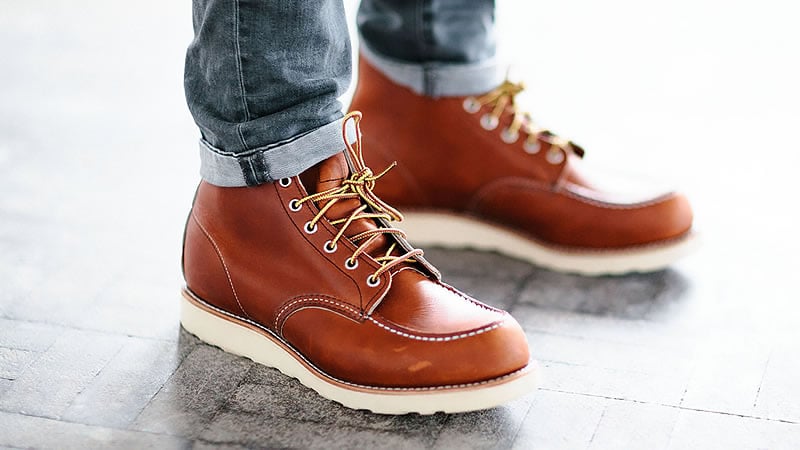 Boots are a versatile item of footwear that can add an extra bit of oomph to an outfit. Whether you're hiking up a mountain or you're heading to a festival, a great piece of footwear goes a long way. Finding the perfect pair of boots for you may seem like a challenge, but once you've discovered them, you'll never want to take them off. No matter the occasion, the weather, or the outfit, here are the best boot brands for men that will perfectly suit your needs.
Best Boot Brands for Men
1. Arterton
Arterton is a design atelier located in London, catering to those who appreciate sartorial excellence. They are known for their premium goods that combine innovative design with classic elements. Unlike many other men's boot brands, Arterton does not sell their products in large quantities at department stores or through resellers. Instead, they focus on curating a selection of meticulously crafted and refined products while also setting themselves apart from mainstream trends.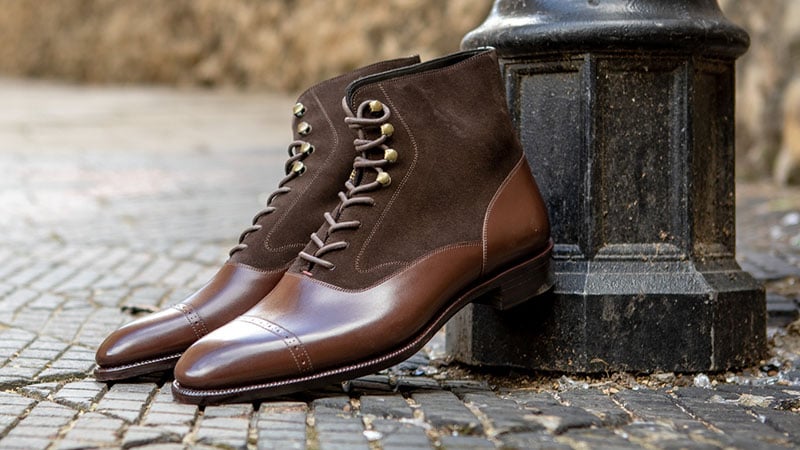 1. Crown Northampton
Crown Northampton, a family-run business, has been at the forefront of the handmade boot craft for more than a century. What distinguishes this brand is its steadfast dedication to quality and meticulousness. With its use of locally sourced materials and timeless designs, Crown Northampton has established itself as one of the best boot brands for men.

2. Myrqvist
Myrqvist embarked on its journey in 2016, initially aiming to produce affordable footwear with timeless designs and exceptional quality. The boots are meticulously crafted to endure both the passage of time and changing trends. At the core of our business lies the guiding principles of Scandinavian design, a meticulous focus on details, and the utilization of the finest materials sourced from renowned tanneries worldwide. As a testament to Myrqvist's achievements, they were recognized as Sweden's fastest-growing boot brand in 2020.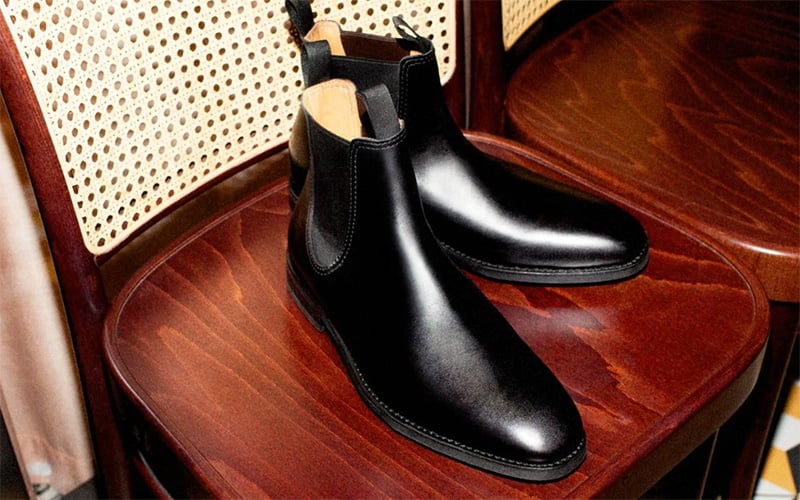 3. Aurélien
For more than 45 years, Owner Giovanni has overseen the factory, following in his father's footsteps as the head of the family business. Previously focusing on the production for a prominent company, the factory recently made a strategic decision to shift its business model and cater to a select few small luxury brands. Giovanni takes pride in preserving and reinventing Italian handmade tradition by meticulously selecting the finest quality leather and crafting unique products with unwavering attention to detail. This commitment to excellence is evident in the exceptional driving shoes and loafers produced by Giovanni's skilled artisans.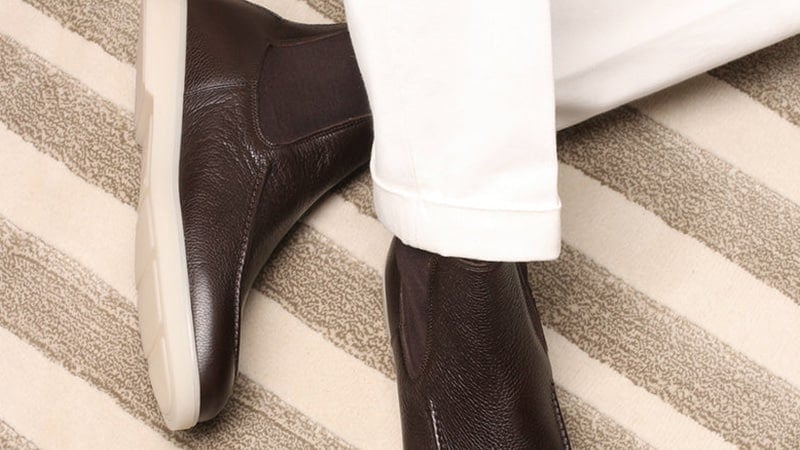 4. Grenson
One of Britain's most established boot brands for men, Grenson has been at the forefront of men's shoes since 1866. Grenson made boots for soldiers in WWI and continued to produce quality footwear. Characterized by their brogue detailing and sublime materials, their designs are often replicated by other brands. This long-standing English label is iconic, and it is famous for rugged footwear that compliments a multitude of occasions.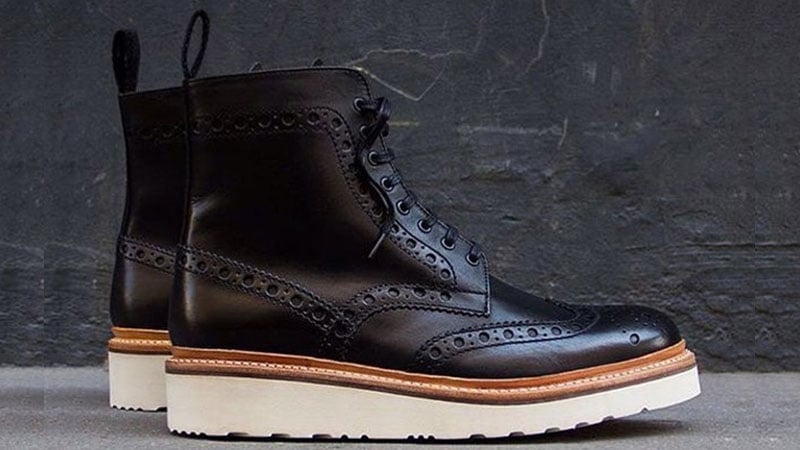 5. Dr. Martens
Characterized by their yellow stitching, high tops, and cushioning, Doc Martens shoes have become an iconic part of pop culture. Commonly known as Docs, they gained prominence in the '60s thanks to skinheads and later became associated with subcultures like punk and grunge in the '80s and '90s. While the original Doc Martens were available in dark colors such as black, brown, and cherry red, nowadays, you can find them in a wide range of shades, patterns, and designs. Among the most iconic models is the Doc Martens 1460, a high-top boot with eight eyelets made from leather and featuring a heavy tread and distinctive yellow stitching.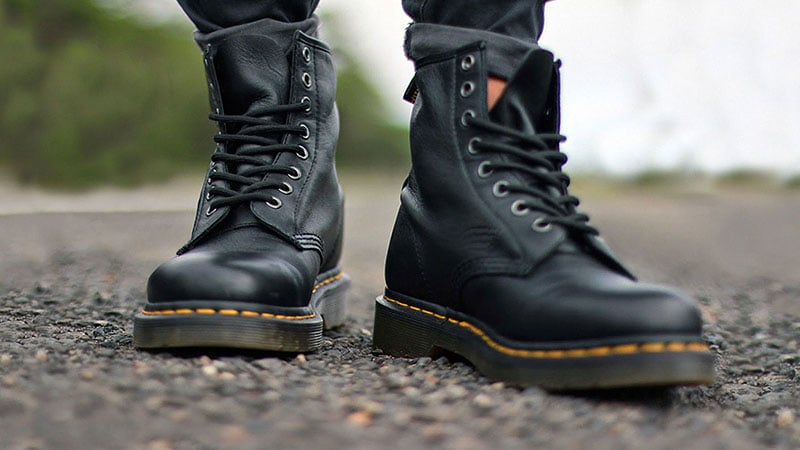 6. Timberland
Nathan Swartz, bought a half-interest in the Abington Shoe Company in 1953. The brands original waterproof boots, known as the "Timberland," were introduced in 1973. These boots were not only rugged and well-crafted but also set new standards for waterproof performance in the footwear industry. Thanks to an innovative injection molding technique, they stood strong against the elements. With their exceptional durability, these premium "yellow" boots quickly gained popularity among outdoor enthusiasts, professional trade workers, and anyone seeking both protection and style. Their success was so significant that in 1978, the brand decided to rename the entire company to Timberland, and it is now one of the most renowned boot brands for men.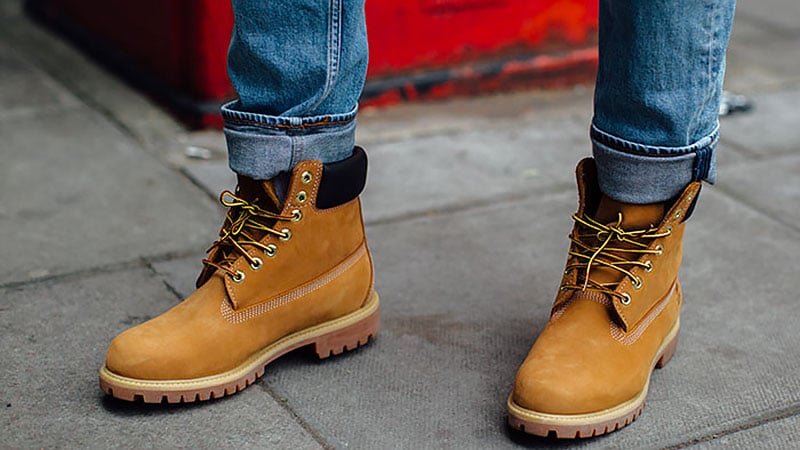 7. Tricker's
Tricker's, a renowned British heritage footwear brand, has been manufacturing quality shoes for more than 190 years. Initially catering to the farming community in Northamptonshire, England, the company quickly diversified its offerings to meet the shoe demands of the urban population during the 19th century. Today, Tricker's stands out as one of the best boot brands for men that proudly continues to produce all its shoes in England. Tricker's unwavering dedication to customary craftsmanship and exceptional quality shines through in each exquisite pair of shoes it creates.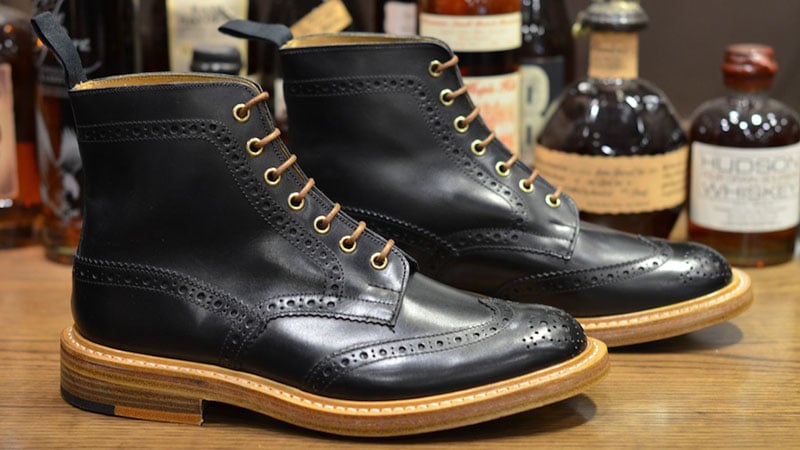 8. Clarks
Clarks, a renowned boot brand for men, boasts a vast network of over 1,400 stores and franchises worldwide. The company's claim to fame is the Desert Boot, an ankle-height boot featuring a crepe rubber sole. Typically crafted from calf suede leather, this iconic boot was officially launched in 1950. Its design can be credited to Nathan Clark, the great-grandson of James Clark, who drew inspiration from unlined suede boots that British officers wore during the Second World War and were commonly found in the bazaars of Cairo.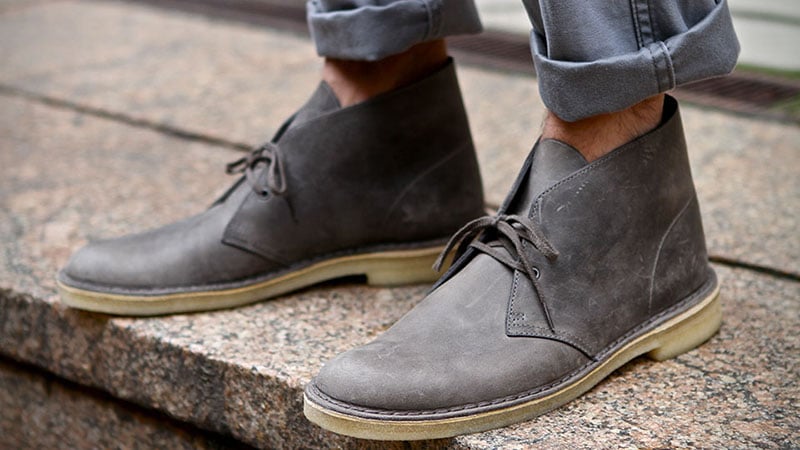 9. Red Wing
Established in 1905 in Minnesota, Red Wing is one of the most renowned boot brands for men that are specifically designed for demanding work and harsh conditions. The boots have a rich history and were even worn by soldiers in both WWI and WWII. Red Wing sticks to traditional manufacturing methods, ensuring durability and a timeless design. Additionally, they offer a range of static-dissipative boots, providing extra protection for individuals working in electricity-hazardous fields.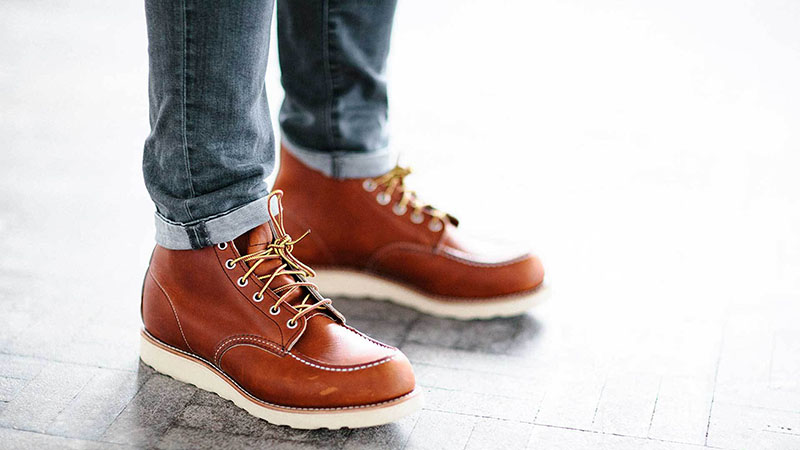 10. Belstaff
Established in 1926, Belstaff designs waterproof boots that are sturdy enough for rough road conditions. Simple and elegant in design, the brand doesn't skimp on style or quality when it comes to bootmaking. Items that were once made for the likes of Joe Wright and British motorcyclists in the 1920s now have created a style suitable for all occasions and withstand the roughest conditions.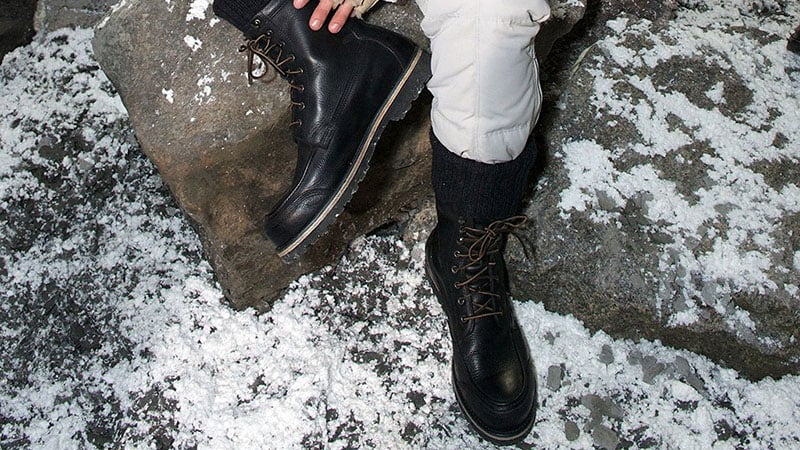 11. Church's
Combining high-end fashion with long-lasting quality, Church's has remained one of the most sought-after shoe companies. Established in 1873, Church's have stood the test of time and continued to create footwear that is worth wearing. Their 1929 Shanghai model continues to be their most iconic boot, with a distinctive buckle, brogue detailing, and a high ankle cut. Made from high-quality leather and a durable rubber sole it is best suited for the gentleman on his way to a casual or smart casual event.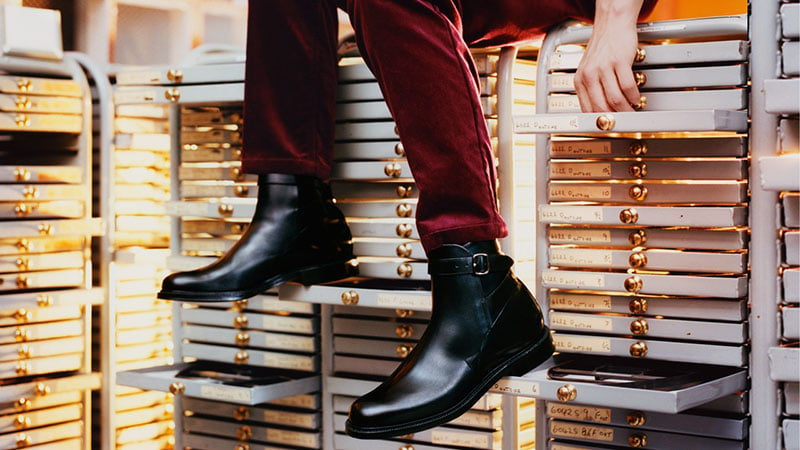 12. Wolverine
Wolverine, renowned for its fearless and fierce reputation, is a brand that has dominated the boot-making industry since 1883. One of their iconic creations is the 1000 Mile Boot, designed for durability and capable of lasting up to 1000 miles of wear. With a heavy-duty construction built to endure, Wolverine's boots exemplify long-lasting excellence. With more than a century of experience in the footwear industry, Wolverine has established a reputation as one of the best boot brands for men.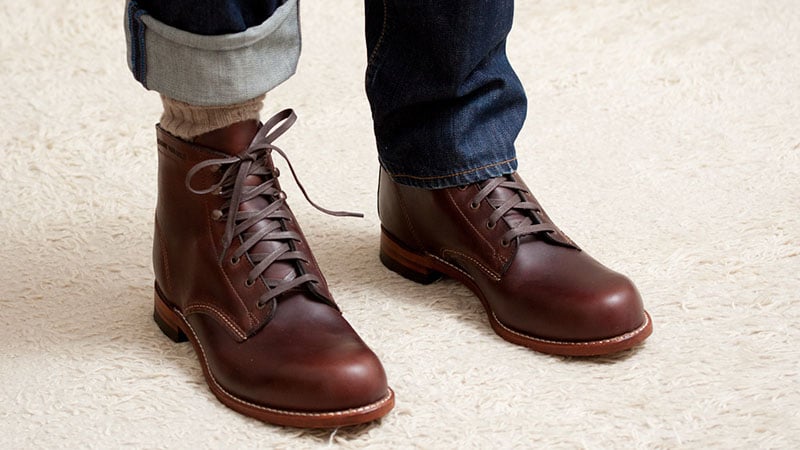 13. UGG
UGG originated in Australia in the early '60s as a boot to keep surfers' feet warm after a day of riding the waves. Since then, UGG has transformed into a well-known winter boot brand. UGGs are perfect for leisurely walks or cozying up at home, available in different styles, colors, and lengths. Crafted from sheep's wool and leather, UGG boots offer unmatched comfort and exceptional quality.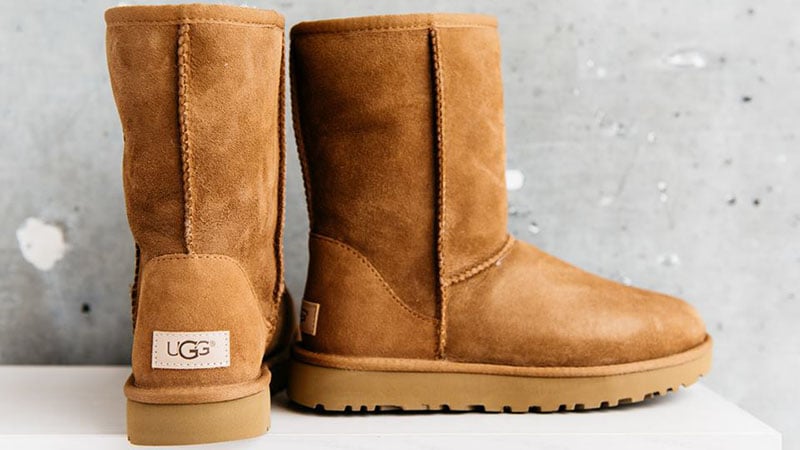 14. Alden of New England
Specializing in leather boots and dress shoes, Alden of New England is one of America's finest boot brands for men. Established in 1884, Alden of New England created their boots for the rugged culture of 19th-century Massachusetts. In modern times the company offers custom orders, so if you're after a one-of-a-kind piece, Alden is the brand for you. Characterized by their uncomplicated style, they're sturdy in construction and are an absolute essential for every wardrobe.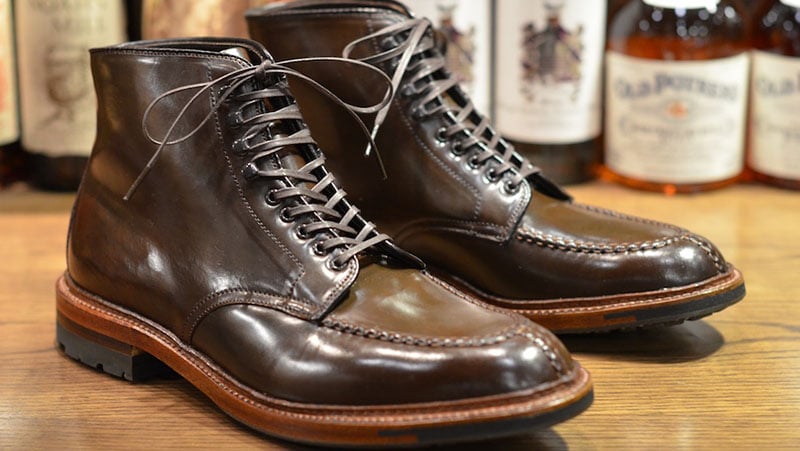 15. Julius Marlow
Julius Marlow is one of Australian best boot brands for men that offer durability and comfort. With a captivating history dating back to 1928 in the streets of Melbourne, Julius Marlow continues to be a favorite among Australians. Their boot designs are often eclectic, providing a wide variety of options to complement your daily attire or add a touch of flair to any outfit.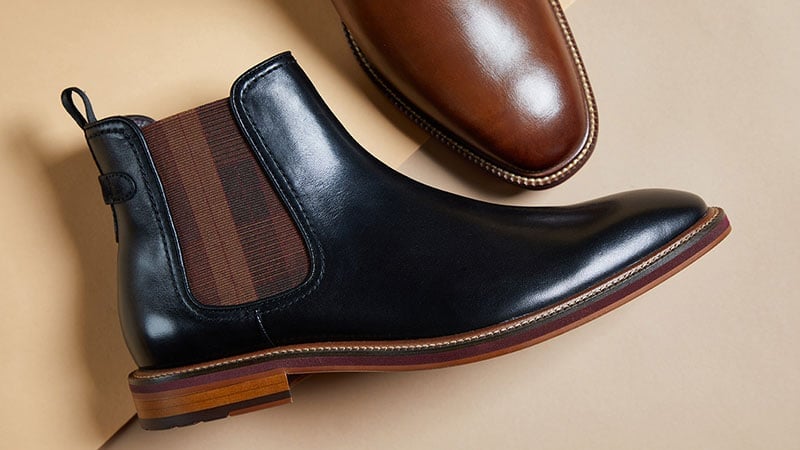 16. Adelante Shoe Co.
Sustainability is the core value for Adelante Shoe Co., not just in its products but in its ethical practices. This footwear brand creates each pair of boots in Guatemala with a made-to-order model and pays its craftsmen fairly to fund sustainable economic development in Latin American communities. Designs like the Valparaíso come in a huge variety of colors to suit your own taste and will last you years to come.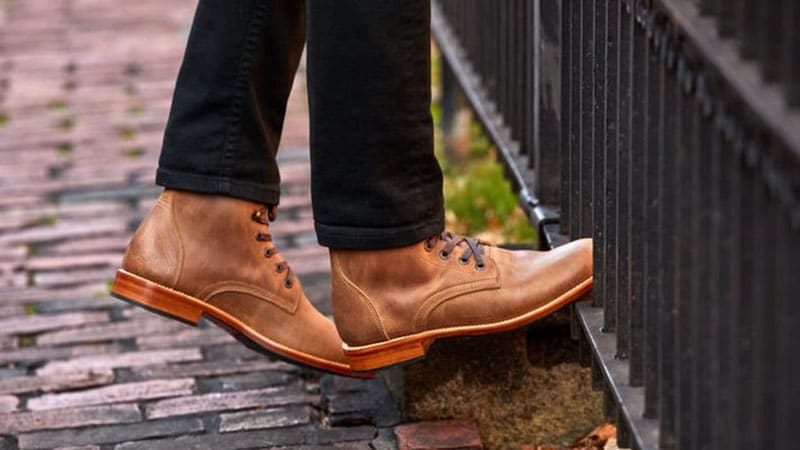 17. Danner
Danner, a brand known for its craftsmanship and design, has been producing performance footwear since 1932. Founded in Portland, Oregon, the men's boot brand initially designed footwear that could endure extreme landscapes, varying climates, and challenging conditions. Today, Danner continues this tradition by incorporating innovative technology that offers superior arch support and stylish designs. Whether you're exploring city streets, conquering mountain peaks, or navigating forest trails, Danner is one of the best boot brands for men that is designed to excel in any terrain.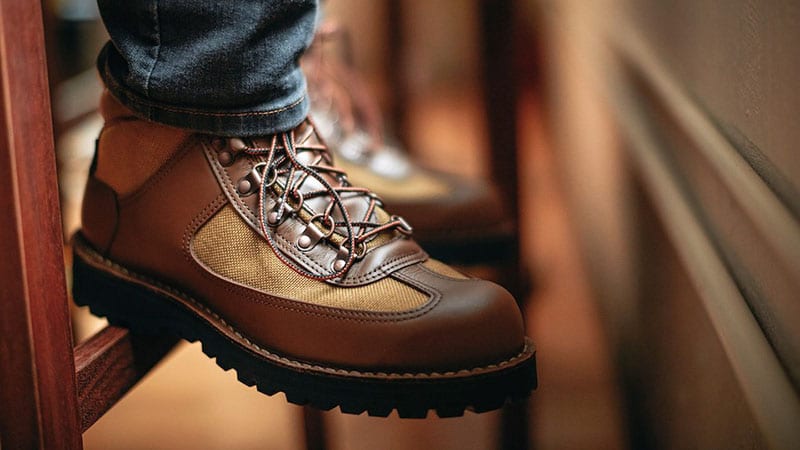 18. Fracap
For over 100 years, the Cappello family has been creating boots for farmers, the Italian Army, Air Forces, and the world. With an original concept of durability and comfort, today, you will find each pair of boots with expert craftsmanship, timeless designs, and long-lasting materials. Some of the most popular designs include the Magnifico and the Explorer, which come in an enormous range of colors and styles. You can even customize your pair to make them as unique as you are.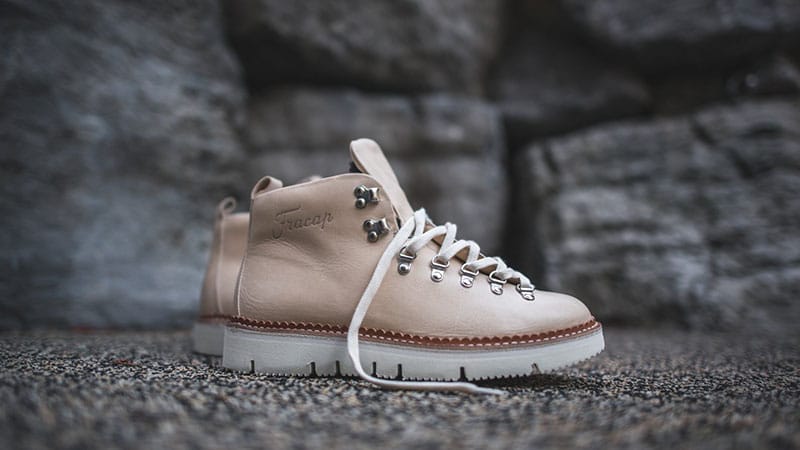 19. Astorflex
Family is one of the core components of Astorflex, which was founded in Italy in the 19th century. For generations, this brand has used the 'Ideal' method of stitching on the outside to create its desert and military boots. It's also sustainably conscious – the brand uses only vegetable-tanned leathers, natural rubber soles, water-based colors, and non-solvent glues.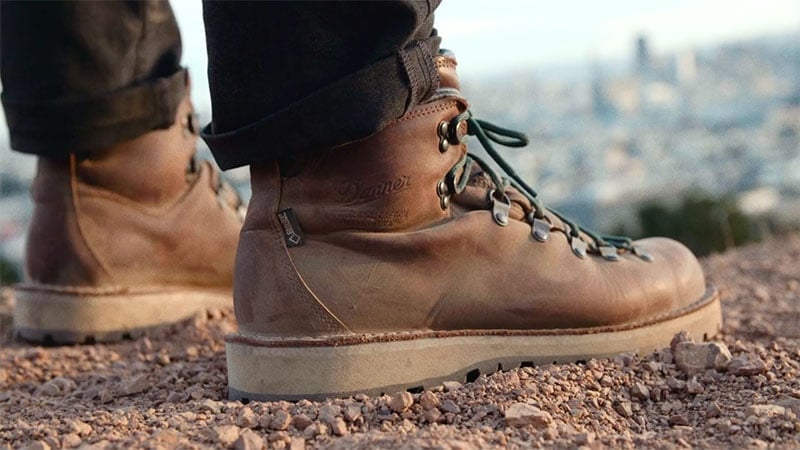 20. Diemme
If you're on the lookout for durable boots to wear in rain or shine, look no further than Diemme. This tough-loving footwear is made for those who love the outdoors, and thanks to its innovative duck boot design, you can enjoy mountains, forests, rivers, and concrete with ease. You can also look as trendy as a runway model in these shoes, with each design flattering the latest fashion.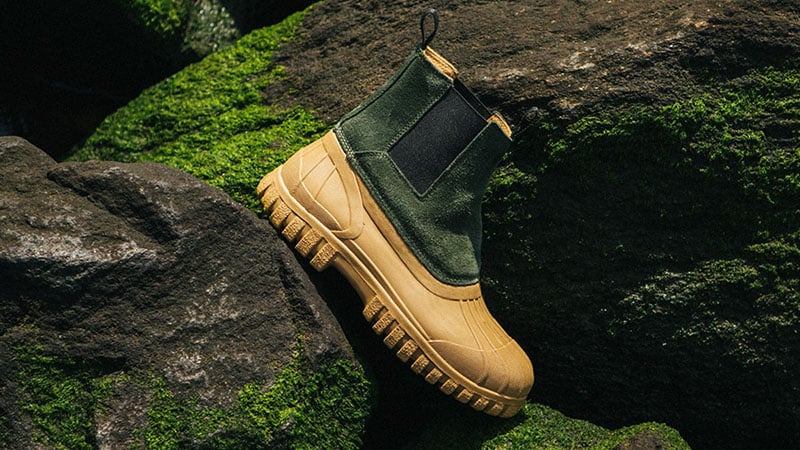 21. Xtratuf
Whether you're fishing or exploring a rainy part of town, a pair of Xtratuf boots will keep your feet dry. Tried and tested in Alaska, this footwear is built for new adventures and all types of weather. You can do it all in a set of Legacy boots. They're completely waterproof and durable, with non-slip soles for extra grip. There's a wide variety of fabrics, lengths, and styles to choose from, making it a staple for everyone's wardrobe.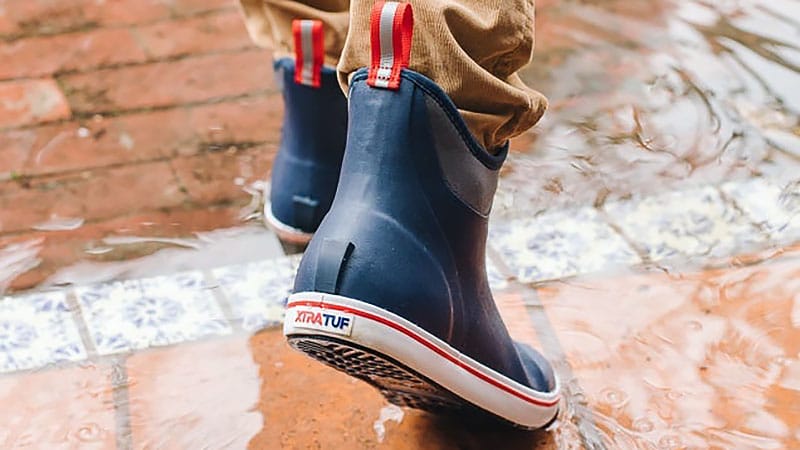 22. Blundstone
You'll make working look easy when you're in a pair of Blundstone boots. This iconic brand has been a favorite for Australians since it was established in 1the 1850s. It has become one of the leading boot brands for those who enjoy tough work with a deep and rich history. From construction boots to classic and traditional dress silhouettes, you can go anywhere and feel protected while doing it in style.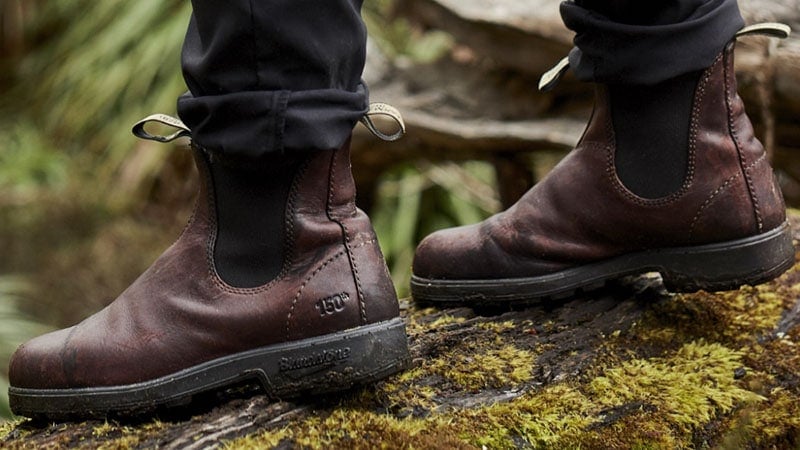 23. White's Boots
Since 1853, White's Boots have provided heavy-duty boots for those on the go. Each pair is designed with a purpose in mind, whether it's across a mountain, on the worksite, or in the city. Unlike many other boot brands for men, there are 25 steps to make one pair of shoes – from hand-sewing to welting to the nails on the bottom. In fact, one of the owners in the '30s studied the foot's anatomy so he could mold the arch to perfection, a practice still used to this day.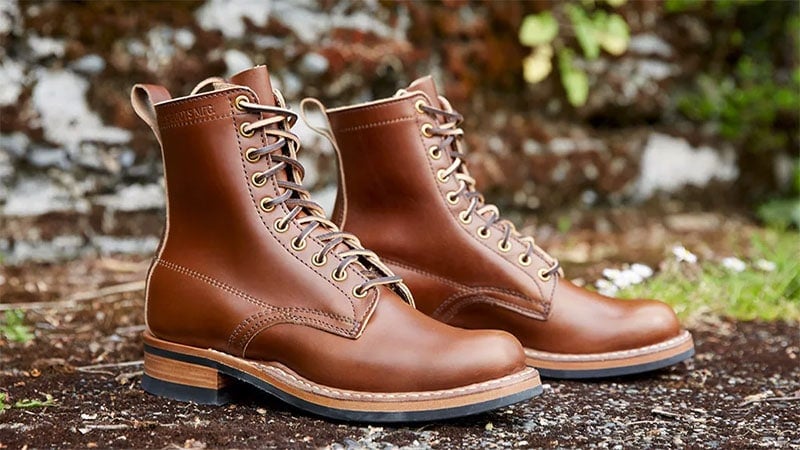 24. Quoddy
Quoddy takes boot-making seriously, using centuries-old methods that have been passed through generations. You can walk through the snow, wade in the water and across concrete with ease. Plus, the stylish designs work with a wide variety of outfits year-round. Each pair is crafted using basic tools and embraces the traditional methods to create timeless footwear.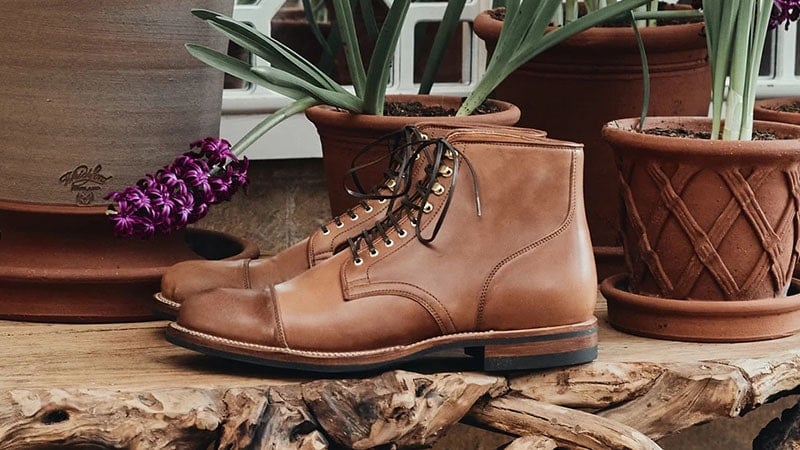 25. R.M. Williams
R.M. Williams boots are a quintessential Australian icon, loved by footwear enthusiasts all around the world for their Outback-friendly design. Each pair is meticulously crafted in Australia, staying true to its heritage and perfectly suited for the harsh Southern temperatures. Although the boot brand now offers diverse shoe styles and clothing, its most iconic creation remains the Chelsea boot, made with premium leather and exquisite craftsmanship.
26. Chippewa Boots
Chippewa Boots have maintained their commitment to quality throughout the years. They represent integrity, heritage, and performance by crafting high-quality products using the finest materials. As one of the oldest outdoor boot brands for men, Chippewa Boots will continue supplying overachievers with reliable and authentic footwear designed to withstand countless adventures for years to come.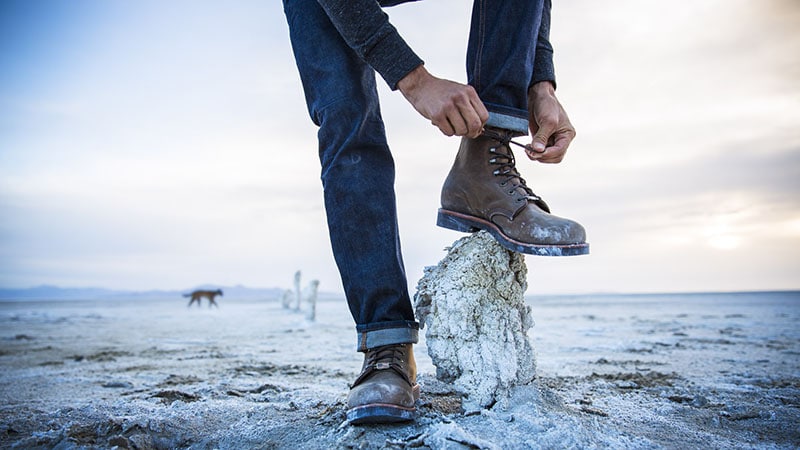 27. Helm Boots
Even though Helm is a younger company, they create their footwear with traditional and heritage methods. It takes more than 153 steps to complete a pair of boots, including premium leather and their recognizable white inner sole. There are countless styles to choose from – you can take a quiz that helps you find the perfect pair.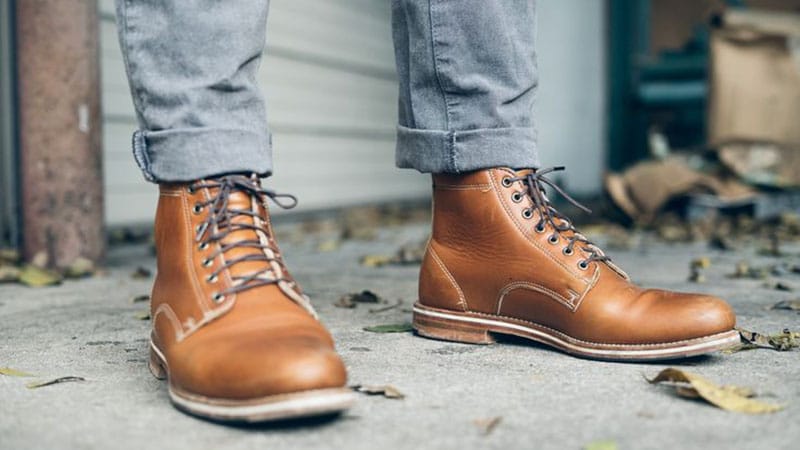 28. Merchant 1948
Merchant 1948 is a footwear company with a rich history. It was founded in 1948 by Guglielmo, an Italian immigrant who managed a series of shoe stores in New Zealand. The boot brand currently offers a diverse range of footwear options for both men and women. Some popular choices include leather or suede Chelsea boots, hiker silhouettes, and hi-top sneakers. Many of these styles are designed and crafted in countries such as the Netherlands and Portugal.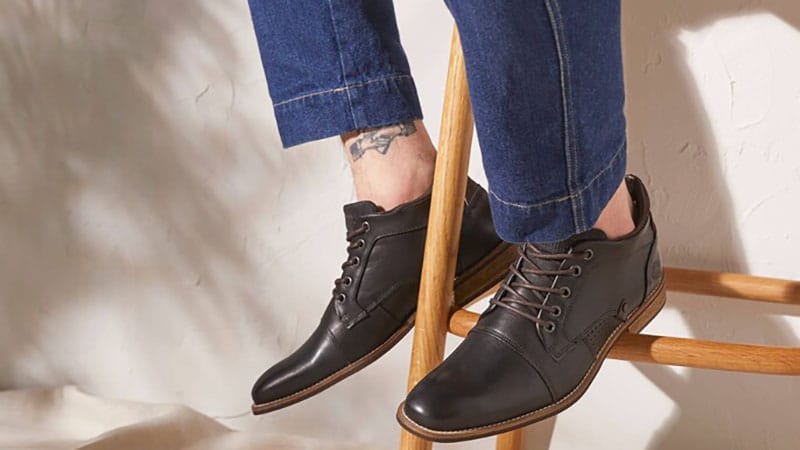 Men's Boot Brands FAQs
What are the best boot brands for men?
There is a wide selection of top men's boot brands available, including Dr. Marten's, Grenson, Red Wing, Timberland, Ariat, Helm, Danner, R.M. Williams, and Clarks. In addition to these, Belstaff, Hunter, Fracap, Frye, and UGG are also recognized as good boot brands.
What are the best work boots for men?
The best men's boot brands are Carhartt, Caterpillar, Blundstone, Timberland Pro, Danner, Dr Martens, Golden Fox, Maelstrom, Wolverine, Chippewa and Dexter.
What are the most popular cowboy boot brands?
Ariat is widely recognized as one of the top brands in the cowboy boot industry for men. Other renowned boot brands like Lucchese, Justin, and Larado are also highly regarded by cowboys and widely considered to be among the best boot manufacturers available.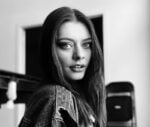 Alexandra Feiam is an experienced fashion writer who holds a degree in journalism. She has an impressive portfolio and expertise working as the Editor at Power Retail and Commercial Content Editor at Newscorp. Ally has been writing for The TrendSpotter since 2018, and her work has been featured in notable publications such as The Herald Sun, Arirang TV South Korea, Kidspot, The House of Wellness, and The Daily Telegraph.
SUBSCRIBE TO OUR NEWSLETTER
Subscribe to our mailing list and get interesting stuff and updates to your email inbox.