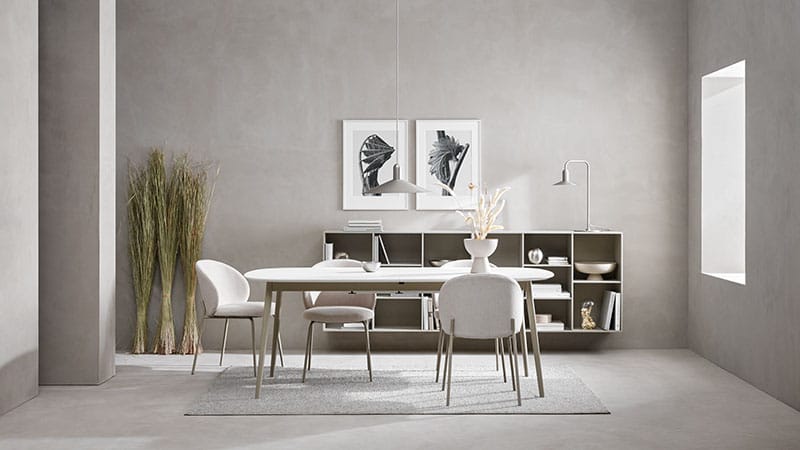 The core principles behind Scandinavian design are functional minimalism and natural beauty. That's precisely what each of these Scandinavian design brands brings to their products, whether it's shoes, fashion, jewelry, watches, furniture, technology, toys, or even cars. They embrace natural components, neutral and soft colors, expert craftsmanship, and a focus on sustainability and superior materials. Consequently, if any area of your life needs increased simplicity, cathartic decluttering, or just more refined elegance, then check out the companies below.
1. BoConcept
Add some sleek, contemporary style to your home with BoConcept. Established in Denmark in 1952, the brand now serves over 60 countries with 300 stores. Explore a range of premium designer furniture, accessories, and lighting. You can kit out your living, dining, sleeping, home-office, and outdoor spaces while still letting your unique aesthetic shine through with customizable items. There is a focus on quality through craftsmanship, materials, attention to detail, and people. If it all seems a bit overwhelming, you can also employ the help of the brand's interior design service. Seek assistance choosing a single item, redo an entire room, or get a whole new look through your entire home. The team will work with your lifestyle, personality, and budget to create the perfect results.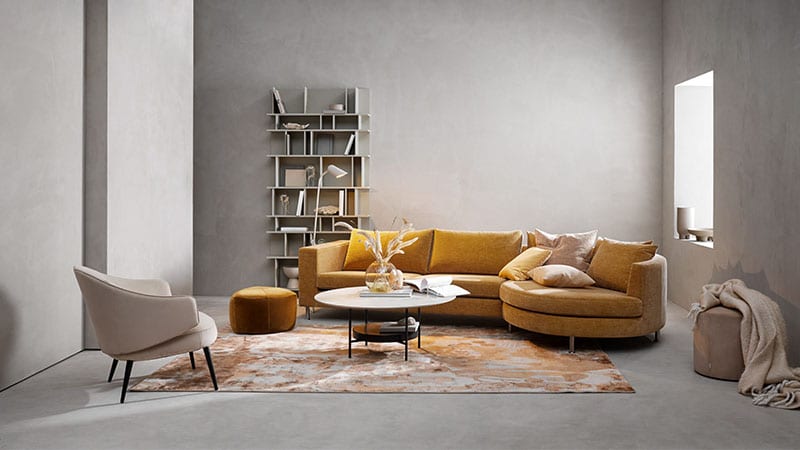 2. COS
COS is a destination for timeless design. Browse the selection of men's, women's, and children's clothing that transcends seasons to build out a wardrobe that's always in style. The brand focuses on inspired Scandinavian minimalism, the finest fabrics, sustainably sourced materials, and expert craftsmanship that will endure. The Swedish-British company opened its first store in London in 2007, followed by its online presence in 2011. Currently, it's owned by retail giant H&M, although it still operates independently. Phenomenal growth means the company now has 280 stores in 44 markets in Europe, Asia, North America, the Middle East, and Australia.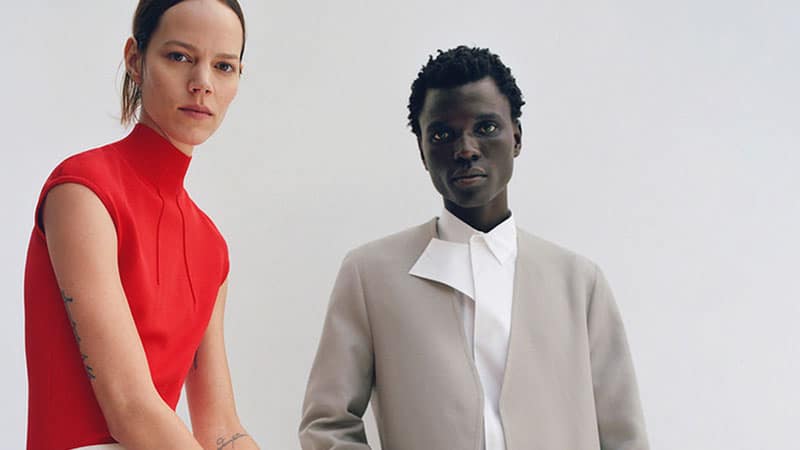 3. BANG & OLUFSEN
Invest in some high-end, luxury tech with the range from BANG & OLUFSEN. Danish businessman and engineer Camillo Bang teamed up with Svend Olufsen, launching the company in 1925 with a focus on radio technology and sound systems. The current range includes speakers, headphones, televisions, accessories, and items for your home office. Each product is the perfect blend of striking Scandinavian design and quality functionality. Consequently, you can enjoy revolutionized, immersive media experiences without compromising on a beautiful aesthetic. Block the world out with noise-canceling headphones, connect seamlessly with wireless speakers that look more like works of art, or remaster your home cinema experience with an elegant Beovision TV. In addition to consumer products, BANG & OLUFSEN also have a business-to-business arm, which includes selling audio systems to car manufactures such as Audi and Ford.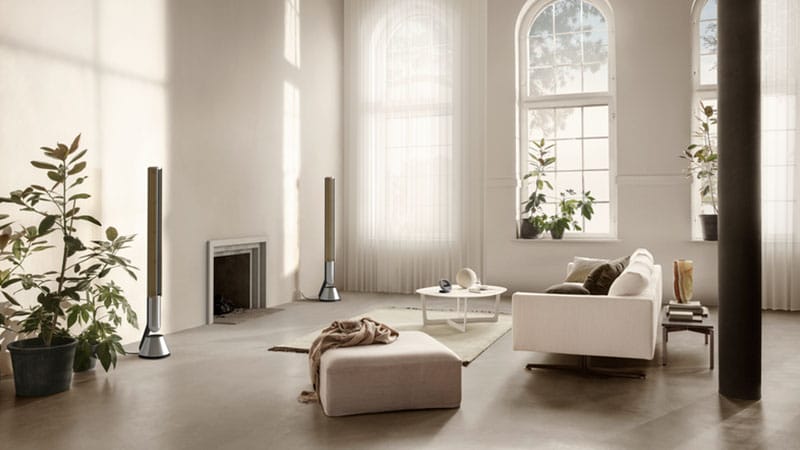 4. Acne Studios
Acne Studios is based in Stockholm and runs under the guidance of founder and Creative Director Jonny Johansson. The brand was originally part of the creative collective ACNE, an acronym for Ambition to Create Novel Expressions. However, it separated as its own entity in 2006. Jeans with distinctive red stitching were the first product made and distributed among friends and family. These quickly drew the attention of publications like Vogue, giving the brand the boost in popularity needed to grow. As Creative Director, Jonny has an interest in photography, art, architecture, and contemporary culture. This shows in the collection of men's and women's ready-to-wear fashion, showcasing signature juxtaposition, attention to detail, eclectic use of materials, and expert tailoring. Trademark items include the Face collection, denim relaunched under Acne Studios Blå Konst, and even the iconic pink Acne shopping bag, which has become a coveted collector's item.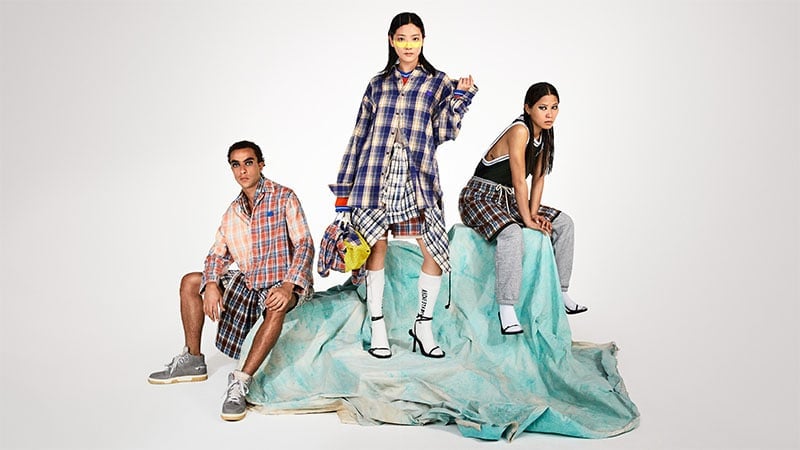 5. Skagen Watches
Treat yourself to a timeless, elegant watch. Skagen Watches hails from the northernmost town in Denmark, Skagen, which is known for its quaint yellow houses, incredible light, unique nature, and beautiful white beaches. The company has been around since 1989 and embraces Danish minimalism in each watch's slim design. The styling and subdued but elegant palettes also reflect the quiet coastal lifestyle of its hometown. Explore the Aaren Naturals range, which features recycled materials and leather alternatives. Additionally, you'll also find a selection labeled as pro-planet, meaning they contain more than 50% recycled product, reduce the use of natural resources in production, or are renewable and regenerative. Both are part of the brand's commitment to designing for the future and leaving the world a better place for future generations. Finally, to complement the watches is a collection of inspired jewelry.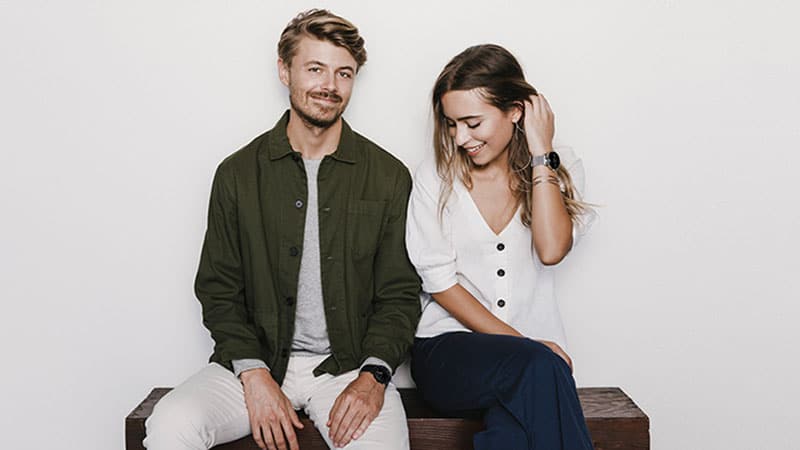 6. Nudie Jeans
Social and environmental sustainability have been the core philosophies behind Swedish-based Nudie Jeans since the beginning. The brand's core products are dry (or raw) denim jeans. Since 2012, every pair is made with 100% organic cotton and the iconic indigo dye. They're intended to be worn for a lifetime, wearing, fading, and aging with you on your journey through life. That's why Nudie Jeans has a unique service with their Repair Shops. No matter when or where you bought your jeans, if they tear or break, you can take them in to be fixed and returned to you as a new version of your old favorites. Alternatively, you can also donate them to be sold as second-hand jeans or used in the recycling program. Complementing the range of jeans is a selection of shirts, jackets, shorts, tees, knits, and accessories.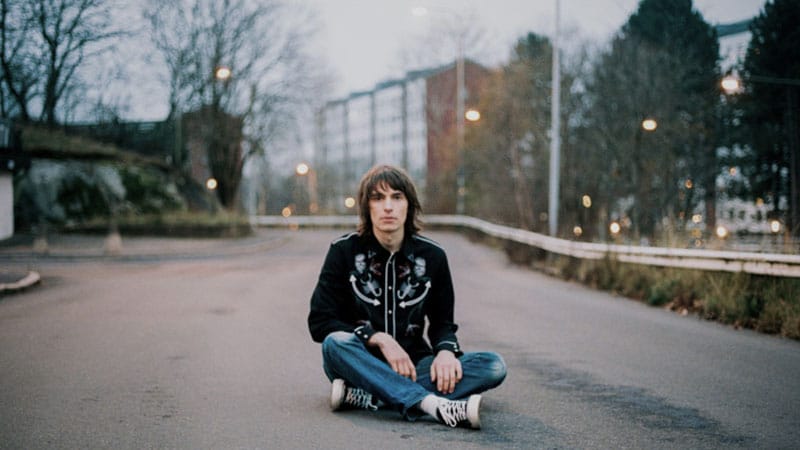 7. LEGO
LEGO is easily one of the most recognizable toy and Scandinavian design brands in the world. Ole Kirk Kristiansen launched the company in 1932 from a small carpentry workshop, starting with wooden toys. Its name is an amalgamation of two Danish words, "leg godt," meaning "play well." The LEGO brick is the most iconic product; however, it wasn't until 1958 that its current form came into existence. Since then, it's been the foundation of imaginative play and creative building for hundreds of thousands of children (and adults). Choose sets that let you be as expressive as you like, or build epic masterpieces from movies, television shows, books, science, and history. The world of LEGO extends well beyond the bricks, though, with LEGOLAND theme parks, discovery centers, LEGO® House, and the LEGO Foundation, which creates lifelong learners by empowering children through play.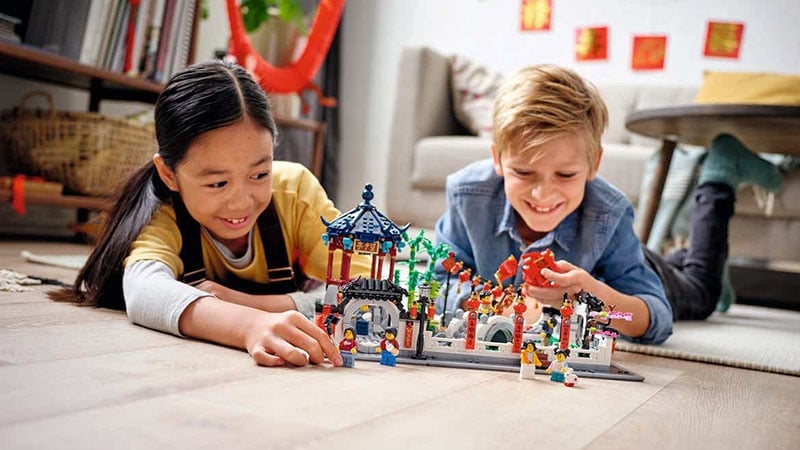 8. Sandqvist
If you're looking for a well-crafted, design-led, practical bag, then Sandqvist is the answer. This Swedish brand started as a design experiment between founders Anton, Daniel, and Sebastian. They focused on high-quality designs, uncompromising functionality, sustainability, and respect for the environment. Consequently, the brand grew organically, filling a gap in the market. The silhouettes are clean, unfussy, and quintessentially Scandinavian. Choose from a range of styles, including small shoulder bags for the bare essentials, everyday bags that are perfect for laptops and work supplies, or weekenders and backpacks that are ideal for escaping to the countryside and getting back to nature. Shop online, or visit one of the stores across Europe, with shops in London, Paris, Berlin, Stockholm, and Göteborg.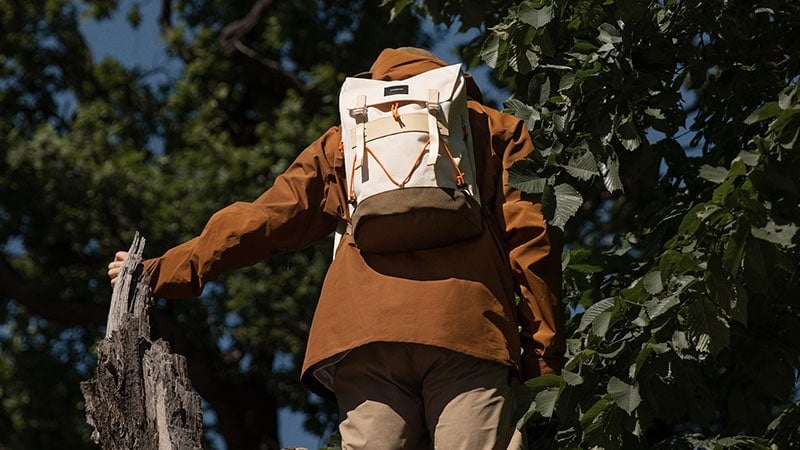 9. Larsson & Jennings
Larsson & Jennings is a watch and accessory brand with roots in Stockholm and London. Andrew Jennings and Joakim Larsson launched the brand in 2012 as a disruptor to an industry full of mass, unsustainable production and a few dominating companies. As such, they do things differently. Each design takes inspiration from Scandinavian minimalism for a timeless and elegant result. They also pioneered influencer marketing, manufacture out of a safe and fair factory in China to reduce the carbon footprint, and have a goal of carbon neutrality by 2030. The watches feature classic and natural color palettes of black, gold, silver, and rose gold with metal or leather bands. The collection also includes jewelry, sunglasses, bags, and LJ merch.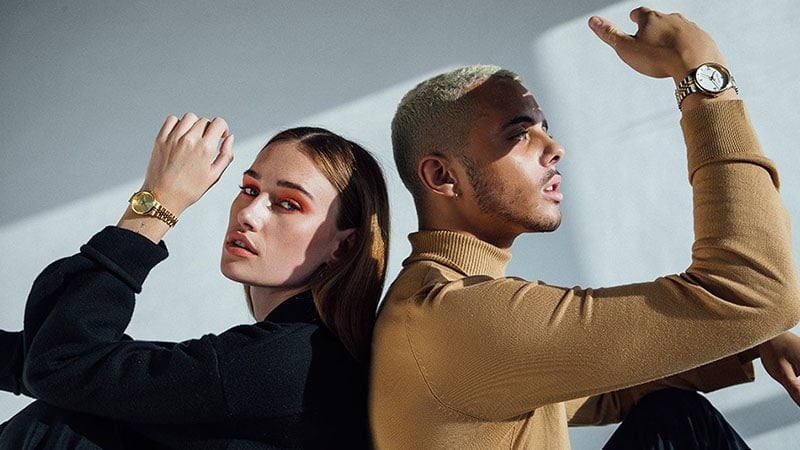 10. Muuto
Boasting deep Scandinavian roots, Muuto is a furniture, lighting, and accessories brand based out of Copenhagen, Denmark. The name is inspired by the Finnish word, 'muutos,' meaning a new perspective. Consequently, they take the enduring aesthetics, functionality, and craftsmanship of Scandinavian design and expand on it with forward-looking materials and bold thinking. Select from cozy couches, inspired lighting, agile side tables, creative shelving and storage, adaptable dining tables, and modern seating. You can visit the flagship stores in Paris and Stockholm or the showrooms in Copenhagen, Chicago, Oslo, London, Hamburg, Cologne, Aarhus, and Shanghai.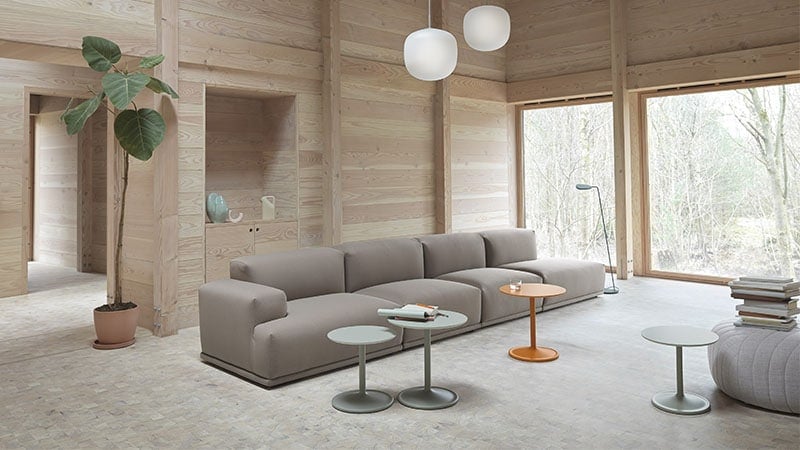 11. Volvo
Take a drive in some Swedish luxury. Volvo is a premium car brand based in Gothenburg, Sweden. It's been innovating for nearly a century, making your journey easier, safer, and better overall. Some of the newest technologies incorporated into vehicles on the road included improved connectivity and increased electrification. The brand has a goal to only manufacture electric cars by the year 2030, replacing internal combustion engines entirely. Off the road and still under development is the future of the industry – autonomous driving. It's set to change the entire transport landscape, improve safety, and reduce incidents. Also at the core of the organization is the Swedish word omtanke, meaning caring, considering, and think again. This guides the approach to sustainability, with goals of carbon neutrality by 2040 and 25% recycled plastics used in new cars by 2025.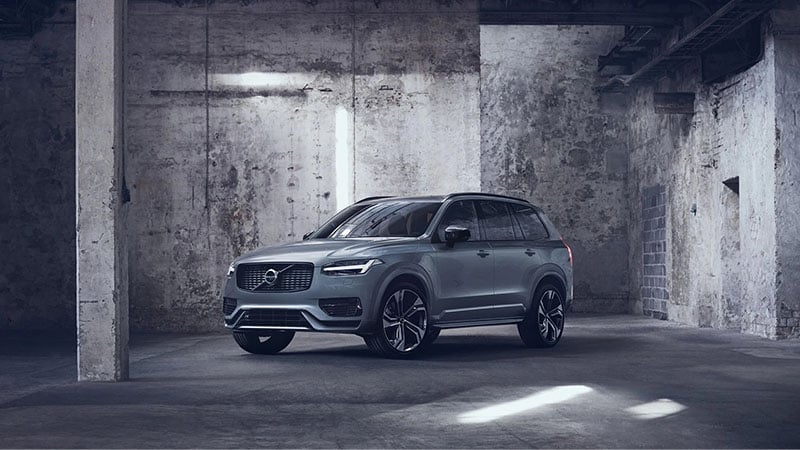 12. Rains
Inclement weather is seen as an opportunity rather than a bother at Rains. The contemporary rainwear lifestyle brand looks to its Scandinavian roots to strike the ideal balance between functionality and considered design. Just because it's raining doesn't mean fashion gets thrown in the mud. Simplicity is at the core of the Denmark-based company's products, yet it doesn't forgo the desires and tendencies of a global consumer. As such, the range of waterproof rain jackets, pants, bags, and accessories, plus warm and toasty under layers, are minimalist, timeless, and appealing. Shop online for your next wet-weather garment, or visit one of the concept stores in Copenhagen, Paris, New York City, and London.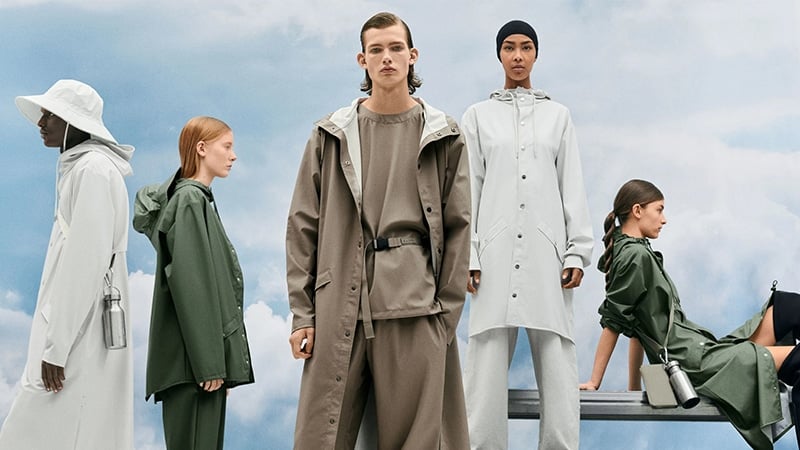 13. SWIMS
Scandinavian design is known for its simplicity and functionality, something which Norwegian brand SWIMS embraces. Like many companies, it started by providing a solution to a problem. Founder Johan Ringdal studied in New York, traversing the city's rainy streets in his grandpa's old galoshes. It became apparent that there should be a better, more stylish yet still utilitarian alternative for wet weather shoes. The result was the SWIMS Classic Galoshes, an urban style with a cheeky character that's just as good sloshing through the snow as it is on a boat during summer. The men's and women's range of footwear now includes loafers, sneakers, boots, and even waterproof wool chukka boots, as well as outwear, bags, and umbrellas. Plus, because water is such an integral part of the business, you can also pick up a selection of men's swimwear.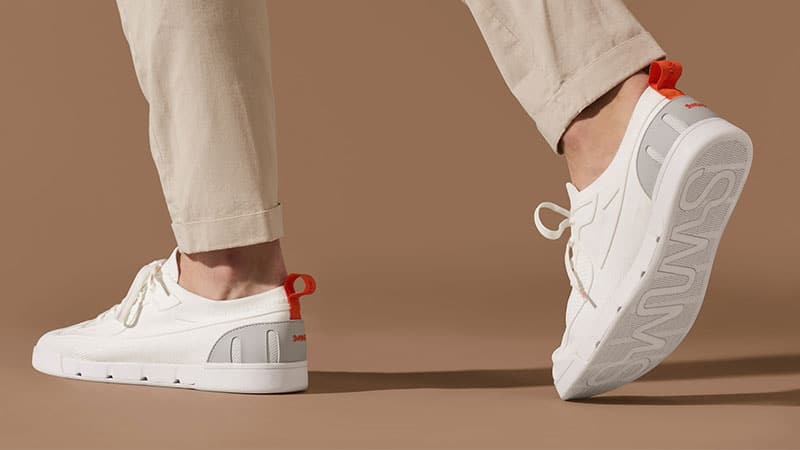 14. Fjällräven
Nature is the perfect antidote to a hectic urban life. As such, outdoor clothing and equipment company Fjällräven is all about embracing the wide-open spaces and reconnecting with nature. It's based in Örnsköldsvik, Sweden, a place where the mountains and forest meet the sea. Like many other Scandinavian design brands, the clothing, bags, accessories, and gear are simple, practical, and enduring. You can dress the whole family for any adventure with men's, women's, and children's clothing, plus bags for everyday life or overnight and trekking adventures. There are also tents, sleeping bags, hunting accessories, and useful travel items. Being acutely aware of the impacts that modern life has on the environment, the brand's goal is to keep its footprint as small as possible. This is done through sustainable and innovative materials created to last, conscious manufacturing, strict standards with all suppliers, and constant innovation.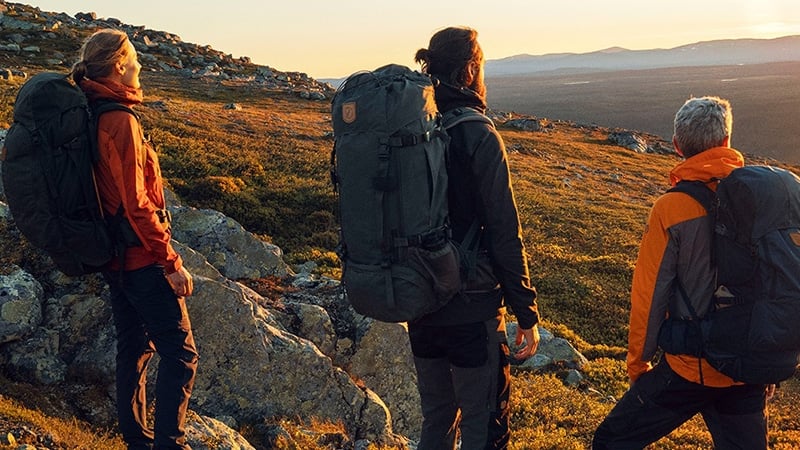 15. Georg Jensen
Enrich your home and body with the timeless Scandinavian designs from Georg Jensen. The company's namesake, Georg Jensen, was an expert silversmith who grew up near Copenhagen in Denmark. He was widely considered one of the most important silversmiths in the world. The natural surroundings of his home served as inspiration for early jewelry, homewares, and cutlery. He launched the brand in 1904, embracing an avant-garde Art Nouveau style with a combination of craftsmanship, functionality, and artistic aesthetics. Shop for a range of items, from delicate and beautiful jewelry and watches to all kinds of dinner, home, serving, and bar wares. Some of the most iconic designs include the Torun bangle, Tureen 270, Acorn flatware, and Henning Koppel's collaborations.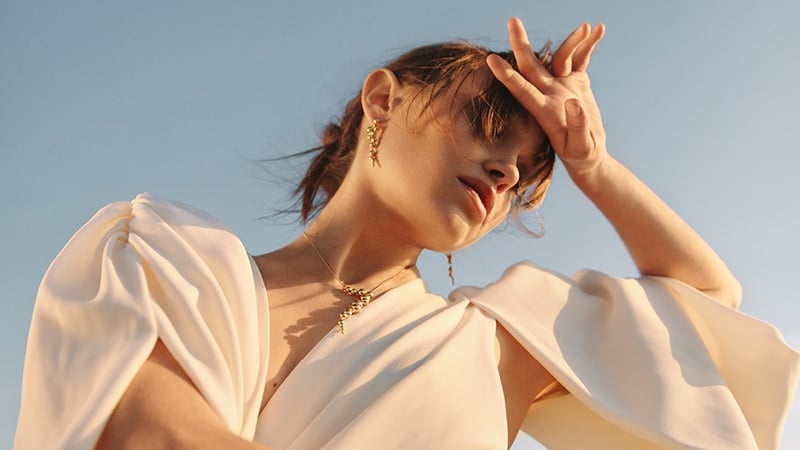 16. Pandora Jewellery
Pandora Jewellery has long been a favorite gift for birthdays, anniversaries, weddings, and other special occasions. Perhaps the most famous item in the range is the charm bracelets, which first launched in 2000. They quickly gained popularity because they let the wearer personalize their bracelet to express individual stories and styles. However, the Danish company has been around a lot longer, starting in 1982 as a jewelry retailer, before shifting to wholesale, then manufacturing. The brand currently owns four factories in Thailand, with a global retail presence in 40 countries across six continents. Beyond the stunning charm bracelets, the collection also includes earrings, other bracelet styles, necklaces, and rings. The materials used include sterling silver, 18K gold plating, 14K rose gold plating, colored enamel, and crystals like cubic zirconia.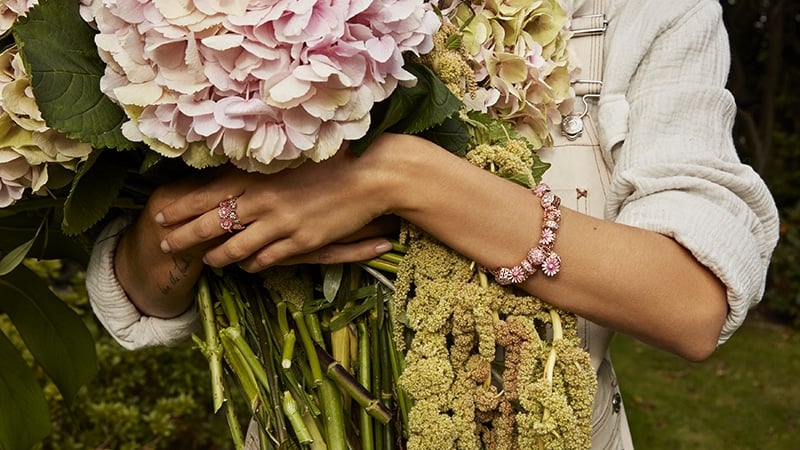 17. TRIWA
TRIWA is an acronym for Transforming the Industry of Watches. It's a young, independent watch company based in Sweden that seeks to make a change in the world. Every design tells a story, prompting conversations about important issues of our time, including pollution and gun violence. They use innovative materials such as recycled ocean plastic produced by Tide Ocean Material® from Switzerland and destructed illegal firearms. For every watch sold from the latter collection, 15% is donated to conflict-torn societies and victims of armed violence. Other more traditional materials include vegetable-tanned leather from Tärnsjö, stainless steel, and Japanese quartz movements. Every style is intended to be simple, timeless, and practical, so you'll wear them for a lifetime as a modern statement symbol. In addition to watches, there's also a small selection of sunglasses, bracelets, and interchangeable watch straps.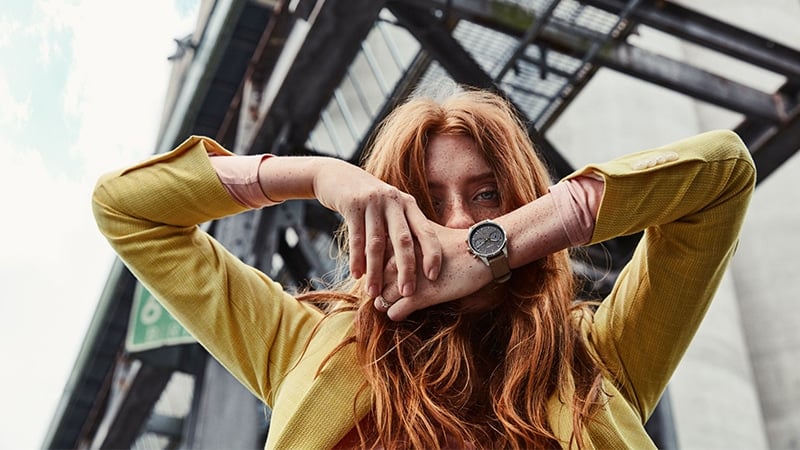 18. Norse Projects
Norse Projects is a Copenhagen-based contemporary clothing brand creating highly adaptable designs mixing streetwear, workwear, and high-fashion. They make clothing for both men and women, as well as accessories. Plus, the brand boasts a variety of practical and stylish collections, focusing on sustainability and functionality. This includes the Everywear capsule, which uses 200GSM organic cotton and SeaCell™, a natural seaweed fiber that can help soothe the skin. Plus, there's an ECONYL® fiber program that regenerates recovered nylon waste, such as fishing nets, to create virgin fabrics. Other innovations include the packable series, which ensures you're always prepared for the unexpected, as well as materials like natural indigo-dyed denim and GORE-TEX. Finally, Norse Projects regularly collaborates with other inspiring brands such as Barbour, Adidas, Dr. Martens, and Oi Polloi.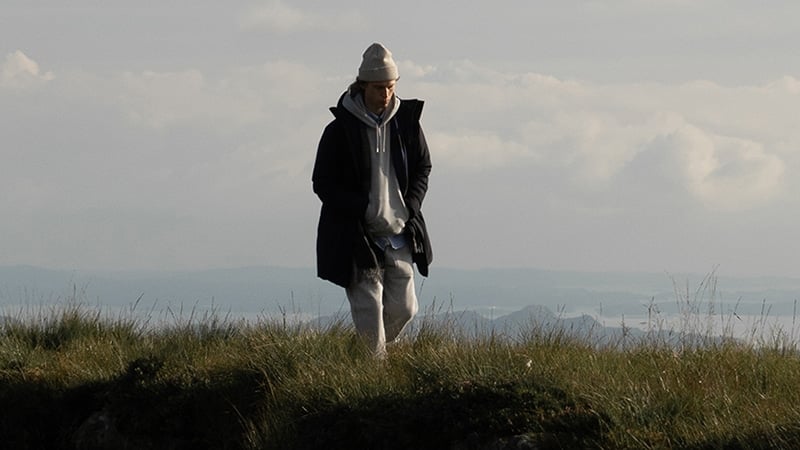 19. Filippa K
Redefine your wardrobe with the collection from Scandinavian clothing design brand Filippa K. Embracing slow fashion, the company's focus is on minimalism, longevity, and impeccable fit. That way, you'll keep, love, and wear your clothes for longer, bettering yourself and the environment. Shop for both men and women, with garments like blue wash jeans, classic cut tees, refined trousers, and crisp white button-up shirts. In addition to sustainability through longevity is sustainable materials. The brand sources the best fibers for aesthetic, comfort, and performance with options like linen, Swedish leather, lyocell, silk, recycled cotton, alpaca wool, and yak wool. Founder, Filippa Knutsson, launched the brand in 1993 to remove the stress of dressing, believing that simple garments in everyday designs can produce style and comfort in equal measure.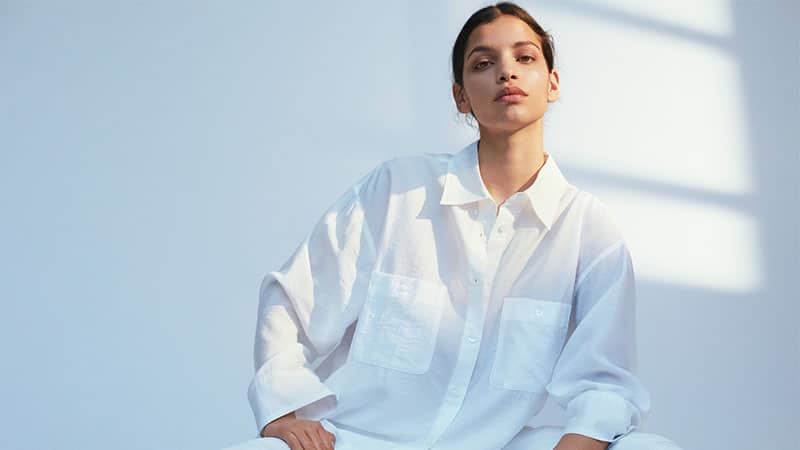 20. Stutterheim
Stutterheim is Swedish melancholy at its driest. This Scandinavian design brand makes premium rainwear to keep you dry even in the most miserable of conditions. After the sad passing of his grandfather, founder Alexander Stutterheim found his old raincoat in a barn. It was heavy, durable, and timeless — all key details that informed the first raincoat design from the brand, the Arholma, named after the island Alexander's grandfather lived on. Every release since has also featured these utilitarian characteristics combined with Swedish minimalism. Now, the collection features men's and women's raincoats and boots in varying styles and lengths. Plus, you can get the most adorable children's jackets and even coats for your dog!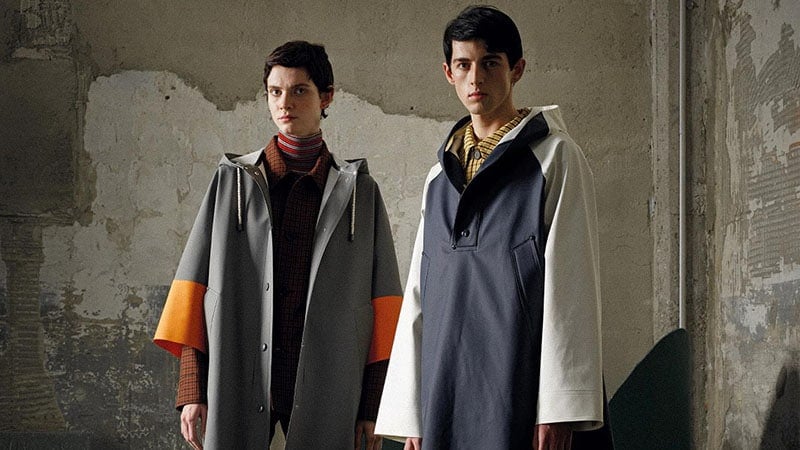 Scandinavian design follows a few fundamental tenets. These are a minimalist yet beautiful aesthetic, extreme functionality, neutral colors in both light and dark shades, and an embrace of natural and sustainable materials as well as natural light. You won't find unnecessary clutter or details to take up space in the room, design, or your mind. Much of the appeal is the simplicity and light that evokes a sense of calm and stability. 
The Scandinavian people love the outdoors, so you'll find many natural materials used in Scandinavian design. Look for solid wood in light hues like beech and ash; natural textiles that are warm yet breathable such as wool and cotton; and innovative materials that lessen the impact of fashion and design on the environment. In line with the style's practicality, you'll also find really functional elements like waterproof fabrics, recycled metals and wood, leather, and glass. 
More often than not, the phrases Nordic and Scandinavian design are used interchangeably. Scandinavia is a geographic region that encompasses the three countries of Sweden, Norway, and Denmark. Meanwhile, Nordic also refers to a geographic and cultural area that includes the Scandinavian countries, plus Finland, Iceland, Greenland, the Faroe Islands, and Åland. When it comes to style and design, both terms are used to describe clean minimalism with a focus on natural beauty and practical functionality in fashion, furniture, home decor, technology, and jewelry. 
Scandinavian design brands do tend to be of high quality. Like cooking, if you're only working with a few ingredients, you need them to be of the highest quality for the end dish to be delicious. The same applies to fashion, furniture, homewares, or jewelry. The absence of fuss and fluff means more effort and quality is put into the bones of every design, resulting in a better end product. Of course, like any industry, there are sure to be some lemons, but as a generalization, you won't go wrong investing in authentic Scandinavian-designed pieces.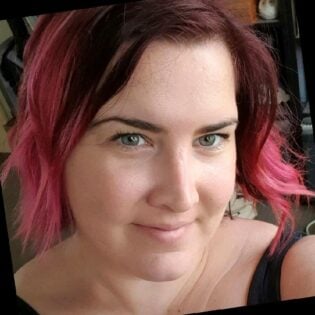 Alexandra Linde is an experienced writer holding a bachelor's degree in Journalism. She is the owner of Alexandra McKiterick Creative and has expertise in travel, fashion, fitness and lifestyle. Alex has previously written for Flightcenter, Travello, and Backpacker Deals.
SUBSCRIBE TO OUR NEWSLETTER
Subscribe to our mailing list and get interesting stuff and updates to your email inbox.