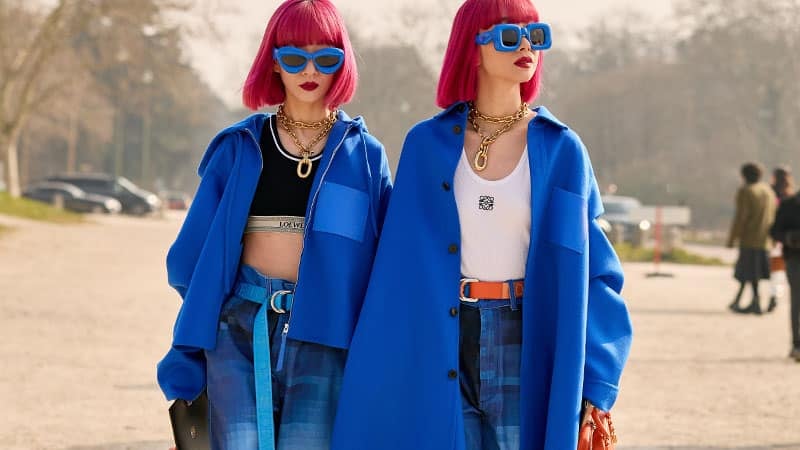 With the end of the fashion month comes the latest trends. It's time to spot and embrace the season's must-haves. From the runway to the streets, there are major style influences that we know you will love. Update your style mood board with these best street style trends from Autumn/Summer 2023 fashion weeks.
RELATED: 10 Top Accessory Trends from Autumn/Winter 2023 Fashion Weeks
1. Beige Outfits with Metallic Footwear
It's time to brighten every room you walk into with these beige monochromatic outfits. Perfect for every season, this transformational shade is a versatile choice to wear – you can wear it to the office, a night out, or running errands. For a classic take, wear a skirt and shirt in similar shades – it doesn't have to match exactly. Play with nostalgia by adding a mini dress and pants. For best results, opt for cigarette trousers or longline flares – this will elongate your limbs and create a better line. Add a longline coat that grazes the calf or ankle during cold months. You can throw in an extra color for your accessories and footwear – metallic gold or silver are especially effective ways to add dimension.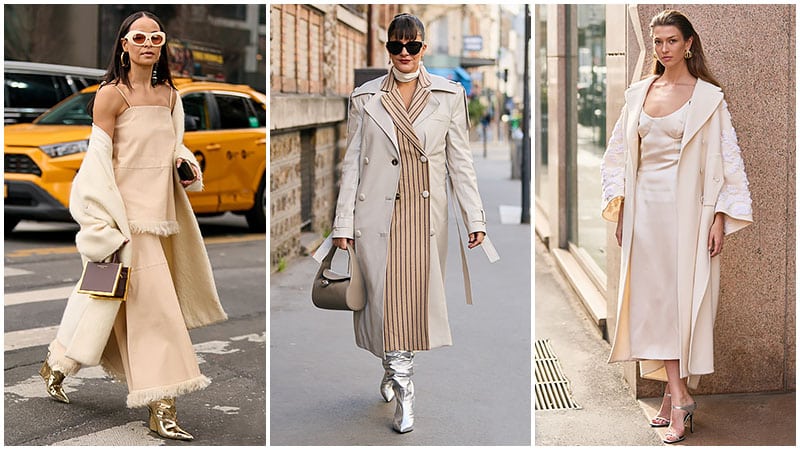 Get the Look
2. Black Outfits with Statement Gold Trim Accessories
If Schiaparelli has taught us anything over the last three years, it's that black and gold outfits are the key to edgy elegance. Create this look by building a foundation of black clothes – depending on the occasion; you could try an LBD or daring dress. If you prefer something casual, you can't go past a long coat and leather knee boots. Next, add accessories that feature gold. The important part to consider is the base shade of the trimmings – it should be dark enough to blend with the rest of your garments. Belts, bags, earrings, and everything in between are perfect embellishments for this look – go out and experiment.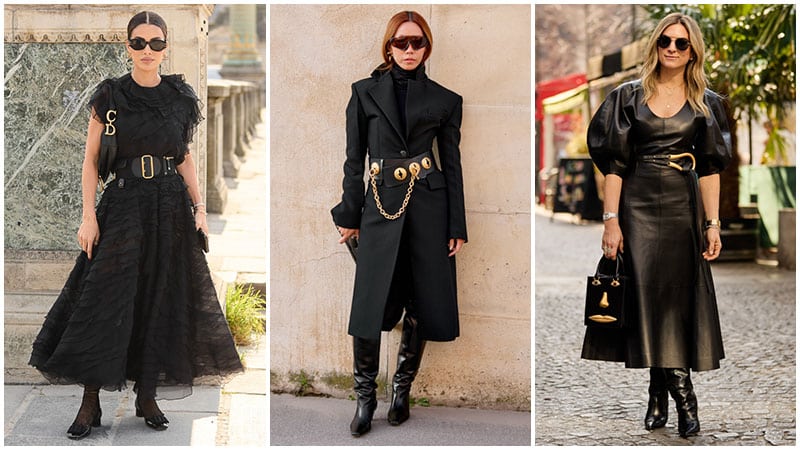 Get the Look
3. Cobalt Blue Head to Toe
We spot a popular color of choice every season, and this time it's all about cobalt. This electric shade is a great option, as it suits almost every occasion and works in any season. For a dramatic look, a matching set or skintight dress will turn heads. Play with textures like denim, leather, satin, or suede – this will add complexity to the look and keep it from appearing flat. Always a versatile color, you can also try it in the form of a trench coat. Wear it alone as a dress or with other pieces; it's a timeless garment that belongs in every wardrobe.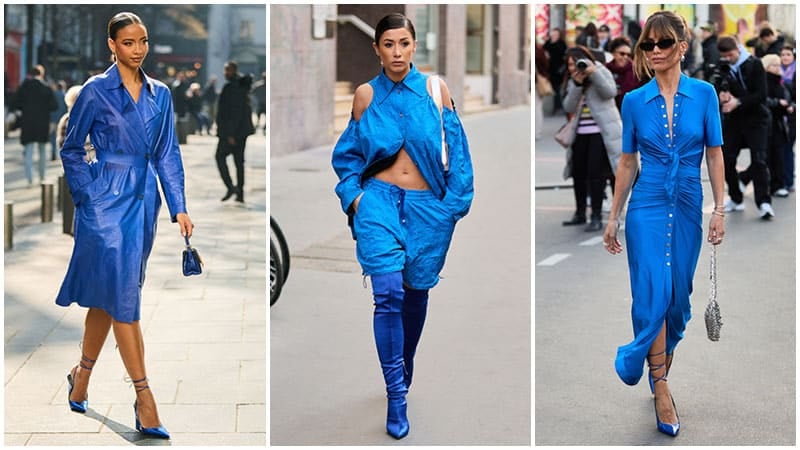 Get the Look
4. Cream Knee High Boots
If an all-beige look is too extreme for you, dip your toes into the world of cream boots. These stylish and fabulous shoes aren't just trendy – they're an iconic part of fashion history. Made popular in the '60s, this footwear has returned to the scene a few times since, and this time it's received a modern kick. Wear it with a mini skirt, a la Mary Quant or Andre Courreges, to showcase your pins, or rock a midi skirt to create an accentuated silhouette. The beauty of this boot trend is its longevity and adaptability – if you love the Y2K aesthetic, '60s mod fashion, or '80s fashion, you can work them into your outfit effortlessly.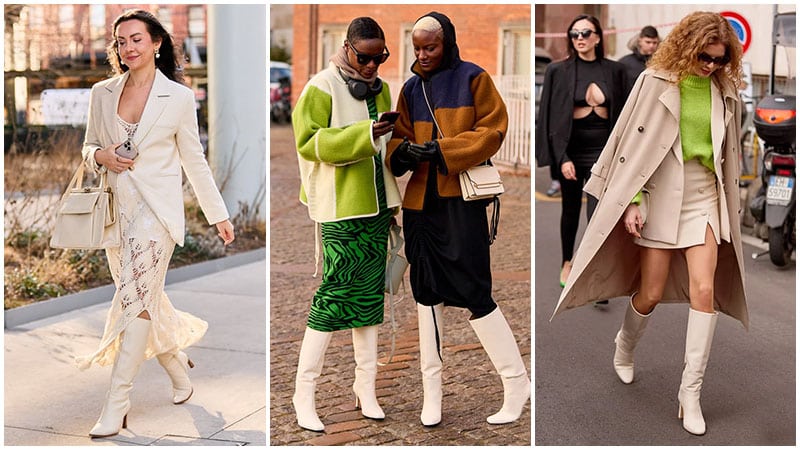 Get the Look
5. Fluorescent Bags
We've had the rise of neon clothes and footwear for many years, and now we're leaning into handbags. From Diesel and Balenciaga, there are plenty of designers that embrace this bright color palette – and we're not mad about it. While the most common styles we've seen are in the form of top-handle handbags, you can wear this as a clutch, hobo or shoulder bag, or even a backpack if you prefer. Pair them with a dark monochrome ensemble to help it pop, or lean into it further with other bright garments – you'll be bold no matter the choice.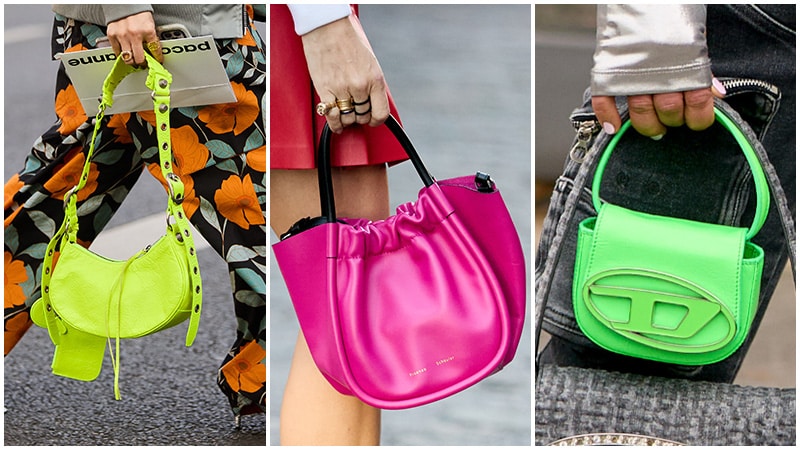 Get the Look
6. Gold Oversized Wearable Art Earrings
Taking another leaf from Schiaparelli, it's time to wear art on your body. These stylish and sculptural earrings are the ultimate choice for making a statement. They're bold and creative yet remain elegant and refined, meaning you can wear them with anything and look chic. Wear them with an all-black or blue outfit to emphasize the gold, or mix it up with different textures like feathers or fur to add extravagance. Of course, not everyone can afford to pay designer prices, so when looking for a dupe, be sure it's oversized and features a non-traditional design worthy of a museum. After all, you are a work of art, so why not dress like one?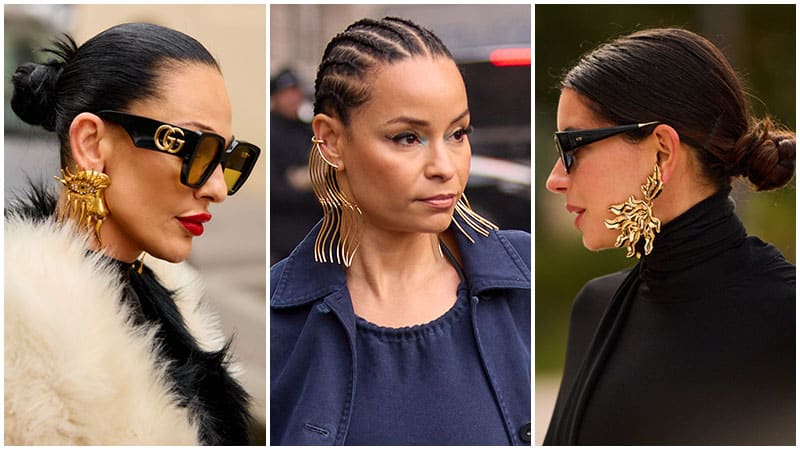 Get the Look
7. Naked Look
The nude illusion trend has not budged for years, and we're now seeing a reinterpretation of it for 2023. Sheer fabrics are a common choice for tops and dresses, showcasing everything you've got underneath. For the bold, leave your chest bare, but if you want a bit of privacy, feel free to add nipple pasties or a bra for good measure. Another interpretation of this look is the nude effect – you aren't necessarily showing off your own body, but a printed image instead. This was made famous by Jean Paul Gaultier and has since made its lasting mark on the fashion industry. Dress it up with a pair of slinky heels or keep it casual and low-key with a pair of sneakers or boots – this will roughen it up a bit and add even more edge.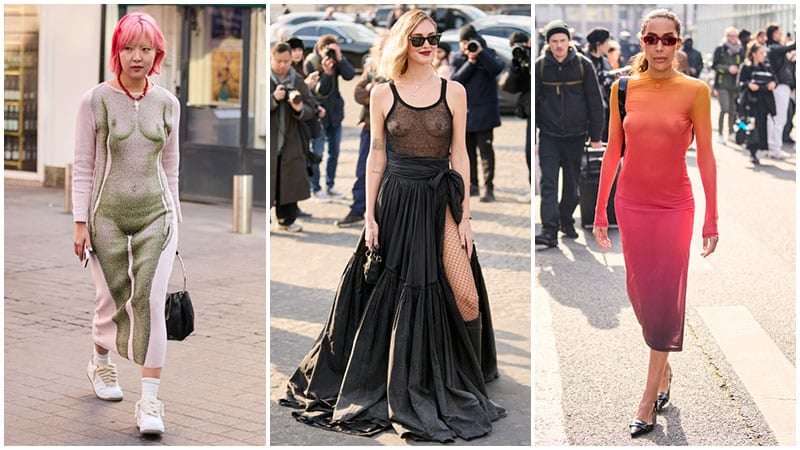 Get the Look
8. Nostalgic Soft Girl Aesthetic
The soft girl aesthetic has remained strong for a few years, but it's time to switch it up by giving it a nostalgic twist. Playing into the Y2K and 90s aesthetic, combine the classic elements of the soft girl, such as pink, blue, and white, and use them with a nostalgic mindset. This means mini skirts, low-rise jeans, butterfly motifs, double denim, and crop tops. Keep the textures soft, and stick to pastel or lighter shades to give off a hyper-feminine effect. There are so many options to try with this trend, so you can experiment and find what works best for you.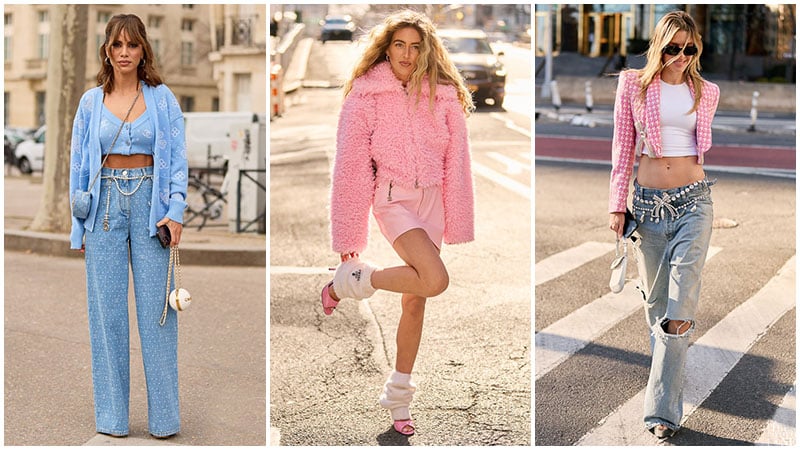 Get the Look
9. Platform Shoes with White Socks
If you're a big fan of platform shoes, rejoice, as this trend is sticking around for another season or two. The hyper-elevated footwear is a great choice for a mini skirt or floor-touching trousers, but if you want to switch it up, consider adding a pair of white socks. This schoolgirl-esque spin gives a fresh take on the staple shoes and can add an entirely new element to your existing outfits. Keep the socks pulled upward, and don't let them slouch and drop – the fine details will add polish to an already edgy look, tying it together perfectly.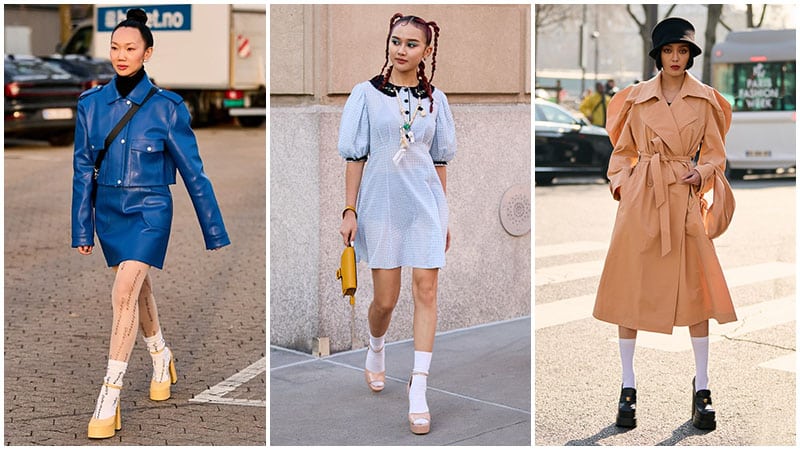 Get the Look
10. Unique Denim Maxi Skirt Sets
Who said jeans and jackets were the only way to wear double denim? This unique and standout selection of blue is the perfect way to update your Canadian Tuxedo and make it look effortlessly chic. Once again, leaning into the nostalgic trends, maxi skirts that hit your ankle are the way to go this season. Of course, there's no better way to finish the look than with a matching jacket or vest. Find embellishments or trims to the fabric to give it an even wilder twist. Alternatively, add something yourself for a one-of-a-kind garment. Whether you wear nothing underneath or keep it classic with a white tank or T-shirt, you can dress it up or down with heels, boots, or a pair of chunky loafers.
Get the Look
SUBSCRIBE TO OUR NEWSLETTER
Subscribe to our mailing list and get interesting stuff and updates to your email inbox.