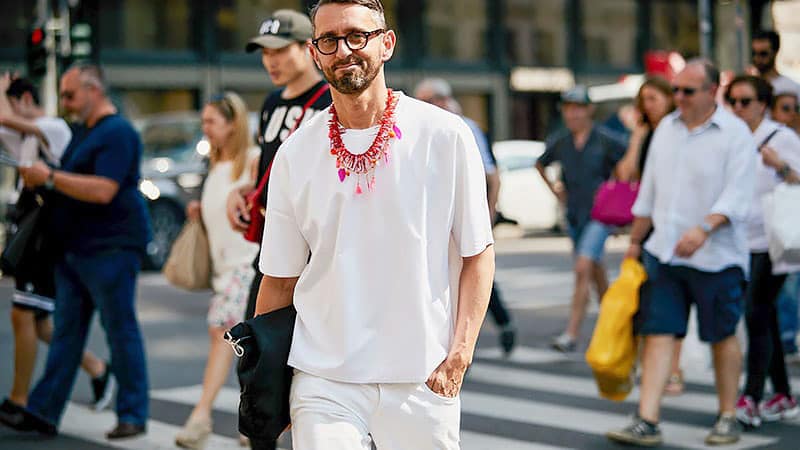 You don't always need colour to create a bold and striking outfit. In fact, some of the most eye-catching looks around today feature nothing but white. While white garments appear less than exciting when worn individually, a head-to-toe white ensemble can be positively thrilling. So, if you're confident enough to go completely colourless, why not try this simple yet statement style? If you're not sure where to start, that's no problem. We can help. We've rounded up the coolest all white outfits for men that can suit a range of occasions.
All White Outfits for Men
Casual White Outfits
Wearing a casual, white outfit needn't be complicated. All you need to do is keep things simple and comfortable. To do so, try investing in a pair of white jeans or sweatpants. Once you have your casual white pants, you'll likely be able to create a cool all-white ensemble by adding items already in your wardrobe. For instance, a white T-shirt and white sneakers are pieces most gents already own and can look great with white pants. If the weather's cold, add a white jacket to complete your look. While many styles can work, a white denim option appears particularly appropriate.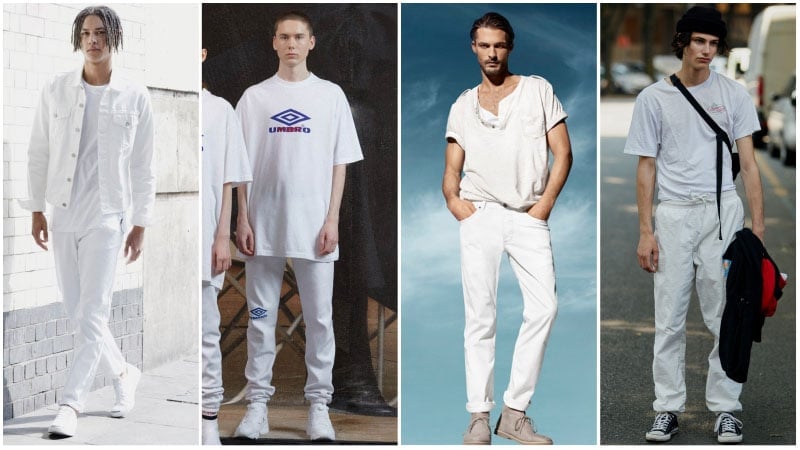 SHOP THE LOOK
Smart Casual White Outfits
While many men turn to black for an elegant appearance, white can actually work just as well. So, if you're looking to achieve a smart casual aesthetic, be sure to consider an all-white ensemble. While white appears striking when worn all over, the simple shade also comes across as sophisticated. As such, it's perfect for creating a bold yet polished look. To rock a stylish, smart casual outfit in white, try pairing chinos with a short-sleeved button-up. Then, ground the look with coloured yet neutral accessories, such as a light brown leather belt and loafers. Alternatively, you can swap the button-up for a plain T-shirt and add a blazer over the top.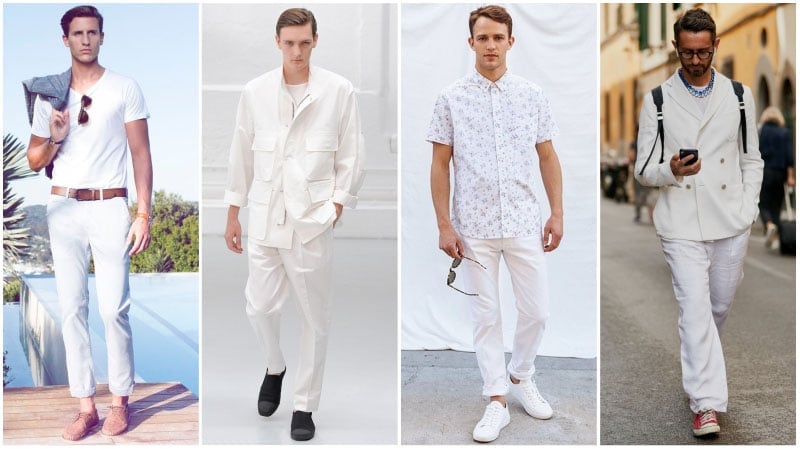 SHOP THE LOOK
Formal White Outfits
An all-white outfit may not be appropriate for all formal occasions, but it can certainly suit a great many, such as summer weddings and garden parties. So, if you're off to such an event, be sure to consider this exciting alternative to traditional black. All that's required is a white suit, or tuxedo if the occasion is extra fancy, a white formal shirt and accessories. Be aware, though, without any colour or pattern, the cut of your suit will take centre stage, so be sure the fit is on point.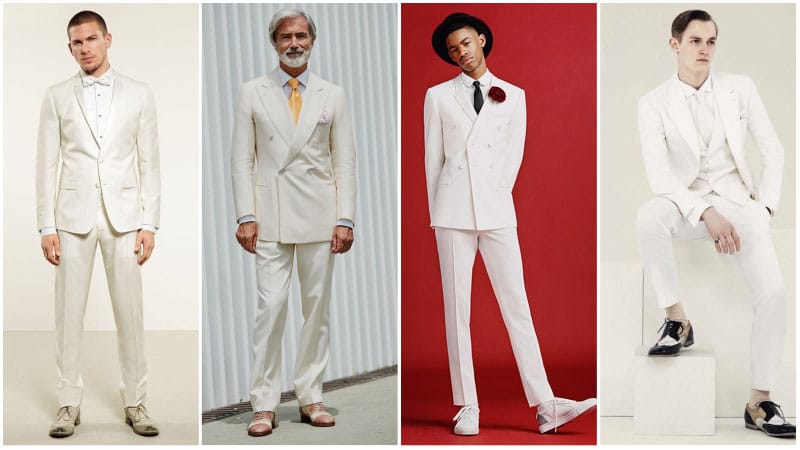 SHOP THE LOOK
White Outfits for Summer
Thanks to white's fresh and crisp aesthetic, it makes a very fitting fashion choice for the summer months. To successfully rock a stylish, all-white summer ensemble, aim for a casual and comfortable look that features an uncomplicated silhouette and lightweight fabrics. If you like an athletic appearance, try white shorts paired with a white polo, white sneakers and black sunglasses. The result will be a smart and stylish ensemble that can easily take you from tennis court to rooftop bar.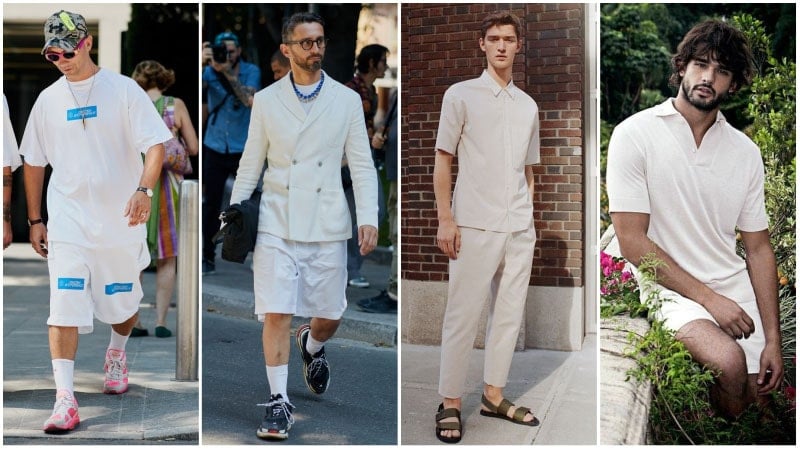 SHOP THE LOOK
White Outfits for Winter
White is undoubtedly a great colour for summer, but it can also make an excellent choice for winter. Appearing as fresh as snow, an all-white outfit provides a stylish and unique alternative to the typical dark uniform of winter. However, rocking a head-to-toe white outfit in cold weather can be challenging due to thicker fabrics and more layers. The key to nailing the look is to add subtle colour variances that'll keep your outfit interesting and balanced. To do so, try mixing stark white items with softer shades, such as off-white, ecru and cream. Alternatively, if your outfit is all one tone, consider adding strong contrast through accessories.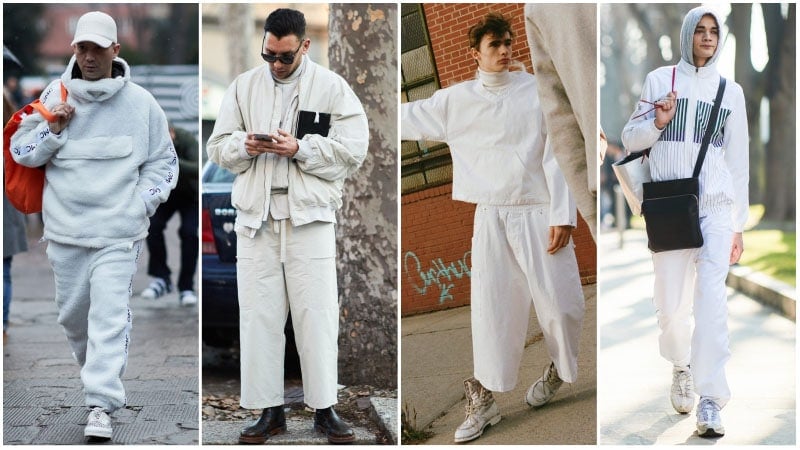 SHOP THE LOOK
All White Party Outfits
Whether you're heading to a white-themed bash or want to stand out at a soiree, an all-white party outfit can make a superb choice. To nail the look, all you need to do is tailor your white outfit to the type of party and venue you're attending. Of course, if you're still stuck for ideas, a white blazer with trousers always makes a stylish choice. Just remember to keep the look relaxed and fun by undoing a shirt button or two, going sans belt and opting for a pair of casual shoes, such as sneakers or espadrilles. Also, be very careful not to spill your drink.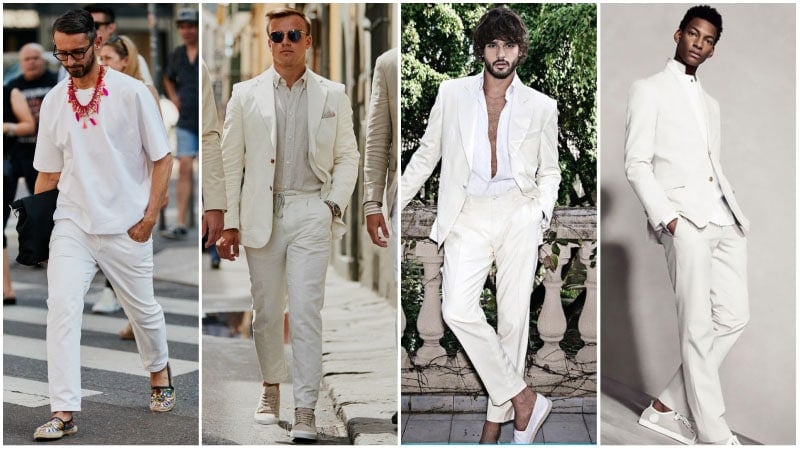 SHOP THE LOOK
White Suit Outfits
Are you tired of wearing the same old black, navy and grey suits? Why not break out of your style rut with a daring white design? Perfect for cocktail parties, beach weddings and more, a white suit simultaneously appears sophisticated and striking. To wear one, choose between either a bold, plain white design or a softer, striped style. Then, partner your white suit with a smart white shirt. When it comes to accessories, such as shoes, hats and pocket squares, you can opt for white for an entirely neutral look, brown or black for a smart contrast or a bright hue for an intense pop of colour.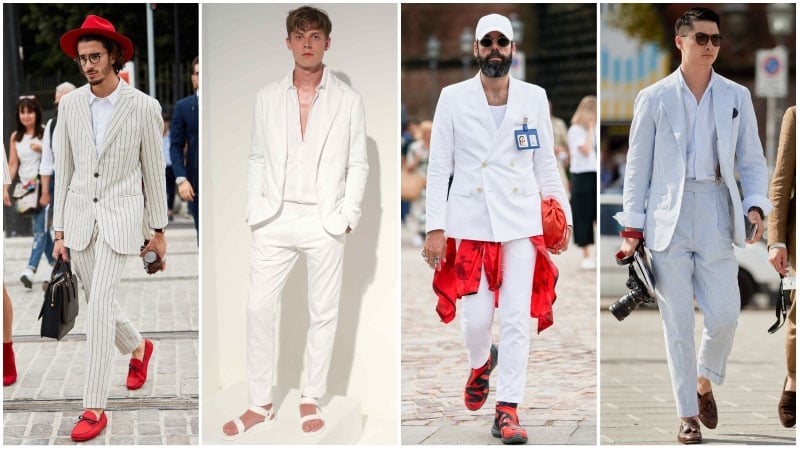 SHOP THE LOOK
White Jeans Outfits
White jeans make an excellent wardrobe addition for gents. Especially ideal for spring and summer, they work well with white T-shirts, polos and button-downs to create a simple yet stylish look. When shopping for white jeans, there are several factors to consider, including the cut and style. As white can make you appear bigger than you are, you should try opting for a pair of slim or skinny jeans to maintain a lean silhouette. Also, you should consider selecting a distressed or ripped design to add instant interest and excitement to any outfit.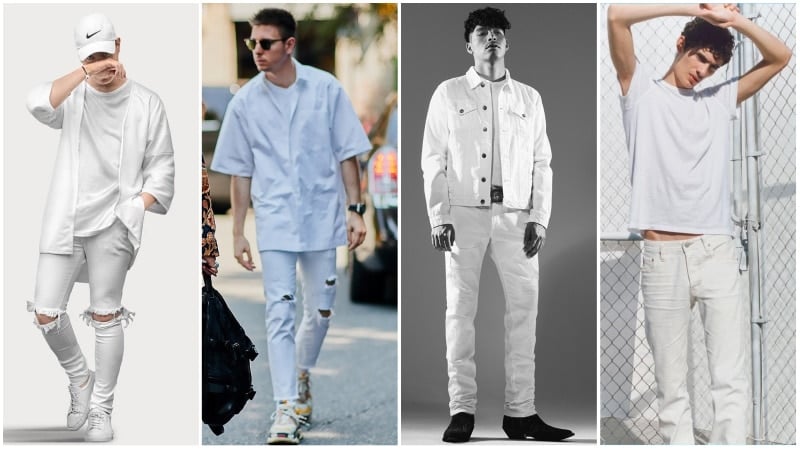 SHOP THE LOOK
White Shorts Outfits
Want to get that European beach vacation feeling without leaving home? A white shorts outfit will do the trick. Fresh and unfussy, an all-white outfit with shorts is comfortable and cool. Ideal for the warmer months, the look can suit a variety of occasions, such as barbeques, pool parties and more. To rock the style, start by finding your perfect white shorts. For a smart look, try a pair of chino shorts. For a summery vibe, opt for a linen design. Or, if your heading to the beach, embrace white board shorts. Once you have your shorts, complete your look with a white T-shirt or shirt and casual shoes, such as sneakers. If there's a breeze, add a lightweight white sweater as well.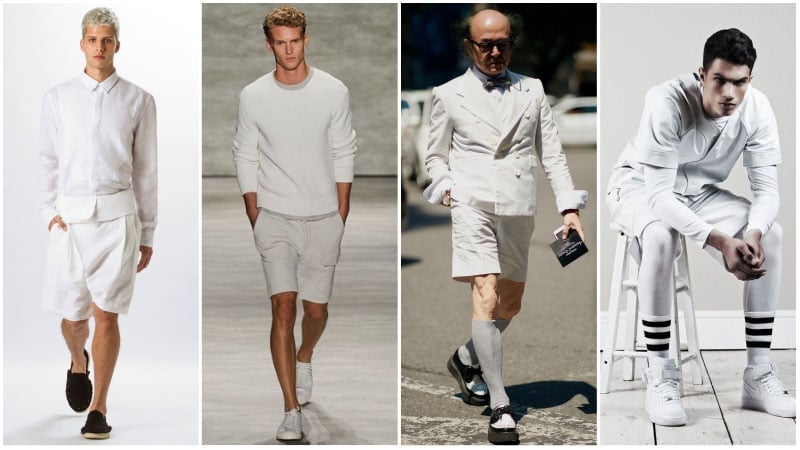 SHOP THE LOOK
FAQs
What do you wear to an all-white party?
If you're headed to an all-white themed party, then as the name suggests, you should be wearing this hue. If you want to stand out from the crowd, regardless of the event you are attending, then choose pieces that are fitted and classic.
Is it OK to wear all white?
Most people tend to feel good when they wear all white because it is crisp and clean. That said, many Americans choose to put away their clothing after Labour Day and wait until Memorial Day to bring them out again.
What event do you wear all white?
Events where you can wear all-white include themed parties or a cocktail gathering. It is also the perfect color for the summer months.
What event do you wear all white?
Events where you can wear all-white include themed parties or a cocktail gathering. It is also the perfect color for the summer months.
SUBSCRIBE TO OUR NEWSLETTER
Subscribe to our mailing list and get interesting stuff and updates to your email inbox.