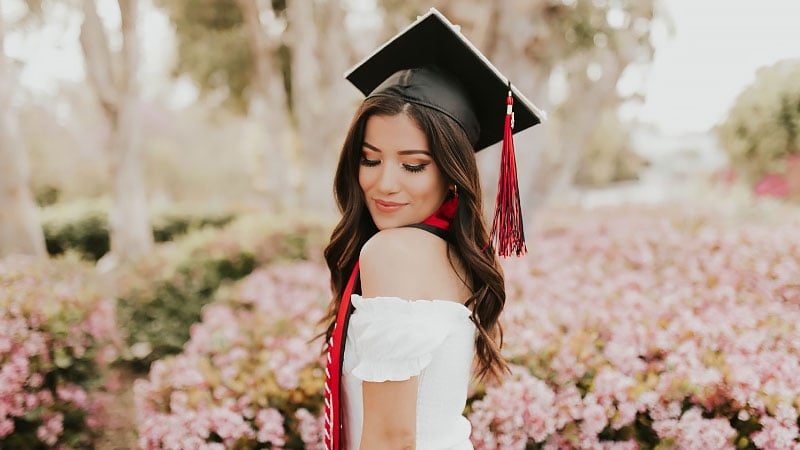 You've worked hard, put in long hours, and had sleepless nights. Now, it's your time to graduate and celebrate all of your years of studies. So, what do you wear? Whether you're receiving your degree or you have finished high school, here are the best outfits for you to rock on your graduation day. Get out your camera, cap, and gown, and take center stage in style!
RELATED: 50 Best Graduation Gift Ideas for Him and Her
RELATED: 50 Graduation Party Ideas and Decorations
Graduation Dress Ideas
High School Graduation
High school graduations are all about having a great time, so be sure that you prepare for it. To celebrate the end of your secondary education, opt for a short dress that reflects your personality. Whether you prefer bright colors or something dark and monochromatic, rock something that you can comfortably wear to a party or dinner afterward. Depending on the weather, you can choose an outfit with long sleeves or none at all.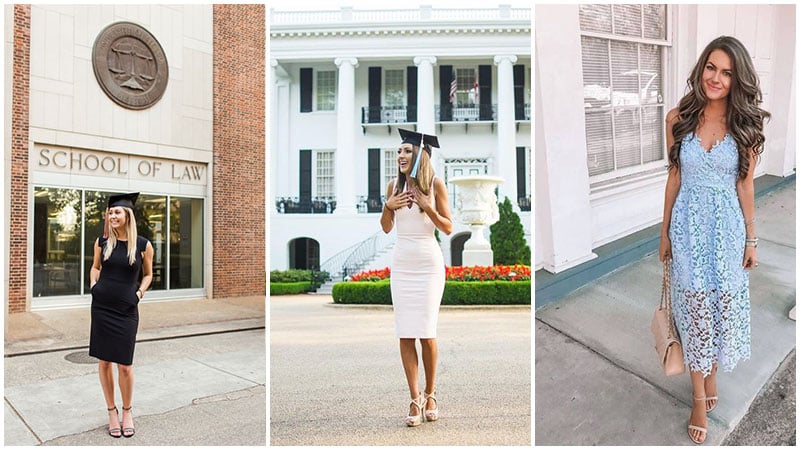 Get the Look
Middle School Graduation
Before entering your final years of secondary education, you must graduate from middle school. There's no better way to prepare for this occasion than with a gorgeous outfit that you'll look back and smile on. A high-low dress with frills or a crop top and A-line skirt are great options that are youthful but look stylish and flattering. Opt for bright and summery colors to make yourself shine, and rock a pair of kitten heels to add extra height. In terms of accessories, delicate pearl earrings or a simple gold bracelet is all you need to look like a princess for a day.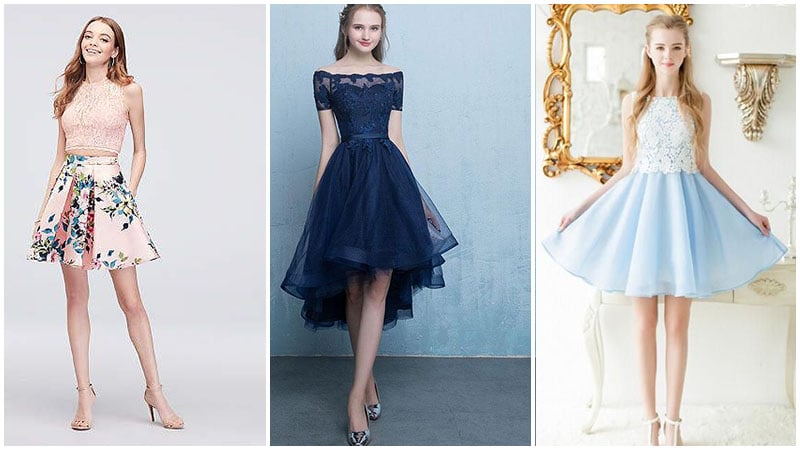 Get the Look
College/University Graduation
Whether you've finished Law or Liberal Arts, show off your degree in one of these stunning dresses. A tight-fitting bodycon looks extra sharp with a cap and gown, and a flowing wrap skirt will make you want to party all night in celebration. Feel free to add some sparkle and glamour to your outfit – this is a once-in-a-lifetime experience, so why not flaunt it?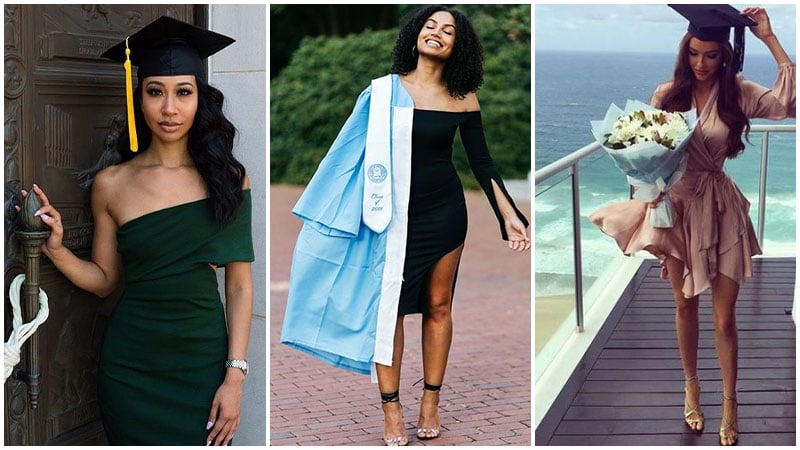 Get the Look
Graduation Party
Let the fun begin. Wear something glamorous at the graduation party, show off your pins in a mini dress, or let your hair down in an off-the-shoulder gown. If you're going straight from the stage to a party, opt for a midi bodycon frock that shows off your curves and is super stylish. Dark colors look fantastic at one of these events, and you can add a bit of sparkle with a pair of glittery heels or a snazzy clutch. After all of your hard work for the past few years, you deserve to have a great night out and celebrate!

Get the Look
Graduation Ceremony
Stand on the stage and feel proud of yourself in one of these stunning outfits. If you don't want to wear a traditional dress on your big day, rock your cap and gown in a pair of palazzo pants and a chic top in a bold shade. If you want to go all out, why not wear a jumpsuit? They're comfortable, and stylish, and are a timeless option for any graduate!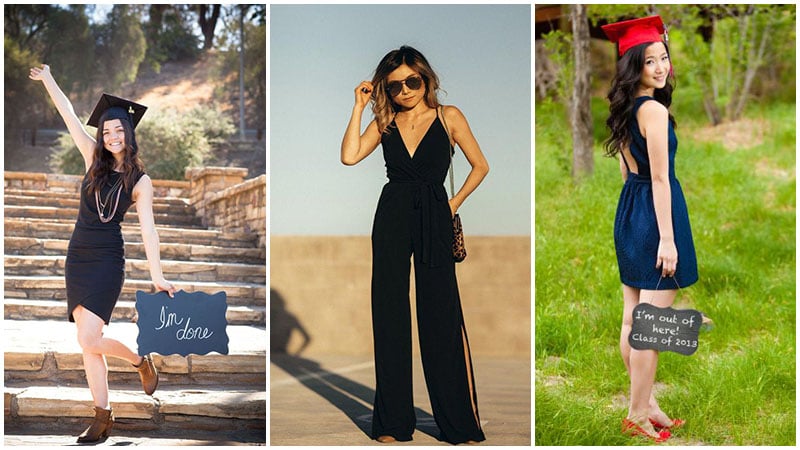 Get the Look
Graduation Dinner
Finish off the perfect day in a stunning outfit at your graduation dinner. From casual gatherings to a semi-formal events, you can't go wrong with a classic midi dress to show off your curves. For a laidback feel, opt for a perfect A-line silhouette with a pair of pumps, completed by a subtle set of accessories like a necklace or drop earrings. If you're heading straight to a party afterward, it's best to wear something versatile such as a slinky pencil skirt with a crop top or roll neck. These options look great at any time of the year and are a fantastic way to look timeless in your photos.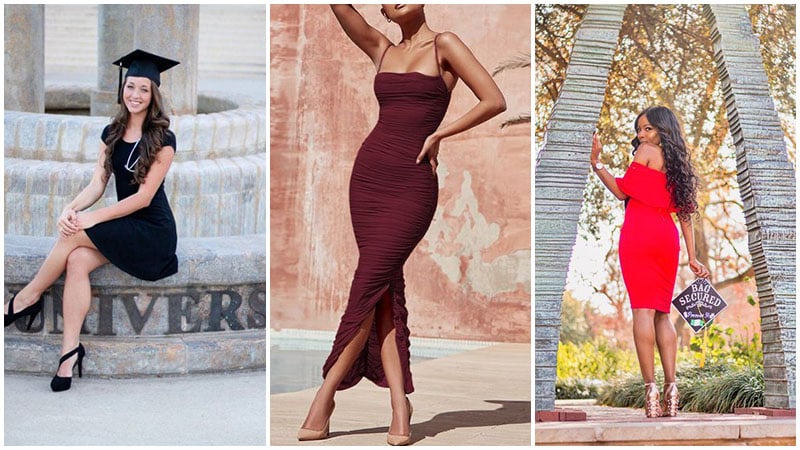 Get the Look
Friend's Graduation
Honor your friend's graduation by looking stunning. Of course, you don't want to outshine them at their ceremony, but that doesn't mean you can't dress up. From a slim-line silk midi to a smart but sexy bodycon, there are many options. Pick a pair of shoes that go with your outfit for a look that stands out if you wear a red frock, rock nude, or white heels. As for the green or blue outfits, orange, salmon, metallics, or skin-tone shoes are your best bet. You can't go wrong with classic style, and keeping the accessories to a minimum is ideal. Don't forget to bring a camera to take snaps of your buddies on their big day!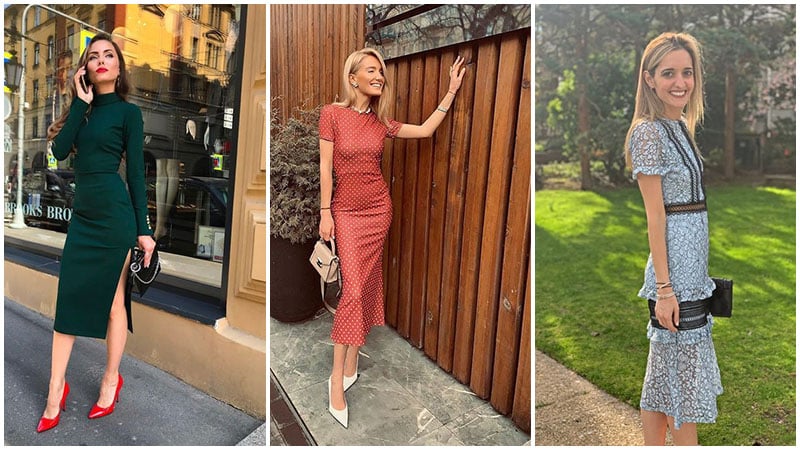 Get the Look
Winter Graduation
Celebrating your graduation by dressing for the occasion as the mercury dips and the air starts to chill. The natural thought about winter outfits is dark shades, so why not stand out in a bright suit? Whether it's white, mustard, or a fresh navy blue, the options are endless, and you'll look like you've stepped right off the catwalk with a degree. If you're feeling extra feminine, opt for a mini dress in a dark shade with a pair of tights and booties or cute pumps. Staying warm never looked so cool!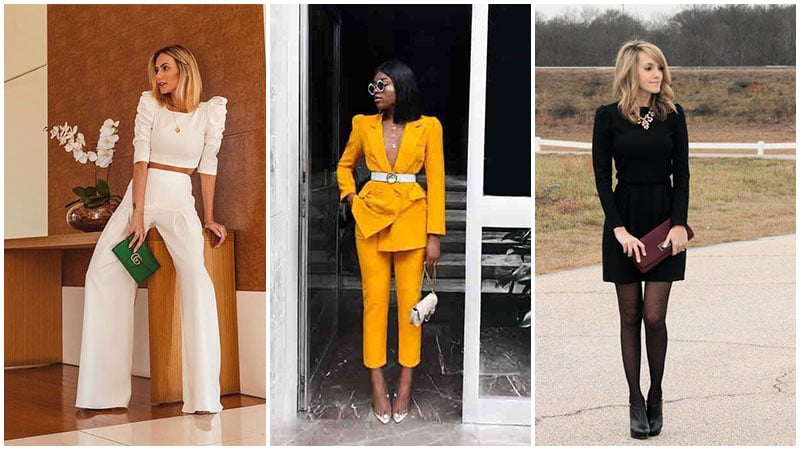 Get the Look
Spring/Summer Graduation
Bask in the sun at Spring or Summer graduation. When the weather is beautiful, opt for a strappy dress in a bright color that reflects your mood, or a cute lacey mini that shows off your pins. If your ceremony takes place in the late afternoon or evening, a black slinky ensemble is a fantastic idea. Accessories go a long way with these outfits, such as dangling earrings or a simple clutch bag. Remember, the best accessory you can wear is your cap, a gown, and a smile!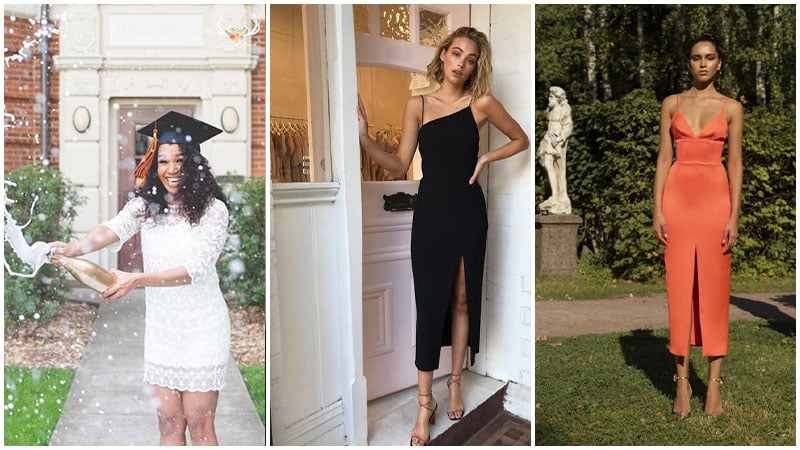 Get the Look
What to Wear to a Graduation as a Guest?
Celebrate your child's or friend's graduation by looking the part. Depending on the time of the year the ceremony is, you can wear a classic pencil skirt and a button-down shirt or exceed expectations in a sleek pantsuit. When the temperature starts to drop, a turtleneck with a chic pair of palazzo pants with heels looks fantastic. This way you'll stay warm and toasty throughout the whole event while looking comfortable and oh-so-stylish. If all else fails, the key is going for a smart casual dress code. No matter what you wear, you'll do your children proud and look fantastic in all the family photos!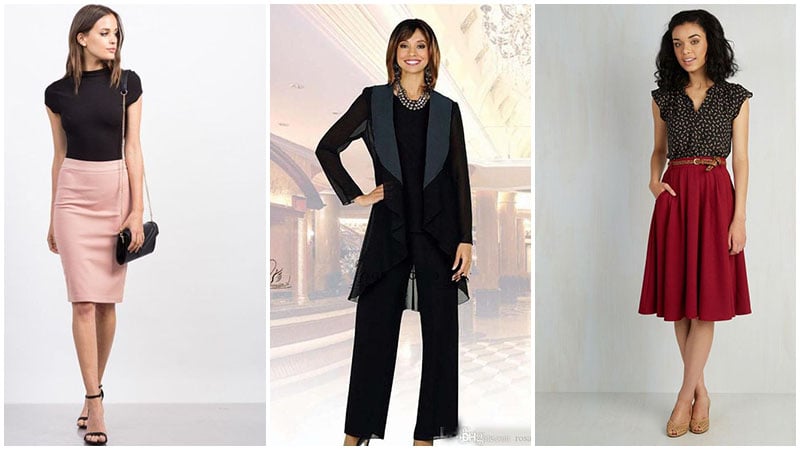 Get the Look
What to Wear to Graduation Tips
Graduations are typically semi-formal, so opt for classic attire.
Dress for the weather. When the temperature rises, be sure to wear something that keeps you fresh.
Put comfort first, as you will wear this outfit for many hours.
Inject a bit of color into your outfit. Although the day is formal, bold shades are a great way to brighten the room.
What to Wear to Graduation FAQs
Why do you wear white for graduation?
White is a popular color for formal occasions, and simple shapes look especially striking in this hue. Graduations are usually semi-formal events, and rather than opting for loud prints or bold shades; a muted color palette creates a smarter, more modest appearance. It is also a tradition that women have followed for decades, and white tends to symbolize freshness and simplicity, which could be interpreted as new beginnings.
What should I wear to graduation?
Graduation is a time to celebrate all the hard work and sleepless nights you put in to achieve your degree or complete high school. It makes sense then that you want this to be a look that you remember; after all, many photos will be taken. Ideally, you want to pick a comfortable but semi-formal outfit, such as a classic midi dress or a cute lace mini, paired with heels or chic flats. Alternatively, you could wear a relaxed suit. You also want to be modest and not show off too much skin. Consider the temperature, and wear something that is weather appropriate.
What should you not wear to graduation?
Your graduation is a day of celebration and achievement, and you will be in your outfit for a long time, so, with this in mind, comfort is of the utmost importance. Don't choose a look that you feel self-conscious about or that is too tight. Ditch the shoes that will make your feet ache! You also don't want to wear something inappropriate or be underdressed. It is not the time to experiment with bold colors or wild patterns. Instead, opt for a muted color palette with simple and classic cuts. For your hair and makeup, keep it pretty but natural. 
What do mothers wear to graduation?
As the mother of the graduating child, this is an important milestone in your life, too. You want to look smart but not overdone because it is not your day. If the invitation does not specify a dress code, then you can assume it is semi formal. A nice pencil skirt with a button-down shirt or a blouse are great options, or you can pair smart pants with a turtleneck in winter or a pretty top in summer. It is important to pick something comfortable, don't opt for killer heels, and dress appropriately in terms of age, modesty, and weather.
What are graduation colors?
One of the most popular colors to wear for graduation is white, but this is not your only choice. Shades of light blue, ivory, lilac, grey, and even pink are pretty and cute. The idea is to keep it simple, choosing a muted color palette. Your hood's color will be determined by your major at university, for example, purple for law students and pale blue for education. 
What kind of shoes do you wear to graduation?
You want to wear footwear that is comfortable but also smart. A mid-heel is a lovely option because it is not too high that your feet will ache after a few hours but creates a feminine appearance and elongates your legs. A good example would be strappy sandals with a block heel or classic pumps. Kitten heels are also cute. That said, if you prefer not to wear heels, there is no rule to say you must. The biggest things are that your footwear is simple, dressy, and clean.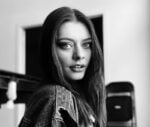 Alexandra Feiam is an experienced fashion writer who holds a degree in journalism. She has an impressive portfolio and expertise working as the Editor at Power Retail and Commercial Content Editor at Newscorp. Ally has been writing for The TrendSpotter since 2018, and her work has been featured in notable publications such as The Herald Sun, Arirang TV South Korea, Kidspot, The House of Wellness, and The Daily Telegraph.
SUBSCRIBE TO OUR NEWSLETTER
Subscribe to our mailing list and get interesting stuff and updates to your email inbox.