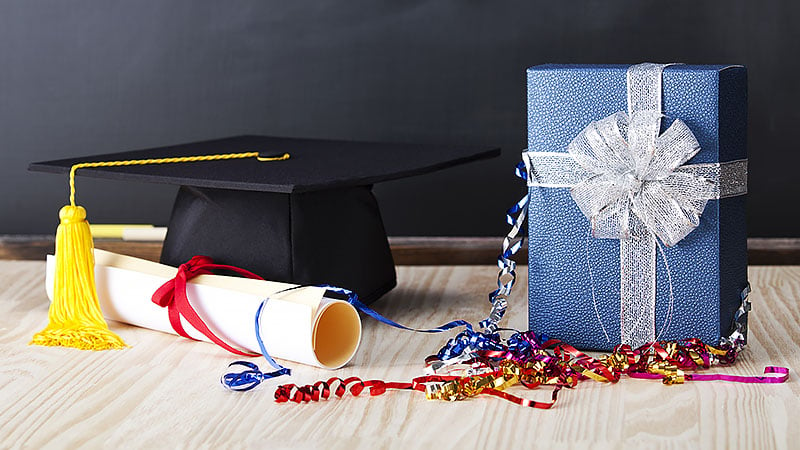 Knowledge is power, and completing high school or furthering your education with a degree in your chosen field should be celebrated. These are special times in the recent graduate's life and a chance for their friends and family to show how much they love and appreciate them. Before embarking on a new adventure, working full time, or continuing their higher education, many people have a graduation party, and it is often customary to bring a gift. Finding the right present can be a fun experience, but it can also be daunting. This list is designed to help you get some ideas, with everything from gift cards to inspirational gifts that can remind them to stay focused and reach for their dreams.
RELATED: What to Wear to a Graduation
RELATED: 50 Graduation Party Ideas and Decorations for 2022
High School Graduation Gift Ideas
Things They Don't Teach You in School Game
High school is an important learning experience, but you will learn many things after school. To better prepare the recent graduate for the real world, consider giving them a fun and helpful game, like, Things They Don't Teach You in School Game. They can read facts and knowledge from the 400 cards, giving them a little laugh and expanding their trivia.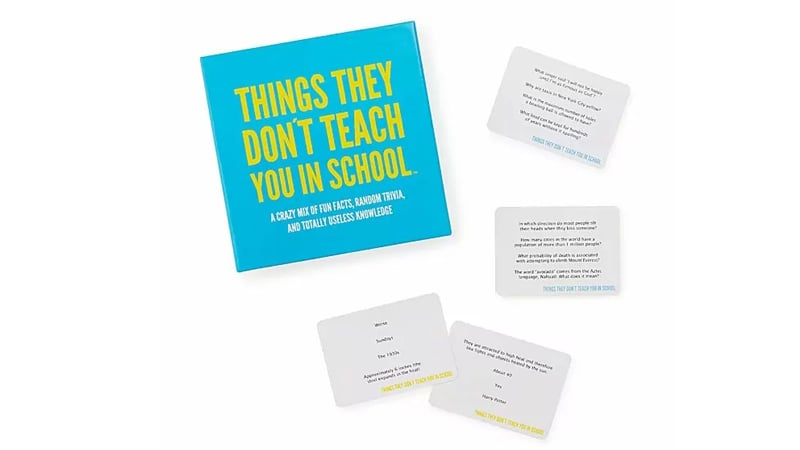 F in Exams
You spend your entire high school career trying to get good grades to set you up for the future, but recent graduates can also benefit from a creative gift like "F in Exams." This book lets them know that success often does not come without failure, and if they mess up in an exam or make a mistake in the future, it is totally normal and an important part of learning and growth.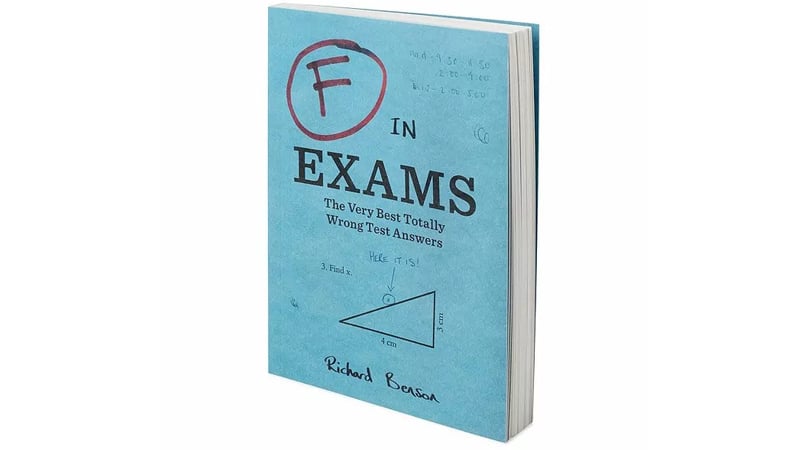 Amazon Gift Card
Sometimes the simplest gifts are the most appreciated, and a gift card lets the recipient choose what they want. This could be anything from a great book they have wanted to read or makeup, accessories, clothing, and much more. You can determine the denomination and the packaging; it is a perfect gift!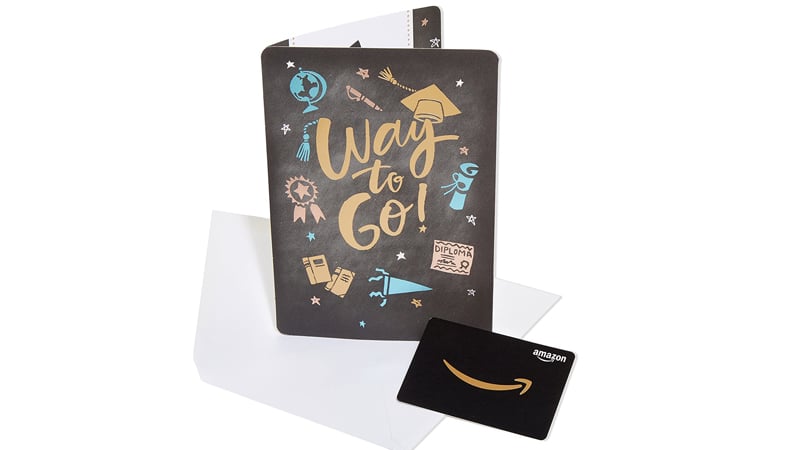 Amazon Collection "Go in the Direction Of Your Dreams" Pendant
Is jewelry ever not a great gift? If you want to give something that can become a keepsake, consider giving a graduation-themed pendant. The Amazon Collection Sterling Silver "Go in the Direction Of Your Dreams" serves as an excellent reminder to stay focused and do what makes you happy in life. It is also affordable and crafted in .925 sterling silver.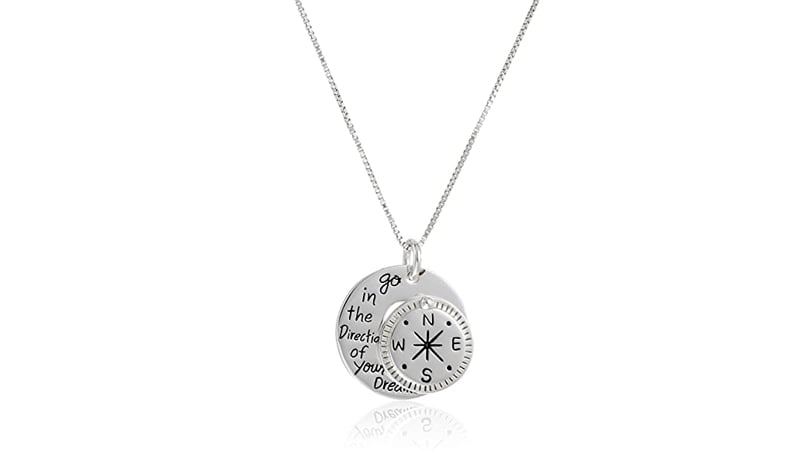 Long Distance Friendship Lamp
High school is an important time in most people's academic and social lives. If the recent graduate is moving away from home for college or intends to travel the world, you may wish to give them a gift to remember their loved ones and friends. A good example would be the creative and unique Long Distance Friendship Lamps which are synced.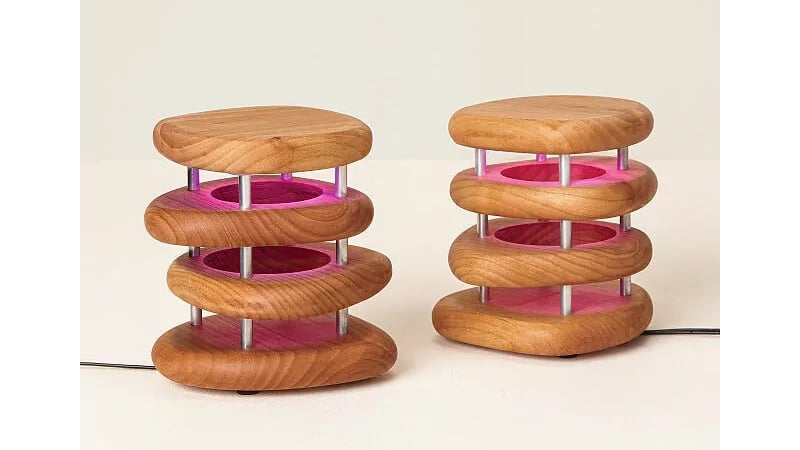 High School Campus Glass
A glass with hand-drawn images of your college or school would make an ideal gift. It serves as a wonderful memento of all the good times you spent at high school and a reminder that the rest of your life is just beginning. This College Campus Glass is frosted and designed in California.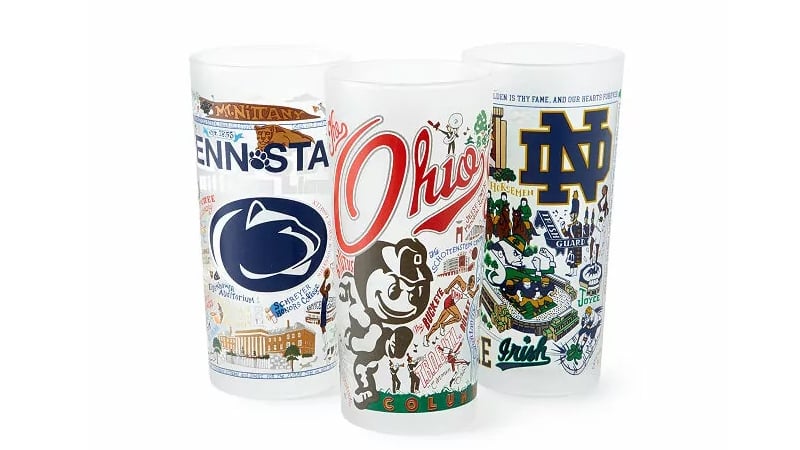 Guide Birds
If you are looking for a fun and quirky gift for a recent high school graduate, consider giving them Guide Birds. The idea behind this creation is that there is a bird for each day of the week (so seven in total) that represent different things, including joy, love, and courage. The recipient can keep them close, using them when they need a little pick me up or a reminder to stay focused on what is important.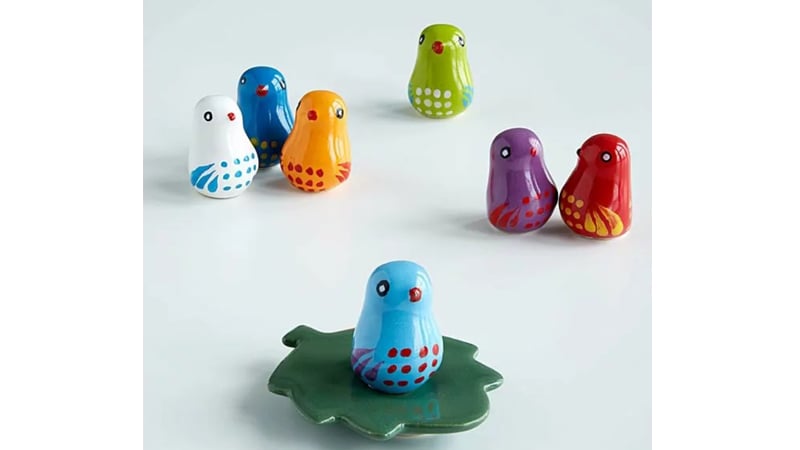 Past Present Future Bracelet
What better way to look upon the past favorably while still looking forward to the future than with a Past Present Future Bracelet. Designed by Jewelry artist Beth Lawrence, this is a simple but elegant piece that will have a lot of meaning. Created using a mixture of sterling silver and gold filler, the bracelet is perfect for giving a loved one as they start a new chapter.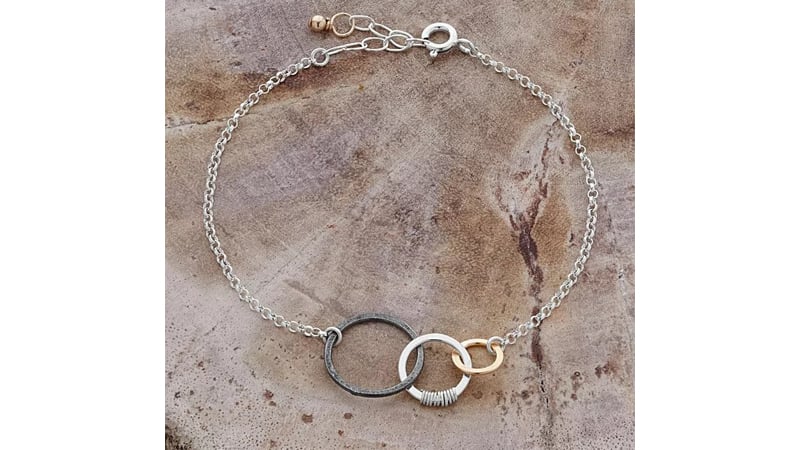 Men's High School Level Complete Graduation
This T-shirt is the perfect present if you know a gamer with a good sense of humor. The High School Level Complete Graduation is funny and ideal for someone who doesn't take himself too seriously. There is a wide range of colors and sizes to choose from. The shirt is created with 100 percent cotton with solid colors and a blend of cotton and polyester for heather shades.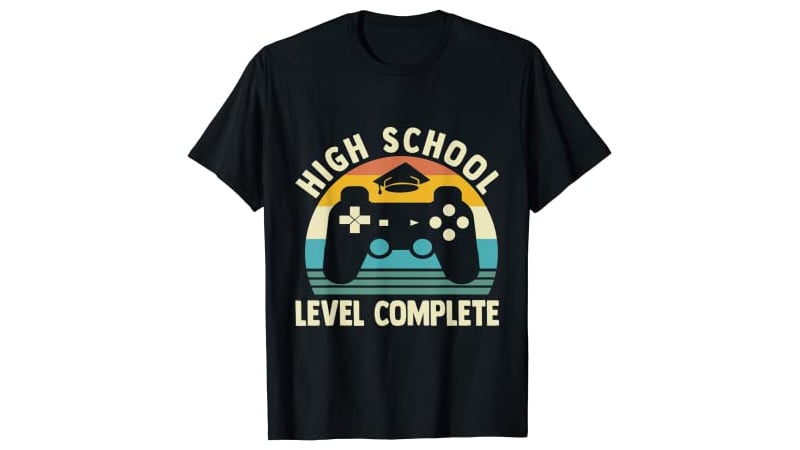 DESIMTION Graduation Jewelry Gift
High school graduations are an important time, and the occasion is often marked with a party and a gift. Gifts do not have to be large and expensive to be meaningful, and a simple bracelet with a compass is a beautiful and symbolic choice. This piece will remind the wearer that they can live life to the fullest and always pursue their dreams.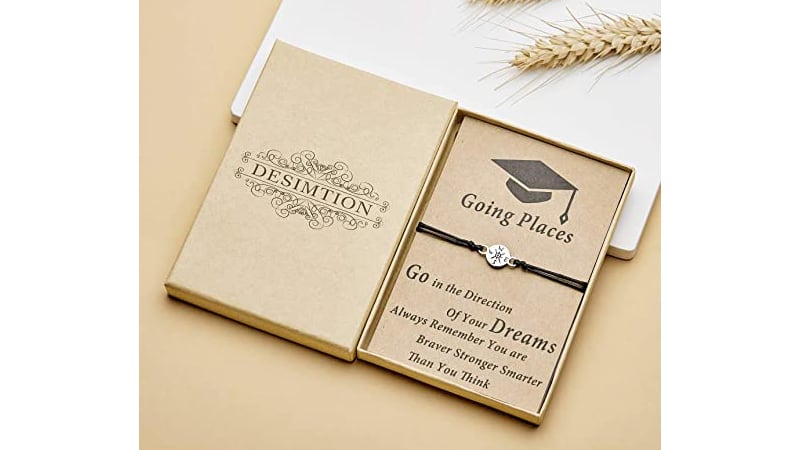 Love You Trinket Dish
Trinket dishes are a great way to store jewelry, and when they have cute images or slogans, they are all the more meaningful. Why not tell your recent high school graduate how much you care for them with a botanical-inspired Love You trinket dish. It is handmade in the USA using clay.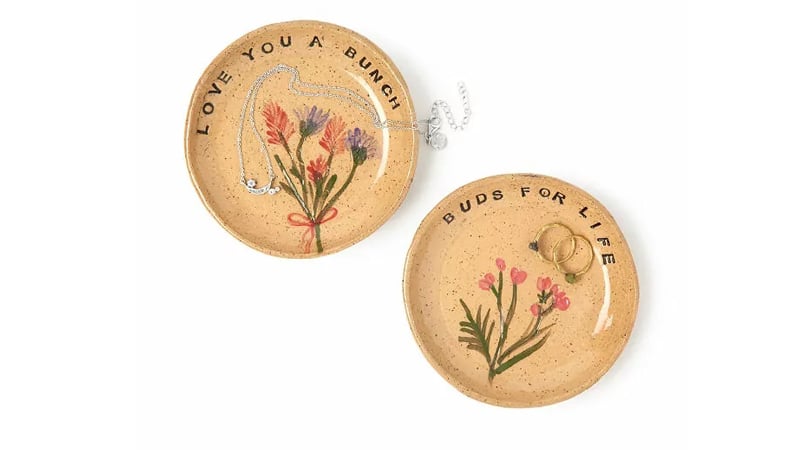 Forward Thinking – A Happiness Journal
Happiness journals are a wonderful way to take care of your mental health. After graduating high school, it is an exciting time, but it can also be filled with anxiety. Give the Forward Thinking journal to help the recipient keep focused on what is important in their life and try out the prompts and weekly activities.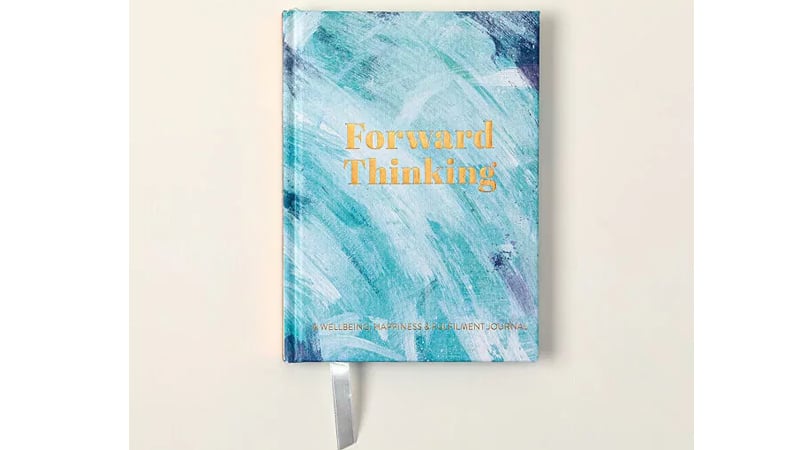 Letters To My Future Self
Do you think you have your life figured out fresh out of high school? There is a chance you may be focused and have your dreams and goals in mind, but you will change considerably over the next few years. A fun way to remember how you were, and later how much you have grown, is with ​​a Letters To My Future Self gift.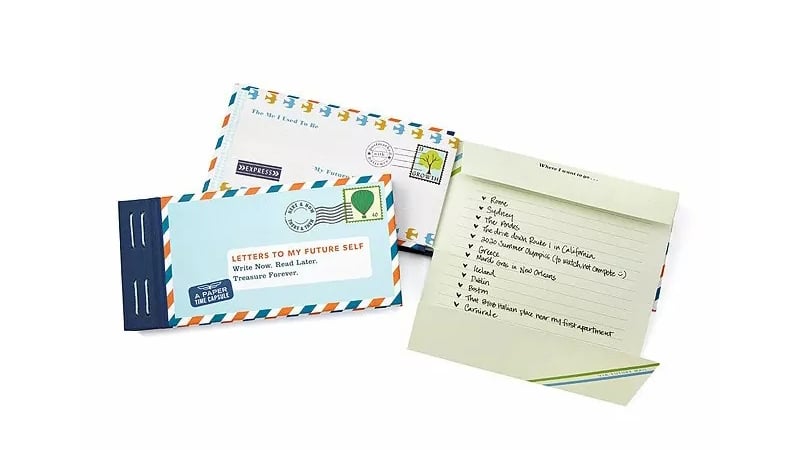 75 Iconic US Landmarks Scratch Off Poster
High school is filled with structure, so it is not hard to see why someone would want to take some time off before getting a full-time job or furthering their education. If the recent graduate has goals to travel the world, they can start by ticking off the states they have visited with a 75 Iconic US Landmarks Scratch Off Poster.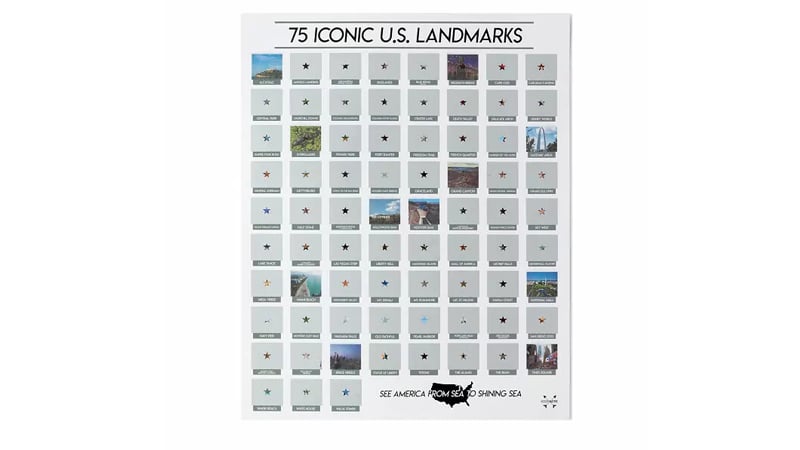 Gratitude Tree
If you are the type of person who loves to give symbolic and unique gifts, this is a perfect choice. The Gratitude Tree is a beautiful way to reflect upon all the good things in your life, remember what is important to you, and filter out the noise. It can also be used as an alternative guest book for your graduation party.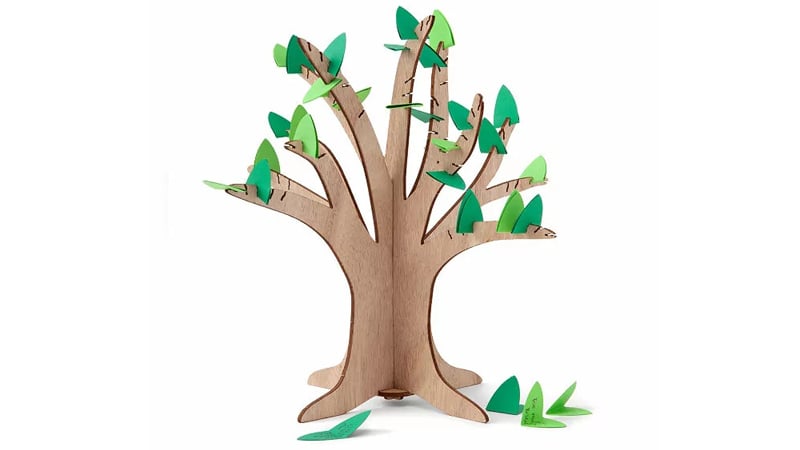 Have Fun, Be Safe Keyring
Graduating from high school comes with many firsts, and this often includes a first car or leaving home. If you want to ensure that your loved one remembers to be careful and stays safe, a keyring with a meaningful message like Have Fun Be Safe is a great choice.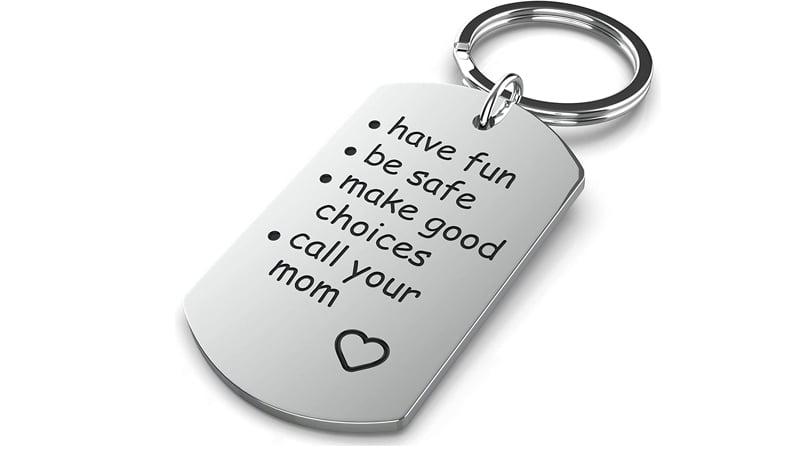 Be The Light Necklace
This necklace is a beautiful gift and a positive reminder to the wearer to embrace who they are and do what makes them happy. Be The Light refers to the light within you, and because the message is more abstract, it makes it even more special for the gift giver and the recipient. The necklace is handmade using 100 percent recycled sterling silver.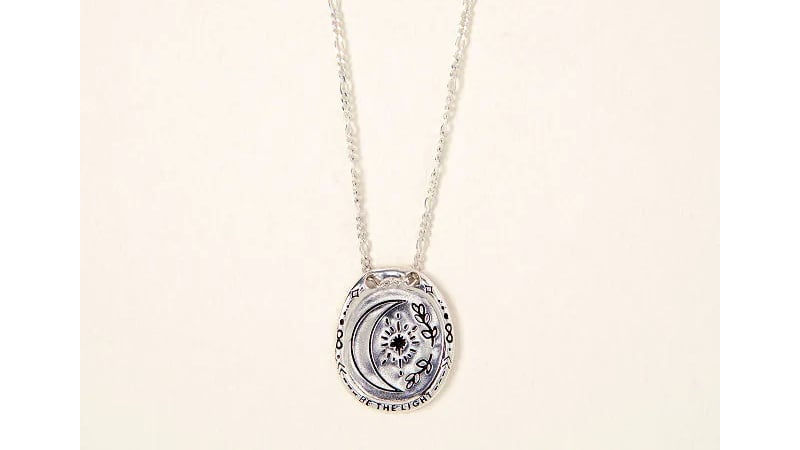 Shattered Glass Ceiling Necklace
If the recent graduate is a deep thinker and wants to make a powerful statement, give them a gift that reflects these qualities. The Shattered Glass Ceiling Necklace is much more than your average piece of jewelry, focusing on the accomplishments of empowered women, showing how they are breaking through barriers. Handmade from sterling silver and glass.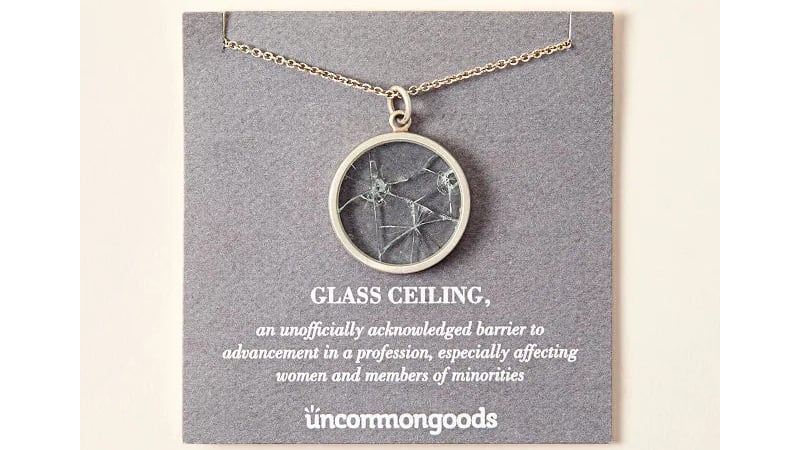 Your Life Helm Keychain
The Your Life Helm Keychain by Smiling Wisdom is a nautical-themed design to be carried with the recent graduate at all times. It could be attached to their house keys, car keys, or even made into an interesting pendant. The point is to inspire and encourage, serving as a reminder that they are in control of their destiny.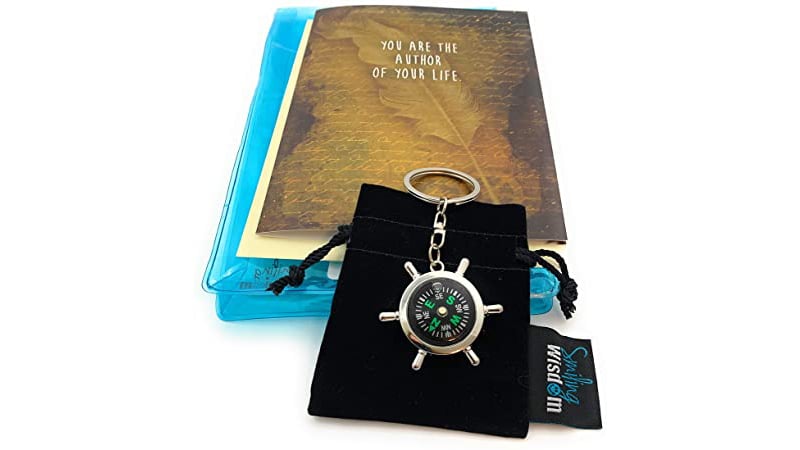 Graceful Butterfly Necklaces
Graceful Butterfly Necklaces feature two necklaces, with each part forming a whole. The idea is that the butterfly has emerged from its chrysalis to start a new beginning. It is a beautiful gift for any occasion but is especially relevant for high school graduation. The necklace is 14k gold filled and sterling silver and handmade in California.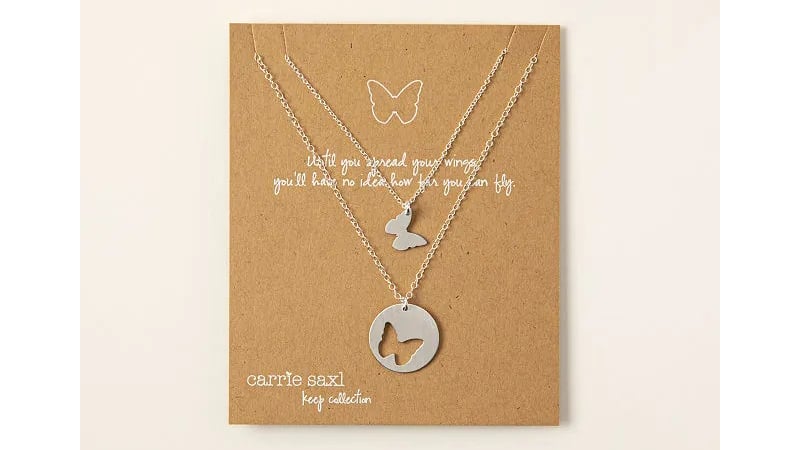 MONOZO Graduation Bracelet
If you are looking for an inexpensive present, the MONOZO Graduation bracelet is great. Simple but symbolic, the string can be easily adjusted to fit the size of your wrist. You can select the initial you want it to have, and the bracelet also has a compass and arrow charm; to help the wearer remember the direction they want to go in and stay focused.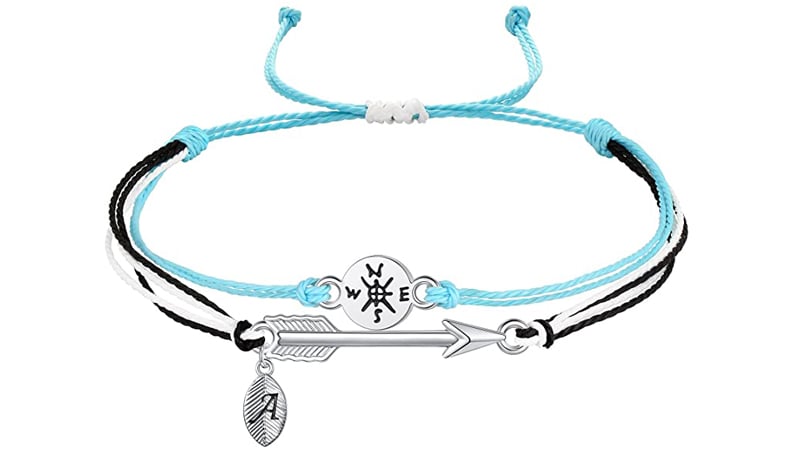 Your Graduate in Print Art
A fun and quirky gift for a recent graduate is the Your Graduate in Print Art. It lets you put a photo from the graduation, or any photo of your choosing, making it appear as though the gift recipient is in the headlines. The framed customizable print is excellent for those who have a good sense of humor but is also special and can include a message from you.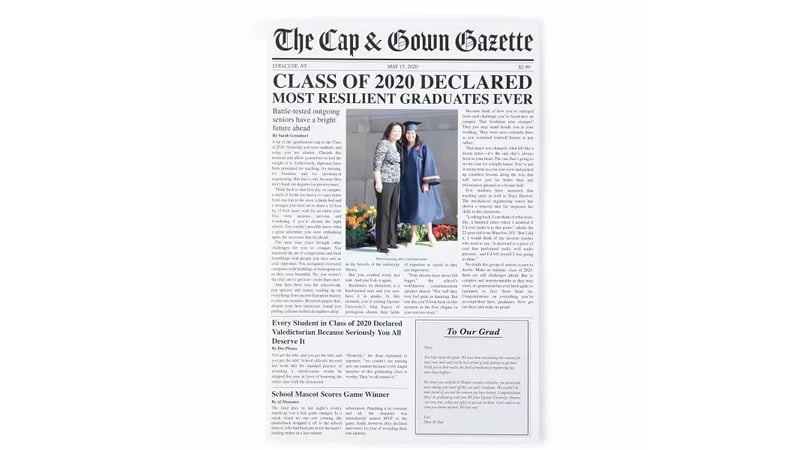 Custom Message Shortbread Cookies
Is there anything better than personalized cookies? It is such a great gift because while they may not last forever as the recipient will want to devour them, they are delicious. Choose the message you want to include and add them to these Custom Message Shortbread Cookies. They are made in California and come in a box of 24.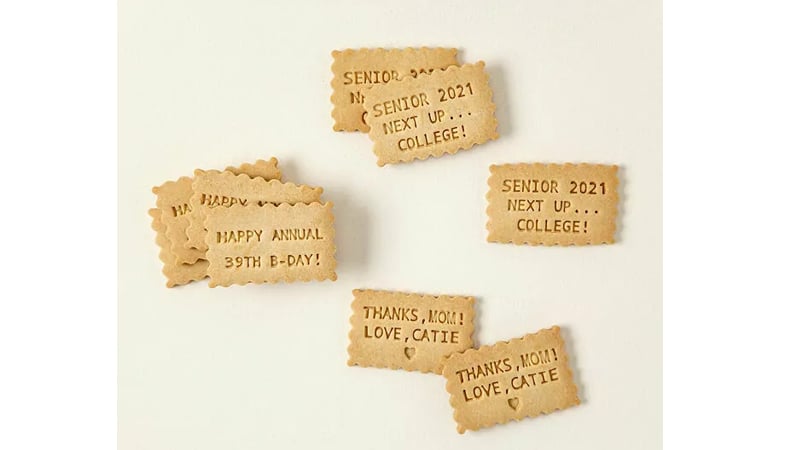 I Graduated. Can I Go Back To Bed Now? Shirt
A silly shirt is a great gift to give to someone who has recently graduated. The I Graduated Can I Go Back To Bed Now T-shirt is a good way to acknowledge the graduation and have some fun with it. A wide range of colors and sizes allows you to find the best option for your chosen recipient.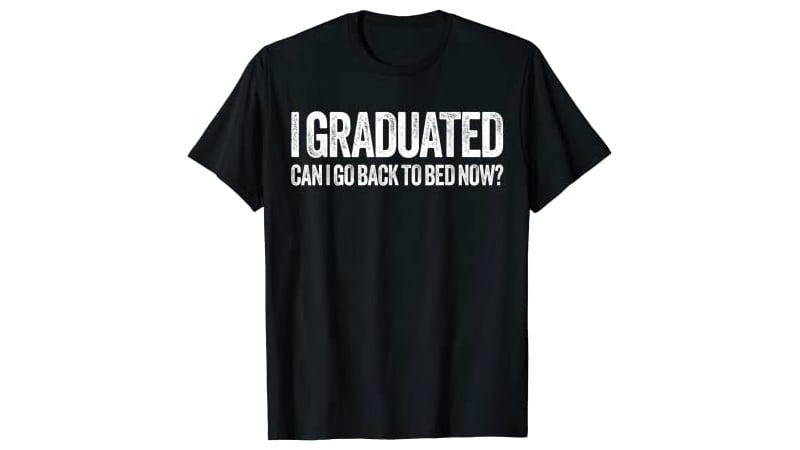 Symbolic Graduation Bracelet
You cannot go wrong with a stylish bracelet as a graduation gift. Especially not when the jewelry has a special inscription, including ones like this which focuses on recognizing your strength and self-worth. The bracelet is made from stainless steel and non-toxic silicone. It is also lead and nickel-free.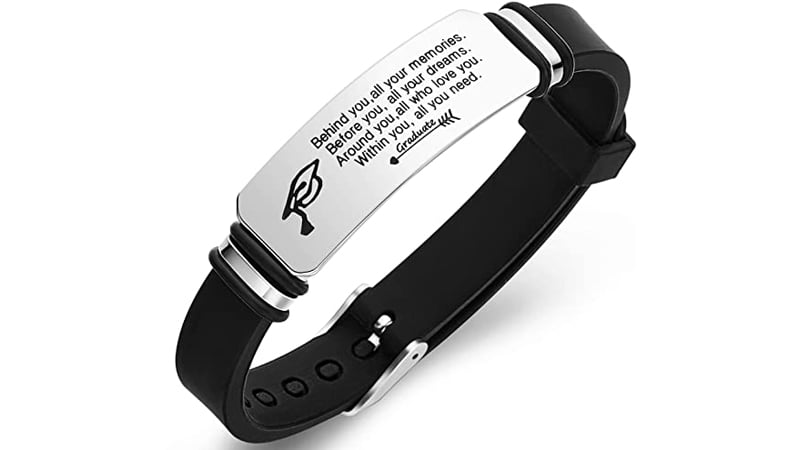 College Graduation Gift Ideas
Make Your Voice Heard! Card Deck
If you know a recent graduate headed into the workplace for the first time, it could help them have a deck of cards that can give them important advice and help them learn to communicate better. The Make Your Voice Heard! Card Deck comes with 72 cards that cover nine themes and provide guidance on dealing with specific situations.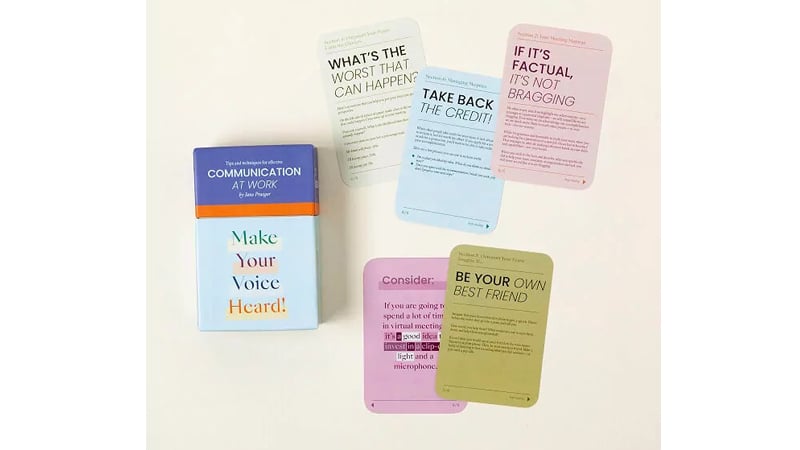 Amazon.com Gift Card in Graduation Gift Box
College is an important time for learning and working toward future goals, but most college students and recent graduates are broke. Before heading into their first full-time job, it could help if they had a little extra cash, and an Amazon gift card is a great way to give them the opportunity to buy something they need, complete with cool graduation packaging.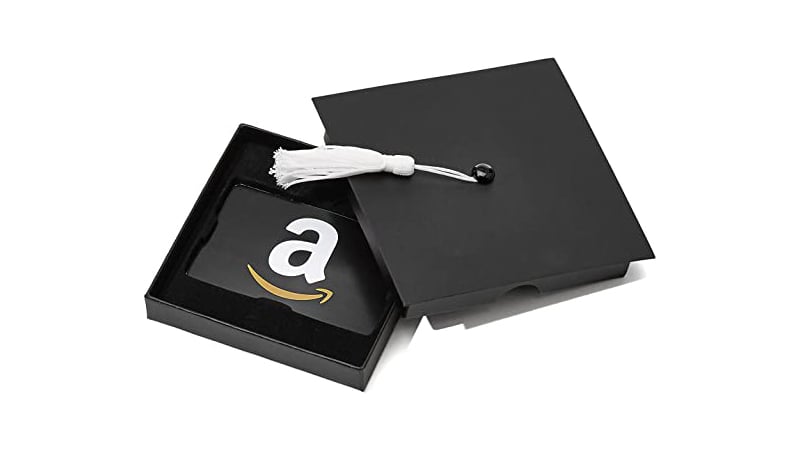 College Campus Glass
If you know someone who loved the college experience, or if you are looking for a gift for yourself, then it is a great idea to purchase a College Campus Glass. Carmel and Terrell Swan's collegiate collection of glasses are designed in California and made in Thailand. They offer a range of different options with hand-drawn artwork.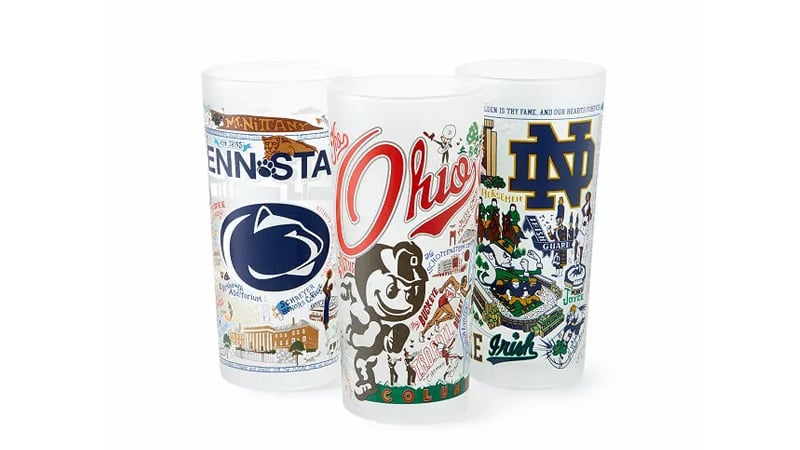 Call Mom Pillow Case
If your recent graduate is leaving home and you want them to remember how much you love them but also to stay in touch, this is a cute and quirky gift. The pillowcase reads Call Mom! and it may serve as a reminder that you are always there for them. Created with microfiber fabric, you can also choose three color options.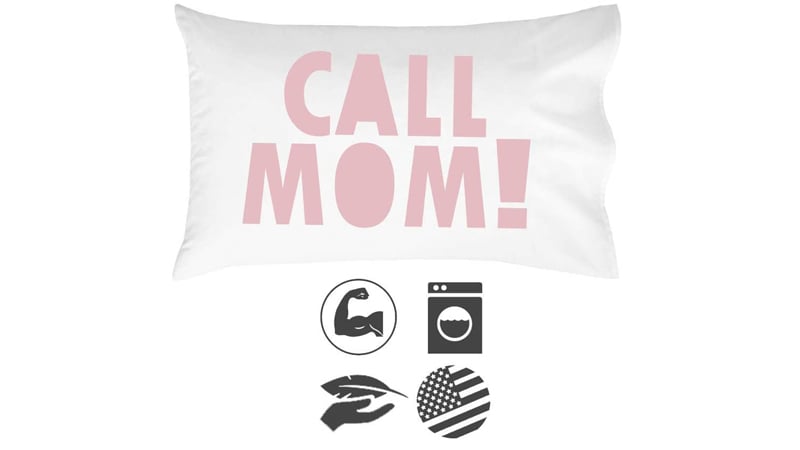 My Life Story – So Far Journal
After graduating college, you will probably feel like the whole world is yours for the taking, but you may also want to remember some of the milestones you have celebrated and the sacrifices you have made to reach this point. The My Life Story – So Far cloth-bound memory journal is a good start to penning your feelings. It also has prompts and anecdotes to reflect upon.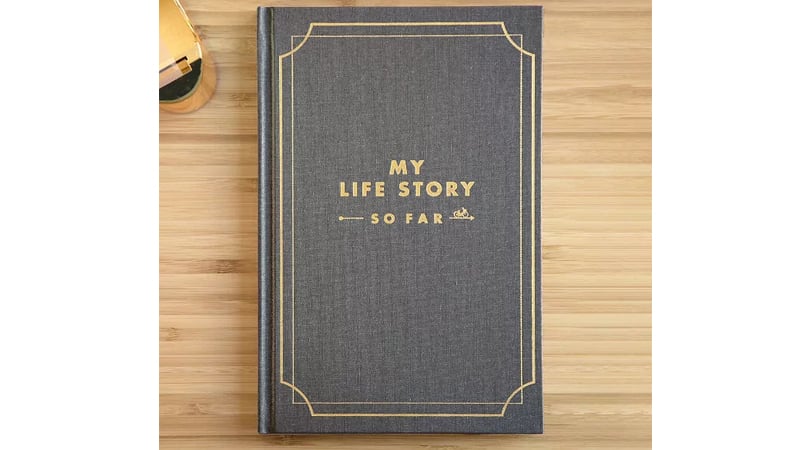 Collegiate Pouches
So college was some of the best times of your life, and you want to remember it? Why not purchase Collegiate Pouches with your school's logo on them. Or buy this as a gift for someone who fondly looks upon their time at college and will want to keep a little memento of it with them.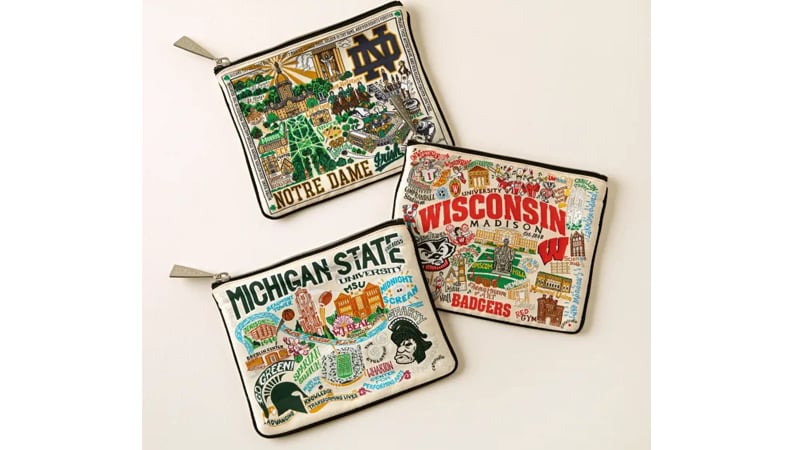 Embroidered College Pillows
Embroidered College Pillows are a fun way to decorate the room, and your recent graduate will probably be grateful for a little memory from the years they spent at the school. The pillows include mascots, landmarks, and college colors, making for a symbolic and standout item. They are created from cotton.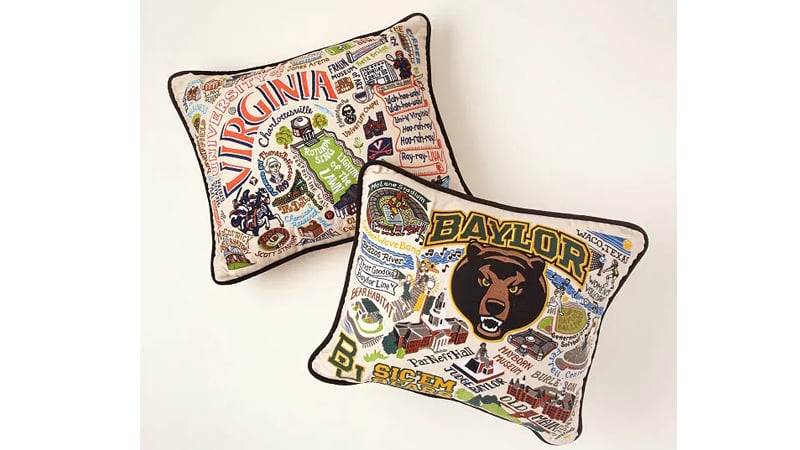 Mathematical Glasses – Set of 4
For lovers of mathematics or those who have pursued a field of study focused on the subject, what better graduation gift than a set of cool shot glasses? These are not just any glasses, letting you get creative with the ounce marks so that you are pouring drinks with precision. The items are made from glass and are top-rack dishwasher safe.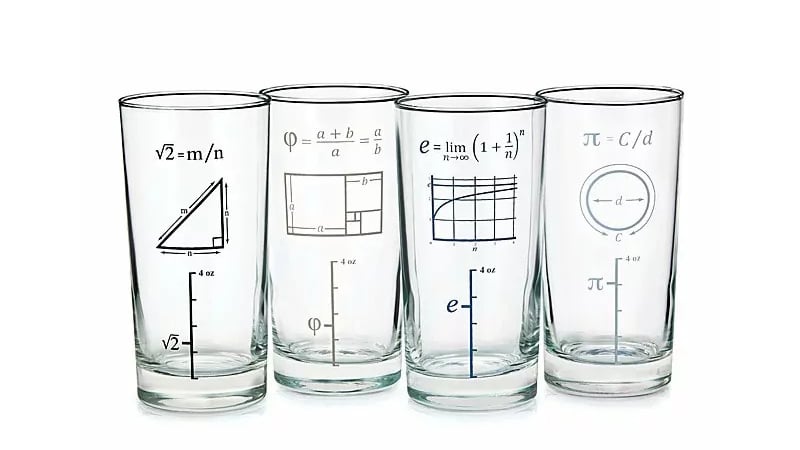 Now Hotter By One Degree Wine Glass
A witty gift for a recent college graduate is a glass with an interesting message, like this one; Now Hotter By One Degree Wine Glass. This is the ideal present for someone who has a great sense of humor and can be used for wine or non-alcoholic beverages. It has a 15-ounce capacity and is durable, BPA-free, and created to match food-grade standards.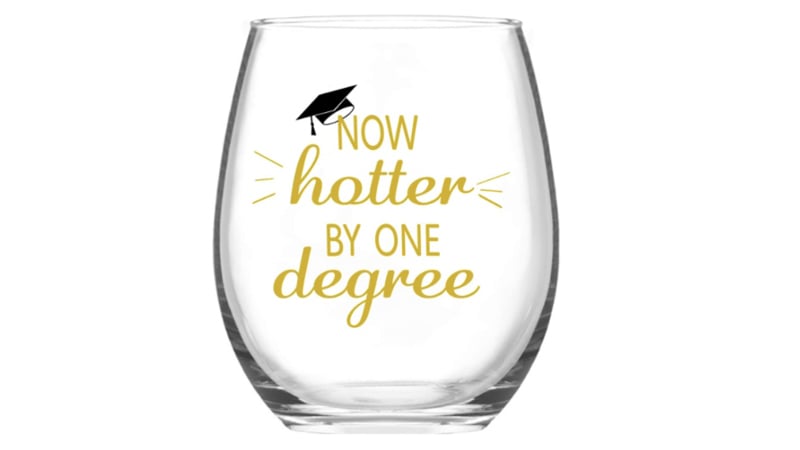 State Parks Explorer Map
One of the best times to start an adventure is fresh out of college. Before the work-life balance shifts and you will no longer have time to take lengthy breaks, why not tick off all your favorite locations on this State Parks Explorer Map?! It is an excellent gift for yourself or a recent graduate with a sense of adventure.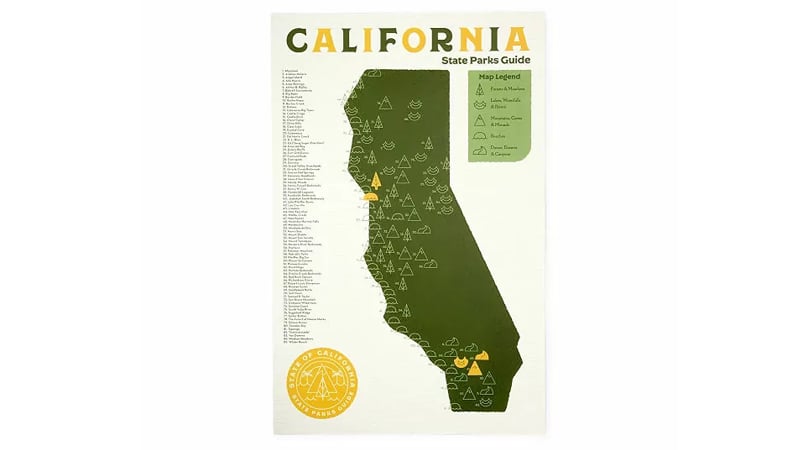 'Keep Going' Paperweight
Graduating college is a moment that is meant to be celebrated, and you have worked hard to reach this point. A great way to show the recent graduate that you love them and are proud of their achievements is with a gift like the 'Keep Going' Paperweight. When times are tough, they can look at it and remind themselves that their loved ones always support them.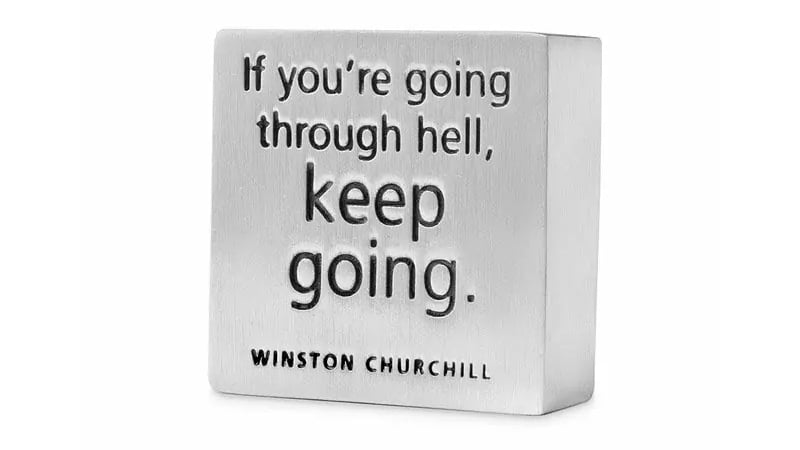 Graduation Morse Code Leather Bracelet
If you want to give someone who has recently graduated a memorable gift, consider a bracelet. He can wear this every day, reminding himself of his accomplishments. Or it can be stored somewhere special. The bracelet is also different with a more abstract message; created from Morse code. The combination of the beads with the black leather makes for an edgy and cool design.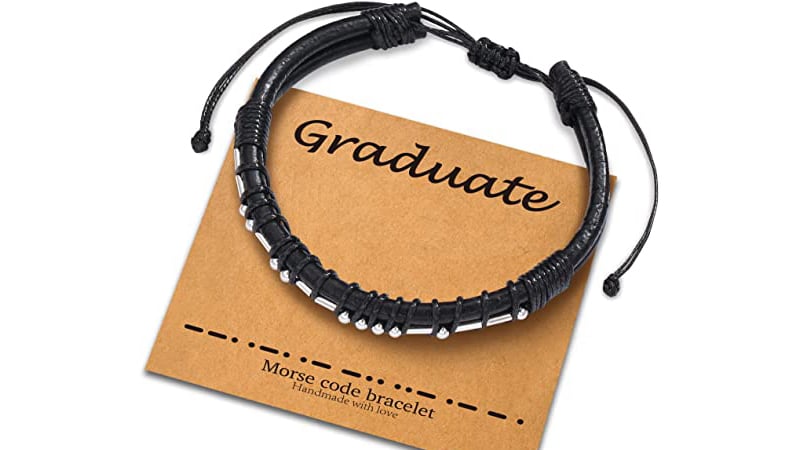 College Cityscape Wine Glasses
Some wine glasses are witty or amusing, but the College Cityscape Wine Glasses feel much more classy. It is a great way to acknowledge the time spent at a specific college but is done in a way that feels fresh and modern. The glasses come in a set of two and are printed in reverse colors with hand-drawn illustrations.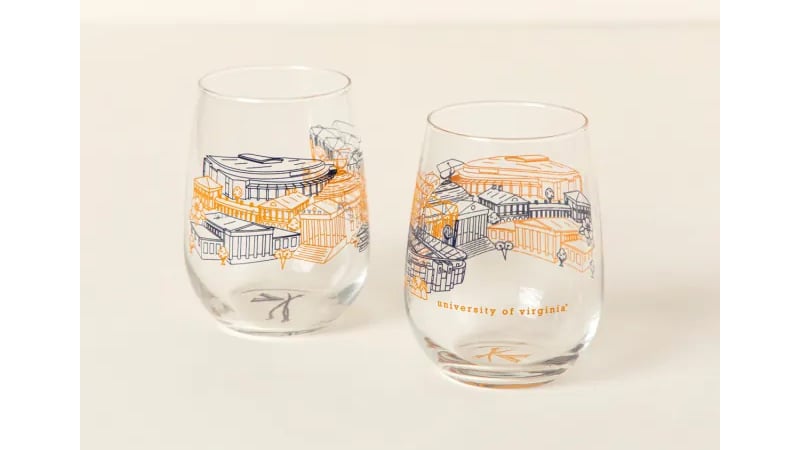 Graduation Cuff Bracelet with Graduation Bear
A graduation teddy bear is an item that has been a popular gift choice because it is cute and often cost-effective. This combination features a small bear in a graduation outfit but is also paired with a jewelry cuff, which the recipient can wear to reflect upon her achievements. The bracelet is rose gold coloring and can be adjusted to fit most wrist sizes.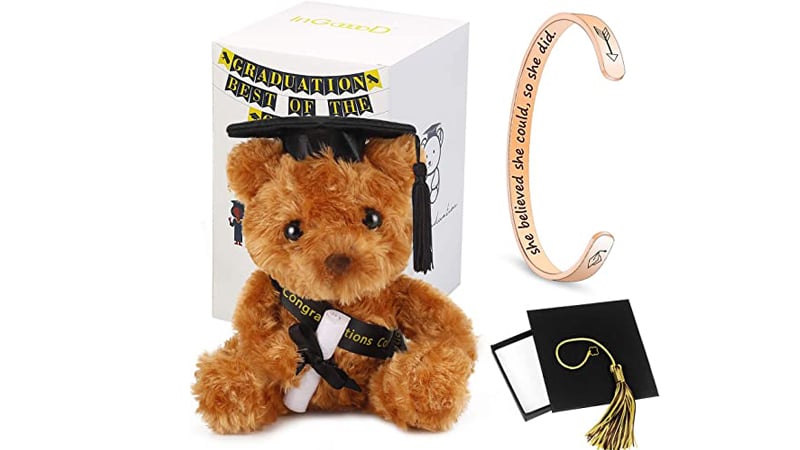 Heirloom Custom Video Book
We spend so much time on our phones recording memories, but a nice alternative would be to have video footage stored in a video book. The Heirloom Custom Video Book has a retro design but modern technology, featuring 20 minutes of video. It is extremely simple to use and is also great for those who are technology challenged. To make it an extra special gift, you can record a greeting for the recipient and include a note.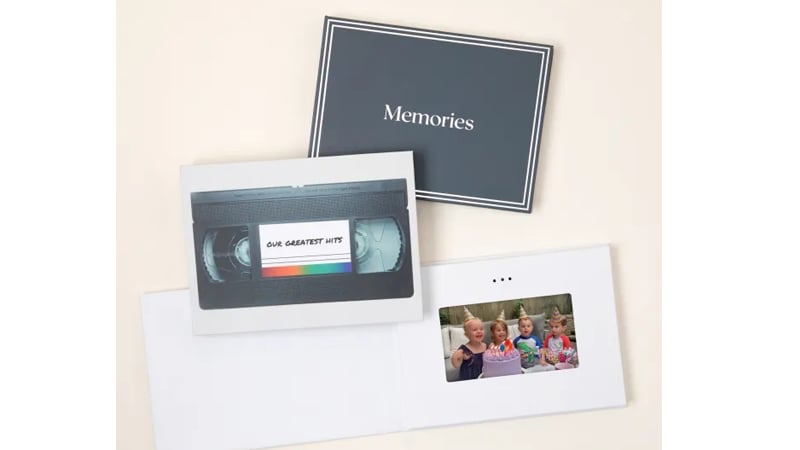 Graduation Wine Labels
If you know of a recent graduate who intends to have a party to celebrate their achievements, then a nice touch could ​​be a set of wine labels. The labels are graduation-themed and created in a black and gold color scheme. There are five in total with different messages. As a bonus, you may also want to supply the wine.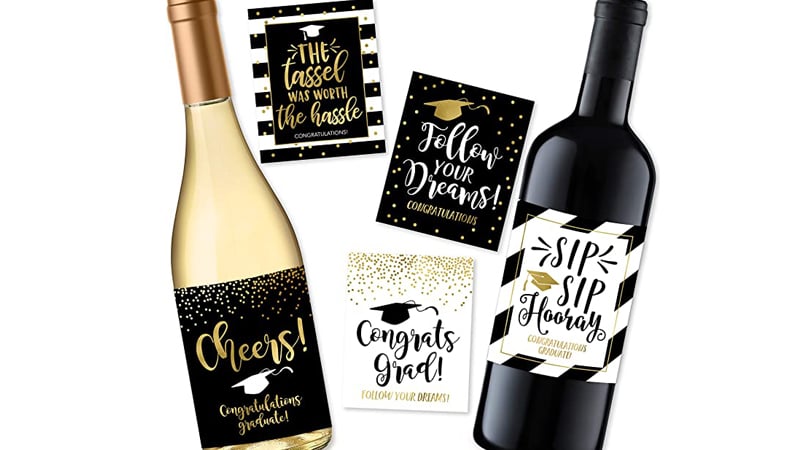 Graduation Themed Toilet Roll
College is an important time for social and academic growth, and while some people will relive these moments for the rest of their lives, others just want to be done with the whole experience and the stress of it all. If you know a recent grad that would like to poke fun at their college graduation, consider gifting them a graduation-themed toilet roll.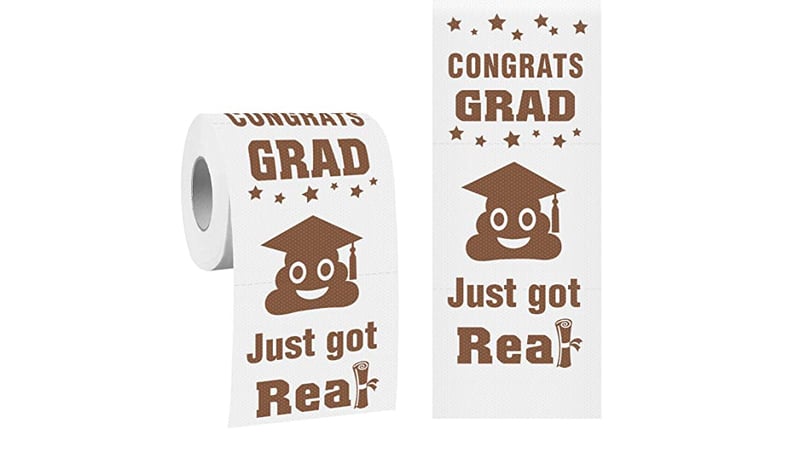 College Team Spirit Pillow
If a pillow filled with college-themed illustrations sounds appealing, look no further than a College Team Spirit Pillow. There are several options to choose from, including Cornell University and Boston College, so that you can pick the relevant one. The pillows are made in Brooklyn by artist Erin Rosengren and created with a cotton outer and synthetic-down inner.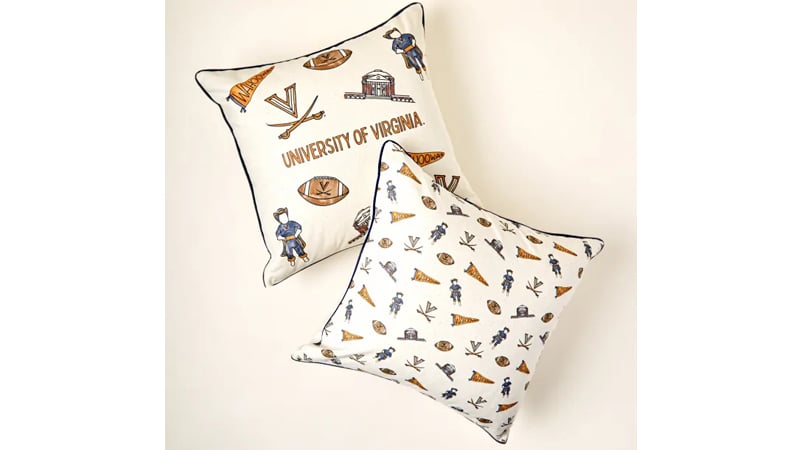 She Believed She Could Framed Art Block
The saying, "She Believed She Could, So She Did," is commonly used and serves as a source of inspiration for many women. If you know a recent graduate who would appreciate this message but done creatively and uniquely, then consider this stunning framed art block on an ash wood frame. It was created by artist Alena Hennessy and made in Portland.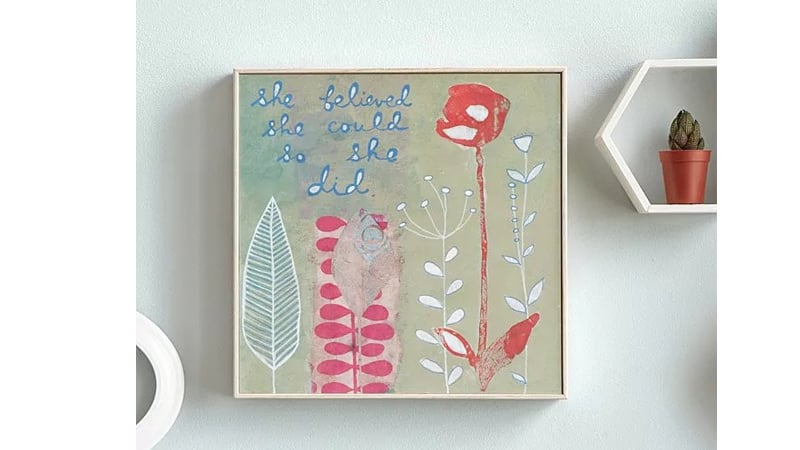 Graduation Themed Box with Meaningful Bracelet
A pretty bracelet in a graduation-themed box is a perfect gift. This bangle comes with an inspiring message, celebrating the wearer's achievements and acknowledging the power of self-assuredness. The bracelets come in a range of colors, including rose gold and silver, and vary slightly in the design.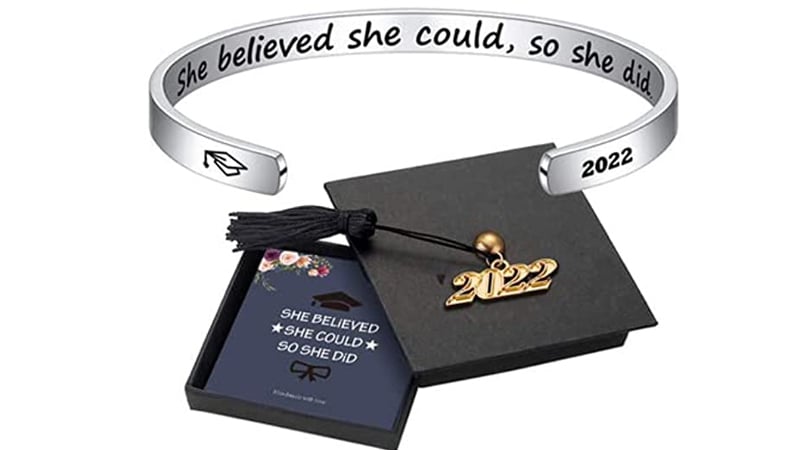 Amazon Gift Card
If you feel giving cash is inappropriate or want to be more creative with your presentation, few things beat a gift card. Amazon is a great place to shop for just about anything, and gifting a recent college graduate with a gift card with your chosen denomination gives them the freedom to choose what they want or need.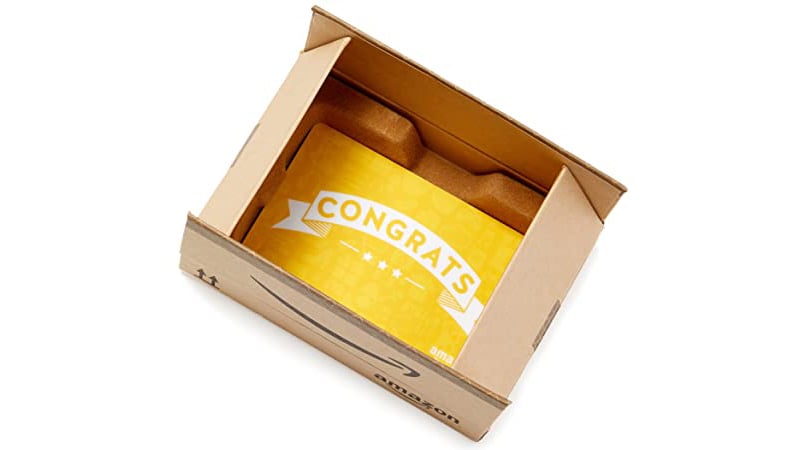 F-Bomb Paperweight
Paperweights are not your everyday gift. They can be helpful, and they can be amusing, so maybe it is time to start gifting them?! The F-Bomb Paperweight is handmade from recycled steel. It is for college graduates to keep their papers and projects securely in place. Let them show their playful side with this unique present.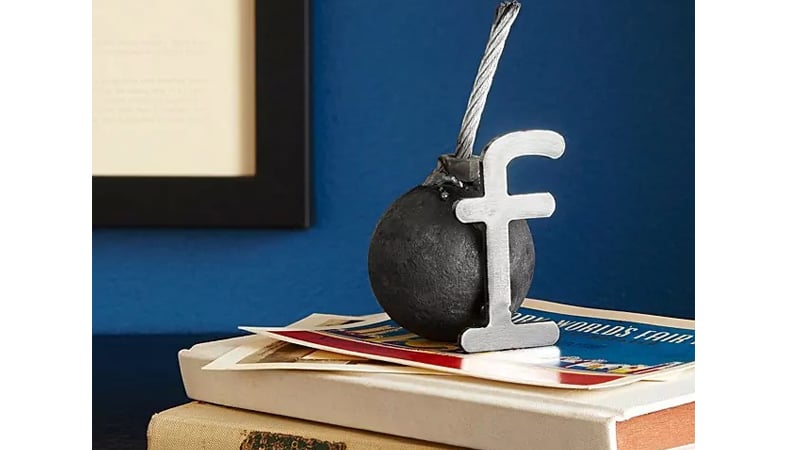 Custom Map Cufflinks
Cufflinks are always a great choice because they can be worn many times. The appeal of custom cufflinks is that the wearer can express themselves, showing off their style. With this particular pair, they can be created with the map of a special location, whether that is the college they are leaving or their hometown.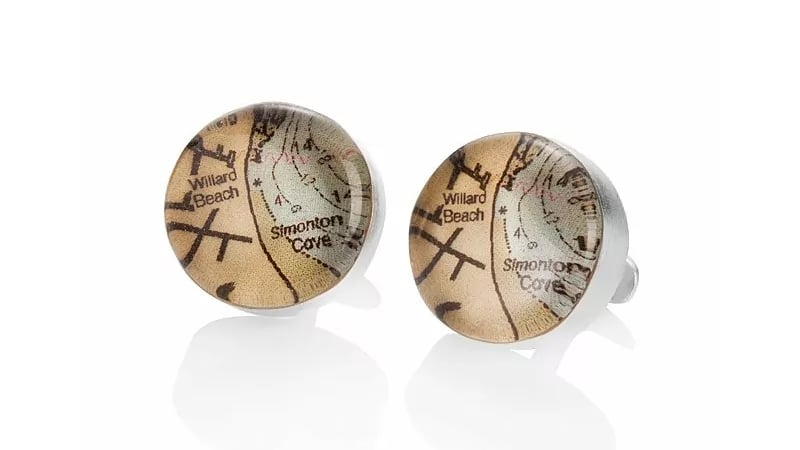 Class of 2022 Graduation Necklace
What better way to remember your graduation year than with a necklace? If you know someone who will complete their studies in 2022, then the Class of 2022 Graduation Necklace could be the present you have been looking for. It is designed to be nickel and lead-free and comes packaged in a box, ready to give to your loved one.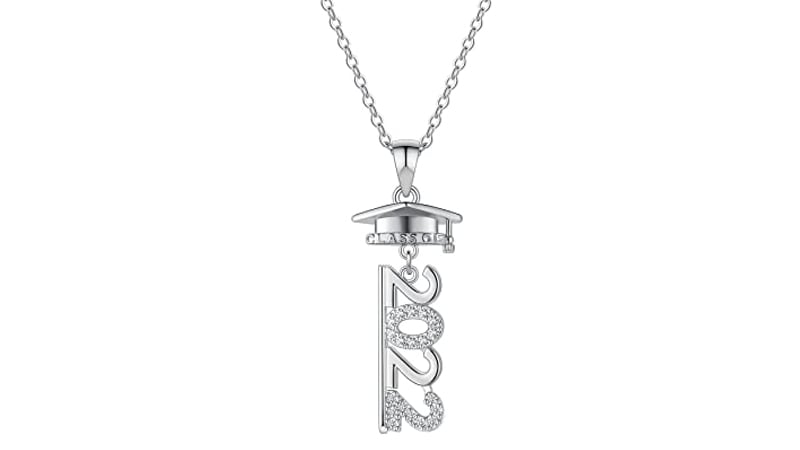 Cheeky Finally Keychain
This is a cheeky and playful way to acknowledge all the work that went into achieving a degree. This accomplishment did not happen overnight, and although the college experience can be a lot of fun, it is also stressful. You dedicated years of your life to a degree; why not acknowledge it with a keychain that just happens to have an expletive on it.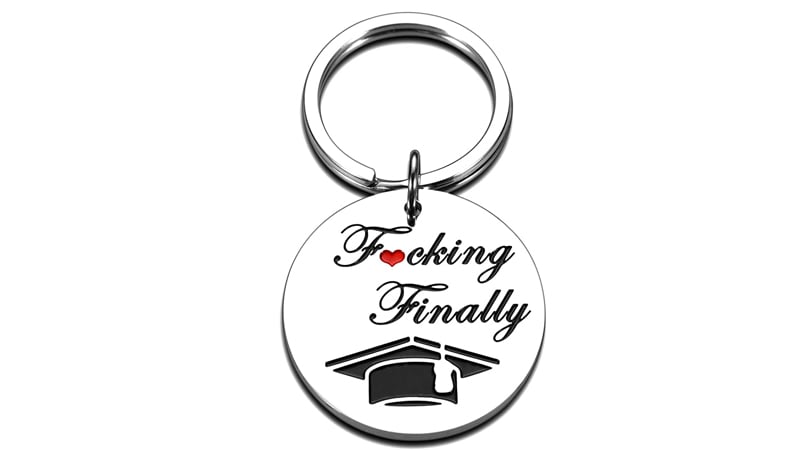 FAQs
What is an appropriate graduation gift?
A graduation gift can be a range of things, from cash and gift cards to meaningful items. This will depend on how close you are to the recipient and your relationship with them. You cannot go wrong with cash, though, as it allows the recent graduate to purchase something they need or want.
What kind of gifts do you give a high school graduate?
You can give a high school graduate cash, gift cards, or personal items that are meaningful and celebrate your relationship. You may want to give them something that shows how much you love them and how proud of their accomplishments you are. This could include meaningful jewelry, a happiness journal, or something more unique. Think about your relationship with this person and what they would appreciate the most.
How much do you give for a high school graduation gift?
There is no minimum or maximum for what you can give a high school graduate, and this depends on your relationship with them and your financial position. If you do not have a lot to give, you can make them something thoughtful. A good price range would be around $25 to $50. This can be more if you wish and is often more when gifted by the parents or grandparents.
How much money do you give for a college graduation gift?
College graduation gifts are usually more expensive than those of high school graduates because they are older, and for many, having a degree comes with more prestige. You can give them presents or cash for around $100 to $300 if you know them well. If you feel that this is too much to spend, you can get creative with your gift, making it meaningful rather than about the monetary value.
SUBSCRIBE TO OUR NEWSLETTER
Subscribe to our mailing list and get interesting stuff and updates to your email inbox.