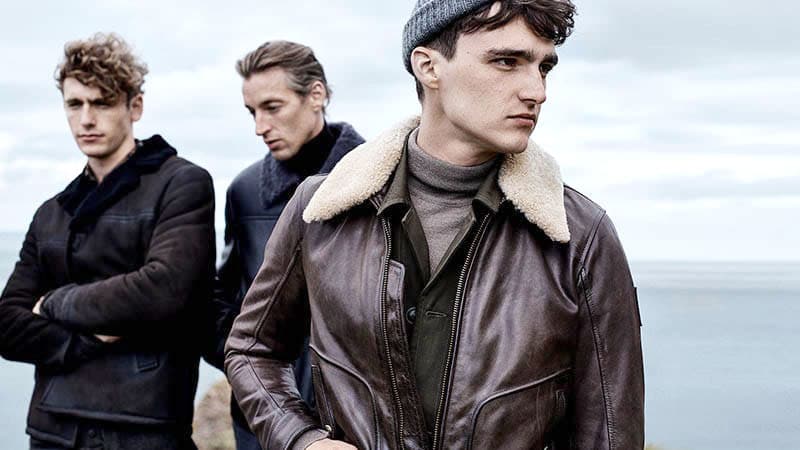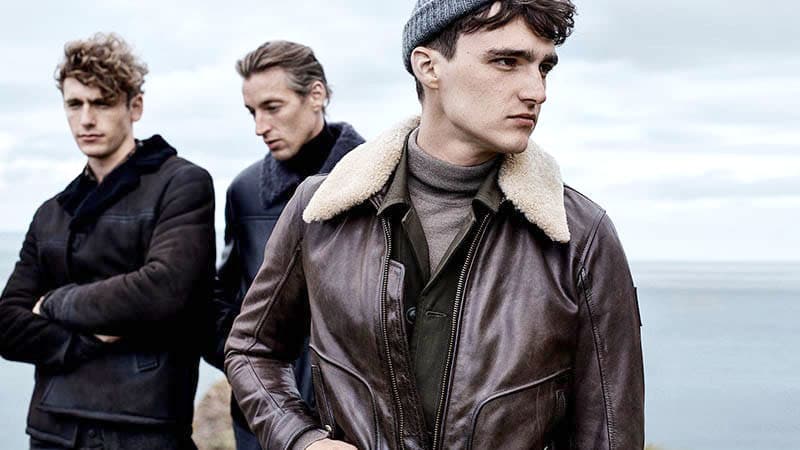 The term "jacket" may seem straightforward, but it actually encompasses a vast variety of different styles and designs. As such, choosing the right jacket for each occasion and outing can be tricky, especially if you're unfamiliar with the different types. Thankfully, we're here to help make sure your outerwear is on point every time you walk out the door. Here are the best men's jacket styles every gent should know and own.
1. Bomber Jackets
Also known as a flight jacket, a bomber jacket is a short, durable jacket with a zippered front and fitted or elastic waist and cuffs. The style originates from the US Air Force, where it was worn by flight crew members. Today, however, the bomber jacket is beloved by men of all professions. Perfect for a range of casual ensembles, this jacket is comfortable and highly versatile. While traditional bomber jackets are leather, the style now also commonly appears in nylon and other materials.
RELATED: 20 Best Bomber Jackets for Men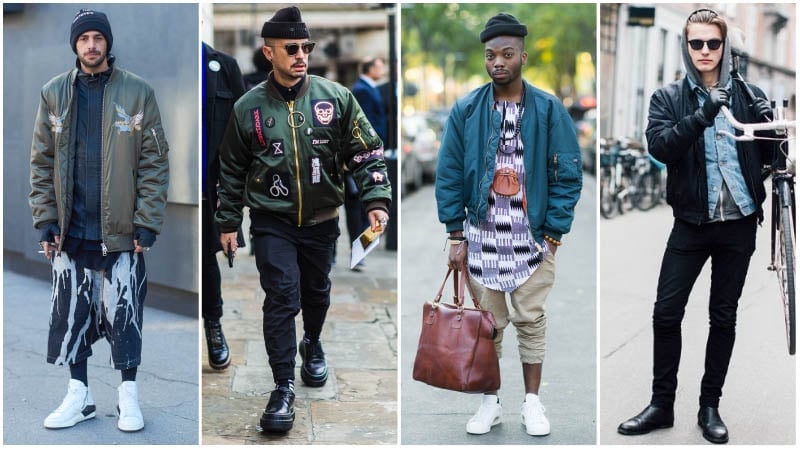 2. Biker Jacket
For days when you're feeling a little rebellious, there's no better jacket than a biker jacket. Whether you're a motorcyclist or not, this short, close-fitting, leather jacket with zips and studs appears stylish and tough. It also looks great with jeans and a T-shirt, making it a quick and easy option for times when you're running late but still want to look good.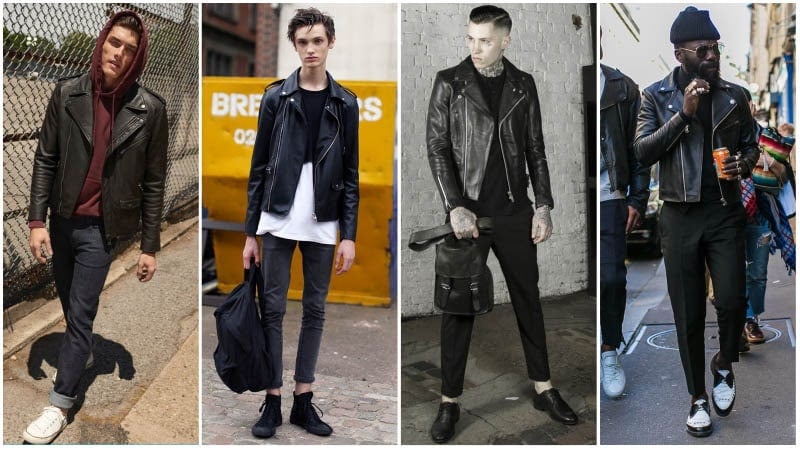 3. Trucker Jacket
For those who don't know, the trucker jacket is a type of button-front jacket that features double breast pockets. The style is typically short and fitted and often made of blue denim. However, other versions are also available, including suede styles, shearling-trimmed designs, and options in different colors, such as brown and black. Overall, the trucker jacket is a timeless design that is perfect for the weekend.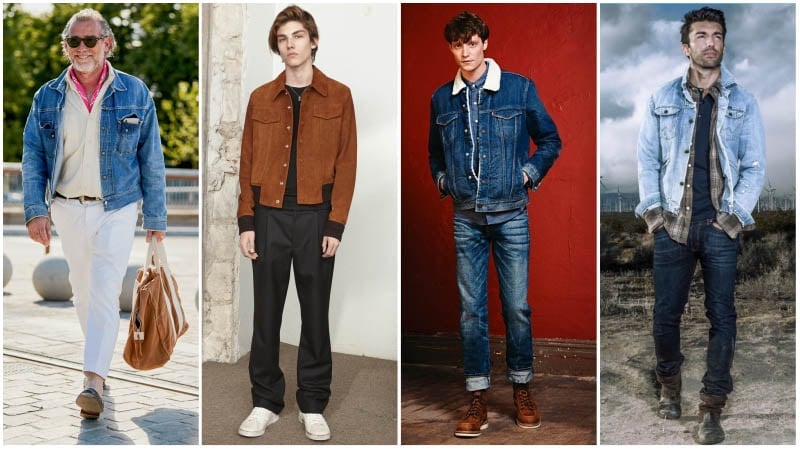 4. Denim Jackets
If you don't already own at least one denim jacket, it's time to invest. This versatile outerwear option looks excellent with countless casual and smart casual outfits. It's also perfect for any time of the year. Wear one on summer nights with a white, crew-neck T-shirt and winter days over a black, turtleneck sweater and below a camel overcoat.
RELATED: What to Wear with a Denim Jacket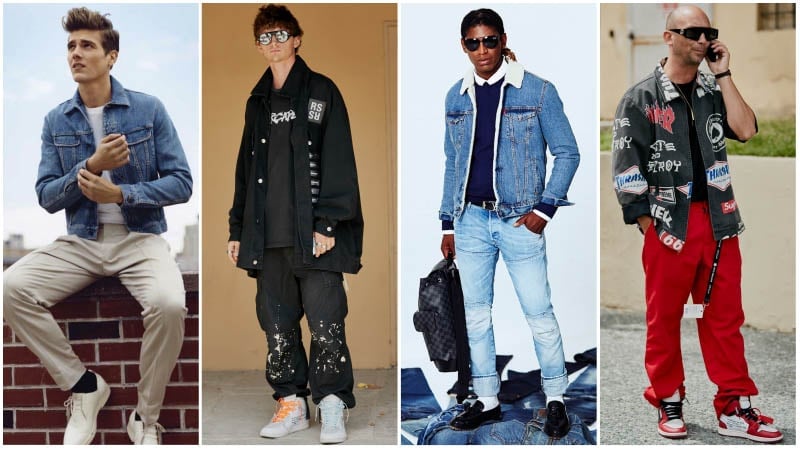 5. Track Jacket
Whether you're running laps around the park or having coffee with friends, a track jacket can make an excellent option. This comfortable, lightweight style typically features a zip front along with ribbed cuffs and waistband. It's sporty aesthetic makes it a perfect choice for athleisure outfits. All you need to decide is whether you want to add matching track pants or opt for jeans instead.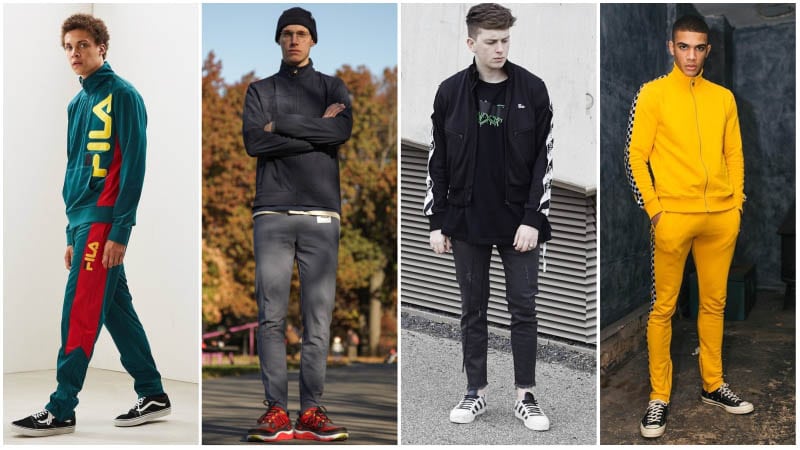 6. Blouson Jacket
Also known as a Harrington, a blouson jacket is a waist-length, zippered, solid-color jacket. The style features fitted or elastic cuffs and waistband, which cause the material to gather and "blouse" over the wrists and waist. As such, the style is similar to a bomber jacket. However, it is typically more tailored and often finished with a classic collar, which makes it appear somewhat smarter.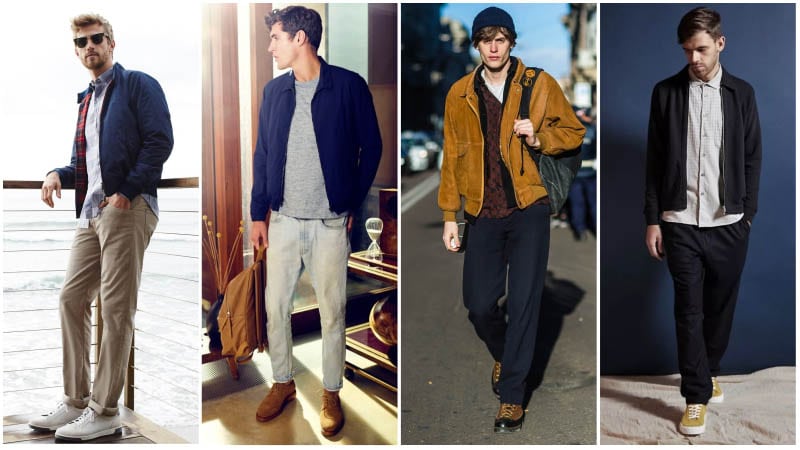 7. Hooded Jacket
Practical and stylish, a hooded jacket is a must-have for every man. Not only will the outerwear option help keep your face and hair dry in the rain, but it'll look fashionably casual while doing so. All you need to do is choose your favorite hooded style. Will it be a simple sweat jacket, an on-trend bomber, a cozy puffer, or something else? The choice is yours.
RELATED: How to Wear a Hoodie with Style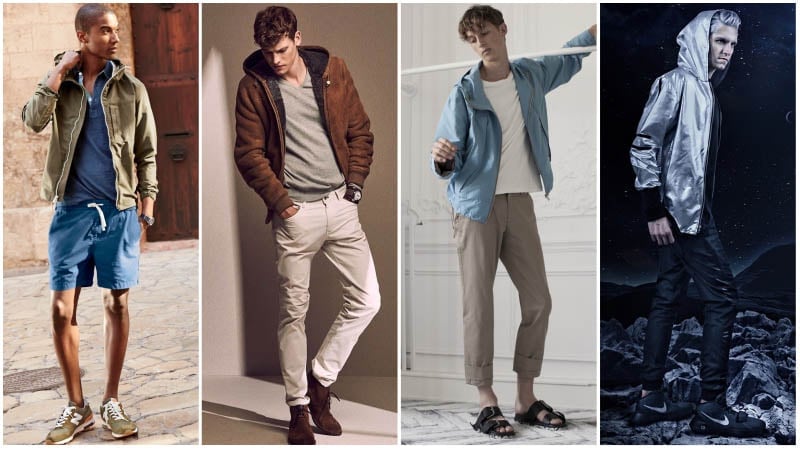 8. Overcoat
Overcoats come in a variety of different designs and styles. What they all have in common is that they're long and warm and designed to be worn over indoor clothing. Pick one up in a timeless style you love, and you'll always be covered for those winter commutes to work, dinners, drinks, and more.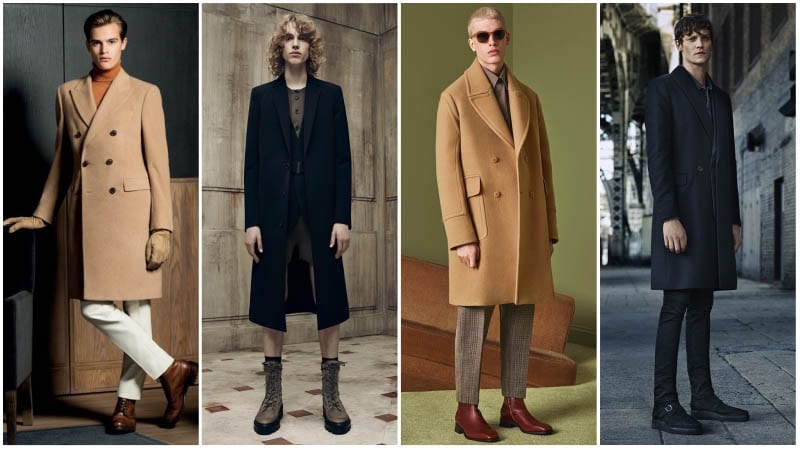 9. Parka
A parka is a hip-length jacket designed for cold weather. The style is typically stuffed with down or synthetic fiber and often features a fur-lined hood. Thanks to their warm designs and casual aesthetics, parkas are perfect for informal winter outings, such as attending a sporting match.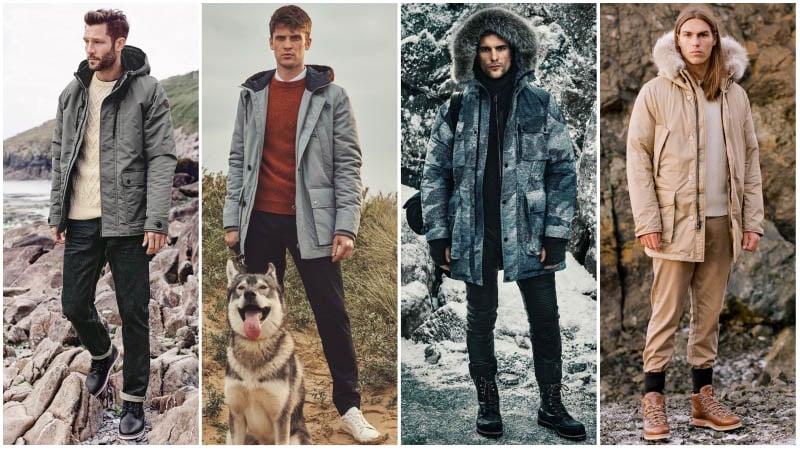 10. Pea coat
A pea coat is a short-length coat that features broad lapels and a double-breasted front. The outerwear style is traditionally made from heavy wool in a navy color and often features large buttons and vertical or diagonal pockets. The garment was originally worn by sailors, but now makes a smart choice for all types of men.
RELATED: How to Wear a Pea Coat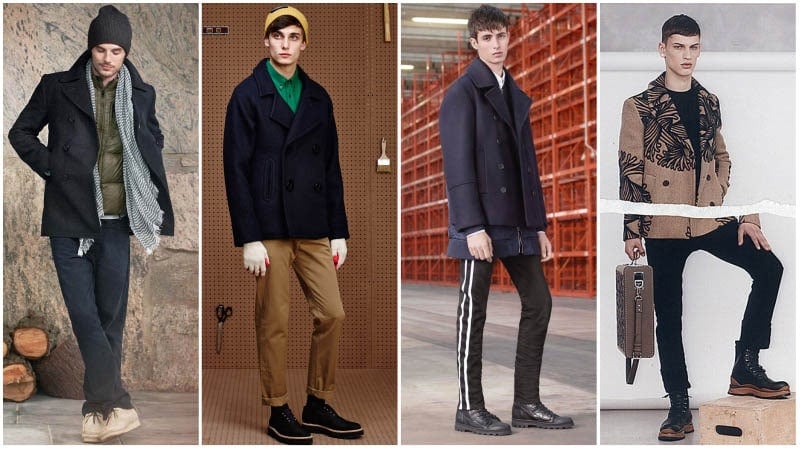 11. Trench Coat
The trench coat is a classic and timeless style that dates back over a hundred years. While it was once worn by military men, the garment is now a staple for every gent. As well as appearing particularly stylish and polished, this coat is also a functional piece of outerwear that can help keep you warm and dry throughout autumn and winter.
RELATED: 7 Best Men's Trench Coat Styles for Winter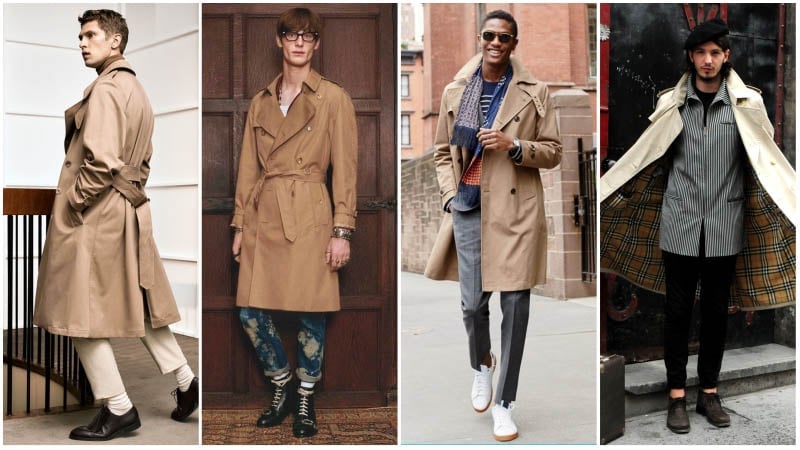 12. Raincoat
A raincoat is made to withstand wet weather and is an essential item for all gents. To choose the right one for you, you should consider several factors, such as the style, fabrication, and length. Also, it's important to note whether it's a waterproof jacket or a water-resistant one and whether or not it features a hood.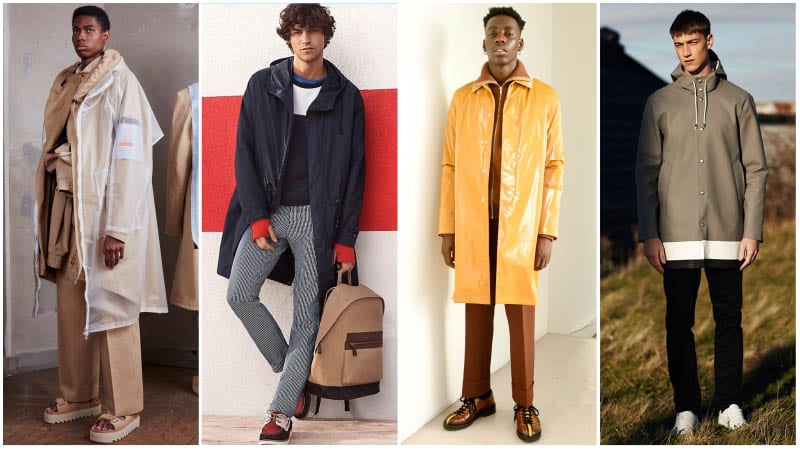 13. Shearling Jacket
If you want to look good while staying warm in winter, you can't go past a shearling jacket. Perfect for fighting the cold in style, these jackets feature cozy sheep's wool, which can be real or synthetic. While a traditional shearling jacket has a woolly inner and a suede outer, there are many other options available today. These options include leather styles along with designs that only feature shearling on the collar or lapel.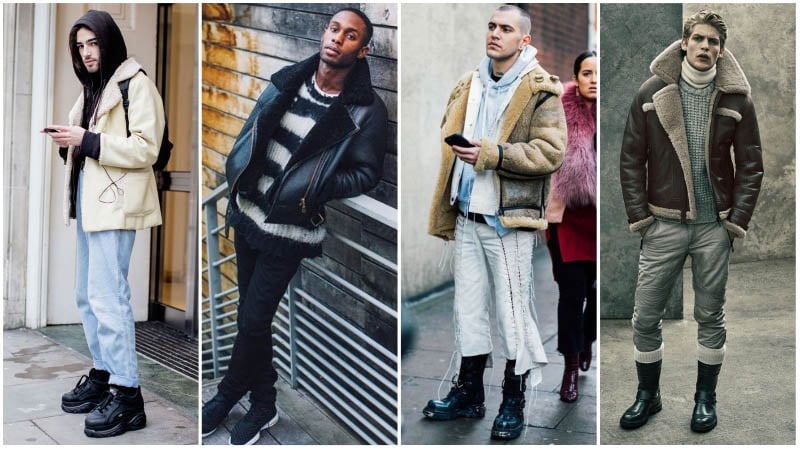 14. Anorak
Although many people get confused between anoraks and parkas, they are different garments. While a parka is a hip-length jacket that is typically stuffed and features a fur-lined hood, an anorak is a water-resistant, hooded, pull-over jacket. Anoraks also sometimes feature drawstrings at the waist and cuffs as well as a half-zip opening.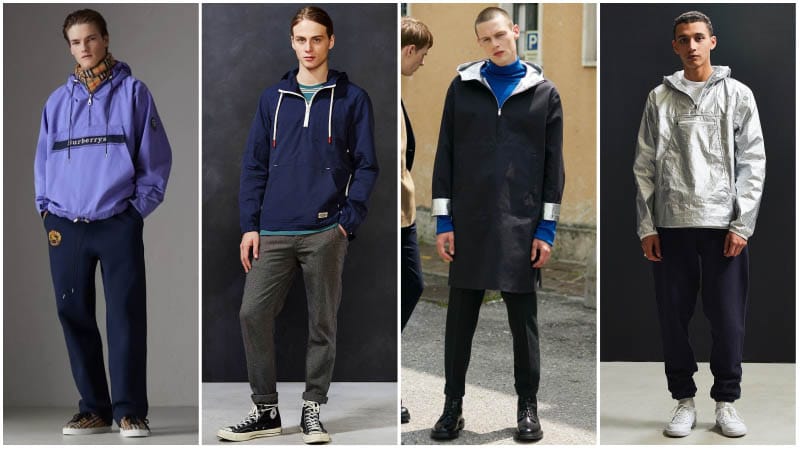 15. Crombie Coat
Strictly speaking, a Crombie coat is a coat from the British brand Crombie. However, over time, the name has come to represent any design that resembles Crombie's iconic three-quarter length overcoats. Typically made of wool and often featuring a velvet collar in a contrasting colour, these coats appear smart and stylish. As such, they make an excellent option for both business and formal occasions.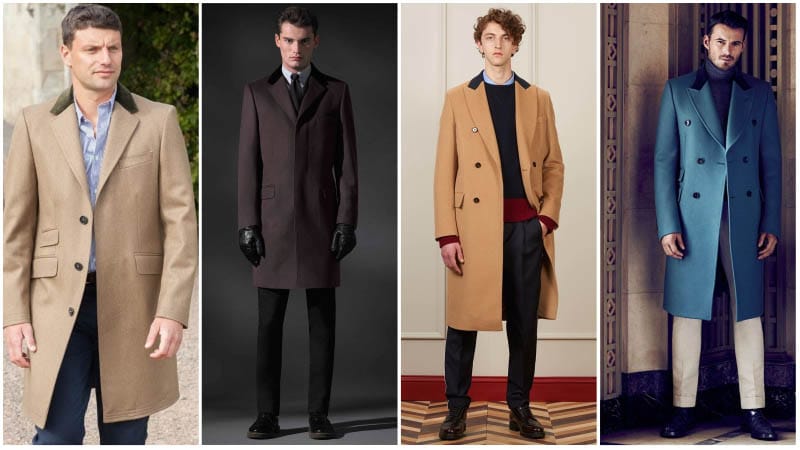 FAQs
What are the different types of jackets?
There are several jacket styles to choose from, and some of the types that every man should own include; bomber, biker, trucker, denim, track, blouson, hooded, overcoat, parka, pea coat, trench coat, raincoat, shearling jacket, anorak, and a Crombie coat.
What is a lightweight jacket called?
A lightweight jacket usually refers to a piece that is created using material that is not heavy. These are often pieces that would be used as transitional wear during spring and autumn. They may also be in lighter colors than the darker hues favored in the winter months.
What is the difference between a jacket and a coat?
The difference between a jacket and a coat is usually the length of the garment. Jackets are shorter than coats; they typically reach your waist, while a coat may go to mid-thigh or longer. Jackets also tend to be made using lighter fabrics.
SUBSCRIBE TO OUR NEWSLETTER
Subscribe to our mailing list and get interesting stuff and updates to your email inbox.