We can all say so many incredible quotes off the top of our heads. Be it a line from a film, a funny joke, or something inspirational, we all have go-to expressions that can make our days better. But there's always another great quote that you may not have heard or an expression that really makes you think. From the best films of all time, celebrities, spiritual figures, and philosophers, this list will inspire everyone! We compiled the most famous quotes of all time that you can share with loved ones, on social media, or simply to yourself.
1. Famous Movie Quotes
What's better than an iconic film? Iconic film quotes! From The Wizard of Oz to The Lord of the Rings, some of the most famous movies in the world have expressions you can say over and over again. Iconic in their own right, you don't need to know these films to recognize the popular sayings. These are great options if you want a quirky Instagram caption, a tattoo, or some extra pizzazz for your moodboard.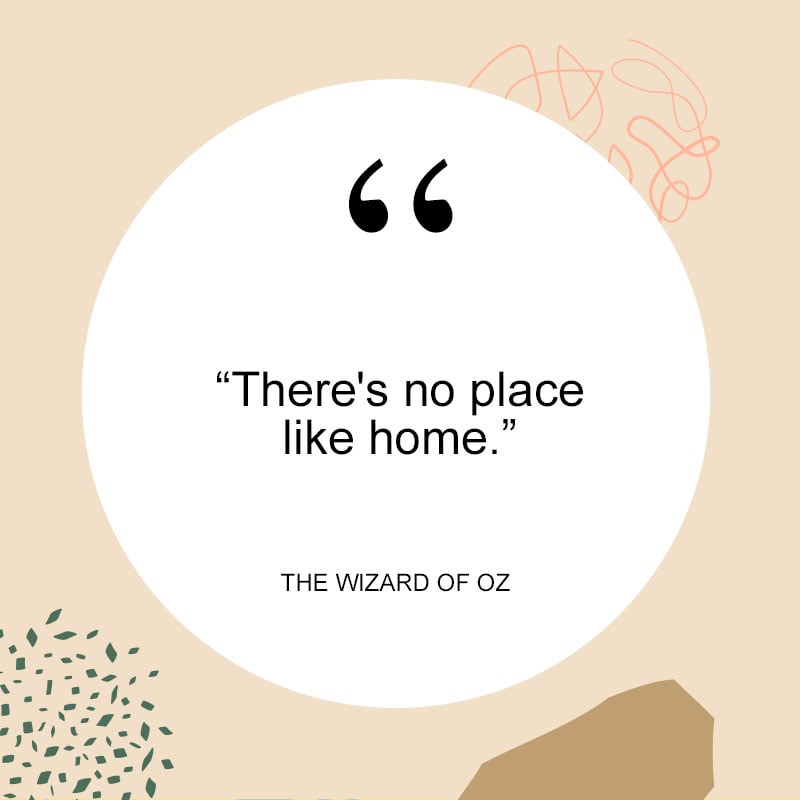 "There's no place like home." -The Wizard of Oz, 1939

"My mama always said life was like a box of chocolates. You never know what you're gonna get." -Forrest Gump, 1994

"I'll be back." -The Terminator, 1984

"My precious." -The Lord of the Rings: Two Towers, 2002

"You had me at 'hello.'" -Jerry Maguire, 1996
2. Famous Quotes About Life
Some of the most iconic quotes come from people who have changed the world in one way or another. Be it John Lennon or Friedrich Nietzsche, they have experienced life in unmatched ways and therefore have excellent views on the ups and downs it provides. Turn to these famous life quotes when a loved one needs a pick-me-up or for a social media post. They're iconic in so many ways that they'll be a timeless choice for years to come.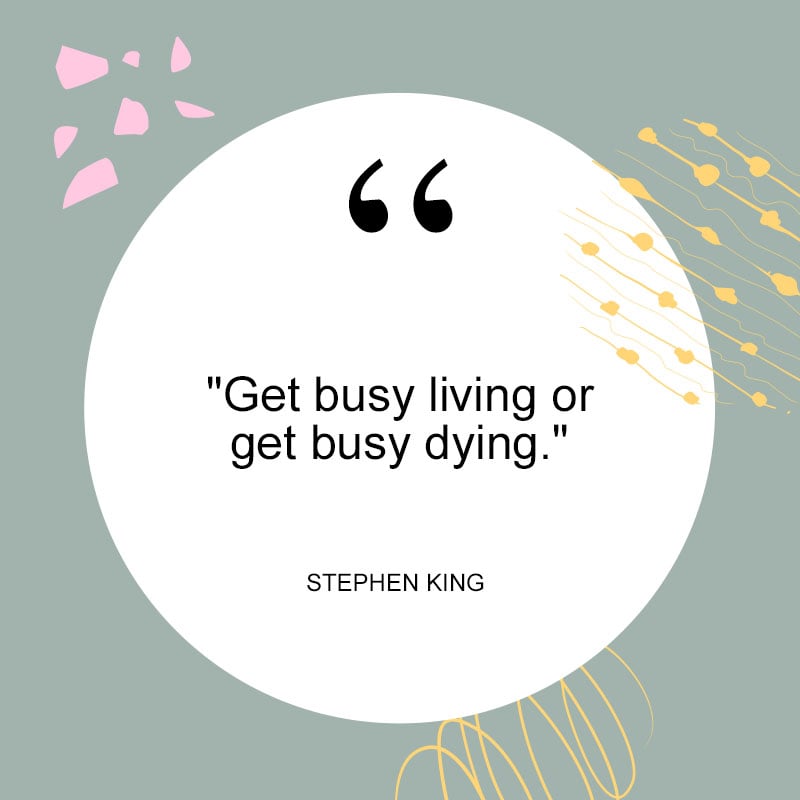 "Get busy living or get busy dying." — Stephen King.

"The journey of a thousand miles begins with one step." — Lao Tzu.

"That which does not kill us makes us stronger." — Friedrich Nietzsche.

"Life is what happens when you're busy making other plans." — John Lennon.

"You must be the change you wish to see in the world." — Mahatma Gandhi.
3. Famous Inspirational Quotes
On days when you need inspiration, turn to these famous inspirational quotes to get you through. Whether you are starting a new project, reaching a goal, or simply need an extra push to get out of bed, these expressions are motivational and galvanizing. We've compiled sayings from some of the world's most famous people, such as Eleanor Roosevelt and Nelson Mandela. Start a side hustle with moving words from business moguls like Oprah and Steve Jobs, and so much more – these will help you along the way!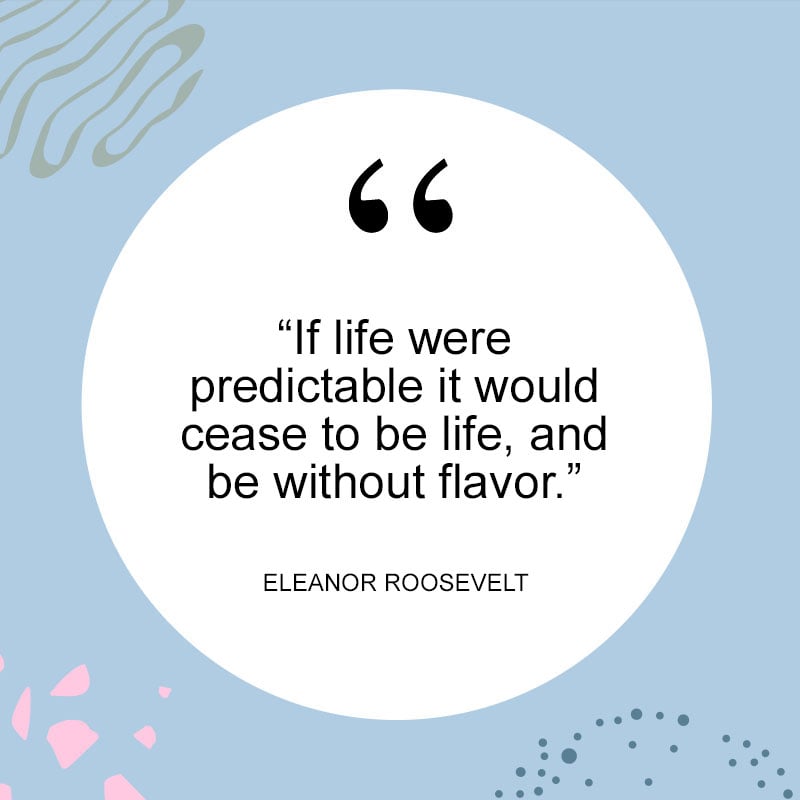 "The greatest glory in living lies not in never falling, but in rising every time we fall." -Nelson Mandela.

"Your time is limited, so don't waste it living someone else's life. Don't be trapped by dogma – which is living with the results of other people's thinking." -Steve Jobs.

"If life were predictable, it would cease to be life, and be without flavor." -Eleanor Roosevelt.

"If you look at what you have in life, you'll always have more. If you look at what you don't have in life, you'll never have enough." -Oprah Winfrey.

"If you set your goals ridiculously high and it's a failure, you will fail above everyone else's success." -James Cameron.
4. Famous Motivational Quotes
Are you having trouble reaching the goals you set or want to begin a big step in your career? Then look to this selection of famous motivational quotes to help you on your path. We've compiled a list of inspirational figures to refer to if you need an extra boost. Whether you love quotes from motivational speakers like Tony Robbins or sports icons like Babe Ruth, you will have endless choices to help you back up if you ever fall down.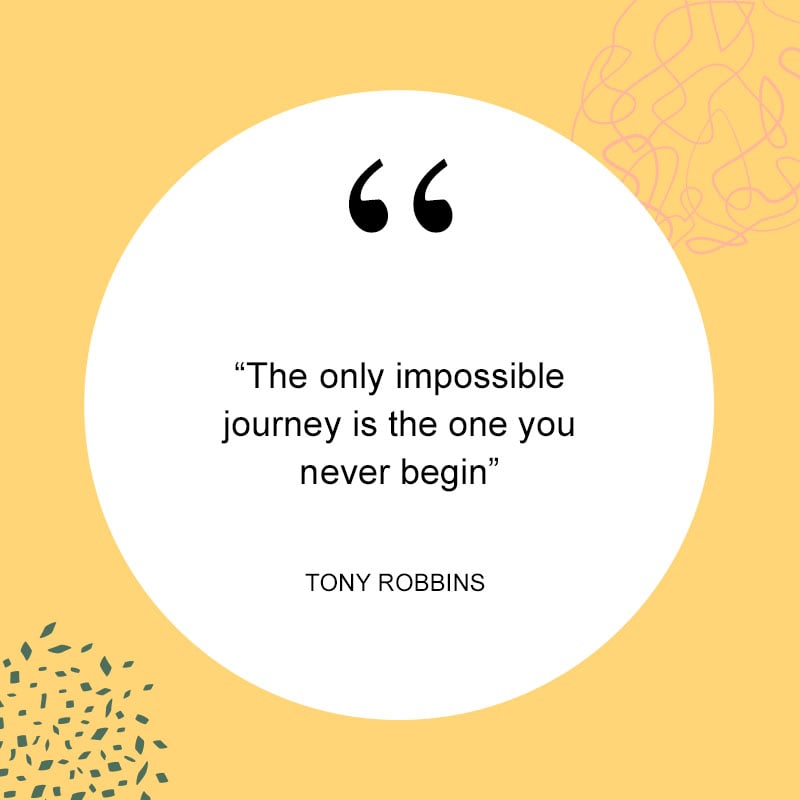 "The secret of getting ahead is getting started" – Mark Twain.

"The only impossible journey is the one you never begin" – Tony Robbins.

"When you know what you want, and want it bad enough, you'll find a way to get it" – Jim Rohn.

"Take action. An inch of movement will bring you closer to your goals than a mile of intention" – Steve Maraboli.

"Never let the fear of striking out keep you from playing the game" – Babe Ruth.
5. Famous Quotes About Success
Subjective and ongoing, success is different for everyone. When you need a bit of motivation to help you along the way, these famous quotes about success can not only give you an extra boost but also show that every road to success is a bumpy one. Here you will find sayings from inspirational figures like Churchill, Mister Rogers, and Estée Lauder. They are perfect for social media posts or mood boards – you can even add them to your morning routine so you can tackle the day perfectly every time.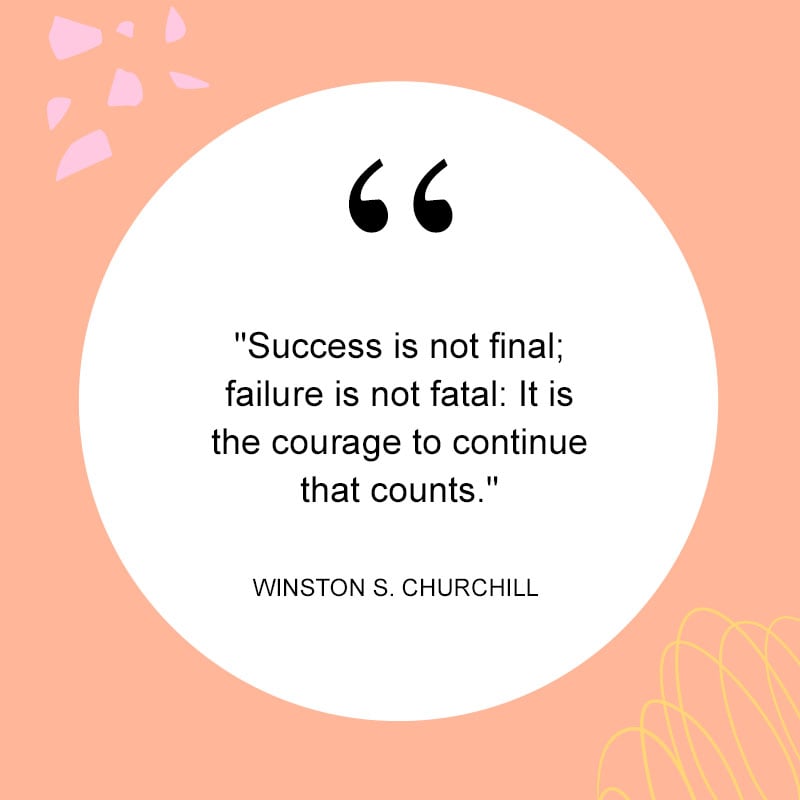 "Success is not final; failure is not fatal: It is the courage to continue that counts." — Winston S. Churchill.

"The road to success and the road to failure are almost exactly the same." — Colin R. Davis.

"Develop success from failures. Discouragement and failure are two of the surest stepping stones to success." —Dale Carnegie.

"There are three ways to ultimate success: The first way is to be kind. The second way is to be kind. The third way is to be kind." —Mister Rogers.

"I never dreamed about success. I worked for it." —Estée Lauder.
6. Famous Love Quotes
Love has been a theme of endless stories for thousands of years. So when it comes to famous love quotes, there are infinite options to choose from – we've selected the best five that apply to lives worldwide. From Euripides to Dr. Seuss, the overwhelming feeling of adoration consumes us all and affects everyone in different ways. Share these with your loved ones on a romantic social media post, or send them to your significant other when you want to express yourself.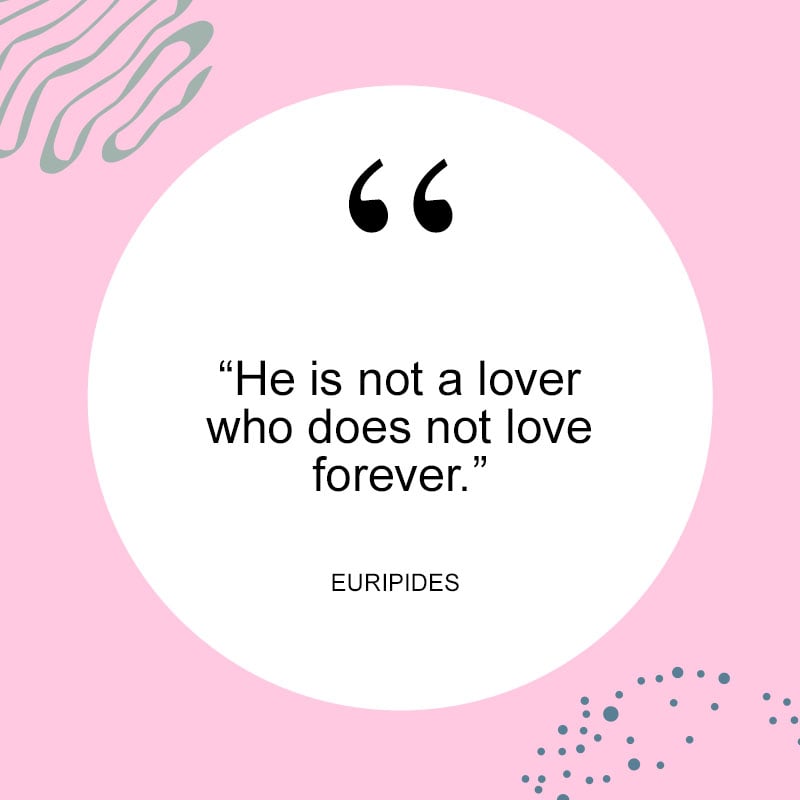 "I swear I couldn't love you more than I do right now, and yet I know I will tomorrow." – Leo Christopher.

"A man is already halfway in love with any woman who listens to him." – Brendan Francis.

"He is not a lover who does not love forever." – Euripides.

"Love is an untamed force. When we try to control it, it destroys us. When we try to imprison it, it enslaves us. When we try to understand it, it leaves us feeling lost and confused." – Paulo Coelho.

"You know you're in love when you can't fall asleep because reality is finally better than your dreams." – Dr. Seuss.
7. Quotes by Famous People
While not every memorable quote is by a famous person, some of the best expressions come from household names. Be it Abraham Lincoln, Bob Marley, or Marilyn Monroe, this list of famous quotes are standouts for a reason. They can express a lot of different emotions and evoke feelings of inspiration and happiness. You can use these any way you prefer – an Instagram caption, morning affirmations, or a pick-me-up during the week!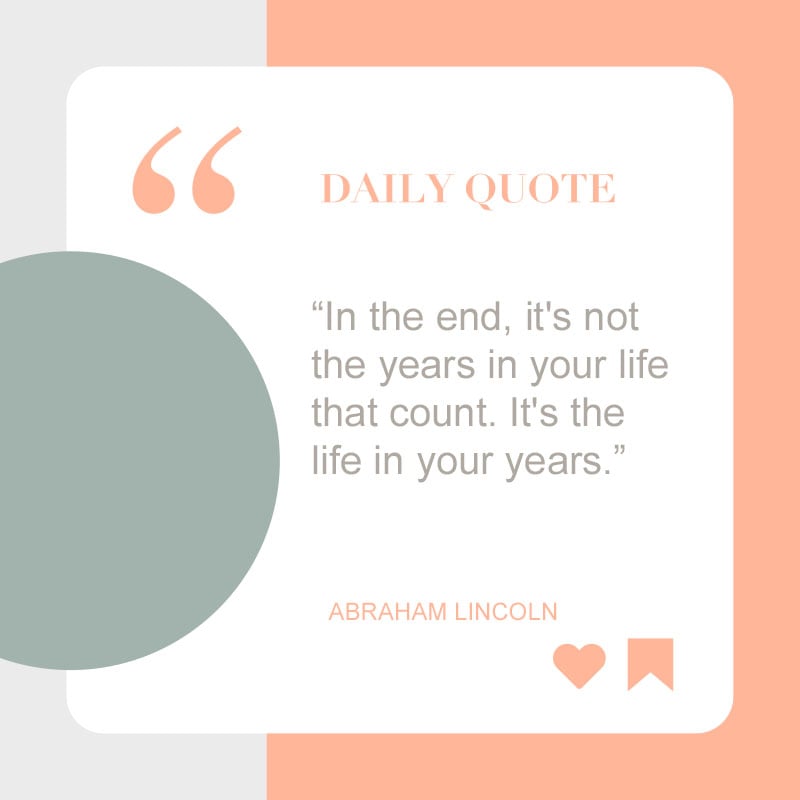 "In the end, it's not the years in your life that count. It's the life in your years." -Abraham Lincoln.

"Keep smiling because life is a beautiful thing, and there's so much to smile about." -Marilyn Monroe.

"Love the life you live. Live the life you love." -Bob Marley.

"Success is not final; failure is not fatal: It is the courage to continue that counts." -Winston S. Churchill.

"Whether you think you can or you think you can't, you're right." -Henry Ford.

"Nothing is impossible, the word itself says, 'I'm possible!'" -Audrey Hepburn.
8. Famous Women Quotes
There are countless famous women in history, all of which have broken barriers and shared their stories, inspiring millions along the way. That's what makes these famous women quotes so special. They evoke a sense of hope, are full of wisdom, and inspire you to do great things. Whether you are beginning a small step on a large journey, need a motivational boost, or want to inspire others, turn to this selection.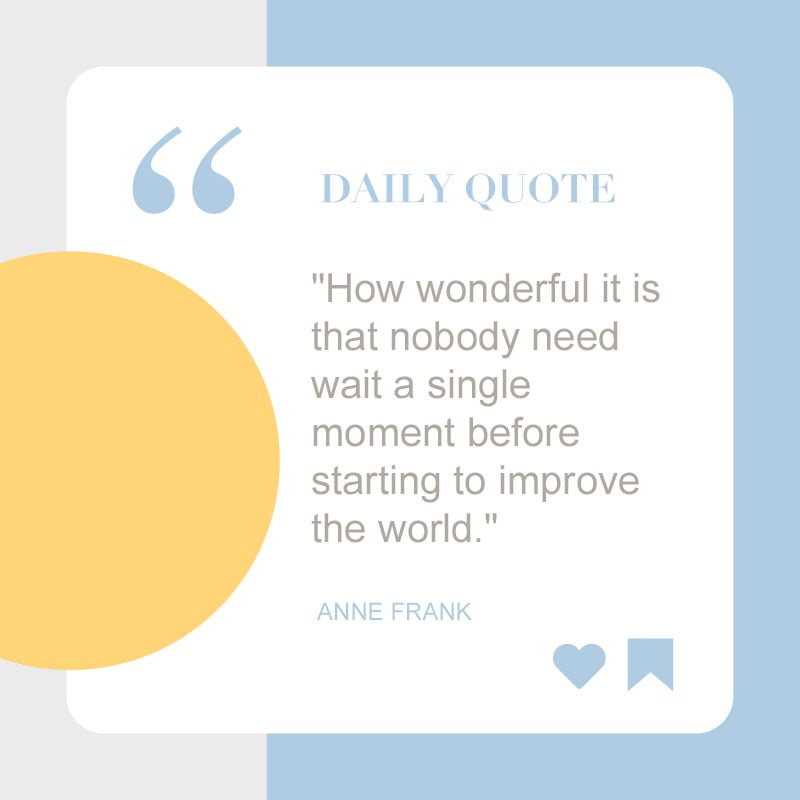 "You know you are on the road to success if you would do your job and not be paid for it." -Oprah Winfrey.

"I alone cannot change the world, but I can cast a stone across the water to create many ripples." -Mother Teresa.

"I've learned that people will forget what you said, people will forget what you did, but people will never forget how you made them feel." -Maya Angelou.

"The most difficult thing is the decision to act, the rest is merely tenacity." -Amelia Earhart.

"How wonderful it is that nobody need wait a single moment before starting to improve the world." -Anne Frank.
9. Famous Funny Quotes
We could all use a giggle or two once in a while (or often), and that's where these quotes come in handy. From famous writers like Oscar Wilde to barrier-breaking artists like Picasso, there are so many hilarious takes on life that are worth sharing. Send these famous funny quotes to a friend who needs cheering up, in a birthday card, or even as a special Instagram post. After all, who doesn't love to laugh?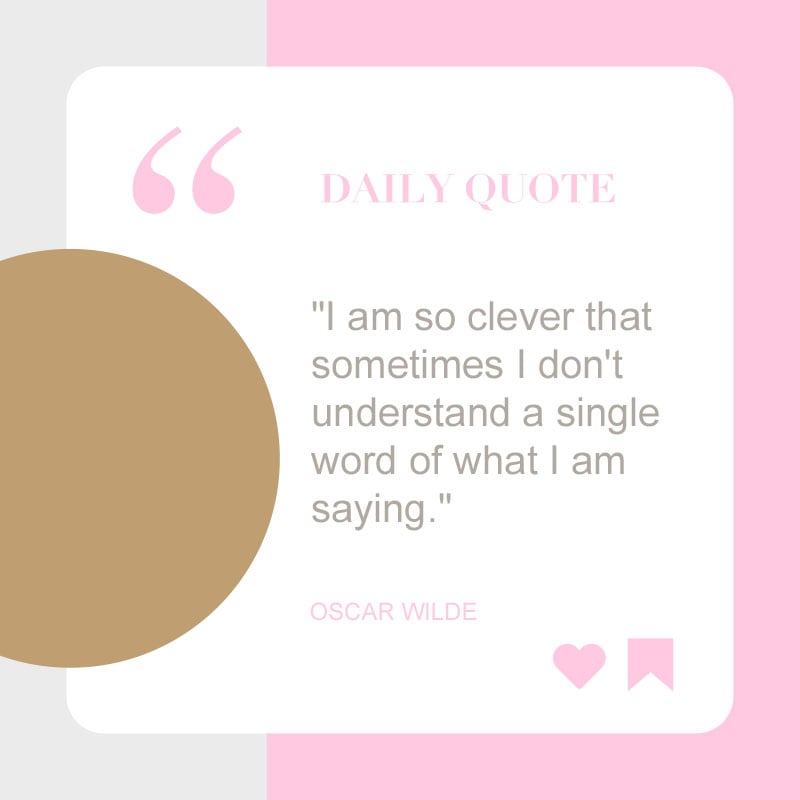 "No man has a good enough memory to be a successful liar." — Abraham Lincoln.

"Behind every great man is a woman rolling her eyes." — Jim Carrey.

"I'd like to live like a poor man—only with lots of money." — Pablo Picasso.

"The holy passion of friendship is of so sweet and steady and loyal and enduring a nature that it will last through a whole lifetime, if not asked to lend money." — Mark Twain.

"I am so clever that sometimes I don't understand a single word of what I am saying." — Oscar Wilde.
10. Famous Short Quotes
Some of the best quotes in history are of few words, and we've selected five standout famous short quotes for you to share. Whether you adore classical history with Virgil or prefer historical figures from the last century, these micro quotes certainly pack a punch! We recommend you post these on your social media feed or say them to yourself as part of your morning routine. You could even add them to a moodboard or as part of an inspirational message to a loved one.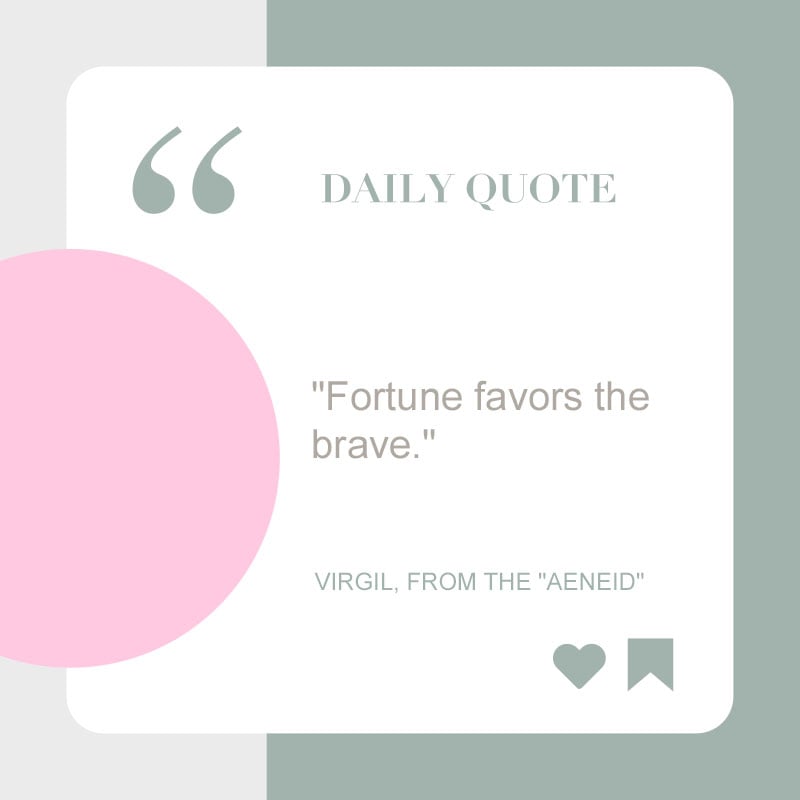 "The price of greatness is responsibility." — Sir Winston Churchill.

"The only thing we have to fear is fear itself." — Franklin Delano Roosevelt.

"Where there is love, there is life." — Mohandas K. Gandhi.

"Fortune favors the brave." —Virgil, from the "Aeneid".

"The cure for boredom is curiosity. There is no cure for curiosity."—Dorothy Parker.
11. Famous Friends Quotes
Where would we be without friends? Building us up when we're down, providing lifelong memories and endless happy moments, they are the family we get to choose. So, when you want to express your gratitude for them, why not turn to these famous friendship quotes? There have been many famous friendships in history and even more well-known quotes about special relationships. Here, you will find expressions from Yeats, Helen Keller, and even Phoebe from F.R.I.E.N.D.S – what's more iconic than that?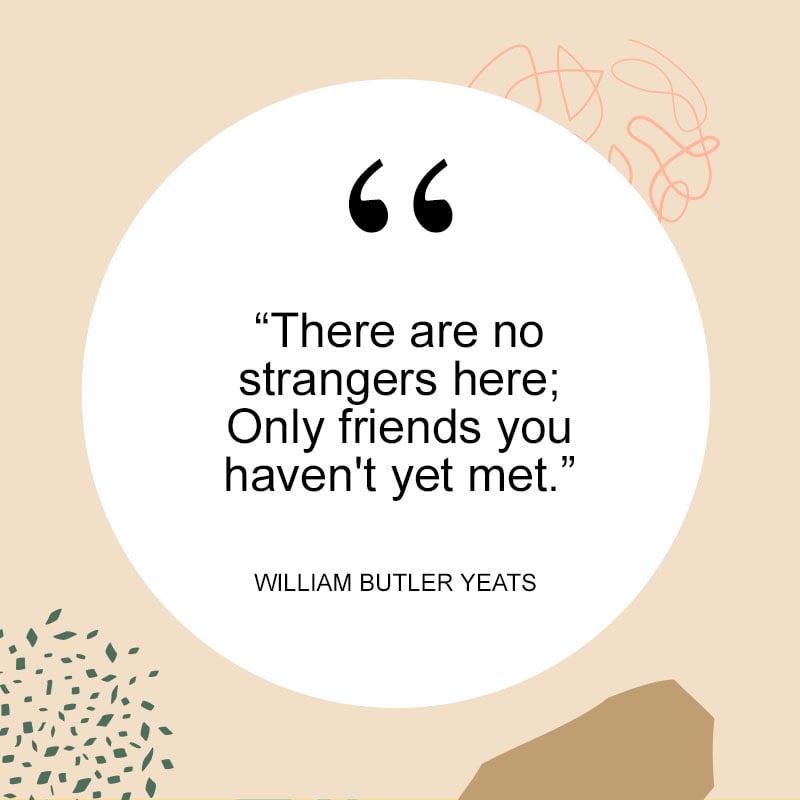 "Because a promise between friends means never having to give a reason." – Phoebe from Friends.

"There are no strangers here; Only friends you haven't yet met." – William Butler Yeats.

"The best and most beautiful things in the world cannot be seen or even touched – they must be felt with the heart." – Helen Keller.

"There is nothing on this earth more to be prized than true friendship." – Thomas Aquinas.

"A real friend is one who walks in when the rest of the world walks out." – Walter Winchell.
12. Famous Book Quotes
Trust us when we say you don't have to be a bookworm to know these famous book quotes! From Mary Shelley's Frankenstein to Steven Chbobsky's The Perks of Being a Wallflower, these literary excerpts aren't just iconic, they've also helped shape our culture. Expressions of true love, self-reflection, power, and forgiveness can empower you for the next steps in your journey or help you make a big decision. Books always know the answer.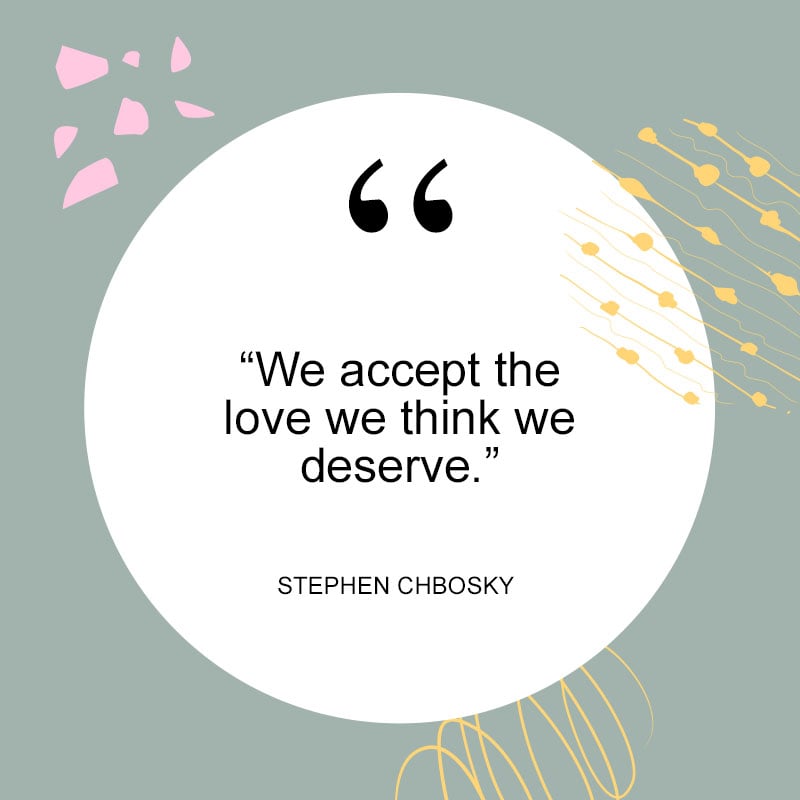 "It is only with the heart that one can see rightly; what is essential is invisible to the eye." — Antoine de Saint-Exupéry, The Little Prince.
"Beware; for I am fearless, and therefore powerful." — Mary Shelley, Frankenstein.
"The only way out of the labyrinth of suffering is to forgive." ― John Green, Looking for Alaska.
"Love is, or it ain't. Thin love ain't love at all." — Toni Morrison, Beloved.
"We accept the love we think we deserve." ― Stephen Chbosky, The Perks of Being a Wallflower.
13. Famous Harry Potter Quotes
The famous story about the Boy Who Lived has touched millions of people for decades, so we couldn't help but add a few of the iconic quotes from the series here! From the wise Albus Dumbledore to the well-intentioned Hagrid, you can empower yourself and find your inner magic instantly, thanks to these famous Harry Potter quotes. Plus, there are some hilarious choices in here, which make for excellent comebacks that only true Potterheads will understand!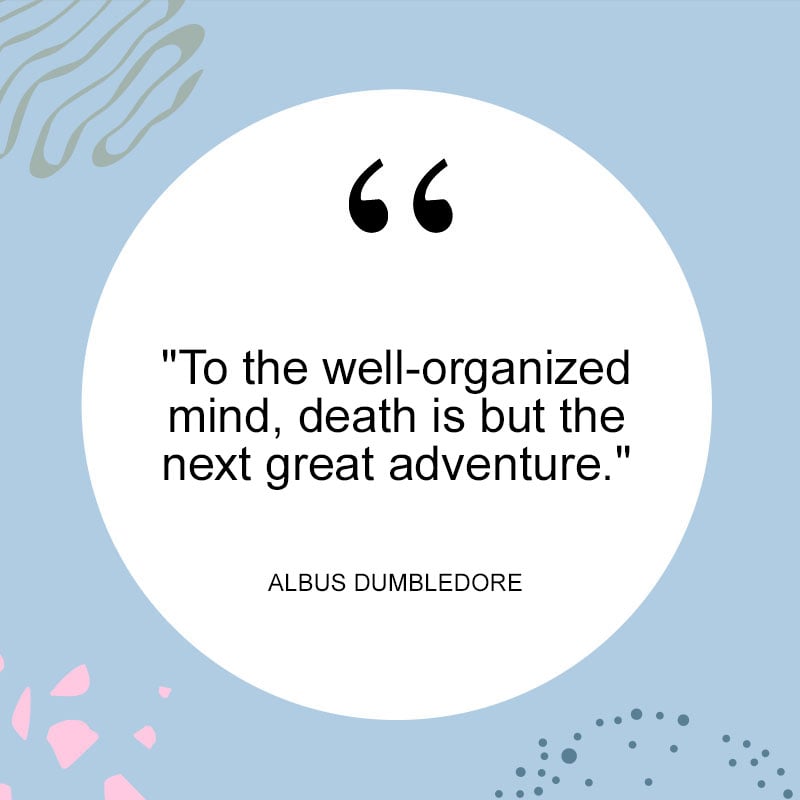 "To the well-organized mind, death is but the next great adventure." ― Albus Dumbledore.

"If you want to know what a man's like, take a good look at how he treats his inferiors, not his equals." — Sirius Black.

"Happiness can be found, even in the darkest of times, if one only remembers to turn on the light." ― Albus Dumbledore.

"I am what I am, an' I'm not ashamed. 'Never be ashamed,' my ol' dad used ter say, 'there's some who'll hold it against you, but they're not worth botherin' with.'" — Rubeus Hagrid.

"Just because you have the emotional range of a teaspoon doesn't mean we all have." ― Hermione Granger.
14. Famous Star Wars Quotes
In a galaxy far, far away, there were five famous quotes Star Wars quotes that we had to share. There are some truly recognizable expressions here (even if you've never seen a single film), inspirational sayings from Yoda, and everything in between here. Find what speaks to you the most, and share them any way you like. Be it with a friend who adores the series, on a note for yourself during the day, or an Instagram post – bonus points if you share it on May the 4th!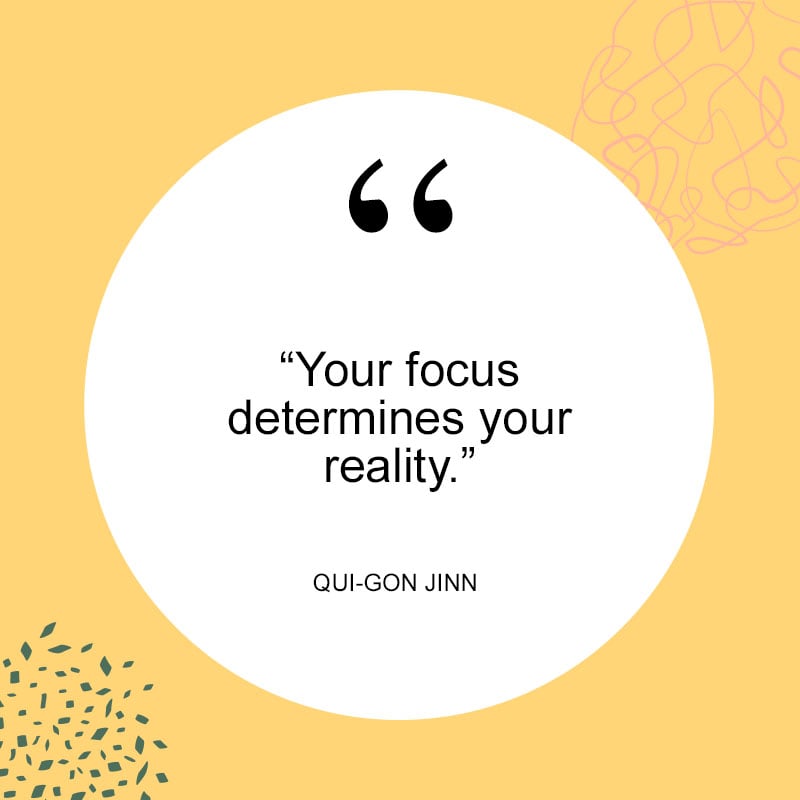 "May the Force be with you." -Star Wars, 1977.

"Try not. Do or do not. There is no try." —Yoda, Star Wars Episode V: The Empire Strikes Back.

"Your eyes can deceive you; don't trust them." —Obi-Wan Kenobi, Star Wars Episode IV: A New Hope.

"Who's the more foolish: the fool or the fool who follows him? —Obi-Wan Kenobi, A New Hope.

"Your focus determines your reality." —Qui-Gon Jinn, Star Wars Episode I: The Phantom Menace.
15. Famous Anime Quotes
Anime is often the source of the most inspirational, beautiful, and heartbreaking moments. We have compiled five famous anime quotes that can motivate you, give you a self-esteem boost or simply put a smile on your face. From manga classics like Full Metal Alchemist to Rurouni Kenshin: Meiji Kenkaku Romantan, every Anime fan will find something that suits them.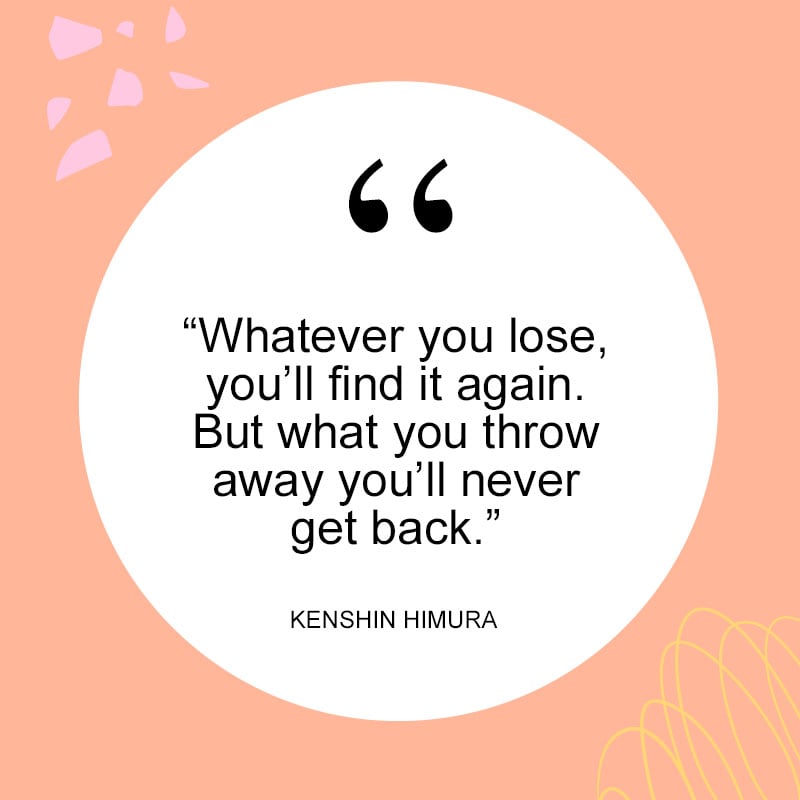 "The world isn't perfect. But it's there for us, doing the best it can… that's what makes it so damn beautiful." — Roy Mustang (Full Metal Alchemist)
"Fear is not evil. It tells you what weakness is. And once you know your weakness, you can become stronger as well as kinder." — Gildarts Clive (Fairy Tail)
"Whatever you lose, you'll find it again. But what you throw away, you'll never get back." — Kenshin Himura (Rurouni Kenshin: Meiji Kenkaku Romantan)
"A person can change at the moment when the person wishes to change." — Haruhi Fujioka (Ouran Highschool Host Club)
"When you give up, that's when the game ends." — Mitsuyoshi Anzai (Slam Dunk)
16. Famous Bible Quotes
When times get tough and you need somewhere to turn, the Holy Book is a perfect option. Trust, forgiveness, and words of encouragement, the Bible is filled to the brim with inspirational and famous quotes. We've collected five beautiful and motivational excerps that you can rely on, send to your loved ones, or share in a social post.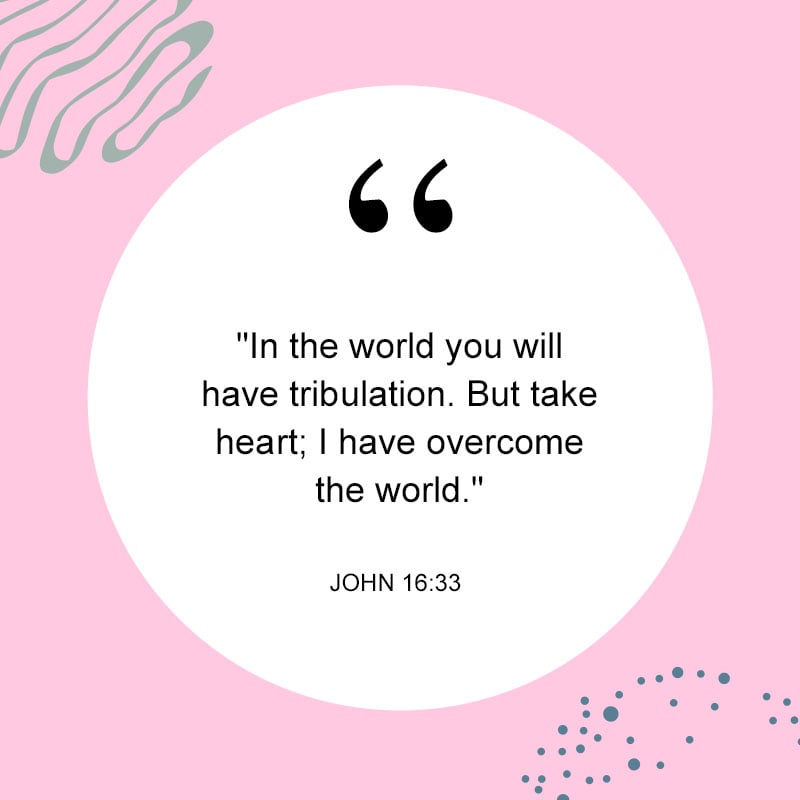 "In the world, you will have tribulation. But take heart; I have overcome the world." — John 16:33.

"So do not fear, for I am with you; do not be dismayed, for I am your God. I will strengthen you and help you; I will uphold you with my righteous right hand." — Isaiah 41:10 (NIV).

"Do not be anxious about anything, but in every situation, by prayer and petition, with thanksgiving, present your requests to God. And the peace of God, which transcends all understanding, will guard your hearts and your minds in Christ Jesus." — Philippians 4:6–7 (NIV).

"And we know that for those who love God all things work together for good, for those who are called according to His purpose." — Romans 8:28.

"Have I not commanded you? Be strong and courageous. Do not be frightened, and do not be dismayed, for the LORD your God is with you wherever you go." — Joshua 1:9.
17. Famous Shakespeare Quotes
Shakespeare was an absolute master of the English language. Sure, he invented 1,700 new words and expressions, and many speculate whether he was a real person, there is no denying that the language would not be the same without him. From his comedies like Twelfth Night to tragedies like King Lear, these famous Shakespeare quotes are timeless, bold, expressive, and raw. After all, there's a reason why they've lasted the test of time and influenced the English language over the last 500 years!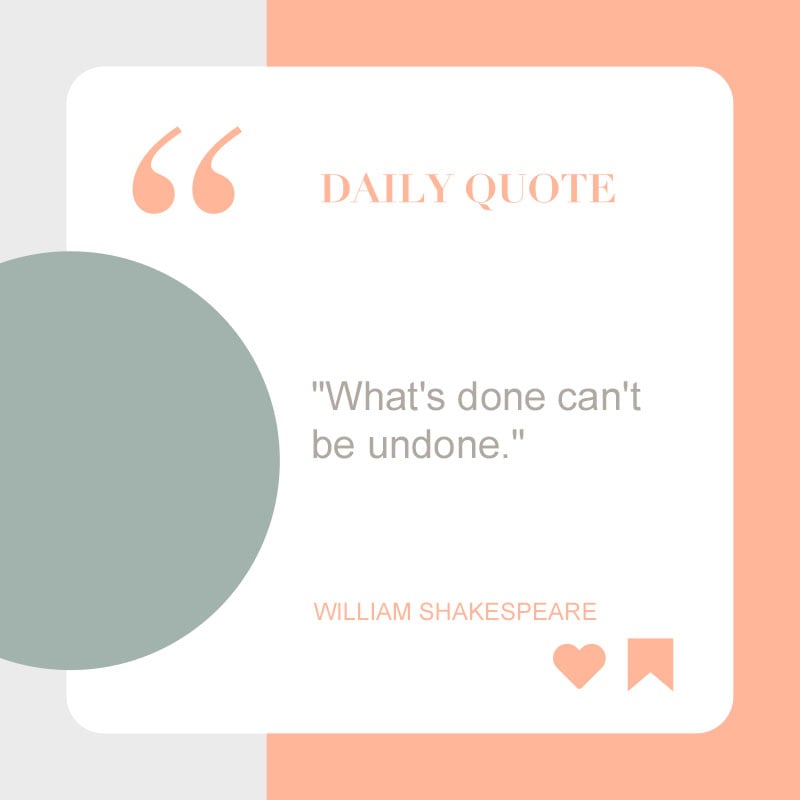 "What's done can't be undone."

"Nothing can come of nothing."

"Give every man thy ear, but few thy voice."

"Be not afraid of greatness. Some are born great, some achieve greatness, and others have greatness thrust upon them."

"Uneasy lies the head that wears the crown."
18. Famous Birthday Quotes
Another year older, another year wiser? Well, if you share these quotes, people will certainly think so! With iconic figures like Lucille Ball and Pope John XXIII, you are celebrating an extra candle on your cake with good company. While they're a day for celebration, some may not enjoy their anniversary of life as much as others. If that's the case, turn to these famous birthday quotes to spread the love and put a smile on someone's face!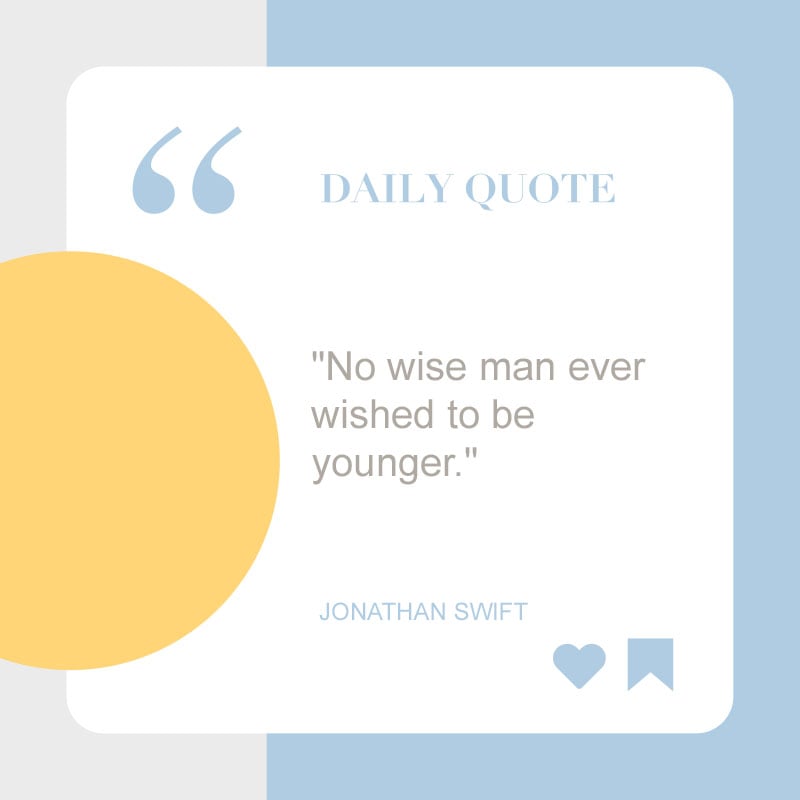 "Men are like wine. Some turn to vinegar, but the best improve with age."

— Pope John XXIII.

"No wise man ever wished to be younger." — Jonathan Swift.

"Age is a high price to pay for maturity." —Tom Stoppard.

"You are only young once, but you can be immature for a lifetime." — John P. Grier.

"The secret to staying young is to live honestly, eat slowly, and lie about your age." — Lucille Ball.
19. Famous Black Quotes
Rising above discrimination and adversities, people of color have inspired millions along the way. This selection of famous black quotes isn't just inspiring; they're lessons in strength, resilience, and excellence. Here you will find words from Martin Luther King Jr., Dr. Mae Jemison, and so many others who inspire everyone daily. Use them whenever you need to give yourself a motivational boost or share them with your loved ones if they need a reminder of their endurance, no matter the odds.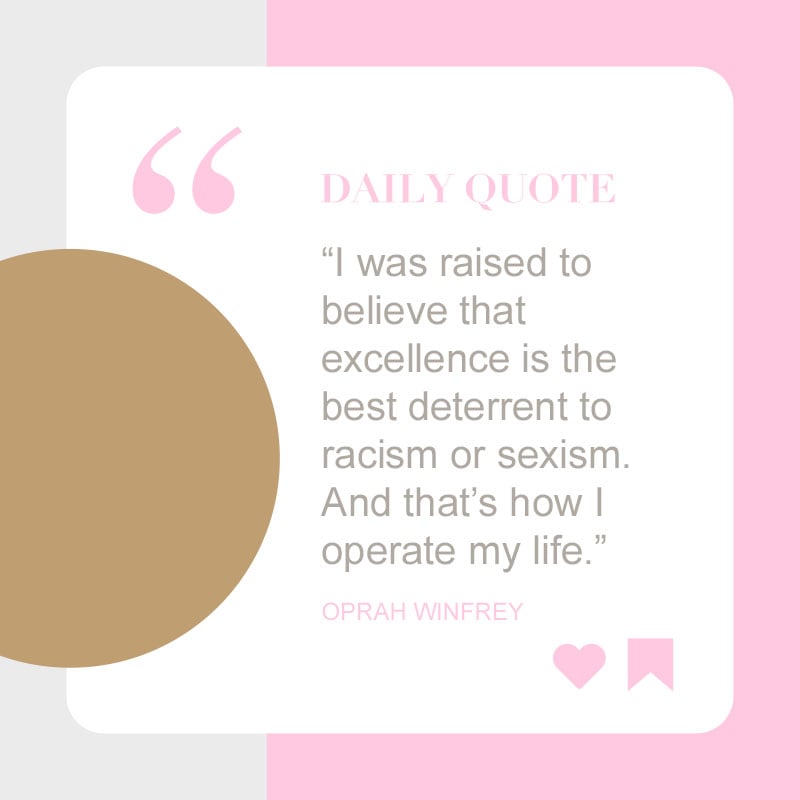 "I was raised to believe that excellence is the best deterrent to racism or sexism. And that's how I operate my life." – Oprah Winfrey.

"Almost always, the creative, dedicated minority has made the world better." – Martin Luther King, Jr.

"Those who say it can't be done are usually interrupted by others doing it." – James Baldwin.

"The things that make us different, those are our superpowers." – Lena Waithe.

"Never be limited by other people's limited imaginations." – Dr. Mae Jemison.
20. Famous Leadership Quotes
It takes a lot of strength and empathy to become an excellent leader. Unlike a boss, a leader nurtures growth and inspires others along the way. That's where these famous leadership quotes come into play. While many expressions can muster up some forms of motivation, these come from people who have defied all odds and changed the game in one way or another. From Steve Jobs to JFK, these figures have led teams to victory, inspired innovation, and prompted change throughout history. Who knows, you may be able to do the same!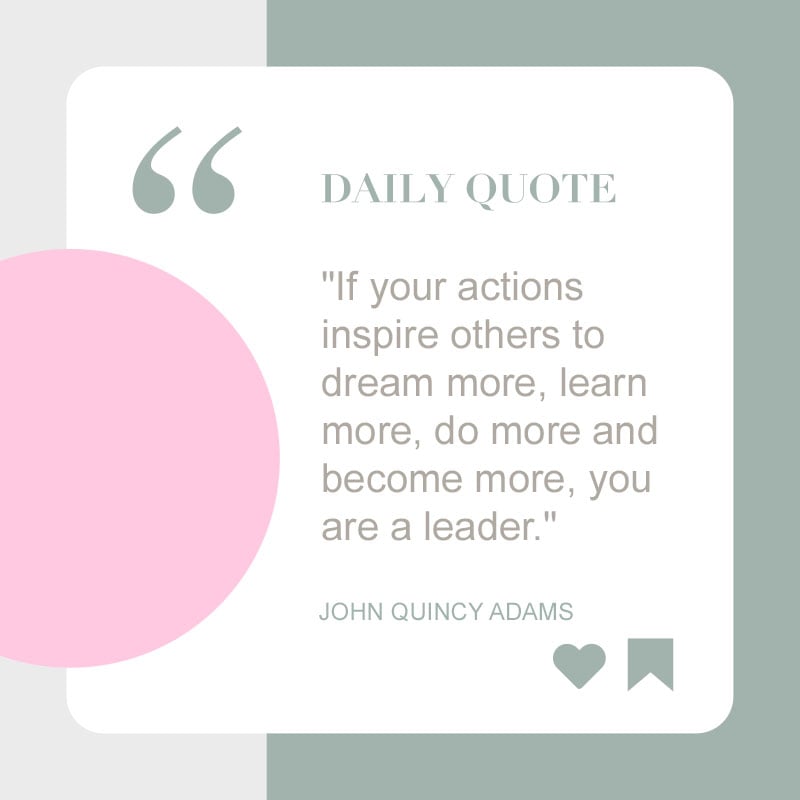 "If your actions inspire others to dream more, learn more, do more, and become more, you are a leader." – John Quincy Adams.

"Do not follow where the path may lead. Go instead where there is no path and leave a trail." – Ralph Waldo Emerson.

"Innovation distinguishes between a leader and a follower." – Steve Jobs, Apple co-founder.

"Leadership and learning are indispensable to each other." – John F. Kennedy.

"A good objective of leadership is to help those who are doing poorly to do well and to help those who are doing well to do even better." – Jim Rohn.
21. Famous Sports Quotes
Whether you are a sports fanatic or prefer to watch from the sidelines, there's no doubt that these famous faces have made history in one way or another. We've compiled five incredibly inspiring famous sports quotes from the most accomplished athletes from history, such as Ernie Banks, Paul "Bear" Bryant, and Jackie Joyner-Kersee – each offers advice and inspirational words that can help you reach your goals in no time. Whether it's the finish line of a marathon or simply getting out of bed for a new day, these have you covered!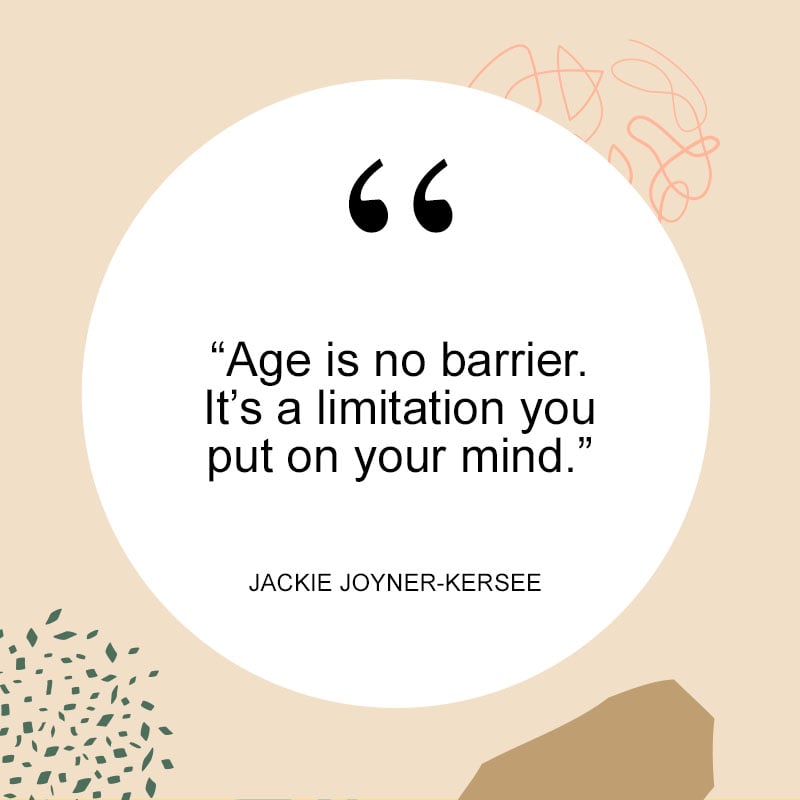 "The only way to prove that you're a good sport is to lose." – Ernie Banks.

"Age is no barrier. It's a limitation you put on your mind." – Jackie Joyner-Kersee.

"Most people give up just when they're about to achieve success. They quit on the one-yard line. They give up at the last minute of the game one foot from a winning touchdown." – Ross Perot.

"It's not the will to win that matters—everyone has that. It's the will to prepare to win that matters."– Paul "Bear" Bryant.

"An athlete cannot run with money in his pockets. He must run with hope in his heart and dreams in his head." – Emil Zatopek.
22. Famous Disney Quotes
A tale as old as time, Disney provides people of all ages with timeless quotes and memories that stay with us forever. From finding yourself to searching for true love, there is a story that suits everyone, and this selection of quotes is no exception. These famous Disney quotes come from the mastermind himself, Walt Disney, who not only inspired generations of cartoon lovers but filmmakers and artists worldwide. These are beautiful choices to share with your loved ones across social media or as a morning affirmation to start the day off right.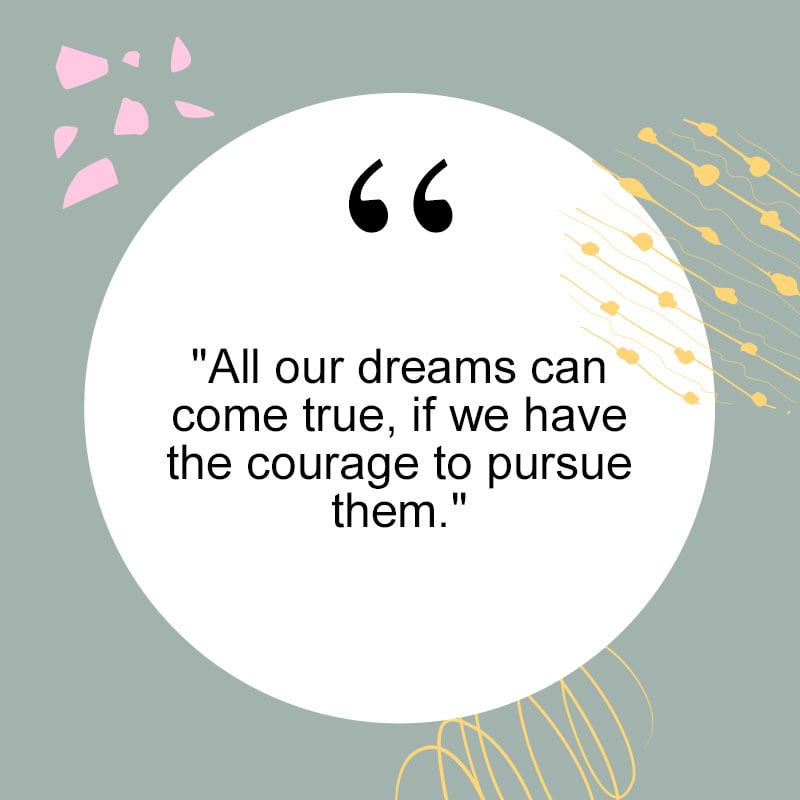 "The way to get started is to quit talking and begin doing".

"All our dreams can come true, if we have the courage to pursue them."

"Laughter is timeless, imagination has no age, dreams are forever."

"If you can dream it, you can do it."

"It's kind of fun to do the impossible."
23. Famous Philosophy Quotes
We can trace the earliest evidence of philosophy from the sixth century BCE, so we have no shortage of famous philosophy quotes to choose from. From the most iconic Descartes to Aristotle, these are thought-provoking, reflective and intriguing points of view that may change your perspective of the world. From the entire purpose of life to happiness and personal behavior, you can share these with the world and encourage deeper thoughts every day.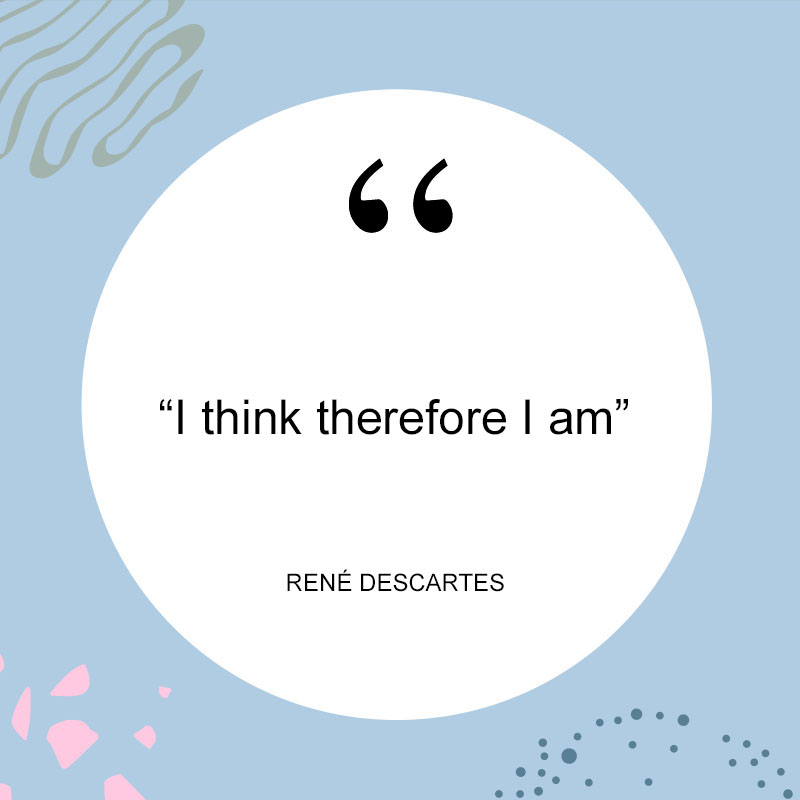 "I think therefore I am" ("Cogito, ergo sum") – René Descartes.

"Happiness is not an ideal of reason but of imagination" – Immanuel Kant.

"We are what we repeatedly do. Excellence, then, is not an act, but a habit" – Aristotle.

"You can discover more about a person in an hour of play than in a year of conversation" – Plato.

"The brave man is he who overcomes not only his enemies but his pleasures" – Democritus.
24. Famous Quotes About Change
It's one of the most difficult things to experience, but change can help create better people and life-transforming experiences. And although it's difficult to experience at the time, change makes us better in the long run. That's why famous quotes about change are so important – they can help keep you on track, even if you feel like you're falling off the rails. Use the wise words of Leo Tolstoy, Churchill, and Harriet Tubman to guide you as you reach your new goals and make big decisions for a fulfilled life.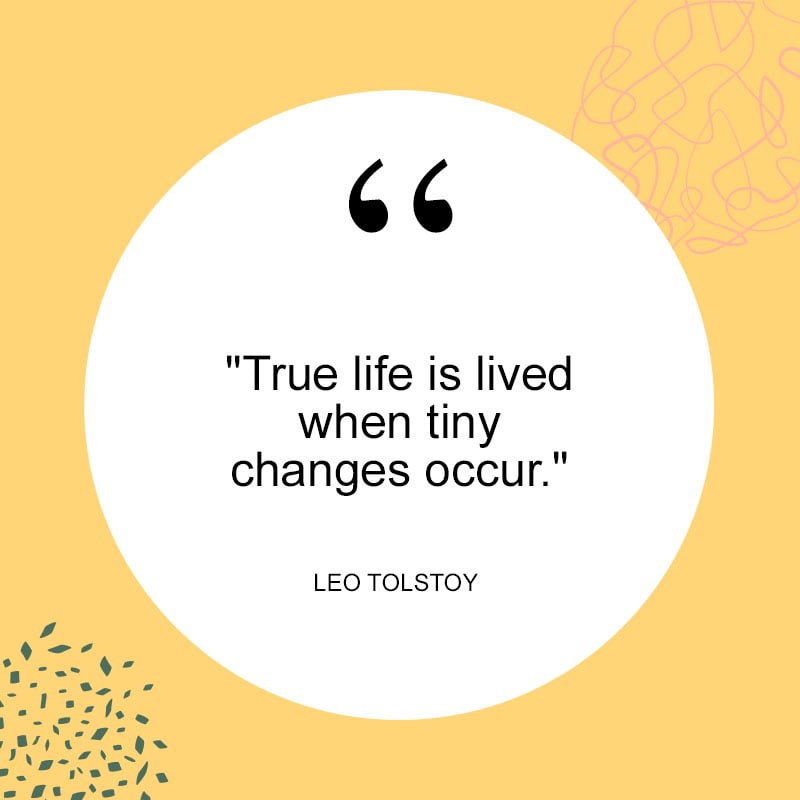 "To improve is to change; to be perfect is to change often." – Winston Churchill.

"A wise man changes his mind, a fool never will." – Icelandic Proverb.

"True life is lived when tiny changes occur." – Leo Tolstoy.

"Every great dream begins with a dreamer. Always remember, you have within you the strength, the patience, and the passion to reach for the stars to change the world." – Harriet Tubman.

"The greatest discovery of all time is that a person can change his future by merely changing his attitude." – Oprah Winfrey.
Famous Quotes FAQs
What is a very famous quote?
There are so many famous quotes in this world. One of the most famous quotes in history is from films such as the Wizard of Oz: "There's no place like home." Other incredibly famous quotes include ones from Shakespeare: "To be or not to be, that is the question", or "All the world's a stage, and all the men and women merely players." 
What is the most powerful quote?
Figures from history often have some of the most famous and, therefore, the most powerful quotes. For example, think of Neil Armstrong's "That's one small step for man, one giant leap for mankind" or Mahatma Gandhi's "You must be the change you wish to see in the world." 
SUBSCRIBE TO OUR NEWSLETTER
Subscribe to our mailing list and get interesting stuff and updates to your email inbox.