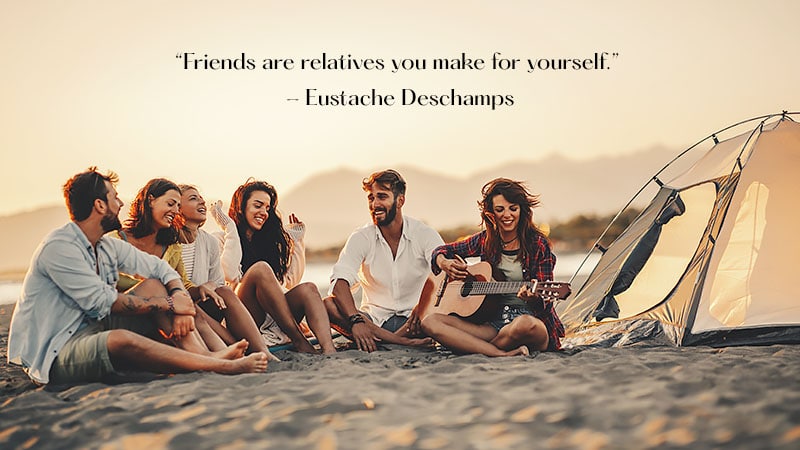 Everyone needs friends to get through life. They make life enjoyable and incredible in the hardest times, the best moments, and everything in between. In fact, many say that friends are the family that you choose. There's no time like the present to share how much they mean to you. Over countless generations, friends have helped people achieve great things, get through difficult experiences and create life-changing moments for us all. Of course, there are moments when we say goodbye to those closest to us, and in times of need, we require guidance to help us through. We've compiled 120 friendship quotes that you should share with your besties. Whether it's their birthday, a special occasion, or you just want to give them a little boost, these beautiful sayings and excerpts are sure to put a smile on their face and show them how much you care.
1. True Friendship Quotes
There's nothing quite like a true friendship. They will be with you through thick and thin, even in the hardest times. Show them how much you care with one of these quotes. Not only do they showcase your love for them, but they can help express your feelings when times get hard, or if you need to cheer someone up. Share them as a text message, a post on social media, or a birthday card. It will certainly be appreciated.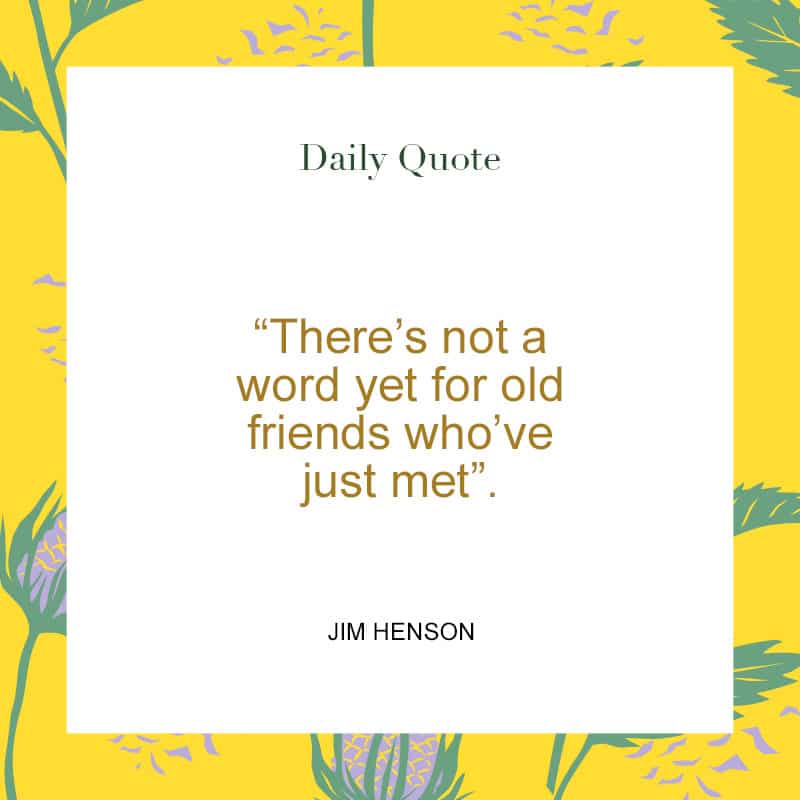 "One friend with whom you have a lot in common is better than three with whom you struggle to find things to talk about." – Mindy Kaling.
"There's not a word yet for old friends who've just met." – Jim Henson
"True friends are always together in spirit." – L.M. Montgomery
"Anything is possible when you have the right people there to support you." – Misty Copeland
"A good friend is like a four-leaf clover: hard to find and lucky to have." – Irish Proverb
"There is nothing I would not do for those who are really my friends." – Jane Austen
2. Short Friendship Quotes
You don't need to say a lot to express how much your friends mean to you, and these short quotes are no exception. In only a few words, these beautiful quotes express how those dearest to you have changed your life and how they inspire you daily. If you send these to someone you love, they're sure to feel gratitude. You can add this to a post on Instagram with your closest friends – this collection will undoubtedly sum up how you feel about them!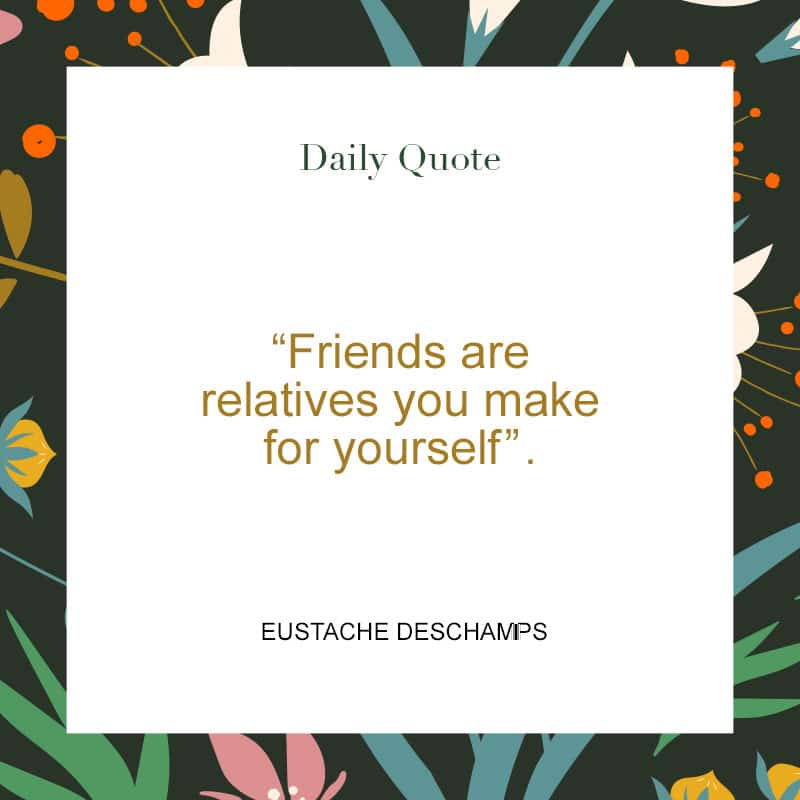 "Friendship is the only cement that will ever hold the world together." – Woodrow Wilson.
"A single rose can be my garden… a single friend, my world." – Leo Buscaglia.
"A true friend never gets in your way unless you happen to be going down." – Arnold H. Glasgow.
"Friends are relatives you make for yourself." – Eustache Deschamps
"Friendship is the golden thread that ties the heart of all the world." – John Evelyn
"A good friend knows all your best stories, but a best friend has lived them with you." – Unknown
3. Funny Friendship Quotes
When you can't stop laughing, no matter how hard you try, the moments with your friends are truly the best. These funny quotes are the best way to showcase how close you are with your friends, your unique personalities, and your quirkiness, all at once. We all have fond memories of our closest friends, and these quotes are the best way to remember them, whether it's on social media or a mood board. From unknown quotes to saying from famous educators, there is something here that will resonate perfectly.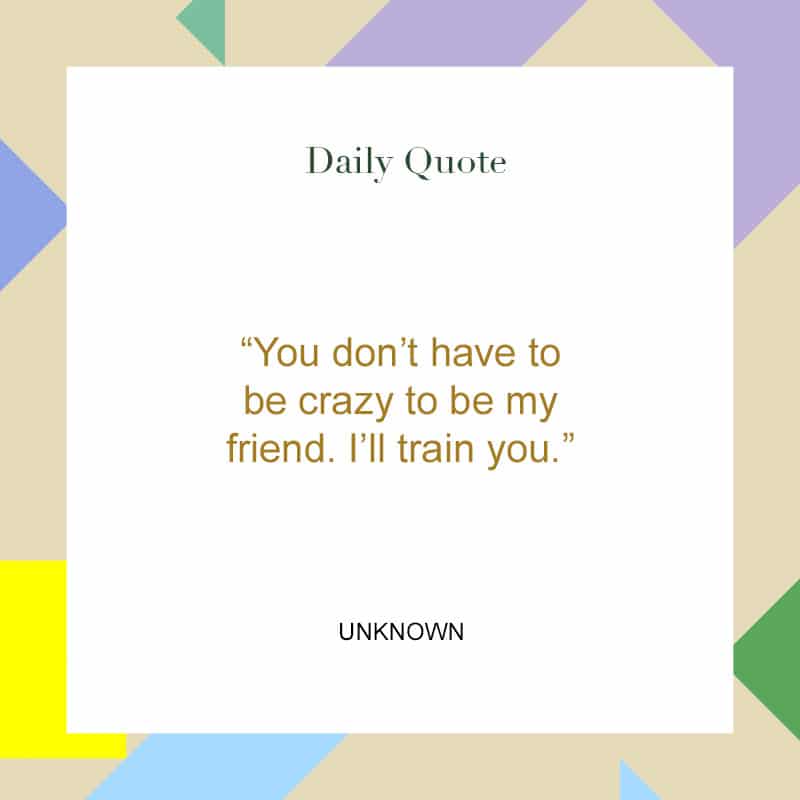 "I think we'll be friends forever because we're too lazy to find new friends." – Unknown.
"Never let your friends be lonely…. Disturb them all the time." – Unknown
"You can always tell a real friend: when you've made a fool of yourself, he doesn't feel you've done a permanent job." – Laurence J. Peter
"Having those weird conversations with your friend and thinking, "if anyone heard us, we'd be put in a mental hospital." – Unknown
"You don't have to be crazy to be my friend. I'll train you." – Unknown.
"Good friends don't let you do stupid things… alone." – Unknown.
4. Meaningful Friendship Quotes
A good friend is hard to find, but these quotes encapsulate your feeling when you find someone worthy of your time. Meaningful sayings from inspirational people such as Audrey Hepburn and Eleanor Roosevelt perfectly describe the importance of having close friends through the hardest or most incredible times. These may come in handy on the days when you need to remind yourself of the amazing connection you have with your nearest and dearest.&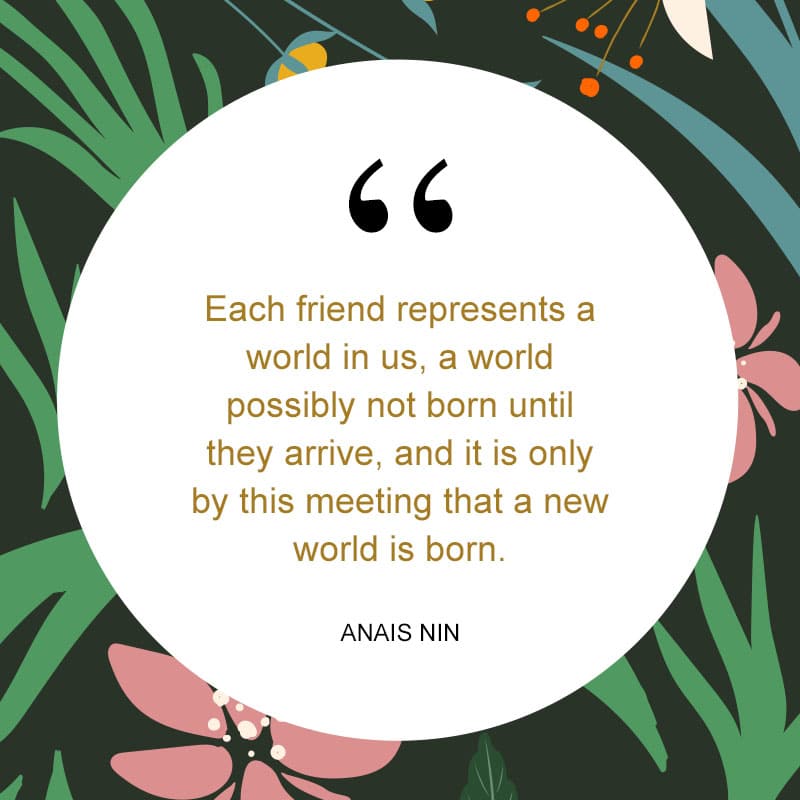 "Many people will walk in and out of your life, but only true friends leave footprints in your heart." – Eleanor Roosevelt.
"What is a friend? A single soul dwelling in two bodies." – Aristotle.
"Each friend represents a world in us, a world possibly not born until they arrive, and it is only by this meeting that a new world is born." – Anais Nin.
"Find a group of people who challenge and inspire you; spend a lot of time with them, and it will change your life." – Amy Poehler.
"For beautiful eyes, look for the good in others; for beautiful lips, speak only words of kindness; and for poise, walk with the knowledge that you are never alone." – Audrey Hepburn.
"A real friend is one who walks in when the rest of the world walks out." – Walter Winchell.
5. Winnie the Pooh Friendship Quotes
The stories from A.A. Milne and Disney have touched millions for generations, and it's easy to see why. Although considered a children's series, Winnie the Pooh offers life lessons and beautiful quotes that are relatable to countless friendships. There is hidden beauty behind making memories, even when we least expect them, and the joy of remembering the best moments with our closest friends. These quotes may tug at your heartstrings every time you see them, and we think they're the perfect choice for an Instagram post or a letter to those you love.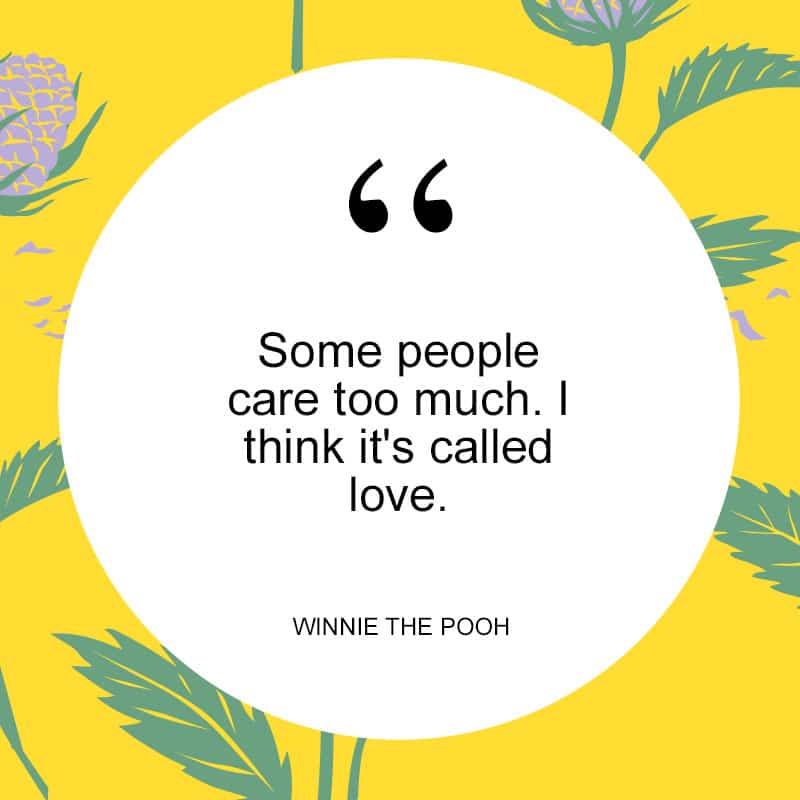 "It seems they had always been, and always would be, friends. Time could change, but not that." – Winnie the Pooh.
"Sometimes the smallest things take up the most room in your heart." – Winnie the Pooh.
"You can't stay in your corner of the Forest waiting for others to come to you. You have to go to them sometimes." – Winnie the Pooh.
"Some people care too much. I think it's called love." – Winnie the Pooh.
"We didn't realize we were making memories. We just knew we were having fun." – Winnie the Pooh.
"A friend is someone who helps you up when you're down, and if they can't, they lay down beside you and listen." – Winnie the Pooh.
6. Friendship Love Quotes
Friendship is a special type of love; it's not always about romance. A relationship with someone close is precious and should be protected. That's why these love quotes are so beautiful. They capture the rare and amazing nature of a close friendship and how they love you share can be stronger than steel. Like any relationship, you need to give and take, share secrets, and bond together – you will form a connection unlike any other.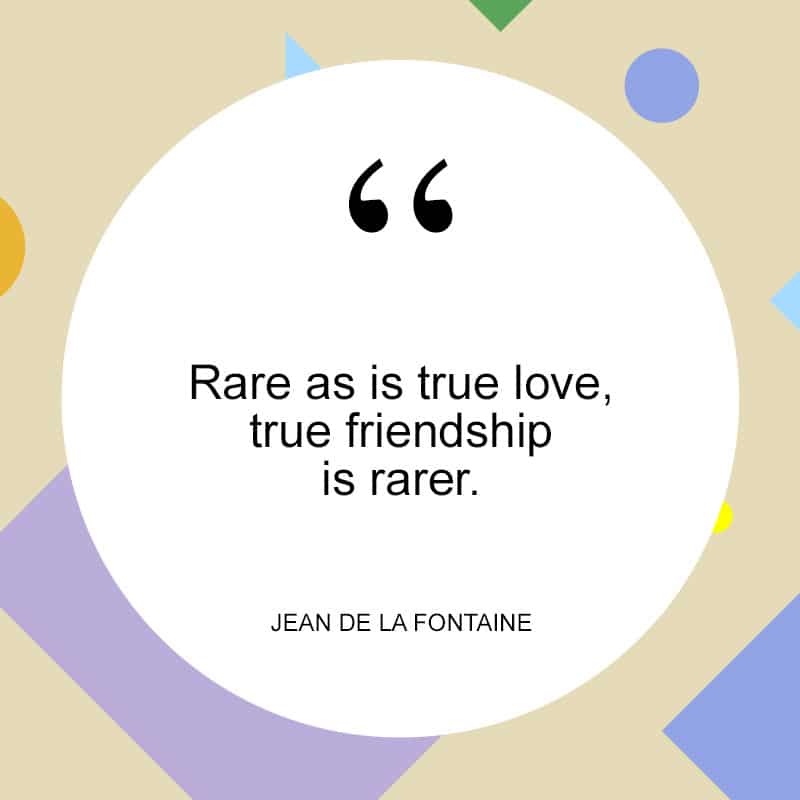 "Rare as is true love, true friendship is rarer." – Jean de la Fontaine
"Friendship marks a life even more deeply than love. Love risks degenerating into obsession, friendship is never anything but sharing." Elie Wiesel
"Accountability in friendship is the equivalent of love without strategy." – Anita Brookner
"Love is friendship that has caught fire. It is quiet understanding, mutual confidence, sharing, and forgiving. It is loyalty through good and bad times. It settles for less than perfection and makes allowances for human weaknesses." – Ann Landers
"True friendship is like a rose: we don't realize its beauty until it fades." – Evelyn Loeb
"Love much dear friends, for love will bring the healing joy and hope of Spring. . . " – John McLeod
7. Inspirational Friendship Quotes
If you need to cheer someone up, or you just want to inspire yourself on a hard day, these friendship quotes are sure to help. They can describe the brilliance of female friendship, unwavering strength, and the bond between two people with encouraging messaging behind them. Here you will find quotes from inspirational people such as Jane Fonda to Oscar Wilde, all expressing the power of companionship.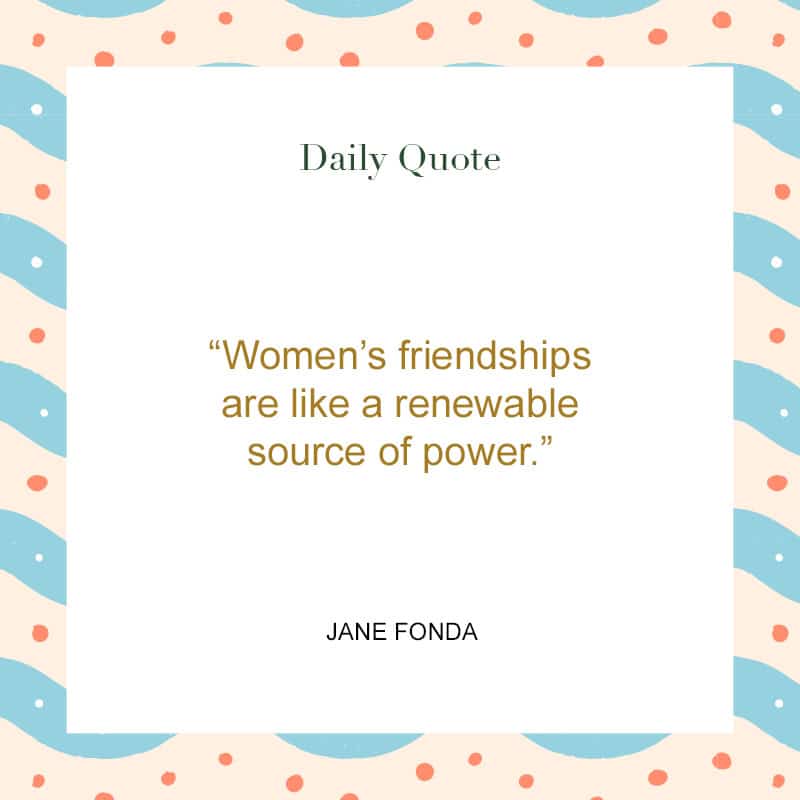 "Women's friendships are like a renewable source of power." – Jane Fonda
"It's not that diamonds are a girl's best friend, but it's your best friends who are your diamonds." – Gina Barreca
"A friend is someone who gives you total freedom to be yourself." – Jim Morrison
"You can make more friends in two months by becoming interested in other people than you can in two years by trying to get other people interested in you." – Dale Carnegie
"Ultimately the bond of all companionship, whether in marriage or in friendship, is conversation."- Oscar Wilde
"The real test of friendship is can you literally do nothing with the other person? Can you enjoy those moments of life that are utterly simple?"- Eugene Kennedy
8. Quotes About Old Friendship
A friendship that has lasted the test of time is one worth cherishing. No matter how much you've gone through, they're a relationship that requires celebration for how many years. These quotes highlight the importance of holding those companions close to you, as you both share lifelong memories, secrets, and funny stories. As some of these sayings highlight, these friends are a great representation of yourself and need to be held close to your heart forever.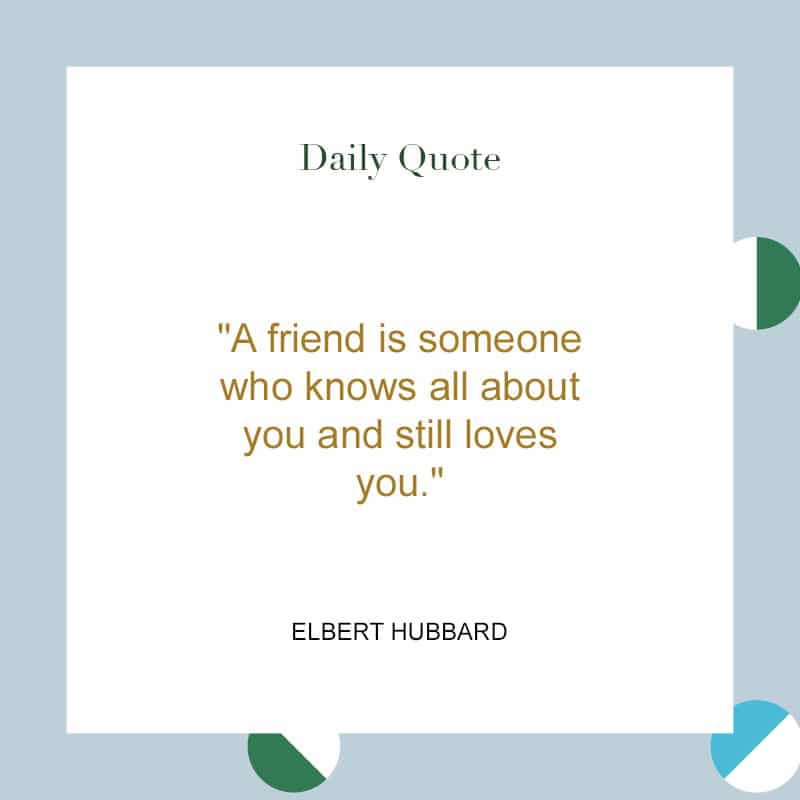 "A friend is someone who knows all about you and still loves you." – Elbert Hubbard.
"It is one of the blessings of old friends that you can afford to be stupid with them." – Ralph Waldo Emerson.
"You don't have to have anything in common with people you've known since you were five. With old friends, you've got your whole life in common." – Lyle Lovett.
"Remember that the most valuable antiques are dear old friends." – H. Jackson Brown, Jr.
"The best mirror is an old friend." – George Herbert.
9. Sad Friendship Quotes
Through the best times, there are moments of sadness with every friendship. Whether it be someone's passing, the end of a relationship, or simply hard ties, these quotes may help you cope with the loss. These can help provide some closure, give feelings of understanding and help you move on with your life. Whether you need to share this with someone going through hard times or tell it to yourself every now and then, they're likely going to help, even in the hardest times.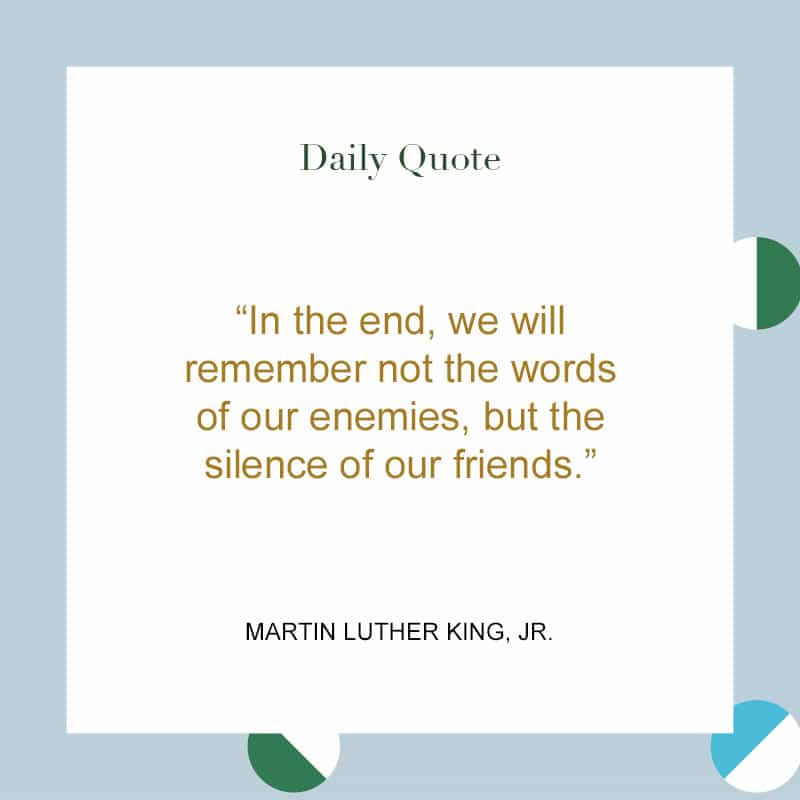 "They may forget what you said, but they will never forget how you made them feel." – Carl W. Buechner.
"Some people aren't loyal to you. They are loyal to their needs of you. Once their needs change, so does their loyalty." – Author Unknown.
"In the end, we will remember not the words of our enemies, but the silence of our friends." – Martin Luther King, Jr.
"We are neither on good terms, or bad. We are no longer anything." – Author Unknown.
"Somebody asked me if I knew you. A million memories flash through my mind, but I just smiled and said I used to." – Author Unknown.
"Sometimes, you have to give up on people. Not because you don't care, because they don't." – Author Unknown.
10. Thankful for Friendship Quotes
There are times when you need friends more than anything. Considered a chosen family, they can help you out during the hardest times in life and help create some of the best memories ever. That's why these quotes are so important. They highlight your appreciation for your companions and showcase how thankful you are to have them in your life. Take these thoughts from famous novelists, psychologists, and many others – they have crafted words in marvelous ways to describe the feeling of gratitude for friendships.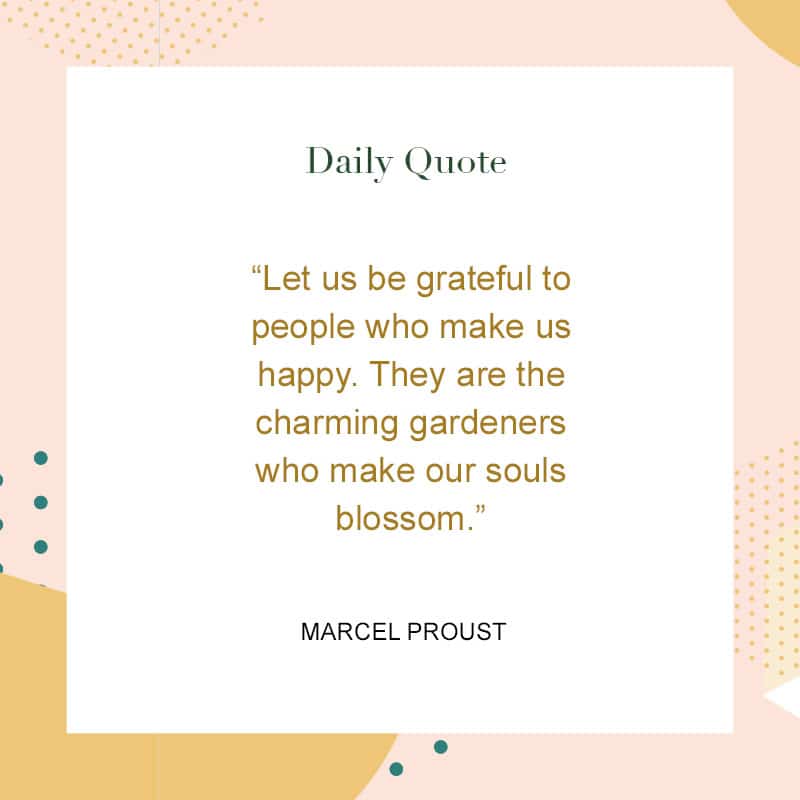 "Let us be grateful to people who make us happy. They are the charming gardeners who make our souls blossom." – Marcel Proust.
"When I started counting my blessings, my whole life turned around." – Willie Nelson.
"Showing gratitude is one of the simplest yet most powerful things humans can do for each other." – Randy Pausch.
"I appreciate you more because of the road I've traveled. My story brought me to you, and I wouldn't revise a word of my past if it led me anywhere but to your door." – Aaron Polson.
"You changed my life without even trying, and I don't think I could ever tell you how much you mean
to me. I can't imagine what things would be like if I hadn't met you." – Steve Maraboli.
"You put the you in thank you!" – Anonymous.
11. Happy Friendship Quotes
Have you ever felt so grateful for a friend in your life and the happiness they've brought you? Then these quotes are a great choice to share with them. These happy sayings describe the joy of having someone close to you and how they have impacted your life on a daily basis. Whether they're a confidante or a chum, there are so many different types of friends, all of which give joy in their own ways. Share these short and beautiful excerpts from famous actors, writers, and cartoonists, and share them on social media, via an SMS, or in a birthday card.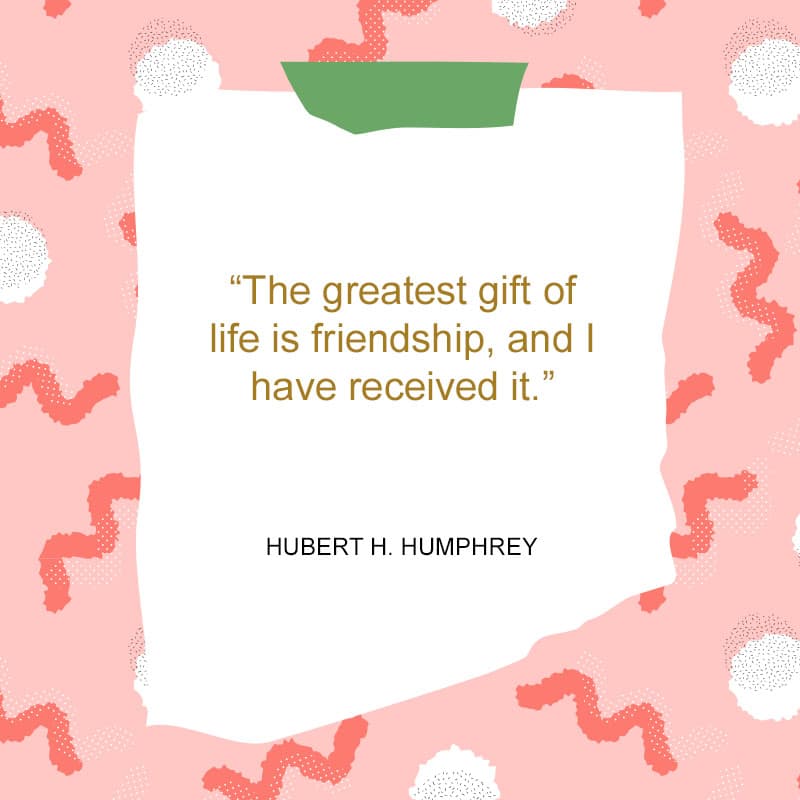 "There are no strangers here; Only friends you haven't yet met." – William Butler Yeats.
"The greatest gift of life is friendship, and I have received it." – Hubert H. Humphrey.
"My best friend is the one who brings out the best in me." – Henry Ford.
"Things are never quite as scary when you've got a best friend." – Bill Watterson.
"There are big ships and small ships. But the best ship of all is friendship." – Unknown.
"A snowball in the face is surely the perfect beginning to a lasting friendship." – Markus Zusak.
12. Long Distance Friendship Quotes
Long-distance relationships are incredibly hard, but when it comes to friendships, they can be extra difficult. But no matter the distance, these quotes can make the challenge a little easier to bear. When you need a boost, or your friend is going through a hard time being away from you, take a look at these beautiful and inspiring sayings. Share them with those closest to you, even if they're hours or miles away.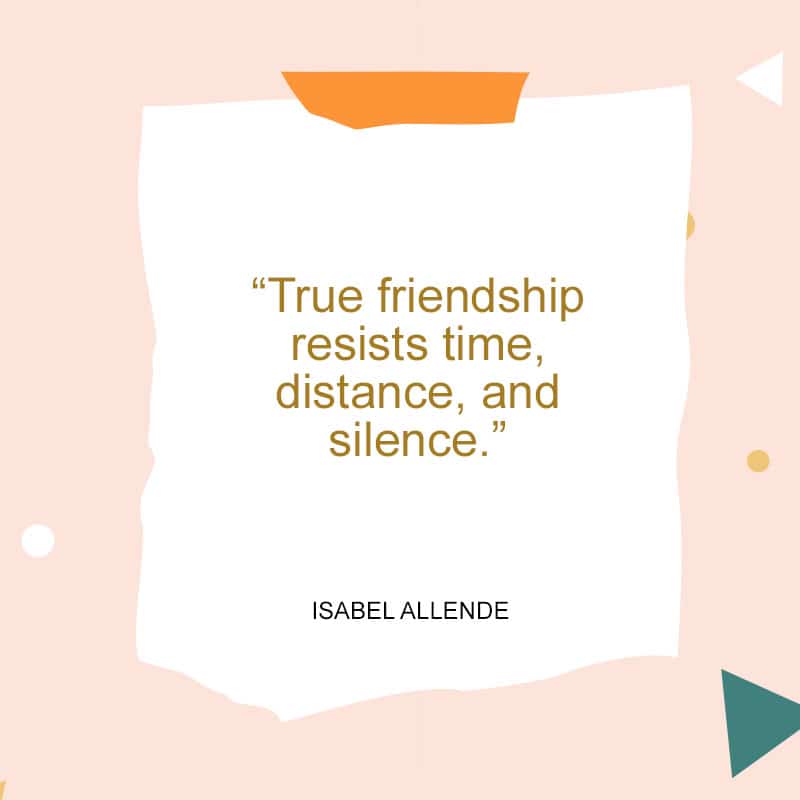 "The most beautiful discovery true friends make is that they can grow separately without growing apart." – Elisabeth Foley.
"True friendship resists time, distance, and silence." – Isabel Allende.
"I may not always be there with you, but I will always be there for you." – Unknown.
"No distance of place or lapse of time can lessen the friendship of those who are thoroughly persuaded of each other's worth." – Robert Southey.
"True friends stay with you no matter the distance or time that separates you from them." – Lance Reynald.
"There is magic in long-distance friendships. They let you relate to other human beings in a way that goes beyond being physically together and is often more profound." – Diana Cortes.
13. Christmas Friendship Quotes
It's the time when you join forces with the closest in your life. This Christmas, share the gift of friendship with these beautiful quotes. They combine humor with tradition and joy, making the reader feel special and honored to have such beautiful friends in their lives. Whether you go the extra mile for someone special, give them a gift they've always wanted, or just show up at their door with a nice meal, it's the time of year when you give a little more to those you love. Let these quotes help you, be it in a card, a social post, or as an SMS on Christmas morning.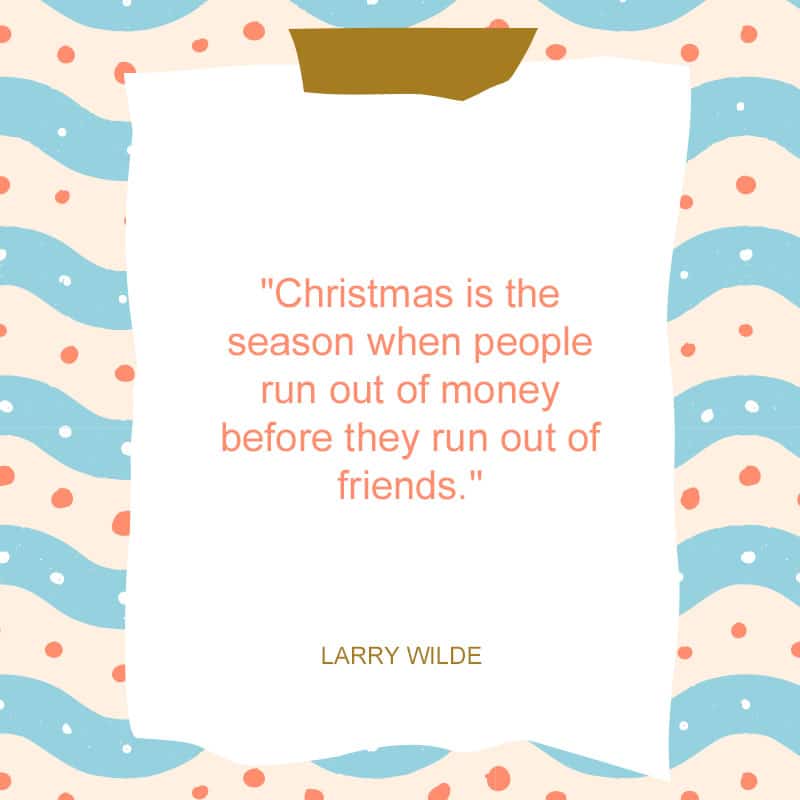 "Christmas is the season when people run out of money before they run out of friends." – Larry Wilde.
"Christmas is doing a little something extra for someone." – Charles M. Schulz.
"I don't think Christmas is necessarily about things. It's about being good to one another." – Carrie Fisher.
"Christmas is a day of meaning and traditions, a special day spent in the warm circle of family and friends." – Margaret Thatcher.
"Christmas is a necessity. There has to be at least one day of the year to remind us that we're here for something else besides ourselves." – Eric Sevareid.
"Christmas is a tonic for our souls. It moves us to think of others rather than of ourselves. It directs our thoughts to giving." – B.C. Forbes.
14. Deep Friendship Quotes
There are many different types of friendships, but the ones that have been with you through every part of your life are often the deepest. Someone who is by your side when you need to let out your emotions and stays by you when you're at your lowest can be one of the most rewarding feelings in the world. That's why these quotes are so important. They're dedicated to the special people who are loyal and stick to you through thick and thin. Show them how much you care by sharing these with them.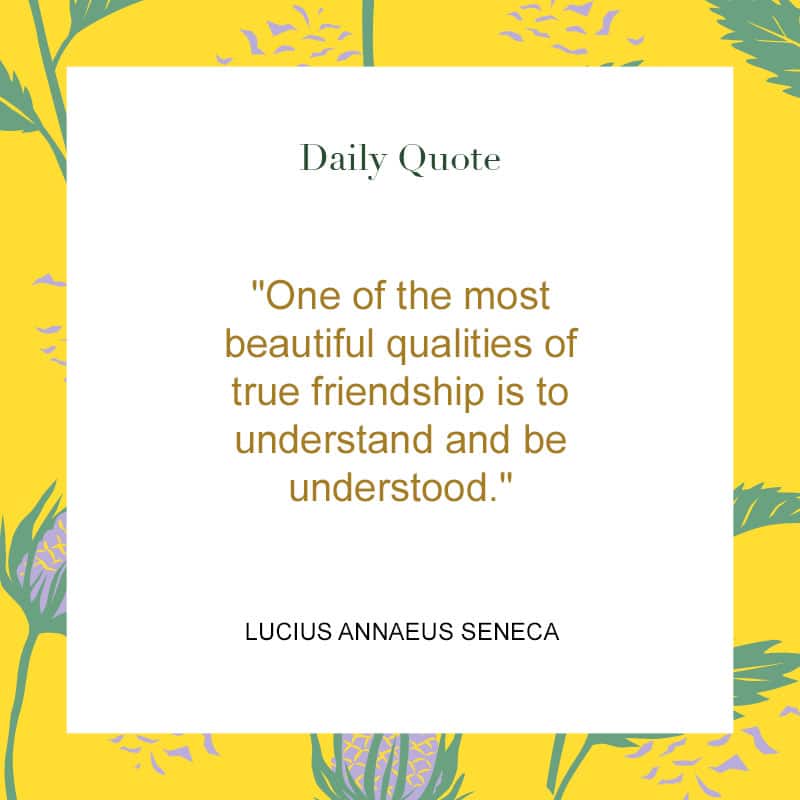 "One of the most beautiful qualities of true friendship is to understand and be understood." – Lucius Annaeus Seneca.
"A real friend is one who walks in when the rest of the world walks out." – Walter Winchell.
"Walking with a friend in the dark is better than walking alone in the light." – Helen Keller.
"Life is partly what we make it, and partly what it is made by the friends we choose." – Tennessee Williams.
"In the sweetness of friendship let there be laughter, for in the dew of little things the heart finds its morning and is refreshed." – Khalil Gibran.
"A friend who understands your tears is much more valuable than a lot of friends who only know your smile." – Unknown.
15. Bible Friendship Quotes
The Bible offers endless pieces of advice, be it in your daily life or when you seek inspiration. Moreover, these friendship quotes are the perfect way to show someone how much you love them and why you should show kindness and love for God. Over each Testament, there are important excerpts that describe why you should be kind and compassionate, show consideration for others, and your dedication to God and Jesus. Turn to these when you need guidance – they can help you along your way.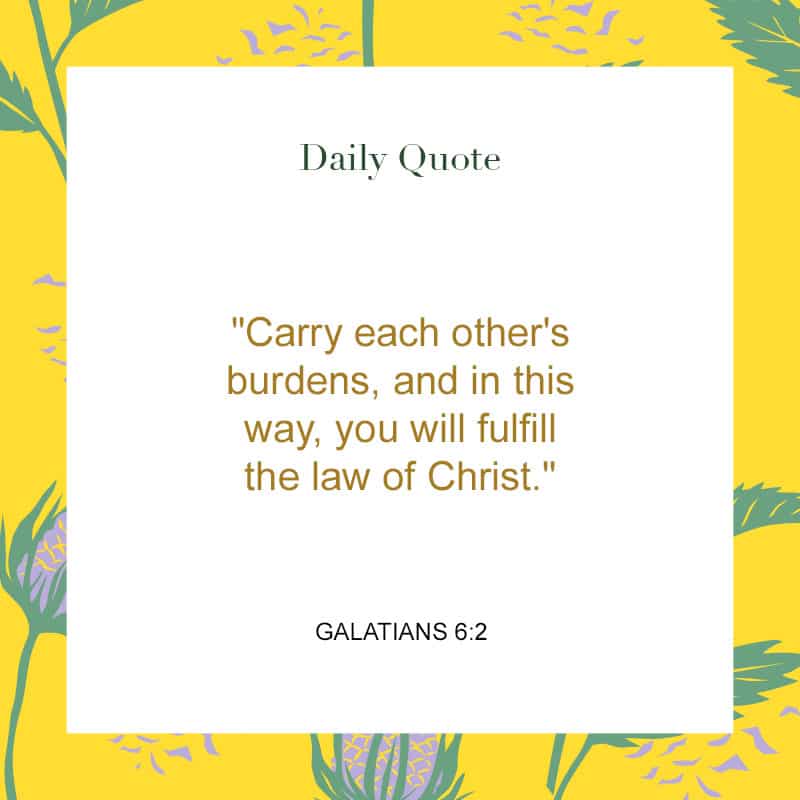 "Do to others as you would have them do to you." – Luke 6:31
"Do nothing out of selfish ambition or vain conceit. Rather, in humility value others above yourselves." – Philippians 2:3
"Carry each other's burdens, and in this way, you will fulfill the law of Christ." – Galatians 6:2
"Dear friends, since God loved us that much, we surely ought to love each other." – 1 John 4:11
"Anyone who withholds kindness from a friend forsakes the fear of the Almighty." – Job 6:14
"Therefore, encourage one another and build one another up, just as you are doing." – 1 Thessalonians 5:11
16. Loyalty Friendship Quotes
Finding loyal friends can be a challenge, so it's important to celebrate and acknowledge them when someone in your life sticks around. As these quotes show, these close friends do not talk bad behind your back and reflect the love you give to them. Sayings from famous authors, sportspeople, and everyone in between have experienced loyalty, and they've shared their wisdom about keeping them close to you.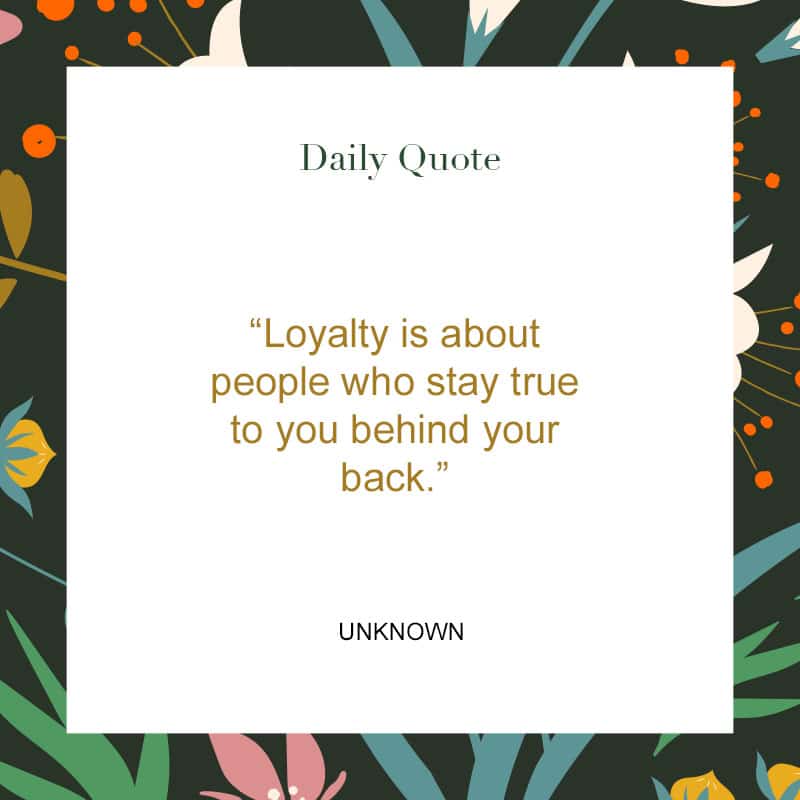 "Loyalty is about people who stay true to you behind your back." – Unknown.
"True love and loyal friends are two of the hardest things to find." – Unknown.
"You don't earn loyalty in a day. You earn loyalty day-by-day." – Jeffrey Gitomer.
"There's nothing more precious than a loyal friend. If you find one, cherish them." – Unknown.
"You give loyalty, you'll get it back. You give love, you'll get it back." – Tommy Lasorda.
"The strength of a family, like the strength of an army, is in its loyalty to each other." – Mario Puzo.
17. Quotes About Jealousy and Envy in Friendship
Not every friendship is filled with joy – some can be toxic. While not every relationship begins this way, if jealousy or envy starts to present itself, it's best to leave the situation. If you or someone you love experiences this, these quotes can guide you as you figure out what to do next. They're also a great anchor if you need to remind yourself of what a real friend looks like. Sharing a statement like this may be a sneaky way to send someone a message to someone who is showcasing their green-eyed monster, so be careful to avoid starting any drama.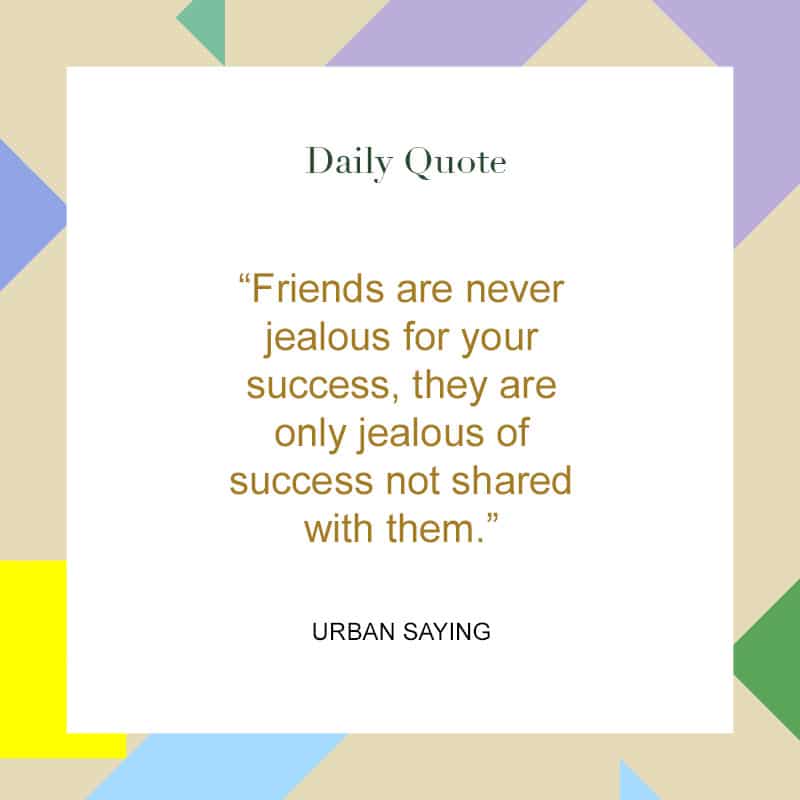 "Friends are never jealous for your success, they are only jealous of success not shared with them." – Urban Saying.
"You have to be great friends and make each other laugh. We laugh a lot, and neither is jealous of the other." – Ruby Wax.
"Envy is thin because it bites but never eats." – Spanish Proverb.
"Rust consumes iron, and envy consumes itself."- Danish Proverb.
"Do not overrate what you have received, nor envy others. He who envies others does not obtain peace of mind."- Buddha.
"It is never wise to seek or wish for another's misfortune. If malice or envy were tangible and had a shape, it would be the shape of a boomerang."- Charley Reese.
18. Disney Friendship Quotes
Disney is a safe place for millions of children and adults and gives a wide variety of sayings that many live by every day. These beautiful quotes express the importance of being close to someone and why sometimes sacrifice is important – as long as it's someone worth your time. From the Silver Age (1950-1959) to the Renaissance period of the company (1989-1999), all the way to the Revival Era (2010 to today), there are many films and characters that resonate with people today.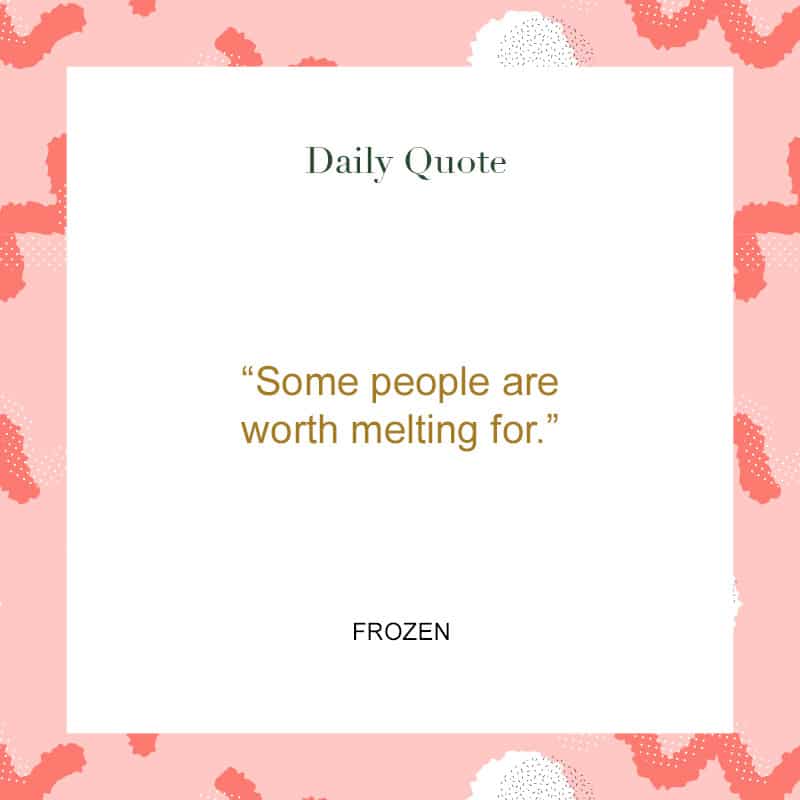 "You've got a friend in me." – Toy Story
"Some people are worth melting for." – Frozen
"I'll miss you when I wake up." – Alice in Wonderland
"When I look at you, I can feel it. I look at you, And I'm home," – Finding Nemo
"Every minute spent in your company become the new greatest minute of my life." – Bolt
"Good friends will help you until you're unstuck." – The Many Adventures of Winnie the Pooh
19. Broken Friendship Quotes
It's a sad feeling when a friendship ends, but sometimes it is a necessary part of life. Everyone loses a friend or two as they grow and mature, but it doesn't make the process any easier to bear. These quotes can help you grieve, whether it's a result of an argument, a misunderstanding, jealousy, or something that simply hurt your feelings. While you may feel as if you're going through these emotions all by yourself, the listed sayings below can help you feel less alone and give you the guidance needed to continue on your journey, even without that person by your side.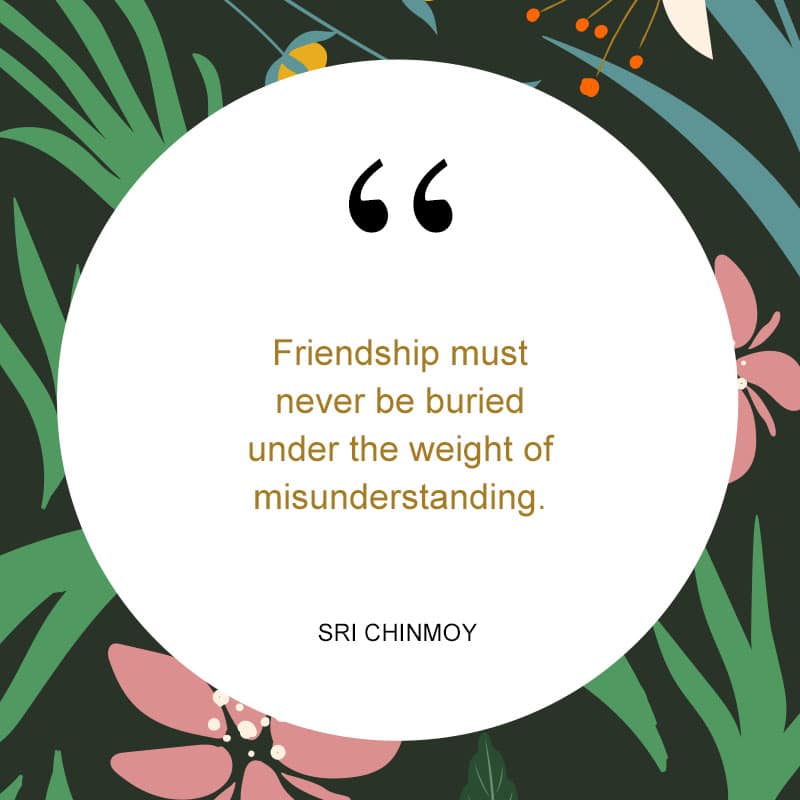 "The silence of a true friend always hurts more than the rough words spoken by the enemy." – Unknown.
"I want us to be friends again. I made some really bad choices, and I'm sorry. You're leaving…and if we don't fix this now, it won't be fixed." ― Katie McGarry, Crossing the Line.
"Friendship must never be buried under the weight of misunderstanding." — Sri Chinmoy "Fighting for a relationship is worth it, but you should avoid it when you are the only one fighting." – Unknown.
"Broken friendships are very hard to fix but sometimes we just have to believe that everything will be okay in the end." – Unknown.
"You act as if I'm talking a bunch of bullshit. If it was, it wouldn't hurt so much. It hurts so much because it's true. You know it's true, otherwise, you wouldn't be crying right now."
― Krystalle Bianca, Perfectly Fractured (The Imperfect, #1).
20. End of Friendship Quotes
Like broken relationships, the end of a friendship can be full of grief and sorrow. While it can sometimes be for the best, you often need someone by your side to help you through the process. If you need a pick-me-up, or you're failing to find the words to say to another when they experience the feelings, these quotes may help a bit. It's important that you have other people in your life to support you. If that fails, let these quotes be that shoulder to cry on, even if it's just to remind yourself that everything will be okay.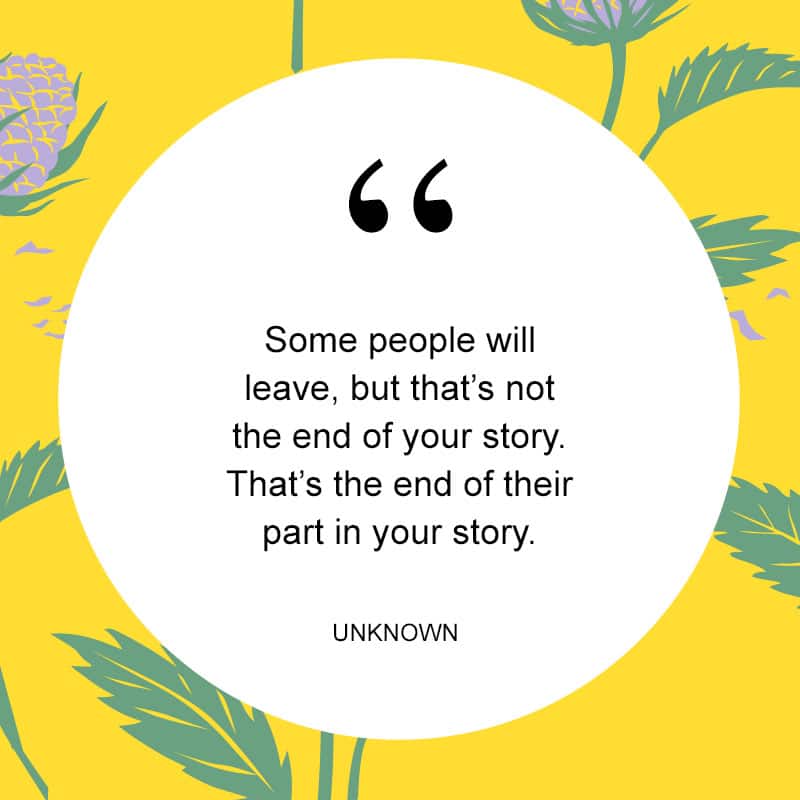 "Some people will leave, but that's not the end of your story. That's the end of their part in your story." – Unknown.
"I always had a mentality we would forever be friends, but to my shock, forever was shorter than I ever expected." — Unknown.
"Whether it was a friendship or a relationship, the truth is when it ends, it gives you a heartbreak." — Unknown.
"We can't feel the loss of a friend until they are apart from us."
― Debolina.
"A friendship that can cease has never been real." — St. Jerome.
"Caring was the only thing I ever did when we were friends. The minute you turned your back is the minute I realized I deserved better." – Unknown.
Friendship Quotes FAQs
What is the best friendship quote?
Friendship is more than just liking someone. It is a bond that ties two people together and keeps them connected when times get hard. They support and keep each other company, even if they have few interests in common. A true friend is someone who stays by your side, sees every side of you, and remains loyal behind your back. 
What is true friendship?
The definition of true friendship is rather subjective, as some people's descriptions may differ from others. But ultimately, a true friend is someone who keeps you safe, laughs with you, and is happy to share and create memories by your side. Moreover, they're loyal and won't turn on you if times get hard. A true friend will see all sides of your personality and help you get back up if you happen to fall. 
How do you express friendship in words?
When words fail to express how much you love your friend, turn to others. Quotes like the ones listed here are a great place to start, as they share the feelings that all people experience in every facet of a friendship. If you want to share your own feelings, begin by writing down how the person makes you feel. Even simple words are an excellent place to start. Think of the things that make you grateful, why you cherish this person, and what makes them unique. Once you've created a few keywords, you can go from there! 
SUBSCRIBE TO OUR NEWSLETTER
Subscribe to our mailing list and get interesting stuff and updates to your email inbox.