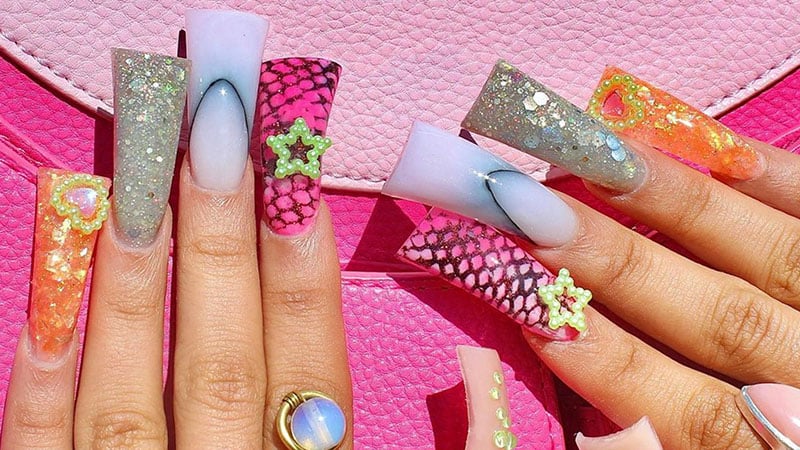 Duck nails also referred to as flared nails, are the hottest trend taking over social media. The unusual shape resembles a duck's foot, with the top of the nail appearing wide and flaring out. This shape has made a comeback from the early 2000s and is trending on social media. It instantly demands attention, and although it is not for everyone, there is a lot to like about duck nails, including how well they lend themselves to nail art. If you love bold and bright nail designs or want to have fun with adding charms and gems, this is the perfect option. The shape is large enough to accommodate the design of your choosing without it looking squashed. You can also experiment with Y2K designs like animal print for a youthful and fresh finish. Keep reading to learn everything you need to know about duck nails and become inspired.
1. Pink Duck Nails
Nail art is a way to express yourself, and few shapes are as noticeable as duck nails. These nails are wide with flared tips and get their name because they resemble duck feet. The appeal of this shape is that it will draw attention to your hands, regardless of what nail art you choose, so you can keep it simple with a classic finish using pink nail polish. Pink is a color associated with love and femininity and can be a way to celebrate your female power. There are also various shades to choose from, making it easy to find one that suits your preference and complements your skin tone. The combination of the unique shape with a timeless pink hue creates the perfect balance.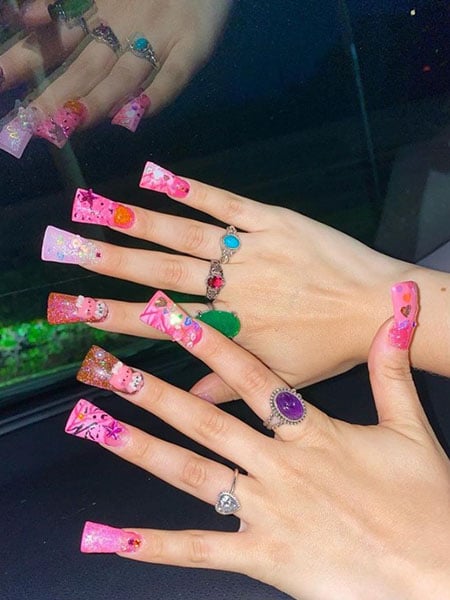 2. Hello Kitty Duck Nails
Hello Kitty has been around since the 70s and remains just as popular today because the little white cat character is super cute. The duck nail shape is unusual and will draw attention to your fingernails. The way that it is flared at the top also lends itself well to nail art as you have more space to get creative with your design. This can include adding 3D shapes and gems for a sparkly and eye-catching finish. You can create a uniform finish by painting every nail the same color or mix and match for a bright and bold appearance; the choice is yours!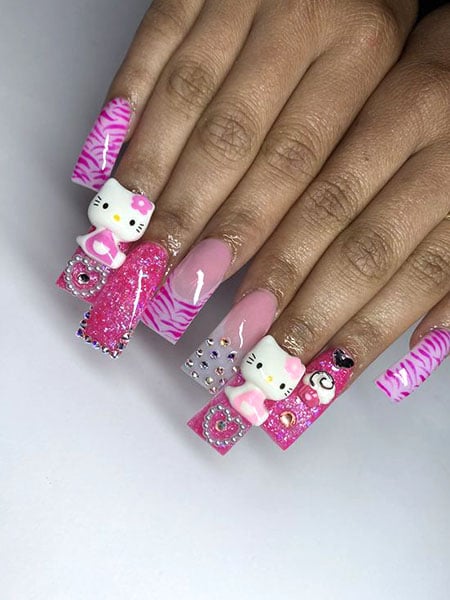 3. Animal Print Duck Nails
Animal print has inspired countless fashion and beauty trends and looks great on your nails. There are several prints to choose from, including classics like leopard and snakeskin, to cow spots. When adding animal print to your nails, you do not have to stick to the traditional color combinations and can get creative by mixing and matching your favorite hues for a bright and colorful finish. The duck nail shape can be worn long or short, depending on how dramatic you want it to be, and the shape lends itself well to nail art. You can also add gems to your nails for a sparkly effect and give them a 3D appearance.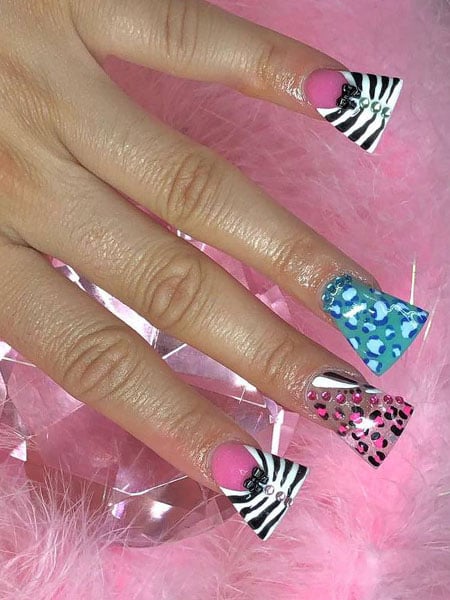 4. Sweet and Playful Duck Nails
Nail art is a great way to have fun with your appearance and experiment with colors, patterns, and prints. It can make a statement about your thoughts and feelings and is a way to express yourself. For those who want to show the playful side of their personality, you can do this with sweet and playful duck nails. The duck nail shape is not for the faint-hearted because the wide tips demand attention, but it has been taking over social media because it is incredibly creative. There is also a lot of room for your designs. This includes adding 3D details to your nails, like flowers and butterflies, which symbolize growth, beauty, and transformation.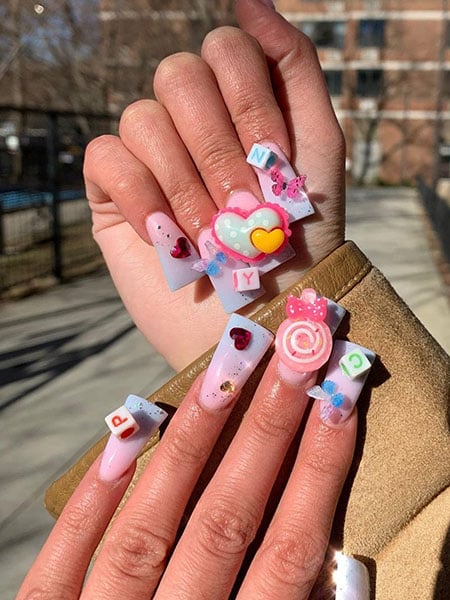 5. Duck Feature Nail
The feature nail trend is ideal for drawing attention to just one fingernail. It is also a way to mix and match different colors, as the feature nail will stand out from the rest. You can try a simple and subtle approach by painting the feature nail in a different color to the rest of your fingernails, or you can focus all the nail art on this finger. The duck nail shape gives you a lot of space to get creative, including adding charms and gems. When deciding on which fingernail to highlight, this can be any nail, but choosing your ring finger is an excellent opportunity to draw attention to a special piece of jewelry.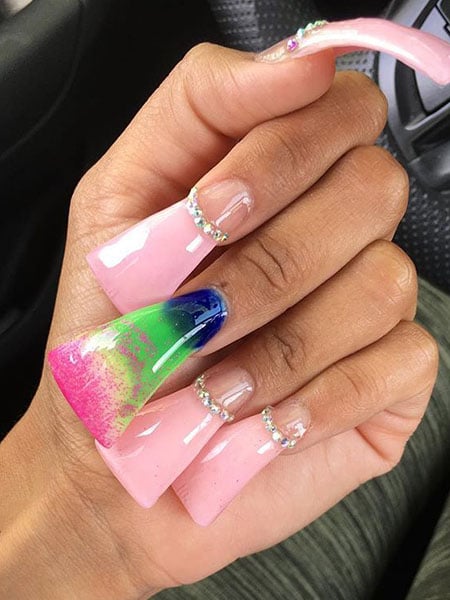 6. Arty Duck Nails
Arty nails are one of the best options for your manicure because they can be of anything and are often an expression of how you are feeling at the time. It can be a mixture of colors, patterns, shapes, and angles, which you can arrange to suit your preference, creating something abstract and beautiful. Duck nails are made to stand out; the unusual shapes give you a lot of room to play around with your nail designs. Each fingernail can be different, or you can keep them the same for a streamlined finish.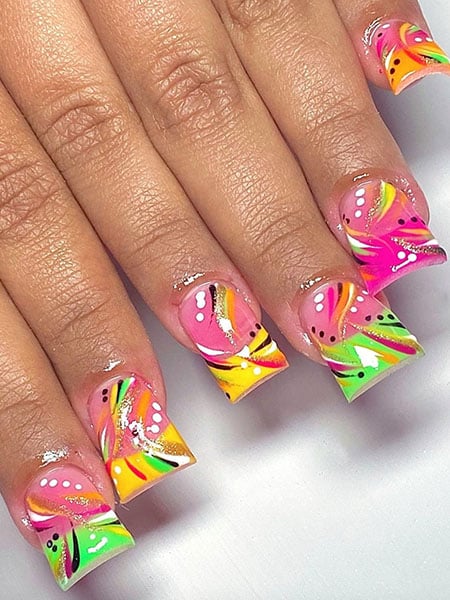 7. Playful Duck Nails
If you want a manicure that will bring a smile to your face and channels your inner child, this is the option for you. Playful nails are a wonderful way to blend all your favorite colors and things, designing your nail art to reflect your personality and bringing joy and positivity to your life. The duck nail shape is large enough to accommodate 3D details, letting you add large charms to each nail. Opt for a longer length to give you more space. If you want to draw attention to the tips, you can pair your charms with French tips, highlighting the shape and elongating the finger. This can be incredibly flattering for very detailed nail art.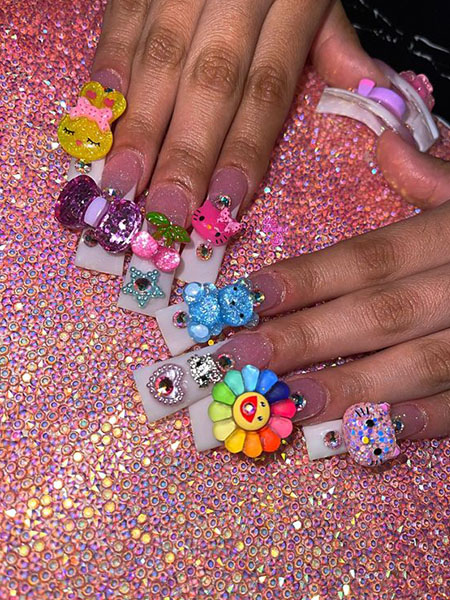 8. Extra Long Duck Nails
Long nails are feminine and ultra-glam. They may not be as practical as short nails and can be high maintenance and restrictive; you will not be able to play contact sports and need to take extra care throughout the day to ensure your nails do not snag on things or break. However, the long length is incredibly versatile, lending itself well to many designs. You can create very detailed nail art or experiment with large 3D charms and gems. It is not recommended to try out extra long duck nails until you are comfortable with the shape because it can take some getting used to.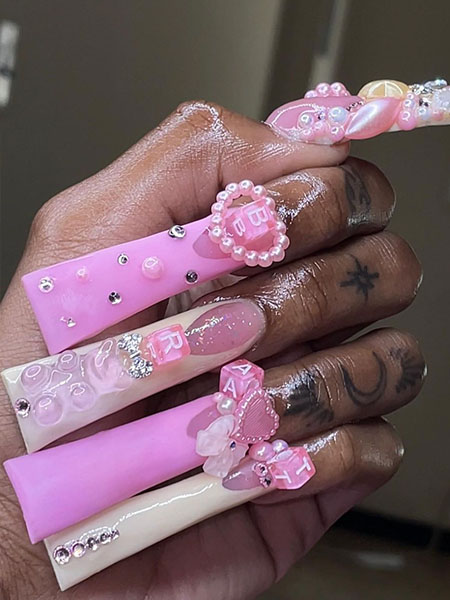 9. Blue Glitter Duck Nails
Blue nails are one of the most popular options for manicures. The color is associated with calmness, serenity, and balance, and there are many different shades to choose from. For those who want a soft and romantic finish, pastels are perfect and look great on everyone. If you want something more moody and daring, opt for rich colors like royal blue. The duck nail shape makes a statement, so you can keep your nail art to a minimum by painting your nails in your favorite blue hue. Or you can go all-out, adding charms and patterns.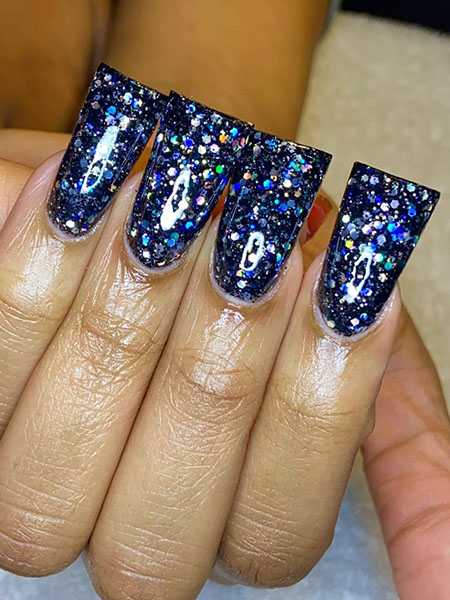 10. Creative Duck Nails
You need to try duck nails for a youthful and expressive option for your next manicure. Duck nails flare out at the tips to resemble the shape of a webbed duck foot. The unusual shape is striking and will draw attention to your hands, but the best part is how much fun you can have with your nail art. There is so much room for creativity that you can create nail designs that you may have never thought to have tried out before. Add as many gems as you like, experiment with abstract patterns and prints, and be bold with your color choices.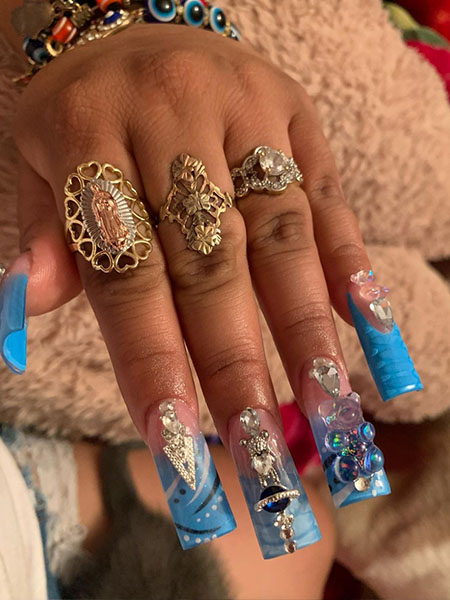 11. Short Duck Nails
At first glance, duck nails may seem intimidating, and the shape does take some confidence to pull off but don't let this put you off. This Y2K trend has made a comeback in a big way. Although it is not for everyone, it is a fun and versatile option and will give you a manicure that stands out. To try out the trend, you may want to opt for short nails, which are more practical and will let you get used to the shape. Short nails are often less prone to breakage and are low-maintenance.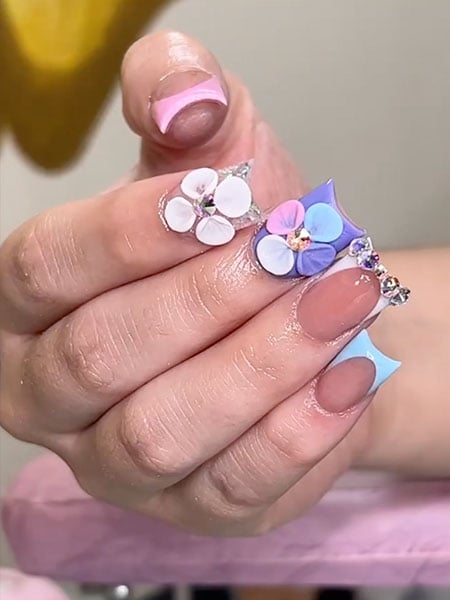 12. Pastel Duck Nails
Pastel nails are a timeless choice for your next manicure. There is a range of colors to choose from, including soft pink, baby blue, and mint green, and you can pick one or combine several. Pastels are easy to wear, incredibly versatile, and look great on everyone. They can also be added to nails of varying lengths and shapes. Pastel nail art is a classic choice, and pairing it with an unusual shape like the duck nail shape lets you create an interesting balance, giving you something modern and exciting. Keeping the colors and designs simple can also help create a more classy finish.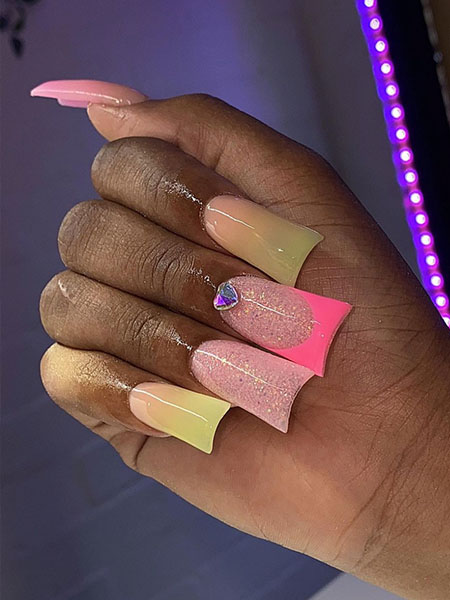 13. Duck Press on Nails
Press on nails are artificial nails that are already designed and are added to your natural nail with glue. They are an affordable and easy solution to getting a manicure at the salon and can be incredibly versatile. They come in a wide range of shapes and designs, letting you achieve your desired look effortlessly. You can also paint over the press-on nails to create a different design on each fingernail. Good quality press-ons can last around two weeks and will be durable.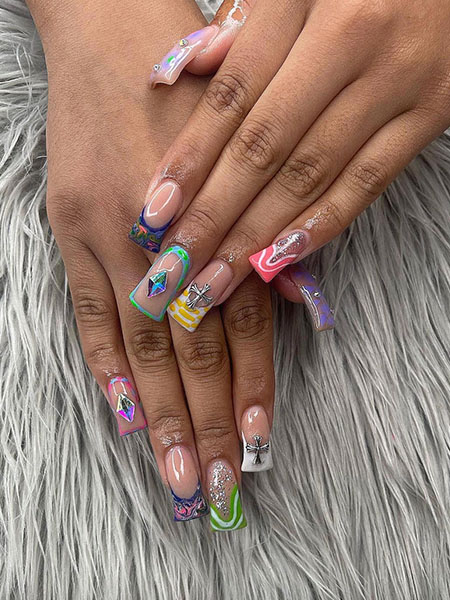 14. 3D Duck Nails
From glitter to charms, the duck nails let you do it all and give you plenty of space to create the nail art of your dreams. 3D nail designs are high-maintenance and can easily snag on things, but they also look impressive, drawing the eye to your fingernails. The 3D nails are created by adding gems or charms to the nail, which can be the combination of your choosing, depending on how dramatic you want the finish to be. This is also the perfect time to experiment with different textures; this could be as simple as opting for glitter or matte polishes or could be achieved by adding fluff or feathers.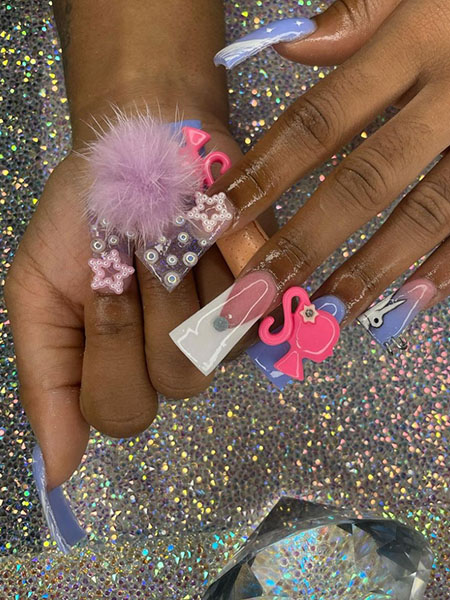 15. Unique Duck Nails
Duck nails are not for those who want a manicure that is perfect for every day or prefer the classics. This nail shape demands attention and should be reserved for special occasions or times when you want to express yourself. The appeal of the shape is how eye-catching it is, but it also lends itself well to nail art, giving you a lot of space to experiment and get creative. Unique duck nails can be a combination of unusual, clashing colors. It could include gems and charms that you would perhaps not usually think to pair together. You can mix prints and textures, for example, a glossy finish with a matte finish. These nail designs are all about you.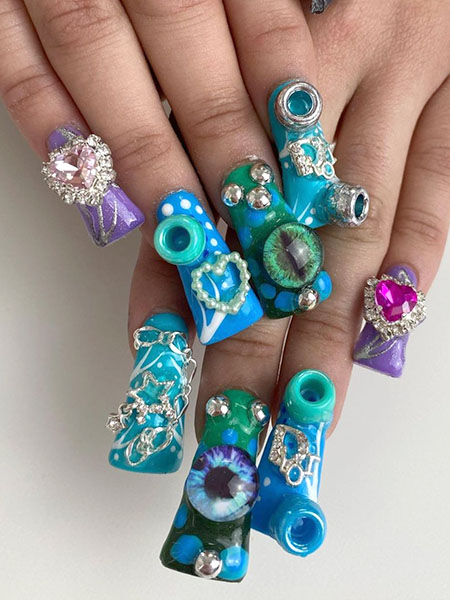 16. Long Natural Look Duck Nails
Duck nails are a shape that works well with bold nail art, making a statement. There is plenty of space to add charms and experiment with bright colors and prints. However, you can also tone it down with a natural finish to make your nails more subtle and wearable. Opt for a classic color, like a nude or clear polish, which will complement the unusual shape. This will give you a classy finish and is better suited for every day. You can keep the nails short as you ease into the trend or opt for long nails for a glamorous and feminine look.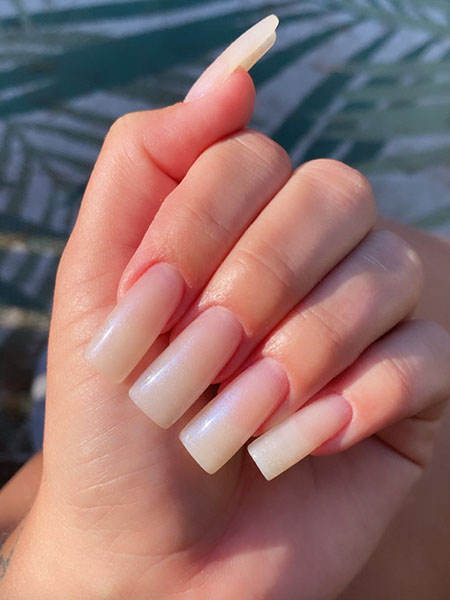 17. Crocodile Skin and Glitter Duck Nails
Duck nails are one of the most fun shapes, and they look great with nail art. While some nail shapes may be restrictive and not give you enough space for very detailed designs, you can try anything with this shape. This includes a daring combination of crocodile skin and glitter. This is a manicure for someone who wants an eye-catching and expressive nail design and gives you a lot of freedom with the colors you can choose. You can paint each nail with a different color crocodile-inspired design or focus the print on a feature nail.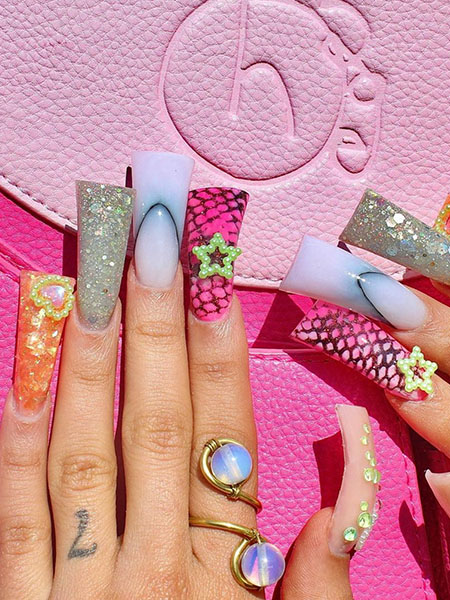 18. Cartoon Duck Nails
If you have been searching for a manicure that stands out from the crowd, look no further than cartoon duck nails. The duck nail shape is visually interesting and works well with all nail art. For a youthful option that can remind you of the good times from your childhood, why not incorporate your favorite cartoon character? Perhaps you loved Minnie Mouse, or maybe you were a fan of The Little Mermaid? Both options are excellent, or you could show how witty you are by adding an image of Donald Duck to your duck nails.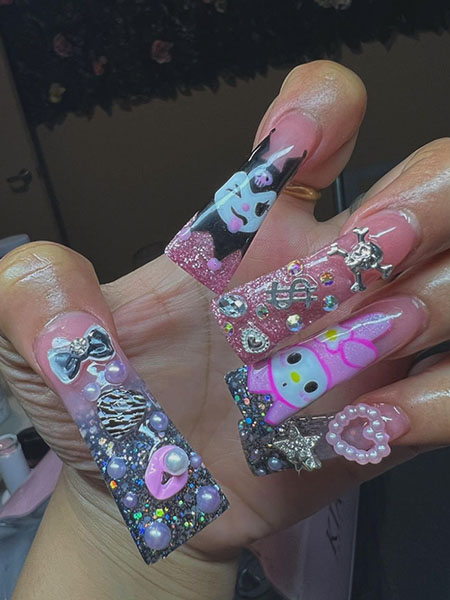 19. Holographic Duck Nails
Few nails sparkle in the light in the same way that holographic nails do. This nail art is all about high shine and is created with polish with reflective pigments. The beauty of holographic nails is that they also have a color-shifting quality when looked at under the light. They can have a modern meets retro vibe when paired with the Y2K favorite, duck nails. When creating holographic nails, they can be in the color of your choosing. Opt for a different one for each fingernail or keep it more streamlined.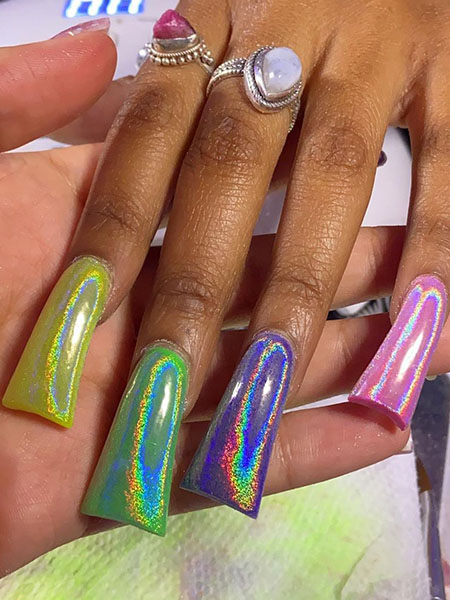 20. Red Duck Nails
Red is one of the most striking colors and is an excellent choice for nail art. It is a shaade associated with romance and passion, and the boldness of the hue makes it a statement choice. You can add red to your nails in many ways, including combining it with black to create a contrast, or focusing the color on only the tips of the nails for a more subtle finish. The duck nails are not subtle, and the shape is designed to be seen thanks to the wide, flared tip. Red nail art also looks gorgeous with lip logos, fruit charms, and gems.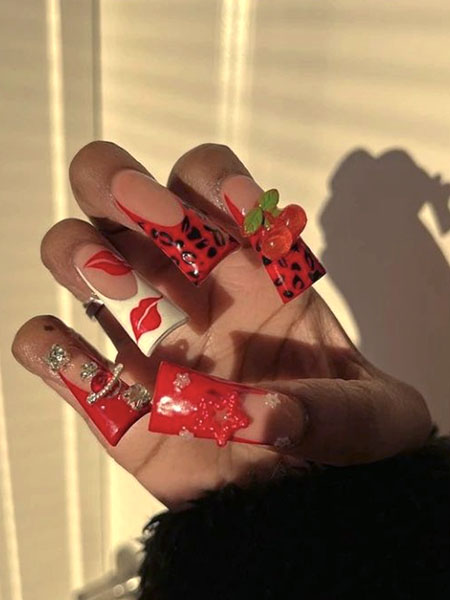 21. The Little Mermaid Duck Nails
Disney's The Little Mermaid is arguably one of the best films, and many young girls grew up loving it. If you want to honor your favorite film or a childhood time filled with happiness, what better way than to add this character to your nail art? You can place one character on a feature nail and keep the rest of the look simple with colors representing the ocean, for example, blue and green. Or opt for a daring and eye-catching finish that includes charms and details on every fingernail.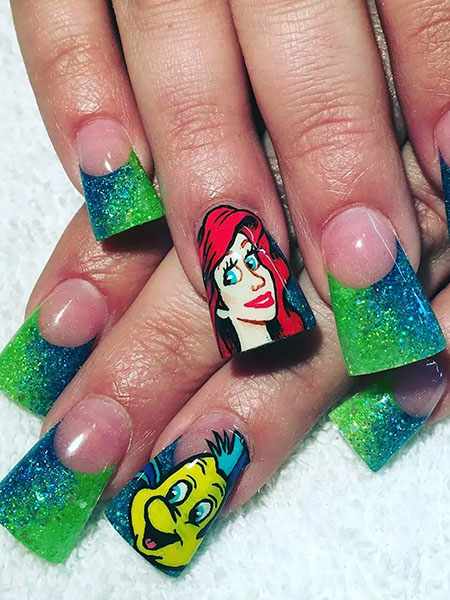 22. Money Duck Nails
If you love the finer things in life or feel that you work hard for your money, you may want to create money-inspired nail designs. You can transform your entire fingernail into the shape of a cash note. Or focus the look only on the tips for a creative approach to the classic French manicure. This option is a great way to highlight the shape of the duck nail as it will draw the eye to the tips, which are wide and flared. Duck nails are an excellent choice for those who want detailed nail art. But remember that the more time-consuming your chosen design will be to create, the more it will cost.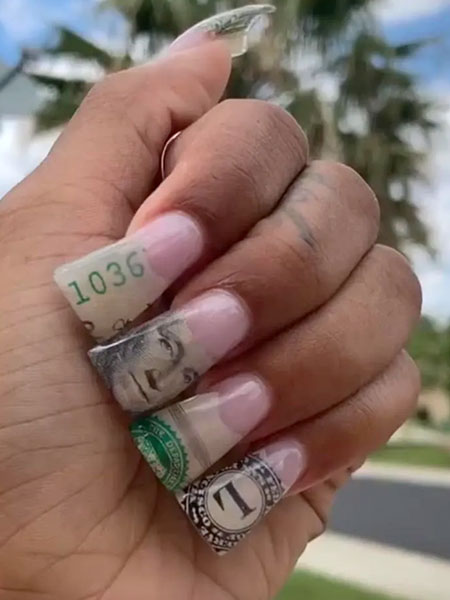 23. Duck Foot Nails
Duck nails can be fun and creative for those who want something different and expressive. However, the nail shape is somewhat controversial and can be prone to breakage, which could result in damage to your natural nail. You should consider this when deciding which length will work best for you. The pro of the shape is that it is excellent for making a statement and works well with all nail art. You can opt for something bold and daring. Or keep it simple with a French tip manicure and a feature nail that is created to look like a duck foot. There's no better way to show the fun and witty side of your personality; it is called duck nails because it resembles the web shape of the bird's foot.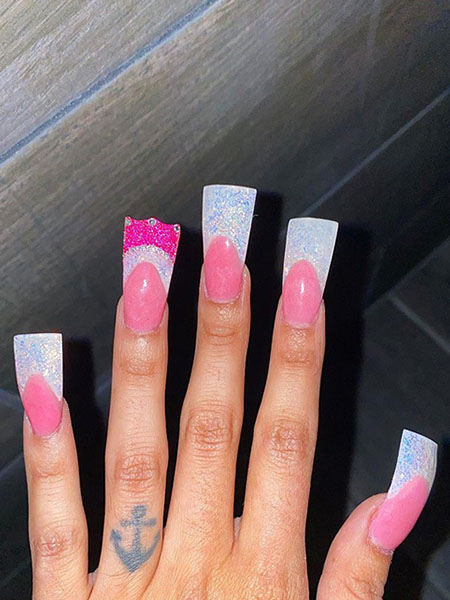 24. Lollipop Duck Nails
If you have a sweet tooth or want nails that are cute and feel summery, lollipop nail art is for you. The design also works well with bold and bright colors, letting you experiment by mixing and matching your favorite hues. Opt for candy-inspired swirls that make your nails good enough to eat. Or add sweet-shaped charms to your nails for a 3D finish. This is one of the most creative options for your manicure and is a great way to have fun and express yourself. You can make a sweet tooth design for each nail or focus only on a feature nail. You may also want to combine your lollipop nail with other images of things you love, including brand logos, flowers, or hearts.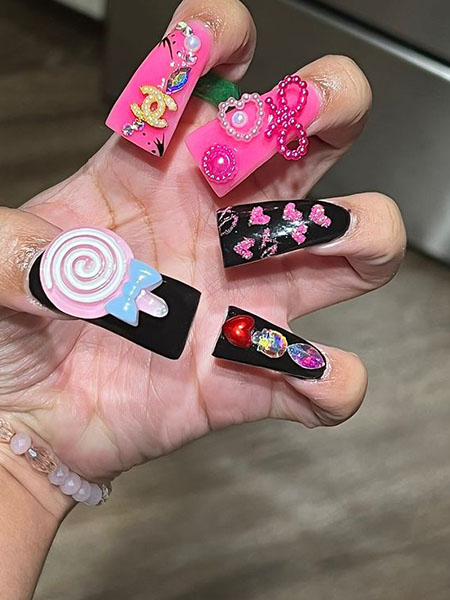 25. Multi Color Duck Nails
If you cannot decide on one color for your manicure, why not combine several? Multicolored nails are bright and bold and an excellent opportunity to experiment with different nail designs. How you add the colors is up to you; it could include prints and patterns of your choice, like leopard print and crocodile skin. Or you can opt for a more subtle but no less creative option, painting each nail with multiple lines or focusing the colors on the tips; this will also highlight the unusual shape. The duck nail shape is appealing because it works well with nail art, including 3D details; this gives you the freedom to create your desired artwork.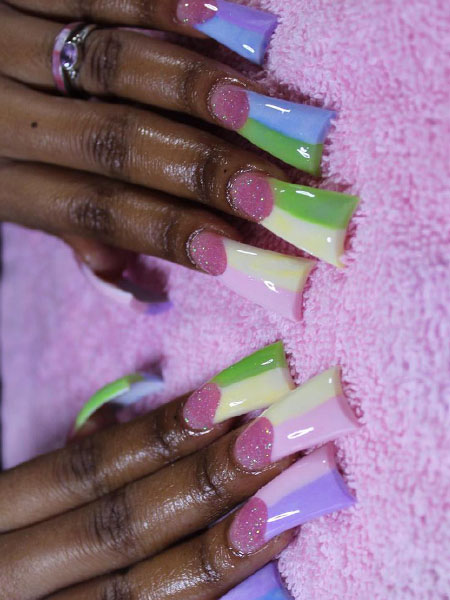 Duck Nails FAQs
What is a duck nail?
A duck nail is wide and flared at the tip. The unusual shape has been inspired by the webbed foot of a duck, hence the name.
Who started duck nails?
Duck nails have been trending on social media platforms and favored by style icons and musicians in recent months. However, the trend first emerged in the early 2000s, including being worn by Jersey Shore star Snooki. Its comeback has been somewhat controversial, with people hating or loving this statement nail shape, which works great for nail art.
Do you have to trim duck nails?
Duck nails can be created in varying lengths but should always be done by a professional because the shape is complicated to achieve. You also want to ensure that it is done correctly to avoid damage. Long nails can make a statement but are high maintenance and can be prone to breakage, but they also work well with nail art giving you space to create the design of your dreams. If you dislike the length of your initial duck nail shape, go back to the salon and work with the nail technician to file them down to a more comfortable and manageable alternative.
SUBSCRIBE TO OUR NEWSLETTER
Subscribe to our mailing list and get interesting stuff and updates to your email inbox.