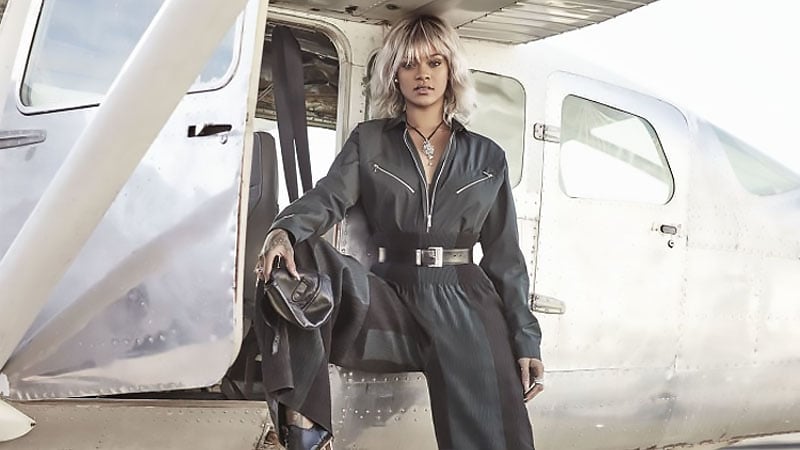 Whether you're heading on a holiday or business trip, what you wear for your flight matters. Although the Golden Age of flying and its high standards of dress may be long gone, looking good while jet-setting around the world is still important. After all, who doesn't want to arrive at their destination looking fabulous, feeling great and ready to explore? The good news is, these days, there's no need to sacrifice in-flight comfort for a chic ensemble. To balance the two, all you need to do is take a few cues from the world's most stylish and famous flyers. So, if you're ready to step up your airport style, take a look at these celebrity-inspired travel outfits.
1. Travel Outfits with Leggings
Want to make your travel outfit comfortable and fashionable? Just add a pair of leggings. These fitted pants are perfect for achieving a laid-back look with a chic athleisure twist. Don't believe us? Just look to style stars like Rihanna for inspiration. To make the look even trendier, consider swapping your standard gym leggings for a leather-look pair. Then, just add boots instead of sneakers and finish your outfit off with a cute yet casual top and leather jacket.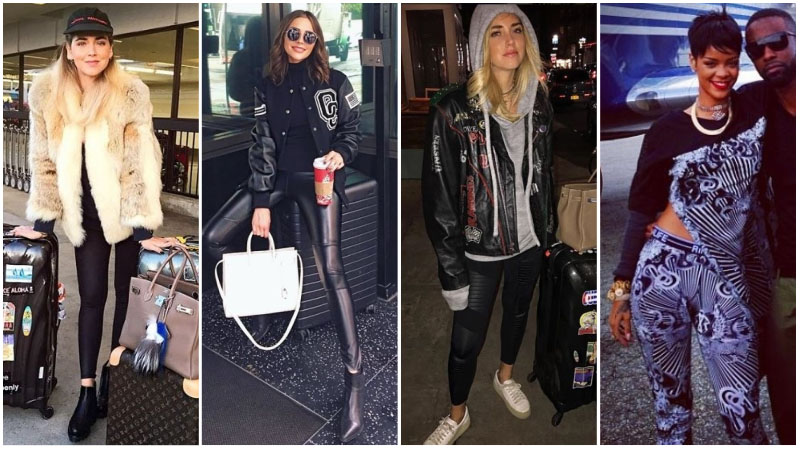 2. Travel Outfits with Jeans
When it comes to airport dressing, you can't go wrong with a classic pair of jeans. After all, what could be more comfortable and cool than a stylish pair of denim trousers? To nail the look, get inspired by Kate Bosworth's style and team traditional blue jeans with a white crew-neck T-shirt. Then, try adding a pair of chunky white sneakers to complete your relaxed yet fashionable ensemble. Also, if the weather is a little crisp or you get cold on aeroplanes, try doubling down on denim by adding a denim jacket.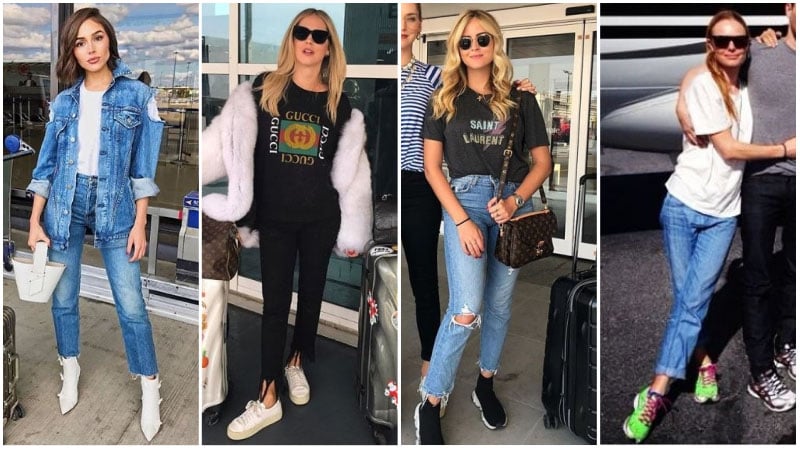 3. Travel Outfits with Dresses
For a feminine and chic take on travel style, wear a dress for your next flight. All you need to do is pick a style that's cute, comfortable and practical. To do so, try opting for a midi or maxi length, which will keep your legs warm and negate the need to cross them. Also, avoid anything overly tailored or in an uncomfortable fabric. A column-shaped, ribbed knit dress can make an excellent option. Simply pair it with ankle boots, à la Alexa Chung, and an oversized jacket to complete your outfit. Oh, and don't forget to add a pair of stylish sunglasses to disguise any tired eyes.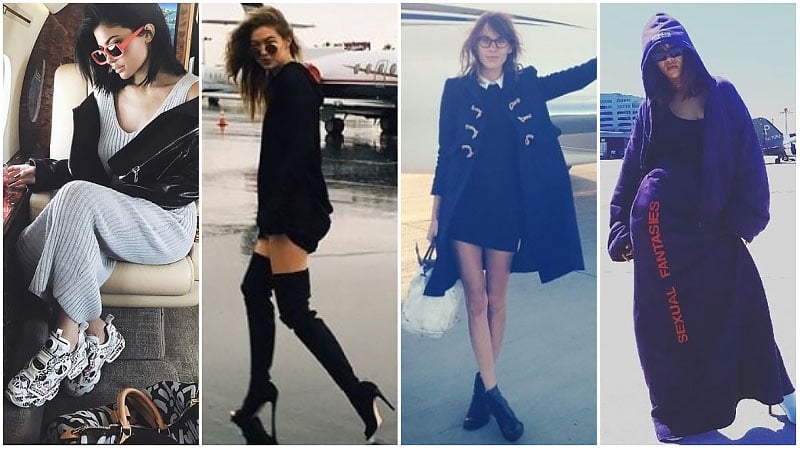 4. Sporty Travel Outfits
Take your sporty style from the streets to the skies with an A-list-approved athletic travel ensemble. As comfortable as they are cool, sporty travel outfits blend on-trend fashion with pure function. So, not only will you look as stylish as Instagram fashion partnerships director Eva Chen while jet-setting, but you'll also be able to sprint for that last-minute flight and make it. To rock the look, try opting for a pair of cropped trackpants paired with sneakers, a crop top and super slim sunglasses.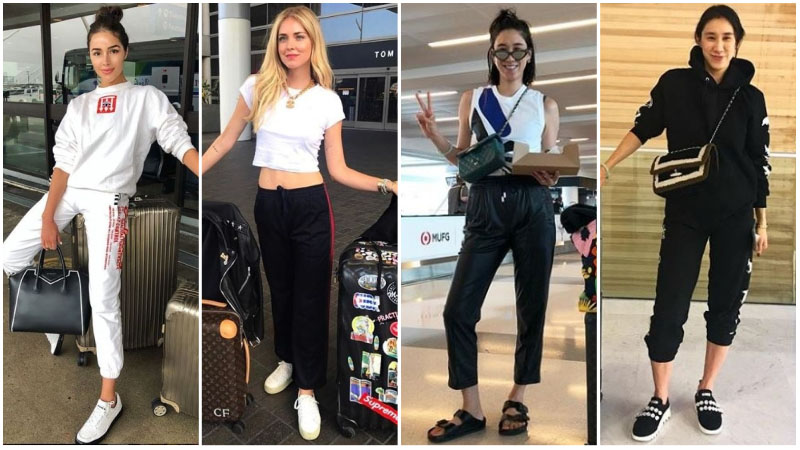 5. Casual Travel Outfits
Casual and chic needn't be mutually exclusive. So, if you want to travel in total comfort without sacrificing your usual on-point style, merely look to style stars like Chiara Ferragni for inspiration. For a cool take on casual, pull on a pair of sporty trackpants and pair them with a slouchy logo jumper. After all, nothing beats a comfy tracksuit for a long flight. To ensure your look is stylish instead of sloppy, elevate your outfit with smart yet minimal accessories, such as slip-on mules and a large leather tote that's big enough to fit all your travel documents as well as your tablet and a book.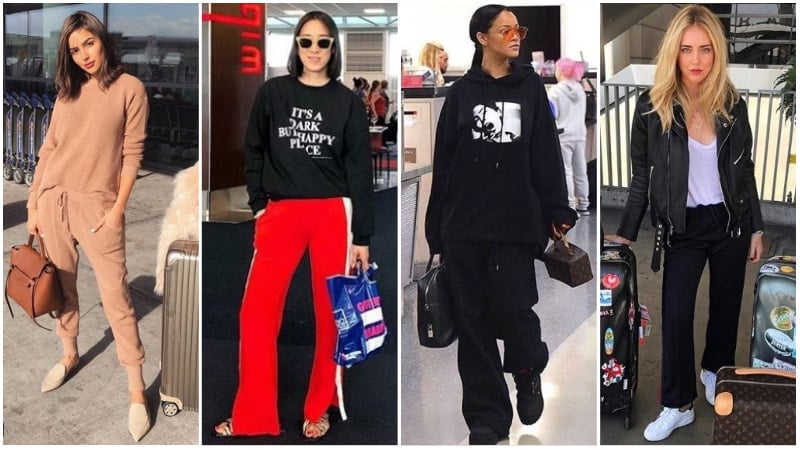 6. Cute Travel Outfits
When you're excited about heading off on an overseas holiday, nothing complements your mood quite like a cute travel outfit. So, don't be afraid to have a little fun with your airport style. Bold colours, prints, slogans and embroidery are all fantastic ways to add a cute twist to a chic travel ensemble. But, be careful not to go overboard with embellishments. We're talking about an aeroplane flight, not fashion week. To balance eye-catching tops and accessories, consider following Olivia Culpo's lead by adding a pair of ripped black jeans.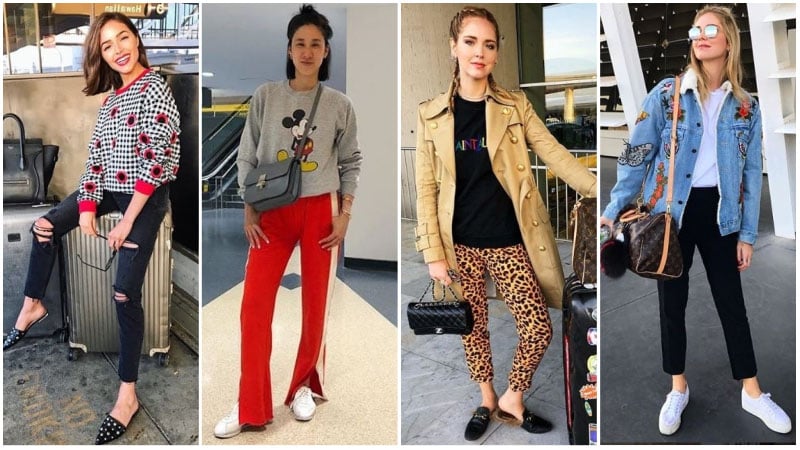 7. Chic Travel Outfits
Whether you're flying business class, vying for an upgrade or just want to look fabulous as you jet off to your next destination, a chic travel outfit makes an excellent option. Just take cues from Gigi Hadid and Olivia Culpo to nail the look. To recreate their chic, model-off-duty style, try pairing skinny black jeans with a white high-neck blouse, heeled patent boots and a cosy longline coat.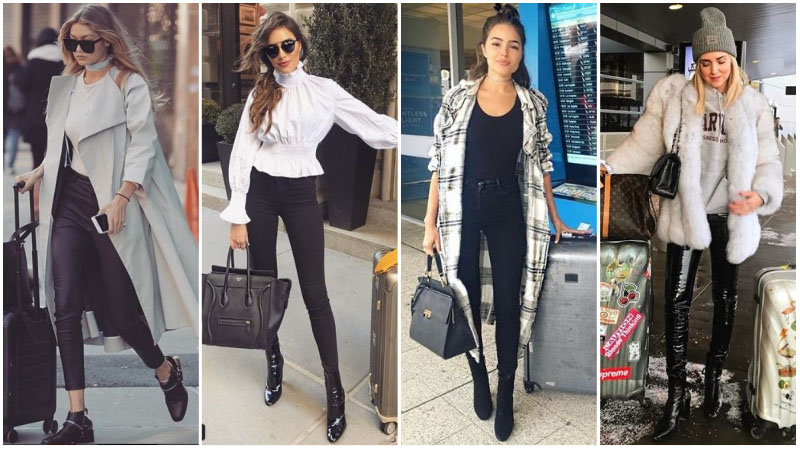 8. All-Black Travel Outfits
Want to look good for your flight, but you're running late for the airport? No problem. An all-black outfit is a fast and easy way to look polished for your plane ride. For a relaxed yet chic take on the style, try rocking either a pair of leggings, track pants or jeans. Then add a fitted black crop top and oversized black bomber jacket. To complete the look, choose between either ankle boots or sneakers. The result will be an outfit that makes you look and feel as awesome as Kylie Jenner, even without the private jet.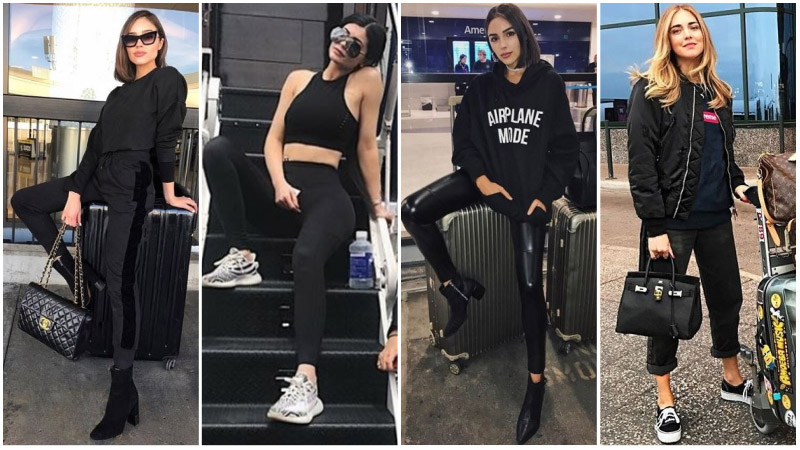 9. Winter Travel Outfits
Make your winter travel outfit as cool as the weather with some inspiration from celebrities like Hilary Duff and Chiara Ferragni. To follow their lead, mix classic fashion items with cosy statement pieces. Not sure where to start? Try throwing on a pair of light blue jeans, a hoodie and some gum sole sneakers. Then, cap it all off with a super cosy and cuddly faux-fur coat, which can double as a blanket or pillow during your flight.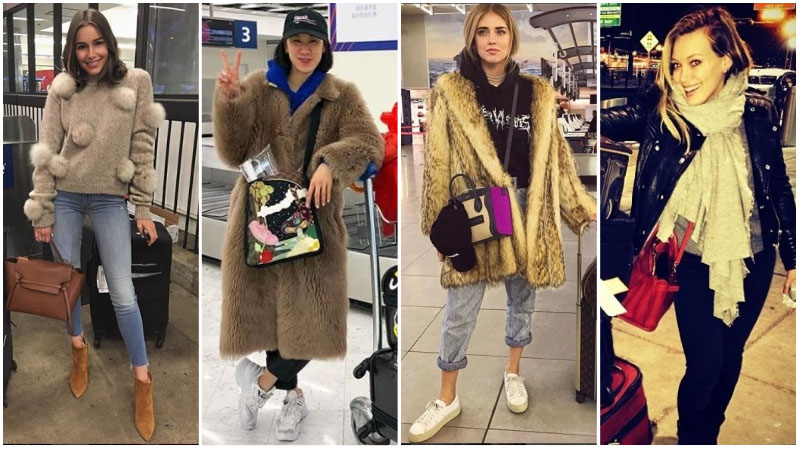 10. Summer Travel Outfits
Want to look as chic as Alessandra Ambrosio while travelling in summer? Opt for a laid-back outfit that'll help you beat the heat. To do so in style, choose fashionable and functional garments that look good and let your skin breathe. For an Eva Chen-approved ensemble, try wearing denim shorts with a printed T-shirt and slides. Of course, don't forget your sunglasses and remember to pack a lightweight jacket if you get cold in air-conditioned settings.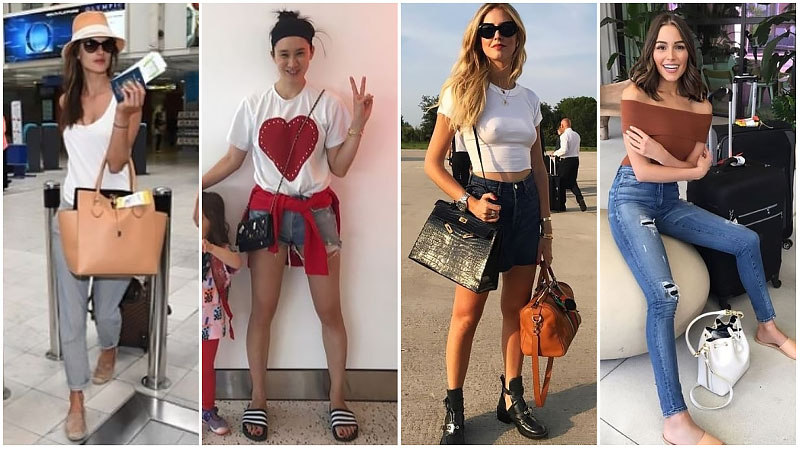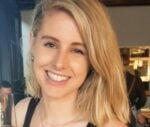 Taylah Brewer holds a bachelor's degree in fashion and business and is a skilled writer with several years of experience in the world of online content creation and copywriting. She is passionate about fashion, beauty, and all things lifestyle-related and has been writing for The Trend Spotter since 2016. She currently works as the Head of Digital & Ecommerce at White & Co.
SUBSCRIBE TO OUR NEWSLETTER
Subscribe to our mailing list and get interesting stuff and updates to your email inbox.