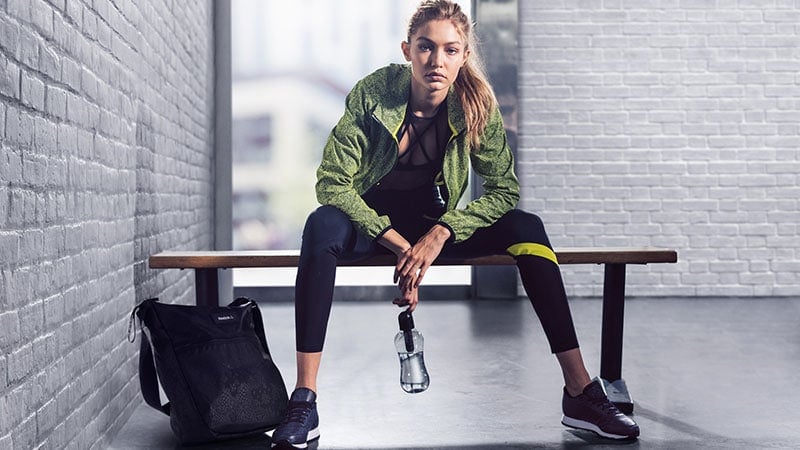 Do you think that you can only wear your leggings to the gym or at home? Think again. Stylish stars, such as Kylie Jenner, Gigi Hadid and Selena Gomez have proven that leggings can make an excellent alternative to jeans or pants. All you need to know is how to style them right, and these bottoms will soon become your go-to option for comfort and style. To wear your leggings the right way, just look to your favourite stars for inspiration. These A-listers can show you how to rock leggings from the street to brunch and even a night out. Don't believe us? See it for yourself in this guide to nine celebrity-inspired outfits with leggings you'll be wearing everywhere.
Cute Outfits with Leggings
As well as being seriously comfortable, leggings can also be incredibly cute. To rock a cute outfit with leggings, just remember to keep your look casual and feminine. Start by opting for a pair of simple black leggings. Then, pair your leggings with a sweet black camisole and cosy knitted sweater. Finally, complete your cute legging look with the right shoes. Instead of athletic sneakers, select a pair of heeled ankle booties for the perfect chic touch.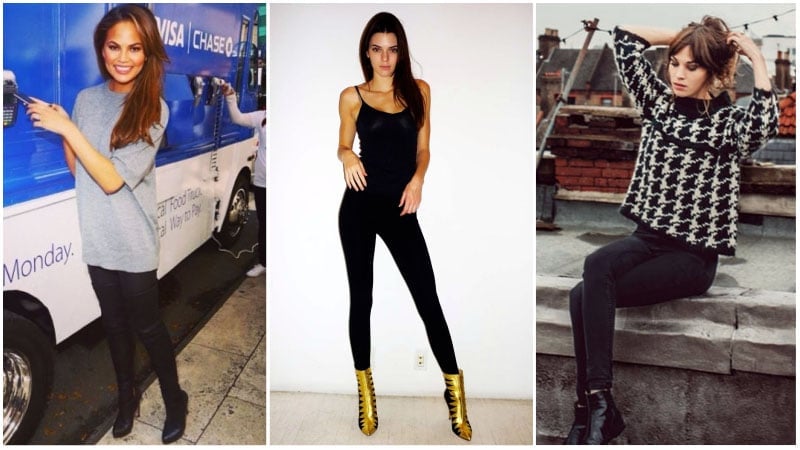 Get the Look
Black Leggings Outfits
Every lady needs a pair of black leggings in her closet. As versatile as they are fashionable, black leggings are perfect for a range of occasions. If you want to wear yours from the gym to the streets, just pair them with a crop top and sneakers. Then, throw on a longline cardigan over the top for a stylish appearance. To ensure your look reads sleek and sophisticated, you should stick to an all-black colour palette.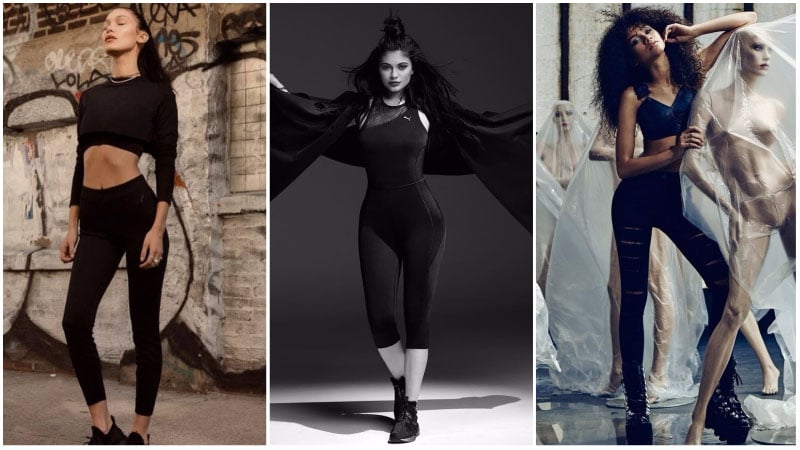 Get the Look
Grey Leggings Outfits
For those who prefer a lighter look, grey leggings can make an excellent option. Ideal for casual outfits, grey leggings project a relaxed appearance. To rock your grey leggings like a celeb, try partnering them with garments and shoes in other shades of grey as well as black and white. Doing so will achieve a smart and stylish monochromatic appearance that's perfect for weekends. To complete your look, simply select styles that are perfect for both the gym and the street, such as sneakers, a tank top, and a puffer jacket.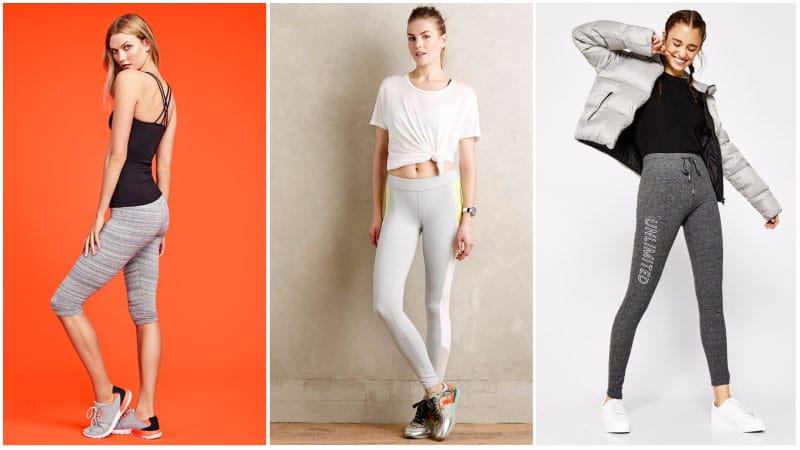 Get the Look
Maroon Leggings Outfits
They may not be as common as black or grey leggings, but maroon leggings are also worth having in your wardrobe. Their deep hue is perfect for the autumn and winter seasons and they make an excellent addition to cute, casual outfits. To wear maroon leggings like a star, select a look with a slight bohemian touch. A flowy tank top, oversized denim jacket, and felt hat make the perfect options.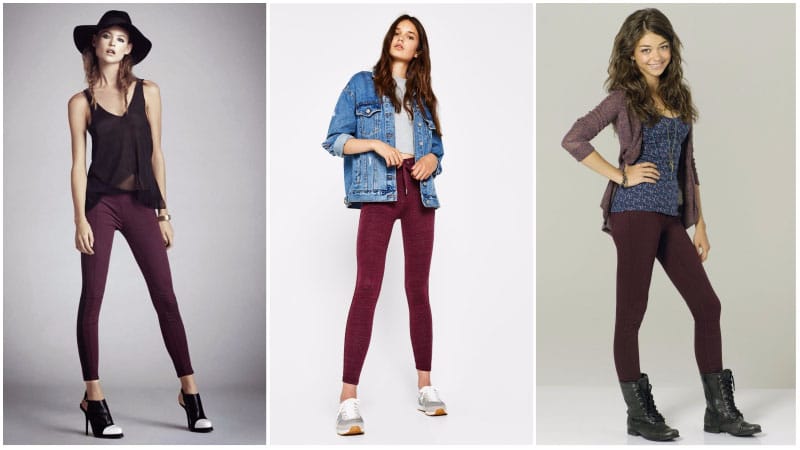 SHOP THE LOOK
How to Wear Leather Leggings
Leather leggings may seem intense, but they're a lot easier to wear than you might think. To rock these edgy pants, just take inspiration from the likes of Bella Hadid, Cara Delevingne, and Jennifer Lopez. These A-listers all love to rock leather leggings and look great doing so. To channel their sexy style, partner your leggings with a fitted crop top and high-heel ankle boots. Then, add a long and bulky coat for an impressive winter look. Also, note that all-black ensembles appear excellent for evenings while a pop of colour makes these bottoms more wearable during the day.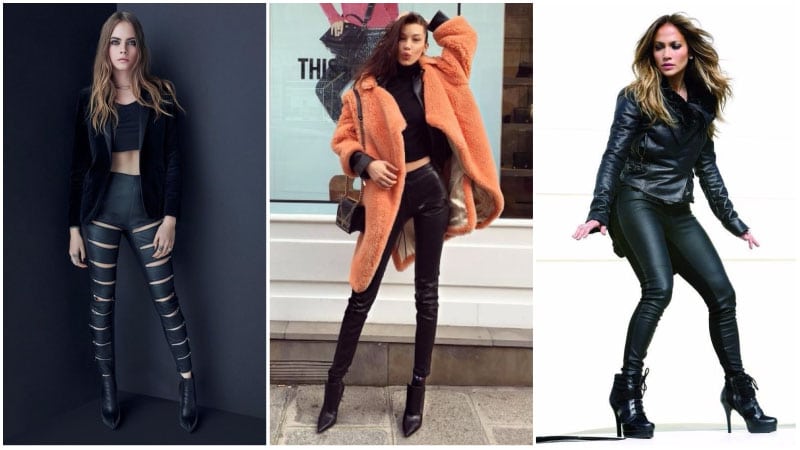 SHOP THE LOOK
How to Wear Printed Leggings
Printed leggings can be tricky to wear but never fear. Your favourite millennial celebrities have all the style inspiration you need to pull off these pants. When rocking printed leggings, remember to pair them with basic designs in solid colours or matching patterns. That said, don't be afraid to make your look bold. For example, pairing navy printed leggings with a white t-shirt, red biker jacket and red sneakers can create a fashionable and complementary appearance.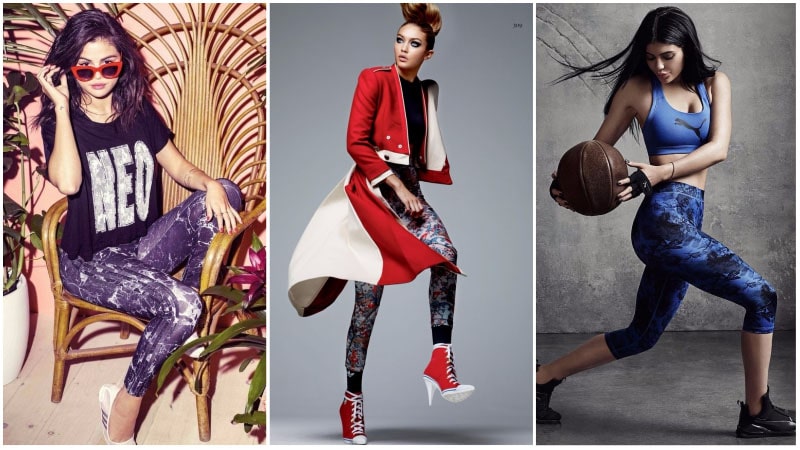 SHOP THE LOOK
Dressy Leggings Outfits
It is possible to dress leggings up and create a chic outfit. So, the next time you're off to evening drinks, try swapping your usual black skinny jeans for a pair of leggings instead. To nail the look, take a cue from Cara Delevingne and try a vinyl pair for added shine and glamour. Then, partner your leggings with a sheer and flowing white blouse to balance the intensity and silhouette of your pants. Finally, finish with a pair of killer heels and a stylish shoulder bag or clutch.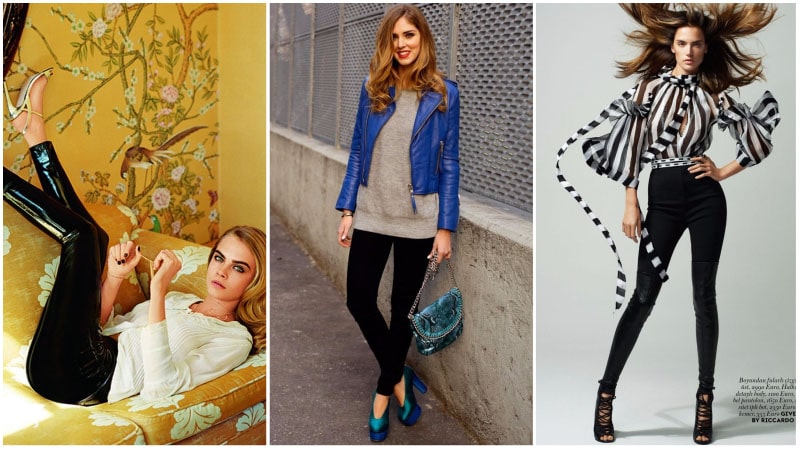 SHOP THE LOOK
How to Wear Leggings in Summer
When the heat of summer hits you, try turning to leggings for stylish comfort. An excellent alternative to jeans, leggings can be perfect for achieving a chic warm-weather appearance. To nail the look like a celeb, start by selecting a pair of cropped athletic leggings. Then, partner your leggings with a crop top and sneakers in light colours. Finally, take your outfit from the gym to the streets by adding a denim shirt on top.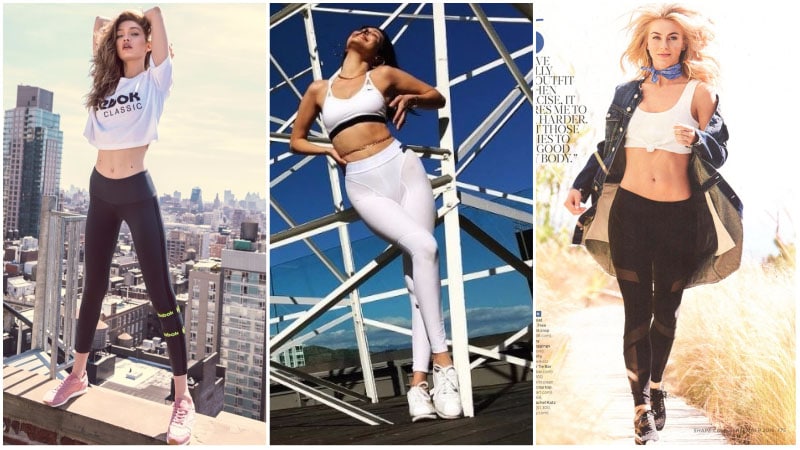 SHOP THE LOOK
How to Wear Leggings in Winter
Want to wear leggings in winter? No problem. Leggings can look fantastic during the chilly season and go great with a range of cold weather essentials. When wearing leggings in winter, select either a thick cotton pair or a leather style. Thanks to their slim shape, leggings look fantastic with chunky sweaters and turtleneck knits. To complete your look, simply select either boots for daytime or pumps for night.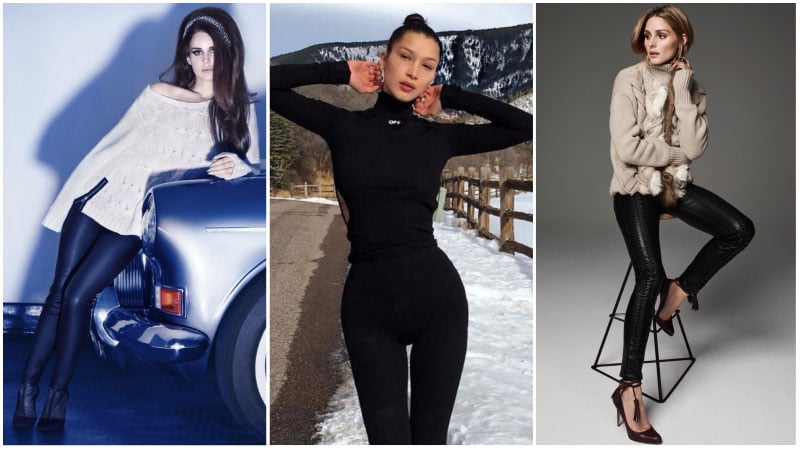 SHOP THE LOOK
How to Wear Leggings
Ensure your leggings fit well and are not see-through.
Balance the slim silhouette of leggings with loose tops, jumpers and jackets
Wear leggings with a tank top, sneakers and puffer jacket for a stylish athleisure look.
Pair leggings with boots and a knitted jumper for a cute and casual outfit.
Try leather leggings for a chic evening ensemble or stylish winter outfit.
SUBSCRIBE TO OUR NEWSLETTER
Subscribe to our mailing list and get interesting stuff and updates to your email inbox.