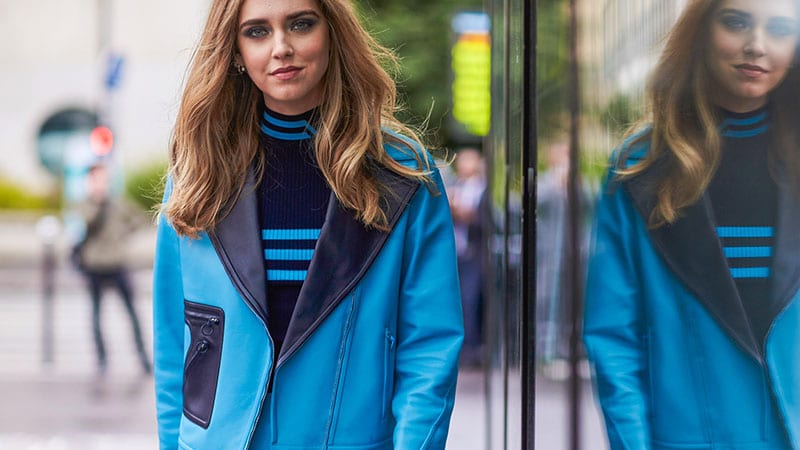 Chiara Ferragni is a fashion industry icon. Since creating her now-famous style blog, the Blonde Salad, back in 2009, she has grown into one of the most prominent influencers in the world. Today, Chiara has graced countless magazine covers, been the face of multiple international campaigns, launched her own shoe label, and sat front-row at many fashion shows. Of course, if that's not enough to impress, the style star has also amassed a huge online following with 10.5 million followers on Instagram alone. So, if you're looking for an authority on fashion and style, Chiara is your girl. To rock the blogger's signature look yourself, just follow our guide on how to steal Chiara Ferragni's style.
Chiara Ferragni Style
What makes Chiara such a strong influence in the fashion world is her ability to identify trends before others and wear them without fear. Yes, this adventurous dresser is never afraid to try a new style, no matter how quirky or bold. Of course, while Chiara often embraces trends, she never forgets her signature style. Both daring and chic, Chiara's fashion sense blends the new and exciting with the smart and sophisticated.
Crop Tops and Bralettes
Chiara isn't afraid to show a little skin, which is why she often chooses to rock a crop top or bralette. Of course, to keep the look chic and stylish, Chiara always partners her tiny tops with a high-waisted pair of pants or skirt. By doing so, the fashion star creates a daring flash of skin at her midriff without overexposing her stomach. To try the look for yourself, you can either opt for a long crop top for more coverage or bare more with a bold bralette.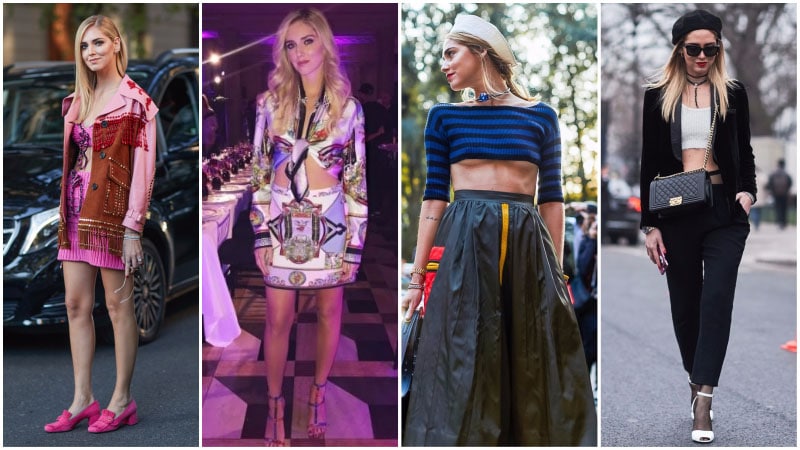 SHOP THE LOOK
Leather Miniskirts
Chiara's wardrobe is far from boring. Instead, her closet contains a range of garments that are edgy and exciting. Therefore, it's no surprise that leather, miniskirts are amongst her favourite items to wear. To rock this signature Ferragni look for yourself, select either a black, patent black or red design with added hardware, such as studs or zips. Then, complete your ensemble with black booties and a printed top.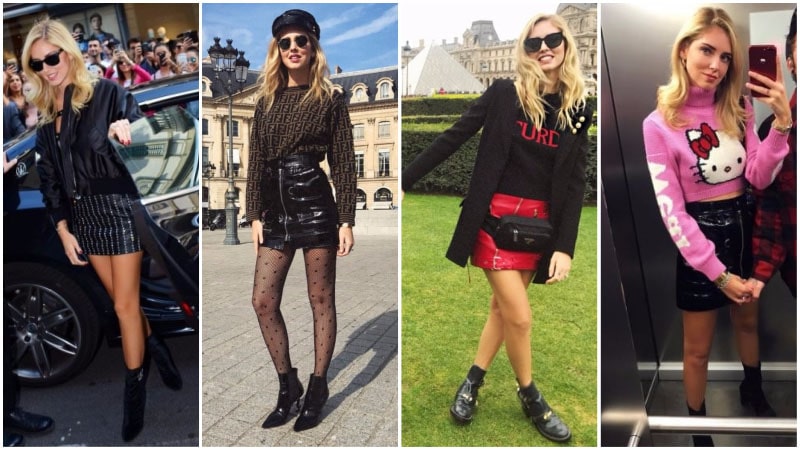 SHOP THE LOOK
Fur Coats
When it gets chilly out, Chiara likes to cover up in style, and her coat of choice is a fur. Of course, Chiara doesn't rock your average luxury fur jacket. Instead, the style star, who has a penchant for fun fashion details, selects bold coats in unique colours and designs. From shaggy pink styles to stunning yellow creations, Chiara's collection of fur coats is as fashion-forward as the icon herself.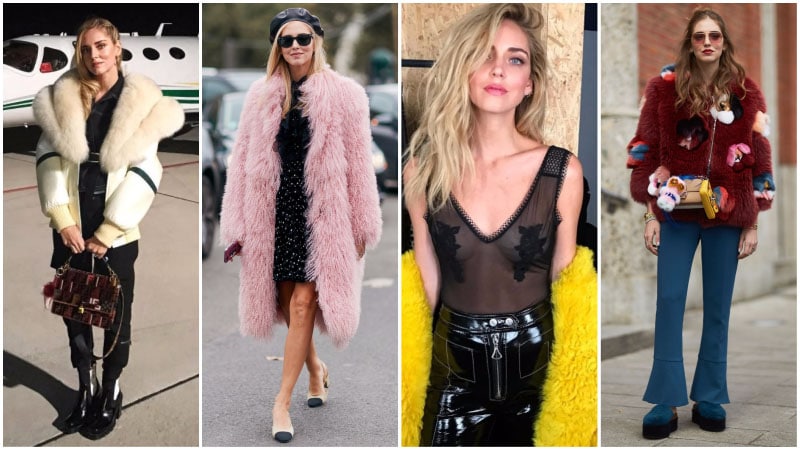 SHOP THE LOOK
One Shoulder Designs
Dressing to impress is Chiara Ferragni's strong suit, and she does so incredibly well in a range of one shoulder designs. Perfect for important events and occasions, these single sleeved dresses, tops and jumpsuits appear stylish and statement-making. Try such a garment at your next semi-formal soiree or cocktail party for an eye-catching take on eveningwear.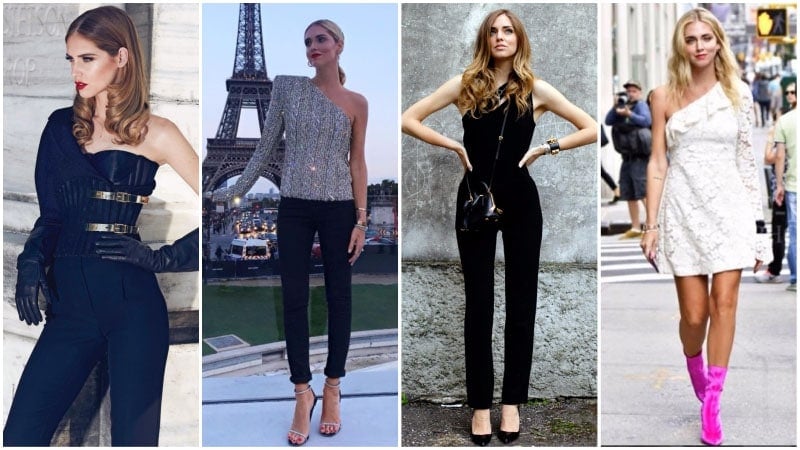 SHOP THE LOOK
Black Blazers
While Chiara wears her fair share of out-there clothing, she also knows when an outfit calls for something a little more traditional. As such, she always has a tailored black blazer on hand to lend ensembles a sophisticated touch. To maintain her signature fashion-forward style, Chiara pairs her black blazers with unexpected items, including bodysuits, t-shirts, shirt dresses, and bralettes.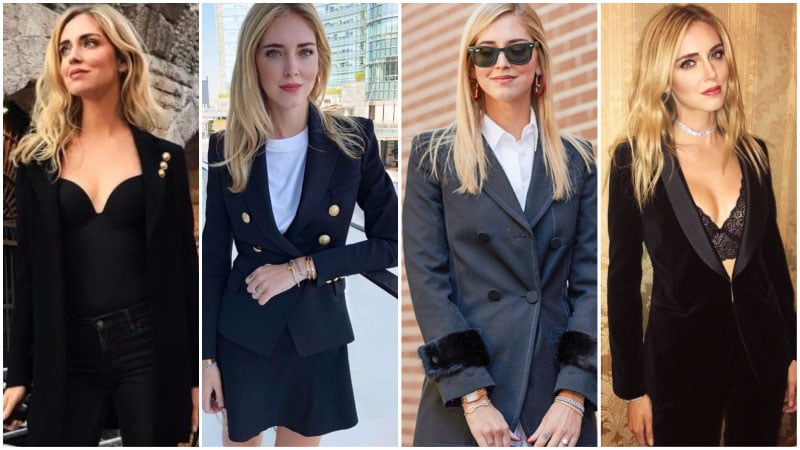 SHOP THE LOOK
Long Sleeve Mini Dresses
Chiara loves showing off her long legs, and what better way to do so than with a mini dress? So, it's not surprising that the style star can often be spotted rocking a mini frock around the streets during the fashion show season. To keep her look chic and elegant, Chiara chooses to wear long-sleeved mini dresses. By covering up her arms, the star expertly balances her exposed legs.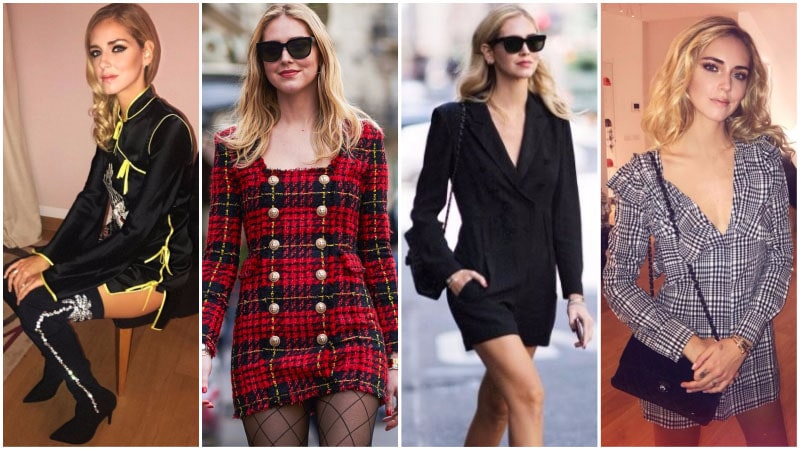 SHOP THE LOOK
Head-to-Toe Black
Like most fashionistas, Chiara loves an all-black look. Whether she's heading to a fashion show or just down the street, the famed blogger will often choose to dress in head-to-toe black. Sleek, sophisticated and edgy, the colour is an excellent addition to Chiara's wardrobe and looks great against her tanned skin. The colour's neutral hue also allows her to play up other elements of her outfits dramatically.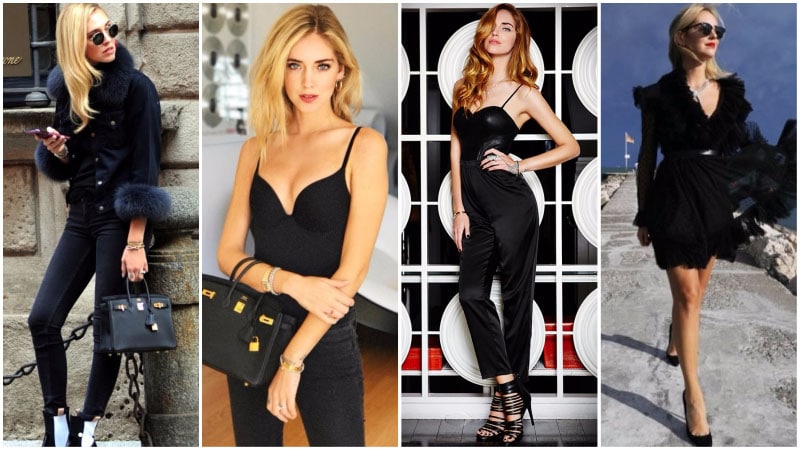 SHOP THE LOOK
Baker Boy Hats
Always on-trend, Chiara loves to try out the latest fashion looks. Currently, her favourite new addition is the baker boy hat. The star was spotted rocking these classic caps at several recent fashion weeks and can't get enough of their cute style. From matte to patent and pink to grey, the superstar blogger has a baker boy hat in almost every colour and style.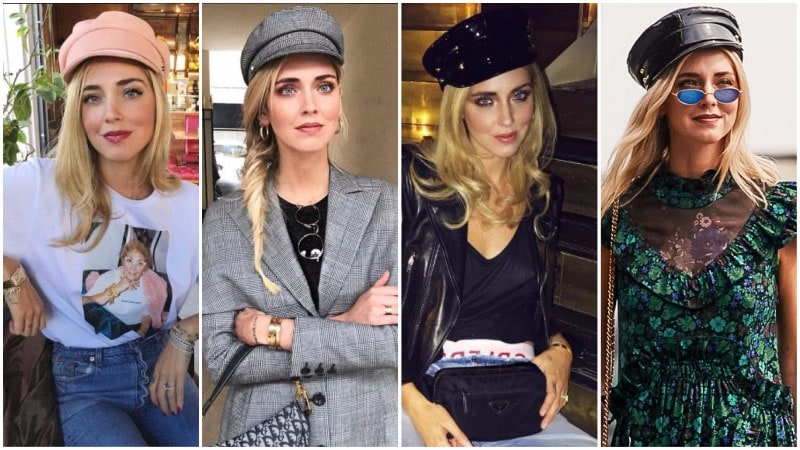 SHOP THE LOOK
Chiara Ferragni Shoes
In 2012, Chiara launched her namesake shoe label. Today, the brand, which was met with excellent reviews and high demand, continues to create beautiful designs while selling worldwide. Infused with Chiara's own playfully chic style, her range of shoes is unique and fun. From glittering designs and chunky soles to winking eye motifs and embroidered lips, the Chiara Ferragni shoe collection contains many whimsical styles that the star likes to wear herself.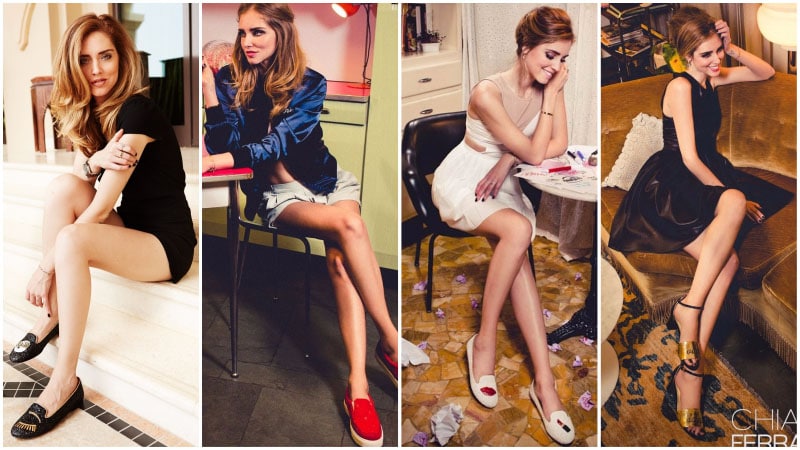 SHOP THE LOOK
Chiara Ferragni Hair
When it comes to her hair, Chiara Ferragni likes to keep things simple. The Italian opts for a warm blonde shade that compliments her skin tone and typically maintains a long length that finishes between her shoulders and bust. As for styling, the star often chooses to wear her hair in loose waves. When she wants to add a little more interest to her locks, Chiara will do so in a subtle manner, such as with a small side braid or low ponytail.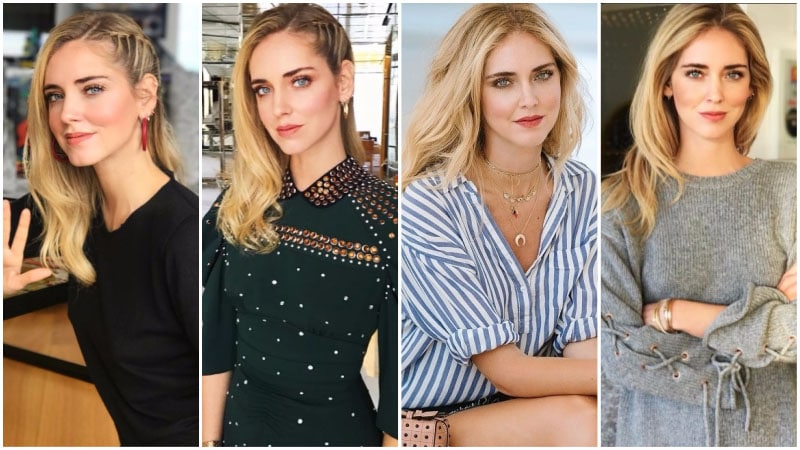 Chiara Ferragni Makeup
There's no denying that Chiara is a natural beauty, but that doesn't mean the style star doesn't wear makeup. Instead, this bombshell blogger chooses to wear subtle makeup to enhance her lovely features. For most occasions, she opts for light coverage and warms her face with a peachy coloured blush. When it comes to her lips, Chiara typically wears a soft rose or nude hue that naturally matches her complexion. To complete her look, she defines her brows and emphasises her eyes with brown eyeshadow and mascara.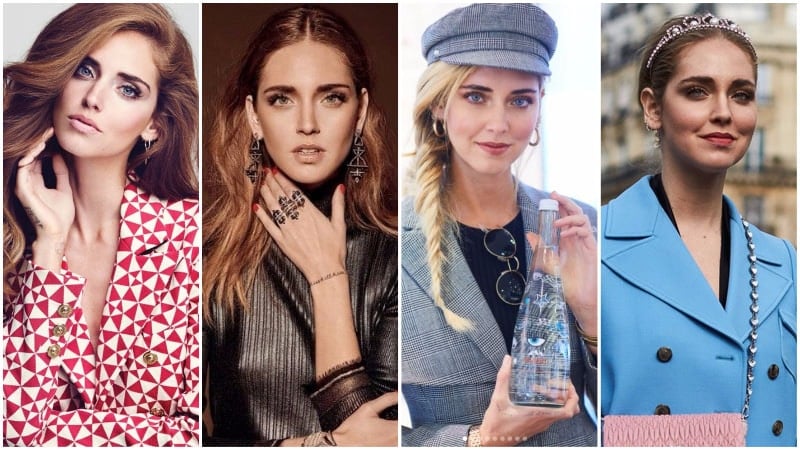 SUBSCRIBE TO OUR NEWSLETTER
Subscribe to our mailing list and get interesting stuff and updates to your email inbox.