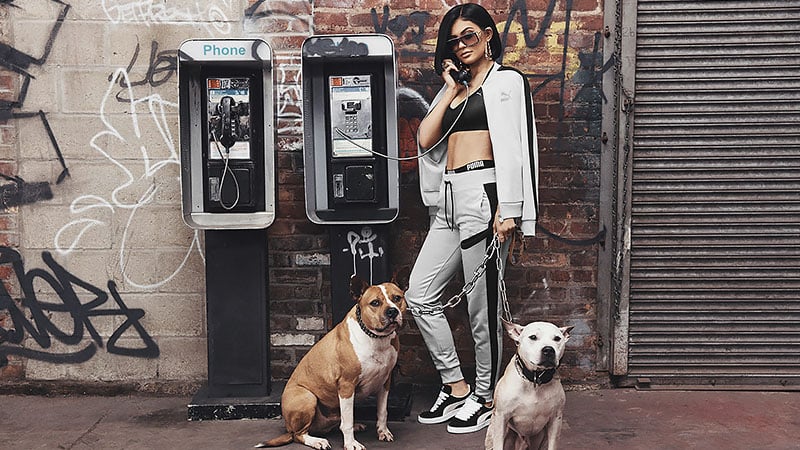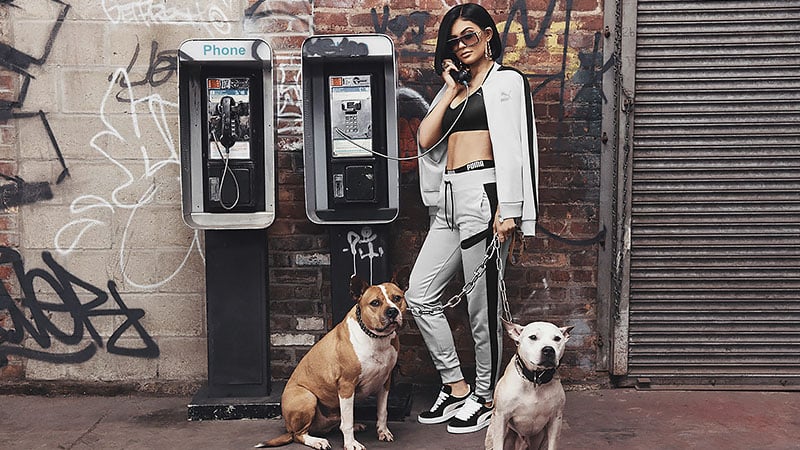 Is there anything Kylie Jenner can't do? She's starred in a hit reality TV show, built a cosmetics empire, created a fashion brand, and become a mum all by the age of 20. Of course, that's not all this megastar has done with her life so far. She's also cemented herself as a bona fide style icon with a bold fashion sense that continuously inspires girls all around the globe. The perfect mixture of edgy and chic as well as sporty and sexy, Kylie's style is undoubtedly one to envy. Luckily, if you're lusting after her signature look, we can help you get it. Here's our guide on how to steal Kylie Jenner's style for yourself.
Kylie Jenner Outfits
Sportswear
When it comes to casual dressing, Kylie often chooses to rock sportswear pieces. For an all-athletic look, she wears leggings with a sports bra. For a more subtle sports vibe, she typically selects side-striped sweatpants and a crop top. Either way, Kylie looks comfortable, laidback and stylish in her athletic ensembles, which predominantly feature the colour black. She's also often spotted in Puma, for which she's a brand ambassador.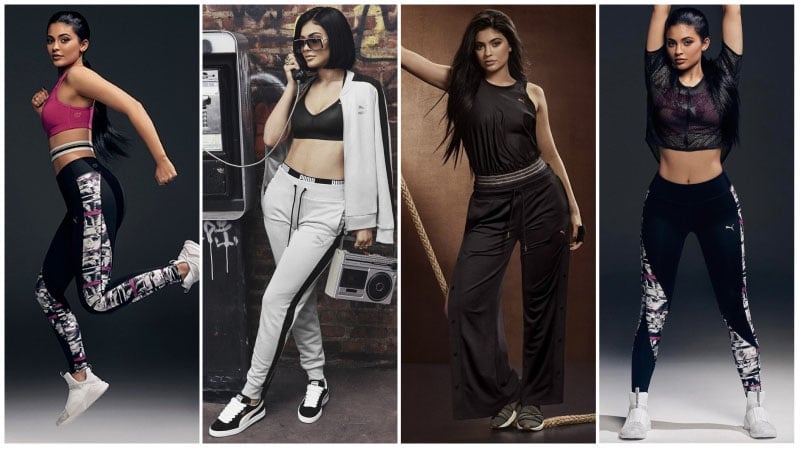 SHOP THE LOOK
Crop Tops
Kylie loves showing off her killer body, so it comes as no surprise that she often wears crop tops. When rocking a crop top, Kylie typically opts for a high-neck, fitted style. She then pairs her crop top with high-waisted pants, such as ripped jeans or loose trousers. The result is a look that's sexy yet comfortable and easy to wear. As such, it's a fantastic Kylie style to replicate, particularly on weekends.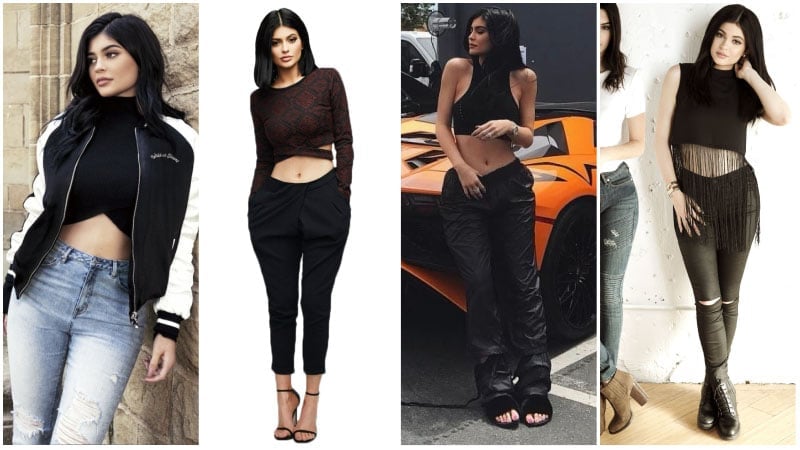 SHOP THE LOOK
Mini Skirts
As well as her midriff, Kylie also likes to show off her legs. To do so, she often rocks short mini skirts. To channel Kylie's mini skirt style for yourself, pick a variety of designs to suit different occasions. For casual daytime events, Kylie typically chooses a denim mini shirt. However, for formal functions, she selects styles that are more special, such as metallic or beaded designs.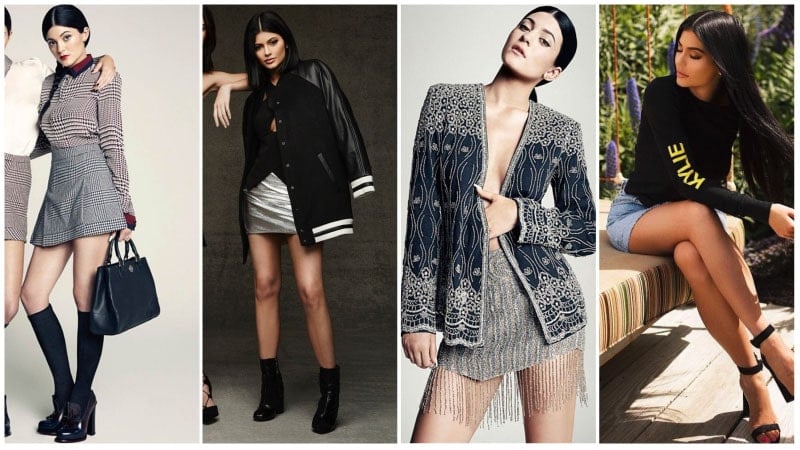 SHOP THE LOOK
Oversized T-Shirts
King Kylie's edgy street style also includes many slouchy yet stylish, oversized T-shirts. Usually worn as dresses, Kylie's tees appear cool and carefree. But, to ensure her look is chic instead of sloppy, the star always completes her outfits with fashion-forward accessories and stylish makeup.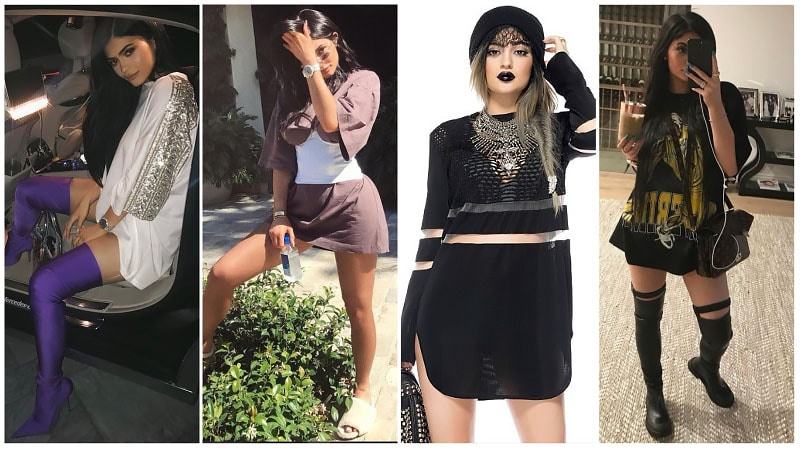 SHOP THE LOOK
Co-Ords
Kylie Jenner loves making a statement. So, it comes as no surprise that she's often spotted rocking co-ords. Whether the set features a matching mini skirt and crop top or shorts and jacket, Kylie will rock it with confidence. To channel her coordinated style, select a casual or sports-inspired set for daytime or a more sophisticated set for nighttime. Also, be sure to consider colour. While Kylie loves to wear black, she's also known to don bold pop colours and neon hues from time to time.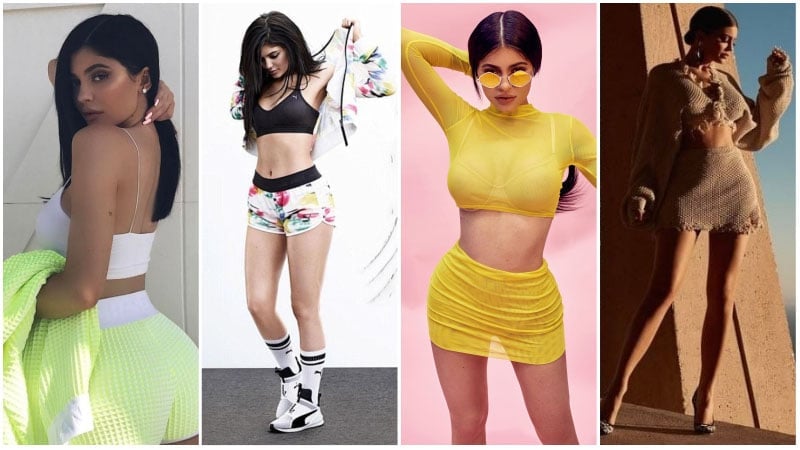 SHOP THE LOOK
Bodycon Dresses
When it comes to dresses, bodycon styles are Kylie's favourite, especially for parties and formal events. Perfect for showing off her figure, these dresses enhance Kylie's sexy yet chic aesthetic. Like most of her wardrobe, Kylie traditionally opts for black bodycon designs. However, she also enjoys vibrant hues and metallic tones.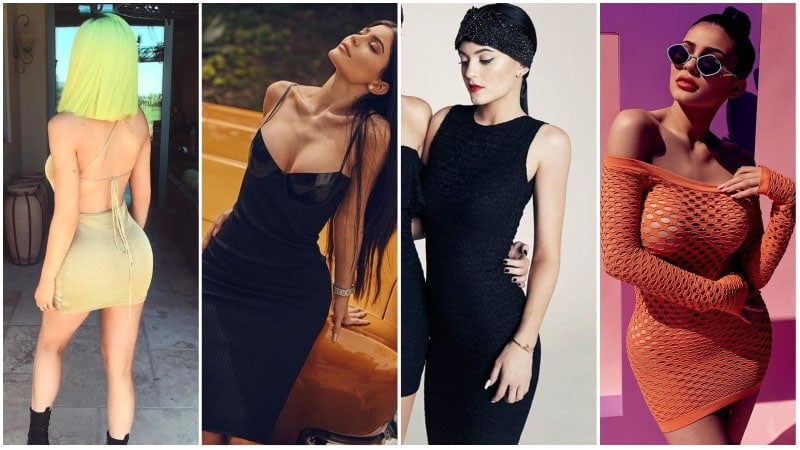 SHOP THE LOOK
Bodysuits
Showing off her body is part of Kylie's sexy style. However, she also likes to keep things comfortable. To do so, she often opts to wear a bodysuit. For evening events and dressier occasions, Kylie chooses to wear a fashionable bodysuit, such as one featuring a mesh design, unique print or embellishments. During the day, she likes to mix things up with a full-length bodysuit, which gives her casual wear an athletic edge.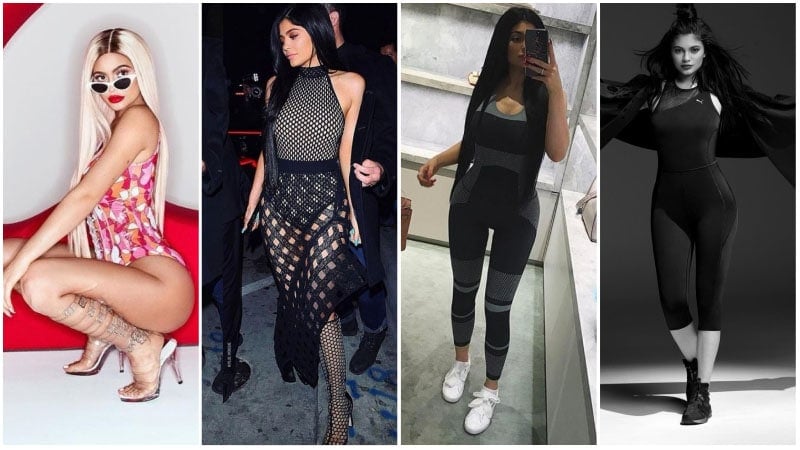 SHOP THE LOOK
Lingerie-Inspired Dressing
Confidence is what makes Kylie's style so inspirational. So, even when she's rocking lingerie-inspired dresses during the day, the star still looks poised and proud. To rock Kylie's lingerie look, start with a satin slip dress. If you feel self-conscious, you can always add a plain T-shirt underneath for an instant dose of '90s style.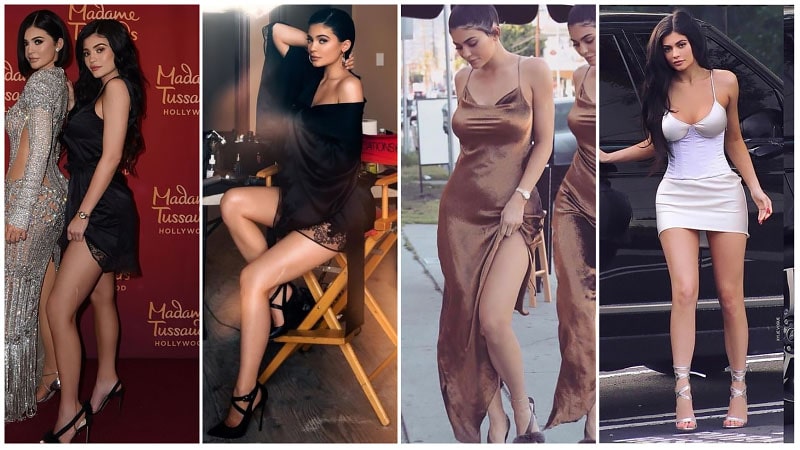 SHOP THE LOOK
High-Leg Swimwear
Looking to inject a little Kylie Jenner style into your summer wardrobe? Invest in high-leg swimwear. In recent seasons, the star has been spotted rocking high-leg bikinis and swimsuits on all her beach holidays. To make the look even more "Kylie", just select minimal and sporty styles in block colours.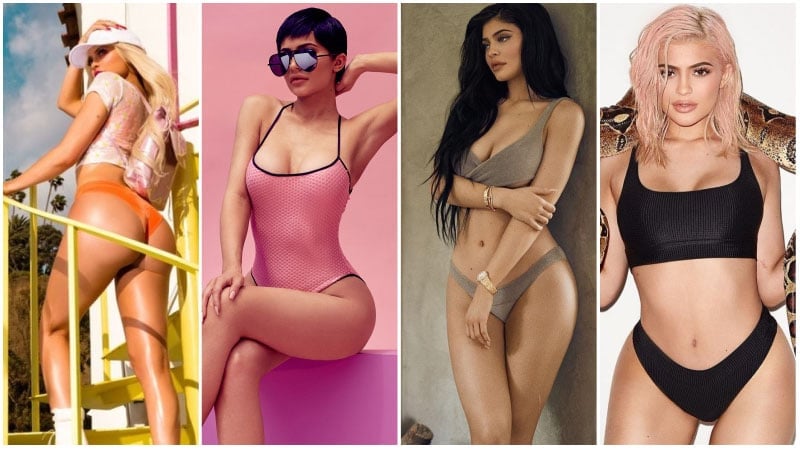 SHOP THE LOOK
Retro Sneakers
Although Kylie is no stranger to a pair of high heels, her go-to shoes for everyday occasions and outings are retro sneakers. From classic chunky white designs to throwback suede styles, Kylie's sneaker collection is diverse and enviable. Luckily, all you need to recreate her look is one pair, so long as they're a neutral colour like white or black. Then, just partner those sneakers with classic Kylie pieces, such as sweatpants, oversized T-shirts and high-waisted denim.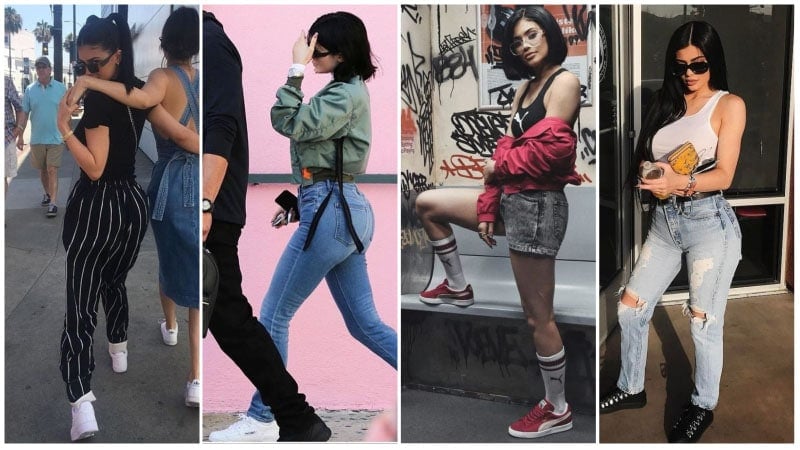 SHOP THE LOOK
Kylie Jenner Hair
While Kylie often reverts to her signature style, she's never afraid to mix things up. In particular, the daring beauty-lover enjoys changing up her hair. Whether it's a fresh cut or a colourful new wig, Kylie's hair is always an excellent source of style inspiration. When not feeling her usual tousled black locks, Kylie has been known to rock boxer braids, a sleek bob, and a variety of bold colours, including pink, red, green, and blue.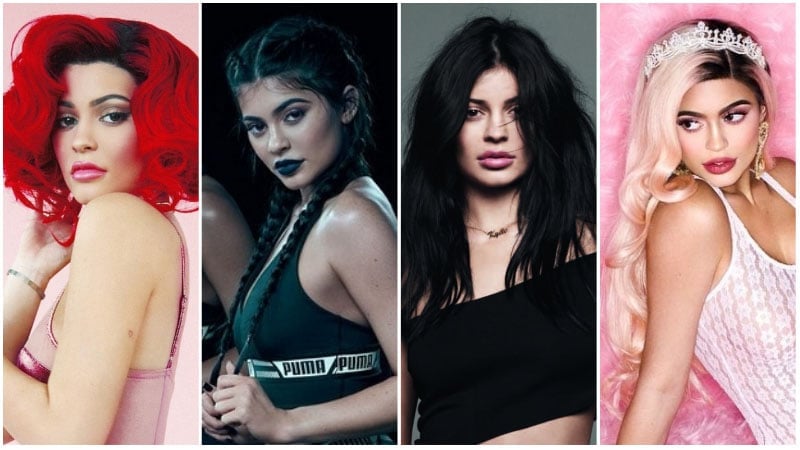 Kylie Jenner Makeup
Kylie is a self-confessed makeup lover who loves to experiment with different beauty looks. Luckily, she has a lot of makeup to play with thanks to her incredibly successful brand, Kylie Cosmetics, which includes her famous Lip Kits. However, she does have a few go-to beauty looks. When not opting for a natural makeup style, Kylie chooses to define her brows and emphasise her lashes. She also loves rocking a bold lip in rich and dark colours.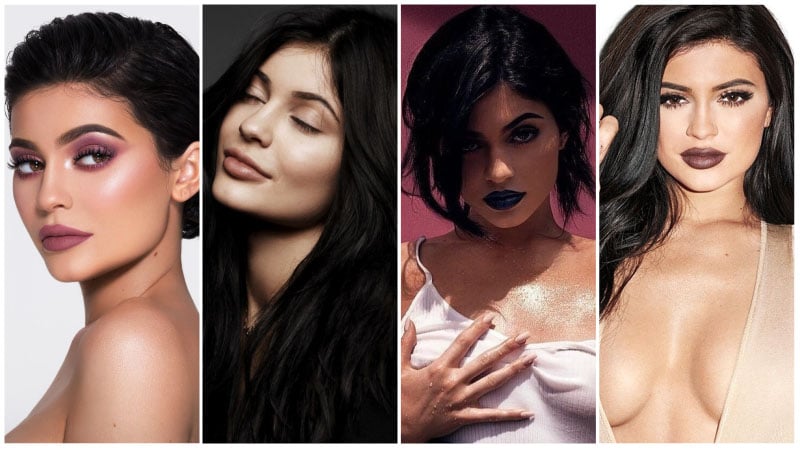 SUBSCRIBE TO OUR NEWSLETTER
Subscribe to our mailing list and get interesting stuff and updates to your email inbox.