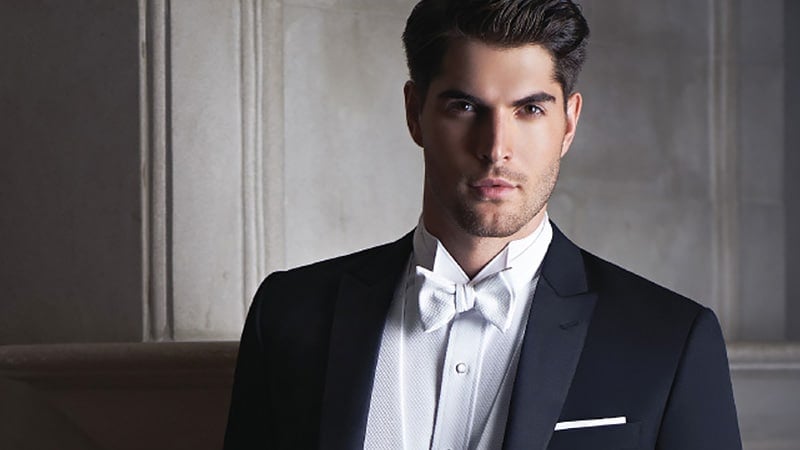 Although rare, white tie events do pop up, and, when they do, it's essential to know how to dress for them. As a seriously formal style of dress, white tie demands a perfect ensemble and high attention to detail. Therefore, throwing on any old suit just won't work. Instead, you must adhere to strict outfit rules and follow them to the letter. Of course, that doesn't mean your look can't be exciting. With dapper finishes and a whole lot of confidence, your white tie attire will appear enviably stylish. Want to know more about nailing this polished and proper look? Follow our guide to white tie dressing for men.
White Tie Dress Code
White tie is the most formal of all dress codes. It is specified for highly special occasions, such as balls, galas, and weddings, when even black tie won't do. Like all dress codes, it involves a series of outfit rules to which you must adhere. These rules include wearing a black tailcoat, a white tuxedo shirt and waistcoat, and high-waisted, black tuxedo trousers. When it comes to accessories, black leather shoes are a must along with a white bow tie. Other accessories you can wear include white gloves and a top hat. However, they are not essential.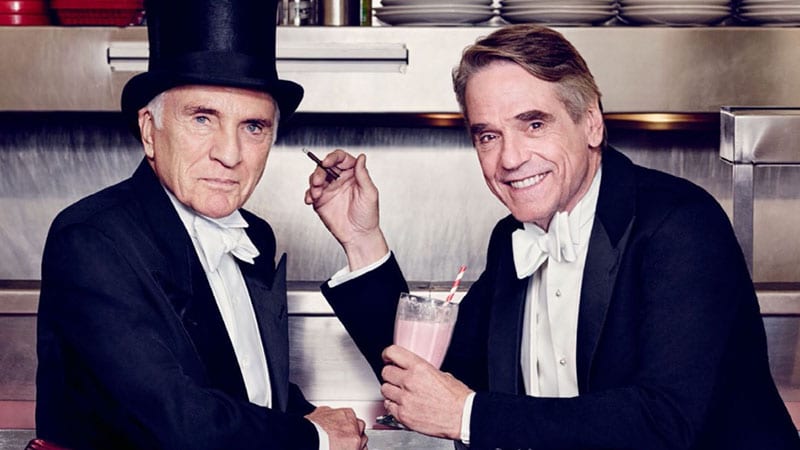 White Tie vs Black Tie
Regarding formality, white tie is higher than black tie. Although both are for special occasions, the former is more prestigious. When it comes to outfitting specifics, there are essential differences between the two. While a tuxedo is ideal for both, it only requires tails for a white tie occasion. Also, while white tie requires a white waistcoat, black tie needs a black waistcoat or cummerbund. Likewise, as the name suggests, a white bow tie is worn for white tie events while a black bow tie suits black tie functions.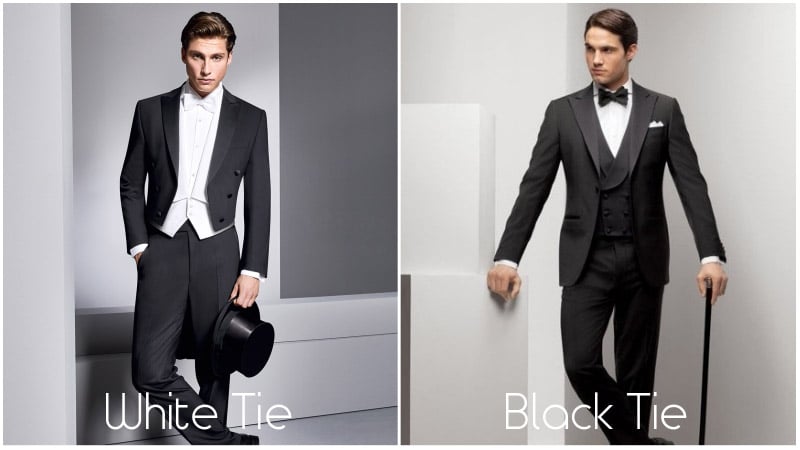 White Tie Attire
White Tie Tailcoat
One item that sets white tie apart from black tie is the jacket. While black tie requires a standard tuxedo jacket, white tie demands a tailcoat. As a stylised version of the traditional tuxedo jacket, a tailcoat features a similar design. However, it also includes extended tails down the back, which are a standout feature. Traditionally, most tailcoats also feature a cut-out section at the waist. Together, the tails and the cut-out elongate the appearance of the wearer's legs and achieve a refined aesthetic. When choosing a tailcoat for a white tie ensemble, be sure that it fits appropriately, sitting snuggly without feeling too tight against your waistcoat. The shoulders should also fit well while allowing for movement. Sleeves should finish at the wrist bones, flashing a small section of your shirt cuffs, while tails should end at or above the backs of your knees.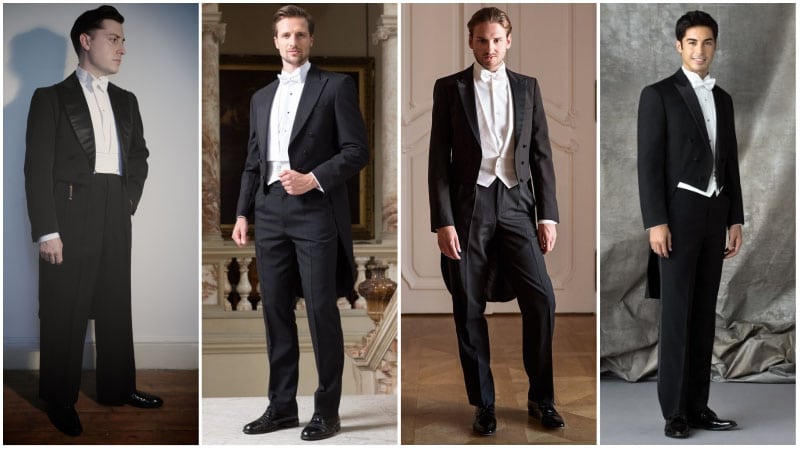 TOP BUYS
White Tie Trousers
When dressing for a white tie event, your pants should be high-waisted tuxedo trousers. They should be black to match your tailcoat and provide a neat, slim aesthetic. Additionally, your pants should complement the cut of your jacket and waistcoat. The hems should brush the tops of your shoes. As is tradition, your tuxedo trousers will likely feature a side stripe down the outseam. It is unlikely that they'll have belt loops as belts aren't typically worn for such formal events. Therefore, you must ensure that your trousers fit well enough to stay up on their own while still feeling comfortable.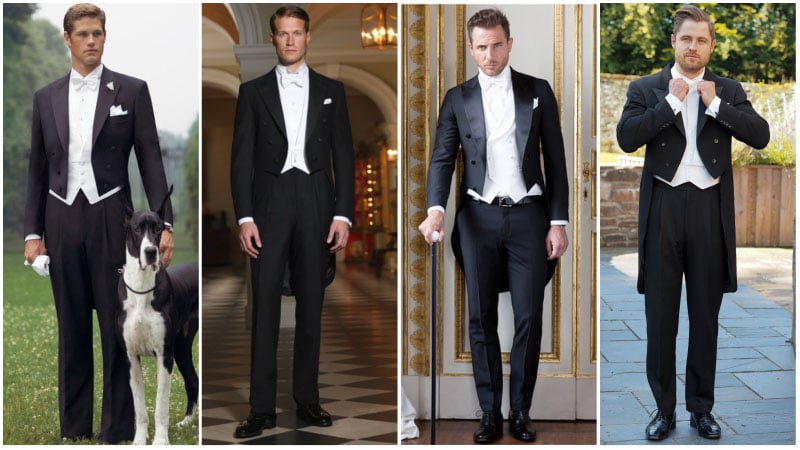 TOP BUYS
White Tie Shirts
When it comes to your shirt, you need to ensure it appears suitably polished. As such, you should select a shirt that's designed to be worn with a tuxedo, such as a bib-front or pleated-front style. Your shirt must also be a clean shade of white as dull and off-whites will appear out of place. It should be high-quality and made of thick fabric. Like all dress shirts, your white tie shirt needs to fit neatly, sitting slim against your body without feeling too tight. You must also make sure the shoulders fit well, the sleeves are an ideal length, and that you can tuck it into your trousers.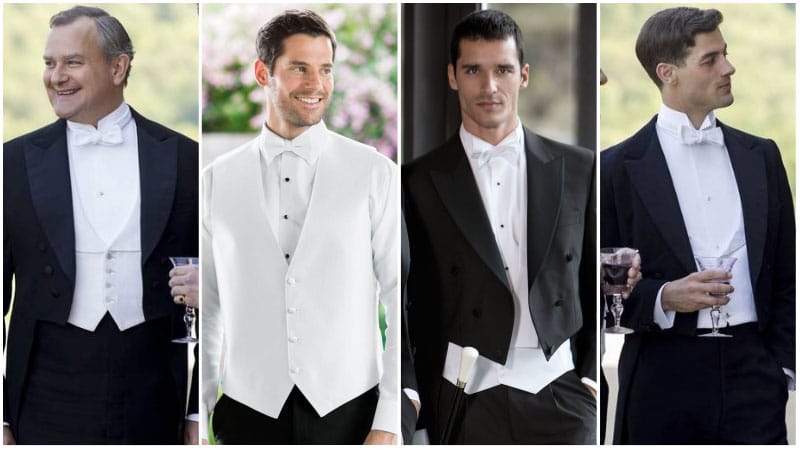 TOP BUYS
White Tie Waistcoats
A waistcoat or vest is an essential part of your white tie look. Ideally, it should be white, matching the material and shade of your shirt for a formal appearance. However, you can select a style in a more luxurious fabric such as silk, if you prefer a bold and more modern aesthetic. You also have the choice of a standard waistcoat or a backless design, which is a style often worn for white tie events. No matter which you select, ensure it fits well, skimming your body without feeling restrictive, and covers the top of your trousers.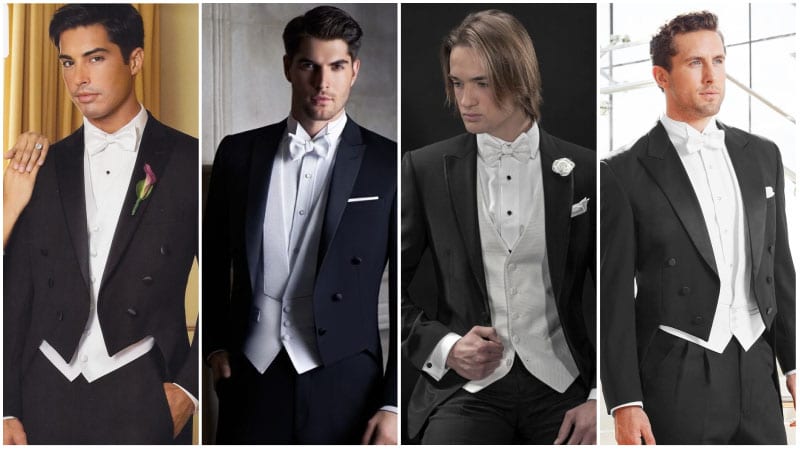 TOP BUYS
White Tie Accessories
White Bow Ties
The dress code isn't called "white tie" for no reason. As such, a white bow tie is an essential accessory to complete your ensemble. When choosing a bow tie, remember to keep things simple and classic, avoiding any other colours or patterns. If you enjoy a traditional look, you should select a cotton-pique design that matches your waistcoat. Also, be sure to opt for a proper bow tie instead of a clip-on version for a truly polished appearance. If you do choose to wear a clip-on, you should make sure no one can tell.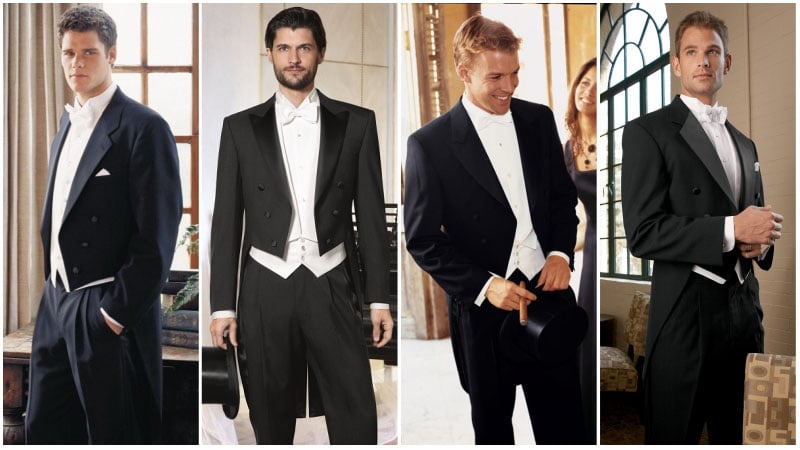 TOP BUYS
Shoes
Don't think you can get away with just any shoes for a white tie event. This most formal dress code demands the most formal of footwear. So, patent black leather dress shoes are a must. In particular Oxfords with a small heel are ideal for infusing your look with pure elegance. However, if you're a daring gent, you can mix things up with patent black leather loafers, derby shoes or brogues. But, be aware that you could look underdressed in the footwear department if the event is highly traditional. No matter which style you choose, be sure to avoid embellishments and other bold design features. The shine from the patent leather will add enough pizzazz on its own.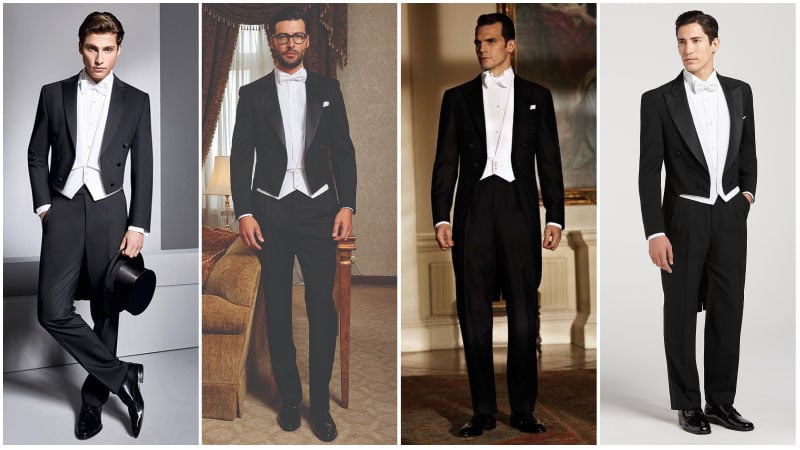 TOP BUYS
Optional White Tie Accessories
A bow tie and dress shoes aren't the only accessories you can wear to a white tie event. Gloves are a great way to enhance your outfit further. They'll provide your look with a traditional finish and plenty of polish for fancy occasions. Just be sure to choose a high-quality, white pair that fit your hands correctly. Likewise, a top hat can also add something special to your look. However, be sure to wear it right as there's a fine line between appearing dapper and looking like you're in a period costume. To do so, ensure your hat fits snuggly on your head, sitting a few centimetres above your ears. Then, be sure to project plenty of confidence as this traditional hat creates a bold statement in today's world.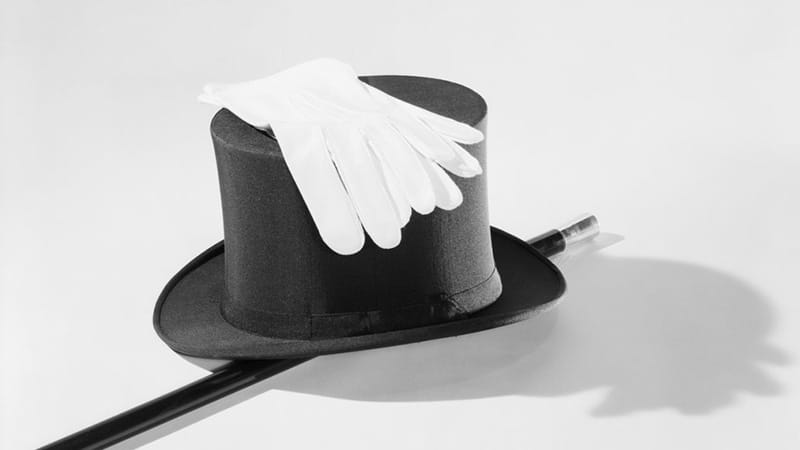 White Tie Event Tips
Select a well-fitting black tuxedo with tails.
Add a white tuxedo shirt, such as a bib-front style, and a white waistcoat.
Be sure to wear a white bow tie.
Complete your outfit with patent black leather dress shoes, such as Oxfords.
If you really want to impress, consider adding white gloves and a top hat.
FAQs
What does wearing a white tie mean?
The white tie dress code is the smartest and requires you to look your best. Women will need to wear full-length evening gowns or ball gowns, whereas men will wear a black tailcoat, a white tuxedo shirt and waistcoat, black tuxedo trousers, a white bow tie, and black leather shoes. Some men may also choose to wear a top hat and gloves. This is a strict dress code, and you will have to pay attention to detail.
What is the difference between white tie and black tie?
Both white tie and black tie are worn to formal occasions, but the white tie is the more formal event of the two. A strict dress code needs to be followed, with impeccable tailoring and attention to detail. There is little room for freedom of expression or to wear something that reflects your personality. In both dress codes, men can wear tuxedos, but for a white tie, you will wear a white bow tie, white tuxedo shirt and waistcoat, black tailcoat, black tuxedo trousers, and black shoes.
What events have a white-tie dress code?
It is not common to be invited to a white tie event, but there are functions like balls, stately dinners, and the opera that would require this dress code.
What can I wear with a white tie?
White tie events do not give you much freedom of expression, and there are a few ways to add your touch to your outfit. This is part of the appeal of this dress code as it creates a very uniform appearance. You can add white gloves or a top hat to your look if you wish to accessorize.
SUBSCRIBE TO OUR NEWSLETTER
Subscribe to our mailing list and get interesting stuff and updates to your email inbox.