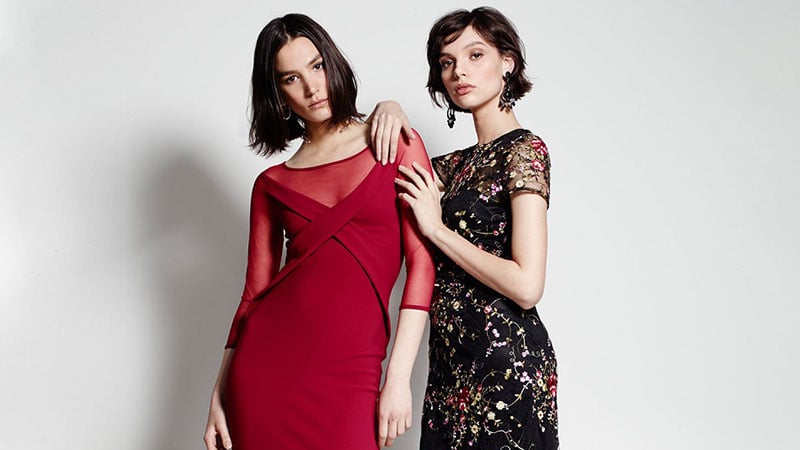 Receiving a wedding invitation can be incredibly exciting. But, when the dress code leaves you feeling a little clueless, it can also be stressful. After all, deciphering the difference between cocktail, semi-formal, formal, and black tie can be seriously confusing. Thankfully, we're here to help relieve the stress of being a wedding guest. We've created this handy guide to what to wear to a wedding to ensure you're dressed appropriately and stylishly for all upcoming nuptials on your calendar.
What to Wear to a Wedding
Casual Wedding Attire for Guests
Many relaxed outdoor ceremonies and receptions call for casual attire. The dress code, which is the most informal of all wedding dress codes, allows you to wear something comfortable. However, that doesn't mean you shouldn't also look chic. So, be sure to avoid jeans and tank tops unless they are stated as acceptable. Instead, opt for a sundress in a casual fabric or smart pants and a cute top if the weather is cold. Keep things laid back when it comes to your feet by swapping your usual stilettos for dressy sandals or low wedges.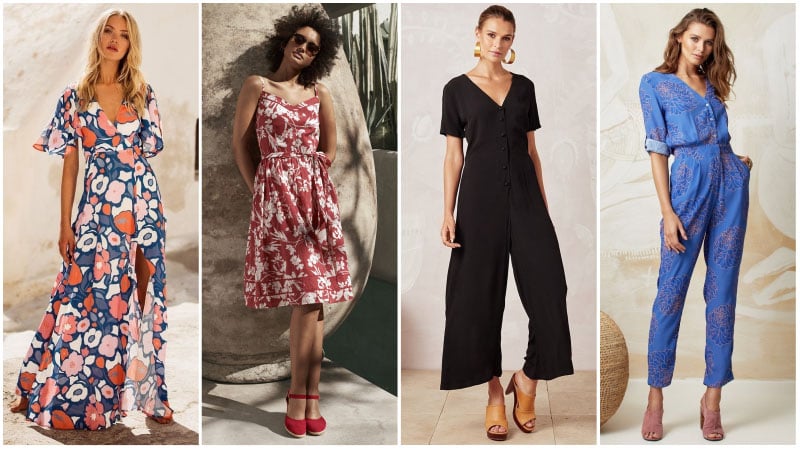 SHOP THE LOOK
Smart Casual Wedding Attire for Guests
Receive an invite to a smart casual wedding? Don't panic. This relatively informal type of attire leaves you with plenty of outfit options. To nail the look, remember to keep your ensemble elegant and easygoing. Instead of fancy dresses and gowns, try opting for a stylish midi dress. Alternatively, pair a midi skirt or cropped pants with an on-trend top. As for footwear, stick to sandals, wedges, or block heels.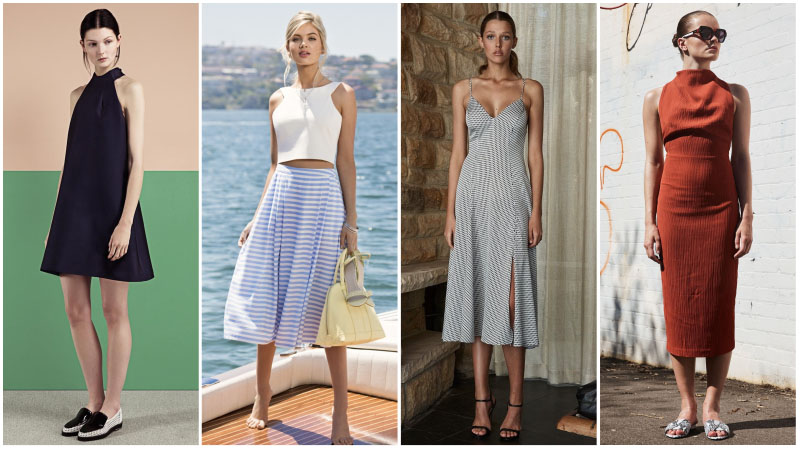 SHOP THE LOOK
Cocktail Wedding Attire for Guests
Cocktail attire is often required for semi-formal weddings. It is especially common for evening weddings that do not include a formal, sit-down meal. While the dress code is more sophisticated than smart casual, it is still somewhat relaxed, meaning you can have fun with your outfit. Try a cocktail dress in a unique style or chic separates. Although cocktail dresses are traditionally knee-length, today, anything shorter than an evening dress is acceptable. However, be careful not to go too short.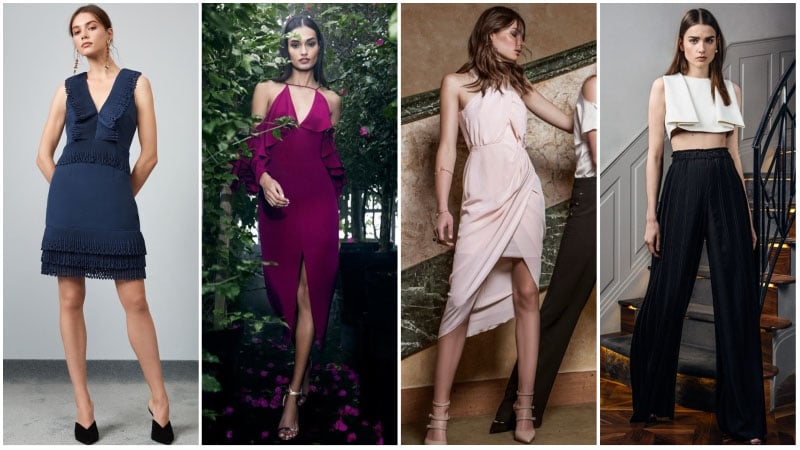 SHOP THE LOOK
Semi Formal Wedding Attire for Guests
When it comes to semi formal weddings, it's best to let the time and location guide your outfit choice. For example, if the wedding is taking place in the evening, try choosing dark, formal colors and more structured silhouettes. If it is taking place during the day, opt for light tones and breezy fabrics. As this dress code sits a notch above cocktail attire and just below formal attire, it is appropriate to wear a smart cocktail dress, jumpsuit, or long, dressy skirt and top.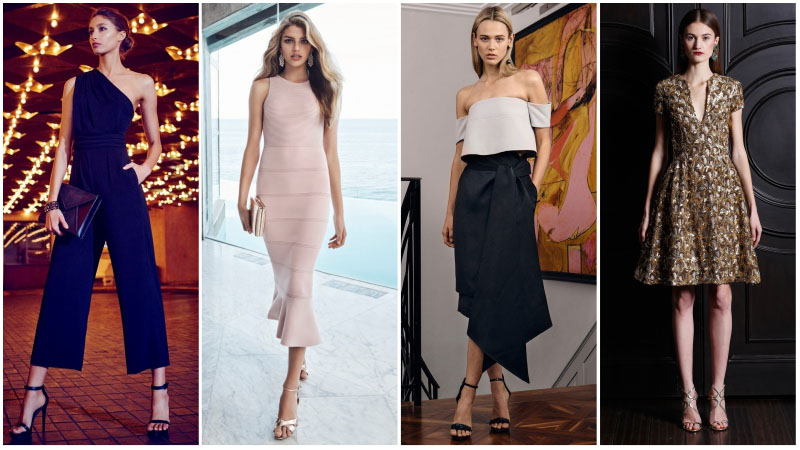 SHOP THE LOOK
Formal Wedding Attire for Guests
Formal wedding attire can be somewhat ambiguous. Sitting between semi-formal and black tie, the dress code denotes an elegant appearance. As such, you can wear a short or long formal dress, pantsuit or dressy separates. Like the black-tie optional dress code, formal wedding attire does not necessitate a floor-length gown. However, you can wear one if you wish without appearing overdressed.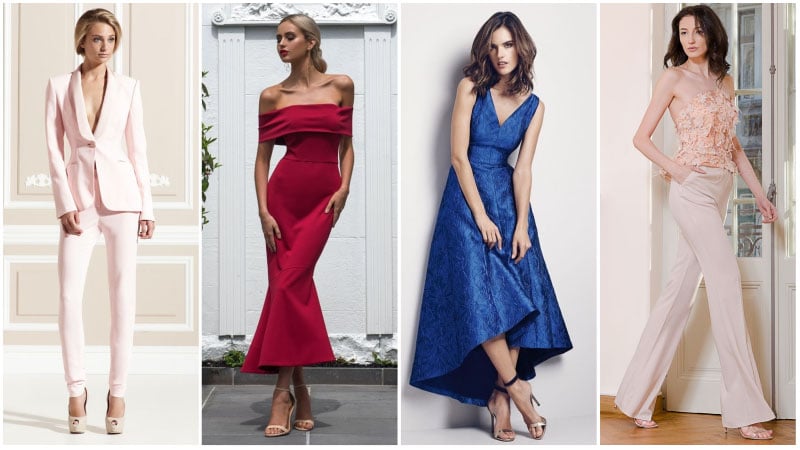 SHOP THE LOOK
Black Tie Wedding Attire for Guests
Black tie is a highly formal wedding dress code that is typically called upon for evening weddings. For female guests, it requires a formal, floor-length gown. However, you may be able to get away with a sophisticated cocktail dress. Just be sure to double-check with the bride or someone in the bridal party beforehand to ensure you don't appear underdressed.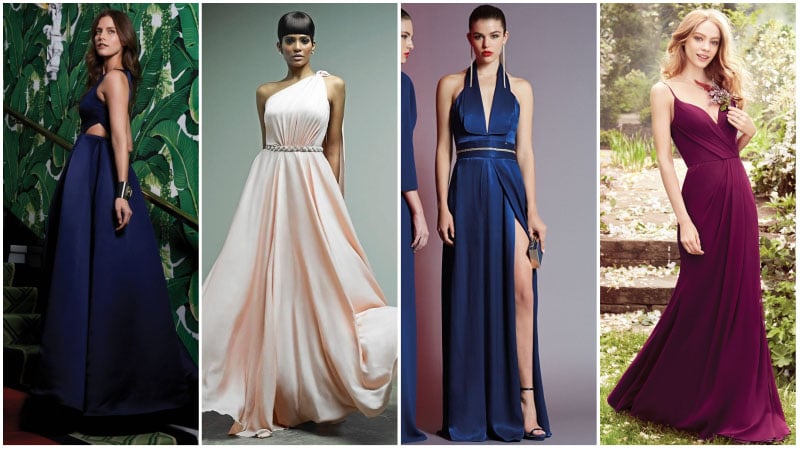 SHOP THE LOOK
White Tie Wedding Attire for Guests
White tie is the most formal and sophisticated of all dress codes. So, be prepared to dress to the nines with an elegant, full-length evening or ball gown. Traditionally, long gloves are also worn for white tie. However, they're more of an optional extra in today's modern world. If you do choose to wear gloves, you should leave them on while drinking and dancing and take them off for dinner.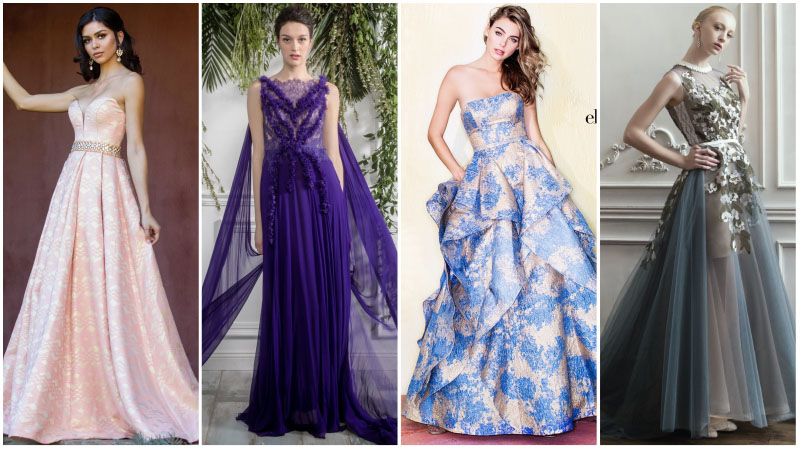 SHOP THE LOOK
Beach Wedding Attire for Guests
Are you heading to a beach wedding this summer? Embrace the gorgeous setting with a lovely dress or jumpsuit. When shopping, look out for relaxed cuts, light flowing fabrics, and summery colors and prints. As it can be windy at the beach, maxi dresses are often more appropriate than short dresses. But, if you're keen to show off your tanned legs, go for it. Just remember to ensure your footwear is suitable for walking on sand. In other words, no stilettos.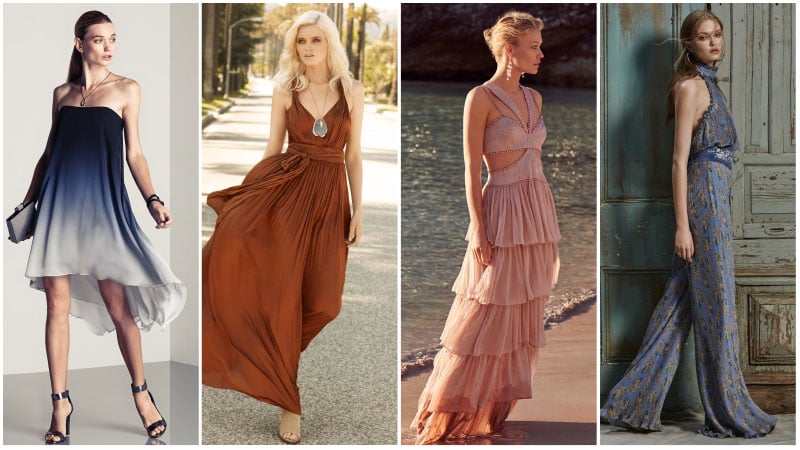 SHOP THE LOOK
Festive Wedding Attire for Guests
Festive attire is a relatively new dress code for weddings. As such, it can cause quite a bit of confusion. Essentially, it is providing you with the freedom to have fun and be playful with your outfit. If you're unsure where to start, try aiming for cocktail party attire with a twist. Think bold colors, exciting embellishments and accessories, and unique textures and details.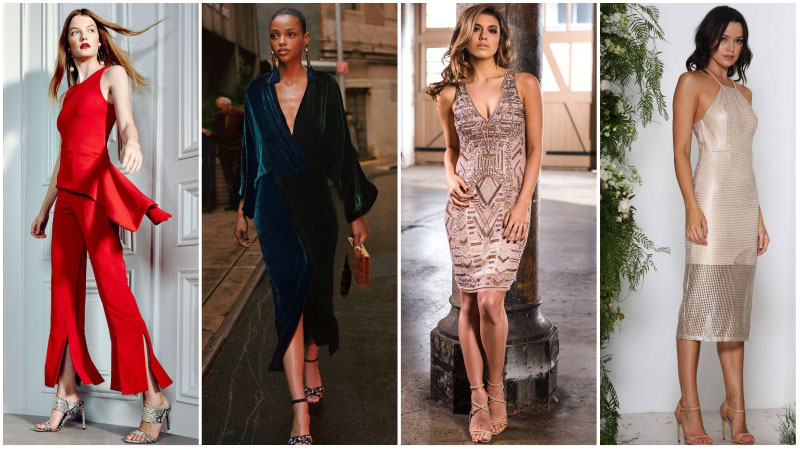 SHOP THE LOOK
Country Wedding Attire for Guests
Country weddings are typically held at a farm, vineyard, or garden and have a rustic theme. To dress for one, try keeping your outfit laidback and a little playful. To do so, swap your usual fitted dress for something you can move in. Also, playoff the location of the event with soft tones, florals, and lace. If you really want to inject a country touch into your look, consider adding boots and a hat.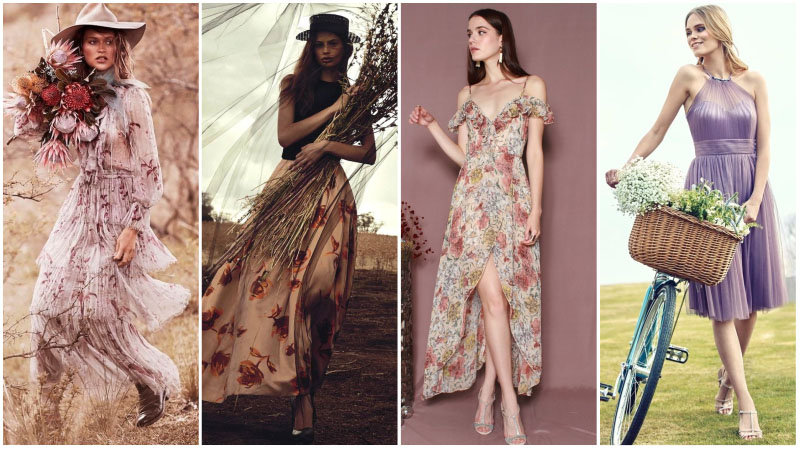 SHOP THE LOOK
Summer Wedding Attire for Guests
To nail summer wedding attire, all you need to do is embrace the spirit of the season. To do so, choose a dress in a bright color or bold print. One in a lightweight fabric will also work to keep you cool when things heat up. Likewise, whether you opt for a mini, midi, or maxi, be sure to avoid overly structured and restrictive designs. You can also keep your feet fresh and stylish with a pair of heeled sandals.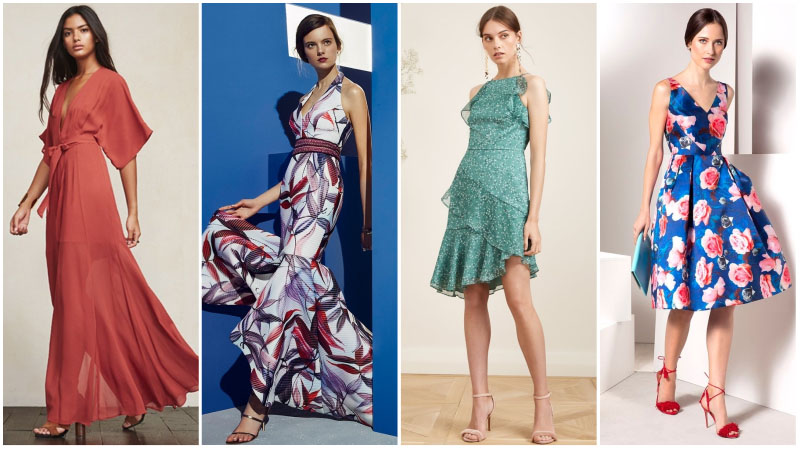 SHOP THE LOOK
Winter Wedding Attire for Guests
When dressing for a winter wedding, it's important to consider both the formality of the event and the weather. To beat the cold while looking sophisticated, opt for a long dress or suit. Try choosing designs with sleeves as well as styles in heavier fabrics to ensure you're kept warm throughout the ceremony and reception. Those in deep hues, such as navy and burgundy, make particularly chic options. It may also be ideal to bring a smart coat or shawl with you.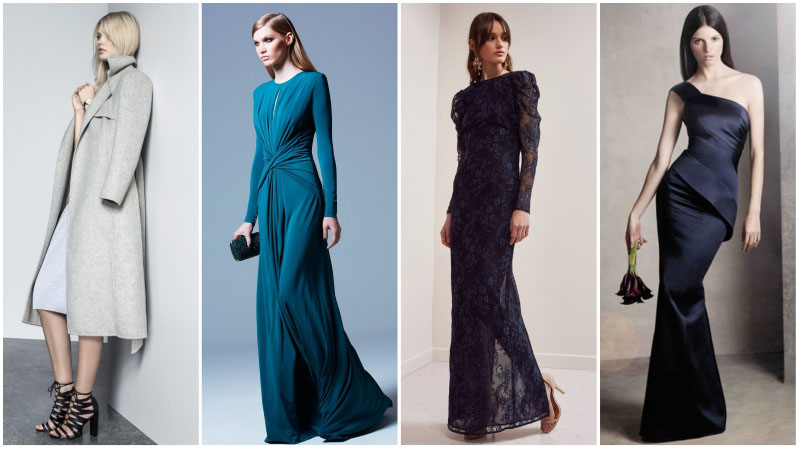 SHOP THE LOOK
What to Wear to a Wedding FAQs
What to wear to a wedding if you're a guest?
When determining what you should wear to the wedding as a guest, you need to consider the wedding location, the month in which it is being held and note any relevant information the invitation has stated. If it is a summer beach wedding, for example, you don't want to wear a ballgown and stilettos, whereas if it is a formal event, you do not want to attend underdressed. There are many options for wedding guests, including pretty dresses and pantsuits. A dark-colored suit and bowtie will look great for men, but if the wedding is casual, you could wear a button-down and chinos.
What should a female guest wear to a wedding?
Female guests should wear outfits that they are comfortable in and that is modest yet chic. Depending on the wedding venue and the theme, the dress code can change, but in general, it is best to avoid showing too much skin, do not pick anything low cut, and keep your heels to an appropriate length. Tea-length dresses, midi dresses, and maxi lengths are all wonderful options for a female wedding guest. You can also wear a jumpsuit or a pantsuit.
What colors should guests not wear to a wedding?
Unless told otherwise, you should not wear white or any colors close to it, such as cream or beige. It is also advisable to avoid champagne and gold colors as this can be too close to the bride's wedding dress shade. Some brides prefer if their guests do not wear anything too bright such as red or boldly patterned. You should also avoid all-black.
What do you wear to a 4 pm wedding?
If you are attending a 4 pm wedding, you must first note the location and any dress code that the invitation has required. If it is a formal event or casual one, dress appropriately, choosing something that can easily be transitioned from day to night. You may want to bring a shawl or something similar to cover up in the evening if you expect it to get cold.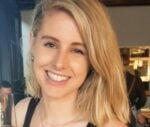 Taylah Brewer holds a bachelor's degree in fashion and business and is a skilled writer with several years of experience in the world of online content creation and copywriting. She is passionate about fashion, beauty, and all things lifestyle-related and has been writing for The Trend Spotter since 2016. She currently works as the Head of Digital & Ecommerce at White & Co.
SUBSCRIBE TO OUR NEWSLETTER
Subscribe to our mailing list and get interesting stuff and updates to your email inbox.