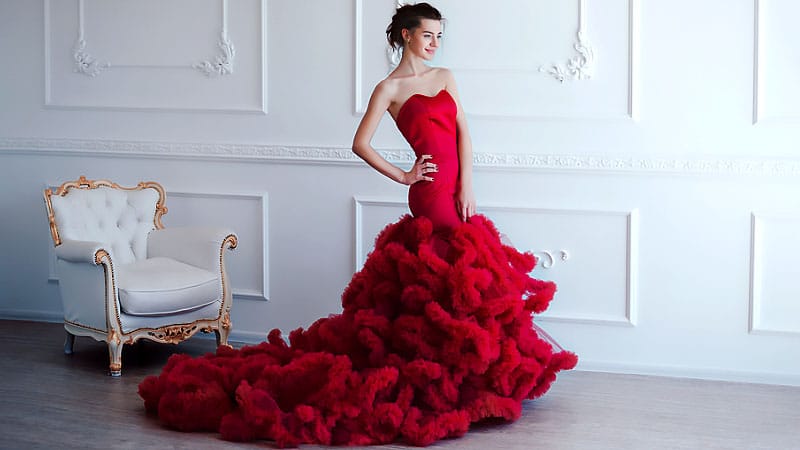 The meaning behind a wedding dress is different to everyone, but sometimes a certain shade can represent cultural heritage, symbolism, and passion. While white and pale shades have been locked into the Western culture for two hundred years, it's a different story in other parts of the world. Red has a lot of significance, especially in Chinese and Indian culture. This shade represents love, loyalty, and good luck, so it's an excellent choice for those who wish to walk down the aisle with further significance. Whether you channel your cultural heritage or wish to make a statement, these red wedding dresses are perfect for striking brides.
The Meaning of a Red Wedding Dress
Throughout different cultures of the world, wedding dresses come in a wide range of traditional colors. In countries like India and China, the most popular and symbolic shade for a bridal gown is red, and this is for many reasons. Red represents good luck, love and passion, and fertility and has been a staple in these cultures for centuries. In Indian culture, brides often wear a red saree or lehenga. It's often paired with gold thread and mesmerizing jewelry, which signifies new beginnings and prosperity. It has been an integral part of the heritage and remains a popular choice for brides today. In Chinese culture, the traditional bride will wear a red Qipao or Cheongsam with fine gold embroidery. The hue represents loyalty, success, and honor. In Western culture, it's not as common for brides to wear red, but it remains a bold and stylish choice for many.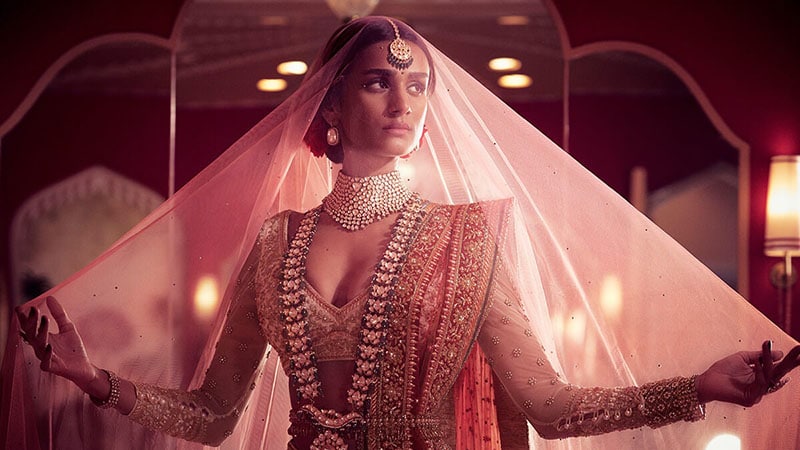 Red Wedding Dresses
Red Indian Wedding Dress
Color is a deeply important part of Indian culture, with every shade holding its own meaning and symbolism. A bride wearing red at a wedding is no exception. The shade often represents new beginnings, prosperity, and passion. It also portrays the Hindu goddess Durga, who symbolizes strength, motherhood, and protection. There are many ways brides can wear the hue on their big day, depending on the location. The lehenga is one of the most popular choices for the ceremony, which features rich details such as elaborate embroidery, crystals, and gold thread, typically 24kt. Alternatively, you can wear a saree – they are also often embellished with immaculate needlework in gold. Many different sarees have origins in different parts of India, each with its own distinctive designs and history. Style the incredible fabric and gown with complementary jewelry, like gold earrings, necklaces, and headpieces.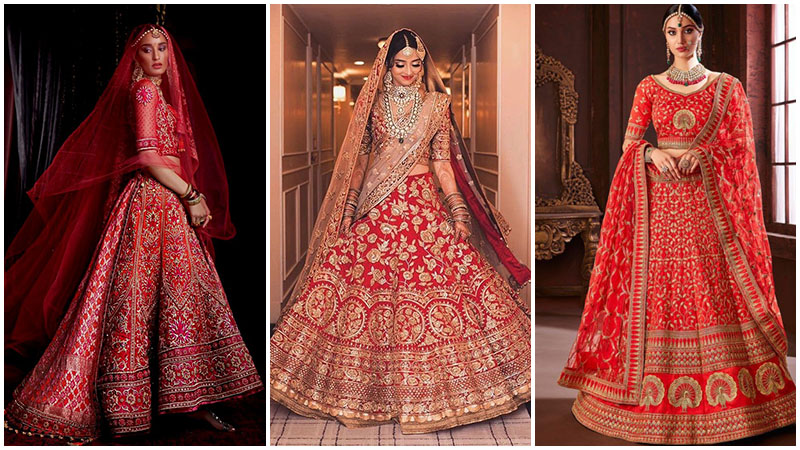 Get the Look
Red Chinese Wedding Dress
China has a long history with the color red, especially when it comes to weddings. With deep-seated roots with brides and links to honor, success, loyalty, and fertility, this shade is a popular choice for women on their wedding day. A few iconic styles have a long history in Chinese culture, such as the Qipao – also known as a Cheongsam. This is a one-piece dress that was made popular in the 1920s as an integral part of the overthrow of the Qing dynasty in 1912. You can find them with intricate and delicate gold thread – representing wealth and fortune. In the Southern parts of China, brides will often wear a Long Feng Gua, a two-piece ensemble with equally elaborate embroidery in gold. Alternatively, women can channel their Chinese heritage with a modern interpretation of the custom. Try a lace sheath dress or column gown in a vibrant red, with elegant red heels or a complementary shade.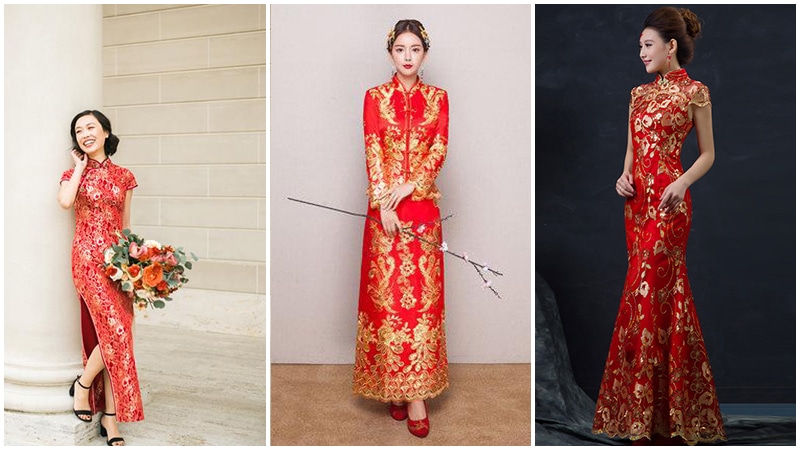 Get the Look
Wedding Dresses With Red Accents
Modern brides no longer have to stay within the box when it comes to choosing a gown. Sometimes adding a fun twist to a traditional design is all you need to express your personality. For the brides-to-be who want to wear a dress that everyone will remember, why not add a few red accents? Combining traditional styles with a bright flair will instantly showcase your identity and can easily be subtle or extravagant. If you prefer to have delicate hints of the hue, opt for something like flowers or touches of lace. Alternatively, if you find a style that you adore but want to add a dash of color, why not add a big red sash or belt? This can be the perfect finishing touch for your big day!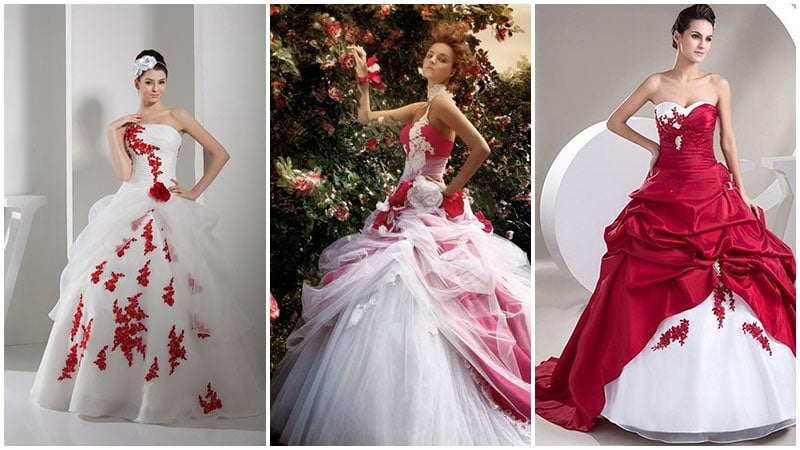 Get the Look
Black and Red Wedding Dresses
This is a bold statement for any bride, and it can look exquisite in a wide range of styles. Although not for those afraid to stand out, this style is both romantic, fashion-forward, and has a hint of Gothicism. Before you decide on the gown you prefer, you must choose the shade of red you want to champion. This can be fire engine red, cherry, or even wine. You should also confirm your wedding theme – be it Gothic, rustic, or romantic – all of these have a distinctive style, and different silhouettes will complement them well. Ombre gowns are an excellent option for a fashion-forward bride, or choose delicate lace and immaculate beading.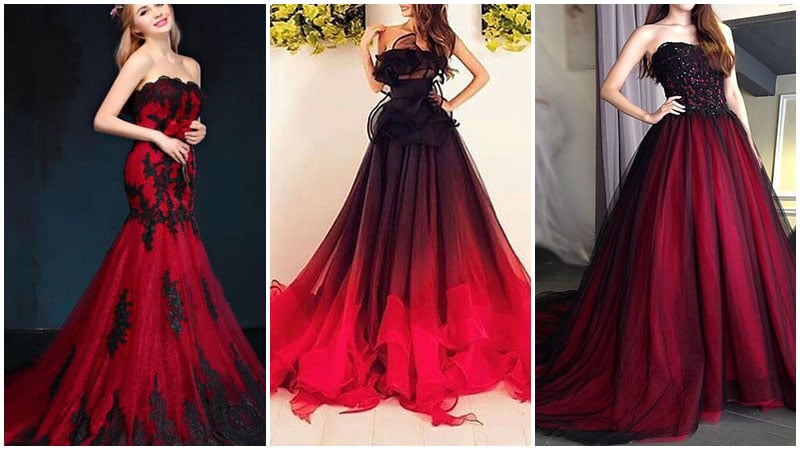 Get the Look
Red and White Wedding Dresses
One of the boldest looks a bride can rock is the blend of another shade in her gown. If traditional white just isn't enough for you as you walk down the aisle, why not add a dash of red? The beauty behind this style is you choose the amount of color within the dress itself so that you can try something daring or muted. A red gown with white or silver embroidery can elevate an entire ensemble, but you can also mix it up with flourishes of cherry or crimson within the skirt. Depending on the wedding location, you can try a cocktail-length dress with subtle pale embellishments or an ivory ballgown with intricate red lace. The choice is entirely yours.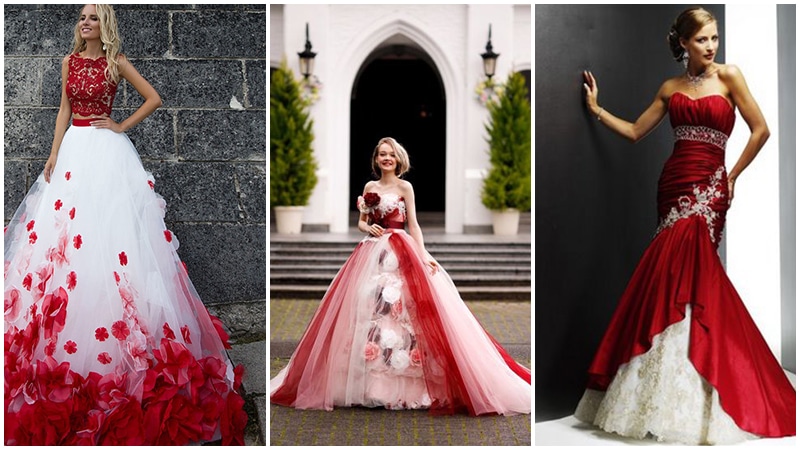 Get the Look
Red and Gold Wedding Dresses
With a deep history in the Asian and Indian cultures, red and gold are a perfect combination for a wedding dress. Representing wealth, happiness, and fertility, these shades complement each other in style and symbolism. You can channel a traditional design with this combination, such as a Qipao or saree. Alternatively, opt for a modern interpretation such as a mermaid silhouette or A-line ball gown. Fabrics such as silk or satin make for incredible dresses, but you can step outside the box with a sequin or lace finish. Add gold or red heels for a final touch, with delicate gold jewelry such as a necklace or headpiece.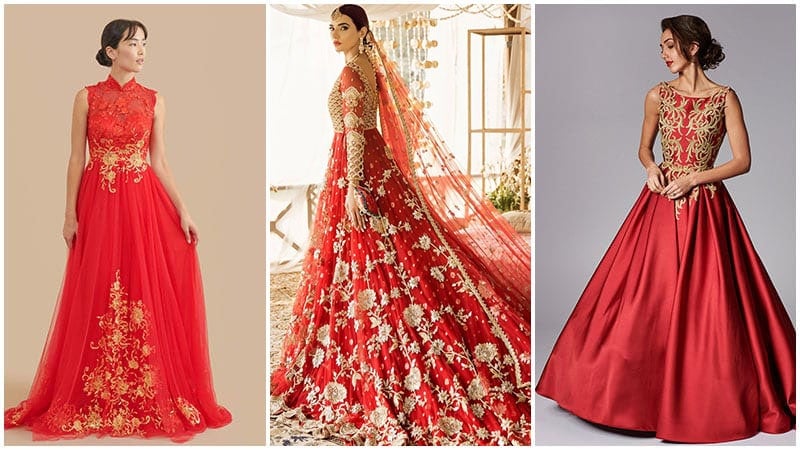 Get the Look
Red Lace Wedding Dress
What says romance more than red lace? On your wedding day, why not show your finance how much you love them by wearing a deep red shade with intricate details. This is a timeless and elegant option for the bride who wants to blend modern bridal couture with traditional silhouettes and textures. Before you find the gown of your dreams, consider which silhouette you prefer – column, ballgowns, or mermaid styles look incredible. You can highlight a certain feature of your body, such as your shoulders or hourglass figure, by framing them with delicate fabrics.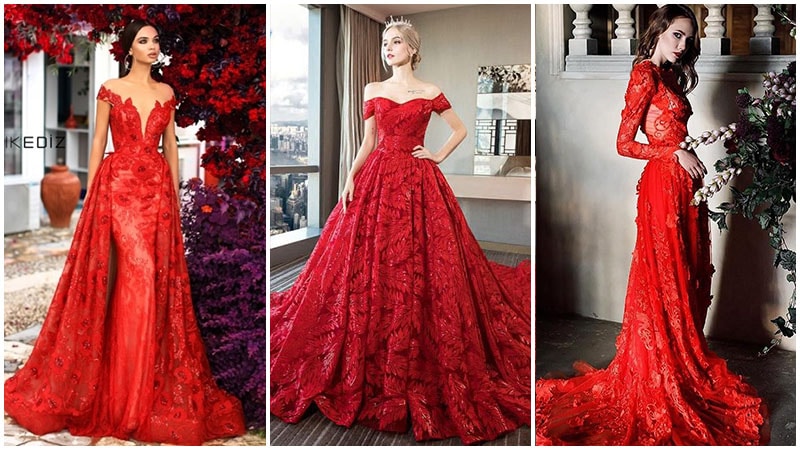 Get the Look
Mermaid Red Wedding Dresses
The mermaid silhouette is an instant show-stopper. Its exaggerated contour of the body carve out an hourglass shape and adds a romantic touch to a wedding. Adding a bold shade of red turns this up a notch. You can be subtle with the skirt's flowing nature or make it ultra-dramatic with a large jete. Silk is an excellent fabric choice for a soft and natural drape across the body. If you want to add an extra spotlight, why not try something with lace, tulle, embellishments, or even all three. Sleeves complement the style if you are planning a winter wedding, or you could go for a sweetheart neckline or Bardot sleeve.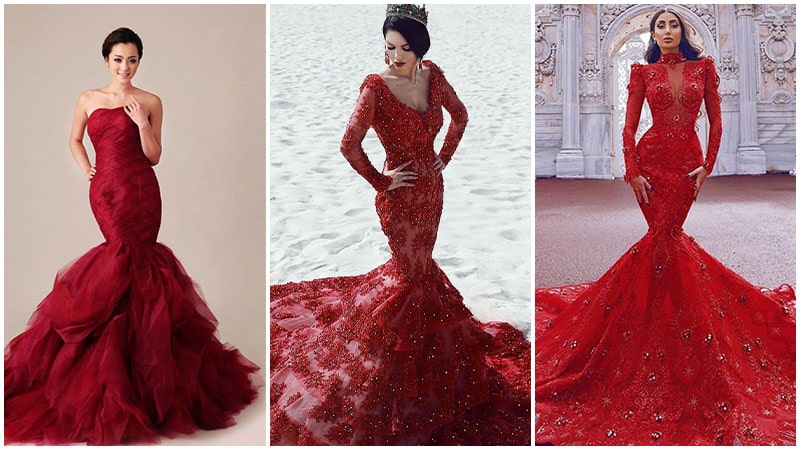 Get the Look
Short Red Wedding Dresses
There is no single type of bride, so why settle for the same dress as everyone else? A short dress is an excellent option for a modern or lowkey wedding, and they're so easy to style. Say 'I do' at the City Hall with a mini or cocktail silhouette, which are effortless and classic. If you want to shake it on the dancefloor at your reception, a high-low dress or tulle tea-length gown is a perfect choice. Style them with sky-high stilettos for a dramatic effect or a subtle heel for a more subdued look.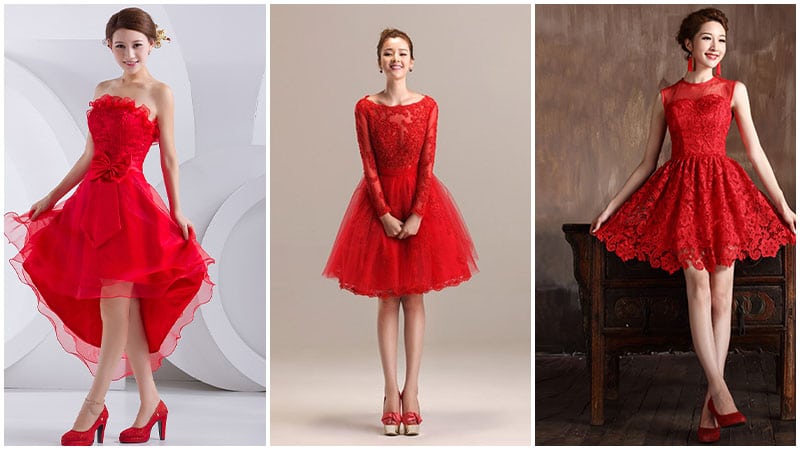 Get the Look
Simple Red Wedding Dresses
Wearing a bold wedding dress doesn't mean having to go all out with embellishments – sometimes the most simple designs have the biggest impact, especially if they're red. The perfect secret behind these designs is the benefit of adding or removing accessories to complete the look. Choose fabrics like silk, satin, or organza to create the perfect silhouette and draping effect – this gown will be an instant showstopper. If you want to add something like a giant bow or an off-the-shoulder motif, the clean fabric will complement the elements and elevate the overall ensemble.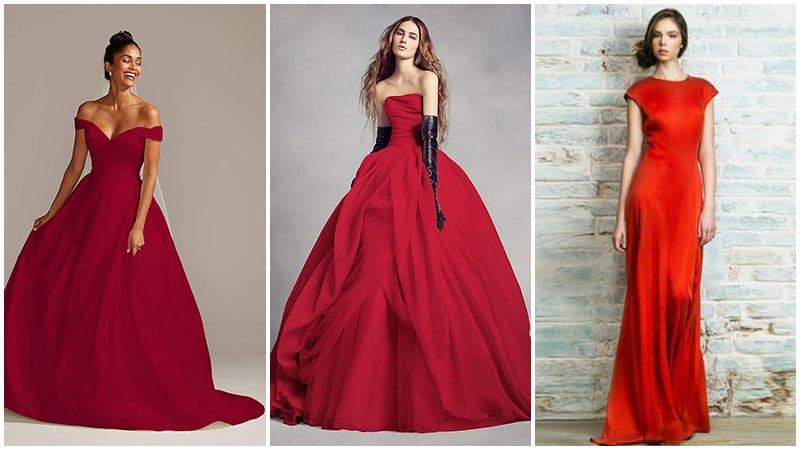 Get the Look
Red Ball Gown Wedding Dress
Bridal silhouettes are made to stand out, so why not take it a step further with a red ball gown? This deeply romantic and feminine style is an exquisite option for the woman who wants to feel like a princess for a day but stay true to her character. This style can feature opulent tulle, satin, or lace, and the billowing skirt is sure to turn heads. Nip in the waist with a sash or belt and balance the top half with long sleeves or a strapless neckline. Depending on the location and theme of your nuptials, choose a bright red shade with a touch of white, pink, or gold or something deeper like wine or crimson. Feelings of royalty will instantly wash over you as soon as you step into this divine dress.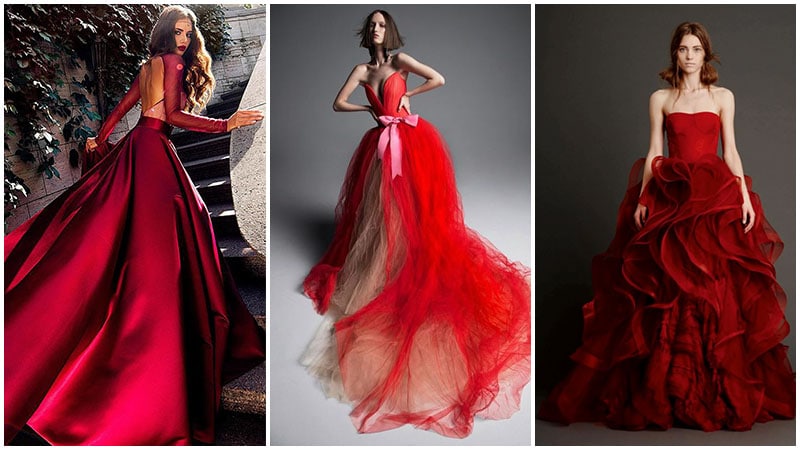 Get the Look
Dark Red Wedding Dress
Channeling gothic themes or embodying a winter vibe, a dark red wedding dress is an incredible alternative for the bride that wants to express themselves. Deep-rooted with romance and dark fantasy, you can inject modern elements into this classical-style gown easily. Choose a fashion-forward silhouette like an A-line with spaghetti straps or a ballgown covered in lace. The hyper-feminine style will have you feeling like royalty as you walk down the aisle. Add some simple jewelry to this outfit, such as pearl earrings or a delicate necklace, so you don't distract from the gown or yourself on your big day.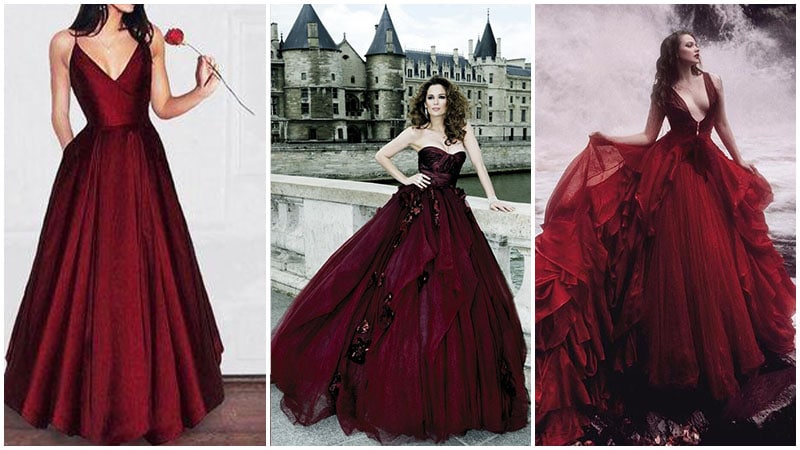 Get the Look
Plus Size Red Wedding Dresses
Celebrate your curves with a red wedding dress. These gowns highlight and flatter a fuller figure and look incredible on women of all sizes. Create an hourglass silhouette with an A-line or ball gown that cinches in the waist and balances out your proportions. Alternatively, you can try a column or fit and flare for a more modern approach to your big day. Adding embellishments such as crystals or lace can elevate the overall design of the gown. You could wear a beautiful tiara, necklace, or veil if you want to keep the dress plain. Watch as your friends and family awe in wonder as you walk down the aisle in something show-stopping.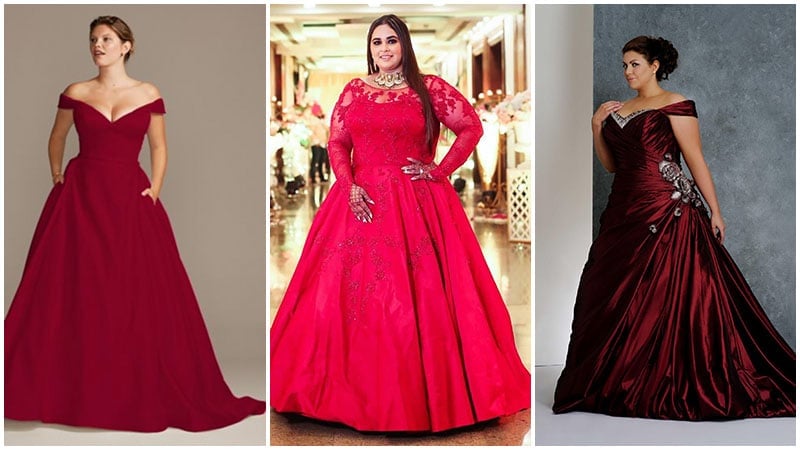 Get the Look
FAQs
What is a Chinese wedding dress called?
There are multiple different types of traditional Chinese wedding dresses, but the most common is called a Qipao (or Cheongsam in Cantonese). This red dress features elaborate and intricate gold and silver accents, typically with a Mandarin collar and short sleeves. They became popular in the 1920s after the fall of the Qing dynasty and have remained a popular choice for brides ever since. In the Southern parts of Chiba, brides will often wear a Long Feng Gua, a top, and a skirt - also red with gold imagery like a dragon and phoenix. 
Is it OK to wear a red wedding dress?
While it's common for brides to wear classic white or ivory to their wedding, you can find many brides who prefer red. This color represents passion, good fortune, and honor, making it a perfect bridal gown. It's a great chance to show off your personality and stand out - bonus points if it's your favorite color. We guarantee that everyone will remember you for your stunning gown choice!
Why do brides wear red?
There are many reasons why brides will wear red to their wedding. This is of cultural significance to many brides, but it's also an excellent way to showcase your individuality. In Indian and Chinese culture, wearing red can signify happiness, loyalty, honor, and prosperity. The added gold or silver thread can also represent wealth and fortune. Red is also the symbol of love and passion - what more could you want to showcase on your big day? 
Why do Hindu brides wear red?
In many Indian cultures, brides will often wear red as an honor to the Hindu goddess Durga. Red is an integral part of the heritage, representing fertility, prosperity, and good fortune. There are many ways the bride can wear the shade, such as sarees or lehengas, and will include gold embroidery and crystal embellishments. Red is a very important color in Indian culture and remains a popular choice for brides today. 
Why are Chinese dresses red?
A traditional Chinese bride will often wear red on her big day. This is for many reasons, with important cultural significance. You can find red as a symbolic color in many aspects of Chinese culture and is no different for a wedding. The color invites good fortune, honor, and success to the bride and groom. Women in China may choose to wear a Western-style dress for their big day but will often wear a Qipao or Long Feng Gua for photos and family. 
What color shoes should you wear with a red dress?
When choosing a pair of shoes for a wedding, brides should consider the type of gown they're wearing. While it's typically a fashion 'no' to wear similar shades with a red dress, you can wear a pair of pretty pink heels or a nude shade. Alternatively, gold or silver shoes can complement your jewelry and the dress. 
Can you wear red to a Korean wedding?
Typically, a Korean bride will wear red to her wedding, so guests should avoid the same shade, so they don't outshine the couple. This is similar to wearing white to a Western wedding - it can be regarded as disrespectful and impolite. Guests at a Korean wedding should stick to neutral shades so the happy couple can truly shine.
What color nails go with a red dress?
Nude and neutral shades look best when wearing a red dress - it doesn't take away from the gown's beauty and elongates the fingers. Of course, if you wish to think outside the box, why not match the nails to the shoes you have on or your jewelry. Silver or gold look great and will help you stand out even more. For those who want to be daring, choose the same shade as the fabric or a feature from the dress to replicate on your nails. 
SUBSCRIBE TO OUR NEWSLETTER
Subscribe to our mailing list and get interesting stuff and updates to your email inbox.